Ricardo Lara wins Insurance Commissioner race!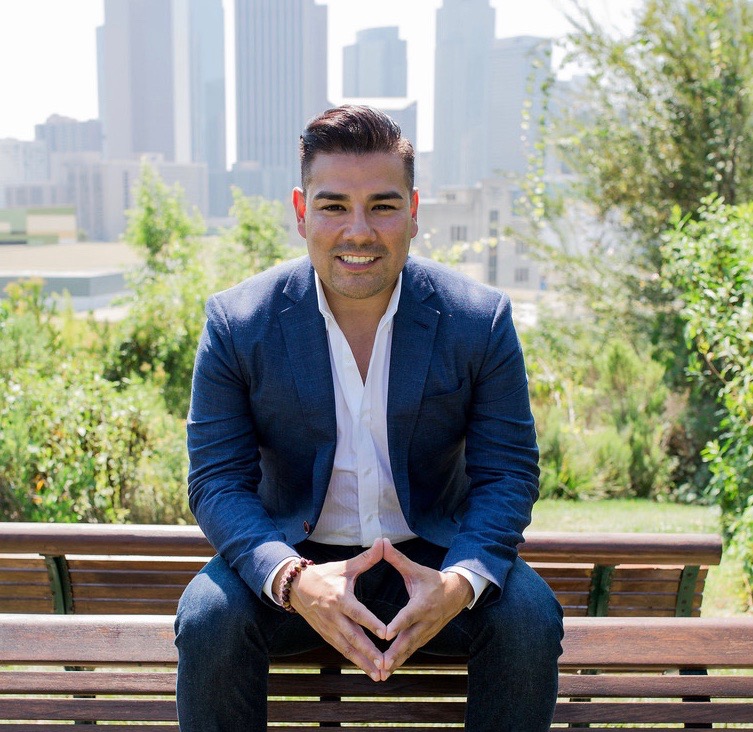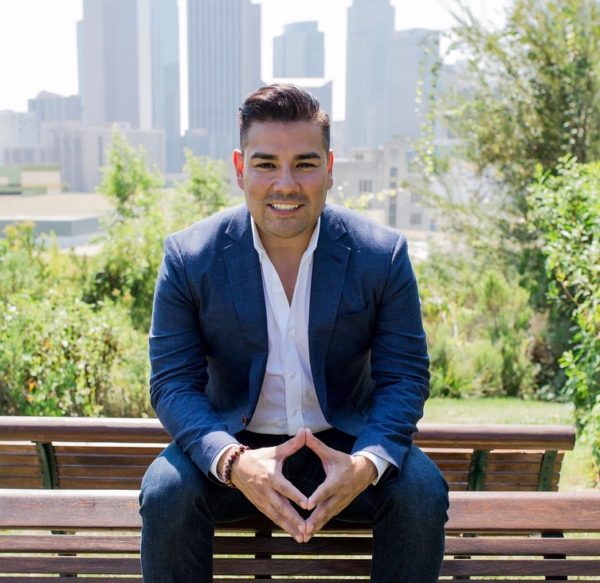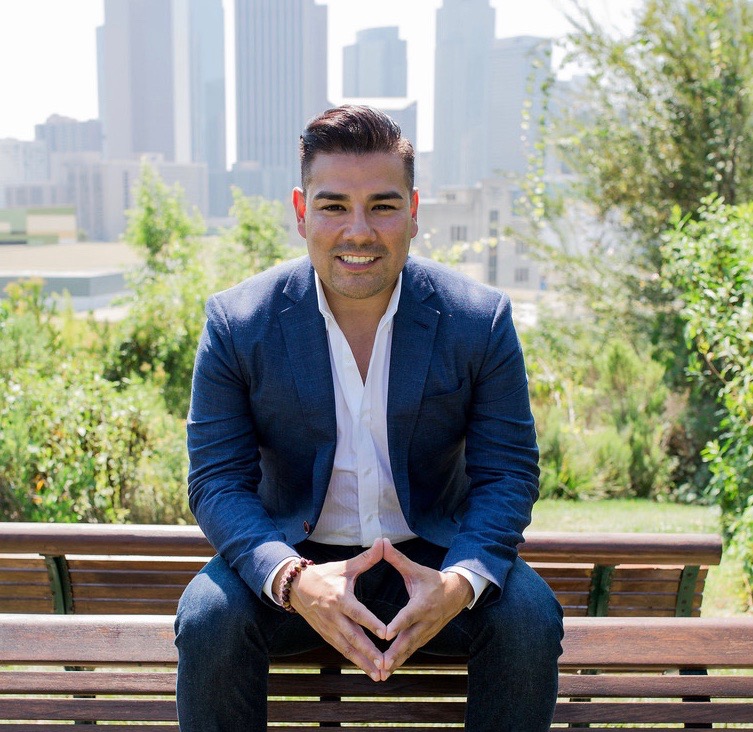 Out State Sen. Ricardo Lara just made history as the first openly LGBT person elected to statewide office with the Associated Press declaring him the winner in his race to become California's next State Insurance Commissioner.
"Democratic state Sen. Ricardo Lara has defeated Republican-turned-independent Steve Poizner to become the state's next insurance commissioner, according to new vote totals Friday," AP reported. "Vote counts updated since Election Day made Lara the winner with nearly 4.9 million votes, or 51.6 percent."
"Ricardo has been a champion for California's LGBTQ and immigrant communities throughout his career, working to tear down barriers, ensure equality for all and now break through California's rainbow glass ceiling," said Equality California Executive Director Rick Zbur. "In an already historic year for LGBTQ candidates across California and the nation, Ricardo has proven that an openly gay son of a factory worker and seamstress who immigrated from Mexico can grow up to represent 40 million people in the world's fifth largest economy. We look forward to working with Ricardo in this new role and wish him continued success as he fights to improve the lives of all Californians."
In his cover story with the Los Angeles Blade,  Lara said he was going up and down the state "reminding our voters how Poizner "has flip-flopped back and forth on a woman's right to choose" and "wanted to deny immigrant children health insurance." Lara, on the other hand, passed legislation "to insure that any child, regardless of where they come from, their economic income status, or their immigration status, will have access to full scope Medical health insurance in California."
As commissioner, Lara has oversight of some fraud-related issues, including investigating the "troubled teen industry." In 2015 and 2016, Lara worked with the LA LGBT Center and Survivors of Institutional Abuse to pass SB 524, "Protecting Youth from Institutional Abuse Act"— a bill with no religious exemptions that Brown signed in Oct. 2016.
"To the victims that have been victims of this type of abuse in these so-called 'troubled teen' camps or through 'conversion therapy,' we are going to be very vigilant as the Insurance Commissioner to make sure that we not only investigate but we seek out these individuals who are causing our community harm and hold them to justice," Lara says. "We'll work with our Attorney General to make sure that we bring justice to so many victims and we weed out these shams that we know only serve to harm our community."
Lara was one of Equality California's top priorities with the EQCA PAC contributing $14,600 to Lara's campaign and raising $15,000 from individual PAC board members. Additionally, the PAC spent $220,000 in statewide member communications, direct mail, robocalls and advertisements on the popular dating app Grindr, according to an EQCA press release.
Equality California's current assessment, as of Friday, Nov. 16: "For the first time ever, California will send two openly LGBTQ members of Congress to Washington: Congressman Mark Takano (D-Riverside) and Congresswoman-Elect Katie Hill (D-Santa Clarita). Out Assemblymember Sabrina Cervantes (D-Riverside) is currently leading in her too-close-to-call reelection bid, and Assemblymembers Evan Low, Todd Gloria and Susan Talamantes Eggman all won reelection. At the local level, 20 openly LGBTQ candidates endorsed by Equality California won their races this year, including LA County Assessor Jeff Prang, Dr. Jen Campbell — who ousted an incumbent to win a seat on the San Diego City Council — and Ahmad Zahra — who made history as the first openly LGBTQ Muslim elected official in the United States."
Rep. Katie Hill explains abrupt resignation in video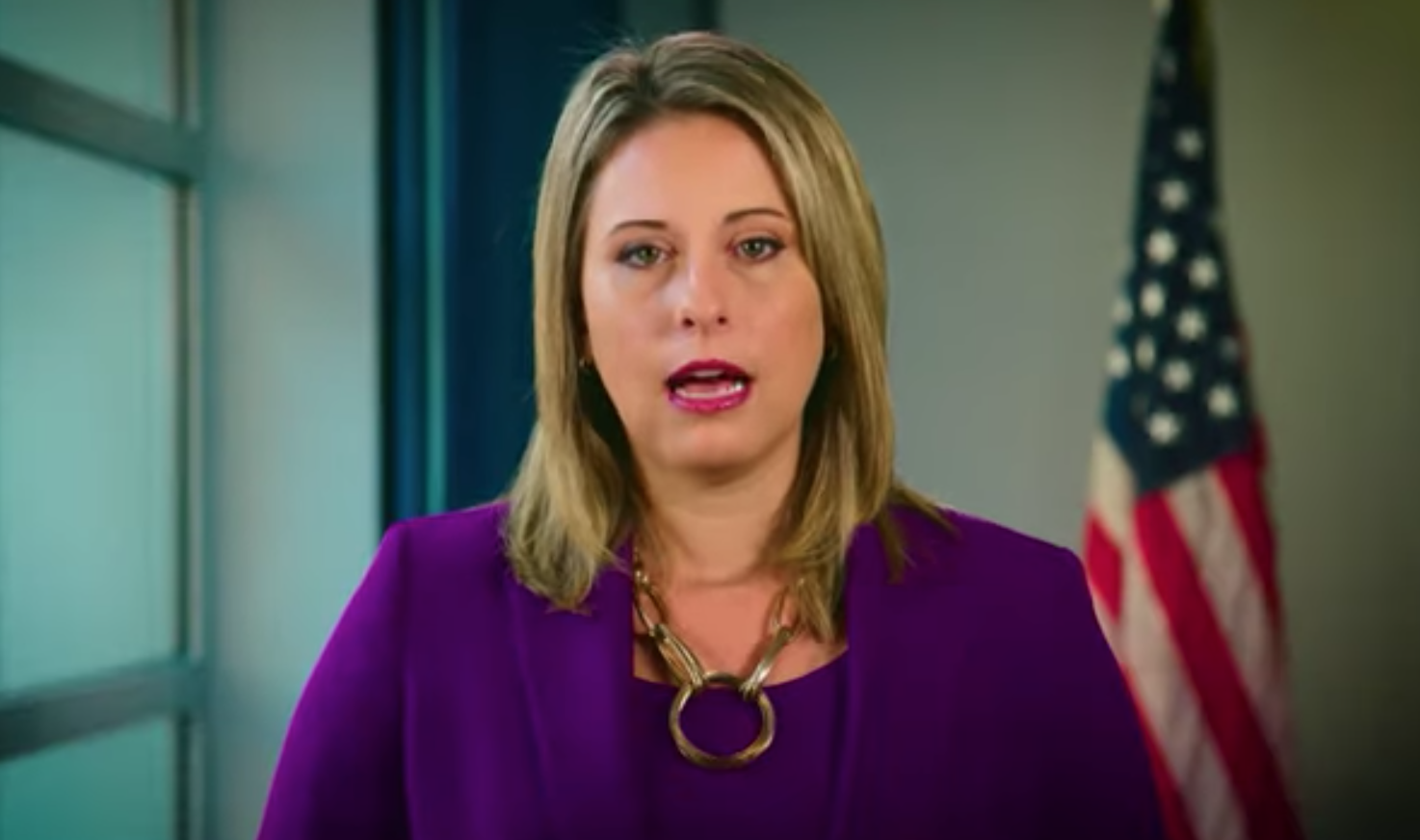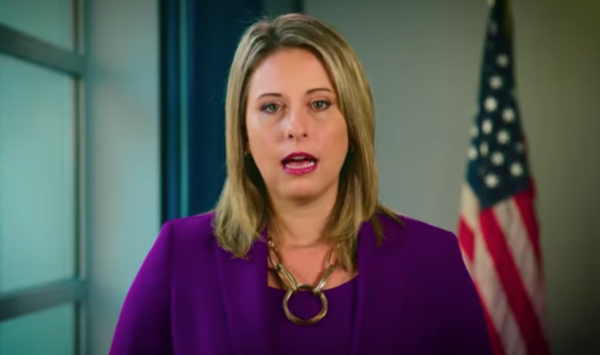 Rep. Katie Hill says she's determined to fight against what she calls a smear campaign designed to humiliate her. But, with an apparent nudge from House Speaker Nancy Pelosi, she says she had to resign from Congress on Sunday to not impede the important constitutional work for which she might serve as a distraction.
"Congresswoman Katie Hill came to Congress with a powerful commitment to her community and a bright vision for the future, and has made a great contribution as a leader of the Freshman Class," Pelosi wrote in a statement on Sunday. "She has acknowledged errors in judgment that made her continued service as a Member untenable.  We must ensure a climate of integrity and dignity in the Congress, and in all workplaces."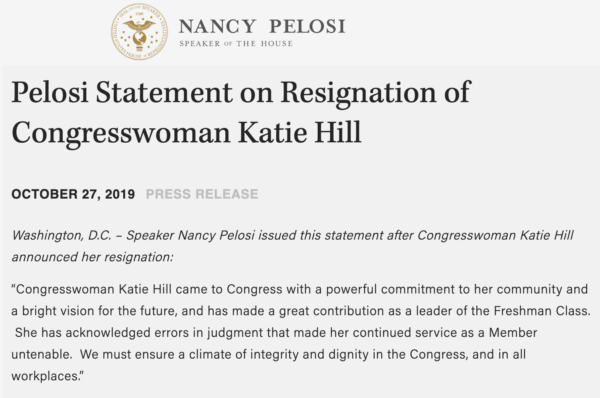 Hill, 32, a rising leader as vice chair of the House Oversight Committee, acknowledged having an "inappropriate" relationship with a campaign staffer. "I know that even a consensual relationship with a subordinate is inappropriate, but I still allowed it to happen despite my better judgment," she wrote in a letter to her constituents.
But Hill has vigorously denied a relationship with a congressional staffer, a violation of House Ethics Rules that triggers an ethics investigation.
"It is with a broken heart that today I announce my resignation from Congress. This is the hardest thing I have ever had to do, but I believe it is the best thing for my constituents, my community and our country," Hill wrote in a letter posted on Twitter.
"This is what needs to happen so that the good people who supported me will no longer be subjected to the pain inflicted by my abusive husband and the brutality of hateful political operatives who seem to happily provide a platform to a monster who is driving a smear campaign built around cyber exploitation," Hill wrote.
Politico reports that she is expected to officially step down on Nov. 1.
It is unclear if Hill's resignation will halt her request to U.S. Capitol Police to investigate the origin of the nude photos that accompanied stories in the conservative online site RedState on Oct. 18 and a British tabloid that Hill and supporters call "revenge porn" distributed by her Los Angeles County-based estranged husband, Kenny Heslep, whom she is divorcing. Revenge porn is against the law in California.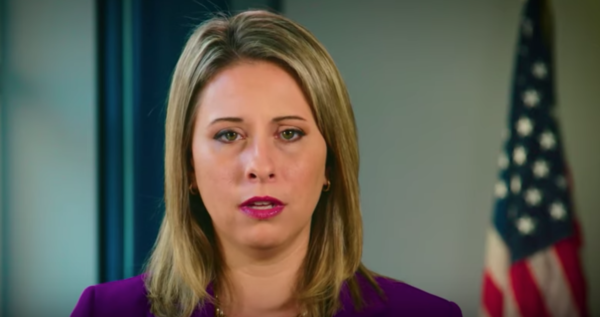 In a You Tube video posted Monday, Hill explains why she resigned and thanks her supporters.
"I made this decision so my supporters, my family, my staff and our community will no longer be subjected to the pain inflected by my abusive husband and the brutality of hateful political operatives.

This coordinated campaign carried out by the fight wing media and the Republican opponents enabling and perpetuating my husband's abuse by providing him a platform is disgusting and unforgivable and they will be held accountable.

But I will not allow myself to be a distraction from the constitutional crisis we're faced with and the critical work of my colleagues. And so I have to take my personal fight outside the Halls of Congress.

Too many Americans our counting on Washington to fulfill our promises of quality healthcare, housing we can afford, and a government that works for the people. And I cannot let this horrible smear campaign get in the way of that work.

To my supporters in my district and across our great country, please know that we did something incredible. We proved that an imperfect woman – the 31-year old daughter of a nurse and a police officer who never planned to run for office – has a place int eh people's House. We showed the nation that there is hope, even in the darkest of moments; that every single person deserves a chance and a voice; and that voters will believe and will rise to make that happen.

We showed Washington that a grassroots campaign can propel a young woman into Congress without the help of big corporations and special interests that have for so long governed politics and that this movement will change our broken political system forever.

That matters.

And it will always matter.

I need you to know that my fight is not over. Those of you who know me know that I am a fighter. Before I came to Congress, I fought for the most vulnerable people in our community, working to end homelessness for individuals, veterans and families.

I fought to give a voice to those who, for too long, have been silenced or pushed into the shadows. I'm going to continue to fight for our democracy, for representation, for justice and equality and for making the world a better place.

And I will also take up a new fight. I will fight to ensure that no one else has to live through what I just experienced. Some people call this electronic assault, digital exploitation. Others call it revenge porn. As the victim of it, I call it one of the worst things we can do to our sisters and our daughters.

I am grateful for all of you who have spoken out about this in recent days. As I have before, I will stand up for those who cannot stand up for themselves because there is one thing that I know for sure: I will not allow my experience to scare off other young women or irls from running for office.

For the sake of all of us, we cannot let that happen.

I'm hurt. I'm angry. The path that I saw so clearly for myself is no longer there. I'e had moments where I've wondered what the last three years of my life were for and if it was worth it. And I know that many of you feel the same.

I never claimed to be perfect. But I never thought my imperfections would be weaponized and used to try to destroy me and the community I've loved for my entire life. For that, I am so incredibly sorry.

I'm so grateful for the outpouring of support that I've received. I grew up riding horses and the most important thing that I learned was that when you fall off, you have to get right back up in the saddle.

So I'm going to do that. I hope I can count on you to do the same and join me on the next ride.

Thank you.
Reaction has been mixed to both the smear campaign and Hill's resignation, including from someone Democrats might never consider – Donald Trump loyalist Florida Republican Rep. Matt Gaetz.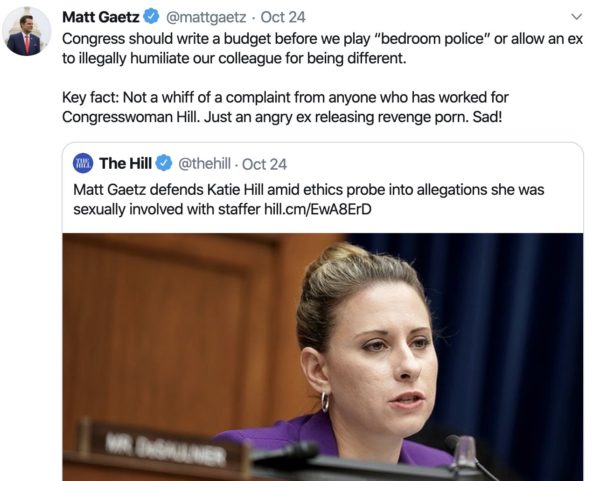 "This is just absurd. The only person who seems to have a gripe is @RepKatieHill's soon-to-be ex," Gaetz tweeted on Oct. 24 as the Ethics investigation of Hill was announced.  "Who among us would look perfect if every ex leaked every photo/text? Katie isn't being investigated by Ethics or maligned because she hurt anyone – it is because she is different."
"I serve on Armed Services with Katie and while we frequently disagree on substance, she is always well-prepared, focused and thoughtful," Gaetz tweeted later.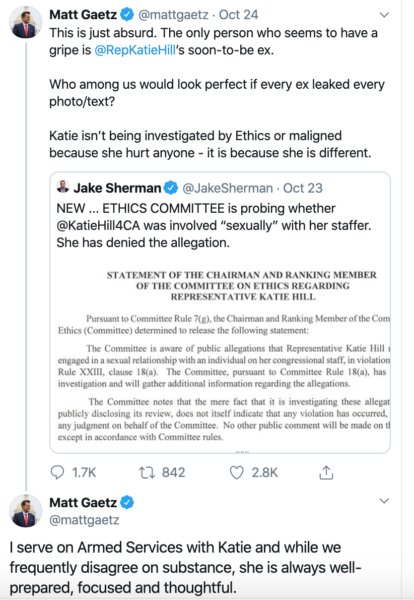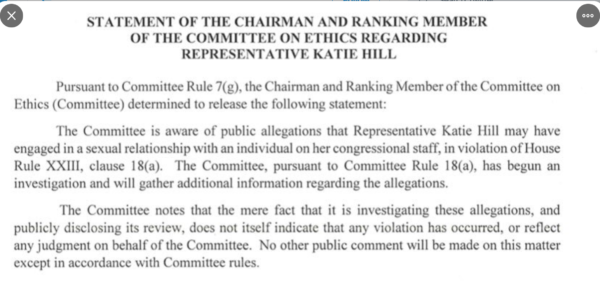 "We are sorry to lose a good public servant in Congresswoman Katie Hill. We thank her for putting her district first over the personal attacks that have been levied her way," said Mark J. González, Los Angeles County Democratic Party Chair, in a statement. "We do not condone this kind of behavior from anyone and most of all our elected leaders. No one in any profession should live in fear of having intimate and deeply personal moments used as weapons against them. As Democrats, we are proud to stand against sexual harassment of any kind and we have procedures in place to protect all. We will continue to fight for progress and justice for our communities."
"Since January, Katie Hill has served the LGBTQ community and the people of California's 25th district with honor and integrity," said Equality California Executive Director Rick Zbur. "She fought for us every day. Her treatment by the cabal of right-wing media and a revengeful husband was abusive and unconscionable. The double standard that women — and LGBTQ women in particular — face in politics and the workplace is a sad stain on this nation. America needs leaders like Katie. She always had our backs — we and thousands of her grateful constituents still have hers."
Democrats are now wondering who will replace Hill, who was among the 2018 "Blue Wave" that flipped GOP seats to Democrats, include the CA 25th District then occupied by anti-LGBTQ Republican Rep. Steve Knight. Hill beat Knight by nine points. Politico reports that Democratic Assemblymember Christy Smith, who represents some 60 percent of the #CA25 district, is expected to announce her run for the seat. She's already been endorsed by LACDP head Gonzalez. Others are knocking on the door.
California Democratic Party firings shift power to Bay Area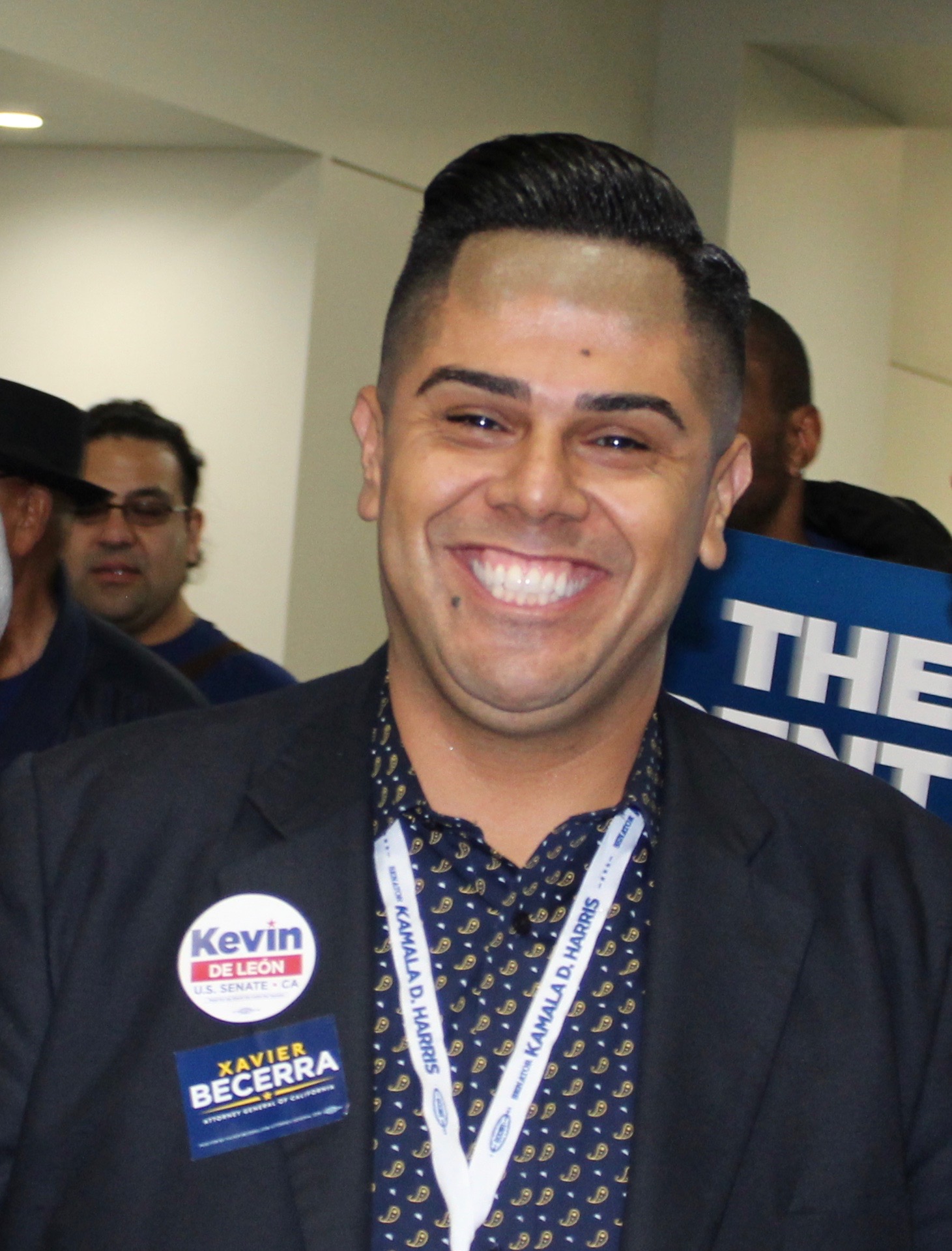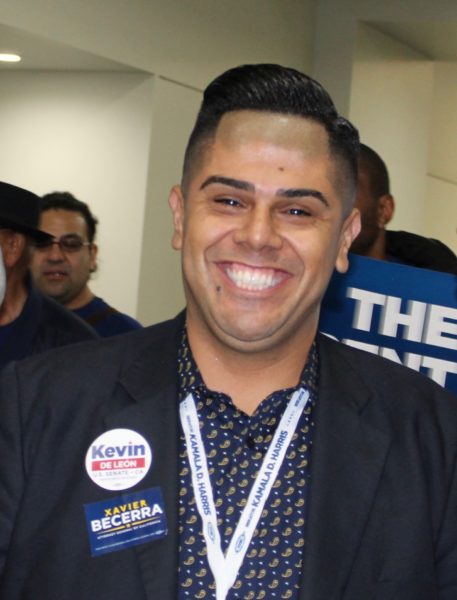 So much for due process. There was Queen of Hearts "Off with their heads!" feel to the shocking abrupt firings of seven top party staffers by acting California Democratic Party chair Alexandra Gallardo-Rooker on Dec. 11, two weeks before Christmas. The action, which also included closing the CDP's Los Angeles office, seemed designed to rid the party of anyone associated with out former party chair Eric Bauman, who resigned less than a month ago as an investigation was launched into allegations of misconduct.
Without notice and without a statement explaining the action, Rooker fired CDP political director Clark Lee, part of the team that flipped seven congressional seats, elected a super majority to the Legislature and elected endorsed judges. Also fired were longtime Bauman associates Adam Seiden, a close senior adviser; senior strategist Sandra Lowe; communications director John Vigna; creative director Jeremy Thompson; operations director Tina McKinnor; and LA director Tim Valencia. A source told the Los Angeles Blade that staff in the LA office were completely blind-sided.
Acting party spokesperson Roger Salazar, a crisis management consultant, told Politico, the LA Times and other media outlets via email that "senior staff who came in with former Chairman Eric Bauman are no longer employed by the California Democratic Party."
"This is not unusual when there is a change in leadership and is in keeping with the scaling back of party operations after an election year," Salazar said."These moves are not necessarily a reflection upon the work of each of the individuals involved, but are part of a desire by the acting chair, in consultation (with) the Speaker's office and the office of the Governor-Elect, to start fresh and keep the party moving in the right direction."
Politico later reported that neither incoming Gov. Gavin Newsom nor Assembly Speaker Anthony Rendon had been consulted by Rooker before the firings.
Rooker's silence allowed a vacuum to be filled with speculation about what prompted the abrupt firings—speculation that led to Kimberly Ellis, the Oakland-based activist who narrowly lost to Bauman in the heated and ugly election for CDP chair. The Berniecrat wing of the CDP is reportedly still incensed, according to Democratic sources, and seized the harassment allegations as an opportunity to oust Bauman and replace him with Ellis. The official election for a new chair is next May in San Francisco.
Also mentioned in the conspiracy mix is San Francisco-based Christine Pelosi, the powerful chair of the CDP's Women's Caucus, who sources say wanted to run against Bauman for party chair until Ellis entered the race. Sources she is building a base to run for her mother Nancy Pelosi's congressional seat. Interestingly, Nancy Pelosi served as CDP chair from 1981-1983.
For some Democratic activists, shutting down the LA CDP office was the middle finger to Los Angeles, signaling a power shift to the Bay Area.
"I was surprised (by the firings). I have worked with many of those folks actively as a volunteer with the party for more than 17 years," Mark Gonzalez, chair of the LA County Democratic Party, told the Los Angeles Blade. "I haven't spoken to Alex yet. I am definitely deeply surprised but there is probably a reason for it that I just don't know."
Gonzalez said there is a lot he doesn't know about the CDP machinations, including "if there is an actual investigation that is taking place at the moment. I can't credibly say that I know that for a fact." And while he doesn't think that Rooker herself thought in terms of a North-South power struggle, "I do think the future of the party and who are potential candidates for chair may be factors that led to Eric's resignation. There is still a lot of bitterness from that fight."
But, Gonzalez added, "at the end of the day, you can't discount that if there was something wrong that was happening and folks needed to speak up about it—then I stand by the victims. I'm not going to question that. Obviously, there is an investigation that has to play its course."
That said, LA can't just be ignored since LA County accounts for one-third of the state's voting base. "LA County is the one that delivered for the rest of the state," including the tight races for Superintendent of Public Instruction and electing Ricardo Lara as Insurance Commissioner, the first out gay man to win a statewide race. "Our votes brought in a number of people so having a Los Angeles office is reflective of having boots on the ground. And we need the resources. We can't always afford to have to go up to Sacramento."
Gonzalez also emphasized that the LA County Democratic Party has done "some really significant work" such as electing a Democratic Sheriff, overwhelmingly electing endorsed judicial candidates and doing well in smaller cities. "I think 93% of our endorsed Democratic candidates won in our Nov. 6 election and that is something we can definitely be proud of."
But "2020 is right around the corner," Gonzalez added. "It's one thing to get folks into a congressional seat but now it's about making sure we protect them. Super Tuesday is next March and California is in play. We've got to keep our eye on the prize because if we're going to take the White House back—that started yesterday. We're working to make sure we win tomorrow."
(Photo of Mark Gonzalez at Feb. 2018 California Democratic Party Convention by Karen Ocamb) 
Breaking: California Democratic Party Chair Eric Bauman resigns
Despite midterm victory, internal firing squad aims at gay political operative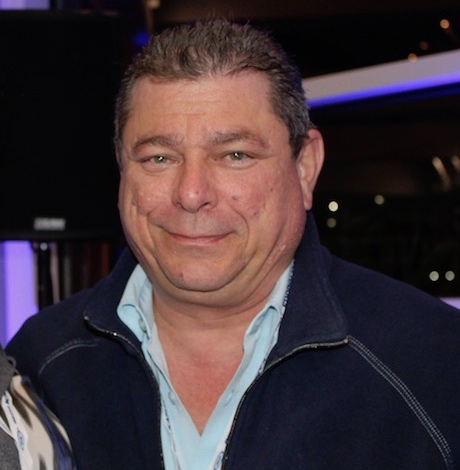 Breaking: Eric Bauman, the first openly LGBT Chair of the California Democratic Party, announced his resignation Thursday following a story in the Los Angeles Times in which 10 staffers and political activists allege sexual harassment and misconduct by the longtime Democratic activist.
"I have made the realization that in order for those to whom I may have caused pain and who need to heal, for my own health, and in the best interest of the Party that I love and to which I have dedicated myself for more than 25 years, it is in everyone's best interest for me to resign my position as chair of the California Democratic Party," Bauman said in a statement to The Times after Gov.-elect Gavin Newsom, state Senate President Pro Tem Toni Atkins, Controller Betty Yee and others, including Equality California Executive Director Rick Zbur,  called on him to step down.
The Times did not indicate whether the investigation would continue or now be halted or what process might occur to replace Bauman.
The following is the cover story for the Los Angeles Blade filed Thursday morning before Bauman's announcement:
In addition to the historic flipping of rock red Republican congressional seats and electing California's first openly gay statewide official, Democrats virtually decimated the state GOP during the midterm elections. "It's been decades since California Democrats had this much power at the Capitol," blared a Nov. 26 Sacramento Bee headline.
Democrats, The Bee wrote, "are on pace to control three-fourths of the Assembly — 60 out of 80 seats — a feat has not been accomplished in 135 years, in 1883. In the Senate, Democrats are likely to grab 29 seats out of 40, which would be the party's largest advantage since 1962 (except for a brief period in 2012)."
But Democrats seem to have a penchant for complicating victories, forming a circular firing squad to kill off or maim someone perceived to have too much power.  A rump group of House rebels—considered by some to be the Democratic equivalent of the Republican Freedom Caucus—is challenging establishment Leader Nancy Pelosi in her historic campaign to re-take the gavel as Speaker next year, despite Pelosi's winning midterm messaging.
And in California, a handful of Democratic Party staffers and associates—some of whom were aligned with Kimberly Ellis, Bauman's 2017 Berniecratic opponent for party chair—have alleged sexual harassment and sexual assault charges against Bauman, forcing him to take a leave of absence while Debra Henshaw Vierra from the outside law firm of Churchwell White investigates the allegations.
But given the publicity, the rush to judgment and societal interpretations of gay male gestures and flirtations by today's #MeToo standards, it is very possible that no matter what the determination of the official investigation, Bauman—one of the key architects of the California midterm success—may not be able to shake the scarlet letter of misconduct.
So what happened? Is Bauman the political Kevin Spacey or California's Al Franken or an old-fashion gay guy who talks sincerely about sexual harassment but hasn't applied it to his own gay culture flirtations?
The story that may bring down a "kingmaker" burst into the open the weekend of Nov. 23-25 during the CDP Executive Board meeting. But it originated before the Nov. 6 elections, according to news accounts. Bauman was leading a statewide get-out-the-vote bus tour when "two young women on the bus reported alcohol was consumed and inappropriate sex talk occurred on Nov. 1," out David Campos, chair of the San Francisco Democratic Party, told the Associated Press. 
They were headed for a Nov. 2 event in San Francisco with Leader Pelosi but when "her campaign team and Campos learned of the incidents aboard the bus," they told state party officials "that Bauman and the bus should stay away," Campos told AP. The wire service added that "it appeared Bauman engaged in the misbehavior and did not intervene to stop others from acting inappropriately," citing Campos as the source.
"We felt, and I felt, it was important for us, given we had serious credible allegations, not to have Chair Bauman attend this get-out-the-vote event in San Francisco," said Campos, who first revealed the details to the Bay Area Reporter. 
On Nov. 28, the Los Angeles Times published interviews with the two young women. Grace Leekley, 21, identified as a temporary worker in the party's communications department, who said she did not want to ride on the bus because of Bauman. But she met up with the tour Nov. 1 in Chico and joined the staff for lunch. She sat next to Kate Earley, 21, identified as having started about six weeks earlier as the party's digital director.
"Leekley and Earley said that during the lunch, Bauman shushed the staffers at the table and then asked the women, within earshot of their colleagues, if the two were having an affair. When both women said no, Bauman pressed the issue, they said, telling them he would not mind if they were involved in a sexual relationship so long as it did not affect the workplace," The Times reported.
Described another way—Bauman teasingly asked the two young women if they were a couple—it was OK if they were, just not at work. And herein lies a problem: Bauman may have thought he was warmly joking around but it was apparently perceived by the two new young staffers as sexual harassment and they felt intimidated.
"I felt really embarrassed, almost ashamed, and uncomfortable," Leekley told The Times. "I'm basically bottom-of-the-barrel staff — and he's the most powerful man in the party. I didn't feel comfortable saying anything."
"A party staffer told The Times that he heard Bauman make the comments and said the two women told him afterward they felt deeply uncomfortable. Earley filed a complaint to her supervisor within 30 minutes of the incident and spoke with the human resources department later that day, she said. Her attorney said the complaint remains unresolved," The Times reported Nov. 28. "As of the time he took a leave of absence on Monday, Bauman had not seen a formal complaint, according to a source close to the chairman." As of Nov. 29, CDP spokeperson Mike Roth has not replied to inquires from the Los Angeles Blade about if and when any complaints have been officially filed and by whom.
It is not yet known what Earley's supervisor or the human resources department did with her complaint. But here's where things get murky.
The bus tour incident occurred on Nov. 1 but apparently nothing more was said or done until Nov. 23, the Black Friday after Thanksgiving, when party Vice-Chair Daraka Larimore-Hall suddenly circulated a "Statement of Charges" to members via email and on social media alleging sexual harassment and sexual assault and a call for Bauman to resign. But he apparently did not confront Bauman directly during the Executive Board meeting.
"This past weekend, I learned of multiple serious and credible allegations that Chairman Bauman sexually harassed, and in some cases sexually assaulted, individuals during party functions, and of at least one incident of Chairman Bauman tampering with witnesses. I have spoken directly with two victims, who confirm the allegations, and I spoke to the potential witness whom Chairman Bauman intimidated. I understand there are additional victims as well," Larimore-Hall wrote. " I believe the victims. Their stories illustrate a clear and escalating pattern of Chairman Bauman's horrific and dehumanizing behavior."
Larimore-Hall is not specific about the charges, doesn't identify the victims and asks for respect for the victims' privacy rights. In a second letter, he explains that he was approached "by a number of Party staff who confided in me their stories of sexual harassment and assault" by Bauman. He calls them "survivors," and "young political professionals, many of whom are at the very beginning of their careers." Obviously, he says, "it is completely unacceptable for Chairman Bauman to remain in office given these credible, corroborated and utterly heart-breaking allegations." 
The first note sounds like Leekley and Earley and the party staffer who overheard Bauman talk to the young women at lunch. But when and how did the two turn into a "number of Party Staff" who came forward to share their experiences? This is before Rep. Ro Khanna (D-San Jose) broke the allegations wide open with a tweet on Friday, Nov. 23.
"The allegations of sexual assault that @DarakaKenric is filing against @EricBauman are shocking. CalDems should replace him with @mldauber who is one of the nation's foremost scholars on sexual harassment & led the Persky recall campaign. We need a bold feminist to lead for 2020."
When Stanford law professor Michele Dauber said thanks but no thanks, others suggested that "a more fitting successor for Bauman would be Kimberly Ellis, who lost the election for party chair by just 62 votes after a contentious race in 2017. Dauber and Khanna agreed that Ellis—who represented the more progressive wing of the Democratic Party—would be well qualified for the role, if she still wants it. Ellis did not immediately respond to a request for comment," sanjoseinside.com reported Saturday.
Were the Party staffers Ellis supporters who Bauman hired to try to create unity after the infamously contentious race for Party chair? Or were they staffers from former chair John Burton's regime, when Bauman served as party vice-chair? If the latter, why did none of them come forward during that 2009-2017 time period when Burton was more intimidating than Bauman? And while there were rumors about Bauman being "handsy" at parties, as one gay person told the Los Angeles Blades, there were no official or registered complaints or leaked stories about Bauman during the 17 years he served as Chair of the LA County Democratic Party.
Bauman, a registered nurse, started his political career at Stonewall Democratic Club where he grew the club into a political powerhouse helping elect local, state and national candidates. His behind-the-scenes strategic political acumen resulted in senior-level positions in state government, including serving as Senior Advisor and LA Director of office services for Speakers John A. Perez, Toni Atkins and Anthony Rendon; Senior Advisor to Senate Majority Leader Dean Florez; Senior Advisor to Lt. Gov. John Garamendi and when Garamendi served as Insurance Commissioner; Special Assistant to Gov. Gray Davis and Director of Davis' LA Office. While some politicos complained about his gruff Bronx/Jewish style, he also served as a generous mentor to many and no credible complaint was leaked to the press or filed from a staffer or party-goer during this time.
However, during Bauman's unexpectedly heated race to become the first openly LGBT CDP chair in May 2017, a number of inaccurate accusations from the Ellis camp emerged. The worst was that he had engaged in "inappropriate behavior with 14- and 16-year-old boys," an old but painful and effective trope used against LGBT people. "What they're accusing me of is being a child predator! And I lost it. I started crying uncontrollably," Bauman told the Los Angeles Blade (May 15, 2017). Then Bauman thought: "how many people are accused of things or are victims of abuse and they hide in shame and so it continues?"
He fumed in an email. "This is despicable! This is not the Democratic Party! These are Trumpian tactics and it has to stop! I'm a pretty tough guy and I can take the attacks, lies, distortions, and mud that has been slung at me pretty well," Bauman wrote. "But to accuse me of child abuse, especially of this nature, is beyond the pale and 100% unacceptable."
The Machiavellian rumor was apparently started by a gay Ellis supporter. Ellis denounced the tactic but references to the rumor have shown up in social media responses to the current allegations. It's hard to un-ring a bell. 
Bauman seemed too politically savvy to cross lines of propriety. In Dec. 2011, in an unflattering LA Weekly story calling him the "L.A. Democratic Party Kingmaker," the author describes Bauman's arm-twisting as "machine politics at its finest." To which Bauman replied: "I don't make promises or ask people to do things in a quid pro quo format. That would be against the law. I'm way too high-profile, way too visible a guy to do that."
The Los Angeles Blade spoke with numerous gay and straight politicos familiar with Bauman and his decades-long leadership in the Democratic Party. They requested anonymity for fear of being dragged into a controversy that might sully their own name or out of respect for the due-process investigation or not wanting to appear to attack the alleged victims. 
Two gay men independently said that years ago Bauman said hello with a lingering pat or quick grab of the butt at an event—but neither man considered the touch sexual harassment. They said Bauman never followed up with anything physical or with sexually explicit comments. Several people said they saw him drink but never saw him drunk. Others said he was often flirtatious, would give an unexpected shoulder rub and sometimes made lewd jokes and risqué gestures that made some people uncomfortable—but never to the degree that he should be reported for sexual harassment. No one ever experienced or witnessed him commit the crime of sexual assault such as grabbing or groping. 
But there were notes of hesitation, too. "I don't believe any of it," one politico told the Los Angeles Blade. "Except Larimore-Hall is too smart to use the term 'sexual assault' unless he had something behind it."
"I take seriously any allegation brought forward by anyone who believes they have been caused pain," Bauman said in a statement that did not include an abject denial. He announced the independent investigation "ensuring these individuals making the charges are treated with respect and free from any concerns of retaliation." He added that he looks "forward to putting these allegations behind us and moving forward as unified Democrats." Alex Gallardo-Rooker, another party vice chair, is serving as acting chairwoman during the investigation.
The story grabbed national headlines but seemed to disappear as other splashier news moved center stage. And then came the Nov. 28 bombshell, with The Times interviews of 10 party staffers and political activists who claimed Bauman "made crude sexual comments and engaged in unwanted touching or physical intimidation in professional settings."
"People just didn't know how to speak up about it," Allan Acevedo, an activist with California Young Democrats told The Times. "There was a sense of loyalty. Not just to him, but to any advancement that any LGBT person makes in terms of us having representation at the table."
"Eight current party staffers said that, while he was serving as chairman, Bauman would regularly make sexually explicit comments in the workplace to men and women, including remarks about sexual acts, his and other staffers' genitalia, and being sexually attracted to staff members," The Times reported, citing some accusers by name. "The eight staff members each said they also experienced or witnessed Bauman engaging in unwanted touching, particularly directed toward male staffers."
The California Democratic Party's handbook defines prohibited behavior, including sexual harassment and assault, and prohibits the use of alcohol while at work. On Nov. 28, Bauman, 59, said he's going to rehab.
"I deeply regret if my behavior has caused pain to any of the outstanding individuals with whom I've had the privilege to work. I appreciate the courage it took for these individuals to come forward to tell their stories," Bauman said in a statement. "In the interest of allowing the CDP's independent investigation to move forward, I do not wish to respond to any of the specific allegations. However, I will use the time I am on leave to immediately seek medical intervention to address serious, ongoing health issues and to begin treatment for what I now realize is an issue with alcohol."
What will the investigation determine? Was this a behind-the-scenes political coup by progressive purists who want to rid the CDP of the old guard? Are the allegations asserted by a new generation with internalized homophobia? Or might Bauman have been blind to his own bad behavior? In any event, there has been a coup—an overthrowing of the old gay cultural attitudes of physical and verbal coziness, which is unacceptable in today's professional environment.
"Leading the California Democratic Party to historic victories has been the honor of a lifetime, and I look forward to continuing this important work upon the conclusion of the investigation and when my health allows," Bauman said in his statement.