November 16, 2018 at 8:38 pm PST | by Karen Ocamb
The Advocate & OUT's straight owner disputes 'inaccurate' rumors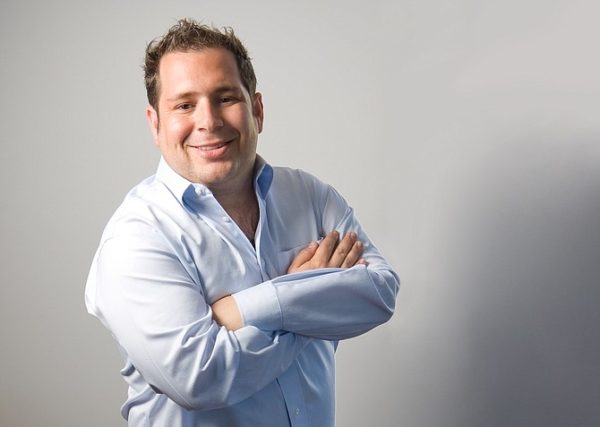 Adam Levin realizes now that he might have been a little naïve, contributing to politicians based on their pro-Israel and pro-cannabis positions without looking deeper into their records.
But when an Oct. 18 Women's Wear Daily story suggested the new straight owner of The Advocate and OUT magazines was "a documented supporter of conservative Republican politicians during a time when the culture wars have never been more fierce," he was startled. And he certainly didn't expect the backlash that followed.
The article painted Levin as "opportunistic," as one gay observer put it to the Los Angeles Blade on background. He believes Levin is intent on building up, then selling the brands as "assets" to pay down debt on High Times Holding, which Levin runs. "He's probably bought into the narrative that LGBT people have millions of dollars in disposable income and he wants to monetize the brands. But he doesn't understand where The Advocate came from or how important the legacy and reputation are for its existence."
Rumors quickly spread about Levin's plans for Pride Media,  his re-branding of the two magazines and other Here Publishing properties he bought last year from longtime Here Media co-owners Paul Colichman and Stephen P. Jarchow.
"The LGBT community is fiercely loyal and likes doing business with companies that are LGBT friendly, especially businesses that are LGBT owned and operated. We want to know that we will be treated fairly, equally, without feeling that we are being taken advantage of," Leo Cusimano, co-chair of the National LGBT Media Association, told the Los Angeles Blade. "We need to hold businesses accountable for their support of our community, as well. Political donations by businesses have consequences."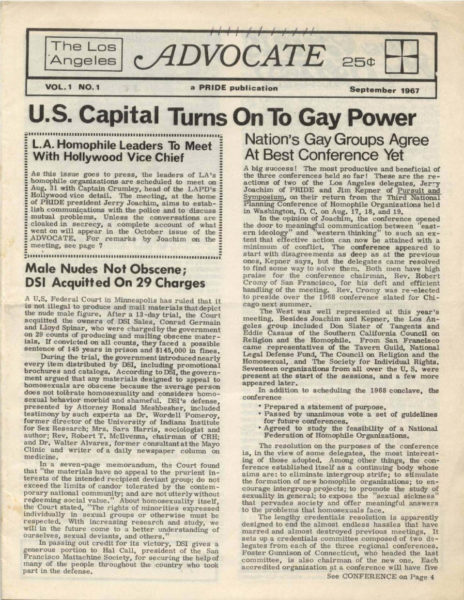 The Advocate was first published as a gay activist newsletter in Los Angeles to provide news about police bar raids and rallies and protests before Stonewall (see video here). The magazine went through financial peaks and valleys as it attempted to inform and reflect back to the emerging national LGBT community the news, politics and cultural trends as an eyewitness to and sometimes driver of LGBT history.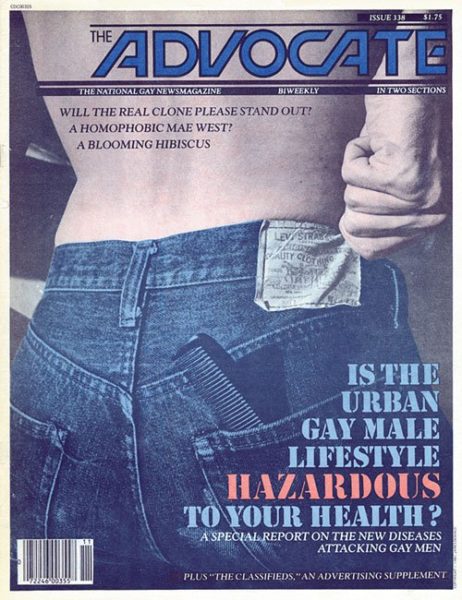 It was often one of the first sources of information for closeted LGBT people, including new Pride Media CEO Nathan Coyle, who comes out of mainstream digital publishing.
Gay communications and longtime marketing guru Bob Witeck also feels a personal fealty to The Advocate's legacy. In 1968, the 16-year old Arlington, VA high schooler found a pay phone and dialed the Mattachine Society, which he'd about because of Frank Kameny's visibility. Kameny answered, Witeck came out to him and asked where he could meet other gay people.
"Frank was kind but also mindful that in 1968, there were few if any options available to a gay adolescent at all, since I could not go into any bars, of course," Witeck told the Los Angeles Blade. "However, he suggested I pick up a copy of a new publication, The Advocate, that was a resource to the community—and suggested I also find a copy of the Gay Blade, which soon planned to publish in Washington DC.  I felt isolated and scared, of course, but emboldened enough to find the lifeline I needed growing up through reading and treasuring gay newspapers and magazines. They kept my hopes and expectations alive for years."
Witeck—who subsequently was involved with PlanetOut's buyout of The Advocate's parent company LPI notes an ironic connection between the original gay magazine and the current owner. A few years after his clandestine call to Kamaney, Witeck said, he "discovered Earthworks in Washington DC, a head shop owned by Deacon Macubbin in Washington DC that mostly sold pot paraphernalia including water pipes and rolling paper. However, I also discovered he distributed the Blade and other gay magazines. Even though I wasn't a user of marijuana at that age, I inevitably bought rolling papers as an excuse to pick up the Blade or an early gay glossy like After Dark or Mandate. Deacon later became a very successful bookstore founder of Lambda Rising, and also founded Washington DC's gay pride celebration."
Gay publications were "a gateway drug, in the very, very best sense of that word. They opened up my unbelieving eyes to others exactly like me who wanted to know who I am, to be safe, confident and connected with a richer world of people like me and who might love me," Witeck said.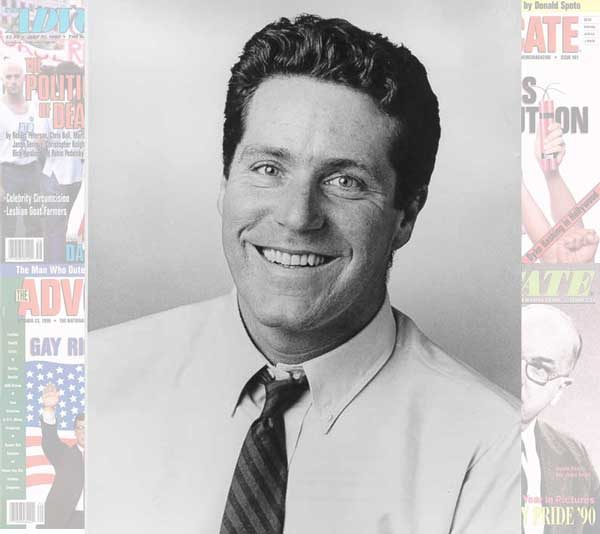 The Advocate also shocked and challenged both mainstream sensibilities and LGBT community apathy and depression tied to the AIDS crisis. Perhaps none was more provocative than editor-in-chief Richard Rouilard.
The Advocate made national news publishing Michelangelo Signorile's outing of Pete Williams who served as Pentagon spokesperson while there was a ban on gays serving openly in the military. Williams is now the Supreme Court correspondent for NBC News.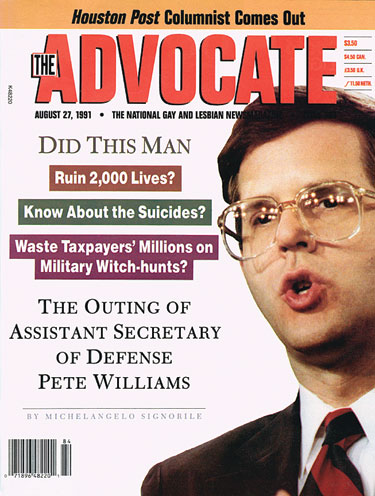 It was not a thoughtless or hasty "click-bait" decision. Rouilard agonized over it, but finally embraced its significance illuminating a gay-accepted hypocrisy that hurt the community. "Outing is a very nasty business," Richard told the LA Times in 1992. "But homophobic homosexuals are a nastier business. I don't think homosexuality is a privacy issue."
Richard Rouilard died of AIDS on Wednesday, May 8, 1996. He had resigned from The Advocate in 1992 after getting into fights with the publishers over his enthusiastic spending of their money. "I think he was most proud of turning The Advocate around and being on the vanguard of bringing gay rights into the mainstream," LA Times reporter and close friend Mary McNamara told the San Francisco Chronicle. "He was able to approach very serious subjects with intense attention but also with a great sense of humor and empathy."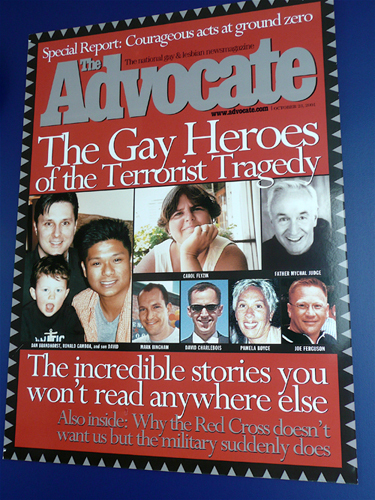 The Advocate continued to do important work under The Advocate's first woman Editor in Chief Judy Wieder and others, including how Sept. 11, 2001 impacted LGBT people. But The Advocate lost its luster and became a subscription insert into the more popular OUT Magazine. As the idea that print media was dying gained more traction, focus shifted to the digital platforms. But money remained an issue.
"I took this job to help restore these titles and their relevance," Coyle told the Los Angeles Blade.
In the WWD story, it appeared that Coyle essentially blamed former OUT editor-in-chief Aaron Hicklin for not paying writers, including columnist Michael Musto,  who is still owed money. "I really would like the money," Musto told the Los Angeles Blade. "I have major bills to pay."
Coyle said that Pride Media severed its ties with a company that was supposed to pay the writers after having directly received payment from Here Media. "Aaron was absolutely not to blame" for the lack of payment, he said, adding that Pride Media will make good on the overdue payments.
Levin, CEO and Managing Director of Oreva Capitol, sent a statement to WWD to correct the record. "In Today's Politicized World, We Should Be Careful What We Assume About Others," read the title.
"Recently, Women's Wear Daily, a publication I deeply respect, published a piece about me, my business and political beliefs that wasn't just hurtful, but inaccurate. It is my hope those same editors provide me the opportunity to defend against the false impressions this story may have left in the minds of readers we no doubt share," Levin wrote. When the letter was posted on Oct. 24, the word "inaccurate" was missing and replaced with the redundancy "but could lead the reader to form the wrong opinion." There was no mention that WWD apparently asked for the change.

Other stories about High Times' debt popped up online, then were quickly taken down. But with rumors about Levin and suspected anti-LGBT investors in Pride Media still darting through the Internet, Levin has tried to be transparent by responding to media inquiries, including several long interviews with the Los Angeles Blade.
Regarding being a big Republican donor, Levin laughs. "I'd have to make big Republican donations to be a big Republican donor," he says. Indeed, a scroll through OpenSecrets.org shows that he has donated to a handful of Republicans but mostly to Democrats. Ironically, one donation in 2013 was to Republican Rep. Devin Nunes and another to Democrat Rep. Adam Schiff, now famously on opposite sides of the House Intelligence Committee.
"I probably identify with [out newly elected Colorado governor] Jared Polis as much as any politician," Levin says. "He's pro-business, he has Jewish values and he's pro-Israel." Levin further explained his politics in an online Advocate article posted on Oct. 25.  Characterizing himself as conservative on fiscal issues, he added: "Socially, I'm as far left as it gets."
When pressed, Levin says he personally identifies as a political "centrist." His donations to Republicans were a result of his membership several years ago in a pro-Israel AIPAC Leadership Training Initiative (LTI), which encourages "relationships with politicians on both sides of the aisle." It is an "unwritten expectation" that when LTI hosts candidates, "you support the candidates that attend as part of the LTI training program." He didn't realize some of the candidates had anti-LGBT records until the backlash. "I, obviously, should have investigated all of them better."
In fact, Dana Rohrabacher's name came up so persistently during the backlash resulting from the WWD story, he checked it out himself.  "I even confirmed," that he had not contributed, Levin said, "because everyone kept saying it so I was like, did I miss something? No, absolutely no."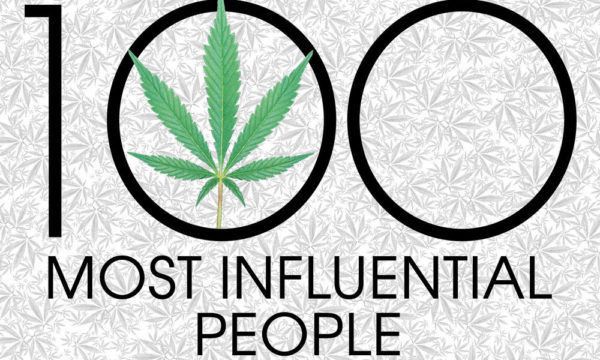 Rohrabacher was in the High Times 100 issue, however, for the now-dethroned Republican's support for cannabis.
There are a number of other rumors Levin wants to dispute, starting with that debt question that led to concerns about how he would pay for the next iteration of the brands.
"The acquisition of High Times was structured as a leveraged buyout that provided the sellers convertible debt that converts upon the IPO, which is expected to happen in the near future," Levin says. "Pride has no convertible debt and the capital structure is very clean and simple."
Additionally, WWD reported that conservative Republican billionaire investor Ken Fisher was deeply involved in Pride Media. "Possibly in an attempt to bridge the gap between a major turnover in staff and a public filing, it seems that Pride, while only a year into its existence, has taken on another outside investor in Fisher Capital, operated by the billionaire Kenneth Fisher. The firm recently added the company to its list of investments without disclosing the amount of its stake and Pride declined to comment," WWD reported.
Not so, says Pride Media Board Chair Adam Levin. "A majority of the board are members of the LGBT community," he says. He added that the rumor that right-wing Republican billionaire Ken Fisher is 40 percent investor is inaccurate. "I do not know Ken Fisher," Levin says. "There are members of the Fischer family who are shareholders" but they are no relation to Ken Fisher.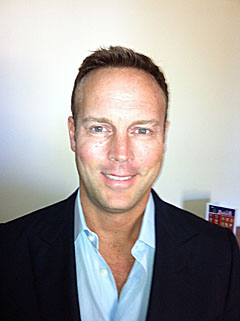 One prominent gay business investor in Pride Media, Thomas D. Kraemer, emailed the Los Angeles Blade that anti-LGBT investment in the company is illogical. "Reinvigorating these brands and a successful Pride Media Company can only make the LGBTQ community stronger, smarter and more influential. Why would a homophobe want to do that? It makes zero sense," he wrote.
Diane Anderson-Minshall, Editorial Director of The Advocate magazine and Chill magazine and Editor in Chief of Plus magazine and Out Traveler magazine, told the Los Angeles Blade that Levin and Coyle reached out to her and that Levin also sent an internal note to staff attached to the statement he sent to WWD.
The Levin memo read: "As I'm sure many of you have seen by now, last week Women's Wear Daily published an inflammatory piece regarding our organization, and highlighted a few of my political donations, ascertaining that we may be suffering, and that I may have an Anti-LGBTQ political stance. I have authored an Op-ed that we are sending to the editors at WWD in response, but I wanted to take a minute to share this piece with you all ahead of time for clarity and understanding. It is very important to me that you all understand who I am as a person, and rest assured that I want nothing but the best for the community we serve, as well as all of you." Anderson-Minshall said she wants to believe him.
Rumors of internal company mergers and castoffs are also inaccurate, Levin asserts. "I have zero intentions of combining High Times and The Advocate, OUT or any of the other media properties that I may buy in the future. I think The Advocate and OUT need their own voice," he says. "And there's synergies, absolutely there's synergies. And there're opportunities for companies to work together but I'm not combining them."
Levin laughs thinking people posit him as a kind of Rupert Murdock-wannabe. "Listen, I'm someone who invests in media properties. I love that people think I'm building an empire, candidly, but I'm an entrepreneur who likes communities and right now, I'm really focused on Pride and High Times. And I have a company called Boxlight that's an education company," he says. "The Advocate and OUT are media properties that matter to the community. And that's the value of the brand, of the heritage, of the history. What was attractive to me was the community around OUT, the community around the Pride Media brands.
"There's a stickiness," he says. "They're media properties that people care about. And in today's competitive media landscape, I thought there was a real opportunity to reinvent the brands and create compelling content that would allow the brands to thrive for many years to come—in print and online and other mediums and platforms, as well. These are properties people have grown up with.
"I believe strongly that print is not dead," Levin continues. "When you're trying to target and reach and market to a niche demographic, print is very much alive."
Levin says the purchase of The Advocate and OUT was not only a business decision but personal. "I am very close to Pride Media today and see the traction and the momentum of what we're doing and I think it did take someone to shake up the brand … I've invested my own money in common stock of the company. I have family members, close family members who are LGBT. I don't want to let them down."