The Advocate & OUT's straight owner disputes 'inaccurate' rumors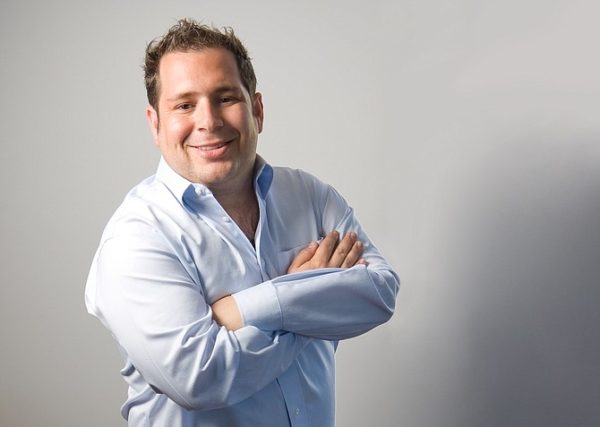 Adam Levin realizes now that he might have been a little naïve, contributing to politicians based on their pro-Israel and pro-cannabis positions without looking deeper into their records.
But when an Oct. 18 Women's Wear Daily story suggested the new straight owner of The Advocate and OUT magazines was "a documented supporter of conservative Republican politicians during a time when the culture wars have never been more fierce," he was startled. And he certainly didn't expect the backlash that followed.
The article painted Levin as "opportunistic," as one gay observer put it to the Los Angeles Blade on background. He believes Levin is intent on building up, then selling the brands as "assets" to pay down debt on High Times Holding, which Levin runs. "He's probably bought into the narrative that LGBT people have millions of dollars in disposable income and he wants to monetize the brands. But he doesn't understand where The Advocate came from or how important the legacy and reputation are for its existence."
Rumors quickly spread about Levin's plans for Pride Media,  his re-branding of the two magazines and other Here Publishing properties he bought last year from longtime Here Media co-owners Paul Colichman and Stephen P. Jarchow.
"The LGBT community is fiercely loyal and likes doing business with companies that are LGBT friendly, especially businesses that are LGBT owned and operated. We want to know that we will be treated fairly, equally, without feeling that we are being taken advantage of," Leo Cusimano, co-chair of the National LGBT Media Association, told the Los Angeles Blade. "We need to hold businesses accountable for their support of our community, as well. Political donations by businesses have consequences."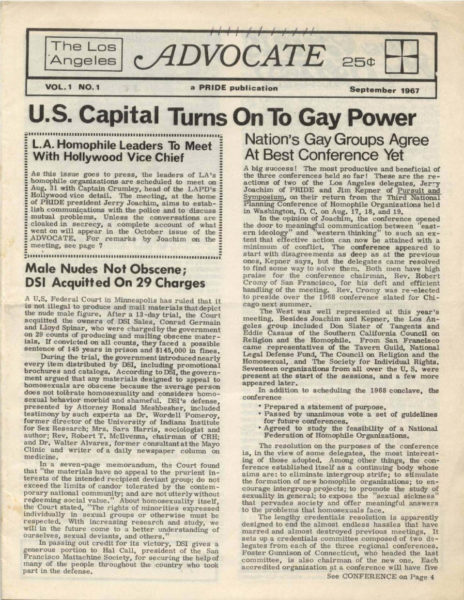 The Advocate was first published as a gay activist newsletter in Los Angeles to provide news about police bar raids and rallies and protests before Stonewall (see video here). The magazine went through financial peaks and valleys as it attempted to inform and reflect back to the emerging national LGBT community the news, politics and cultural trends as an eyewitness to and sometimes driver of LGBT history.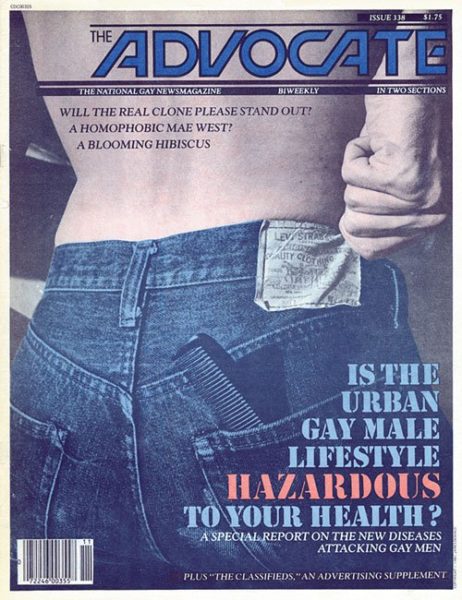 It was often one of the first sources of information for closeted LGBT people, including new Pride Media CEO Nathan Coyle, who comes out of mainstream digital publishing.
Gay communications and longtime marketing guru Bob Witeck also feels a personal fealty to The Advocate's legacy. In 1968, the 16-year old Arlington, VA high schooler found a pay phone and dialed the Mattachine Society, which he'd about because of Frank Kameny's visibility. Kameny answered, Witeck came out to him and asked where he could meet other gay people.
"Frank was kind but also mindful that in 1968, there were few if any options available to a gay adolescent at all, since I could not go into any bars, of course," Witeck told the Los Angeles Blade. "However, he suggested I pick up a copy of a new publication, The Advocate, that was a resource to the community—and suggested I also find a copy of the Gay Blade, which soon planned to publish in Washington DC.  I felt isolated and scared, of course, but emboldened enough to find the lifeline I needed growing up through reading and treasuring gay newspapers and magazines. They kept my hopes and expectations alive for years."
Witeck—who subsequently was involved with PlanetOut's buyout of The Advocate's parent company LPI notes an ironic connection between the original gay magazine and the current owner. A few years after his clandestine call to Kamaney, Witeck said, he "discovered Earthworks in Washington DC, a head shop owned by Deacon Macubbin in Washington DC that mostly sold pot paraphernalia including water pipes and rolling paper. However, I also discovered he distributed the Blade and other gay magazines. Even though I wasn't a user of marijuana at that age, I inevitably bought rolling papers as an excuse to pick up the Blade or an early gay glossy like After Dark or Mandate. Deacon later became a very successful bookstore founder of Lambda Rising, and also founded Washington DC's gay pride celebration."
Gay publications were "a gateway drug, in the very, very best sense of that word. They opened up my unbelieving eyes to others exactly like me who wanted to know who I am, to be safe, confident and connected with a richer world of people like me and who might love me," Witeck said.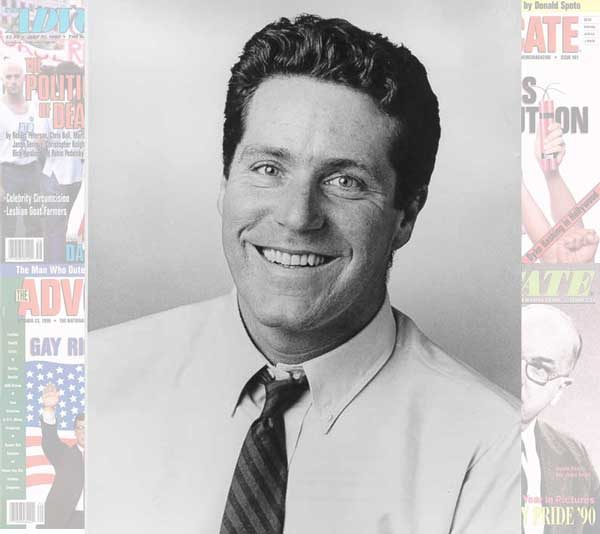 The Advocate also shocked and challenged both mainstream sensibilities and LGBT community apathy and depression tied to the AIDS crisis. Perhaps none was more provocative than editor-in-chief Richard Rouilard.
The Advocate made national news publishing Michelangelo Signorile's outing of Pete Williams who served as Pentagon spokesperson while there was a ban on gays serving openly in the military. Williams is now the Supreme Court correspondent for NBC News.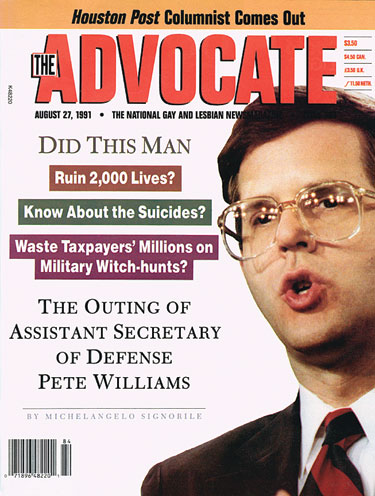 It was not a thoughtless or hasty "click-bait" decision. Rouilard agonized over it, but finally embraced its significance illuminating a gay-accepted hypocrisy that hurt the community. "Outing is a very nasty business," Richard told the LA Times in 1992. "But homophobic homosexuals are a nastier business. I don't think homosexuality is a privacy issue."
Richard Rouilard died of AIDS on Wednesday, May 8, 1996. He had resigned from The Advocate in 1992 after getting into fights with the publishers over his enthusiastic spending of their money. "I think he was most proud of turning The Advocate around and being on the vanguard of bringing gay rights into the mainstream," LA Times reporter and close friend Mary McNamara told the San Francisco Chronicle. "He was able to approach very serious subjects with intense attention but also with a great sense of humor and empathy."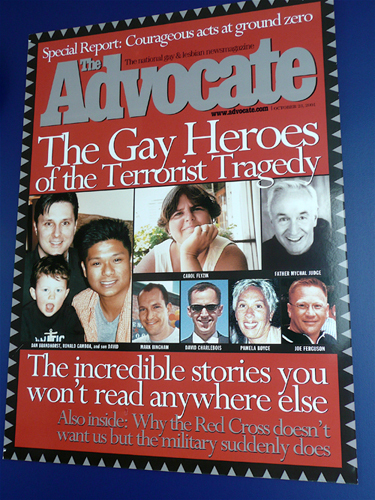 The Advocate continued to do important work under The Advocate's first woman Editor in Chief Judy Wieder and others, including how Sept. 11, 2001 impacted LGBT people. But The Advocate lost its luster and became a subscription insert into the more popular OUT Magazine. As the idea that print media was dying gained more traction, focus shifted to the digital platforms. But money remained an issue.
"I took this job to help restore these titles and their relevance," Coyle told the Los Angeles Blade.
In the WWD story, it appeared that Coyle essentially blamed former OUT editor-in-chief Aaron Hicklin for not paying writers, including columnist Michael Musto,  who is still owed money. "I really would like the money," Musto told the Los Angeles Blade. "I have major bills to pay."
Coyle said that Pride Media severed its ties with a company that was supposed to pay the writers after having directly received payment from Here Media. "Aaron was absolutely not to blame" for the lack of payment, he said, adding that Pride Media will make good on the overdue payments.
Levin, CEO and Managing Director of Oreva Capitol, sent a statement to WWD to correct the record. "In Today's Politicized World, We Should Be Careful What We Assume About Others," read the title.
"Recently, Women's Wear Daily, a publication I deeply respect, published a piece about me, my business and political beliefs that wasn't just hurtful, but inaccurate. It is my hope those same editors provide me the opportunity to defend against the false impressions this story may have left in the minds of readers we no doubt share," Levin wrote. When the letter was posted on Oct. 24, the word "inaccurate" was missing and replaced with the redundancy "but could lead the reader to form the wrong opinion." There was no mention that WWD apparently asked for the change.

Other stories about High Times' debt popped up online, then were quickly taken down. But with rumors about Levin and suspected anti-LGBT investors in Pride Media still darting through the Internet, Levin has tried to be transparent by responding to media inquiries, including several long interviews with the Los Angeles Blade.
Regarding being a big Republican donor, Levin laughs. "I'd have to make big Republican donations to be a big Republican donor," he says. Indeed, a scroll through OpenSecrets.org shows that he has donated to a handful of Republicans but mostly to Democrats. Ironically, one donation in 2013 was to Republican Rep. Devin Nunes and another to Democrat Rep. Adam Schiff, now famously on opposite sides of the House Intelligence Committee.
"I probably identify with [out newly elected Colorado governor] Jared Polis as much as any politician," Levin says. "He's pro-business, he has Jewish values and he's pro-Israel." Levin further explained his politics in an online Advocate article posted on Oct. 25.  Characterizing himself as conservative on fiscal issues, he added: "Socially, I'm as far left as it gets."
When pressed, Levin says he personally identifies as a political "centrist." His donations to Republicans were a result of his membership several years ago in a pro-Israel AIPAC Leadership Training Initiative (LTI), which encourages "relationships with politicians on both sides of the aisle." It is an "unwritten expectation" that when LTI hosts candidates, "you support the candidates that attend as part of the LTI training program." He didn't realize some of the candidates had anti-LGBT records until the backlash. "I, obviously, should have investigated all of them better."
In fact, Dana Rohrabacher's name came up so persistently during the backlash resulting from the WWD story, he checked it out himself.  "I even confirmed," that he had not contributed, Levin said, "because everyone kept saying it so I was like, did I miss something? No, absolutely no."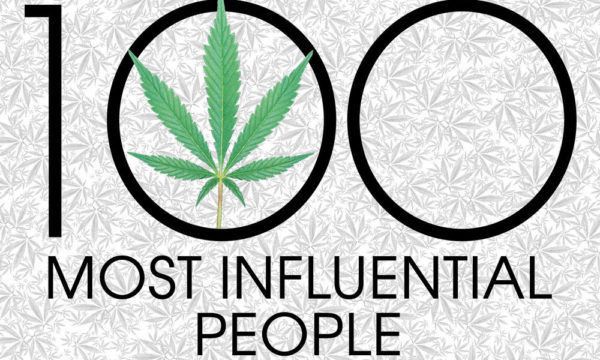 Rohrabacher was in the High Times 100 issue, however, for the now-dethroned Republican's support for cannabis.
There are a number of other rumors Levin wants to dispute, starting with that debt question that led to concerns about how he would pay for the next iteration of the brands.
"The acquisition of High Times was structured as a leveraged buyout that provided the sellers convertible debt that converts upon the IPO, which is expected to happen in the near future," Levin says. "Pride has no convertible debt and the capital structure is very clean and simple."
Additionally, WWD reported that conservative Republican billionaire investor Ken Fisher was deeply involved in Pride Media. "Possibly in an attempt to bridge the gap between a major turnover in staff and a public filing, it seems that Pride, while only a year into its existence, has taken on another outside investor in Fisher Capital, operated by the billionaire Kenneth Fisher. The firm recently added the company to its list of investments without disclosing the amount of its stake and Pride declined to comment," WWD reported.
Not so, says Pride Media Board Chair Adam Levin. "A majority of the board are members of the LGBT community," he says. He added that the rumor that right-wing Republican billionaire Ken Fisher is 40 percent investor is inaccurate. "I do not know Ken Fisher," Levin says. "There are members of the Fischer family who are shareholders" but they are no relation to Ken Fisher.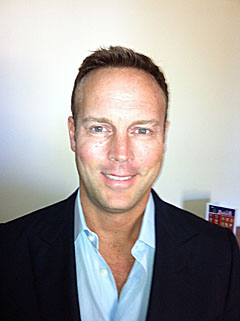 One prominent gay business investor in Pride Media, Thomas D. Kraemer, emailed the Los Angeles Blade that anti-LGBT investment in the company is illogical. "Reinvigorating these brands and a successful Pride Media Company can only make the LGBTQ community stronger, smarter and more influential. Why would a homophobe want to do that? It makes zero sense," he wrote.
Diane Anderson-Minshall, Editorial Director of The Advocate magazine and Chill magazine and Editor in Chief of Plus magazine and Out Traveler magazine, told the Los Angeles Blade that Levin and Coyle reached out to her and that Levin also sent an internal note to staff attached to the statement he sent to WWD.
The Levin memo read: "As I'm sure many of you have seen by now, last week Women's Wear Daily published an inflammatory piece regarding our organization, and highlighted a few of my political donations, ascertaining that we may be suffering, and that I may have an Anti-LGBTQ political stance. I have authored an Op-ed that we are sending to the editors at WWD in response, but I wanted to take a minute to share this piece with you all ahead of time for clarity and understanding. It is very important to me that you all understand who I am as a person, and rest assured that I want nothing but the best for the community we serve, as well as all of you." Anderson-Minshall said she wants to believe him.
Rumors of internal company mergers and castoffs are also inaccurate, Levin asserts. "I have zero intentions of combining High Times and The Advocate, OUT or any of the other media properties that I may buy in the future. I think The Advocate and OUT need their own voice," he says. "And there's synergies, absolutely there's synergies. And there're opportunities for companies to work together but I'm not combining them."
Levin laughs thinking people posit him as a kind of Rupert Murdock-wannabe. "Listen, I'm someone who invests in media properties. I love that people think I'm building an empire, candidly, but I'm an entrepreneur who likes communities and right now, I'm really focused on Pride and High Times. And I have a company called Boxlight that's an education company," he says. "The Advocate and OUT are media properties that matter to the community. And that's the value of the brand, of the heritage, of the history. What was attractive to me was the community around OUT, the community around the Pride Media brands.
"There's a stickiness," he says. "They're media properties that people care about. And in today's competitive media landscape, I thought there was a real opportunity to reinvent the brands and create compelling content that would allow the brands to thrive for many years to come—in print and online and other mediums and platforms, as well. These are properties people have grown up with.
"I believe strongly that print is not dead," Levin continues. "When you're trying to target and reach and market to a niche demographic, print is very much alive."
Levin says the purchase of The Advocate and OUT was not only a business decision but personal. "I am very close to Pride Media today and see the traction and the momentum of what we're doing and I think it did take someone to shake up the brand … I've invested my own money in common stock of the company. I have family members, close family members who are LGBT. I don't want to let them down."
LGBTQ rainbow flag was born in San Francisco, but its history is disputed
On that day in June 1978, it felt as if the rainbow had always been a symbol for the LGBTQ community, it just hadn't revealed itself yet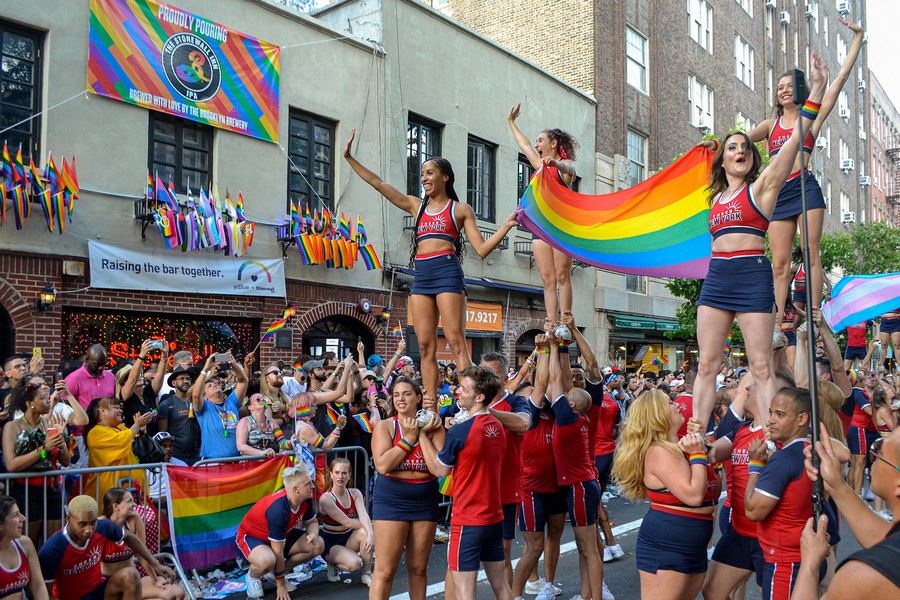 By August Bernadicou (with additional text and research by Chris Coats) | NEW YORK – Many enduring symbols that establish an instant understanding and define a diverse community are intrinsically linked with controversy, confusion, and ill-informed backstories dictated by vested interests and those who told the story loudest. The LGBTQ rainbow flag is no different.
While it was the work of many, the people who deserve credit the most have been minimized if not erased. Gilbert Baker, the self-titled "Creator," screamed the story and now has a powerful estate behind his legacy. Before his death in 2017, Baker established himself as the complete authority on the LGBTQ rainbow flag. It was his story which he lived and became.
While there are disputed accounts on the flag's origins, one thing that is not disputed is that the LGBTQ rainbow flag was born in San Francisco and made for the Gay Freedom Day Parade on June 25, 1978.
For all of human history, rainbows have mystified and inspired. A greeting of light and serenity after the darkness and chaos of a storm. They have symbolized hope, peace, and the mysteries of existence. For a moment, we can see the invisible structure, the "body" of light, made visible. A secret revealed, then hidden again.
Though it may seem like a modern phenomenon, rainbow flags have waved throughout history. Their origin can be traced to at least the 15th Century. The German theologian, Thomas Müntzer, used a rainbow flag for his reformist preachings. In the 18th Century, the English-American revolutionary and author, Thomas Paine, advocated adopting the rainbow flag as a universal symbol for identifying neutral ships at sea.
Rainbow flags were flown by Buddhists in Sri Lanka in the late 19th Century as a unifying emblem of their faith. They also represent the Peruvian city of Cusco, are flown by Indians on January 31st to commemorate the passing of the spiritual leader Meher Baba, and since 1961, have represented members of international peace movements.
Now, the rainbow flag has become the symbol for the LGBTQ community, a community of different colors, backgrounds, and orientations united together, bringing light and joy to the world. A forever symbol of where they started, where they have come, and where they need to go. When many LGBTQ people see a rainbow flag flowing in the wind, they know they are safe and free.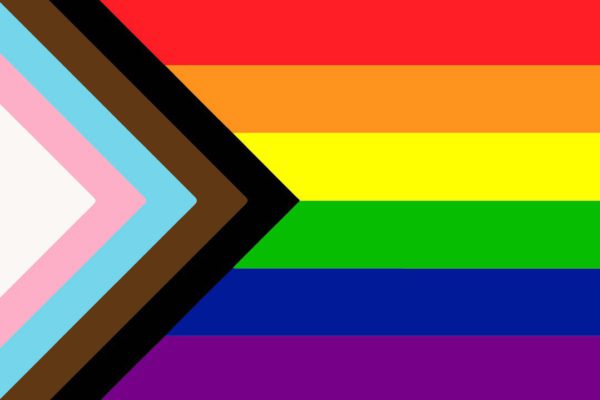 While the upper class and tech interests rule the city now, in the 1960s and 70s, San Francisco was a wonderland for low and no-income artists. The counterculture's mecca. By the mid-1970s, the Haight-Ashbury neighborhood that had once been a psychedelic playground of hippie art, culture, and music had fallen into disarray. Hard, dangerous drugs like heroin had replaced mind-expanding psychedelics. Young queers and artists needed a new home, and they found it in the Castro.
Lee Mentley (1948-2020) arrived in San Francisco in 1972 and quickly fell in with the oddball artist and performers in the Castro neighborhood, donning flamboyant, gender-fucked clothes, performing avant-garde theater, and creating their own clubhouses. He was on the Pride Planning Committee in 1978 and ran the Top Floor Gallery on the top floor of 330 Grove, which served as an early Gay Center in San Francisco.
Lynn Segerblom (Faerie Argyle Rainbow) was originally from the North Shore of Hawaii and moved to San Francisco where she attended art school at the Academy of Art. Her life changed when she found a new passion in tie-dye and rainbows in the early 1970s. Entrenched in the free-loving technicolor world of San Francisco, in 1976, Lynn legally changed her name to Faerie Argyle Rainbow. She joined the Angels of Light, a "free" performance art troupe where the members had to return to an alternative, hippie lifestyle and deny credit for their work.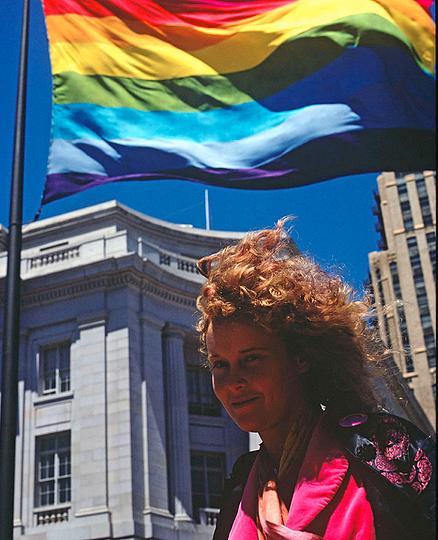 Shortly after the original rainbow flags were flown for the last time, both Lynn and Lee moved out of San Francisco. Lee moved to Hawaii and Lynn moved to Japan. When they returned, they were shocked to see how their contribution to history was becoming a universal symbol. They remain passionate about defending their legacies and giving a voice to the mute.
——–
LEE MENTLEY: "One day in 1978, Lynn came to 330 Grove with a couple of her friends, James McNamara and Robert Guttman, and said we should make rainbow flags for Gay Day to brighten up San Francisco City Hall and Civic Center because it's all gray and cold in June. We thought that it sounded like a great idea."
To get over the first hurdle, money, the young artists went to Harvey Milk, the first openly gay elected official in the history of San Francisco, California, for help.
LEE: "There was no actual funding for it. We contacted Harvey Milk and another supervisor, and they asked the city if we could get a little funding. They found some leftover funds from the previous year's hotel tax, and we got $1,000."
LYNN SEGERBLOM: "I remember having a meeting where I presented the idea of making rainbow flags. I had some sketches. At that meeting, there was just a handful of us there, and I remember, and even my friend assured me, that Gilbert Baker was not at that meeting. I don't know where he was, I didn't keep track of him, but he was not at the meeting where I suggested rainbow flags. We decided, yes, rainbow flags sounded great."
The committee approved the rainbow imagery and made the decision to make two massive 40' x 60' foot rainbow flags to be flown at the Civic Center along with 18 smaller rainbow flags designed by different, local artists, to line the reflecting pool putting rainbows into the grey sky.
For the two large flags, one would be an eight-color rainbow starting with pink and including turquoise and indigo in place of blue, and the other a re-envisioning of the American flag with rainbow stripes which became known as Faerie's flag.
——
Gilbert Baker's name on his memoir, Rainbow Warrior, it says "CREATOR OF THE RAINBOW FLAG," leaving little debate that Gilbert claimed full ownership for the concept and design of the legendary symbol. He never denied Lynn or James MacNamara's involvement in the flags' construction and speaks briefly and fondly of them and their talents in that same book.
LEE: "We didn't need one person saving our ass, and it certainly wouldn't have been Gilbert Baker. He was no Betsy Ross. He was a very good promoter, and I give him all the credit in the world for making the rainbow flag go international. He did a great service, and he was a very talented, creative man, but he could never have done all of the work by himself; no one could have.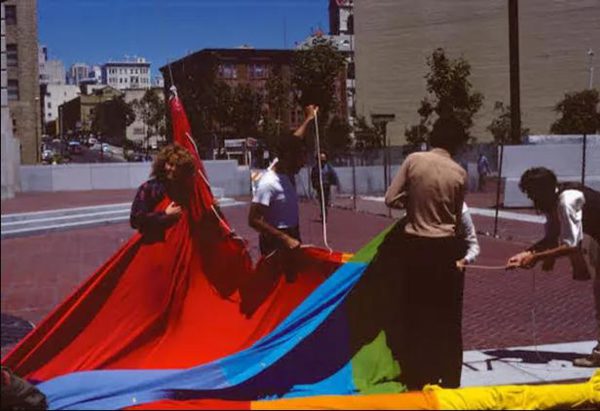 We never considered ownership. There was never this big ownership debate until Gilbert started it. Because AIDS hit us so fast after this, most of our leadership either went into HIV activism or died."
LYNN: "The story is that a white gay man did all of this by himself, but, in fact, that is not true at all. He just promoted it. For that, though, he should be given great love."
————
Making the two original rainbow flags was no easy feat. With a limited budget and limited resources, the group had to improvise and figure it out as they went along. While Lynn had dabbled in flags before, a project of this scope and importance was far beyond her comfort zone.
LEE: "The community donated the sewing machines we used. We asked people at the Center if anyone would like to volunteer. All sorts of people from all over the country helped us with the flags, over 100 people, which, to me, is an amazing story. That's where it came from. It came from regular artists who wanted to have fun and make something pretty for gay people."
LYNN: "The Rainbows Flags were hand-dyed cotton and eight colors. I made two different types. The one with just the stripes and then the American flag one, which I designed myself. There was a group of us that made them, James McNamara, Gilbert Baker, and myself. Originally they were my designs. I was a dyer by trade, and I had a dying studio at the Gay Community Center at 330 Grove Street."
LEE: "People would come and help as long as they could. Then, somebody else would come and help as long as they could. We opened up the second floor of 330 Grove to people who came to be in the Parade and march. People came in and made posters, banners and did art stuff."
LYNN: "We made the flags on the roof because there was a drain up there. There was a wooden ladder that led up to the roof. The hot water had to be carried up to the roof because we didn't have hot water up there. We heated it up on the stove in pots. We put the hot water in trash cans on the roof."
LEE: "We had trash cans and two by fours, and we had to keep agitating the fabrics in the dye. Since they were in hot water, they had to be poked and agitated for hours."
LYNN: "We had to constantly move the fabric in the dye, so the dye penetrated the fibers that weren't clamped tight. We had to make sure there would be blue, and it wouldn't just be white on white or white with a very murky, pale blue.
After they were washed and dyed, they went through the washer and dryer. Then, we ironed them. If the fabric stays out too long, once you take it out of the water, if it sits on itself even for just a few minutes, it starts to make shapes."
—-
LEE: "Lynn's flag, the new American flag, was a similar rainbow, but it had stars in the corner. I have photographs of that flag flying at gay events in San Francisco at City Hall and Oakland."
LYNN: "I always liked the American flag. I thought, oh, wouldn't that be nice? I knew with some luck I could make it."
LEE: "I thought the one with the stars was more interesting because it symbolized a new flag for the United States."
LYNN: "For my American flag, I decided to flip the order of the colors, so pink was at the bottom and purple was at the top in an eight-color spectrum. That was intentional. I wanted them to be different.
​I made the stars with wood blocks and clamps. I got the white fabric and washed it, and folded it a different way. When I was making it, it looked like a big sandwich. The bread would be the woodblocks, and the fabric was in between. We immersed the whole flag in dye and swished it around. I wasn't sure if it would come out right because it was the first time I did that fold. I was lucky. It worked.
I sewed lamé stars into one stripe with leftover stars from my Angels of Light costumes. On one side of the blue stripe, there was a star with silver lamé, and on the other side, there was a star with gold lamé.
I got all these ideas because I worked with these mediums on a daily basis: paint, dye, fabric, and glitter."
—
LEE: "We worked for weeks dying fabric, shrinking fabric, and sewing fabric."
LYNN: "We worked on them for seven weeks. I was worried that we weren't going to finish on time. We worked hard and long hours. Towards the end, we decided we didn't have time to go to the laundromat, so we started rinsing them on the roof and wringing them dry. We also ran out of quarters. We draped them off of the Top Floor Gallery's rafters, and they drip-dried. They looked great. They were beautiful."
Until that day, the pink triangle, used by the Nazis to label homosexuals in their genocidal campaign, was the most commonly used symbol for the LGBTQ movement, a symbol in solidarity with our fallen ancestors. But the triangle came from a place of trauma, it was a reminder of the storm while the rainbow was the hope that came after. The promise of brighter days ahead.
On that day in June 1978, it felt as if the rainbow had always been a symbol for the LGBTQ community, it just hadn't revealed itself yet.
LEE: "We went out, flew the flags, and blew everybody's fucking minds. People were blown away. The flags were so beautiful. They were waving warriors. The biggest ones were 40' by 60' feet. The Parade marched through the flags to get to Civic Center. We instantly proclaimed that this was our symbol. It wasn't planned. It was organic."
LYNN: "It was just what I wanted: a touch of magic, a touch of glitter, and a little bit of Angels of Light."
LEE: "We weren't creating this huge symbol. We were decorating Civic Center. We weren't thinking of marketing our entire futures. It was an art project."
LYNN: "We looked at the rainbow flags as a work of art, and we wanted them to be beautiful and unique. After the Gay Parade, the flags were a big hit. People loved them. Everybody loved them."
—-
In the pre-technology world, people and property could just disappear. There were no surveillance cameras. Lynn didn't even have a phone.
Even though no one could have known the flag would become an eternal symbol for a worldwide community, it was clear even then that they were a piece of history to be coveted.
In his memoir, Baker hypothesizes that the Rainbow American flag was stolen shortly after it was hung up on the front of the Gay Community Center for Gay Freedom Day in 1979. He suggests it might have been a construction crew working on the new symphony across the street and in a homophobic act, stole the flag and buried it in cement.
LEE: "Later in 1979 or 1980, you can find it somewhere in the minutes for a Pride Foundation meeting, Gilbert came to us and asked to borrow the two large flags, and we agreed. We never saw them again."
LYNN: "I went to work one day at 330 Grove, and Gilbert came in and said that the two 40' by 60' flags had been stolen."
Images published in the San Francisco Chronicle, videos of the march, and other widely distributed photographs only add to the mystery. They show both the classic rainbow flag of eight stripes and the American revision flying at the Civic Center on June 24, 1979 and not at the Gay Community Center.
As for the original eight-stripe flag, there are even fewer answers. In his memoir, Baker says that while they were taking down the flags from Civic Center, he was hit on the head on knocked out. "When I came to on the muddy ground," he says "I saw people all around me hitting each other and screaming obscenities. They were fighting over the rainbow flags, pulling on them like a game of tug-of-war, tearing them."
LYNN: "It would have taken more than one person to carry the flags. It took three people to carry one folded-up flag for the Parade, and we needed a van. They weighed a lot, and 330 Grove did not have an elevator. Whoever stole them had help—one person could not do it on their own."
—-
LYNN: "Before the rainbow flag missing, Gilbert came to one of my workshops. He wanted to watch me dying fabric all day and see how I did everything.
I was like, oh yeah, I'll show you, come in.
I said, here, put some gloves on and do it with me.
He was like, oh, no, no, I don't want to get my hands dirty.
​He was only trying to figure out how I did the dying."
—-
LEE: "Gilbert went to these places like MoMa and told them these outrageous stories about how he made the rainbow flag all by himself. He said this about the flag he donated. When you look at it, you can tell that it was bought at a craft fair. It flat out wasn't one of our flags. It was polyester."
​LYNN: "It was polyester, it wasn't the same size, and it wasn't hand-dyed. My flags were different. The rainbow flag at MoMa was a beautiful flag inside a frame, but it wasn't an original, not from 1978, not even a piece from 1978. I was hoping, oh, my God, maybe this is a piece of it."
LEE: "It wasn't even the original colors. MoMa said they were original flags, but they weren't. It was a commercially produced rainbow flag with a primary color rainbow. The plaque cited Gilbert donating it as an original flag."
—-
LYNN: "I read online that Gilbert Baker said he named me "Faerie Argyle Rainbow," a complete lie. Bethany the Princess of Argyle named me. I chose the name Rainbow because I was known as a rainbow artist."
​LEE: "Even Lynn's driver's license said her name was "Faerie Argyle Rainbow.""
LYNN: "In 1976, I filled out a form at the DMV, and my name became Faerie Argyle Rainbow. Back then, they didn't ask you for a birth certificate. The employee just said, "This is your name now," and gave me a driver's license that said Faerie Argyle Rainbow.
​It all sounds crazy now, but back then, it wasn't."
—–
LEE: "I had my arguments and fights with Gilbert Baker because he claims he came up with the rainbow flag. If you go through all of his different interviews, you see that his story changes over and over and over again. He even said Harvey Milk came to him and asked him to create a symbol for the movement. No—I read that, and no such thing happened."
LYNN: "Just look at his interviews. His takes on what the colors in the rainbow flag mean are all in his head. The rainbow represents everyone, no matter what gender or race you are; that's how I looked at it. Rainbows are in nature and beautiful. People love them, and I love them. I knew they would be great color healing.
Gilbert assigning meaning to each color is ridiculous. I think anyone could make up what each color means. If I wanted to, I could do the same. It wasn't what I was thinking. I was thinking that rainbows encompass everybody, the whole group, unity."
LEE: "I have tried to convince people that the rainbow flags were made with tax-payer dollars. We made them as a non-profit.
Not even Gilbert owns them. I have always thought that anyone who sells anything rainbow should give a portion of the profits to homeless gay youth. We need to take care of our own kind because no one does. The whole concept of taking care of gay people has disappeared."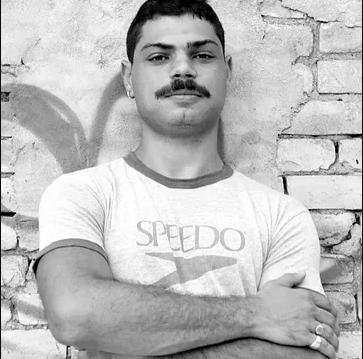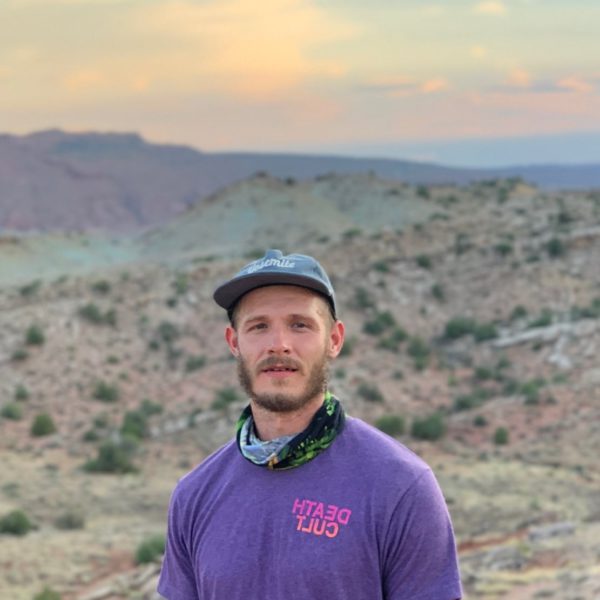 August Bernadicou is a 27-year-old gay historian and the President of the LGBTQ History Project Inc. Chris Coats is an editor and producer.
Together, they produce the QueerCore Podcast and will shortly be releasing an episode that is the definitive story on the rainbow flag featuring Lee Mentley, Lynn Segerblom, and Adrian Brooks.
August Bernadicou is presenting a Pride event in NYC this year that all folks are cordially invited to attend- its virtual;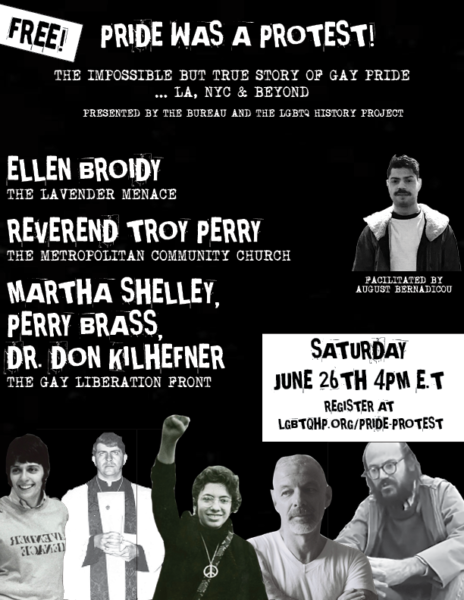 Here is the link for the event: https://www.lgbtqhp.org/pride-protest