October 27, 2019 at 5:00 pm PDT | by Karen Ocamb
Breaking: Bisexual Rep. Katie Hill resigns from Congress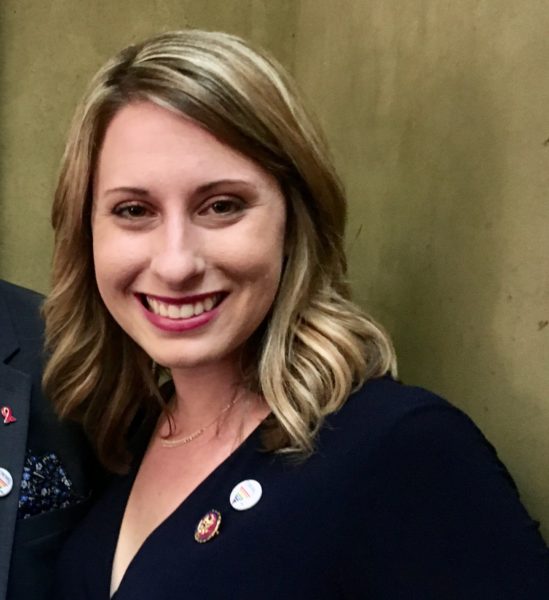 Rep. Katie Hill (D-Santa Clarita), California's first bisexual representative in Congress, announced her resignation "with a broken heart" in a tweet and statement late Sunday afternoon amid a House Ethics investigation into whether she engaged in a relationship with a congressional staffer, which is against ethics rules.

Hill has vehemently denied that allegation, though she did admit to a relationship with a campaign staffer when she was running for the seat she won during the 2018 "blue wave" from anti-LGBTQ Republican Rep. Steve Knight. The relationship also apparently included her now estranged husband of nine years, Kenneth Heslep, from whom she is getting divorce. She blames Heslep, who "seems determined to try to humiliate me," for releasing private nude photos of her and for creating a smear campaign in the conservative press.
"This is what needs to happen so that the good people who supported me will no longer be subjected to the pain inflicted by my abusive husband and the brutality of hateful political operatives who seem to happily provide a platform to a monster who is driving a smear campaign built around cyber exploitation," Hill wrote in her statement. "I know that as long as I am in Congress, we'll live fearful of what might come next and how much it will hurt."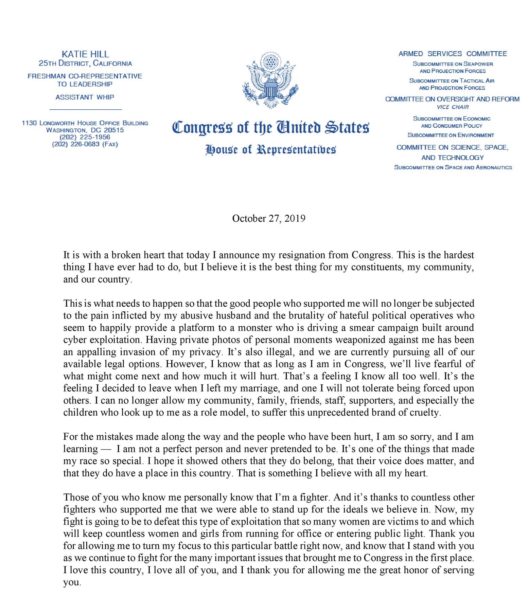 Last week Hill said she contacted Capitol Police about the distribution of the photos without her consent. It is unclear if they will track down the origin now that she has resigned – but Heslep lives in Los Angeles County and "revenge porn" is against the law in California. Hill says she is determined to fight back against the smear campaign – which has also outed her former campaign aide and created an avalanche of cyber hate and mockery.
It is unclear what happens now, but most likely a special election will be called in her 25th District.
This is a developing story….