CA 25th race getting curiouser and curiouser
(UPDATED) The race to fill former Rep. Katie Hill's now vacant seat representing the 25th Congressional District is getting a lot of media attention. After a bleak absence, Hill has returned to Twitter to praise her friend, Assemblymember Christy Smith, the only woman running in the March 3 special election, and needle candidate George Papadopoulos, a former Trump aide who pleaded guilty to lying to the FBI and seems to use Twitter like his former boss.
"That's my seat, Katie. Am coming for it. Flipping it red. #CA25," @GeorgePapa19 tweeted recently.
"Ooooh boy, better watch out guys. Felons are coming for #CA25. It's cool, @georgepapa19, we're ready for you and we have an army to make sure @ChristyforCA25 keeps the seat blue," @KatieHill4CA replied.
Hill's snark is a long way from the powerful personal Dec. 7 op-ed in the New York Times in which she depicts how the cyber "revenge porn" humiliation forced her to resign and drove her very, very close to suicide. She pulled back thinking of all the girls and young women she would disappoint if she didn't bounce back and fight.
"Many people have nightmares in which they're naked in public, trapped and trying to escape," she wrote. "In the days leading up to my resignation, my life was just like everyone's worst nightmare."
But baring the truth of her deep depression and gratitude toward those who stuck by her — including House Speaker Nancy Pelosi — freed her to speak her mind in a way the polite constraints of elected office did not permit.
Hill explained to MSNBC "All In" host Chris Hayes why her case is so important.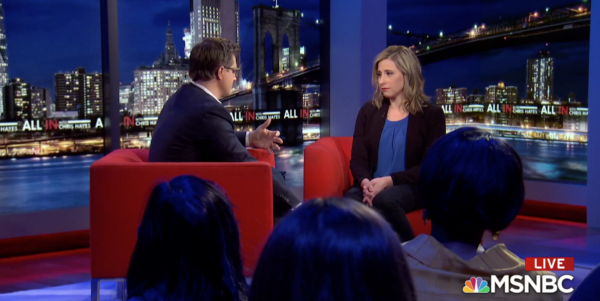 When Hayes noted that that younger generation routinely takes and shares naked selfies, which could impair future runs for elective office. Hill said she was not aware that the naked photos were taken or distributed.
"But," she said, "I have taken images like that, right. And I'm not even ashamed to say I've taken and sent images like that and so have – I think, regardless of your age, the numbers show that 80% of people have done that. So, let's not pretend that this is some taboo thing that people aren't doing."
But the question needs to be asked, who are the photos being used against? "And it's overwhelmingly women. This is the whole concept of cyber exploitation or revenge porn. But mine is the first real example where it's been used against a public figure, especially a political figure, and the images are published by a mainstream publication, by a significant publication. And that's why I think the legal action that we're pursuing is going to be so, so important because I don't think this is an acceptable precedent that can be set."
Hill said she is "all for" the First Amendment but "there is a line and it comes down to fundamental human decency" and enabling abusers. "That, in and of itself, is going to discourage people from running if we don't do something to stop it," as she is by going after the media outlet that posted the photos.
Will candidates for the 25th CD be asked about that line or crossing it with Trump? Politico's Carla Marinucci noted Dec. 10, for instance, that Papadopoulos appears in the just released Inspector General's report "about 400 times, given his instrumental role in the investigation's origin [into Russian interference in the 2016 elections]. While the report knocks down Papadopoulos' theory that he was entrapped, Papadopoulos claimed vindication." In fact, he's using the Inspector General's report as a pro-Trump-ish fundraising tool.
One of the strangest twists to the 25th CD race is the social media plays by The Young Turks' Cenk Uygur, who describes himself as a progressive journalist while others claim he's a misogynist and a homophobe, based on past statements from which he has since distanced himself. Uygur's entrance in the race prompted Equality Armenia executive director Armen Abelyan to also take out papers.
Apparently, those old establishment criticisms of Uygur didn't bother presidential candidate Marianne Williamson who announced her endorsement on Instagram on Dec. 8. After expressing support for Katie Hill, Williamson said: "I'm a big fan of Cenk Uygur. He's been very good to me both personally and professionally, and I've learned a lot from him. I totally support his run in California-25."
Uygur sounded a little like Papadopoulos in a Dec. 3 tweet after a supporter noted that "reactionary" Sen. Dianne Feinstein had endorsed "meaningless handpicked establishment status quo candidate Christy Smith" against "progressive champion and agent-of-change @CenkUygur."
Uygur tweeted: "I welcome their endorsements of my opponent. They keep saying my opponent has been handpicked by the Democratic Party establishment. I'm pretty sure that's not how democracy works. I can't wait to show them who the voters hand pick!"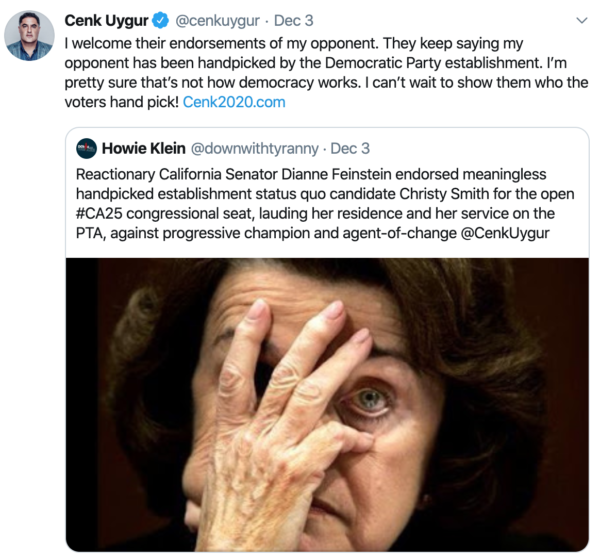 But endorsements can be double-edged. After having to apologize for tweeting a false story that President Trump had pardoned the late murderer Charles Manson, Williamson got hit with a slew of tweet-darts for apparent anti-vaccine comments on Facebook suggesting that vaccines "could contain 'neurons-toxins' and demanded an 'independent commission' to review vaccine safety," according to the Washington Post.
That prompted a Dec. 10 response tweet from out Sen. Scott Wiener: "Parroting anti-vax talking points is, indeed, anti-vax. Please re-focus your efforts on actual science. Alternatively, please drop out of the race, since the Democratic Party is the party of science. That's one of the key things that makes us different than Trump."
The 25th CD race is shaping up to be like a SoCal political reality TV show.
(Photo of George Papadopoulos via Papadopoulos' Facebook page)
UPDATE (11/12)  Endorsements mount: 
Bernie Sanders first endorsed Uygur, then withdrew his endorsement after loud criticism from women.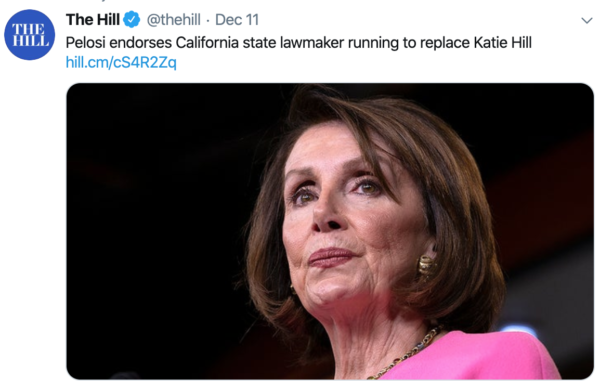 MEANWHILE: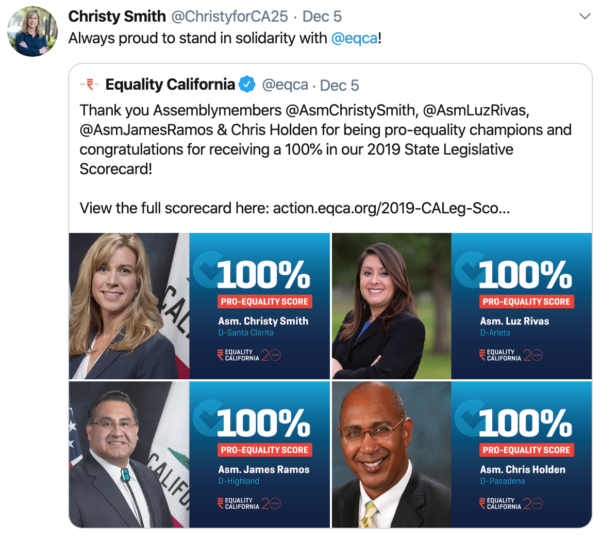 Los Angeles Mayor: Supreme Court decision "fundamentally un-American"
Mayor Eric Garcetti spoke to the Los Angeles Blade reflecting on Friday's U.S. Supreme Court reversal of Roe v. Wade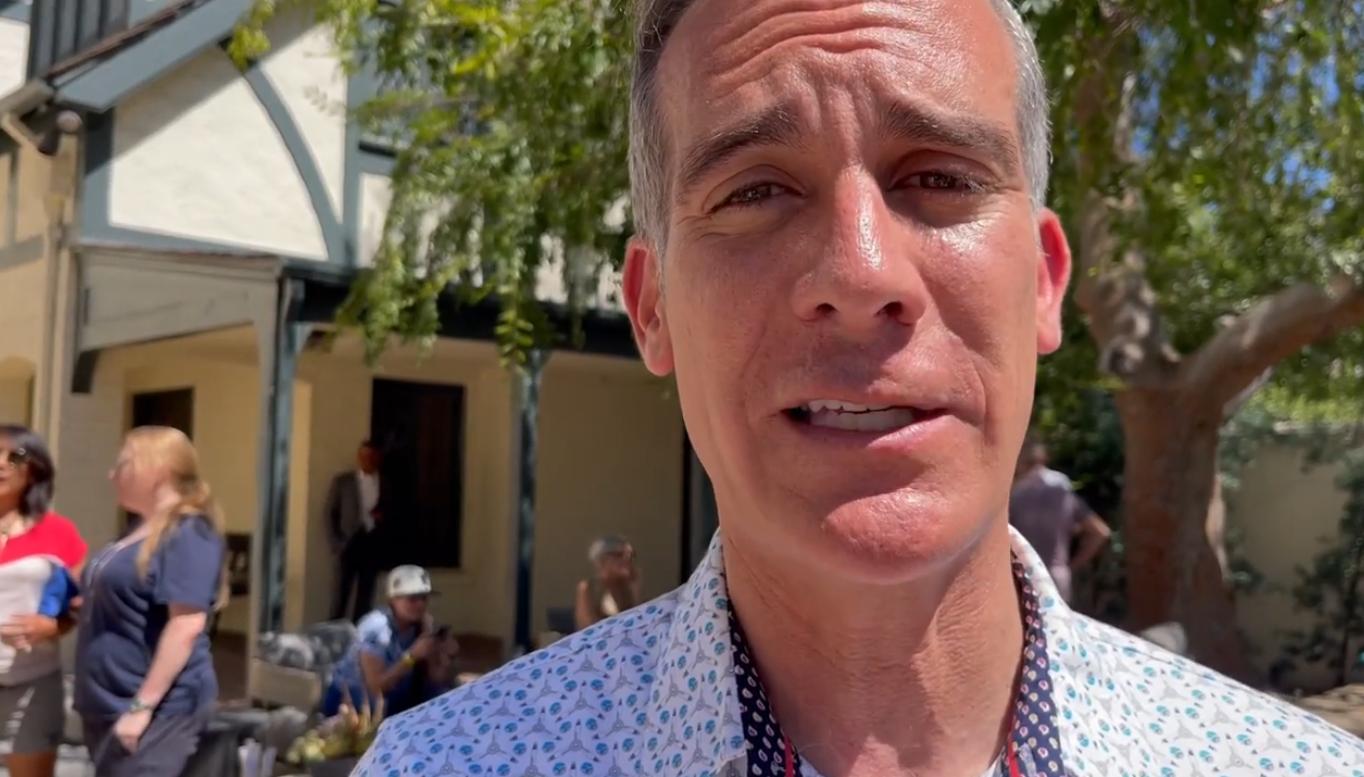 LOS ANGELES – During the Los Angeles Mayor's Pride Garden Party held at The Getty House, the official residence of the mayor Saturday afternoon, Mayor Eric Garcetti spoke to the Los Angeles Blade reflecting on Friday's U.S. Supreme Court reversal of Roe v. Wade.
Garcetti noted that "here in LA we defend those rights" after taking aim at the actions of the high court Friday in the ruling on the Mississippi case of Dobbs v. Jackson Women's Health clinic. "Make no mistake, we have to be active," Garcetti added.
WATCH:
Reminder: 101 closed through DTLA until 10pm Sunday
The closure began at 10 p.m. Saturday and will be completed by 10 p.m. Sunday, the Los Angeles Bureau of Engineering announced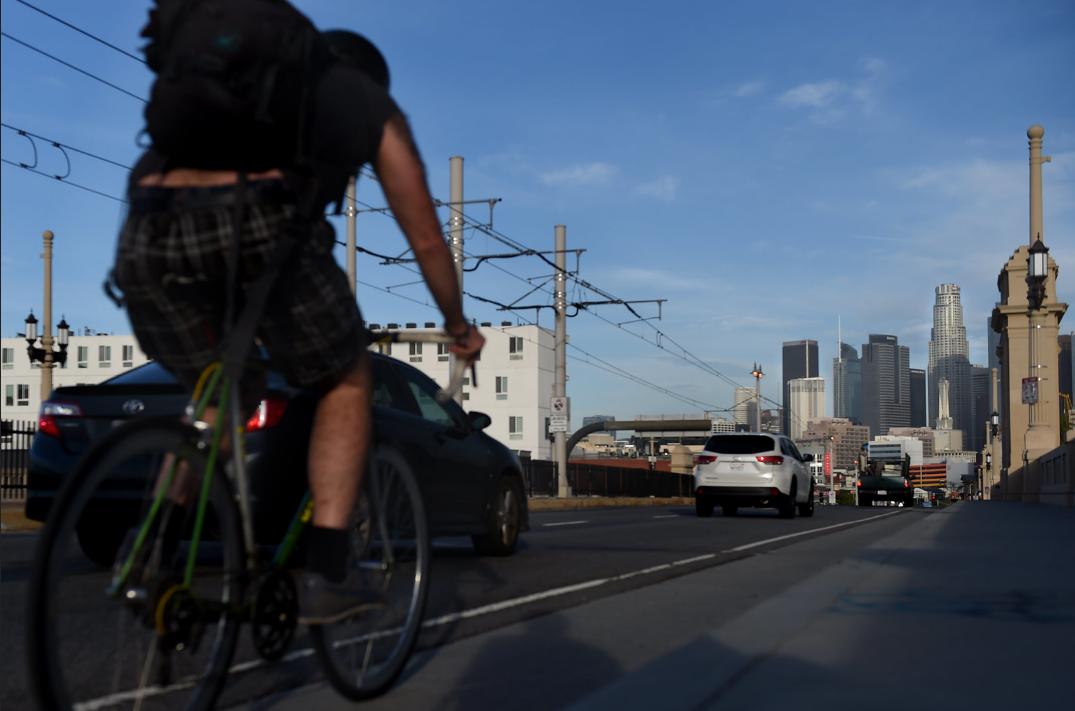 LOS ANGELES – (KTLA) Motorists are being reminded that the stretch of 101 through the downtown area of Los Angeles is shut down for road restoration and reconstruction work.
KTLA reported the closure began at 10 p.m. Saturday and will be completed by 10 p.m. Sunday, the Los Angeles Bureau of Engineering announced.
The 24-hour closure between State Route 60 and the 10 Freeway interchange is needed for the Sixth Street Viaduct Replacement Project, which aims to replace the original, seismically-deficient structure built in 1932, authorities said.
During the closure, the California Department of Transportation will also be doing slab replacement work along the same stretch of the 101 Freeway.
The closure will center around the east side of the viaduct construction site in Boyle Heights. While the stretch is closed, drivers headed west on State Route 60 from the Pomona area will not be able to access the 101, officials said.
Off-ramps and on-ramps in the area will also be closed during as road work gets underway.
Drivers who reach the closure will see signs directing them to a detour.
The new $588 million viaduct is expected to be completed in Summer of 2022, stretching between Boyle Heights and the Arts District.
Officials say it is the largest bridge project in the history of Los Angeles.
LA-DWP & Mayor Garcetti announce new outdoor watering restrictions
Sprinkler watering will be allowed Monday & Friday at odd-numbered addresses in the city, and even-numbered addresses on Thursday & Sunday

LOS ANGELES – In a press conference Tuesday Los Angeles Mayor Eric Garcetti and officials from the Los Angeles Department of Water and Power (LADWP) announced that outdoor watering in the city will be restricted to two days a week starting June 1.
The announcement comes as the Metropolitan Water District of Southern California declared an unprecedented water shortage emergency two weeks ago, imposing restrictions after MWD's board voted to adopt the emergency measures to "reduce non-essential water use" in certain areas. Cities and smaller water suppliers that get water from MWD are required to start restricting outdoor watering to one day a week, or to find other ways to cut usage to a new monthly allocation limit.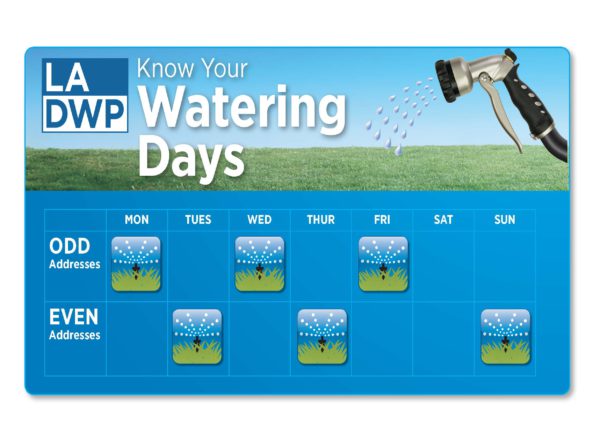 In Tuesday's press conference Mayor Garcetti said L.A.'s two-day limit was still more lenient than the one imposed by the Metropolitan Water District of Southern California, which has ordered many of its member agencies to restrict outdoor watering to once a week.
Sprinkler watering will be allowed on Monday and Friday at odd-numbered addresses in the city, and even-numbered addresses on Thursday and Sunday.