November 25, 2019 at 3:34 pm PST | by Karen Ocamb
Christy Smith is the only woman running in CA 25 special election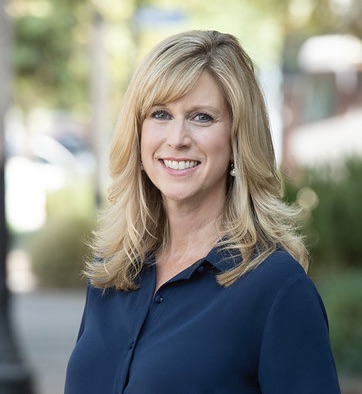 A look at their Facebook pages the week before Thanksgiving gives an insight into the candidates vying to replace former Rep. Katie Hill in California's 25th Congressional District in the March 3 special election. The men – Democratic YouTube host Cenk Uygur, Republican former Rep. Steve Kight and former Trump campaign staffer George Papadopoulos all focus on themselves.
Assemblymember Christy Smith, however, focuses on the district – from the 32-plus photos of a Lancaster community Thanksgiving dinner to packaging Thanksgiving dinners for 124 families associated with the Samuel Dixon Family Health Centers in Newhall to raising $1,406 at her Hart High School Class of 2009 reunion to show support for Saugus High School, still grieving after the recent mass shooting.
But Smith also has some California mamma bear snarl. Papadopoulos has lived in California for just over a year and is still on supervised release after spending two weeks in federal prison for lying to the FBI during the Mueller probe. On Oct. 29, Smith posted a Twitter video mocking the 32-year old.  "Hey, guess what, this is California," said Smith, slapping her hand on a US map. "And as soon as you can identify my district on here, you let us know."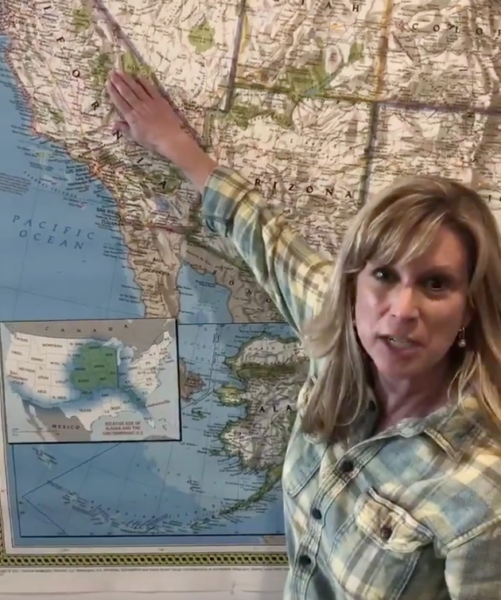 Nonetheless, on Nov. 25, Papadopoulos went on "Fox & Friends" to announce he's running to "promote the 'America First' agenda." Some media outlets are speculating about a possible duel between Papadopoulos and Cenk Uygur, the hyper-masculine progressive co-founder/host of The Young Turks, who is also running.
The Los Angeles County Democratic Party, Stonewall Democratic Club, and Stonewall Young Democrats have condemned Uygur for past controversial comments, including a 2000 blog post in which Uygur called women "flawed."
"It seems like there is a sea of tits here, and I am drinking in tiny droplets," Uygur wrote. "Obviously, the genes of women are flawed. They are poorly designed creatures who do not want to have sex nearly as often as needed for the human race to get along peaceably and fruitfully."
Uygur posted a Facebook video complaining about the "personal attacks." But Uygur has a bigger problem. "I've never once seen Cenk at anything," Zakia Kator, an Afghan refugee progressive activist who supports Smith, told the Daily Beast. "He's truly a carpetbagger. Nobody knows him, other than the people like me who actually listen to his show."
After Uygur filed to run on Nov. 13, conspiracy theory InfoWars host Mike Cernovich fantasized about a debate with the uber-progressive. Smith posted a cryptic tweet: "Here's an idea. How about all of you man spread in your own damn districts?! #CA25 belongs to #CA25"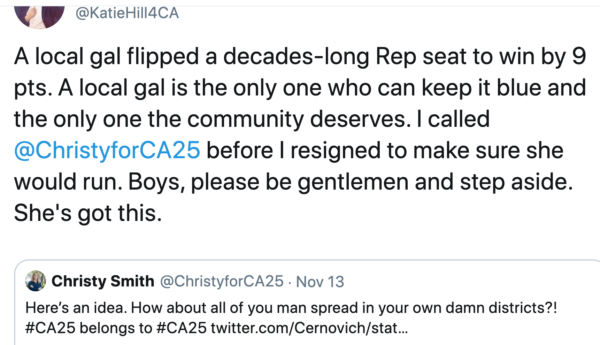 Endorsements poured in, including from Equality California. "Christy Smith is an outstanding ally and champion for the LGBTQ community," Equality California Executive Director Rick Zbur said in a press release. "In Sacramento, she's fought to lower the cost of healthcare and make our schools safe and supportive for all students. We're confident she'll do the same in Washington and are proud to support her campaign for Congress."
In his video, Uygur complained that his opponent didn't want to discuss "the issues." But a quick scroll through Smith's Twitter feed demolishes that assertion. She highlights community events, provides important information during the terrible fires that ravaged her district and talks about her education, good governance, and pro-nurses legislation signed by Gov. Newsom.
Smith told the Los Angeles Blade that if elected, she will make education a top priority.
"Our public school system is one of the most important cornerstones of our democracy," she said. "I plan to be a member who's focusing on everything that's relevant to my District, but especially working on improvements in our public education system across the country."
Smith said she finds Uygur's commentary "disqualifying." But it was his lack of response to the Saugus High School shooting that really galled her.
"The night of the event I was with grieving families and really trying to work to pull our community back together," Smith said. "I got home to find out that he had been raising money online and boasting about fundraising totals. Probably from his mansion in Newport Beach. That act alone I found singularly disqualifying for the kind of District that he hopes to represent."
Smith said she learned about the LGBTQ community as a teenager when her mother was a home healthcare worker for people with AIDS during the 80s while living in Santa Clarita.
"She really became bonded to these individuals, sometimes to their families, sometimes to their partners," Smith said. "[She] shared with me the injustices that these individuals were facing — not being able to leave property to a partner or a loved one;  not being able to provide for them, being on their deathbed and not having family members come to be at their side because they had been disavowed for being a part of the gay community. The fact that we talked about deep issues like this, informed me."
That led to "some really solid friendships" with LGBTQ people, including supporting and mentoring a gay young man who ran for school board in their local community.
Smith said she appreciated "the warmth and the outpouring of support" from Equality California and Stonewall. "It just means the world to me," she said. "I may not be the perfect ally because I haven't shared the struggles, but I am always certainly willing to learn and to understand and to appreciate. I hope to not let the community down."
For more, visit Christy for Congress.