L.A. County Democratic Party endorses Gascón in DA race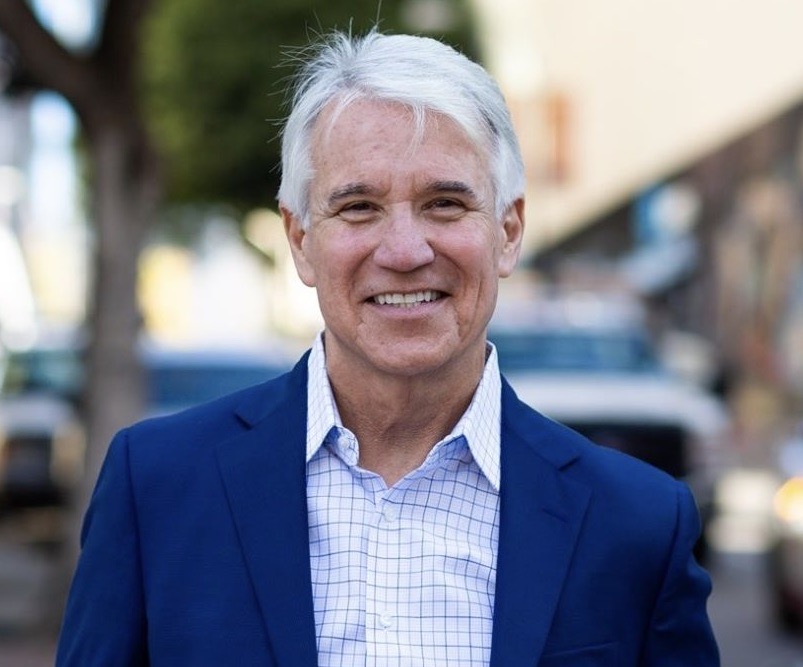 Los Angeles County District Attorney Jackie Lacey skipped the LA County Democratic Party endorsement meeting Dec. 10, likely to avoid yet another confrontation with Black Lives Matter and family members of black men slain by law enforcement officers who have not been held accountable.  "Bye, Jackie!" they chanted as the local Democrats endorsed former San Francisco DA George Gascón in a slap at the incumbent.
Lacey had another issue to deal with as well after the LA Times discovered that she participated in a fundraiser organized by Pluvious Group, which apparently conducted past work on President Trump's behalf. Her campaign subsequently severed ties with the organizer but it's not a good look for a political leader whose job involves investigating and vetting people.
"This is huge. I'm really honored," Gascón said of the endorsement. "This is really our entire party looking forward and saying: 'We're tired of the injustices. We're tired of the way that business has been conducted in this county for so long. We're tired of opposing every reform effort.' We're gonna move forward. This is a journey."
"The Los Angeles Democratic Party stood on the right side of history by not endorsing Jackie Lacey," Patrisse Cullors, the lesbian co-founder of Black Lives Matter and chair of local advocacy group Reform L.A. Jails, told the criminal justice site The Appeal. "They stood on the side of families who've been killed by police violence, homeless and mentally ill people who are cycled in and out of L.A. County jails, and so many other vulnerable communities who Jackie Lacey tossed to the side. L.A. made history today. And we will make it again in 2020 when we vote Jackie Lacey out of office."
Lacey issued a statement touting her top tier endorsements, including Rep. Adam B. Schiff, LA Mayor Eric Garcetti, four members of the Board of Supervisors, law enforcement unions — and San Francisco Mayor London Breed, "who backed Lacey in a not-so-subtle swipe at Gascón," the LA Times reports.
"Ultimately the endorsement I care the most about is the endorsement of the people of L.A. County," Lacey said.
Though touted as a progressive prosecutor, lots of San Franciscans were happy to see Gascón leave to run for LA DA instead of running for re-election. As a former LAPD officer, as a DA who has never prosecuted a criminal case and who also failed to prosecute officers involved in high profile police shootings, Gascón may get a closer look by activists now, as well.
"I'm not completely shocked that [LACDP] didn't endorse Jackie Lacey, because they didn't endorse her when she first ran in 2012," Ari Ruiz, Political Vice-President for Stonewall Young Democrats told the Los Angeles Blade. "However, I'm shocked that they endorsed Mr. Gascon whose history as a Democrat is quite new. He had been a registered Republican well up into the first two years of the Obama presidency. He became a Democrat in or around 2010, which means that he was a Republican during Pete Wilson's term as California governor, during George W. Bush's term as President and during the 2008 presidential campaign where many of us were working hard to elect Barack Obama."
Ruiz also noted the difference between being DA in the two major cities. "I don't think people realize that San Francisco County is composed of one city, while Los Angeles County is composed of 88 cities," he said, noting Lacey's record of supporting LGBT issues, including co-authoring out State Sen. Scott Wiener's controversial SB 145 sex offender registry bill. "It is a complicated and messy job, but I believe Jackie Lacey is the only one well equipped to successfully and carefully deliver meaningful reforms during her final term in office."
Longtime public defender Rachel Rossi remains in the race, out Deputy DA Joseph Iniguez withdrew and endorsed Gascón and in light of the LACDP endorsement, out veteran Deputy DA Richard Ceballos announced his withdrawal, as well.
"8 month's ago, I led the challenge against my boss Jackie Lacey and her archaic view of justice. I believed then as I believe now, she has failed as the leader of the largest District Attorney's office in the United States," Ceballos said in a statement.
"At a time when we should be accepting of new ideas on criminal justice and jurisprudence, Jackie Lacey has continued to perpetuate the mass incarceration of our citizens," he said. "Her refusal to address the racial and social inequalities that have for too long plagued our criminal justice system have destroyed the communities she has sworn to serve. And her refusal to hold public officials accountable for their actions and inaction is both glaring and indisputable."
Ceballos stopped short of an endorsement but added, "We need a District Attorney who is willing to meeting with community members and leaders and welcome their input and involvement in our criminal justice system."
March 3 is Super Tuesday in California but this race to be LA County district attorney may well garner as much local attention as the presidential primary.
LAPD asking for public's help with murders of homeless persons
Anyone with information is urged to contact the Los Angeles Police Department's Robbery-Homicide Division, Homicide Special Section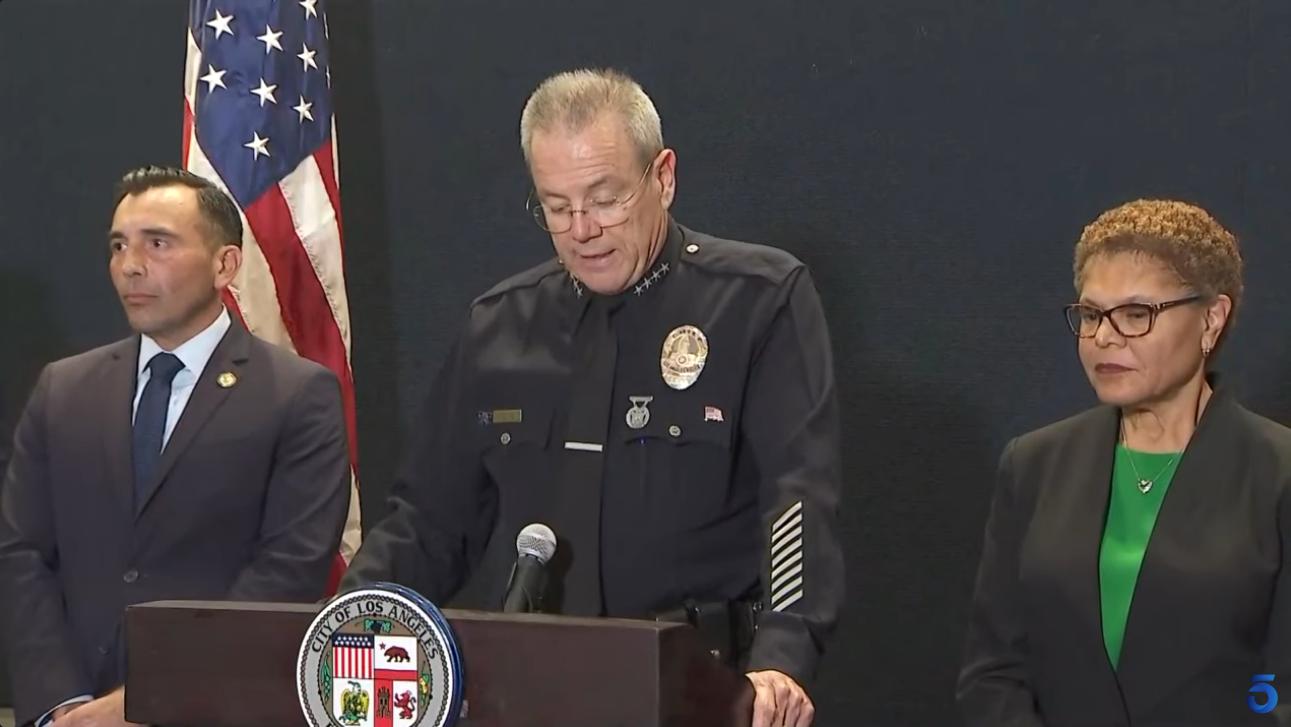 LOS ANGELES – Flanked by Los Angeles County District Attorney George Gascón, LA Mayor Mayor Karen Bass and Martin Estrada, the United States Attorney for the Central District of California, Los Angeles Chief of Police Michel Moore, held a news conference Friday where he announced that three homeless people had been fatally shot while they slept within the past week.
Moore added that authorities believe one suspect is responsible for all three murders.
Detectives from the LAPD's Robbery-Homicide Division are investigating three separate murders that occurred between November 26, 2023, and November 29, 2023. In each case, the victims were experiencing homelessness.
While some similarities have been identified, detectives are working to determine if these murders are related. A community alert bulletin has been issued to make the region's unhoused population and the community stakeholders aware of these recent murders.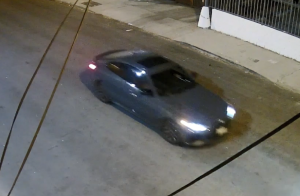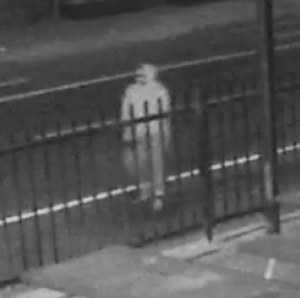 The suspect in these homicides is described only as male. The suspect was seen in a dark-colored sedan. It is unknown if he was alone or there were any additional suspects.
Police have spotted who they believe the shooter is on surveillance footage — Moore said they believe it's a man in a hoodie — and they also have images of the suspect's vehicle, though Moore would not describe it in an effort to avoid misinformation.
"People will see different types of cars, different types of models," he said. "I don't want someone to say 'You called this a Kia and it turns out to be a BMW or Mercedes," he said.
"A single individual approached each one and shot and killed each one as they slept," Moore said, though he avoided use of the term "serial killer."
"The Los Angeles Police Department is employing all available resources to bring justice to these murder victims. I am thankful for our City partners who are working with us closely to ensure the safety of this vulnerable population as we pursue the criminal investigation," said Moore.
"I want to be very clear about what we're facing today: This is a killer who is preying on the unhoused," Mayor Bass said, adding that homeless people should not sleep alone.
"As we always do in the face of a challenge or crisis, our region is mobilizing to respond to this issue. We will work tirelessly to find the individual responsible, arrest them, and hold them accountable. I have met with our partners at the Los Angeles Homeless Services Authority, Housing Authority of the City of Los Angeles, and the Los Angeles Housing Department and we are moving immediately to get the word out to our unhoused neighbors in housing networks. Our message to our unhoused community is clear – try not to be alone tonight. We will do all we can to make shelter and services available. To the many Angelenos who have friends or family who are unhoused, please let them know the danger that exists. We must stay safe. We will work diligently to bring those responsible to justice," the Mayor said.
"To the person responsible: We will find you, we will catch you and you will be held accountable," Bass said.
"I commend the LAPD for creating a dedicated task force to uncover the identity of a potential serial killer preying on the most vulnerable in our community. I've assigned our Major Crimes Division, Bureau of Victim Services and our Bureau of Investigation to assist with these efforts. Today, we demonstrate our collective resolve and stand united in our pursuit of justice, unwavering against the darkness that preys on the most defenseless among us," said LA District Attorney George Gascón.
Related:
Anyone with information is urged to contact the Los Angeles Police Department's Robbery-Homicide Division, Homicide Special Section, at (213) 486-6890. During non-business hours or on weekends, calls should be directed to 1-877-LAPD-24-7 (1-877-527-3247).
Anyone wishing to remain anonymous should call the LA Regional Crime Stoppers at 1-800-222-TIPS (800-222-8477) or go directly to www.lacrimestoppers.org.
Lastly, tipsters may also download the "P3 Tips" mobile application and select the LA Regional Crime Stoppers as their local program.