Out Deputy DA Ceballos challenging boss Jackie Lacey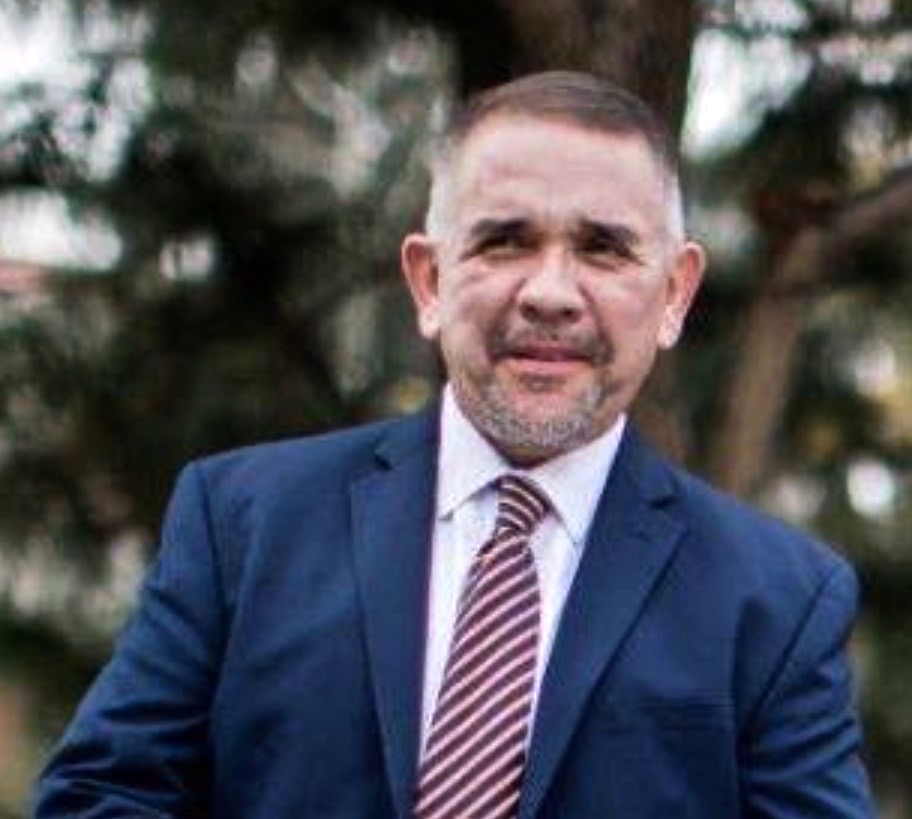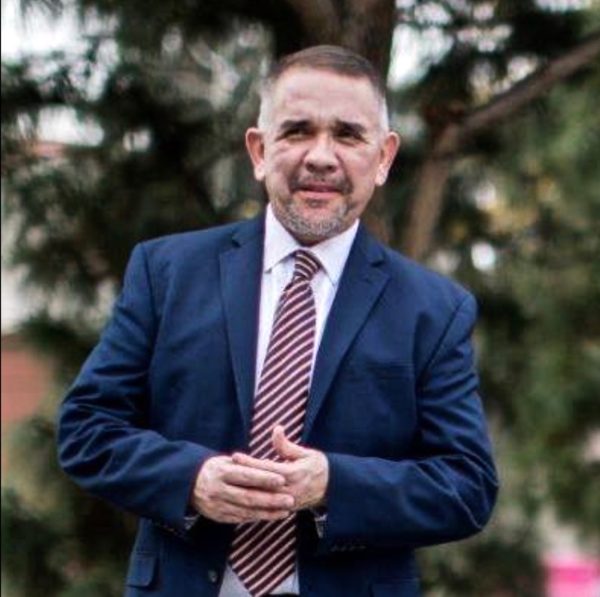 Jackie Lacey's gotta go. That's not just the sentiment of a number of Black LGBTQ activists upset with Los Angeles County District Attorney Jackie Lacey's handling of the overdose deaths of Gemmel Moore and Timothy Dean in Ed Buck's West Hollywood apartment – it's also the sentiment among some of her own crew. Last March, gay veteran Deputy District Attorney Richard Ceballos announced he's challenging his boss as a progressive alternative to her Democrat-in-name-only administration. In April, he was joined by 33-year-old gay Deputy District Attorney Joseph Iniguez.
They just got company. On Oct. 3, San Francisco District Attorney George Gascón abruptly resigned, effective Oct. 18, to move back to LA to establish residency and file by Dec. 6. to run in the March 3 open primary. Gascón joined the Los Angeles Police Department in 1978, left, then came back under LAPD Chief Bill Bratton, rising to the rank of assistant chief. He subsequently became police chief in Mesa, Ariz., until Mayor Gavin Newson hired him as SFPD Chief in 2009. When SF DA Kamala Harris became attorney general in 2011, Newsom picked Gascón to replace her.
Gascón is returning to LA trailing both praise and criticism, all of which will be minutely scrutinized in what is expected to be a very expensive race. Lacey has already sewn up a slew of political endorsements, including one from LA Mayor Eric Garcetti.
But Lacey is vulnerable. In an op-ed entitled "L.A. District Attorney Jackie Lacey Failed the Victims of Ed Buck," Black activists Jasmyne A. Cannick and Nana Gyamfi, Esq., assert that Lacey is trying to "rewrite history" in the Ed Buck case.
"Los Angeles District Attorney Jackie Lacey's failure to charge Ed Buck for the deaths of Gemmel Moore and Timothy Dean was not because of a lack of evidence or probable cause. Her failure was a direct result of a lack of interest and political will. All of which was the reason that the sheriff's department sought outside help from their federal counterparts to finally bring Buck to justice," they write. "Make no mistake. It is an election year and DA Lacey is extremely embarrassed and rightfully so after having one of the biggest cases in her jurisdiction publicly snatched from her by the U.S. Attorney's Office."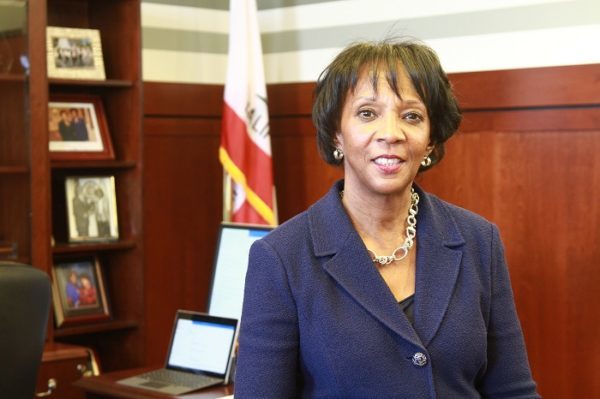 In an October letter to "Dear Friends," Lacey claims that while her deputy DAs worked with sheriff's detectives to build criminal cases "that would hold suspected predator Edward Buck accountable for the deaths' of the two Black gay men, "We could not file a state murder charge because we lacked the admissible evidence to prove beyond a reasonable doubt that defendant Buck intended to kill Mr. Moore or Mr. Dean."
After a new witness emerged on Sept. 11, they filed "the case we could at the time." Federal prosecutors, however, "were able to charge defendant Buck with furnishing drugs causing the deaths of Mr. Moore and Mr. Dean. That federal charge allows prosecutors to seek a significantly longer sentence. It also does not require prosecutors prove an intent to kill," she wrote. "There is no comparable statute in California criminal law that my office could have used to charge defendant Buck in either of the deaths."
It was her office that "opted to work with the U.S. Attorney's Office to ensure defendant Buck would face the harshest possible sentence," Lacey wrote, adding her empathy for the victims' families.
But if Lacey managed to woo support with the logic of that explanation, she closed on a politically defiant note that unmasked her true character. "But, as your District Attorney, I have a legal and ethical duty to follow the law. I cannot and will not allow the loudest voices to influence how my office charges any person in our community," Lacey wrote.
"While the case against Ed Buck is still a pending and open matter, as an attorney I am ethically prohibited from directly commenting on the charges he is facing," Ceballos tells the Los Angeles Blade. "However, suffice it to say, Jackie Lacey's handling of the case was a monumental failure in leadership. As Jasmyne Cannick has noted, Lacey's lack of interest in the first death of Gemmel Moore and then the second death of Timothy Dean was the direct result of her refusal to demonstrate the political will and courage to simply do the right thing."
Ceballos, who is with the organized crime/hate crimes division, is blunt. "We didn't do a very good job," he says. "I mean, we just have to sit down with folks; we have to sit down with the family; we have to explain the process. It doesn't take that much effort and why she wouldn't do that it just boggles my mind."
But not communicating with the impacted community is apparently a pattern with Lacey. "We've seen it in other instances. We've seen it with the police shootings. She doesn't do that," Ceballos says. "And I don't know what her rationale or her theory behind it is. I think it might be 'I don't want to make it appear that I'm prejudging the case before I make a decision.' But it's not a matter of prejudging the case—it's being human, recognizing that people are suffering and they have questions and they want answers. They just want to know that people are listening to them and hear what they're going through. And I think that's what needed to be done in this case, and not ignore the family, and that's what Jackie did."
Ceballos would not speculate about how he would have handled the case as DA.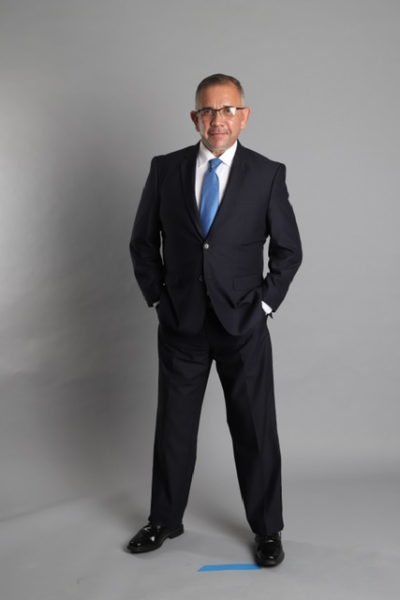 "I can't tell you what I would've done in the case because that's going to require that I have access to the evidence, and I don't have all the evidence in front of me. I can't tell you I would've done this or that, I would've filed this charge or that charge versus whatever she did, because that's a bit unfair, and also that would kind of prejudge a case against Mr. Buck," he says.
"What I'm willing to say, what I can say, is I think there are definite theories of liability when it comes to homicide that should've been considered, could've been considered. Maybe they were considered," Ceballos says. "But definitely after the first instance, the second instance, that should've rung some bells in people's heads like there's something wrong here and we need to take a real close look at it quickly before there's a third."
Now Buck is facing serious federal charges. "Jackie just filed essentially misdemeanors. Battery's a misdemeanor charge, and I'm not sure what operating a drug den is. I've never heard of that charge in 30 years I've been in the office. I'd have to look it up somewhere. I don't know if it's a felony or misdemeanor. I assume it's probably a misdemeanor. These are all essentially slaps on the wrist," he says. "So now the feds are going to be handling the case from this point on."
Would you have looked for other ways to approach the case?
"Oh absolutely," Ceballos says. "Without a doubt. I mean how many dead people do you need for you to start taking this seriously? I don't know why she did what she did—why she slow walked it. I don't know."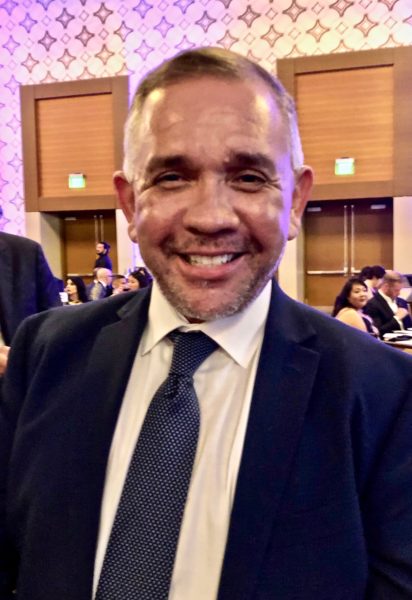 Deputy DA Richard Ceballos at 2019 Equality California Awards (Photo by Karen Ocamb)
As DA, Ceballos would emphasize community relations. "I think you want to establish a relationship with the community before a crime even happens, so that they get to know you," he says. "It's kind of like what the police will do with community policing. The theory behind community policing is you have the officer get out of the car, walk around, meet the residents, meet the business folks beforehand. They get to know each other so when a crime does occur, these people know who to call and can trust them because they've already been talking."
Ceballos acquired his understanding of the significance of community relations from personal experience volunteering as a suicide prevention hotline counselor as he was attending law school
"The training I've had at the Suicide Prevention Center certainly helps," he says. "I think one of the things that has helped me over the years is that we need to listen to people. It is one of those traits, skills if you will, that appears to be missing. People will love to talk, but they don't really know how to listen. And you really have to listen to people, not only what they say, but how they say it."
Some of the people with whom he spoke were people with AIDS during the AIDS crisis, giving him a deeper understanding of trauma.
"We have to do a better job of listening to the community. I mean, we serve the community. We're here to protect the community. But we don't necessarily have all the answers on how to best do that," Ceballos says. "And in order to find out what the answers and the concerns are, we have to go out into the community and listen to what they say as the problems. And not only that, what do they see as the possible solutions?"
That's not a Lacey trait. "You know, there are a lot of things you can say about Jackie – but the biggest thing is – she doesn't interact with the community. And that is so important. And that would be one of the major things I would change about our office, is that we have to be receptive to the community."
LA-DWP & Mayor Garcetti announce new outdoor watering restrictions
Sprinkler watering will be allowed Monday & Friday at odd-numbered addresses in the city, and even-numbered addresses on Thursday & Sunday

LOS ANGELES – In a press conference Tuesday Los Angeles Mayor Eric Garcetti and officials from the Los Angeles Department of Water and Power (LADWP) announced that outdoor watering in the city will be restricted to two days a week starting June 1.
The announcement comes as the Metropolitan Water District of Southern California declared an unprecedented water shortage emergency two weeks ago, imposing restrictions after MWD's board voted to adopt the emergency measures to "reduce non-essential water use" in certain areas. Cities and smaller water suppliers that get water from MWD are required to start restricting outdoor watering to one day a week, or to find other ways to cut usage to a new monthly allocation limit.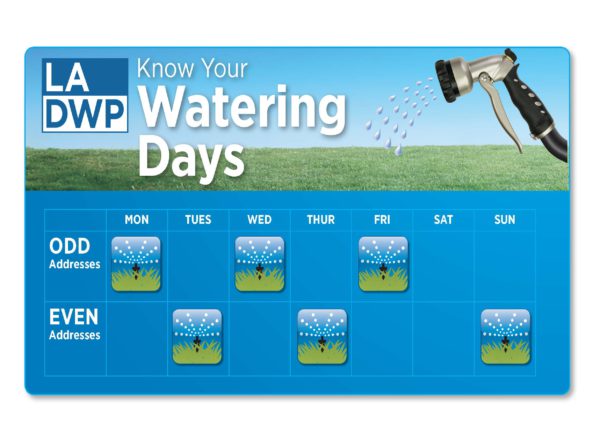 In Tuesday's press conference Mayor Garcetti said L.A.'s two-day limit was still more lenient than the one imposed by the Metropolitan Water District of Southern California, which has ordered many of its member agencies to restrict outdoor watering to once a week.
Sprinkler watering will be allowed on Monday and Friday at odd-numbered addresses in the city, and even-numbered addresses on Thursday and Sunday.
Hollywood residents angered over Sunset Blvd. homeless encampment
Many residents are frustrated over the increasing daily criminal activity that has plagued the area, including vehicle break-ins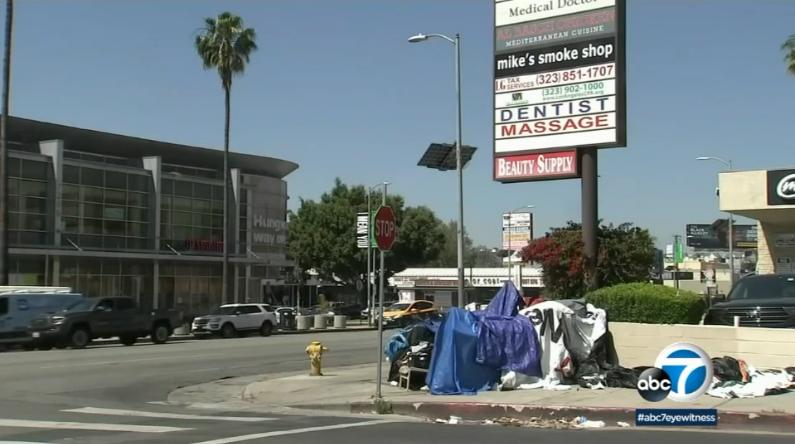 HOLLYWOOD – For those who live in the Hollywood neighborhood that surrounds the homeless encampment on Sunset Boulevard at Martel Avenue, the last seventeen months have been aggravating.
Many residents are frustrated over the increasing daily criminal activity that has plagued the area, including vehicle break-ins which at times has resulted in multiple break-ins on the same vehicles.
"We've had tons of break-ins. Our garage has been broken into five times. Cars are vandalized. Mail is stolen," local resident Lawrence S., who lives near the encampment, told KABC 7. "Our building, the building across the street, the building across the street that way — there's just rampant crime.
"I actually had my sister in-law come to visit for the first time and she parked across the street in broad daylight and within 30 seconds, someone from the homeless encampment was down swinging a club at her. The violence is escalating and we keep asking the City Council, what is it going to take? Do we need to wait till someone's murdered?"
The encampment is located at 7323 Sunset Blvd. and surrounds an AT&T building. It's located in L.A. City Councilwoman Nithya Raman's district who toured the encampment in 2021, joined by residents, including Terry S.
"She promised. She said that she would be adamantly enforcing ADA compliance. That she's looking into setting up a safe camping location for the campers. Never happened," Terry S. told KABC 7.
"In August, 41.18, an ordinance, passed and we were very hopeful because finally we thought that they would have some tools at their disposal," Lawrence S. said. "But the city councilwoman is only enforcing a part of that ordinance, which is the Care Plus Cleanup program. However, she's only doing it when she feels like enforcing it, which is three times in 17 months."
Residents say that the city's efforts to clean up and clear out the encampment only results in the homeless displaced for a couple of days sometimes less and then they return to reestablish the encampment. This past Thursday the city again clean and cleared the encampment.
While an KABC 7 camera and reporter Josh Haskell were working on the story homeless people were in the background reestablishing their presence across the street.
KABC 7 reached out to Councilwoman Nithya Raman whose office responded with a media statement:
"This encampment is a priority for our office, and our Homelessness Team has been consistently bringing services and working with the individuals living at this location. LAHSA outreach teams most recently identified seven people living here and together we worked to move three of them into shelter just yesterday as part of our Encampment-to-Home project, which has already moved 43 people in Hollywood indoors. Additionally, a cleanup took place at this location yesterday and we are working to move the remaining individuals into shelter as soon as beds become available. We are in continued communication with the residents in the neighborhood regarding the status of our progress as we move forward."
Residents upset with LA City Councilwoman Nithya Raman over Sunset Boulevard homeless encampment:
Lawsuit against USC in sexual abuse case of 80 male students settled
"The settlement is another step toward closure for our clients who finally feel a sense of recognition and validation for speaking up"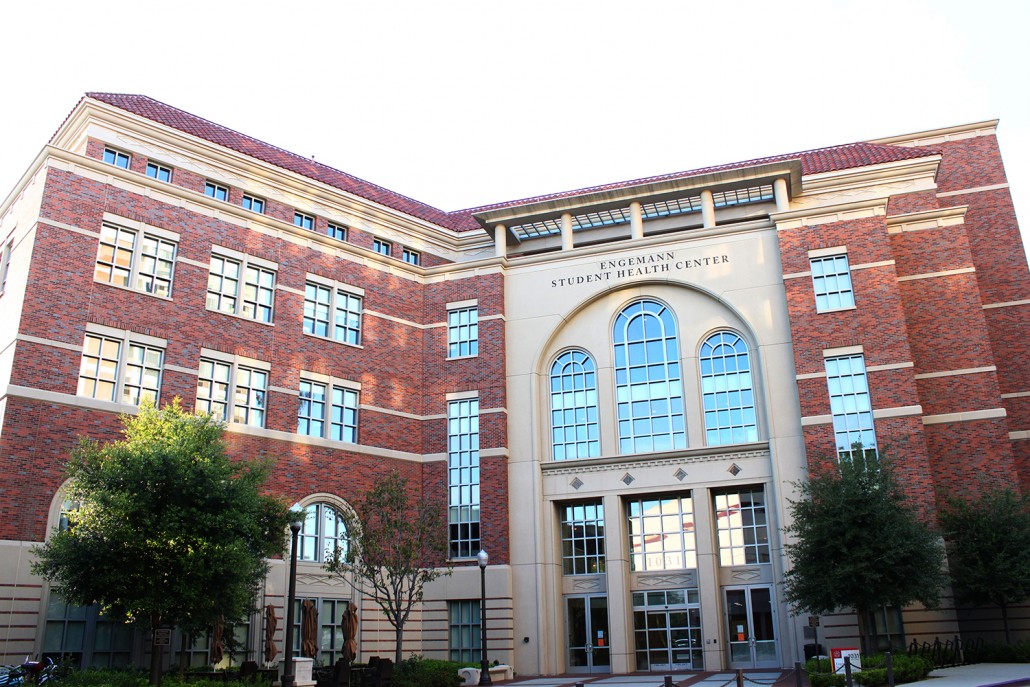 LOS ANGELES – Attorneys representing 80 individuals who filed lawsuits and made claims against the University of Southern California and former USC men's health physician Dennis Kelly for allegations of sexual misconduct and harassment have reached a global settlement according to the plaintiffs' attorney, Mikayla Kellogg.
"The settlement was achieved through the persistence and bravery of our clients who had the strength to come forward to share the harrowing details of their experiences at the USC Student Health Center and the determination to hold USC accountable for its failure to protect its students," said Kellogg, partner at Kellogg & Van Aken last week. "The settlement is another step toward closure for our clients who finally feel a sense of recognition and validation for speaking up."
The lawsuit was filed in February 2019 in Los Angeles Superior Court by six former University of Southern California student alumni, all gay or bisexual, alleges that Dr. Dennis A. Kelly discriminated against and battered them while he was serving as the only full-time men's sexual health doctor at the Engemann Student Health Center on the USC campus.
Since the original filing, 74 additional individuals have come forward, bringing the total number of claimants to 80.
Kelly Van Aken, partner at Kellogg & Van Aken said, "It has been a long three years for our courageous clients who have persevered through intense scrutiny to ensure their voices have been heard. It is our hope that by taking these allegations public and speaking out on behalf of dozens of current and former students of USC, institutions entrusted with the care of vulnerable young people are forced to confront and correct the toxic and problematic cultures that allow abuse and misconduct to continue."
Dennis Kelly was a physician at USC's Student Health Center from 1997 to 2018. The claimants allege that Dennis Kelly used his position of trust and authority as USC's men's health physician to engage in sexual misconduct under the guise of medical care and disproportionately targeted LGBTQ+ patients.  They further allege that USC received complaints about Dennis Kelly's misconduct but failed to adequately address them and continued to allow Dr. Kelly to see and treat vulnerable young students without limitation.
Kelly, 72, who resigned in August of 2018 after twenty years working at the student clinic as a primary care physician, denied any inappropriate behavior toward patients and called the lawsuit's allegations "terribly hurtful."
"I can't second-guess or question anything I've done," Kelly said in a phone interview February 12, 2019 with the Los Angeles Times. He added, "I know I did it all professionally and without any other motive."
Kelly, who described himself as an openly gay physician to the paper defended his actions telling The Times that he had devoted much of his career to counseling LGBTQ patients about ways to reduce the risks of their sexual behavior.
According to Kelly, he never used the graphic terms described in the lawsuit or performed unnecessary genital exams. He said he suspected his stern warnings about behavior that put patients at risk for sexually transmitted diseases were misinterpreted as condemnation or deviance.
The court documents stated that Kelley specifically targeted USC's gay and bisexual and male student population, "all of whom were young adults and many of whom were visiting the doctor without a parent for the first time," alleging he subjected to "intrusive and medically unnecessary rectal examinations."
"Dr. Kelly did not treat heterosexual men in a similar manner and did not perform rectal examinations on heterosexual men who had similar sexual practices," the suit claimed.