Out Deputy DA Ceballos challenging boss Jackie Lacey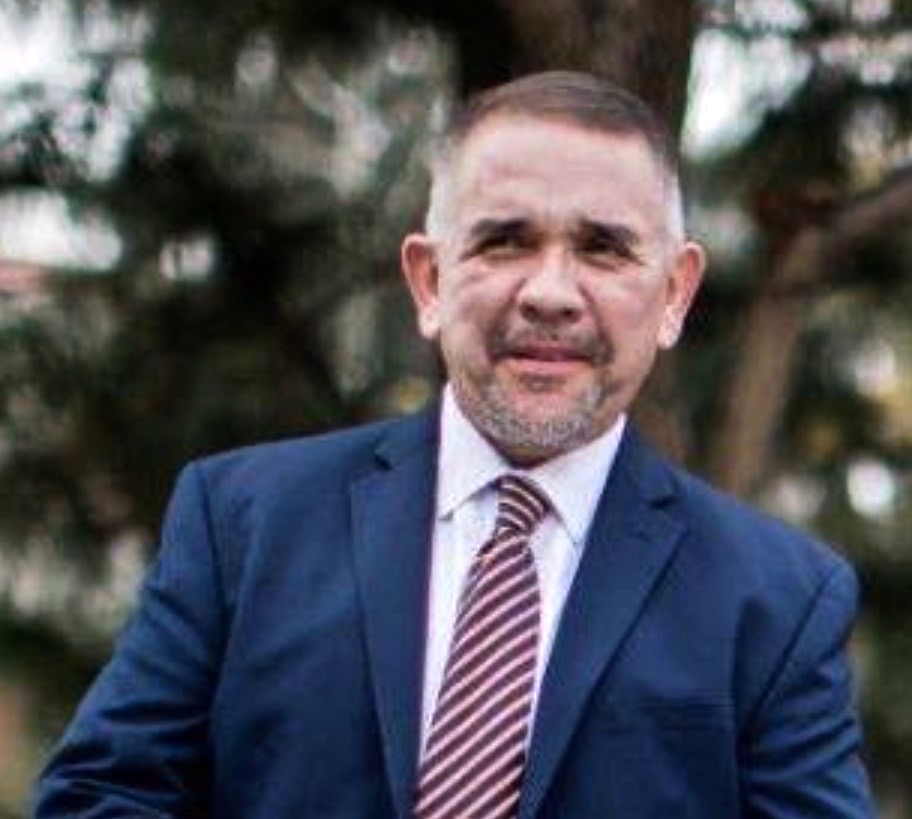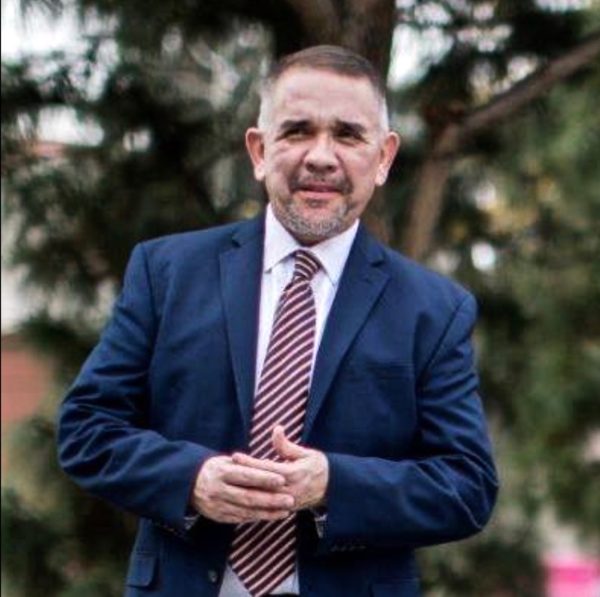 Jackie Lacey's gotta go. That's not just the sentiment of a number of Black LGBTQ activists upset with Los Angeles County District Attorney Jackie Lacey's handling of the overdose deaths of Gemmel Moore and Timothy Dean in Ed Buck's West Hollywood apartment – it's also the sentiment among some of her own crew. Last March, gay veteran Deputy District Attorney Richard Ceballos announced he's challenging his boss as a progressive alternative to her Democrat-in-name-only administration. In April, he was joined by 33-year-old gay Deputy District Attorney Joseph Iniguez.
They just got company. On Oct. 3, San Francisco District Attorney George Gascón abruptly resigned, effective Oct. 18, to move back to LA to establish residency and file by Dec. 6. to run in the March 3 open primary. Gascón joined the Los Angeles Police Department in 1978, left, then came back under LAPD Chief Bill Bratton, rising to the rank of assistant chief. He subsequently became police chief in Mesa, Ariz., until Mayor Gavin Newson hired him as SFPD Chief in 2009. When SF DA Kamala Harris became attorney general in 2011, Newsom picked Gascón to replace her.
Gascón is returning to LA trailing both praise and criticism, all of which will be minutely scrutinized in what is expected to be a very expensive race. Lacey has already sewn up a slew of political endorsements, including one from LA Mayor Eric Garcetti.
But Lacey is vulnerable. In an op-ed entitled "L.A. District Attorney Jackie Lacey Failed the Victims of Ed Buck," Black activists Jasmyne A. Cannick and Nana Gyamfi, Esq., assert that Lacey is trying to "rewrite history" in the Ed Buck case.
"Los Angeles District Attorney Jackie Lacey's failure to charge Ed Buck for the deaths of Gemmel Moore and Timothy Dean was not because of a lack of evidence or probable cause. Her failure was a direct result of a lack of interest and political will. All of which was the reason that the sheriff's department sought outside help from their federal counterparts to finally bring Buck to justice," they write. "Make no mistake. It is an election year and DA Lacey is extremely embarrassed and rightfully so after having one of the biggest cases in her jurisdiction publicly snatched from her by the U.S. Attorney's Office."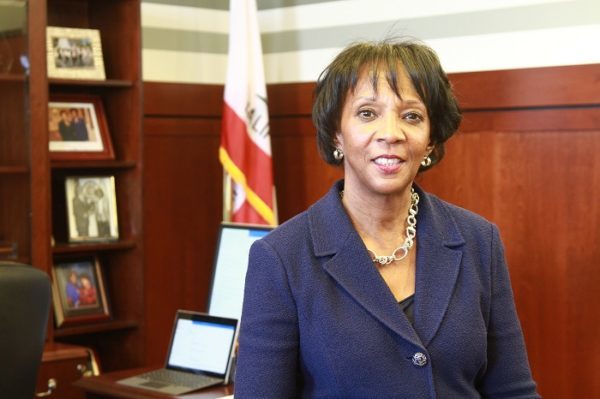 In an October letter to "Dear Friends," Lacey claims that while her deputy DAs worked with sheriff's detectives to build criminal cases "that would hold suspected predator Edward Buck accountable for the deaths' of the two Black gay men, "We could not file a state murder charge because we lacked the admissible evidence to prove beyond a reasonable doubt that defendant Buck intended to kill Mr. Moore or Mr. Dean."
After a new witness emerged on Sept. 11, they filed "the case we could at the time." Federal prosecutors, however, "were able to charge defendant Buck with furnishing drugs causing the deaths of Mr. Moore and Mr. Dean. That federal charge allows prosecutors to seek a significantly longer sentence. It also does not require prosecutors prove an intent to kill," she wrote. "There is no comparable statute in California criminal law that my office could have used to charge defendant Buck in either of the deaths."
It was her office that "opted to work with the U.S. Attorney's Office to ensure defendant Buck would face the harshest possible sentence," Lacey wrote, adding her empathy for the victims' families.
But if Lacey managed to woo support with the logic of that explanation, she closed on a politically defiant note that unmasked her true character. "But, as your District Attorney, I have a legal and ethical duty to follow the law. I cannot and will not allow the loudest voices to influence how my office charges any person in our community," Lacey wrote.
"While the case against Ed Buck is still a pending and open matter, as an attorney I am ethically prohibited from directly commenting on the charges he is facing," Ceballos tells the Los Angeles Blade. "However, suffice it to say, Jackie Lacey's handling of the case was a monumental failure in leadership. As Jasmyne Cannick has noted, Lacey's lack of interest in the first death of Gemmel Moore and then the second death of Timothy Dean was the direct result of her refusal to demonstrate the political will and courage to simply do the right thing."
Ceballos, who is with the organized crime/hate crimes division, is blunt. "We didn't do a very good job," he says. "I mean, we just have to sit down with folks; we have to sit down with the family; we have to explain the process. It doesn't take that much effort and why she wouldn't do that it just boggles my mind."
But not communicating with the impacted community is apparently a pattern with Lacey. "We've seen it in other instances. We've seen it with the police shootings. She doesn't do that," Ceballos says. "And I don't know what her rationale or her theory behind it is. I think it might be 'I don't want to make it appear that I'm prejudging the case before I make a decision.' But it's not a matter of prejudging the case—it's being human, recognizing that people are suffering and they have questions and they want answers. They just want to know that people are listening to them and hear what they're going through. And I think that's what needed to be done in this case, and not ignore the family, and that's what Jackie did."
Ceballos would not speculate about how he would have handled the case as DA.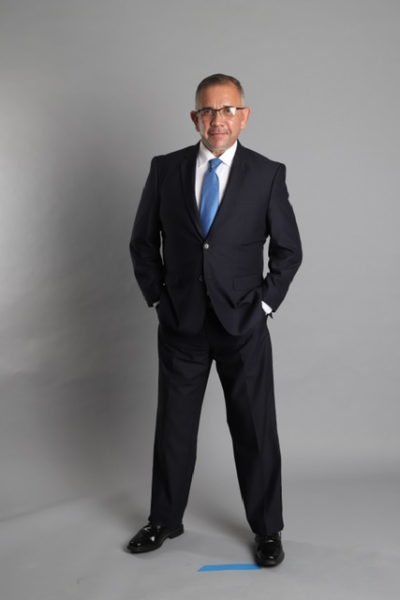 "I can't tell you what I would've done in the case because that's going to require that I have access to the evidence, and I don't have all the evidence in front of me. I can't tell you I would've done this or that, I would've filed this charge or that charge versus whatever she did, because that's a bit unfair, and also that would kind of prejudge a case against Mr. Buck," he says.
"What I'm willing to say, what I can say, is I think there are definite theories of liability when it comes to homicide that should've been considered, could've been considered. Maybe they were considered," Ceballos says. "But definitely after the first instance, the second instance, that should've rung some bells in people's heads like there's something wrong here and we need to take a real close look at it quickly before there's a third."
Now Buck is facing serious federal charges. "Jackie just filed essentially misdemeanors. Battery's a misdemeanor charge, and I'm not sure what operating a drug den is. I've never heard of that charge in 30 years I've been in the office. I'd have to look it up somewhere. I don't know if it's a felony or misdemeanor. I assume it's probably a misdemeanor. These are all essentially slaps on the wrist," he says. "So now the feds are going to be handling the case from this point on."
Would you have looked for other ways to approach the case?
"Oh absolutely," Ceballos says. "Without a doubt. I mean how many dead people do you need for you to start taking this seriously? I don't know why she did what she did—why she slow walked it. I don't know."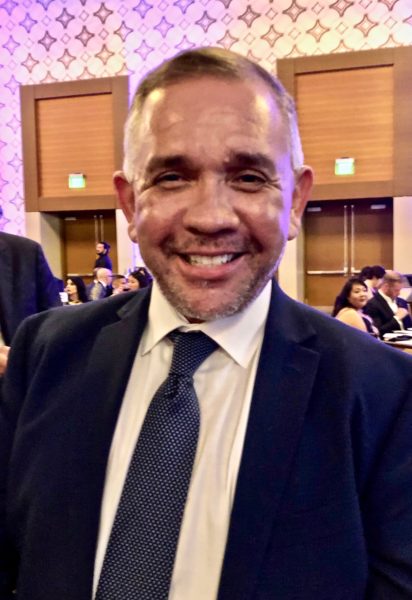 Deputy DA Richard Ceballos at 2019 Equality California Awards (Photo by Karen Ocamb)
As DA, Ceballos would emphasize community relations. "I think you want to establish a relationship with the community before a crime even happens, so that they get to know you," he says. "It's kind of like what the police will do with community policing. The theory behind community policing is you have the officer get out of the car, walk around, meet the residents, meet the business folks beforehand. They get to know each other so when a crime does occur, these people know who to call and can trust them because they've already been talking."
Ceballos acquired his understanding of the significance of community relations from personal experience volunteering as a suicide prevention hotline counselor as he was attending law school
"The training I've had at the Suicide Prevention Center certainly helps," he says. "I think one of the things that has helped me over the years is that we need to listen to people. It is one of those traits, skills if you will, that appears to be missing. People will love to talk, but they don't really know how to listen. And you really have to listen to people, not only what they say, but how they say it."
Some of the people with whom he spoke were people with AIDS during the AIDS crisis, giving him a deeper understanding of trauma.
"We have to do a better job of listening to the community. I mean, we serve the community. We're here to protect the community. But we don't necessarily have all the answers on how to best do that," Ceballos says. "And in order to find out what the answers and the concerns are, we have to go out into the community and listen to what they say as the problems. And not only that, what do they see as the possible solutions?"
That's not a Lacey trait. "You know, there are a lot of things you can say about Jackie – but the biggest thing is – she doesn't interact with the community. And that is so important. And that would be one of the major things I would change about our office, is that we have to be receptive to the community."
Trans remembrance vigil held at LA LGBT Center
"We refuse to let violence rob us of the possibility to gather, to love each other, and to dream together in solidarity"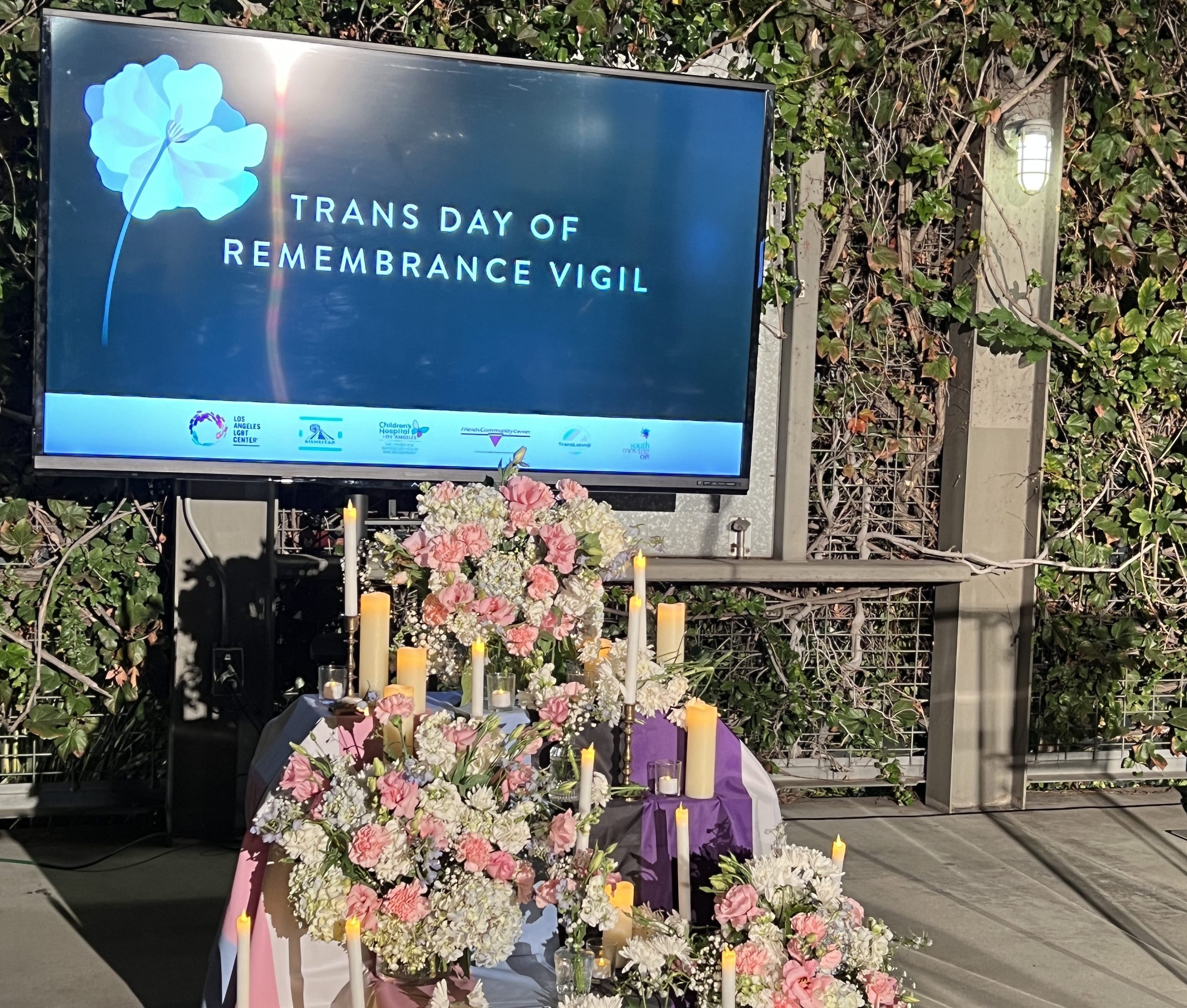 HOLLYWOOD – A Trans Remembrance Vigil was held at the Los Angeles LGBT Center on Monday, November 21st.
Candles and white, pink, and lavender flowers mounted on tiers draped by a trans flag adorned the center stage. A large monitor served as the focal point of the evening above the memorial display.
The Trans Chorus of Los Angeles started the ceremony with an acapella performance. Following the song of hope and redemption, opening remarks were given at the pulpit by the Anti-violence project manager for the LGBT center, Mariana Morroquin, and representatives from the Trans Wellness Center, Bienstar Human Services, Children's Hospital of Los Angeles, Friends Community Center, APAIT, and [email protected]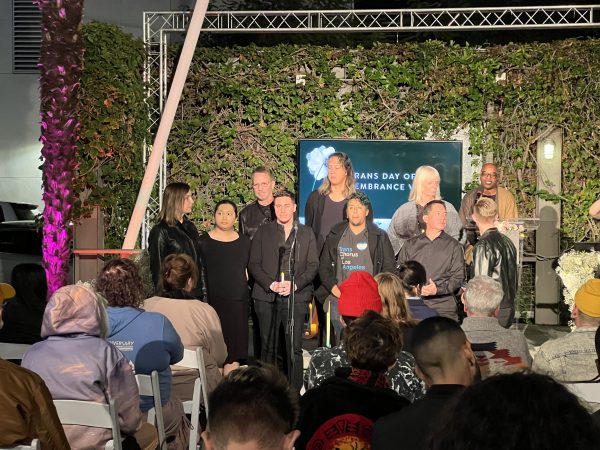 "I think it is very important to acknowledge our partners," said Morroquin, somberly addressing the seated audience of about one hundred and fifty. "We know that hate is real. A lot of us have seen hate pretty close. We are very grateful to have you. We open our arms to receive your love and your support. The way we support each other is by providing jobs, providing spaces for us, and providing opportunities. Because hate is out there. We need this space. We need to welcome everyone. I want you to keep that in your heart. And tomorrow, when we get back to work, let us open our hearts and our minds. Don't make decisions for us. Invite us to those tables. We know what we need. We've been doing this forever. We are going to keep fighting because this is what we do." 
She then added, "We refuse to let violence rob us of the possibility to gather, to love each other, and to dream together in solidarity. We gather because we must remember what is worth fighting for. For now, we commemorate. We tell the stories of the ones we lost. For tonight, that will be enough." 
One by one, members of the audience approached the pulpit to read the names and stories of a multitude of trans people whose deaths were the tragic result of hate crimes. The photos, names, and ages of the victims were displayed on the center-stage monitor.
"My name is Nikai David," said one speaker, the photo of a pale, curly-haired young lady displayed behind them. "I am a model and social media influencer who aspired one day to own my own clothing boutique. I had just celebrated my birthday a week before I was shot in Oakland California, on December 4th, 202. I was thirty-three years old."
Stories of these deaths included shootings by assailants, police, and family members, brutal beatings, and stabbings. The bodies of these victims were found in their homes, in garbage cans, and on streets where they were left, still dying, among other locations.
The final name read was Daniel David Aston, who died in the recent Club Q mass shooting.  This year, TDOR came on the heels of the senseless massacre in Colorado Springs that left five members of the LGBTQ+ community dead and 25 injured. 
Reverend Valerie Spencer gave an impassioned closing speech, first inviting the audience to take several deep breaths in unison.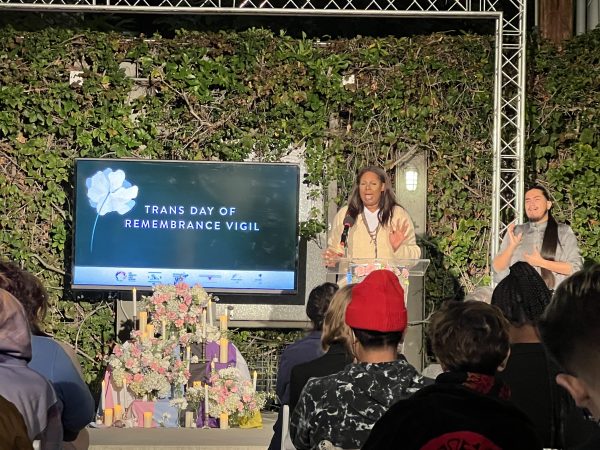 "We will mourn our family, our siblings," said Reverend Spencer, "but we are not having our primary focus on the violent conclusion of their life. We are choosing to see them and know them and celebrate them in the full context of their living. For they were fierce and powerful people."