Ashlee Marie Preston, Warren campaign trans rep, apologizes for old bigoted tweets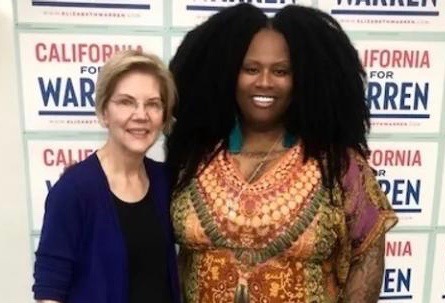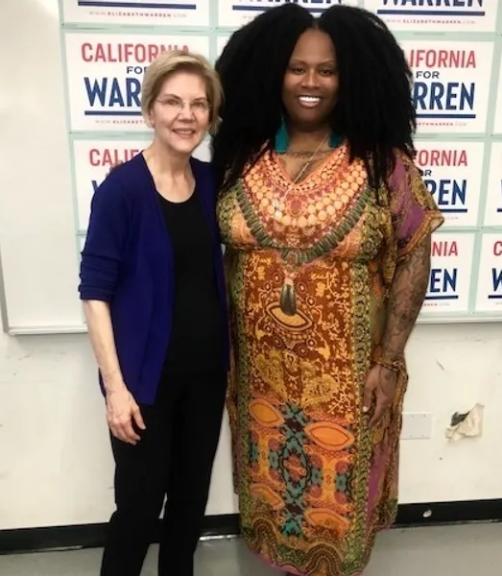 Ashlee Marie Preston, a nationally known Los Angeles-based transgender activist and paid surrogate for the presidential campaign of Democratic Massachusetts Sen. Elizabeth Warren, came under heavy criticism Monday after a series of old homophobic and racist tweets surfaced over the weekend.
Preston was featured in a Warren campaign video released last Thursday, in advance of the HRC/CNN Equality Town Hall on Oct. 10. She was apparently scheduled to ask a question at the event but was pulled by CNN at the last minute. She told Out Magazine that she decided not to attend the historic event since being present but silent would be "an act of erasure." CNN did not reply to Out's request for an explanation.
Preston has had a controversial social media presence with a history of making offensive, homophobic, racist, pro-life/misogynistic and xenophobic comments, particularly on Twitter, which have sometimes been lauded as "truth-telling." She came to national attention in 2017 when the then-editor-in-chief of Wear Your Voice magazine confronted Caitlyn Jenner at a Trans Chorus of LA event to which Jenner had financially contributed, calling Jenner a "fucking fraud." Preston at the time was a Trans Chorus board member and Jenner was then a Republican who believed Donald Trump's public pronouncements of supporting the LGBTQ community, but later repudiated Trump after the trans military service ban. Preston called Jenner out for wearing a MAGA hat days after the ban was announced; Jenner apologized.  
In a piece published Monday by attorney Colin Kalmbacher at LawandCrime.com, several of Preston's old tweets came to light, including  one from Dec. 11, 2010 that reads: "Latino and Asian businesses need 2 stop being rude & fukn disrespectful, & I kno its A LOT to ask in CA but speak fukn English 2* #yahisaidit."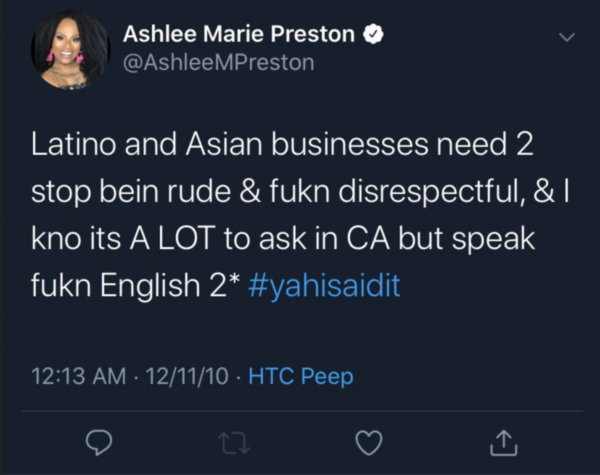 Kalmbacher notes that several of Preston's tweets were shockingly homophobic, including one from April 7, 2011 which reads: "That is thee last time I help that faggot fucker….he's bringing ME problems Truman help him."  Two weeks later, on April 27, 2011, she tweeted: "I LUV gay men but THIS county clerk at window G is a mahfukkan faggot wit it…hes bald but rokn jewels, acrylic nails,&silk scarves #andshit."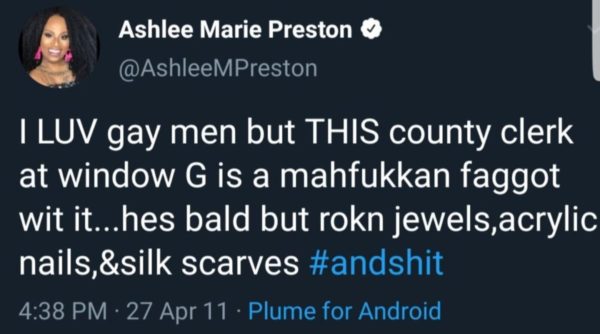 Preston responded Monday on Twitter and Facebook with a statement that categorized the disclosures as "a political play," but apologizes, blaming her then-addiction to methamphetamine. "I take full responsibility for my actions and deeply apologize to those I've offended or hurt. I also apologize to those indirectly impacted by these developments." She says she has been clean and sober for over 7 ½ years and has learned "how to make amends when I'm wrong and to take complete accountability for my actions."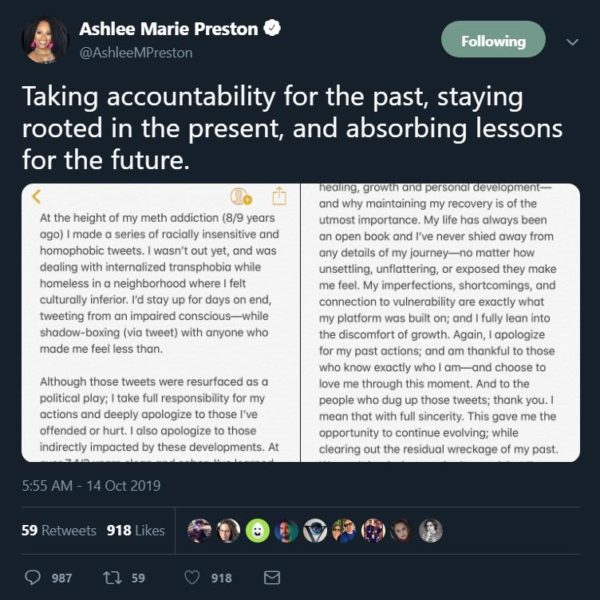 However, DSA Swarthykin Caucus uncovered more recent tweets suggesting Preston may not have entirely ditched her homophobia: "I'd beat the dog shit of out you; furry slipper wearing ass fuck boy," Preston tweeted on September 8, 2018. "IRL I'd smash your fucking head in like a can of A&W Root Beer–But ima fall back and let you keep pretending for the internet…dick rider."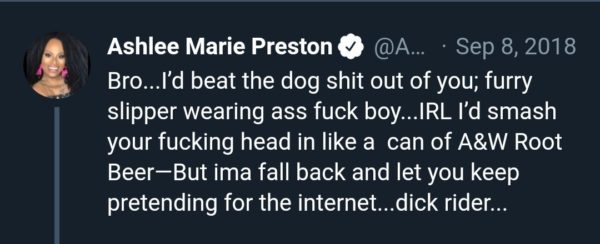 Kalmbacher credits Twitter users Olivia Hill and Brook Hines with uncovering Preston's tweets as they monitored the Warren campaign and discovered Preston inaccurately attacking Warren's friend and rival, Sen. Bernie Sanders, by falsely claiming that he hadn't attended an LGBTQ event since the 1970s.
LawandCrime notes that "Preston, a paid campaign surrogate who was previously criticized for not disclosing her ties to the campaign while appearing on The Young Turks, locked her Twitter account over the weekend and has since deleted many of the tweets in question – though several are still publicly available on Twitter."
 The Los Angeles Blade has reached out to Preston and the Warren campaign for comment and will update this story as warranted. 
Blinken: PEPFAR shows 'what American diplomacy can do'
Secretary of state spoke at World AIDS Day event in D.C. on Friday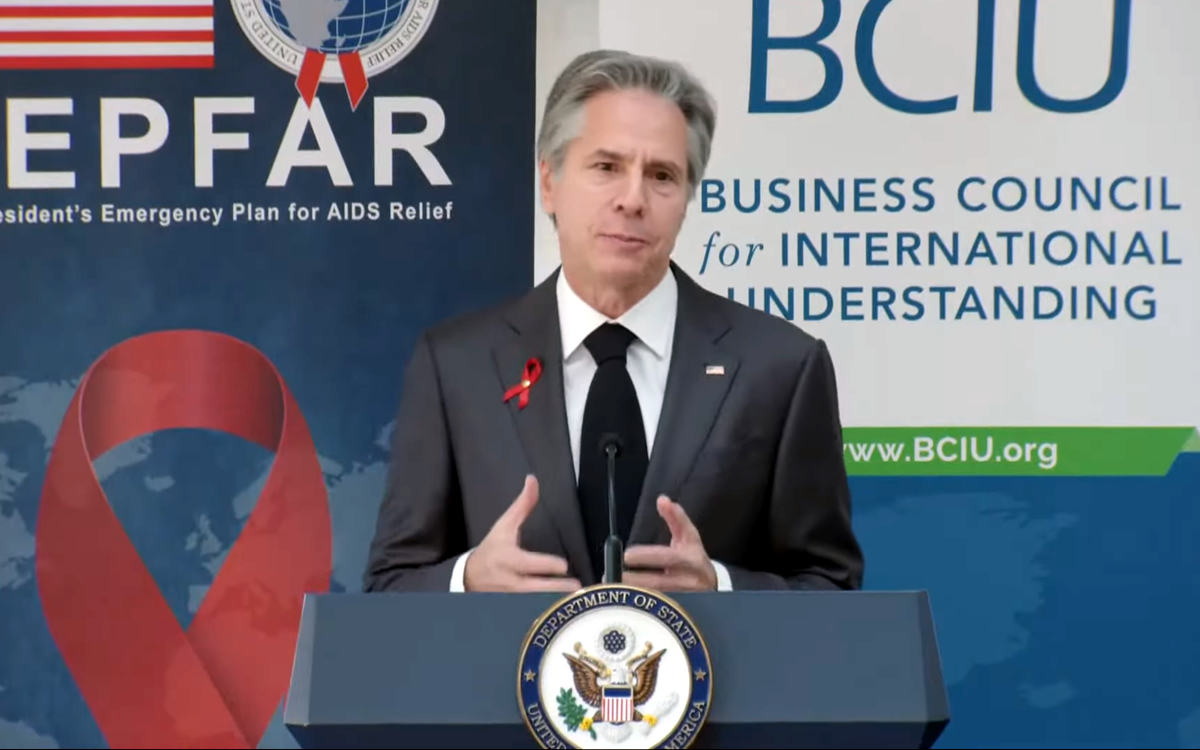 WASHINGTON — Secretary of State Antony Blinken on Friday noted the President's Emergency Plan for AIDS Relief has saved more than 25 million lives since its launch in 2003.
Blinken, who spoke at the Business Council for International Understanding's World AIDS Day event at the Hay-Adams Hotel in D.C., said the more than $100 billion the U.S. has earmarked for PEPFAR over the last two decades has funded 70,000 new community health clinics, 3,000 new laboratories and the hiring of 340,000 health care workers.
"Entire public health systems formed, with over a dozen countries which have either reached their HIV-treatment goals or managed control of the virus altogether," said Blinken.
Then-President George W. Bush in 2003 signed legislation that created PEPFAR. California Democrat Barbara Lee, members of the Congressional Black Caucus and Dr. Anthony Fauci, the director of the National Institute of Allergy and Infectious Diseases and chief White House medical advisor who is retiring at the end of this month, are among those who played a key role in PEPFAR's creation.
"PEPFAR has benefitted from bipartisan support, as we've heard, across four presidencies, across ten Congresses," said Blinken. "It's resulted in an investment of more than $100 billion to the global HIV/AIDS response. This is the largest commitment by one country ever to address a single disease."
Lee and Fauci were among those who attended the event alongside U.S. Global AIDS Coordinator John Nkengasong; Assistant Health Secretary Rachel Levine; Dr. Deborah Birx, the former White House Coronavirus Response Director, and HIV and Hepatitis Policy Institute Executive Director Carl Schmid.
Blinken in his speech noted "the systems put in place by PEPFAR have become an integral part of the health security architecture of countries around the world."
Blinken also said PEPFAR has bolstered responses to COVID-19, Ebola and the avian flu.
"We are continuing to build on PEPFAR's many successes to create a stronger global health security architecture to prevent, to detect, to respond to future health emergencies. Doctor Fauci, you once said that PEPFAR 'shows what the goodwill of a nation can do,' and you were right," said Blinken. "PEPFAR also shows us what American diplomacy can do: Bring together governments, bring together the public and private sectors, communities to tackle challenges that none of us can actually effectively deal with alone and that creates and has created a healthier, safer and ultimately more secure world."
Five-year PEPFAR strategy to target LGBTQ+ people
Blinken acknowledged there is still "very serious work still required for us to end the global HIV health epidemic by 2030," noting HIV/AIDS continues to disproportionately impact LGBTQ+ and intersex people and other marginalized groups.
"Too many countries still have fragile and insufficiently resourced public health systems, which makes it difficult to offer services beyond HIV/AIDS treatments, and that undercuts our capacity to respond to emerging threats," he said.
Blinken noted the U.S. on Thursday announced a new PEPFAR strategy that will help "fill those gaps" over the next five years. It includes the following:
• Targeted programming to help reduce inequalities among LGBTQ+ and intersex people, women and girls and other marginalized groups
• Partnerships with local organizations to help reach "hard-to-reach" communities.
• Economic development and increased access to financial markets to allow countries to manufacture their own antiretroviral drugs, tests and personal protective gear to give them "the capacity to meet their own challenges so that they're not dependent on anyone else."
"This latest PEPFAR strategy will keep making advancements like that possible so that millions more people can live healthy lives and live lives to their full potential," said Blinken.