October 14, 2019 at 2:22 pm PDT | by Staff reports
Ashlee Marie Preston, Warren campaign trans rep, apologizes for old bigoted tweets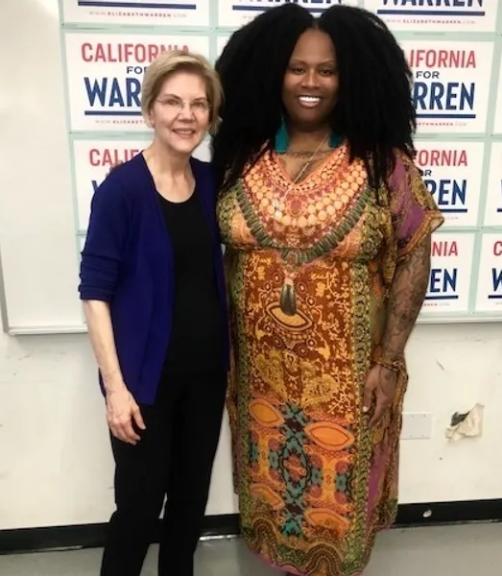 Ashlee Marie Preston, a nationally known Los Angeles-based transgender activist and paid surrogate for the presidential campaign of Democratic Massachusetts Sen. Elizabeth Warren, came under heavy criticism Monday after a series of old homophobic and racist tweets surfaced over the weekend.
Preston was featured in a Warren campaign video released last Thursday, in advance of the HRC/CNN Equality Town Hall on Oct. 10. She was apparently scheduled to ask a question at the event but was pulled by CNN at the last minute. She told Out Magazine that she decided not to attend the historic event since being present but silent would be "an act of erasure." CNN did not reply to Out's request for an explanation.
Preston has had a controversial social media presence with a history of making offensive, homophobic, racist, pro-life/misogynistic and xenophobic comments, particularly on Twitter, which have sometimes been lauded as "truth-telling." She came to national attention in 2017 when the then-editor-in-chief of Wear Your Voice magazine confronted Caitlyn Jenner at a Trans Chorus of LA event to which Jenner had financially contributed, calling Jenner a "fucking fraud." Preston at the time was a Trans Chorus board member and Jenner was then a Republican who believed Donald Trump's public pronouncements of supporting the LGBTQ community, but later repudiated Trump after the trans military service ban. Preston called Jenner out for wearing a MAGA hat days after the ban was announced; Jenner apologized.  
In a piece published Monday by attorney Colin Kalmbacher at LawandCrime.com, several of Preston's old tweets came to light, including  one from Dec. 11, 2010 that reads: "Latino and Asian businesses need 2 stop being rude & fukn disrespectful, & I kno its A LOT to ask in CA but speak fukn English 2* #yahisaidit."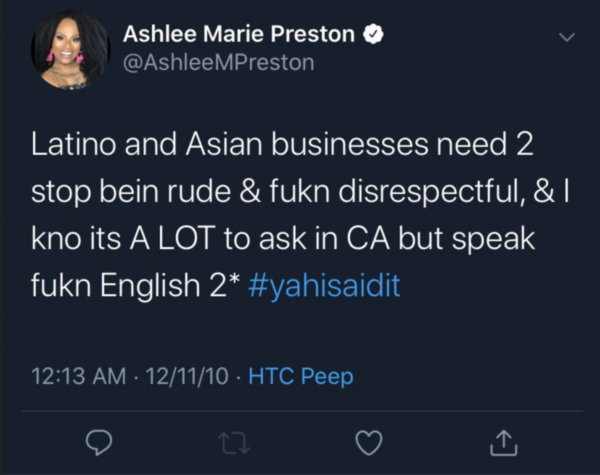 Kalmbacher notes that several of Preston's tweets were shockingly homophobic, including one from April 7, 2011 which reads: "That is thee last time I help that faggot fucker….he's bringing ME problems Truman help him."  Two weeks later, on April 27, 2011, she tweeted: "I LUV gay men but THIS county clerk at window G is a mahfukkan faggot wit it…hes bald but rokn jewels, acrylic nails,&silk scarves #andshit."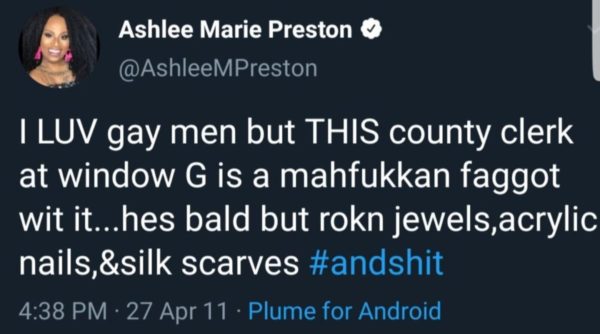 Preston responded Monday on Twitter and Facebook with a statement that categorized the disclosures as "a political play," but apologizes, blaming her then-addiction to methamphetamine. "I take full responsibility for my actions and deeply apologize to those I've offended or hurt. I also apologize to those indirectly impacted by these developments." She says she has been clean and sober for over 7 ½ years and has learned "how to make amends when I'm wrong and to take complete accountability for my actions."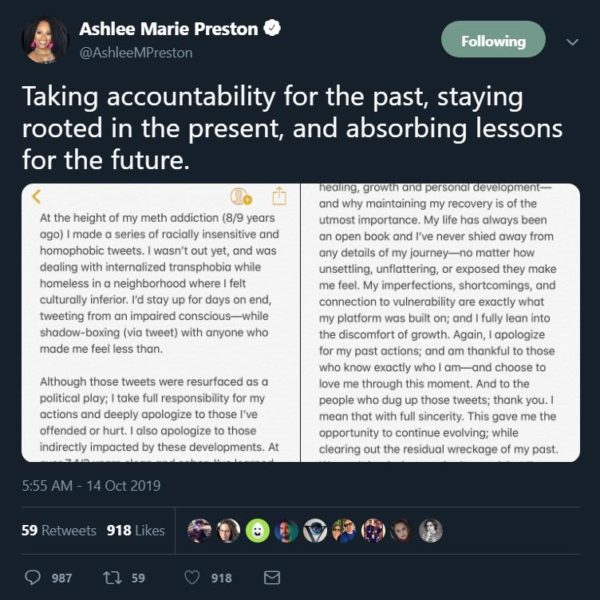 However, DSA Swarthykin Caucus uncovered more recent tweets suggesting Preston may not have entirely ditched her homophobia: "I'd beat the dog shit of out you; furry slipper wearing ass fuck boy," Preston tweeted on September 8, 2018. "IRL I'd smash your fucking head in like a can of A&W Root Beer–But ima fall back and let you keep pretending for the internet…dick rider."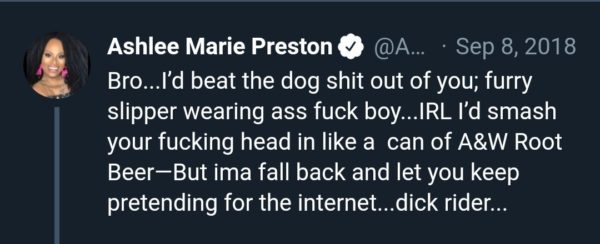 Kalmbacher credits Twitter users Olivia Hill and Brook Hines with uncovering Preston's tweets as they monitored the Warren campaign and discovered Preston inaccurately attacking Warren's friend and rival, Sen. Bernie Sanders, by falsely claiming that he hadn't attended an LGBTQ event since the 1970s.
LawandCrime notes that "Preston, a paid campaign surrogate who was previously criticized for not disclosing her ties to the campaign while appearing on The Young Turks, locked her Twitter account over the weekend and has since deleted many of the tweets in question – though several are still publicly available on Twitter."
 The Los Angeles Blade has reached out to Preston and the Warren campaign for comment and will update this story as warranted.