GLOBE Act introduced in US Senate
Bill would require country to promote LGBTQ rights abroad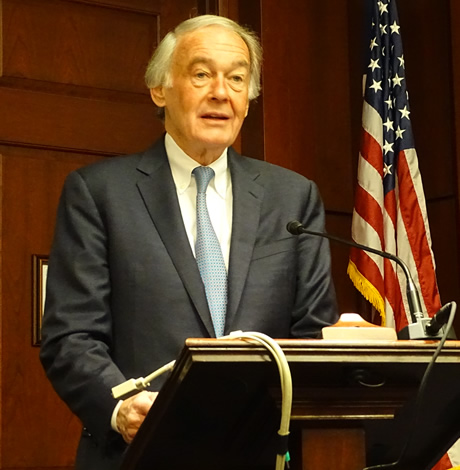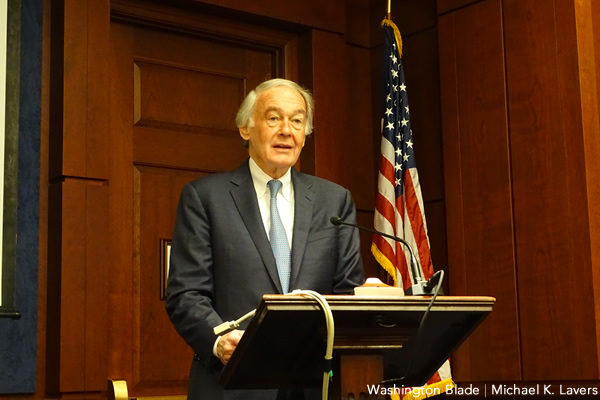 Three U.S. senators on Tuesday introduced a bill that would require the U.S. to continue to promote LGBTQ rights abroad through its foreign policy.
The Greater Leadership Overseas for the Benefit of Equality (GLOBE) Act — introduced by U.S. Sens. Edward Markey (D-Mass.), Jeanne Shaheen (D-N.H.) and Jeff Merkley (D-Ore.) — would codify into law the position of special U.S. envoy for the promotion of LGBTQ rights abroad.
The GLOBE Act would also require the State Department to document discrimination and other human rights abuses based on sexual orientation and gender identity around the world and prevent those who commit human rights abuses against LGBTQ people from entering the U.S. The bill also seeks to improve the way the American immigration system treats LGBTQ asylum seekers and refugees.
The GLOBE Act would require the U.S. to work with the Organization of American States and other international institutions to promote LGBTQ rights around the world. The GLOBE Act would also direct the U.S. to protect LGBTQ Foreign Service personnel who are stationed overseas.
Nevada Congresswoman Dina Titus has introduced a version of the GLOBE Act in the U.S. House of Representatives.
"For the United States to hold true to our commitment to defend the human rights of all people around the world, we must stand with the LGBTQI community in their struggle for recognition and equality everywhere," said Markey during an event the Council for Global Equality held at the Senate Visitors Center on Capitol Hill. "We cannot stand idle as LGBTQI persons worldwide continue to endure hatred, violence and discrimination."
"U.S. values call us to be allies, to stand up and protect them, in spite of the Trump administration's attempts to narrow the government's human rights focus and exclude LGBTQI individuals," added Markey.
The GLOBE Act's introduction coincides with International Human Rights Day, which commemorates the U.N. General Assembly's ratification of the Universal Declaration of Human Rights on Dec. 10, 1948.
Tuesday's event began less than two hours after House Democrats announced two articles of impeachment against President Trump over his efforts to pressure the Ukrainian government to investigate former Vice President Joe Biden. The White House's overall foreign policy and anti-LGBTQ policies in the U.S. have also sparked widespread criticism.
Markey on Tuesday said the State Department's controversial Commission on Unalienable Rights "excludes LGBTQI persons." Markey also criticized the Trump administration's 2018 decision to withdraw the U.S. from the U.N. Human Rights Council.
"The Trump administration seeks to undermine the very institutions we built and convened over the past seven decades," said Markey.
"As President Trump cozies up to world dictators, defends human rights abusers, turns a blind eye to war crimes, the world is a far more dangerous place," he added. "Trump has made life more dangerous for LGBTQI persons by attempting to erase them from reports, from laws and from public life. We will not allow this to happen."
Roxsana Hernández, a transgender woman from Honduras with HIV, died on May 25, 2018, at a New Mexico hospital while in ICE custody. Johana "Joa" Medina León, a trans woman from El Salvador with HIV, died at a Texas hospital on June 1, three days after her release from the Otero County Processing Center in Chaparral, N.M., where she had been in ICE custody.
Yariel Valdés González, a Washington Blade contributor from Cuba who won asylum in the U.S. in Cuba, is among the tens of thousands of people who remain in U.S. Immigration and Customs Enforcement custody.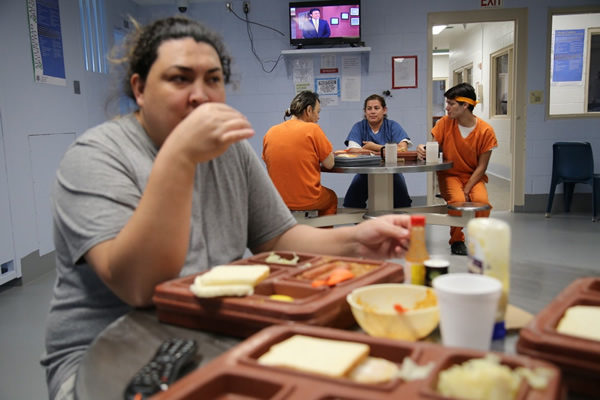 Immigrant rights activists say the deaths of Hernández and Medina highlight the mistreatment that LGBTQ migrants and asylum seekers face while in ICE custody. The GLOBE Act also notes these concerns.
"Asylum and refugee protection are critical last-resort protections for LGBTI individuals, but those who seek such protections face ostracization and abuse in refugee camps and detention facilities," reads the bill. "They are frequently targeted for violence, including sexual assault, in refugee camps and in immigration detention. LGBTI individuals may be segregated against their will for long periods in solitary confinement, in an effort to protect them from such violence, but prolonged solitary confinement itself represents an additional form of abuse that is profoundly damaging to the social and psychological well-being of any individual."
Bill reaffirms US 'promotes equality and justice'
Brazilian President Jair Bolsonaro in March reiterated his opposition to "gender ideology" and his government's "respect of traditional family values" when he spoke alongside Trump in the White House Rose Garden.
The State Department's special U.S. envoy for the promotion of LGBTQ rights abroad remains unfilled; but Deputy Assistant Secretary in the Bureau of Democracy, Human Rights and Labor Scott Busby's bio notes LGBTQ rights are among the issues that are part of his portfolio. The Trump administration earlier this year tapped openly gay U.S. Ambassador to Germany Richard Grenell to spearhead a campaign that encourages countries to decriminalize consensual same-sex sexual relations.
The State Department has publicly criticized Brunei's decision to implement a provision of its new penal code that sought to impose the death penalty upon anyone convicted of homosexuality. The State Department has also condemned the anti-LGBTQ crackdown in Chechnya.
The Trump administration in 2017 sanctioned Chechen President Ramzan Kadyrov under the Magnitsky Act, which freezes the assets of Russians who commit human rights abuses and bans them from entering the U.S. The White House in September banned Mariela Castro, the daughter of former Cuban President Raúl Castro who publicly spearheads LGBTQ issues in Cuba, from traveling to the U.S.
The State Department's annual human rights reports also contain information about LGBTQ rights.
"With the introduction of the GLOBE Act today, we make clear and reaffirm today that the United States promotes equality and justice in its foreign policy," said Markey.
Virginia GOP gubernatorial candidate opposes marriage equality
The Family Research Council, which the Southern Poverty Law Center categorized as an extremist anti-LGBTQ hate group has endorsed Youngkin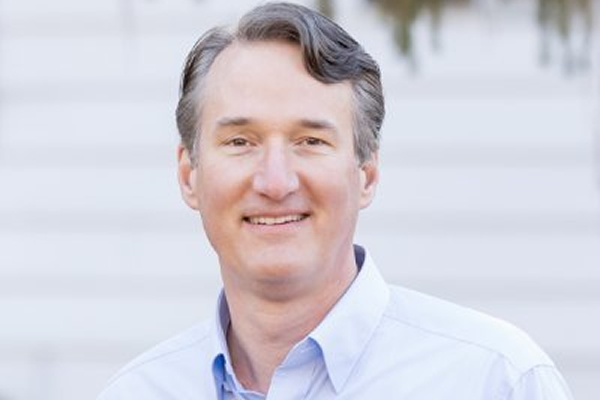 FAIRFAX COUNTY, Va. – Glenn Youngkin in an interview with the Associated Press has reiterated his opposition to marriage rights for same-sex couples.
Youngkin—a Republican who is running against Democrat Terry McAuliffe to succeed Virginia Gov. Ralph Northam—said in an interview published on Friday that he feels "called to love everyone." Youngkin then reiterated his opposition to marriage equality before he added it is "legally acceptable" in the state. "I, as governor, will support that," Youngkin told the AP.
McAuliffe was Virginia's governor from 2014-2018. Same-sex couples began to legally marry in Virginia a few months after McAuliffe took office.
McAuliffe in 2014 became the first governor of a Southern state to officiate a same-sex wedding. The lesbian couple who McAuliffe married recently appeared in one of his campaign ads.
McAuliffe on Friday criticized Youngkin. "As governor, I worked my heart out to keep Virginia open and welcoming to all," said McAuliffe in a tweet. "This type of bigotry and intolerance has no place in our commonwealth."
As governor, I worked my heart out to keep Virginia open and welcoming to all. This type of bigotry and intolerance has NO place in our Commonwealth. https://t.co/T8olFwkszP

— Terry McAuliffe (@TerryMcAuliffe) October 22, 2021
The Family Research Council, which the Southern Poverty Law Center has categorized as an extremist anti-LGBTQ hate group, earlier this month endorsed Youngkin, but Log Cabin Republicans are among the groups that have backed his campaign.
The Human Rights Campaign in 2019 named Youngkin's former company, the Carlyle Group, as a "Best Place to Work for LGBTQ Equality" in its annual Corporate Equality Index.
Deal with LDS church promoted model for LGBTQ rights/religious liberties
The agreement led to an LGBTQ civil rights law in the state, which has Republican control of the state legislature and the governor's mansion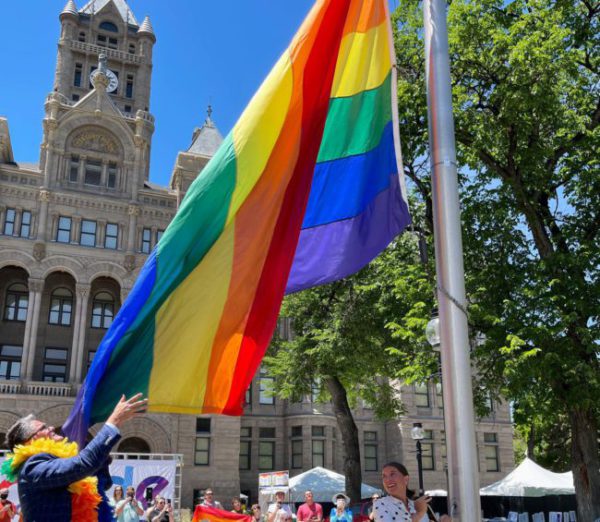 SALT LAKE CITY – A new video from the premier LGBTQ group in Utah, challenging the idea LGBTQ rights must be at odds with religious liberty, promotes an agreement reached in the state as a potential model to achieve a long sought-after update to civil rights law at the federal level.
The video, published Friday by Equality Utah, focuses on a 2015 agreement in Utah between the supporters of LGBTQ rights and the Mormon Church to enact a compromise acceptable to both sides. The agreement by those two sides led to an LGBTQ civil rights law in the state, which has Republican control of the state legislature and the governor's mansion.
Troy Williams, executive director of Equality Utah, says in the video dialogue is key to achieving meaningful success, whether its among the people of Utah, a state legislature or lawmakers in Congress.
"When you are working with LGBT rights in a state like Utah, and you want to advance legal equality, you can't do it without working with Republicans, with conservative, with people of faith," Williams says
Williams, speaking with the Washington Blade over a Zoom call, said the main audience for the video is people on "the center right and the center left" willing to listen to other side when it comes to LGBTQ rights and religious liberty.
"People that have the courage to reach out to each other, and sit down across from each other and say, 'Hey look, let's hammer this out," Williams said. "That's who my audience is."
Not only did Utah enact non-discrimination protections for LGBTQ people, but the state under a Republican governor administratively banned widely discredited conversion therapy for youth. When lawmakers proposed legislation that would ban transgender youth from competing in school sports, the proposal was scuttled when Gov. Spencer Cox (whom Williams called a "super Mormon") said he'd veto it after it came to his desk.
Marina Gomberg, a former board for Equality Utah, is another voice in the video seeking dispel the narrative religious liberty and LGBTQ rights are in conflict.
"in order to protect LGBTQ people, we don have to deny religious liberty, and in order to provide protections for religious liberties, we don't have to deny LGBTQ people," Gomberg says. "The idea that we do is a fallacy that Utah has dismantled."
In July, new polling demonstrated the surprisingly the Utah, despite being a conservative state, has the second highest percentage of state population in support for non-discrimination protections for LGBTQ people. The data Public Religion Research Institute from 77 percent of Utah residents support LGBTQ people, which is just behind New Hampshire at 81 percent.
Tyler Deaton, senior adviser for the pro-LGBTQ American Unity Fund, said the Utah agreement demonstrates the possibility of reaching an agreement at the federal level once "second order" issues are put into perspective.
"The first order question has to be how are we winning the culture," Deaton said. "Do people even want to pass the bill? And if they do, you then figure out the details."
The American Unity Fund has helped promote as a path forward for LGBTQ non-discrimination at the federal level the Fairness for For All Act, legislation seeking to reach a middle ground on LGBTQ rights and religious freedom. Polling earlier this year found 57 percent of the American public back a bipartisan solution in Congress to advance LGBTQ civil rights.
Supporters of the Equality Act, the more established vehicle for LGBTQ rights before Congress, say the Fairness for For All Act would give too many carve-out for LGBTQ rights in the name of religious freedom. The Equality Act, however, is all but dead in Congress and has shown no movement in the U.S. Senate.
Skeptics of the Utah law would point out the law doesn't address public accommodations, one of the more challenging aspects in the fight for LGBTQ rights and one or remaining gaps in civil rights protections for LGBTQ people in the aftermath of the U.S. Supreme Court's decision last year in Bostock v. Clayton County. As a result, it's perfectly legal in Utah for a business owner to discriminate against LGBTQ coming as patrons.
Williams, however, shrugged off the idea the lack of public accommodations protections in Utah make the agreement in the state makes it any less of a model, making the case the spirit behind the deal is what matters.
"I think copying and pasting Utah's law doesn't work for lots of reasons," Wililams said. "What's most important is a model of collaboration because when you are sitting around the table with each other — Democrats and Republicans, LGBTQ people and people of faith — that's when the transformation happens. That is when the mutual respect is really forged."
U.S. Supreme Court will hear Texas abortion ban- won't block enforcement
"Every day the Court fails to grant relief is devastating, both for individual women and for our constitutional system as a whole."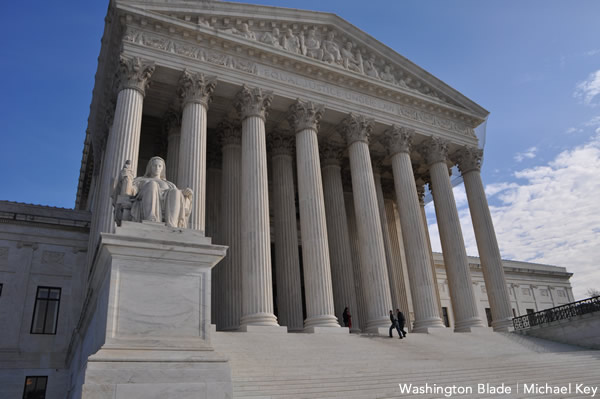 WASHINGTON – The United States Supreme Court Friday ruled that it will hear oral arguments in two separate filings next month over the Texas abortion ban, known as SB8, which bans abortion after six weeks, a point that most women are not even aware they are pregnant. This is also a point that is counter to what the high court has allowed in pervious rulings.
The Court however in granting the petitions declined to enjoin the law prompting Associate Justice Sonia Sotomayor to write in her dissent, "Every day the Court fails to grant relief is devastating, both for individual women and for our constitutional system as a whole."
The U.S. Justice Department had filed an emergency writ of centori in United States v. Texas, asking the justices to block enforcement after the U.S. Fifth Circuit Court of Appeals enjoined a lower court ruling that blocked enforcement of the Texas anti-abortion law on Tuesday.
The Justice Department is seeking the high court's review in order to block the law while legal litigation continues over the controversial law while a lower Federal court in Austin, Texas, addresses the underlying constitutional questions raised in the challenge to the law.
The second case, Whole Woman's Health v. Jackson, SCOTUSblog journalist Amy Howe reported;
Texas abortion providers have asked the Supreme Court to weigh in on the law's unusual enforcement mechanism, which deputizes private individuals to bring lawsuits against anyone who either provides or "aids and abets" an abortion. In a rare procedural move, the providers urged the court to take up the question without waiting for a final ruling from the U.S. Court of Appeals for the 5th Circuit, where the case returned after the justices rejected the providers' earlier request to block the law from going into effect.
Although the providers came to the Supreme Court in late September, the justices did not act on their request to fast-track consideration of their appeal for nearly a month. But shortly after the Biden administration filed its application on Monday to block enforcement of S.B. 8, the court ordered Texas officials to respond in both S.B. 8 cases by noon on Thursday – suggesting that the justices may act on both at the same time.
Justice Sotomayor dissents from the Supreme Court's refusal to halt Texas' six-week abortion ban in the meantime, writing:

"Every day the Court fails to grant relief is devastating, both for individual women and for our constitutional system as a whole."https://t.co/1hzOnPQzr3 pic.twitter.com/6zsEnKN2rb

— Mark Joseph Stern (@mjs_DC) October 22, 2021
The court is scheduled to hear oral arguments in a separate high-profile abortion case on Dec. 1. That case, Dobbs v. Jackson Women's Health Organization, involves a Mississippi law that bans most abortions after 15 weeks. Mississippi and its supporters have asked the court to overturn Roe v. Wade 
That case Roe v. Wade, 410 U.S. 113 (1973), was a landmark decision in which the Court ruled that the Constitution of the United States protects a pregnant woman's liberty to choose to have an abortion without excessive government restriction.