December 31, 2019 at 8:50 am PST | by Karen Ocamb
Top 10 LA news stories of 2019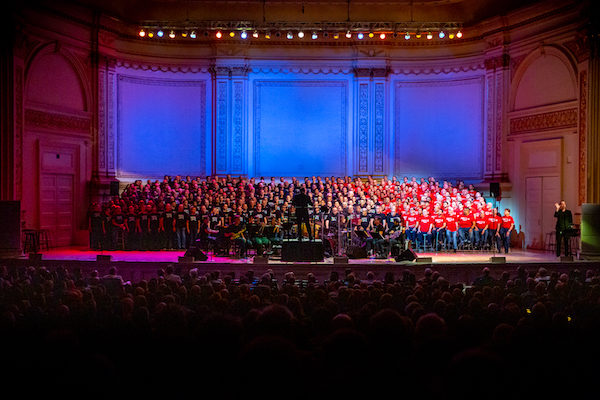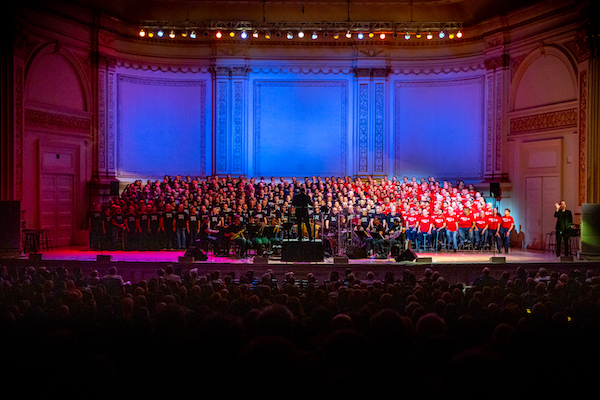 Carnegie Hall: The 150-member strong GMCLA contingent (R), with NYCGMC, its East Coast commissioning partner, perform at Carnegie Hall on June 27 as part of Stonewall 50. (Photo by Gregory Zabilski)
For news editors, picking a top 10 year-in-review list is like asking a parent to pick their favorite child. My criteria came down to which stories were and will be most impactful. That said, I can't let 2019 go by without three "honorable mentions" of note: 1) the death of Project 10 founder Dr. Virginia Uribe; 2) longtime lesbian activist Ivy Bottini leaving West Hollywood for Florida; and MCC Founder Rev. Troy Perry donating papers to the Smithsonian Institution.
There are so many other stories deserving of attention, of course, but here's my subjective top 10:
No. 10 THE LAZARUS EFFECT. The Los Angeles LGBTQ community experienced two major Lazarus rising moments this year — the comeback of the Gay Men's Chorus of Los Angeles, which appeared doomed to an ignominious demise after being rocked by accusations of sexual harassment. But with new leadership, its star-studded Aug. 16 Stonewall 50th concert at the Walt Disney Concert Hall with 500 singers from 25 other choruses, honoring politico David Mixner, suggested a fresh promise. Likewise, Christopher Street West/LA Pride was mired in a financial and political miasma, with lots of angry finger pointing. But by June 8/9, the clouds had cleared and everyone seemed to have a merry time, which was also very profitable for WeHo & LA.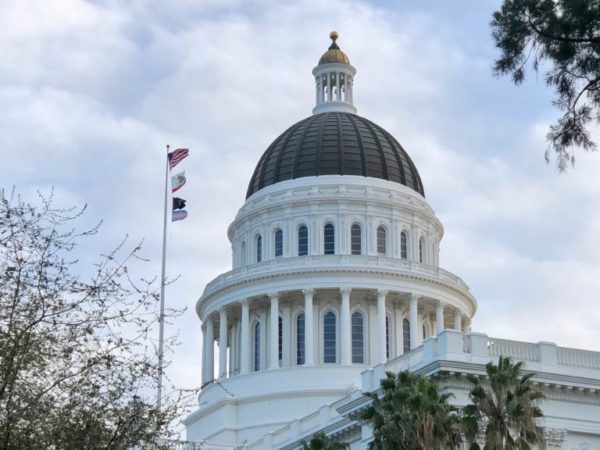 Gov.Newsom orders Trans flag to fly over State Capitol on Nov. 20 (Photo courtesy Equality California)
No. 9 LGBTQs IN SACRAMENTO. LGBTQ history was made in 2018 when Ricardo Lara was elected statewide as Insurance Commissioner. He initially stumbled over a donor controversy but has received plaudits for telling insurers they can't drop homeowner policies of wildfire victims. Meanwhile the LGBT Caucus continues to be legislatively active and Gov. Newsom flying the trans flag over the State Capitol went viral.

LA City Councilmember Ryu addresses crowd at opening of Los Angeles LGBT Center's Anita May Rosenstein Campus (Photo by Troy Masters)
No. 8 ANNIVERSARIES GALORE. Fifty years ago — other than LA-based Mattachine Society founder Harry Hay and friends — most LGBTQ people had no concept of themselves as a minority "community" with a shared collective
history. But 2019 put that to rest with celebration after commemoration of notable anniversaries, starting with the 50th anniversary of the Stonewall Riots in New York City. The Washington Blade also marked 50 years since its inaugural publication as The Gay Blade. The Los Angeles LGBT Center also celebrated 50 years, though some activists quibbled with CEO Lorri Jean's changing the date from its 1972 incorporation to 1969 based on Gay Liberation Front/LA historical records and information provided by the late Center co-founder Morris Kight. Equality California celebrated its 20th anniversary, though the LGBTQ lobbying group originally grew out of LIFE AIDS Lobby, founded in 1985. The Gay Men's Chorus of Los Angeles celebrated 40 years; Project Angel Food celebrated 30 years and provided its 12 millionth meal. The Wall Las Memorias commemorated 25 years and the youth-oriented Impulse Group celebrated 10 years of fun and service.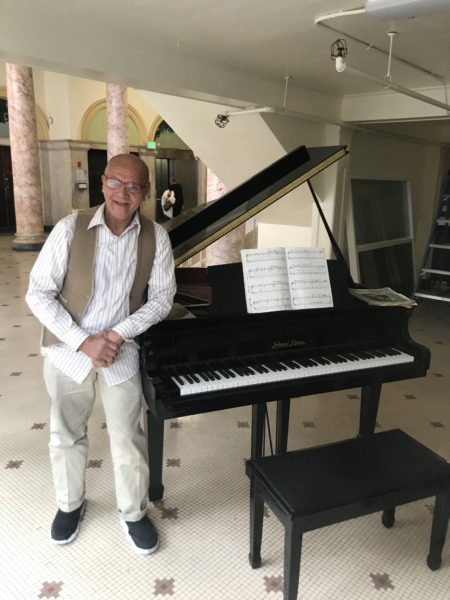 Former homeless vet, Herbert Butler, at AHF hotel (Photo courtesy AHF)
No. 7 AHF FIGHTS HOMELESSNESS. AIDS Healthcare Foundation started out in 1987 as the AIDS Hospice Foundation to provide gay men dying of AIDS with shelter and a dignified death. Now a global healthcare organization serving more than 1.3 million people in 43 countries — including flying in aid to hurricane-devastated Puerto Rico and the Bahamas — AHF has taken on the epidemic of homelessness and the dearth of affordable housing in LA by buying and rehabilitating Single Room Occupancy hotels in downtown LA and Hollywood. Former homeless vet, Herbert Butler, 88, is riding on AHF's float in the New Year's Day Rose Parade. AHF's housing advocacy division, Housing Is A Human Right, has gathered more than enough signatures to qualify the Rental Affordability Act for the November 2020 ballot.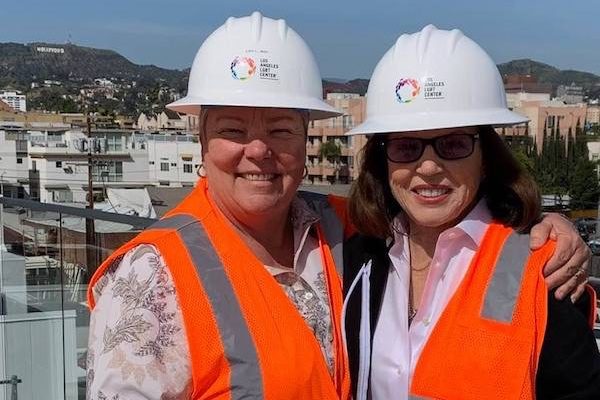 LA LGBT Center CEO Lorri L. Jean and Anita May Rosenstein. (Photo courtesy of LA LGBT Center)
No. 6 ANITA MAY ROSENSTEIN CAMPUS OPENS. The barflies at the Stonewall Inn and the Black Cat in the days when homosexuality was a crime and queers were perverts worthy of death could never have imagined the Anita May Rosenstein Campus, the new LA LGBT Center headquarters in the heart of Hollywood. The two-acre, $141.5 million complex across from the Village at Ed Gould Plaza provides comprehensive intergenerational services for LGBT seniors and youth with emergency and transitional housing and beds, affordable housing, a new Senior Community Center, Youth Drop-In Center and Youth Academy, and employment programs. Phase II will add more apartments by mid-2020. The Center's four-story McDonald/Wright Building is now a dedicated LGBT health center. "Here we have a president and his team of people who want to build a wall to keep the most vulnerable out," Jean told the Los Angeles Blade. "And what do we do? We build a beautiful campus to invite the most vulnerable in."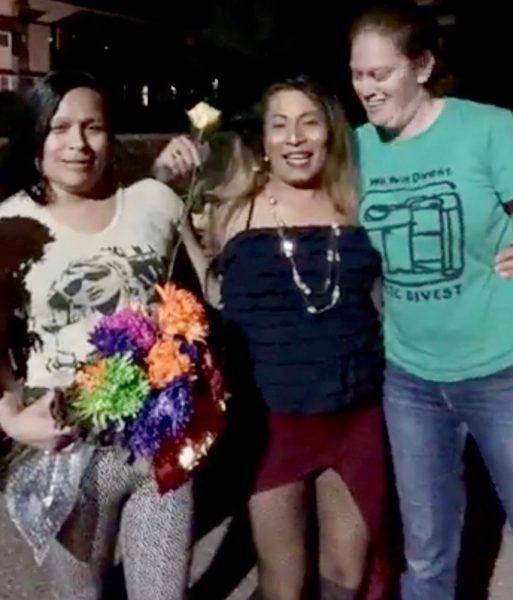 Freed trans asylum seeker Alejandra Barrera with friend and attorney Rebekah Wolf (Photo courtesy TransLatin@ Coalition)
No. 5 TRANS DEATHS/DEFIANCE. This November's Transgender Remembrance Day, the Human Rights Campaign reported at least 22 trans and gender-nonconforming people had been murdered in 2019, most of whom were young Black trans women during an era of rising hate crimes, including in the LA area. By Dec. 19, the known dead increased to at least 24. Meanwhile, the Trump administration made it extremely difficult for those fleeing violence and seeking asylum in the U.S., especially trans asylum seekers. In May, Johana Medina Leon, a trans woman who fled violence in El Salvador and pleaded with ICE for medical attention, died four days after ICE released her into an El Paso Texas hospital. But the trans community and allies have been defiant. Equality California and Attorney General Xavier Becerra are fighting the trans military ban; Karina Samala, James Wen, Khloe Perez-Rios, Chela Demuir,  Blossom C. Brown, and Maria Roman Taylorson advocated for trans visibility; and Bamby Salcedo and the TransLatin@ Coalition got Alejandra Barrera out of ICE detention to await her hearing. And huge kudos to the Washington Blade's Michael Lavers for his guts traveling to scary areas to do original reporting!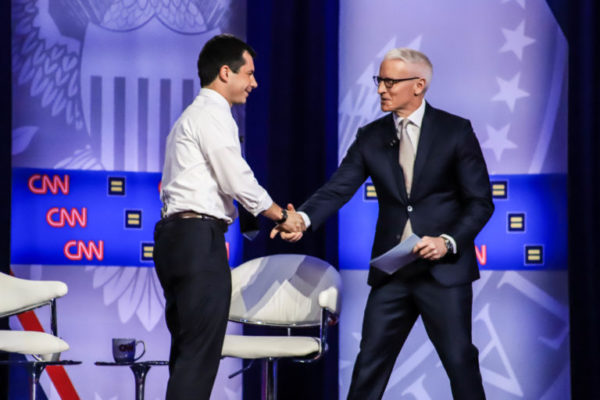 Out South Bend, Indiana Mayor and Democratic presidential candidate Pete Buttigieg shakes hands with out CNN anchor Anderson Cooper at HRC/CNN ;GBTQ Town Hall (Photo by Daniel Silwa)
No. 4 HRC/CNN LGBTQ Town Hall. For the Human Rights Campaign, the Oct.10 LGBTQ Town Hall at The Novo was an historic follow-up to their news-making forum in 2007. To CNN, it was a town hall on a political "issue," with out anchors Anderson Cooper and Don Lemon as questioners, each handling protesters with courtesy. Nine Democratic presidential candidates showed up, with gay presidential candidate Pete Buttigieg generating the peak ratings at 1,430,000 viewers. Frontrunner Sen. Elizabeth Warren did well, but former Vice President Joe Biden oddly stumbled and longtime LGBTQ ally Sen. Kamala Harris failed to hit a homerun message. Sen. Bernie Sanders was absent, recovering from a heart attack. A Saturday Night Live spoof featured Hamilton's Lin-Manuel Miranda as former HUD Sec. Julián Castro saying: "Well, first of all, gracias. As a Democrat, I want to apologize for not being gay, but I promise to do better in the future."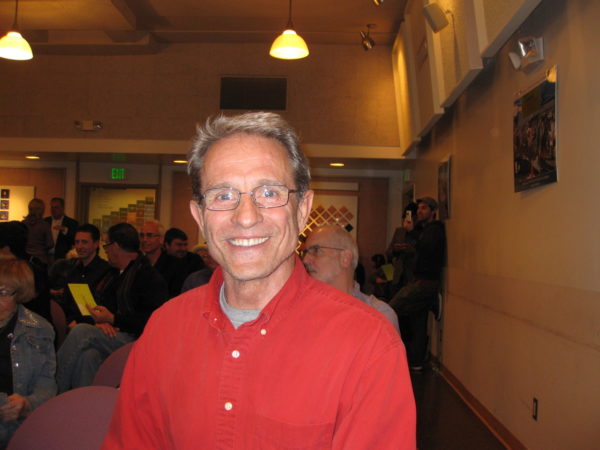 Gay West Hollywood resident Ed Buck was arrested and charged with 'operating a drug house and providing methamphetamine to a 37-year-old man who suffered an overdose' in 2019.
No. 3 ED BUCK INDICTED/ LA DA RACE IMPACTED. Thanks in large part to Black lesbian activist Jasmyne Cannick, the Ed Buck scandal dominated headlines until finally federal authorities stepped in and arrested Buck at his West Hollywood apartment in September, charging him with a federal drug crime in the July 2017 overdose death of Gemmel Moore. Timothy Dean also died in January of a drug overdose at Buck's apartment, which LA DA Jackie Lacey called a "drug den." The feds claimed there were at least 11 additional victims, most young Black male escorts, who allege Buck, who is white, injected them with meth as part of a sexual fetish. If convicted, Buck could get a sentence of 20 years to life in prison. Lacey claimed her office was legally restricted in how she could proceed but critics claimed she failed at her job, with former San Francisco DA George Gascon moving to LA to challenge the incumbent.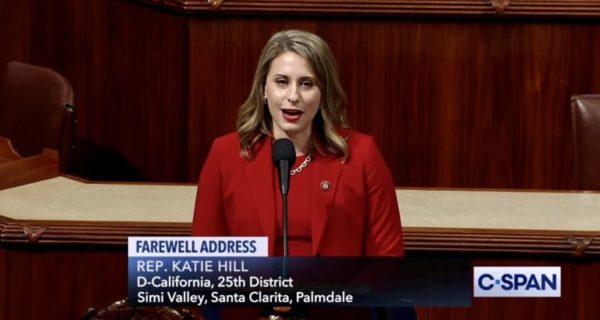 No. 2 REP. KATIE HILL RESIGNS
Rep. Katie Hill, a Democrat from Santa Clarita and California's first bisexual representative in Congress, announced her resignation "with a broken heart" in an Oct. 27 tweet and statement. She was being investigated by the House Ethics committee for allegedly engaging in a relationship with a congressional staffer, which she vehemently denied. She did admit to a consensual affair with a campaign staffer prior to her election in 2018, defeating anti-LGBTQ Republican Rep. Steve Knight. The relationship came to light after right-wing blog Red State and UK's Daily Mail published nude photos of her that she knew nothing about, supplied by her estranged husband. In an astoundingly personal Dec. 7 New York Times op-ed, she shared her new activism after overcoming the suicidal depression caused by the revenge porn cyber exploitation. The race for Hill's 25th CD seat is heating up with Hill and most Democrats supporting Assemblymember Christy Smith over alleged sexist and homophobic "progressive" Cenk Uygur, who lost his Bernie Sanders' endorsement after a backlash, as well Republicans Steve Knight and convicted felon and former Trump associate George Papadopoulos.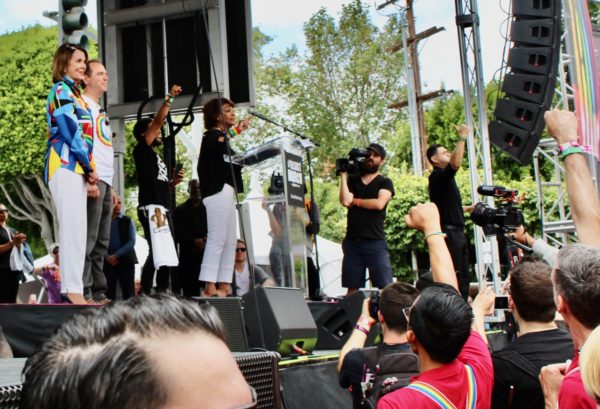 California Representatives Maxine Waters and Adam Schiff and House Speaker Nancy Pelosi at #ResistMarch in West Hollywood in 2017. (Photo by Karen Ocamb)
No. 1 IMPEACHMENT. On June 11, 2017, Rep. Maxine Waters took the stage at the #ResistMarch in West Hollywood, flanked by California colleagues House Speaker Nancy Pelosi and Rep. Adam Schiff, chair of the House Intelligence Committee, and led a loud call-and-response chant: "Impeach 45!" Two years later, Pelosi agreed to launch an impeachment inquiry and Schiff's committee concluded President Donald J. Trump needed to be impeached for withholding congressionally appropriated military aid to Ukraine, contingent on that country's new president promising to announce an investigation into Trump's anticipated 2020 rival, former Vice President Joe Biden and his son. Gay representatives Sean Patrick Maloney and David Cicilline acquitted themselves well during the hearings, as did a slew of California leaders. On Dec. 19, the House historically voted to impeach Trump on two counts — abuse of power and obstruction of Congress. What happens in the Senate, with lesbian progressive Tammy Baldwin and bisexual conservative/moderate Democrat Kyrsten Sinema serving as impeachment trial jurors, may determine the strength and operation of the Constitution's three co-equal branches of government, and with it, the fate of the republic in advance of the 2020 elections.