Lanterns return to stay on Santa Monica Boulevard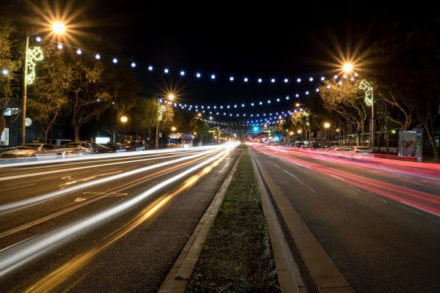 Those popular lanterns above Weho's main thoroughfare for last summer's LA Pride festivities are back again, and this time they're sticking around.
According to a press release from the City of West Hollywood:
After positive community feedback of a temporary street lantern installation on Santa Monica Boulevard for 2019 LA Pride in West Hollywood festivities, the City of West Hollywood has installed permanent year-round decorative LED lanterns above Santa Monica Boulevard between N. Robertson Boulevard and Hancock Avenue. The colorful globe lanterns provide a bright atmosphere and welcoming feel to the City's LGBT 'Rainbow District' during nighttime.
"The new festive lights on Santa Monica Boulevard are bright, happy, and colorful, and arrived just in time for a new year and a new decade," said City of West Hollywood Mayor John D'Amico. "Every night they will light up West Hollywood's 'Rainbow District' to be sure. But, more importantly, they illuminate — with tremendous pride — our city's lesbian, gay, bisexual, and transgender community, heritage, and history."
The lanterns are programmable either as individual lanterns or entire strands of lights, which will allow the City of West Hollywood to recognize national events or celebrations that traditionally use signature colors. All lanterns have UV protection to prolong the life and ensure clarity of the shield around the light fixtures. In addition, the lanterns feature easily replaceable fixtures and are custom-made in the United States of commercial-grade construction to withstand the elements for successful permanent exterior installation. The lanterns are engineered to meet the weight and wind-load requirements of existing light poles to which they are attached and are compliant with fire safety regulations.
Illumination for the globes will be set to rotate in rainbow colors in an embrace of the neighborhood's LGBT community and bars, restaurants, and businesses. Since incorporation in 1984, the City of West Hollywood has become one of the most influential cities in the nation in advocating for the rights of LGBT people — no other city of its size has had a greater impact on the national public policy discourse on fairness and inclusiveness for LGBT people. According to a 2019 Community Study survey, 43 percent of West Hollywood residents identified as part of the LGBT community. The 'Rainbow District' in West Hollywood in and around Santa Monica Boulevard has, for decades, been a thriving hub of LGBT businesses and nightlife and new lighting will enhance the neighborhood at nighttime.
Newsom expands drought emergency urges Californians to conserve water
California is experiencing its worst drought since the late 1800s. August 2021 was driest & hottest August on record since reporting began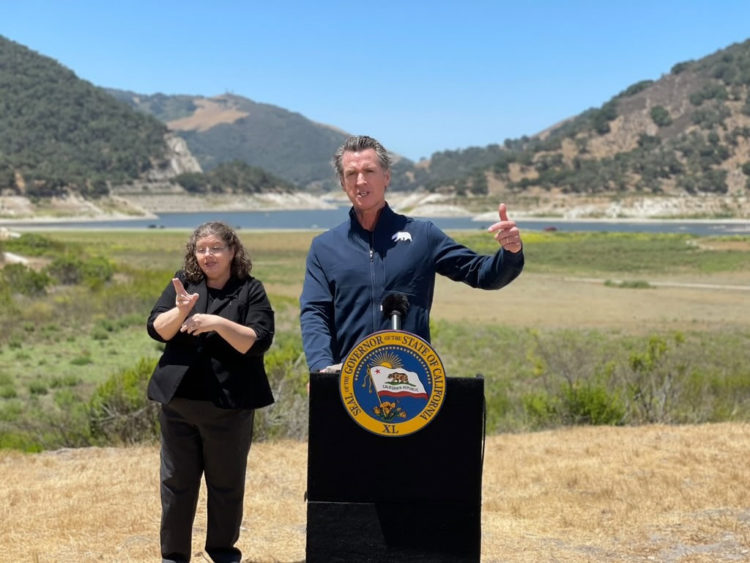 SACRAMENTO – Following the second driest year on record and with near record low storage in California's largest reservoirs, Governor Gavin Newsom today issued a proclamation extending the drought emergency statewide and further urging Californians to step up their water conservation efforts as the western U.S. faces a potential third dry year.
Bolstering conservation efforts, the proclamation enables the State Water Resources Control Board to ban wasteful water practices, including the use of potable water for washing sidewalks and driveways. The Governor issued an executive order in July calling on Californians to voluntarily reduce water use by 15 percent compared to 2020 to protect water reserves and complement local conservation mandates. The Governor's action today comes as the Board reports that in August, California reduced urban water use by 5 percent compared to 2020.
"As the western U.S. faces a potential third year of drought, it's critical that Californians across the state redouble our efforts to save water in every way possible," said Governor Newsom. "With historic investments and urgent action, the state is moving to protect our communities, businesses and ecosystems from the immediate impacts of the drought emergency while building long-term water resilience to help the state meet the challenge of climate change impacts making droughts more common and more severe."
The proclamation notes that the State Water Resources Control Board may adopt emergency regulations to prohibit wasting water, such as hosing down sidewalks or driveways, allowing drinking water to flood gutters or streets, or washing a car without a shut-off nozzle.
The proclamation adds the eight counties not previously included in the drought state of emergency: Imperial, Los Angeles, Orange, Riverside, San Bernardino, San Diego, San Francisco and Ventura. In addition, the proclamation requires local water suppliers to implement water shortage contingency plans that are responsive to local conditions and prepare for the possibility of a third dry year.
Expanding the Save Our Water initiative, a critical resource during the last drought, California has launched robust water conservation public education campaigns in partnership with stakeholders, including public water agencies. Statewide per capita residential water use declined 21 percent between 2013 and 2016 and as of 2020, the urban sector is using approximately 16 percent less on average statewide than in 2013. The Administration will continue to monitor the evolving drought conditions and evaluate all tools available to respond in real-time.
California is experiencing its worst drought since the late 1800s, as measured by both lack of precipitation and high temperatures. August 2021 was the driest and hottest August on record since reporting began and the water year that ended last month was the second driest on record. Today's proclamation authorizes the Governor's Office of Emergency Services to provide assistance and funding under the California Disaster Assistance Act to support the emergency response and delivery of drinking water and water for public health and safety.
The Governor's California Comeback Plan invests $5.2 billion over three years to support immediate drought response and long-term water resilience, including $815 million for emergency drought relief projects to secure and expand water supplies, drought contingency planning and multi-benefit land repurposing projects; support for drinking water and wastewater infrastructure, with a focus on small and disadvantaged communities; Sustainable Groundwater Management Act implementation to improve water supply security and quality; and projects to support wildlife and habitat restoration efforts, among other nature-based solutions.
A copy of today's proclamation can be found here.
More information on the state's response to the drought and informational resources available to the public are available at https://drought.ca.gov/.
LA City Councilman Ridley-Thomas will 'step back' from duties, not resign
He will fight the "outrageous allegations" and plans to resume participation on the legislative body "at the earliest appropriate time"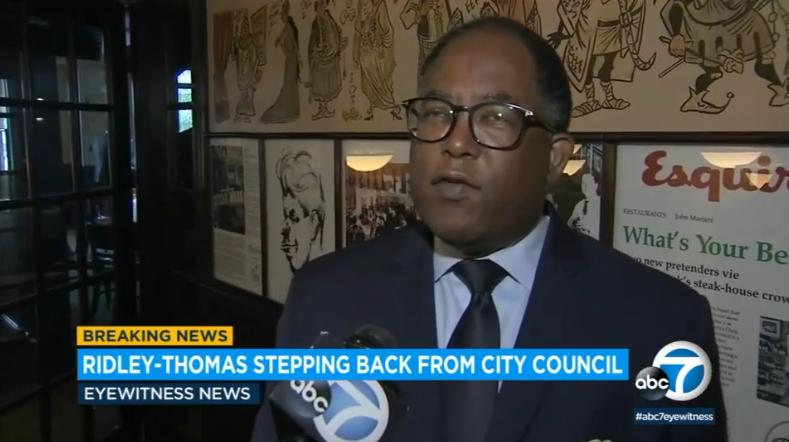 LOS ANGELES – Los Angeles City Councilman Mark Ridley-Thomas in a letter sent to fellow councilmembers Monday said that he would step back from his duties but he declined to resign from his seat.
In the letter he said that he will fight the "outrageous allegations" and plans to resume participation on the legislative body "at the earliest appropriate time," the Los Angeles Times reported.
"I fully appreciate the importance of the council being able to conduct its business with minimal distractions," Ridley-Thomas said in the letter, adding that he was stepping back with that in mind.
Ridley-Thomas, 66, was indicted earlier this month by a federal grand jury with 20 federal counts of conspiracy, bribery, mail and wire fraud alleging he took bribes from a former dean at the University of Southern California, (USC) when he was a member of the County Board of Supervisors.
The Los Angeles Times reported that in exchange for the payoffs, Ridley-Thomas allegedly supported awarding county contracts worth millions of dollars to USC.
In the indictment Ridley-Thomas is charged with conspiring with Marilyn Louise Flynn, 83, then dean of USC's School of Social Work, to steer county money to the university in return for admitting his son Sebastian into graduate school with a full-tuition scholarship and a paid professorship, the Times reported.
Both Ridley-Thomas and Flynn deny the charges.
Mark Ridley-Thomas will 'step back' from LA City Council meetings, won't resign- KABC 7 News Los Angeles:
Alisal Fire now 80% contained; evacuation orders lifted
The fire erupted in the Santa Ynez Mountains during high winds on Oct. 11. The cause remains under investigation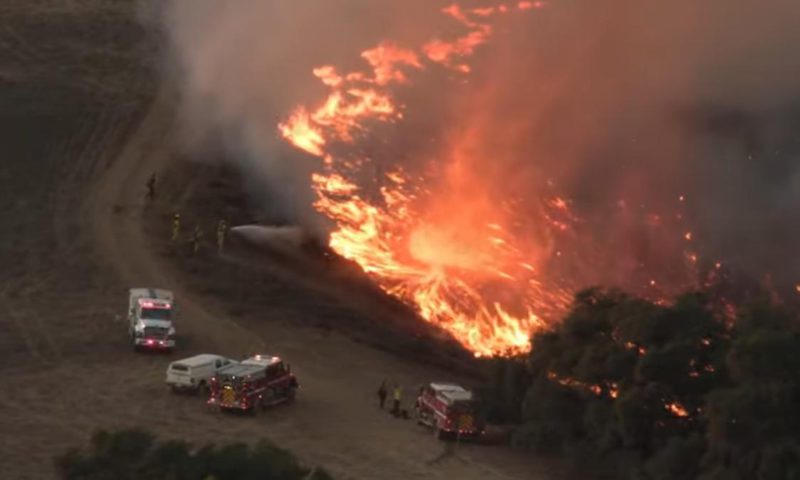 GOLETA – The Alisal Fire in Santa Barbara County is 80% contained as of Monday morning and its size was holding at about 27 square miles (70 square kilometers), a spokesperson for CAL-FIRE said. The fire erupted in the Santa Ynez Mountains during high winds on Oct. 11. The cause remains under investigation.
All evacuation orders and warnings were canceled Sunday afternoon and residents who fled the blaze have been allowed to return home.
#AlisalFire Update: Evacuation Order for the area west of Arroyo Hondo to the intersection of Hwy 101 & Hwy 1, the Arroyo Hondo Canyon and Refugio Canyon, and the area between El Capitan Beach State Park and West Camino Cielo has been cancelled. More info: https://t.co/YqDKvUfZIM

— SBCountyOEM (@SBCountyOEM) October 17, 2021
Late last week, the 101 freeway which had been closed so that firefighters could work to contain the blaze was reopened.
Hwy 101 is open! The CHP appreciates your understanding and patience with the roadway closure the past few days as emergency crews fight the Alisal Fire. The Alisal Fire remains active, we are asking the motoring public to remain vigilant of emergency crews working along the Hwy pic.twitter.com/Plug8LaShG

— CHP Santa Barbara (@CHP_SantaBarb) October 15, 2021