New Facebook community standards spark controversy
Restrictions anger LGBT artists and activists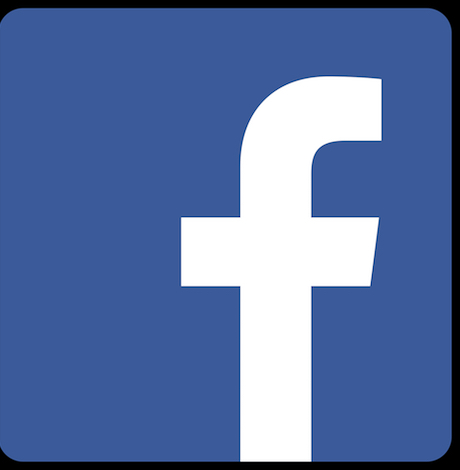 A House Judiciary Committee hearing Dec. 11 prompted smug laughter from Democrats when anti-LGBT Iowa Rep. Steve King tried to play "gotcha" with Google CEO Sundar Pichai whose search engine Republicans think is guilty of anti-conservative bias. Holding up his phone, King asked Pichai why his 7-year-old granddaughter found an unflattering photo of him while playing a game. "Congressman, iPhone is made by a different company," Pichai said.
Not so funny is the apparent move by Facebook to erase all mention of human sexuality, especially regarding LGBT people, from its platform. The issue was raised by LGBT artists and activists who noted an uptick in what they consider censoring of certain posts. This follows an announcement from another social media network, Tumblr, that it is deleting all blogs carrying "adult content" in violation of its newly revised community standards rules that take effect Dec. 17.
LGBT users are now concerned about Facebook's new guidelines/rules, revised Oct. 15, which they believe extremely limit what they can safely post without reprisal, being booted off the platform temporarily or permanently.
Consider "how interwoven our intimate encounters, desires, and relationships (including, but not limited to, sexual matters) are with digital platforms. Consider how much of your personal and professional life experiences may be integrated with Facebook, Twitter, Instagram, and Tinder," Steven W. Thrasher writes in The Atlantic. "But its adult content wasn't strictly limited to porn. The site is—was—a haven for people who might not be able to connect sexually in other ways."
"Tumblr was my safe space and my digital gallery for my work. But it is difficult to use my Facebook artist page because of recent efforts to censor and stifle both images and language. When Tumblr made its announcement that was devastating as nearly half of my support and patrons came via its platform," Phoenix-based gay artist Brandon McGilltells the Los Angeles Blade. "I have about 3500+ posts of original content. It's going to be hard to keep track of what they've removed and what they did not, it is just so frustrating. As an artist, this impacts me, but as a community we are on a slippery slope friends. We must be visible, we must be present, and we must fight back. Or we lose our voice completely."
Facebook has come under fire for its failure to take down content such as terrorist and extremist videos, as well as content generated by bots posting fake news—while seemingly targeting legitimate posts from real users for deletion.
In a recent action coinciding with Tumblr's announcement, the social media giant quietly introduced a new policy that updated its content-moderation rules. It bans users from expressing "sexual slang" and or any hint of "sexual positions" and erotic art when mentioned with a sex act.
Suggestive comments such as "looking for a good time tonight" when soliciting for sex is also forbidden.
It also bans talking about "sexual roles or fetish scenarios," or mentioning preferences in sexual partners in profile descriptions.
Facebook spokeswoman Ruchika Budhraja told the LA Blade Dec. 11 that the revised content-moderation rules implementation also reflect input from third-party organizations that work on women's and child online safety issues.
Budhraja added that Facebook is in the process of hiring more content reviewers and using computer algorithms to help it take down problematic content. However, she noted that an independent set of panels will be used to determine disputed posts regarding what should and shouldn't be taken down according to the new rules.
Asked specifically about the LGBTQI community Budhrja said, "Stating one's sexual preference or partner preference does not violate our policies around sexual solicitation. Sexual solicitation as we have defined it in our Community Standards also requires 'offering or asking to engage in' a sexual act."
She acknowledged that the changes might be controversial. "I don't think everyone will be happy with where we draw the line," she said. "Just saying 'I'm gay and I'm a bottom looking for a top,' won't come down under the policy."
However, a post or profile saying: "I'm a bottom looking for a top, call me," she said, "would come down under this policy."
Sara Elizabeth Grossman—who runs Matthews Place, an online safe zone for LGBT youth, sponsored by the Matthew Shepard Foundation—finds the new policy painfully laughable.
"It's absurd. Especially when you consider that for LGBTQI youth that live in rural areas, online is the only place where they may be able to discuss things- figure things out for themselves," Grossman told the Los Angeles Blade. "If Facebook now is going to censor their language, how are they supposed to be able to learn, explore, or understand themselves or their experiences?"
Budhraja said that Facebook is always working to improve its policies and provide clarity and additional context where necessary.
"In writing our Community Standards our goal is always to ensure the safety of people who use Facebook. Those people vary in age, and come from very different cultures, with different sensitivities," she said. "In the coming months, we plan to add more detail to our Sexual Solicitation policy based on feedback we've heard to date."
Grossman isn't so sure. "In places where there are no safe places and not enough affirming members of a community, being able to ask questions especially about sexuality becomes hairy and frightening if Facebook polices language," she said. "Facebook already bans certain non-erotic pictures of the human form. A female nipple picture can get you suspended and put in Facebook jail."
Facebook owns Instagram. Will that platform be next?
DeSantis targets Orlando non-profit over holiday drag show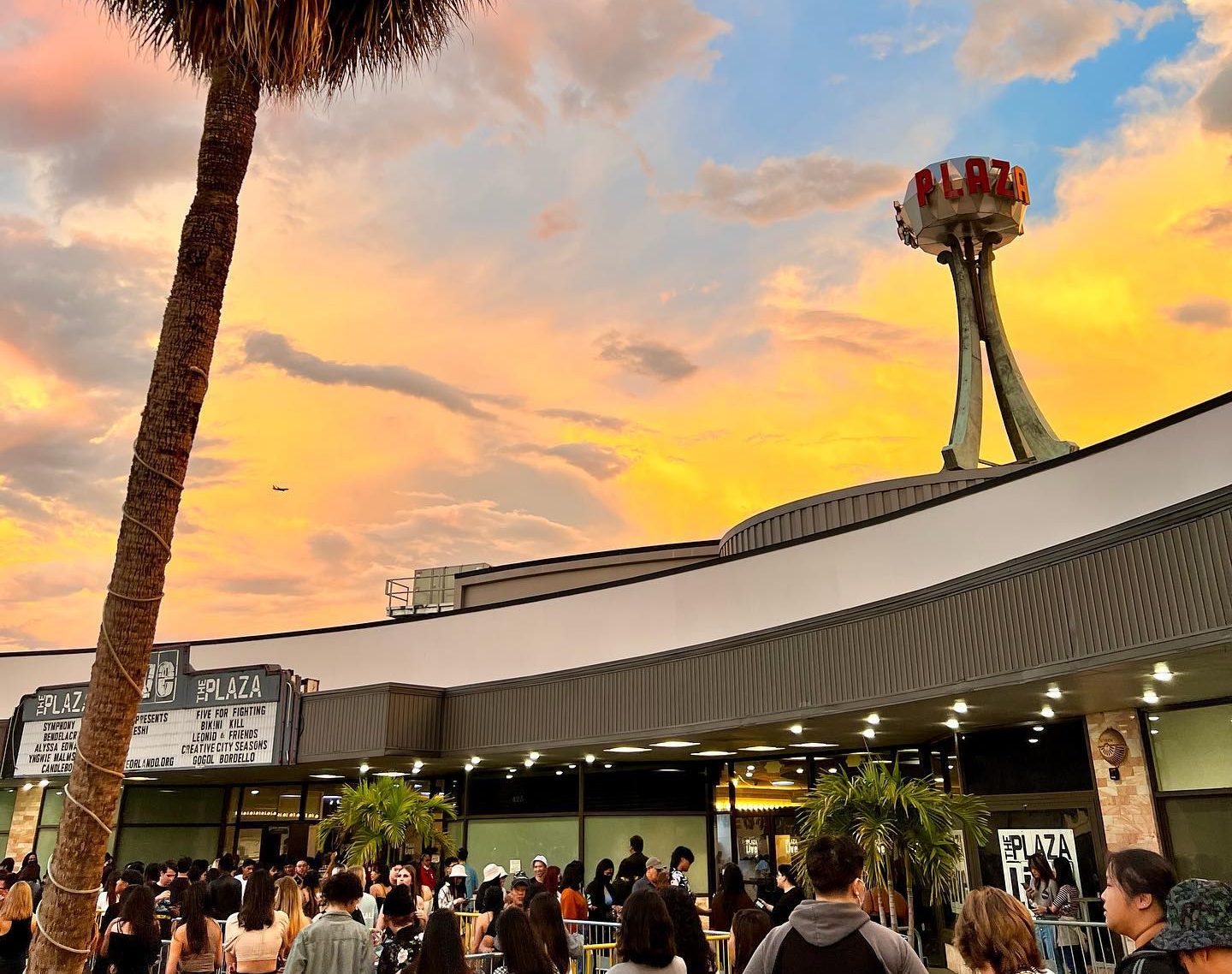 ORLANDO – Florida's Republican Governor Ron DeSantis escalated his war on the state's LGBTQ+ community ordering a state agency to launch a complaint against a Orlando non-profit over a drag holiday event it hosted in which children under age 18 were allowed to attend.
The state's Division of Alcoholic Beverages and Tobacco under the Department of Business and Professional Regulation filed the complaint on Friday against the Orlando Philharmonic Plaza Foundation alleging the foundation violated Florida law in allowing for a person to "commit lewd or lascivious exhibition" in the presence of an individual who is less than 16 years old. 
"A Drag Queen Christmas" was hosted by the foundation on Dec. 28 and during the performance sold alcoholic drinks at its Plaza Live venue. In the complaint, the agency states that the foundation used "Christmas-themed promotional materials" that did not give advance notice of the "sexually explicit nature" of the show's contents.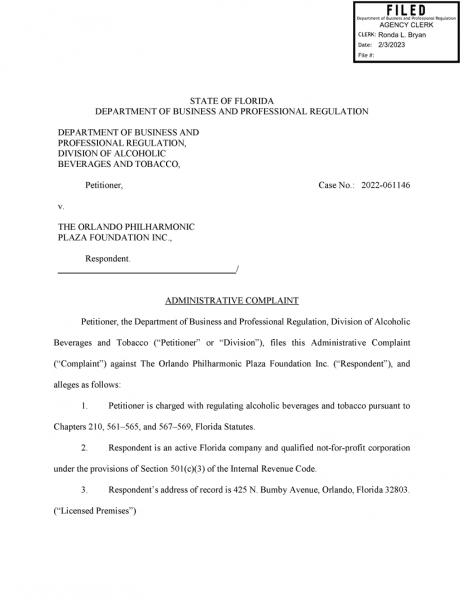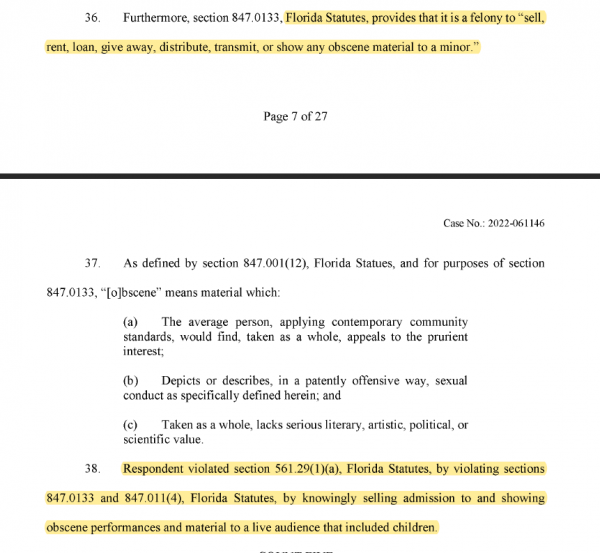 The complaint also states that the division sent the foundation a letter ahead of the show saying "sexually explicit drag show performances constitute public nuisances, lewd activity, and disorderly conduct when minors are in attendance" and the foundation's license could be subject to penalties if it did not ensure minors could not attend the event.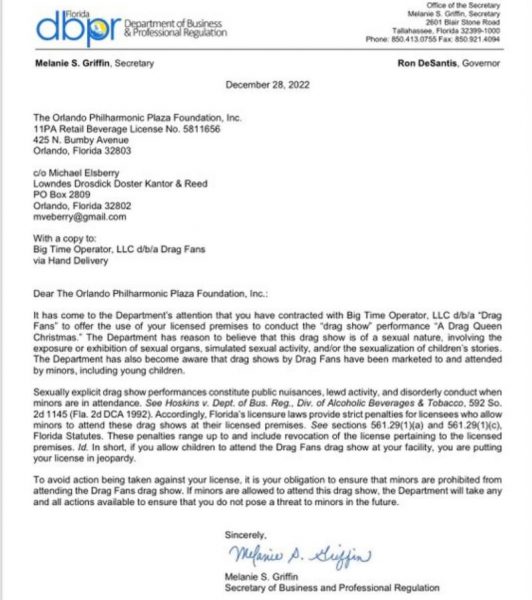 In its capacity as a regulator of alcohol, the division attempting to revoke the foundation's liquor license for six alleged counts of violating Florida statutes. 
When asked about the move by the DeSantis administration targeting the non-profit, Bryan D. Griffin, the spokesman for DeSantis said "Governor DeSantis stands to protect the innocence of children, and the governor always follows through when he says he will do something."
Orlando Weekly writer Matthew Moyer noted that The Plaza Live — besides serving as the performing home base of the Orlando Philharmonic — hosts a robust slate of touring bands, comedians, YouTubers and, yes, drag performers.
State Rep. Anna Eskamani released a statement to Orlando Weekly late Friday afternoon, condemning the state's actions in no uncertain terms. "Governor Ron DeSantis' culture wars are destroying people's jobs and livelihoods. The very notion of shutting down a small business over a drag show is insane and extreme," said Eskamani. "In the United States we do not allow the government to determine what we can read, see or hear or who we can gather with. Targeting drag performances limits everyone's freedom of speech and is all a part of the Governor's sick anti-LGBTQ+ agenda."
This is about dehumanizing LGBTQ people and targeting them for retribution by the state by portraying LGBTQ people as abberant and deviant. It's absolutely disgusting and should not be tolerated.

— Alejandra Caraballo (@Esqueer_) February 3, 2023
DeSantis previously filed a complaint against a popular restaurant and pub in the Miami's Wynwood neighborhood in July, alleging that it violated a public decency law in allowing children to attend a drag show.
The R house, is a unique casual fine dining establishment and lounge with an integrated gallery right in the heart of the vibrant Miami-Wynwood arts district named for Rocco Carulli, the executive chef as well as creator of the restaurant. The R House identifies itself on its Facebook page as "the proud home of South Florida's most popular weekend drag brunches! Make some time to check us out and experience R House."
The complaint was filed by the Department of Business and Professional Regulation on asking that the R House restaurant is a declared a public nuisance and has its liquor license revoked. 
According to the South Florida Sun Sentinel, the complaint was issued after a video of a recent performance at the bar's drag brunch went viral. A topless drag queen wearing lingerie stuffed with money can be seen in the video attempting to dance with a young girl, who the DPBR estimates is "between three and five years old." Twitter account "Libs of Tik Tok" originally found the footage on Tik Tok, posted by a user who wrote, "Children belong at drag shows!!!! Children deserve to see fun & expression & freedom."
The department cited multiple incidents of inappropriate drag performances with kids in the audience, including one in which a child "between the ages of ten and twelve" was "seen recoiling and turning away in her seat as a Brunch performer climbed on the back of the child's bench, squatted, and gyrated a couple of feet above the child's head."