Pope's statement on gay priests draws mixed reaction
Some say Francis is backing away from 'Who am I to judge?'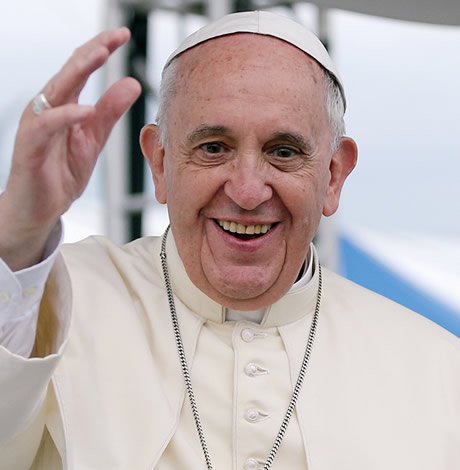 LGBT Catholic leaders say they are troubled over news that surfaced earlier this month that Pope Francis stated in a recently published book that gay men serving as priests "worries me" and that homosexuality has become "fashionable" in some societies.
Reports of Francis' latest comments on homosexuality and gay priests first surfaced in the Italian press on Dec. 1 when a Rome newspaper quoted from an advance copy of a book consisting of a four-hour interview the Pope had with Spanish priest and author Fernando Prado.
The book, "The Strength of Vocation," which discusses the challenges faced by priests and nuns, has since been published in several languages.
The Pope's candid remarks in the book on homosexuality and gay priests has created a stir among some LGBT Catholic activists who had been hopeful that Pope Francis' earlier comments and positions about gays indicated he might move to change the Catholic Church's longstanding hostile teachings on the subject.
When asked by Prado about people with "homosexual tendencies" who are in the priesthood and religious life, Francis stated, "It's something that worries me because perhaps at some point it has not been dealt with well."
Added Francis, "That of homosexuality is a very serious matter that must be discerned adequately from the beginning with the candidates, if this is the case." He was referring to men who are candidates for the priesthood.
"We must be demanding," he continued. "In our societies it even seems that homosexuality is fashionable and this mentality, in some way, also affects the life of the Church."
In a comment that Marianne Duddy-Burke, executive director of the LGBT Catholic organization Dignity USA, found most troubling, Francis told his interviewer about a clergy member who confided in him that he discovered there were many young men studying to become priests who were gay.
The pope said the clergymen told him this was "not so serious," and that it was "only an expression of affection," a view that Francis called "a mistake."
"It is not just an expression of affection," Francis continued. "In the consecrated life and in the priestly life there is not a place for this kind of affection. For this reason, the Church recommends that people with this rooted tendency are not accepted in the ministry or in the consecrated life," Francis said.
"Priests, religious men and women should be urged to live in celibacy in full and, above all, to be perfectly responsible, trying not to create scandal in their communities or in the holy faithful people of God by living a double life."
In a statement posted on Dignity USA's website, Duddy-Burke said the Pope's comments suggest that he is in need of education about the LGBT community.
"It is very damaging and unsupported by the facts for the Pope to suggest that gay people are less able than others to commit themselves to religious and ministerial life or they are somehow a threat to the church and its members," she said.
"His comments reinforce negative and long discredited stereotypes that have led to discrimination and violence against our community," Duddy-Burke said. "Furthermore, they are demeaning to all the lesbian sisters and gay priests and brothers who have faithfully served the church for decades, and to all who are currently preparing for such ministries."
Concerning Francis' comment that homosexuality is seen by some as fashionable, she said the Pope "seems to be mistaking genuine but limited progress in achieving basic civil and human rights for LGBTQI people in some countries as a frivolous fad or trend."
Added Duddy-Burke: "Nothing could be further from the truth. LGBTQI identities are not a matter of fashion but of fundamental human qualities that are intrinsic to the sense of self."
"Rather than belittle such progress, the Pope should examine how the Catholic Church has contributed to the unjust oppression of LGBTQI people for centuries, and how its unsung LGBTQI clergy and vowed religious men and women have contributed immeasurably to the good it has done," she said.
The Mount Rainier, Md., based LGBT Catholic group New Ways Ministry took a more measured position in two articles posted on its website, which were written by its associate editor Robert Shine. Shine quoted from a number of Catholic commentators, including LGBT supportive priest James Martin SJ.
Martin said some media reports were concluding incorrectly that Francis' comments in the newly published book suggest that he is against allowing gays to become priests. According to Martin, Francis isn't opposed to gay men in the priesthood but only to priests who are not celibate.
"Yet the language about homosexuality being merely 'fashionable' (unless he means more acceptable in the public sphere) is both wrong and hurtful," the New Ways Ministry article quotes Martin as saying.
"If he means that one is gay simply because it's 'fashionable,' this goes against every reputable psychologist, and, more important, the lived experience of LGBT people," the article quotes Martin as saying. Yet Martin added that Pope Francis recently told a gay friend in a widely reported remark, "God made you that way," which Martin said appears to be closer to what Francis believes.
Martin, who Francis appointed in 2017 as a consultant to the Vatican's Secretariat for Communications, told America Magazine Francis should work to avoid making statements without thinking them through to clarify what he really means.
"We all speak off the cuff, but I suppose when you're the Pope those off-the-cuff remarks are more likely to cause damage," American Magazine quoted him as saying.
The White House celebrates "A night when hope & history rhyme"
"On his final tour in Washington, Jill and I invited Elton to the White House to thank him on behalf of the American people"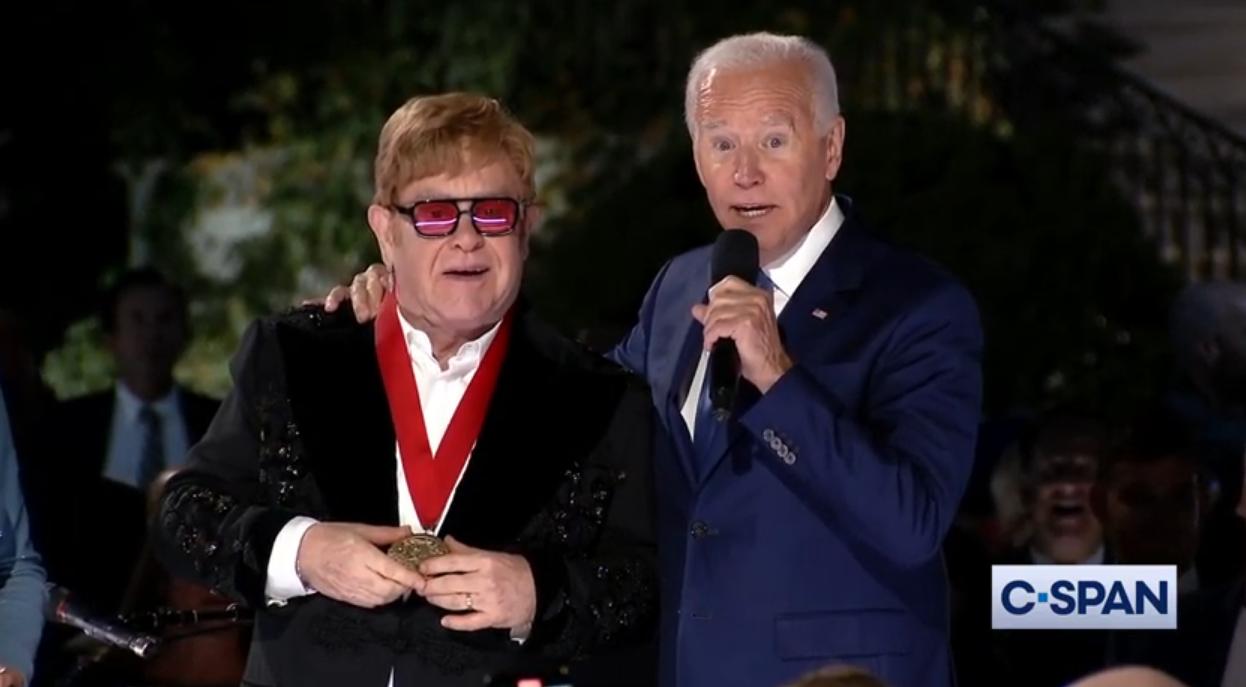 WASHINGTON – After a performance from a repertoire of the best known hits from his songbook in a special musical concert at the White House Friday evening, Sir Elton John was called to the podium where, accompanied by the First Lady Dr. Jill Biden, President Joe Biden surprised the iconic British singer-songwriter with an award.
The president presented John with the National Humanities Medal for his advocacy work in recognition of LGBTQ+ rights and tireless activism against the global HIV/AIDS crisis disease through his contributions in music and the arts.
The National Humanities Medal, inaugurated in 1997, honors individuals or groups whose work has deepened the nation's understanding of the humanities and broadened its citizens' engagement with history, literature, languages, philosophy, and other humanities subjects.
A stunned John was moved to tears. After the president had the citation read by a military aide and hung the medal around the singer's neck, Biden told the audience gathered, "I think we surprised him" to which they cheered and applauded.
The medal's citation read in part that it was honoring John "for moving our souls with his powerful voice and one of the defining song books of all time. An enduring icon and advocate with absolute courage, who found purpose to challenge convention, shatter stigma and advance the simple truth — that everyone deserves to be treated with dignity and respect."
Visibly moved, the iconic musician and performer said: "I just said to the First Lady, I'm never flabbergasted- but I'm flabbergasted and humbled and honoured by this incredible award from the United States of America. I will treasure this so much- I will make me double my efforts to make sure this disease goes away. Your kindness- America's kindness to me as a musician is second to none, but in the war against AIDS and HIV it's even bigger and I can't thank you enough…. I'm really emotional about this- thank you."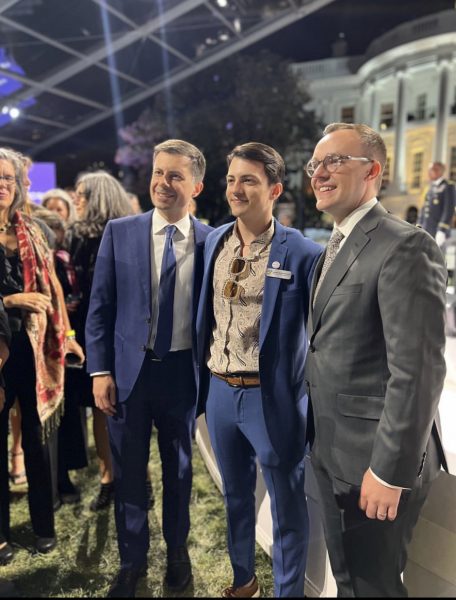 The special gathering held under a vaulted glass and aluminum 'tent' on the South Lawn of the White House was attended by 2,000 guests including former first lady Laura Bush, U.S. House Speaker Nancy Pelosi and U.S. Transportation Secretary Pete Buttigieg, his husband Chasten, as well as teachers, nurses, LGBTQ advocates and military families, who the White House had dubbed "everyday history-makers."
During a pause in his performance earlier, the singer addressed former first lady Laura Bush, praising her husband, former President George W. Bush's ongoing work on the Presidential Emergency Plan for AIDS Relief, which President Bush had initiated while in office and is credited with saving millions of lives across the African continent and helping to change the trajectory of the HIV/AIDS crisis globally.
"I want to say to the first lady, President Bush accelerated the whole thing with his PEPFAR bill. It was the most incredible thing," he said to Mrs. Bush.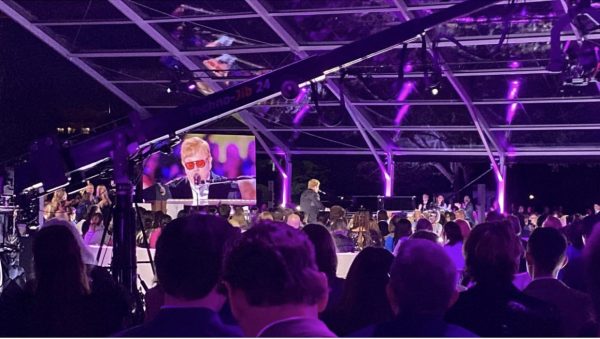 President Biden Awards Elton John with National Humanities Medal:
Full Text of the President and the First Lady's remarks:
THE FIRST LADY: Hello! Good evening. Thank you, Athen. It's leaders like you, those helping the next generation live authentically and find their voice, who make me so hopeful for our future.

And thank you to Paul Buccieri and A&E for helping us put this event together.

Isn't this incredible?

First Lady Laura Bush is with us tonight. And, Laura, it's such an honor to welcome you and your family back to the White House.

And finally, I want to say what a joy it is to be here with the man who has inspired, supported, and loved Sir Elton John for so many years: his husband, David.

Few things have the power to bring us together like music. It can compel us to move as one on the dance floor, to sing along with strangers when we hear that familiar tune. It's a voice for the feelings we can't always define.

When the piano plays, the strings swell, the drums beat in time with our hearts, we find joy or a balm for our sorrows or the harmonies that tell us we aren't alone.

And in that spirit, as we celebrate Elton John's music, we also celebrate you — everyday history-makers.

Many of you are my colleagues — fellow teachers, like Leah Michael Dillard. (Applause.) Love the teachers! So, Leah has taught 7th grade English for 20 years. And, Leah, your students are better thinkers and more engaged citizens because of you.

We also have first responders and healthcare heroes like — like Dr. Amber Pearson. Amber was the first person in her family to go to college. And it wasn't easy. She worked multiple jobs, took out loan, and when she finally reached her dream, she gave back to others, as an audiologist for veterans and their families, serving the women and men who serve us so well.

And in this crowd are leaders of the beautiful, bold, and diverse future we are building together, like Javier Gomez, a student from Miami. When his governor passed a law targeting the LGBTQ community, he didn't sit back.

Javier, you remind us of the power of one person who is willing to speak up for what is right, and that's what this night is all about. Coming together, using our voices, celebrating that, here in America, our differences are precious and our similarities infinite.

Elton once said, "Music has healing power. It has the ability to take people out of themselves for just a few hours."

We're here tonight to once again lose ourselves and be brought together — perhaps even healed — by the power of music.

And now, I get to introduce another huge fan, who also happens to be the President of the United States and my husband, Joe Biden.

THE PRESIDENT: You had to stand for Jill, but you can sit for me. Please, all have a seat. Please, have a seat.
Thank you, Jill. Thank you all for being here on such a special evening.

And, Athen, leaders like you are helping the next generation live an authentic voice. And I want to thank you very much for introducing me.
Look, I — as my colleagues — many of whom from the Senate are still here, came tonight — they always used to kid me because I — I was quoting Irish poets on the floor of the Senate.
The think I did it because I'm Irish. That's not the reason; I did it because they're the best poets in the world.
One who we lost not too long ago, Seamus Heaney, once wrote, and I quote, "Once in a lifetime, the longed-for tidal wave of justice rises up, and hope and history rhyme."

Throughout this incre- — his incredible career, Sir Elton John has been that tidal wave — a tidal wave to help people rise up and make hope and history rhyme. Three hundred million records sold. Seventy-one billboard hits, nearly half in the top ten. Six Grammy Awards. Two Oscars. One Tony, among the multiple, multiple nominations across the board. Four thousand performances around the world. A singer, songwriter of our time, for all time.

On his final tour in Washington, Jill and I invited Elton to the White House to thank him on behalf of the American people.

So, like so many Americans, our family loves his music. His songs take us — take us back to a time, a place, a memory. Songs that make every day exceptional, help us connect and come alive. And songs that reflect the artist's gift, that sixth sense to imagine what no one else can, and then sing and play and dream until he sets that feeling free.

As Jill just mentioned, we're joined by so many people that it's — he's set free to be themselves, to be treated with the dignity and respect they deserve.
Families and advocates in the fight against HIV/AIDS — a fight — a fight that he has led with sheer will, and fight for those lives lost and those lives that we can save.
Leaders standing up for equality of all people, no matter who you are or who you love.

Every day — every day Americans of every generation, of every background who know that life can be cruel and full of struggle, but it can also be full of joy and purpose.

And we're joined tonight by the UK Ambassador to the United States, Karen Pierce, during a difficult time. Karen, thank you. Thank you for being here, Karen.

Jill and I travelled to London to pay our respects to the Royal Family on the Queen's passing.

Our hopes tonight — our hope is that Sir Elton John's music heals the sorrow, as it often has in the past.
Throughout his career, Elton found his voice — not only his voice, but his voice to help others and help them find their voice.

With his hope, he made history rhyme for countless people in our nation. That's what tonight is all about.

Elton often talked about how American music changed his life and how the different genres and sounds influenced his own music and imagination. It's clear Elton John's music has changed our lives.

To David and the boys, thank you for sharing your husband and dad with us tonight. (Applause.) And to Elton, on behalf of the American people, thank you — and I sincerely mean this — thank you for moving the soul of our nation.
Newsom appoints Vianey Lopez to Ventura County Board
Lopez has a lengthy track record in progressive issues including her outspoken support of Planned Parenthood and women's reproductive rights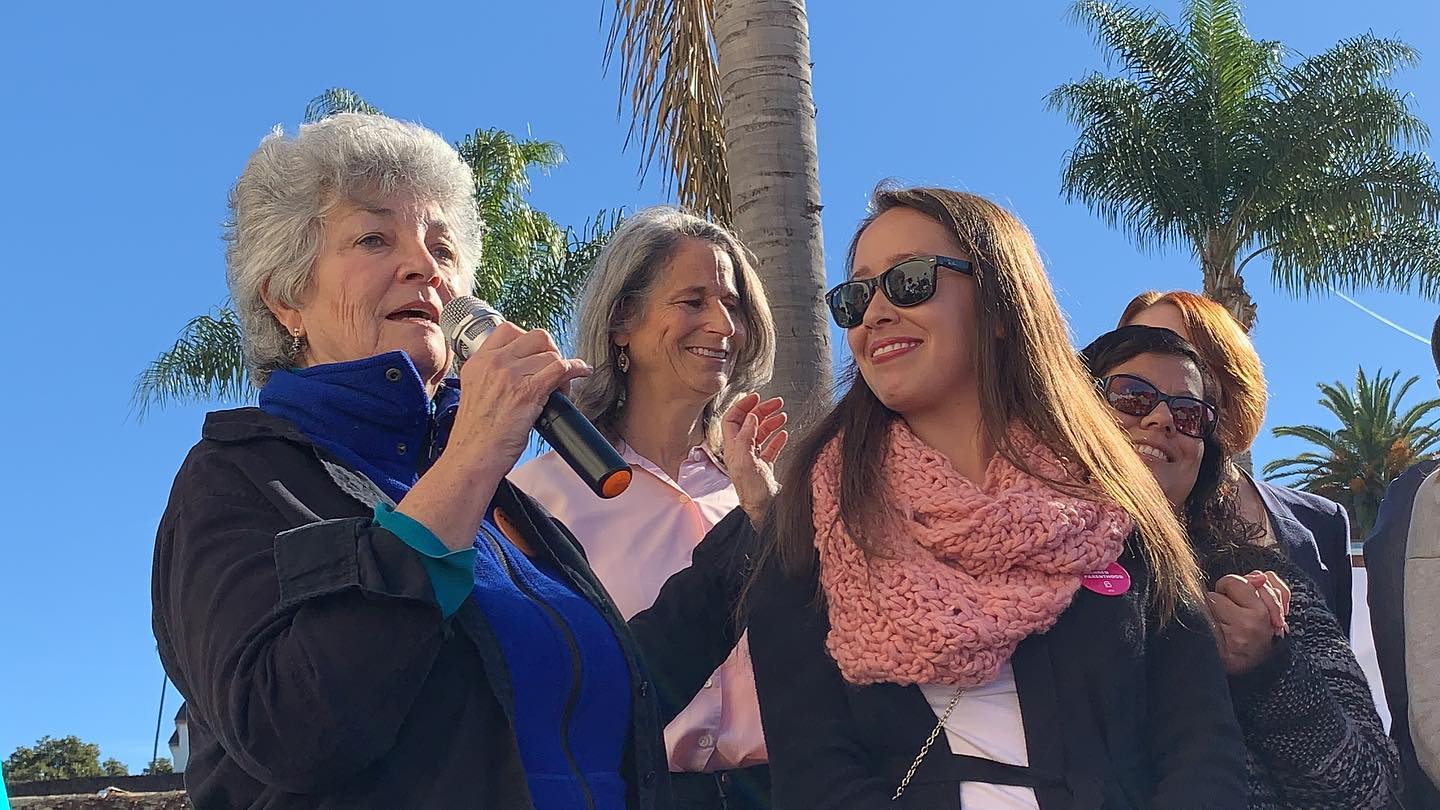 SACRAMENTO – Governor Gavin Newsom announced Friday that he has appointed City of Oxnard Councilmember Vianey Lopez to the Ventura County Board of Supervisors to the seat left vacant by the sudden death of the beloved chair of the Ventura County Board of Supervisors Carmen Ramirez, killed in an August traffic accident.
Lopez, 35, a resident of Oxnard, has been a city councilmember for District Six since 2018 and also serves as a District Director for California State Senator Monique Limón since 2020.
According to her campaign for reelection to city council biography, Lopez immigrated to the U.S. at the young age of 4. As one of the youngest of 11 children, there were opportunities she was afforded that her siblings did not have. Raised locally, Vianey attended kindergarten through middle school in the Hueneme Elementary School District before graduating from Hueneme High School in 2005.
Councilmember, now Supervisor Lopez has a lengthy track record in progressive issues including her outspoken support of Planned Parenthood and women's reproductive rights as well as other key issues including LGBTQ+ equality, immigrant rights, and has worked for several California political leaders including a stint as District Scheduler for former U.S. Representative Lois Capps from 2013 to 2016, a member of the House from 1998 to 2017 representing California's 24th congressional district.
Lopez was a Program Coordinator for the Oxnard Downtown Management District from 2012 to 2013 and an Administrative Assistant and Concierge at the Oxnard Convention and Visitors Bureau from 2009 to 2010. She is a member of the League of United Latin American Citizens and Future Leaders of America.
Lopez earned a Master of Public Policy degree in International Relations and State and Local Policy from Pepperdine University.
Triple A: SoCal gas prices race up by double digits in one week
The average price for self-serve regular gasoline in California is $5.52, which is eight cents higher than last week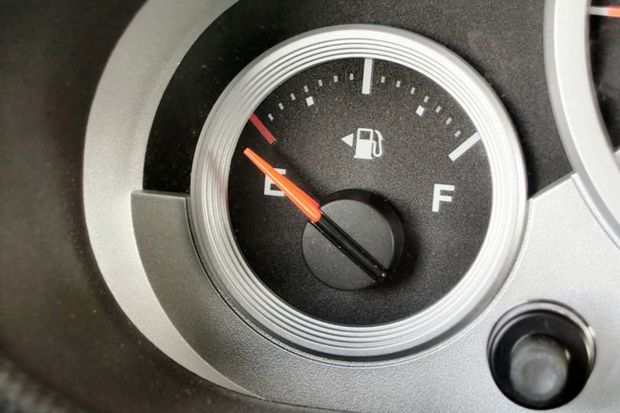 LOS ANGELES – Reports of additional Southern California refinery issues, along with continued low inventories, have created the biggest one-week price jump at the pump since early June, according to the Auto Club's Weekend Gas Watch.
The average price for self-serve regular gasoline in California is $5.52, which is eight cents higher than last week. The average national price is $3.68, which is two cents lower than a week ago.
The average price of self-serve regular gasoline in the Los Angeles-Long Beach area is $5.59 per gallon, which is 17 cents higher than last week, 25 cents higher than last month, and $1.19 higher than last year. In San Diego, the average price is $5.53, which is 15 cents higher than last week, 24 cents higher than last month, and $1.18 higher than last year.
On the Central Coast, the average price is $5.53, which is eight cents higher than last week, seven cents higher than last month and $1.18 higher than last year. In Riverside, the average per-gallon price is $5.44, which is 14 cents higher than last week, 23 cents higher than last month and $1.12 higher than a year ago. In Bakersfield, the $5.46 average price is eight cents higher than last Thursday, three cents higher than last month and $1.10 higher than a year ago today.
"Oil Price Information Service reports that several local refineries are undergoing unplanned maintenance as fuel inventories are at their lowest levels in a decade, which caused Los Angeles wholesale gas prices to rise sharply this week," said Auto Club spokesperson Doug Shupe.
The Weekend Gas Watch monitors the average price of gasoline. As of 9 a.m. on Sept. 22, averages are: