Anti-LGBTI Brazilian president takes office
Jair Bolsonaro took office amid concerns over his administration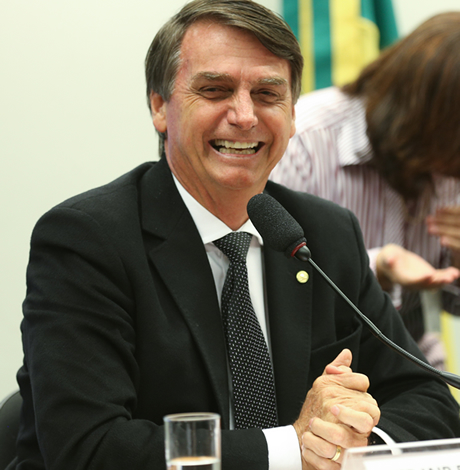 SÃO PAULO — Brazilian President Jair Bolsonaro took office on Tuesday amid mounting concerns over the impact that his right-wing government will have on the country's LGBTI community and other minority groups.
The crowd who attended his inauguration in Brasília, the Brazilian capital, chanted, "The captain is back!" These words startled many observers because they refer to a member of the military, in this case a former Army captain, occupying the country's highest office, which has only happened in Brazil during dictatorships that came to power after a coup.
So why were Bolsonaro's supporters chanting?
They bought into his campaign promises: Defend Brazilian family values and fight what he and his supporters call "socialism," which were things championed by the Worker's Party that former President Luiz Inácio Lula da Silva found. These include social inclusion, combating poverty and enacting pro-LGBTI laws.
Bolsonaro in his inauguration speech made it perfectly clear that he plans to follow through with his campaign promises.
"Let's unite the people, value families, respect Judeo-Christian traditions, fight gender ideologies (and preserve) our values," he said to a cheering crowd.
What is particularly frightening to his opponents, aside from the number of supporters who attended his inauguration, is the fact that people with militarist ideologies seem to be stepping forward to "defend" conservative values after backing a former Army captain as president and Gen. Hamilton Mourão as his vice president.
LGBTI people, Brazilians of African descent who practice non-Judeo-Christian religions were attacked by right-wing Bolsonaro supporters across the country during the presidential election campaign.
Bolsonaro on Wednesday issued an executive order that directed Brazil's new human rights ministry not to consider LGBTI-specific issues. Bolsonaro's critics also feel his inaugural speech gave license to Brazilians that they can commit any form of violence and carry weapons.
The Datafolha Institute, a private poling agency, says most Brazilians are against liberalized gun laws; with rich, straight and Bolsonaro supporters the only ones who support them. Gun registrations in Brazil have increased since his election.
The opposition even before Bolsonaro's election raised other red flags over his decision not to allow some "liberal" journalists to attend his press conferences and public events.
Bolsonaro also never debated former São Paulo Mayor Fernando Haddad of the Workers' Party during the second round of the presidential election. Bolsonaro had been hospitalized after he was stabbed during a campaign event less than two months before the debate, and he said medical reasons prompted his decision not to face off against Haddad.
The attack also prompted the unprecedented deployment of more than 3,000 police officers, firefighters and members of the military at Bolsonaro's inauguration. The security measures were similar to those that are seen during presidential inaugurations in the U.S.
Pompeo attends Bolsonaro inauguration
Bolsonaro has been described as the Brazilian version of President Trump because they share many of the same hardline beliefs.
U.S. Secretary of State Mike Pompeo was among those who attended Bolsonaro's inauguration. The two men met in Brasília on Wednesday.
"Secretary Pompeo congratulated President Bolsonaro on his inauguration and reaffirmed the strong U.S.-Brazil partnership; rooted in our shared commitment to democracy, education, prosperity, security and human rights," said the U.S. State Department in a press release.  "The two leaders discussed opportunities to strengthen cooperation on bilateral and regional challenges, including combating transnational crime and reinforcing democratic governance and human rights in Venezuela, Cuba and Nicaragua."
"They also discussed further strengthening economic ties and trade to increase prosperity for citizens in both our countries and in the entire region, including through promoting transparency and good governance for investment in the region," added the press release.
Trump also congratulated Bolsonaro on Twitter, saying the U.S. "is with Bolsonaro." Bolsonaro, for his part, responded by saying, "together, under God's protection, we shall bring prosperity and progress to our people."
Agence France-Presse last week reported Trump has already invited Bolsonaro to visit the U.S.
Michael K. Lavers contributed to this article.
Biden's second State of the Union prioritizes bipartisanship
"To my Republican friends, if we could work together in the last Congress, there is no reason we can't work together in this new Congress"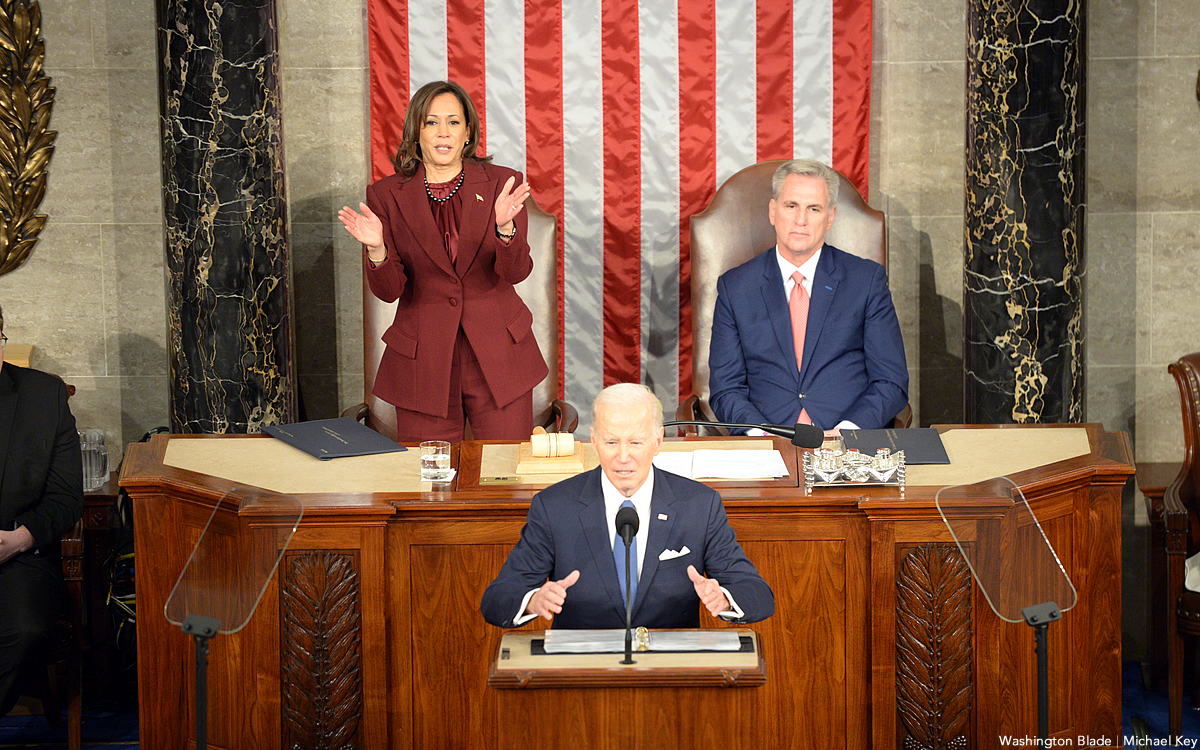 WASHINGTON – President Joe Biden's second State of the Union address on Tuesday focused on building upon recent accomplishments, especially legislative milestones that were reached with bipartisan cooperation.
Nevertheless, the speech was met with vocal objections from Republican lawmakers over Biden's comments about the debt ceiling and mention of some GOP members' plans to cut social security and Medicare.
"From reauthorizing the Violence Against Women Act, to the Electoral Count Reform Act, to the Respect for Marriage Act that protects the right to marry the person you love," Biden said, "To my Republican friends, if we could work together in the last Congress, there is no reason we can't work together in this new Congress."
On the subject of legislation, for the second year in a row, Biden repeated his plea for Congress to revisit the Equality Act "to ensure LGBTQ Americans, especially transgender young people, can live with safety and dignity."
He also focused part of Tuesday's address on public health. "Twenty years ago, under the leadership of President Bush and countless advocates and champions, we undertook a bipartisan effort through PEPFAR to transform the global fight against HIV/AIDS," Biden said.
The successful effort should be repeated in the fight against cancer, he added.
These matters aside, Biden included little mention of LGBTQ issues, or the extremism of Republicans who are poised to run for the presidency next year. Instead, the bulk of his remarks were focused on themes like implementing the provisions of the Inflation Reduction Act and the bipartisan infrastructure law.
The country's economic recovery was another well-trod message, on the heels of a January jobs report whose data showed record low unemployment and steady growth in new jobs and workers' wages.
Biden did devote some time to reproductive justice. "The Vice President and I are doing everything we can to protect access to reproductive health care and safeguard patient privacy," he said. "But already, more than a dozen states are enforcing extreme abortion bans."

The president then vowed to veto a national abortion ban if Congress should pass one.
During last year's State of the Union, Biden said "The onslaught of state laws targeting transgender Americans and their families is wrong," adding, "As I said last year, especially to our younger transgender Americans, I will always have your back as your President, so you can be yourself and reach your God-given potential."
One sign of solidarity with the LGBTQ community this year was the invitation of Gina and Heidi Nortonsmith, plaintiffs in the Massachusetts case that led the state to become the first to legalize same-sex marriage, to join First Lady Dr. Jill Biden's box.
And House Minority Leader Hakeem Jeffries (D-N.Y.) brought Human Rights Campaign President Kelley Robinson as his guest. Biden honored the former House Speaker, Rep. Nancy Pelosi (D-Calif.), as "someone who I think will be considered the greatest Speaker in the history of this country."
President Biden delivers 2023 State of the Union address: