Billy brings it forward to the New Year
2018 hangover into 2019, in all the best and worst ways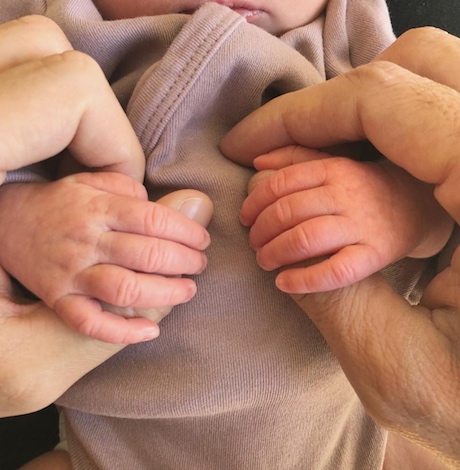 "That we're Eskimo brothers!" – Andy Cohen's answer to what the public may not know about him and his good friend, Anderson Cooper.  For those of you who don't know, the term "Eskimo brothers" refers to men who have slept with the same person.  In the case of women, I believe the term is simply lesbians.
This is a strange column – one might even call it queer.  If you're reading it in print, it will surely be 2019.  But if you're reading it online – perhaps at BillyMasters.com – 2018 is likely drawing to a close.  And to be honest, which of course I always am, I am writing this on New Year's Eve.  And yet, my 2018 wrap-up has already been published.  So, in a way, this column falls between the cracks.  One might even say it's straddling years.  Oh, I've been straddling things for years.  Why, I could write a book.  But for now, you'll have to make do with this column.
Given the timing, I can't tell you all about my New Year's Eve, nor can I in good faith review Anderson Cooper and Andy Cohen's sophomore effort in hosting the festivities.  Mind you, not seeing it is no excuse – why, many of my colleagues regularly review things they haven't seen.  But, no, not your beloved Billy.  Instead, I will extrapolate on last week's news – that Andy Cohen will soon be a daddy.  Oh sure, the cheap joke is, "Yeah, like scads of undergrads haven't been calling him daddy for years".  But, no, I won't go for the cheap joke – not in 2019.  But, since it's still technically 2018, I'll allow it.  Andy announced that his child of undisclosed gender will be born sometime in January and that he hired a surrogate.  Certainly not the first time his semen has been inside someone he paid – and that's the last cheap joke of the year.
The marriage of Colton Haynes and Jeff Leatham is the gift that keeps on giving.  They truly are the Liz and Dick of our generation – perhaps, more appropriately, the Dick and Dick.  Which of them is the bigger Dick will have to be determined by a court of law.  The last time they split up, I believe Colton did the leaving and Jeff did the pleading for reconciliation.  This time around, we're told that the divorce was filed by Leatham (why is it I continue to want to type "Leatherman"?).  He served Colton with what is known as "preliminary declaration of disclosure".  Apparently, this is routine for all divorcing parties in the state of California.  I'm no lawyer, but here's my advice to Colton – don't ask, don't tell.  I picked up that little tip from the documentary about the "Clinton Affair" on A&E.
While Kevin Spacey is probably grateful to have 2018 behind him, he's still got some daunting situations a-brewin'.  First and foremost are charges for allegedly sexually assaulting a teenage boy at a Nantucket bar in 2016.  As you may recall, Spacey allegedly flirted with the 18-year-old busboy in a restaurant, bought him a drink (after the boy said he was of age), and began putting his hands down the lad's pants…as one does when one flirts with a busboy.  Unfortunately for Spacey, the boy is the son of a former Boston-area television news anchor.
Unfortunately for the boy, he reported the incident to the police over a year after the incident.  Something smells fishy to me, but that could just be Nantucket!  I don't question the boy's account of the night, but I do question the motive.  Spacey will be formally arraigned on January 7th.  If Spacey is found guilty, he could be facing 15-20 years in jail.  On the positive side, by the time he gets out, he'll be able to hit on Andy Cohen's kid!
In one of those situations that you'd swear was made up, the same day the formal charges against him were announced, Spacey broke his online silence by posting an odd video in which he plays his character from "House of Cards".  In it, he condemns how the show ended, and how things are not as they appear in politics…and in life.  Amazingly, this three-minute clip is one, single, perfect take, and it reminds us of two things: 1) what an extraordinary actor Kevin Spacey is and, B) that he's batshit crazy.
Darren Criss says he is done raping the gay community.  Well, he didn't say it like that.  What he actually said was this: "There are certain roles that I'll see that are just wonderful.  But I want to make sure I won't be another straight boy taking a gay man's role."  Am I the only one who finds it amusing that he refers to himself as a boy…taking a role from a gay man?  I mean, he's 31 – I think the boy days are long gone, bucko.  And riddle me this – if Criss stops playing gay parts, what exactly will he do for work?
Ricky Martin rang in the New Year with a new addition to his growing family.  Although he'd previously expressed the desire to have more children (he has 10-year-old sons Matteo and Valentino), Martin kept news of another child quiet until her birth.  "We are excited to announce that we have become parents of a beautiful and healthy girl whom we have named Lucia Martin-Yosef", Ricky announced on Instagram.  Actually, his post was written in Spanish. 
In that case, Felicidades!
My Unorthodox Life's Ra'ed Saade dishes up Reality TV spunk
Is America's Reality TV genre ready for frank discussions on open relationships?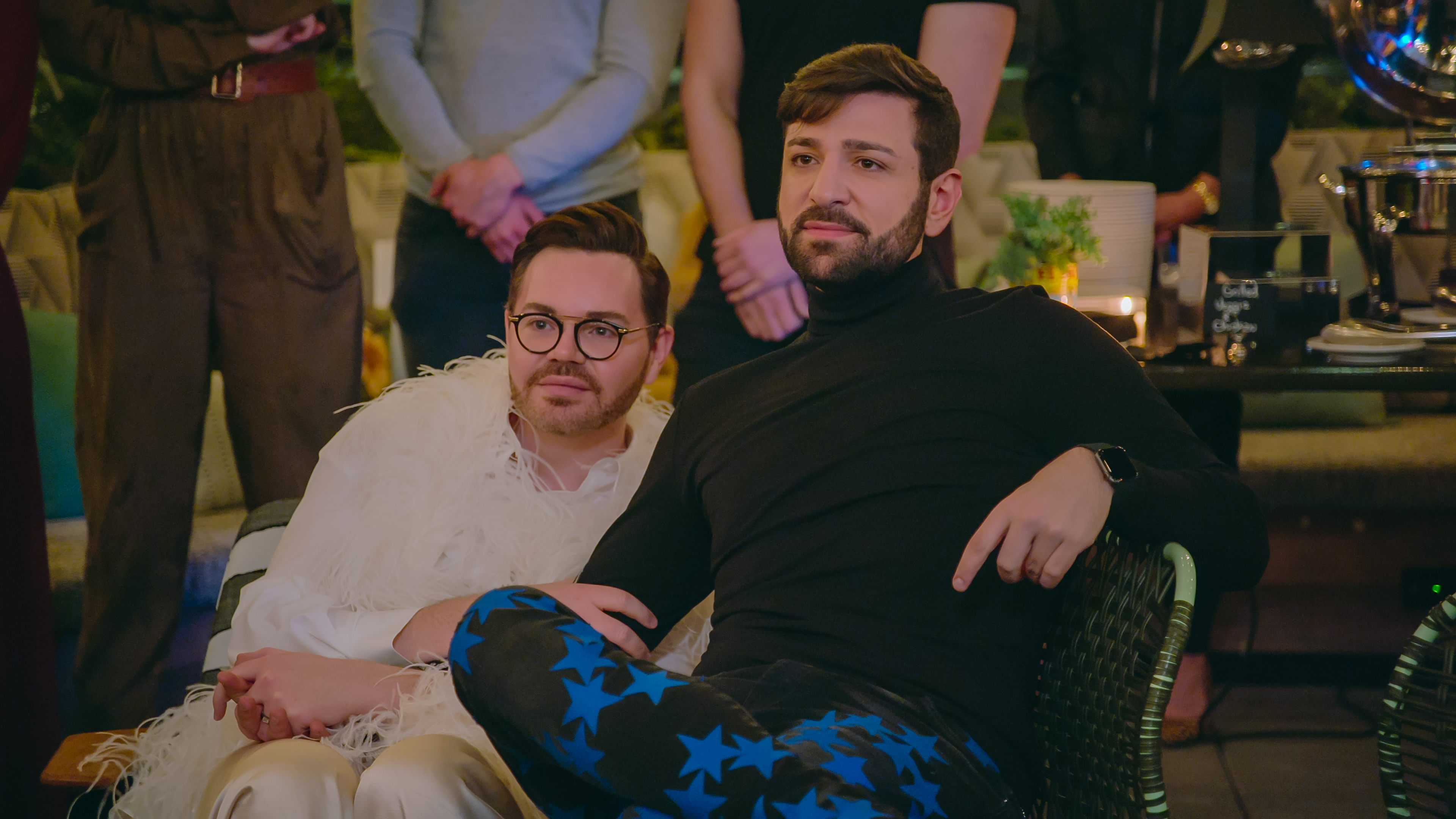 HOLLYWOOD – If you are like many who have reacted harshly to Real Friends of WeHo, you may feel a bit hopeless regarding reality television and its representation of gay men.
For all its misses, the reality TV genre still explodes across broadcast and streaming services. There are endless contests, there are weird matchmaking gimmicks and through it all, you can still find some gay fingerprints. And of course, there is Drag Race.
One of my personal guilty pleasures has been various "Real Housewives" franchises. Each franchise seems to study the behaviors of women who possess big egos, lots of money and are plied with a sloshing amount of alcohol. Sitting back in an armchair, shoveling popcorn and watching, is gay man, and executive producer, the boss and god of the Real Housewives world, Andy Cohen… (and oh yeah, me.) There is a perverse pleasure observing a hetero world where the Higher Power is gay and watching them all descend into madness.
It is all theatrical and somewhat staged, of course. We are the fourth wall of their world, and situations are played out and exaggerated for our benefit, and from the accounts of the people we are observing, only represent a fraction of their real lives.
Against this backdrop, Netflix's My Unorthodox Life plays on this voyeuristic concept but is refreshingly unique and insightful. While it certainly has Real Housewives trappings, it centers around the uber-wealthy and has even had Jill Zahn, an OG New York Real Housewife, drop in to give advice, the core is less about superficial squabbles and more about cultural oppression and the quest for personal empowerment.
The show centers around Julia Haart. Her life is literally "unorthodox" as her story arc describes her escape from the orthodox lifestyle of the ultra-conservative Haredi Jewish Community in Monsey, New York. In season one, three of her four children follow her and she mentors them into living life in the secular world as they each make personal strides to find their own unique identities. Julia herself becomes a fashion and design mogul, married to an incredibly wealthy husband Silvio Scaglia Haart, and best friend to her gay business partner, Robert Brotherton. Robert and Julia could not be more "Will and Grace" if they tried. Julia ends season one trying to matchmake Robert and find him true love. Apparently, she did not need to bother, as he had already been working on something off camera on his own.
As the sun rises on season two, we see seismic shifts have been made in the relationship statuses of the cast. Julia is now going into a divorce war with Silvio, and her oldest daughter has left her husband and their marriage which had been originally rooted in Haredi orthodox standards. Robert on the other hand, is no longer single, but has a boyfriend, with whom he has had a seven-year relationship.
Enter Ra'ed Saade, the boyfriend. Handsome and positive with a killer smile, he is somehow reminiscent of a male, Lebanese, gay Mary Richards as Lou Grant defined her in the classic sitcom.
Lou: You know what? You've got spunk…
Mary: Yeah, well (slight giggle)
Lou: I HATE spunk!
Ra'ed has spunk. In every sense of the word—double entendre intended. Will America "hate" his brand of spunk?
Mary, in her day, was one of the only single working women representations on network TV. Ra'ed is the first gay Arab man on Netflix reality TV. He is sex positive and allows himself to be a walking commercial for open relationships. On the show, he mixes a deep sense of romance and being the ultimate boyfriend, a superior friend and confidant, with being frequently horny, or as he himself describes it, "a slut."
Ok, so maybe Mary Richards never called herself a slut.
While Ra'ed is from Lebanon, he seems to have lived elsewhere most of his life. This is not unusual, he tells me, "The majority of the population of Lebanon live outside. We have more Lebanese people in Brazil than there are in Lebanon." Ra'ed was born in Dubai, moved to the Philippines, lived in Holland, and then spent his high school years in Saudi Arabia. He credits those high school years as being the ones that shaped him. "Saudi Arabia is a very conservative, Muslim country. There is when I discovered that I was a homosexual gay man. Surviving three years in Saudi Arabia as a homosexual man and keeping it to myself, acting and putting on… doing all the things you do when you're acting to cover up. That shaped a lot of things for me in my life. All the trauma of that period made me into this funny guy that knows, if I survived that, I could survive anything… I was considered an abomination and could have gotten up to the death penalty, especially in Saudi Arabia, and especially during the time that I was there. It was very frightening and scary. I didn't tell a soul other than the people I was sleeping with, of course they knew."
When he came to America and Syracuse University, everything changed. He met Robert. "It was like, opening a cave and letting the puppy come out. I smelled freedom. I felt I saw the rainbow colors in the sky every day. I just obviously fell in love. And here I am. I feel like I've arrived."
It was with that survival instinct that gave him the courage to go for the Middle East edition of The Voice, and to audition for America's Got Talent. When he hit the AGT stage, the audience loved his personality. His act? Not so much. He got booed off.
Spunk.
In the second season of My Unorthodox Life, Ra'ed and Robert starred in the first episode describing how they were living together. While the show misleadingly implied that their relationship was new, it was not only not new, but tried and true. "Rob and I have been soul mates for 16 years. We know each other through thick and thin, through rich and poor, famous and non-famous and good and bad. All of it. We know each other inside and out," Ra'ed told me on a recent Rated LGBT Radio discussion.
Haart's eldest daughter Batsheva was harsh when Ra'ed revealed that he believed in open relationships. She advocated for the couple to break up immediately. She made her comments right to Ra'ed's face on camera.
He has no regrets. "I'm such an open book and it's sometimes bad for me… I didn't have any hesitation because I stopped caring what people think and I am shameless, as you've seen on many shows. I just know the truth that is the truth," Ra'ed said to me about his stance. "The truth of the matter is Rob and I have been together as friends as you know, sexually active or whatever for 16 years, I mean, there is no doubt the loyalties– the love, is there. There's no doubt that I would jump off a cliff, I would take a bullet for Rob. All of these beautiful things– but when I'm going to Ibiza …Rob and I are going to go and flirt with everybody in the club. A lot of people do that in secret. It is okay to have an open relationship when you are honest and open with your partner and you guys have set the ground rules and you both are saying, yes, we agree, both say yes, we love, we love this idea. There's no problem with this and it's a way more fun lifestyle. I mean that's the truth. When you're in a relationship, you are together to lift each other up encourage each other and just build a beautiful life. You just don't own another person, you know."
Hi answer is direct, unapologetic and almost innocent. Spunk.
Will there be a season three of My Unorthodox Life? Ra'ed hopes so. "The assignment was my unorthodox life." Even if season two was the final he feels "like I completed the assignment." If there are more seasons, "There's a lot of facets and a lot of a lot of dynamics in my life that are unorthodox so I would love to open up more in coming seasons."
In the meantime, while Mary Richards famously twirled and threw her hat in the air on a Minneapolis street corner, Ra'ed is tossing his on a New York City Time Square street corner.
It is from there that he TikTok promotes his February 10th "Club Ra'ed" DJ evening of Middle East disco sounds, a one-time event he hosts. He has proven that spunk is alive and well.
The modern version is just a tad more exciting with a unique Arabic feel and a fun infectious rhythm.
Listen to the complete interview:
****************************************************************************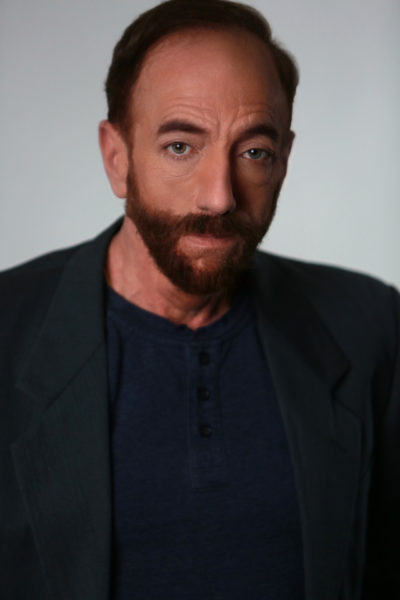 Rob Watson is the host of the popular Hollywood-based radio/podcast show RATED LGBT RADIO.
He is an established LGBTQ columnist and blogger having written for many top online publications including Parents Magazine, the Huffington Post, LGBTQ Nation, Gay Star News, the New Civil Rights Movement, and more.
He served as Executive Editor for The Good Man Project, has appeared on MSNBC and been quoted in Business Week and Forbes Magazine.
He is CEO of Watson Writes, a marketing communications agency, and can be reached at [email protected] .