Ellen DeGeneres under fire for supporting Kevin Hart
The talk show host says the comedian has 'grown' and 'apologized'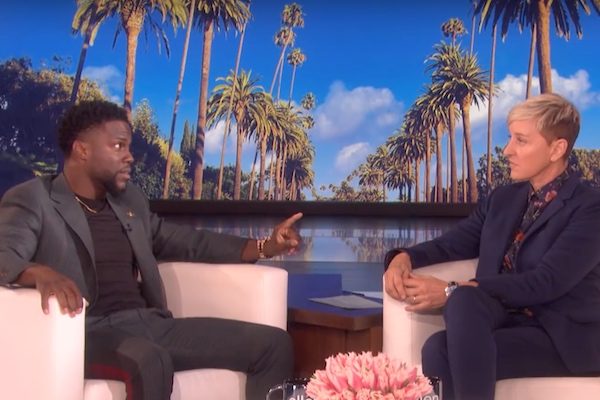 Ellen DeGeneres is facing backlash for supporting Kevin Hart and actively campaigning to have Hart host the Oscars.
Hart was tapped to host this year's Oscars but stepped down after old homophobic jokes and tweets resurfaced. DeGeneres invited Hart on "The Ellen DeGeneres Show" to talk about the fall out with the episode scheduled to air on Monday. However, DeGeneres and her producers was apparently so impressed by the interview that the episode aired on Friday instead.
In the interview, Hart explains that he has repeatedly apologized for the jokes, which were made 10 years ago, and viewed the situation as an attack on his character and an attempt to ruin his career. DeGeneres let Hart know that she fully supports him and even called the Academy on his behalf.
"I called them, I said, 'Kevin's on, I have no idea if he wants to come back and host, but what are your thoughts?' And they were like, 'Oh my God, we want him to host! We feel like that maybe he misunderstood or it was handled wrong. Maybe we said the wrong thing but we want him to host. Whatever we can do we would be thrilled. And he should host the Oscars,'" DeGeneres says.
She continued to explain that she thinks Hart has learned from his mistakes and deserves to come back as host.
"As a gay person, I am sensitive to all of that. You've already expressed that it's not being educated on the subject, not realizing how dangerous those words are, not realizing how many kids are killed for being gay or beaten up every day," DeGeneres says. "You have grown, you have apologized, you are apologizing again right now. You've done it. Don't let those people win — host the Oscars."
I believe in forgiveness. I believe in second chances. And I believe in @KevinHart4real. pic.twitter.com/oJxfGXhU4P

— Ellen DeGeneres (@TheEllenShow) January 4, 2019
Some people criticized DeGeneres for labeling people who took issue with the jokes "haters" and "trolls." There were also people who didn't believe Hart was being genuine with his apology.
(1) First, the people who brought up Kevin Hart's past tweets — like me — were not, as Ellen characterized, "haters." The host of the Oscars had made anti-gay jokes, and LGBT people who love the Oscars were legitimately startled to see just how harsh his words were. It wasn't a…

— Adam B. Vary (@adambvary) January 4, 2019
The only thing @KevinHart4real proved by going on Ellen was that he is a terrible actor with zero genuine remorse who didn't have the decency to address his ignorance. No, they weren't "haters" who came after you. It was the LGBTQI+ community because we're sick to shit of it.

— Harry Cook (@HarryCook) January 4, 2019
I also believe in forgiveness. But I also believe that forgiveness requires an actual apology. Not "I'm sorry people are so sensitive." Just "I am sorry." All he had to do. And he indignantly refused because he felt his moment was being tainted. That he was the aggrieved.

— Eamon Paton-Usry (@Eamon2Please) January 4, 2019
this whole ellen/kevin hart thing is a perfect example of how privilege and constant praise distorts a person's reality so much that they perceive any criticism, however valid, to be an attack on their entire livelihood

— ellie (@eleanorbate) January 4, 2019
I feel like if you're not homophobic anymore, you shouldn't mind apologizing for your past homophobia again and again and again. I don't want to hear a hostile retelling of how we didn't hear your meager apology the first time.

— Louis Virtel (@louisvirtel) January 4, 2019
DeGeneres appeared to notice the backlash as she tweeted, "However you feel about this, the only positive way through it is to talk about it. Thank you for being here, @KevinHart4real. "
Surviving Voices: The Black Community & AIDS
"When white people get a cold, black people get pneumonia.' …if white people are getting the plague, what in the hell are we going to get?"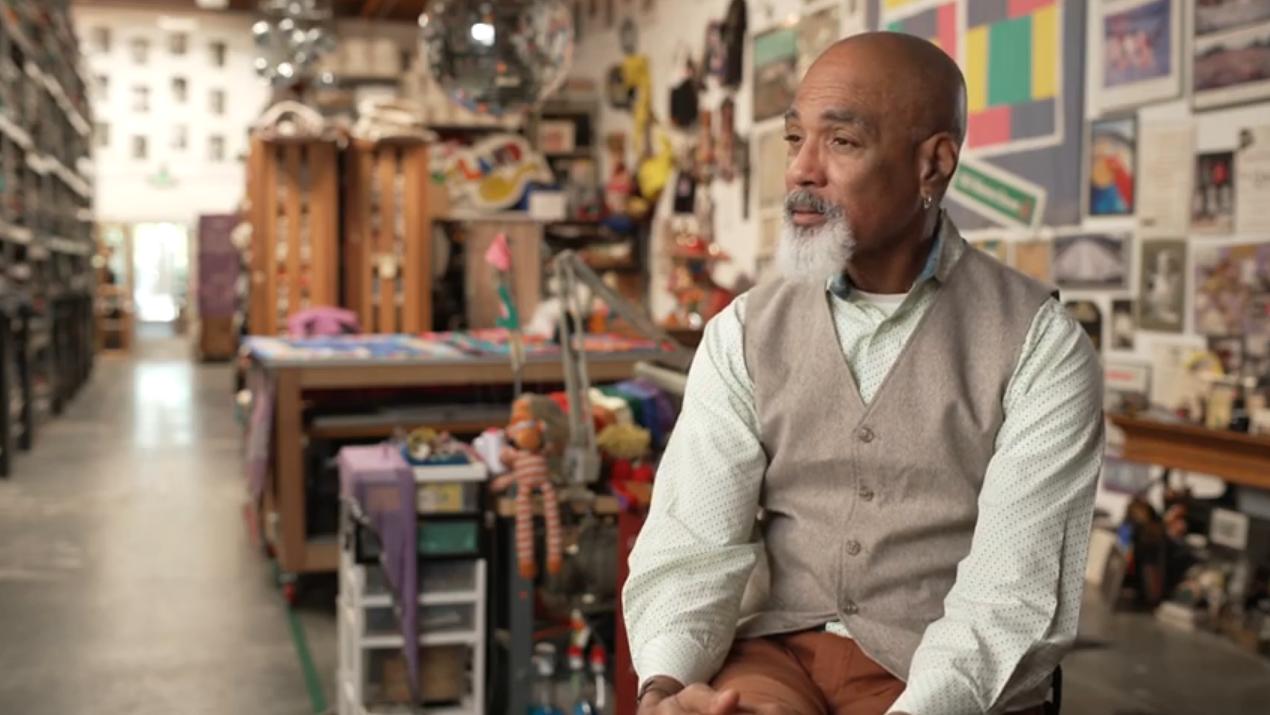 SAN FRANCISCO – The National AIDS Memorial has released its latest mini-documentary, "The Black Community & AIDS," the seventh film in its oral history project.  
The Black Community & AIDS" chronicles the personal stories of nearly two dozen survivors and advocates from across the U.S. who are thriving, sharing their hopes and struggles about the HIV/AIDS epidemic, and its disproportionate impact on the Black community.
The film opens with powerful words from Phill Wilson, Founder of the Black AIDS Institute, who says, "My grandmother used to say, 'When white people get a cold, black people get pneumonia.' And so I thought…if white people are getting the plague, what in the hell are we going to get?"
In addition to the mini-documentary, viewers can watch individual interview segments which provide candid, deeper conversations with the film participants.
Advocate Tori Cooper says, "To talk about HIV in the Black community in present day, you have to really look at the history of HIV and Black people. Black people have been villainized and stigmatized around not just having an HIV diagnosis but as being pushers of the virus. That stigma that was perpetuated 40 years ago still exists and still impacts the way society thinks about people who are living with HIV."
Dr. Dázon Dixon Diallo, Founder and President of SisterLove, the first women's HIV, Sexual Reproductive Justice organization in the southern U.S., "For this epidemic, men opened the door…on the advocacy, on the activism. But what I'm clear about is that it will be the women who close the door on this epidemic. Because once women own it, we change things, and when we change things, we change things for everybody."
Sharing her truth and powerful story, advocate Sharron Chatman emotionally says, "My mother made me eat off of paper plates and forks and that was hurtful because it was my Mom. Mothers aren't supposed to reject or feel that way towards their child. Through SisterLove, I began to understand that me being HIV positive was no longer fearful in my life. I wasn't afraid anymore. I became a warrior."
These powerful stories are just a few of the important topics the film addresses with interviewees who openly discuss the stigma, shame, and the complex, intersecting and multilayered prejudices that persist today and how so many survivors are thriving, living with pride, dignity and advocating for justice, equal access to care, and an end to the epidemic.
"The Black Community & AIDS" was produced and directed by Jörg Fockele. Chevron, a long-standing partner of the National AIDS Memorial, is the presenting partner, providing major funding annually during the past five years for the program.
"These films really bring to the forefront the power of storytelling and the lessons that can be taught for current and future generations," said Huma Abbasi, General Manager, Health & Medical at Chevron. "Our long-time support for this program is part of our commitment to sharing the very human experiences that have shaped four decades of the AIDS epidemic. These stories demonstrate the devastating impact that continues today, the hope and the work that still lies ahead."
Community partners include the San Francisco AIDS Foundation, Black Brothers Esteem, the New York City LGBT Community Center, Oasis Florida, W.O.M.E.N. Inc., GLAAD, MOBI, GMHC, Frontline Legal Services, Native Son, SisterLove, AIDS Project of the East Bay, Positive Women's Network and Thrive SS.
"This mini-documentary speaks to the work of the National AIDS Memorial in addressing the impact of HIV/AIDS in the Black community and the issues of stigma, discrimination and otherism that still exist today, four decades into this epidemic," said Chief Executive John Cunningham. "We are so appreciative to the survivors and advocates featured in this film who shared their stories and whose work is helping make a difference in changing the statistics and helping to finally curb the disproportionate impact of this epidemic in the Black community."
Prior to its official release, "The Black Community & AIDS" was exclusively featured at several major film festivals and HIV/AIDS events throughout the country, including Frameline, SF Queer Film Fest, New York City Black Pride, Positive Living Conference, and Atlanta Black Pride. The film was recognized for its powerful storytelling, including being honored with the prestigious Jury Award at SF Queer Film Fest. The film will also be shown as part of the National AIDS Memorial Change the Pattern initiative that is partnering with Southern AIDS Coalition and Gilead Sciences to bring the AIDS Memorial Quilt to the South as a teaching tool with Quilt displays and programming to reimagine the fight to end HIV.
Created in 2015, this multi-year AIDS oral history project helps ensure that stories and lessons of the epidemic are captured, curated, and retained for future generations. Additional featured films include "Substance Users, the Recovery Community & AIDS", "The Transgender Community & AIDS," "The A&PI Community & AIDS," "Women & AIDS," "The National Hemophilia Community & AIDS," and "The San Francisco Leather Community & AIDS."
The 17-minute film can be viewed on the National AIDS Memorial website and its YouTube channel.
Surviving Voices 2022 – The Black Community & AIDS:
Gay men stand up to Qatar & denounce its death penalty
In advance of World Cup: "I'm a man and I love men," a representative of soccer fans told Qatar's ambassador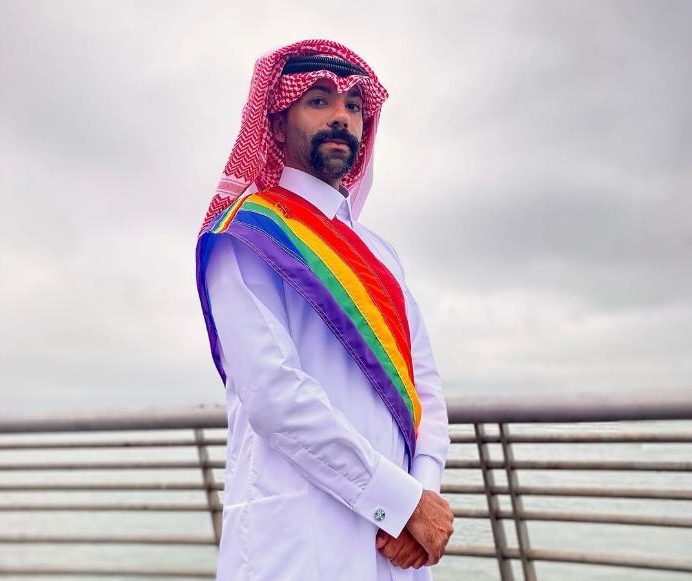 FRANKFURT, Germany – Gay men are blowing the whistle now, two months before the World Cup, demanding the host nation of Qatar change its anti-LGBTQ ways.
The Middle Eastern country where Islam is the state religion will welcome soccer players, coaches and fans from all around the planet, beginning Nov. 20, for matches that will pit nation against nation.
Qatar has promised to welcome LGBTQ foreigners, even as its own people are tortured and put to death for being who they are.
On Monday, Qatar's ambassador to Germany got an earful from one of those men at a human rights conference in Frankfurt, hosted by the German Football Association, according to a report by the Associated Press.
Fan representative Dario Minden spoke in English directly to Abdulla bin Mohammed bin Saud Al Thani, about who he is and who he loves, Minden told him to "abolish the death penalty" for homosexuality.
"I'm a man and I love men. I do — please don't be shocked — have sex with other men. This is normal," Minden told Al Thani. "So, please get used to it, or stay out of football. Because the most important rule in football is, football is for everyone. It doesn't matter if you're lesbian, if you're gay. It's for everyone. For the boys. For the girls. And for everyone in between.
"So, abolish the death penalty. Abolish all of the penalties regarding sexual and gender identity," he said. 
Although organizers promised Al Thani an opportunity to respond, the Associated Press reports that portion of the conference was closed to the public and the news media and was not televised. 
Earlier, Al Thani reportedly complained to those assembled that the issue of human rights was a distraction from the World Cup, even though the event was titled, "Sport and Human Rights."
"We all care about human rights," said Al Thani. "But I would have enjoyed (it) more if I saw some concentration not only on just one subject, but the enjoyment of football and the football effect on people around the world."
More than five-thousand miles away in San Francisco, a gay Qatari physician has organized a petition to tell the land of his birth: Love Is Not A Crime.
Dr. Nasser Mohamed decided to come out in 2010 following a visit to the U.S., and spent his residency in Connecticut before moving to California in 2015.
Mohamed wrote in an op-ed published by Outsports last month that he has spent the last decade caring for the LGBTQ community in outpatient settings and growing as an activist. 
"Being an LGBT person is a criminal offense in the legal system in Qatarm as is sex between two men. There are state-sponsored conversion-therapy practices, and LGBT-affirming psychotherapy is not offered." He wrote how law enforcement uses media and chat rooms to find, jail and punish people for being LGBTQ.
"Visibility of the local LGBT community in Qatar, and the exposure of their treatment, are absolutely essential," Mohamed wrote. "I am doing my part by speaking up."
Editor's note: Find out about Mohamed's petition by clicking here. He is also raising money through a GoFundMe account to provide him with funding for his activism as well as security and protection.
"Dr. Jackie: Unlicensed Psychotherapist" premieres on OUTtv
Jackie Beat's new series is just what the (unlicensed) doctor ordered. The show is available exclusively on OUTtv.com & on the OUTtv Apple TV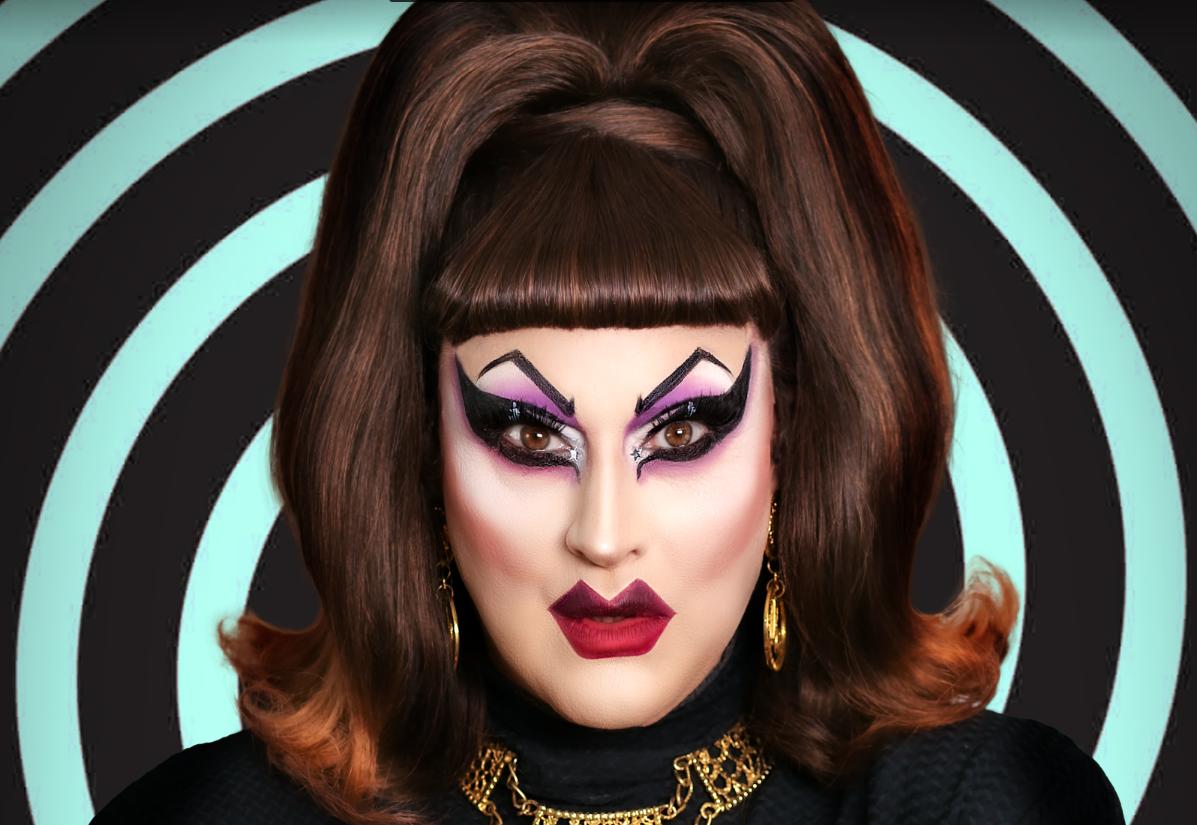 NEW YORK – While much of the world spent the pandemic sheltering in place and binging on Netflix in an attempt to stave off madness, innovative (and already insane) Jackie Beat found herself pounding a different drum.
The veteran drag queen known for belting out hilariously filthy song parodies while hurling cruel insults at delighted audience members immersed herself in online academia, only to emerge several hours later with… no formal education, but a self-declared title that everybody agreed would also be a kickass concept for a TV show, and a pretty good title to boot: "Dr. Jackie: Unlicensed Psychotherapist."
And so, on this day, September 19, 2022, it shall be so: "Dr. Jackie" premieres on OUTtv with new episodes each week through October 24. Watch the trailer HERE. The premise is simple: Dr. Jackie runs her "practice" out of an office managed by her "cute but confused assistant" (played by longtime creative collaborator Sherry Vine, whose ballsy, bonkers variety show had its premiere season on OUTtv last year). Sherry's the dutiful gatekeeper who shepherds a revolving cast of funny, famous people (mostly top-notch drag queens) into their sessions with tough-but-fair, decidedly uncredentialed Dr. Jackie.
"It's such a great feeling to not only entertain people, but be able to help them, too," said Dr. Jackie, in a press announcement for her six-part series. "It's a real win-win. I'm very proud of the fact that I am able to make mental health just a little more glamorous and fun! And if anyone wants to cancel me for 'mocking' pyschotherapy, please do it! I haven't been on THAT reality television show so I need all the publicity I can get!"
Taking a leap of faith that "Dr. Jackie" will be up to the level of quality we associate with the sold-out stage shows of Jackie Beat—and also betting heavily that Dr. Jackie has already figured out a way to dispense prescription drugs—The Los Angeles Blade is happy to generate more publicity for the good Doctor, who along with Sherry Vine took some pre-premiere time to participate in the spirited Q&A you see below.
The Los Angeles Blade (Blade): How did the show come about? Is this a product of your frequent collaborations with Sherry Vine?
Jackie Beat (Jackie): Sherry gets all the credit for making this happen! After being in show business for over three decades, I sort of had the attitude of, "This will never happen"—but Sherry was beyond optimistic and determined. I'm sure the success of her variety show on OUTtv helped. Oh, and my beauty!
Sherry Vine (Sherry): We had talked about this idea for a few years and I said, "Let me run with this and see if I can get it picked up" and Jackie said, "OK." I went to PEG and OUTtv who did my variety show, and they immediately said, "Yes." I worked very hard on the pre-production and filming but was less involved in the post-production. Jackie had a very clear vision of how she wanted it to look and sound so other than offering my opinions, I let her run with it.
Blade: How did the pandemic impact the shooting of episodes?
Jackie: We obviously had to adhere to very strict COVID protocols… Testing, masks, limiting the cast and crew, etc. But once this queen had gotten the green light on her own TV show, no pesky little virus was gonna stop her from getting it done!
Blade: Is there improvisation? If so, discuss how that played out.
Jackie: Yes, and everyone really delivered! We had an outline—a beginning, middle, end, maybe a plot twist or two—but then we just let people go for it. The hardest part, as you can imagine, is not cracking up. There was also quite a bit of stuff that was so out-there and just plain disturbing that we were like, "Oh God, we can't use that!" The brilliant improvising also made it very difficult to edit because there was so much gold!
Blade: What part, if any, did you play in the editing? How did the editing process impact the show's pacing and style?
Jackie: Well first off, the editor, Kain O'Keeffe, is a genius! He really has great comic timing so that certainly helped. I have worked with some editors who are technically amazing but don't really get comedy. Kain's instincts are great. And he also kept his cool—most of the time, LOL—working with this control freak. I was really very painstaking in the editing, because one beat or one moment or one word can change everything. The most frustrating part was having to watch each episode 50 or 60 times. I was like, "Is this even funny?" The answer to that question, of course, is YES!
Blade: With "Dr. Jackie," you enter the pantheon of small screen shrinks. What sets your style of therapy apart from colleagues like Lucy Van Pelt and Dr. Bob Hartley?
Jackie: First of all, I could be the illegitimate love child of those two because Lucy is an unqualified, self-centered bitch and Bob is dry and cool as a cucumber. I think I fall somewhere in the middle. A self-centered cucumber?
Blade: Talk about the role of ensemble and/or guest players.
Jackie: We were so blessed to get so many amazingly talented people—most of whom I consider friends. And I also love that people like Elvira [Cassandra Peterson] or Margaret Cho, who couldn't shoot in person, were able to be involved and get "emergency phone sessions" thanks to modern technology! I have several "Drag Race" stars such as Bianca Del Rio, Alaska Thunderfuck, Bob The Drag Queen, Katya, Trixie Mattel, BenDeLaCreme, Tammie Brown, Kelly Mantle and Monét X Change but I also wanted to include supremely talented friends of mine such as Mario Diaz, Nadya Ginsburg, Daniele Gaither, Drew Droege, Sam Pancake, Calpernia Addams, Selene Luna, Pete Zias, Roz Hernandez, and Muffy Bolding.
Blade: Sherry, you play Jackie's sidekick. Is the dynamic similar to, different than, what we see when the two of you work together on stage?
Sherry: Well the dynamic is different in terms of I'm playing her receptionist and she is the star—this time! Lol. But after 30 years of performing together we have a natural chemistry and play off of each other so well. It was scripted but of course there was plenty of improvisation. We were cracking up the whole time! On stage and on camera we are usually in synch—I know exactly where she's going.
Blade: Jackie, what can decades-long fans of your stage work expect from a show not grounded in parody songs?
Jackie: They can expect to be laugh and be entertained so… Same old thing!
Blade: Jackie, Sherry, what's happening between now and the end of the year, in terms of traveling and performing live?
Jackie: I'm doing lots of writing right now, but I will never stop performing. I will do my annual holiday tour, of course. I'm doing my holiday show at The Palm in Puerto Vallarta on Christmas Eve and Christmas Day!
Sherry: We are now in pre-production for "The Sherry Vine Variety Show" Season 2! Yay! We start filming at the end of October, so I'm writing, casting, recording, etc. Lots of exciting guests and surprises—and Jackie will be returning as my partner in crime.
Blade: How do you find performing and living in the "post-pandemic" era: Has it change the way you do things, creatively and personally? What lessons did we learn or ignore from all that time sheltering in place?
Jackie: People seem very appreciative of live shows right now. It's like they didn't realize just how precious those moments of sitting in a darkened theater or nightclub watching a live performer was until it was suddenly gone. I have also learned that if you are naturally funny and talented you can entertain people no matter what – even on their laptop or phone. I was very happy to learn that my comedy and magic could survive and translate to that format. Again, I ain't never gonna let no pesky virus stop me from doing what I do!
"Dr. Jackie: Unlicensed Psychotherapist"—written by Jackie Beat—is directed by John Mark Hostetler and produced by Producer Entertainment Group (PEG) for OUTtv. As of September 19, the show is available exclusively on OUTtv.com and on the OUTtv Apple TV Channel in the US and Canada, OUTtvGo.com and the OUTtv Amazon Prime Channel in Canada and FROOT.tv in the UK and Ireland.
Follow Jackie Beat:
Website: HERE
Instagram – HERE
Website – HERE
Twitter – HERE
Facebook – HERE