Deconstructing the Ellen DeGeneres cover up of Kevin Hart's latent homophobia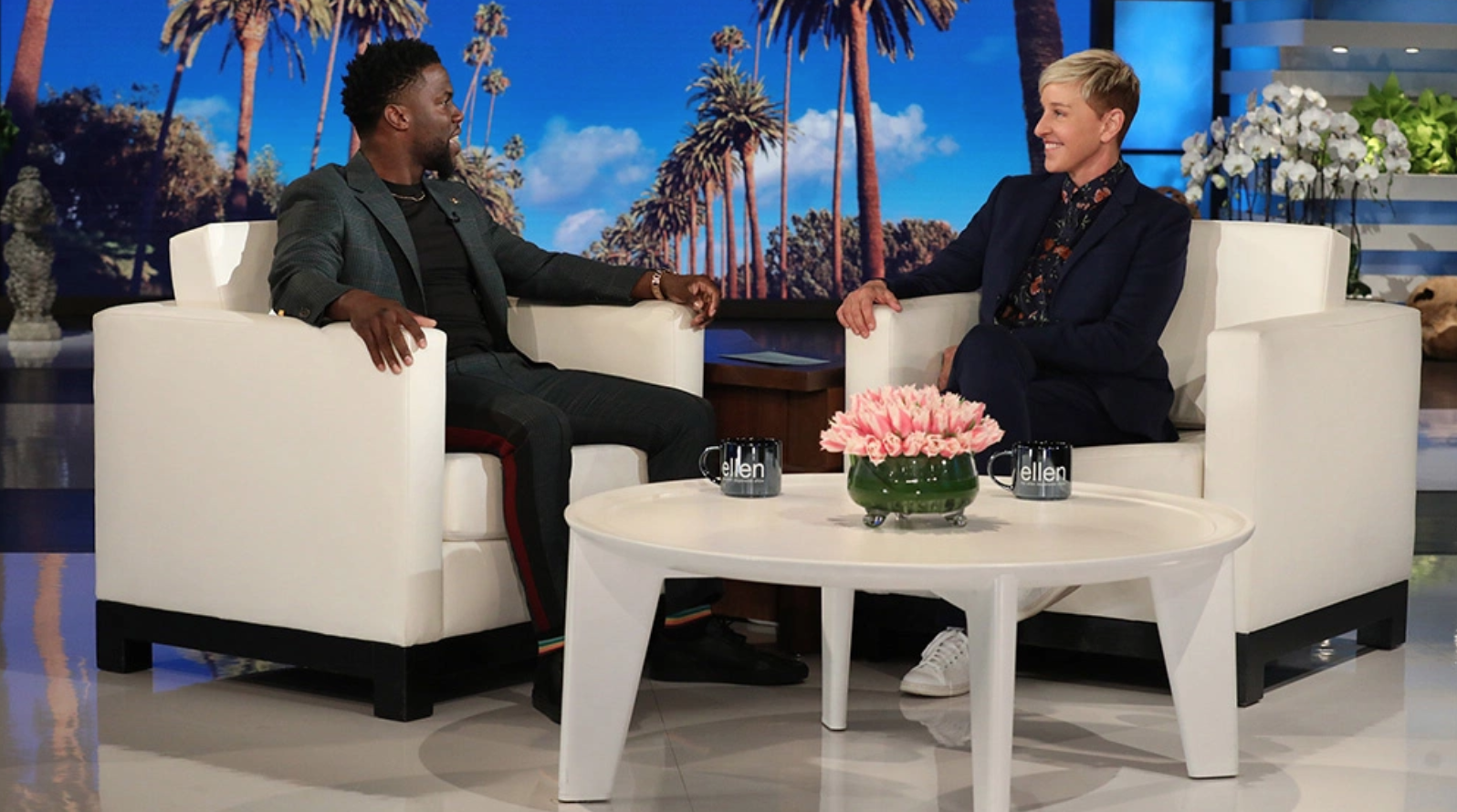 TV host Ellen DeGeneres and comic Kevin Hart love each other, as they made perfectly clear in the special hour-long "Ellen" show that aired Friday, Jan. 4.
"I love you," DeGeneres said after they each proffered a lengthy rant on Hart's withdrawal as host of the Academy Awards show this February 24.
"I love you more," Hart replied.
The love fest appeared designed with two primary objectives: 1) to publicize Hart's latest movie; and 2) for the world's best known and popular lesbian on TV to absolve Hart of any and all past homophobia.
"I believe in forgiveness. I believe in second chances. And I believe in @KevinHart4real," DeGeneres tweeted Thursday night as video clips of the interview were released.
But what the interview did, at least in some corners of the LGBT community, was cast a bucket-load of shade on DeGeneres' like-ability without rehabilitating Hart's admittedly flawed personality.
Hosting the Oscars was a life-long dream, Hart told DeGeneres, who noted that she suggested he pursue the hosting gig at a dinner with him after her second Oscar hosting turn in 2014 (the first in 2007 was also a lifelong dream of hers ). He was elated when the Academy Awards offered him the job—only to become quickly deflated after posts in social media dredged up anti-gay comments Hart made on Twitter and during his stand-up comedy routine. One from 10 years ago, in particular, was deemed extraordinarily harsh, when he joked about beating his son to prevent him from becoming gay.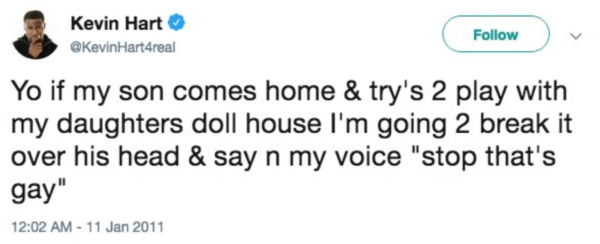 Hart's apparent affection for the anti-gay "F***king F*g" slur also came to the fore: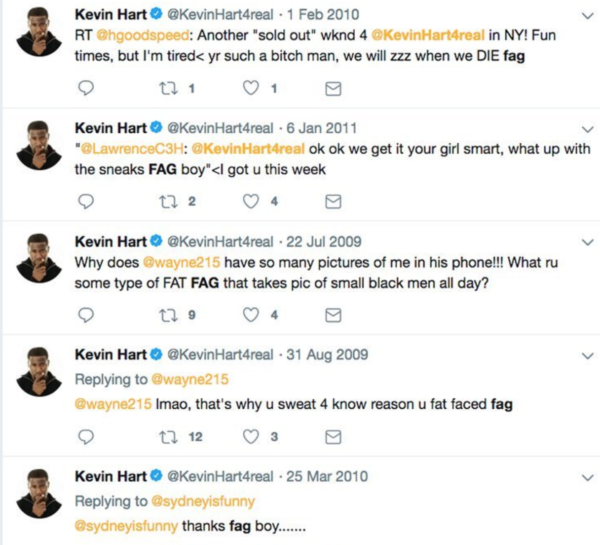 Twitter and Instagram exploded on Dec. 6 after Hart adamantly refused to apologize for the tweets—which were deleted after the Oscar announcement—saying he had repeatedly apologized when they were first brought to light years ago.
Out "Billy on the Street" comic Billy Eichner's responses to the ongoing saga Dec. 6 reverberated throughout the Twitterverse.

"Many of us have jokes/tweets we regret. I'm ok with tasteless jokes, depending on context. What bothers me about these is you can tell its not just a joke-there's real truth, anger & fear behind these. I hope Kevin's thinking has evolved since 2011," he tweeted.
Eventually, Hart stepped down and issued an apology: "I sincerely apologize to the LGBTQ community for my insensitive words from my past."
To which Eichner responded, as if the matter was now drawn to a close and the choice of new host became the focal point, including black lesbian comedienne Wanda Sykes.

But then came the DeGeneres interview in which the TV host pushed the comic to reconsider the job after expounding on Hart's talent and announcing that she called the Academy and asked them to have him back.
"I have no idea if he wants to come back and host but what are your thoughts," DeGeneres said she told the Academy. "And they were like, 'Oh my god! We want him to host! We feel like maybe he misunderstood or it was handled wrong or maybe we said the wrong thing. But we want him to host. Whatever we could do, we'd be thrilled and he should host (applause) So the Academy is saying what can we do to make this happen?"
DeGeneres did not identify the Academy person with whom she spoke, nor did an Academy spokesperson immediately respond to Variety's request for comment. But Hart seemed buoyed by the adulation.
"Leaving here I promise you I'm evaluating this conversation," Hart said. "This is a conversation I needed to have, I'm glad I had it here. I'm glad it's as authentic and real as I could've hoped it would be."
But how authentic was it, really? Let's look at six minutes of the hour-long effort to get Hart's job back.
Hart spent several insight-free minutes explaining how he would not be the victim of social media, deciding at first to ignore the critical tweets to not "fuel the fire." And to anyone who has been the subject of relentless criticism or bullied on social media, his complaint rings true. "I know I don't have a homophobic bone in my body," Hart said, adding he doesn't look at life through the same lens as that guy who was "just looking for stupid laughs. I don't do that any more."
Once again Hart apologized "if those words hurt," adding that a person "can't move forward without mistakes….So I don't know the perfect person society is looking for – it's not me.… I have made several mistakes and I embrace them all because I am a better man today because of them."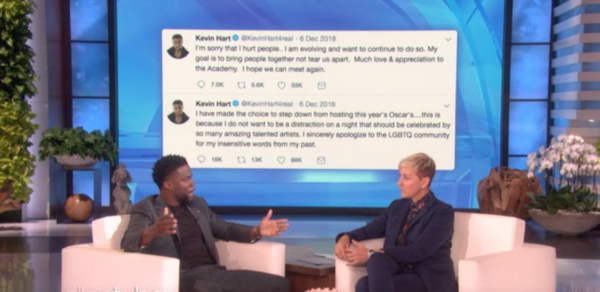 Finally, Hart said he walked away from hosting the Oscars because "I'd rather just say I'm sorry again and walk away because I'd much rather be done with the conversation. I don't want to have this conversation anymore because I'm not that guy."
The thing is—Hart has said almost these exact words about his admission of cheating on his pregnant wife—which he turned into a stand up joke —and considering domestic violence—on top of making fun of hitting women in his stand up act.
"Lying ruined my marriage," the Washington Post reported Hart as saying in 2017.   "That's a lie, I cheated," Hart said in his 2013 stand-up special "Kevin Hart: Let Me Explain." "Yes, people, I cheated. Am I ashamed of it? No, I'm not," he joked. "Do I wish I could take it back? No, no I don't. Let me tell you why. You can't evolve as a man if you never make a mistake. The only way that you can be perfect is to not f‑‑‑ up. I did it, I f‑‑‑ed up. Don't cheat!"
Hart's pronouncement seems to have a pattern: first complain on social media about rumors about him – in this case about being with a woman-not-his-wife in a sexually suggestive video. He then posted a meme on Instagram of him laughing at his phone captioned, 'At the end of the day, you just gotta laugh at the BS.'"
Then go public, appearing to accept responsibility while still claiming to be the victim. Here Hart claimed he was being extorted—a claim disputed by the woman with him in the hotel room, represented by attorney Lisa Bloom. "I'm in a place in my life where I feel like I have a target on my back. And because of that, I should make smart decisions – and recently, I didn't," Hart then said, confessing to the affair and apologizing for something more than had been initially revealed.
BET noted in June 2017 that Hart is "known to be Hollywood's most loyal family man, even when it comes to his divorce from ex-wife Torrei Hart" but admits that "he went through some pretty dark times with Torrie, including fights that turned violent."
In an interview promoting the Jumanji: Welcome to the Jungle with Power 105.1 FM show The Breakfast Club. Kevin admitted: "Me and my ex wife. When it got violent where we're fighting — Am I really fighting? Am I holding my hands up as if she's a man right now? Oh my God. This is…I'm out. I've really got my hands up to not defend, but counter. Like, I'm waiting for you to throw a punch. 'Cause I'm about to counter the s**t out of you. Like, I'm really that upset to where I have to get in a stance. When you get in a stance, that's when I checked myself."
Hart told the radio show that "he's had "thick skin" about the negative media coverage surrounding the scandal," but he told the radio show he was "upset" by some of the suggestions that his current wife allegedly breaking up his previous marriage.
So Hart is familiar with the machinations of internet trolls and social media rumor mongering. But somehow the current social media backlash over his history of homophobia is worse than those who went after his family—at least that's what he appears to describe to Ellen DeGeneres.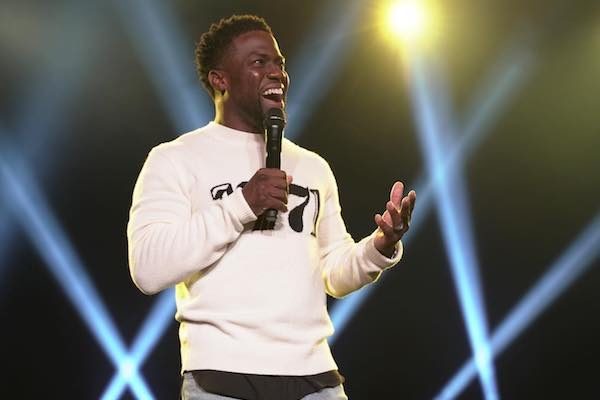 There are always two sides to a story, Hart said, taking responsibility then asserting a conspiracy against him, telling DeGeneres:
"On my side, openly, openly, I say I'm wrong for my past words. I say it. I said it. I understand that. I know that. My kids know that when their dad messes up, I'm in front of it because I want to be an example so they know what to do.

In this case, it's tough for me because it was an attack. This wasn't an accident. This wasn't a coincidence. It wasn't a coincidence that the day after I received the job, that tweets just somehow manifested from 2008. Now, I don't know who follows me and who doesn't – I'm on social media everyday. I've got over 40,000 tweets. To go through 40,000 tweets to get back to 2008 – that's an attack.

That's a malicious attack on my character. That's an attack to end me. That's not just an attack to stop the Oscars. That's what I want people to understand. That's an attack to end me. Now I'm not going to get too emotional, but when you witness this, and you stand in front of it and you heard that these things exist – I've never experienced it – I've heard about it – this is my first time in the fire. I've seen it.

Oh my god, this was to destroy me. This was to end all partnerships, all brand relationships, all investment opportunities, studio relationships, my productions company and the people who work underneath me – this was to damage the lives of people who've been invested in me. It's bigger than just the Oscars. It's about the individuals that are out there now that are finding success and damaging your "celebrity."

Now if you go back – and I don't have a word or a bond – if I don't have anything to stand on, I'm now going right back into the place where the people who came after me want me to go. Somebody has to take a stand against the "trolls" – you have to."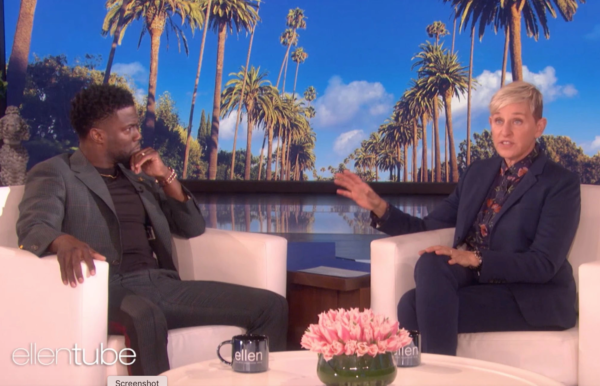 But instead of asking questions about – as Billy Eichner pointed out – the "real truth, anger & fear" behind his anti-gay jokes and comments, DeGenerous chimed in about internet trolls and not letting "them" win. DeGenerous said:
"[T]hey're going to win if you don't host the Oscars. (Audience applause.) Then they win. So for you to stand up and say, 'No, whoever you are, the trolls – and who knows who this person is or people – who cares? And you can't let them destroy you and they can't destroy you because you have too much talent. No one can do that.

And for them to stop you from your dream, from what you want to do and what you have a right to do – what you should be doing – that's why they haven't found another host. I think they were secretly hoping that you would come back and I'm praying that this happens."
Then she appeared to remember, oh, yeah, she introduced the original film "Trevor" about gay teen suicide that led to the Trevor Project. And hate crimes and stuff:
"I think, as I said to you earlier, it's perfect that all this happened because there has to be a conversation about homophobia, and whatever brought up and whatever they did and whoever's trying to hurt you, it brought up you reminding people that you're a bigger person. That you've already apologized. You're apologizing again. (Applause) So, I mean, so as a gay person, as someone who actually

(Hart interrupts, pretending to be shocked: "What?")

Yeah. (Laughs) – I'm so sorry to break this to you – I know. I didn't tell you before….I didn't want you to know. I thought maybe you wouldn't like me. (Laughter)  Um. I mean really, I am as sensitive to all of that and I talked to you about this and you've already expressed that's it's only – it's not being educated on the subject. Not realizing how dangerous those words are. Not realizing how many kids are killed for being gay (Hart nods) or beaten up every day. You have grown. You have apologized. You're apologizing again right now. You've done it. Don't let those people win. Host the Oscars."
Hart said he stepped away to not become the focus of the Oscars when so many people had worked so hard to get there. But DeGeneres would have none of that:
The night should be about you….What we're going to get to see on stage with you hosting the Oscars is sophistication, class, hilarity, and you growing as a person because most people would say, 'you know I'm walking away, I'm not coming back because I'm going to go back and forth.' But for you to be the bigger man, for you to say 'I understand' and to not pay attention—there are so many haters out there. Whatever's going on on the Internet, don't pay attention to them. That's a small group of people being very, very loud. We are a huge group of people who love you and want to see you host the Oscars." (big cheers)
Why didn't DeGeneres ask: it's 2019—why do you still need to grow and be educated about homophobia? Have you ever heard of the It Get's Better Project? Even President Obama did a video.
A backlash ensued immediately on websites and social media.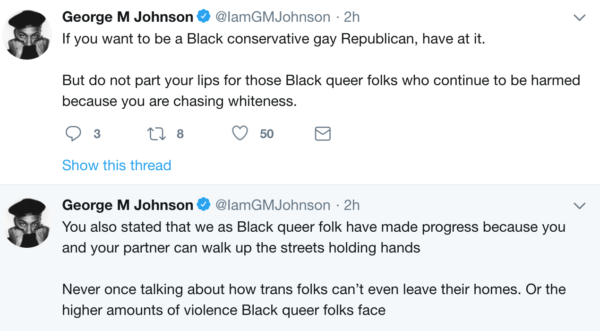 That DeGeneres is sometimes tone deaf is not new. During the fight against Prop 8, the California initiative that took away the right to marriage equality for same sex couples in that state in 2008, DeGeneres contributed $1 million to an animal-related initiative but nothing to the battle to fight Prop 8. That while tabloids reported on the sale of those images of her wedding to Portia de Rossi that August.
The expose in IN Los Angeles magazine prompted a backlash, including three groups that formed on Facebook encouraging her to donate and several celebrity contributions.
"It's not as if DeGeneres has not been out there stating her opposition to Proposition 8. She has on her blog, and in an appearance on 'The Tonight Show with Jay Leno.' She has talked about her marriage to Portia de Rossi on her daytime show, which perhaps did more to positively present the idea of same-sex nuptials to 'traditional' households than a thirty-second spot could have done," Variety's Ted Johnson wrote at the time.  "What is perplexing is why, given the hubbub, she doesn't just write a check. It may be a testament to why stars employ political and philanthropic consultants — to avoid these types of pitfalls in the public sphere."
In this case, it looks like DeGeneres and Hart just had dinner together and decided that her forgiving him publicly on behalf of the LGBT community would get him reinstated. Maybe. But the two millionaires might have considered who the real "victims" are here, in this age of rising hate crimes inspired by the anti-LGBT world of Donald Trump. Now that really is bigger than the Oscars!

"From when this news first broke, GLAAD said Kevin Hart should not step down from the Oscars, he should step up and send an unequivocal message of acceptance to LGBTQ youth that matches the force and impact of his initial anti-LGBTQ remarks," said GLAAD President and CEO Sarah Kate Ellis, who is scheduled to appear on CNN Tonight with Don Lemon Friday night to discuss the situation in more detail.
A nerve has been struck. Has Kevin Hart changed and if he has—where's he been when so many could be helped, not hurt, by his voice?
Suspended prosecutor files suit against Florida Governor Ron DeSantis
"What's happening here is, he's trying to throw out a free and fair election," Warren said on CNN early Wednesday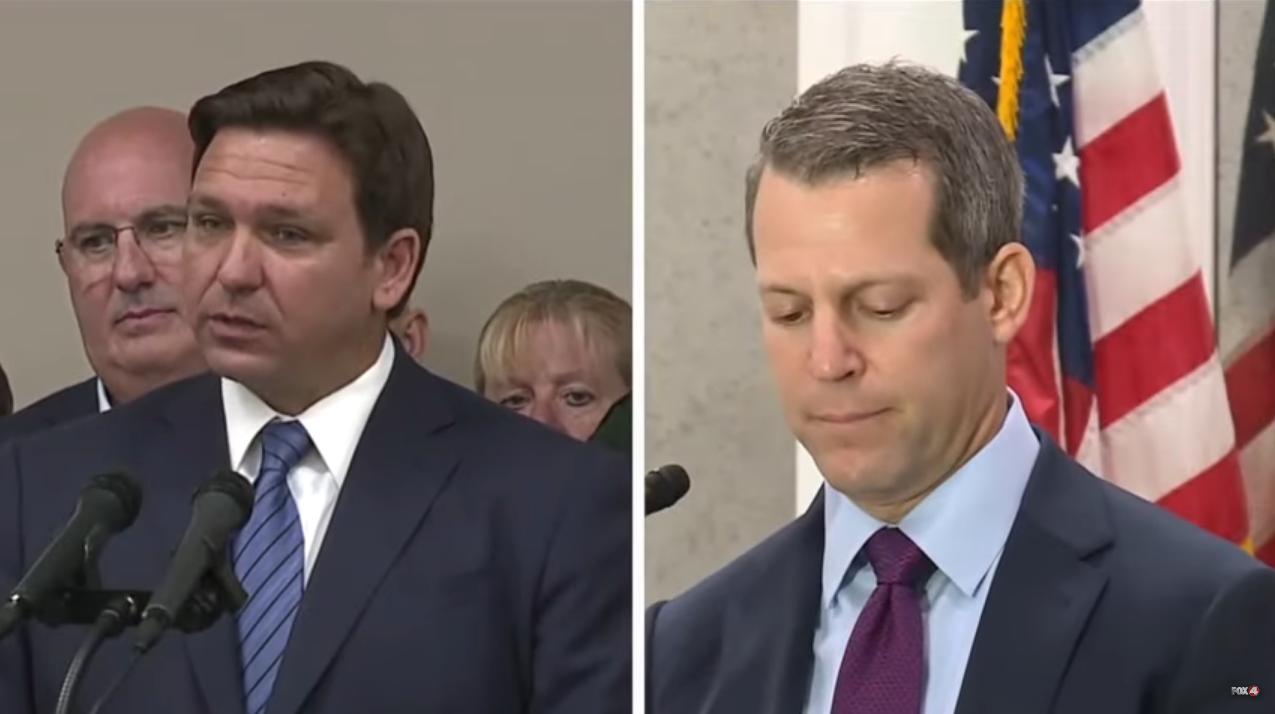 FORT MYERS, Fl. – Hillsborough County State Attorney Andrew Warren, an elected Florida prosecutor removed from office by Republican Governor Ron DeSantis for signing a national pledge to not prosecute women and doctors for violating Florida abortion statues or families seeking treatments for transgender minors, filed suit Wednesday in United States District Court for the Middle District of Florida.
Governor DeSantis' office issued a statement two weeks ago saying: "We are suspending Soros-backed 13th circuit state attorney Andrew Warren for neglecting his duties as he pledges not to uphold the laws of the state."
DeSantis's move, per a clause in the state's constitution, would have the effect of removing Warren from office.
"DeSantis's Order does not identify any actual conduct by Warren related to his official duties involving alleged criminal activity for seeking gender-affirming healthcare or abortion," the lawsuit said. "DeSantis's Order does not identify any other conduct by Warren or other reason sufficient to justify a suspension."
"What's happening here is, he's trying to throw out a free and fair election," Warren said on CNN early Wednesday. "Even my 8-year-old understands this."
Warren described the pledge circulated by prosecutors around the country as "a value statement," not a definitive decision on how he might handle any particular case. He also noted that Florida's new ban on abortions after 15 weeks of gestation has been ruled unconstitutional and that the state doesn't even have a law against hormone treatments for transgender minors.
"The First Amendment protects the right of elected officials to speak out on matters of public controversy, and in fact, it does so because it's so important that the voters who choose these elected officials know where they stand on these issues," Jean-Jacques Cabou, a lawyer for Warren, said in a phone interview with Fox affiliate WFTX-TV, Fox 4 News Cape Coral.
Prosecutors announce hate crime charges in attack on gay teenage couple
A 17-year-old was charged with assault, the 19-year-old was charged with criminal mischief & both youths with hate crime enhancements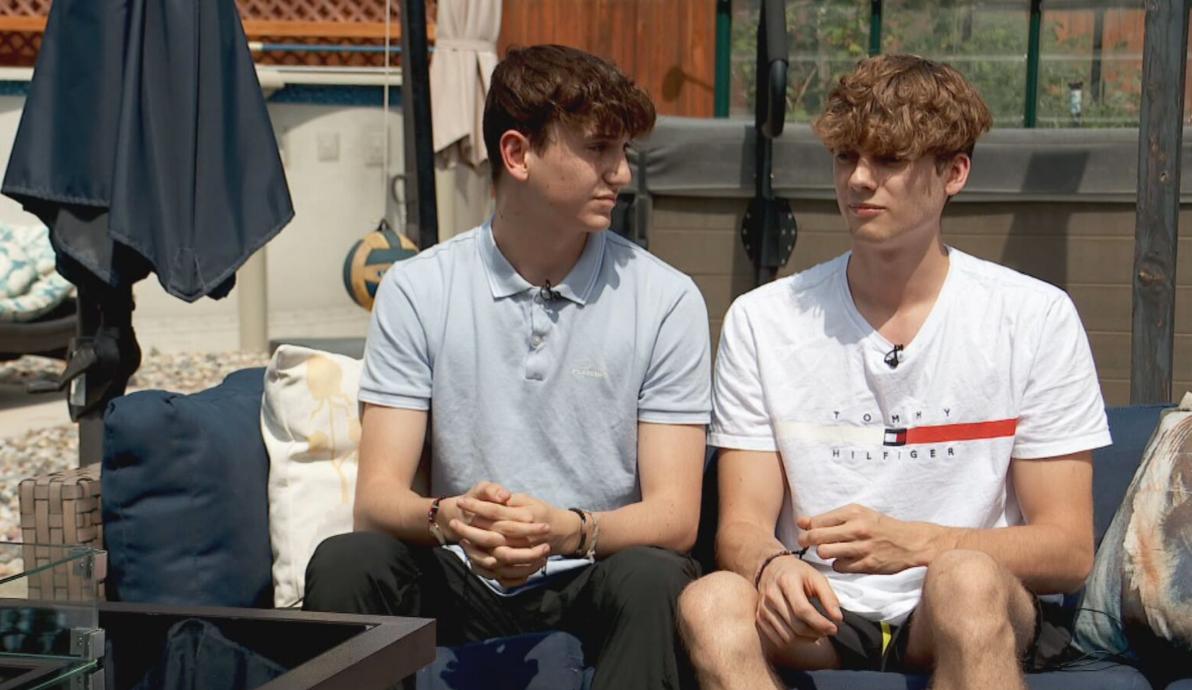 SANDY, Ut. – Christian Peacock and his boyfriend Jacob Metcalf were standing at the end of Peacock's driveway in this suburban Salt Lake City town hugging and quietly chatting in "a long goodbye for the night," two weeks ago when a Nissan-Infinity sedan with five young male occupants rolled by slowing down and one of them yelled "Fuck you, faggots."
Minutes later the Infinity returned and one of the young males got out and continued act aggressively using homophobic epithets and then when Christian Peacock stepped in to protect his boyfriend, he was punched sending him to hospital that left him with a mild concussion and brain swelling.
Earlier this week the Salt Lake City Tribune reported that a 17-year-old boy has been charged with allegedly punching Peacock sending him to hospital.
Sgt. Greg Moffitt with the Sandy Police Department told media outlets that the 17-year-old suspect's friend, Hayden Perry Stowell, 19, also faces charges, after he went back and allegedly vandalized the LGBTQ Pride flags displayed in front of the Peacock home in retaliation for his friend's arrest.
Prosecutors have added hate crime enhancements added to both of their other court charges.
The Tribune reported that the 17-year-old was charged in juvenile court with assault, a third-degree felony; and initiating a riot, a second-degree felony.
Stowell has been charged in 3rd District Court with retaliation against a witness, a third-degree felony; and criminal mischief, a class A misdemeanor.
The charging documents for the 17-year-old say he told police he approached the couple and "clearly targeted" them due to their sexual orientation, the Tribune reported.
He allegedly also told officers that he didn't like that Peacock and Metcalf were displaying physical affection openly in their driveway. The 17-year-old refused to identify anyone who was in the car with him at the time of the attack, the charges state.
A witness later identified Stowell as also one of the occupants of the car during the attack on Peacock.
Peacock's boyfriend had recorded portions of the incident which was later posted to social media. According to the Tribune, Jocelynn, 19, Peacock's sister grabbed her phone and started taking pictures of the alleged assailant and the others in the car. She also chased the car down the street and captured the license plate number. She then shared both on her Instagram and Snapchat pages.
One of her friends recognized the car and knew the person who drove it and gave Jocelynn the kid's address. Jocelynn went there and spoke to the mother of that boy.
"Do you know what your son has done?" she asked, according to Peacock and Metcalf, who went with her.
The Salt Lake Tribune and other media outlets in the Salt Lake region generally do not identify minors who have been charged with crimes, unless they have been charged and bound over for trial in adult court.
The case could become a test of the state's new hate crime law, which hasn't been used extensively since it was put in place in 2019 after a Latino father and son were attacked at their tire shop, the Tribune noted.
A community group had put up Pride flags to show support for Peacock and his boyfriend Metcalf in their neighborhood but surveillance footage taken two weeks after the attack — shows Stowell, the suspected vandal, outside the victim's home, according to the Sandy Police Department.
Stowell allegedly pulled out the flags, which were found "strewn about" the front yard and the street, police said, and at least one flagpole was broken, the Tribune reported adding that Stowell allegedly "ripped down the pride flags" 12 hours after his 17-year-old friend was booked into juvenile detention in connection with the July 30 assault, charging documents state, noting that the suspected vandal's "only clear purpose" was to "further intimidate and harass" the victim's family.
Both the teenage victim and his sister have been "struggling with anxiety and fear since the assault on July 30, 2022," charging documents note, "and with the continued intimidation they felt by the damage to their flags."
An attorney for the Peacock and Metcalf families sent KUTV 2News a statement Tuesday afternoon:
"There can be no place in Utah for hate crimes. We appreciate the swift and continuing efforts of the Sandy Police Department, Sim Gill, and the District Attorney's Office to investigate and prosecute the hate crimes that targeted our family. We also thank our friends and neighbors in Sandy, including Mayor Monica Zoltanski, for standing by us and making clear that hate crimes will not be tolerated in Sandy."
LA County Sheriff's Dept. seeks public's help in missing person case
Jai Rmanii Hicks, or Rmanii, 23, Black female last seen on July 16, 2022 at 3:00 p.m. on the 200 block of West Woodbury Road in Altadena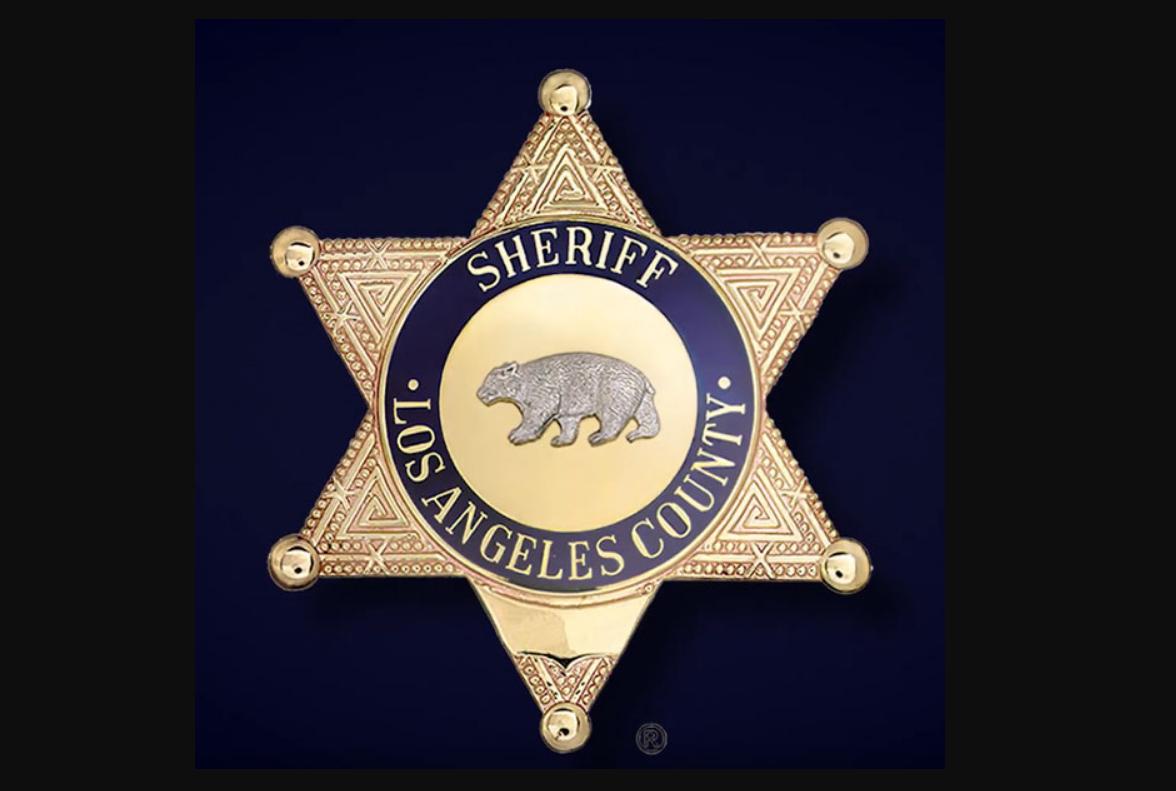 LOS ANGELES – The Los Angeles County Sheriff's Department Missing Persons Unit investigators are asking for the public's help locating Missing Person Jai Rmanii Hicks, also known as Rmanii.
She is a 23 year-old female Black who was last seen on July 16, 2022 at 3:00 p.m. on the 200 block of West Woodbury Road in Altadena.
Rmanii is 5'10" tall, 185 lbs, shoulder length red hair styled in dreadlocks, brown eyes, symbol of an ankh tattoo on back, picture of a girl tattoo on right thigh, and a tribal symbol tattoo below chest. She was last seen wearing a black shirt, black pants, and a brown backpack.
Her family is concerned with her well-being and is asking for the public's help.
Anyone with information about this incident is encouraged to contact the Los Angeles County Sheriff's Department's Missing Persons Unit at (323) 890-5500.
If you prefer to provide information anonymously, you may call "Crime Stoppers" by dialing (800) 222-TIPS (8477), use your smartphone by downloading the "P3 Tips" Mobile APP on Google play or the Apple App Store or by using the website http://lacrimestoppers.org