Deconstructing the Ellen DeGeneres cover up of Kevin Hart's latent homophobia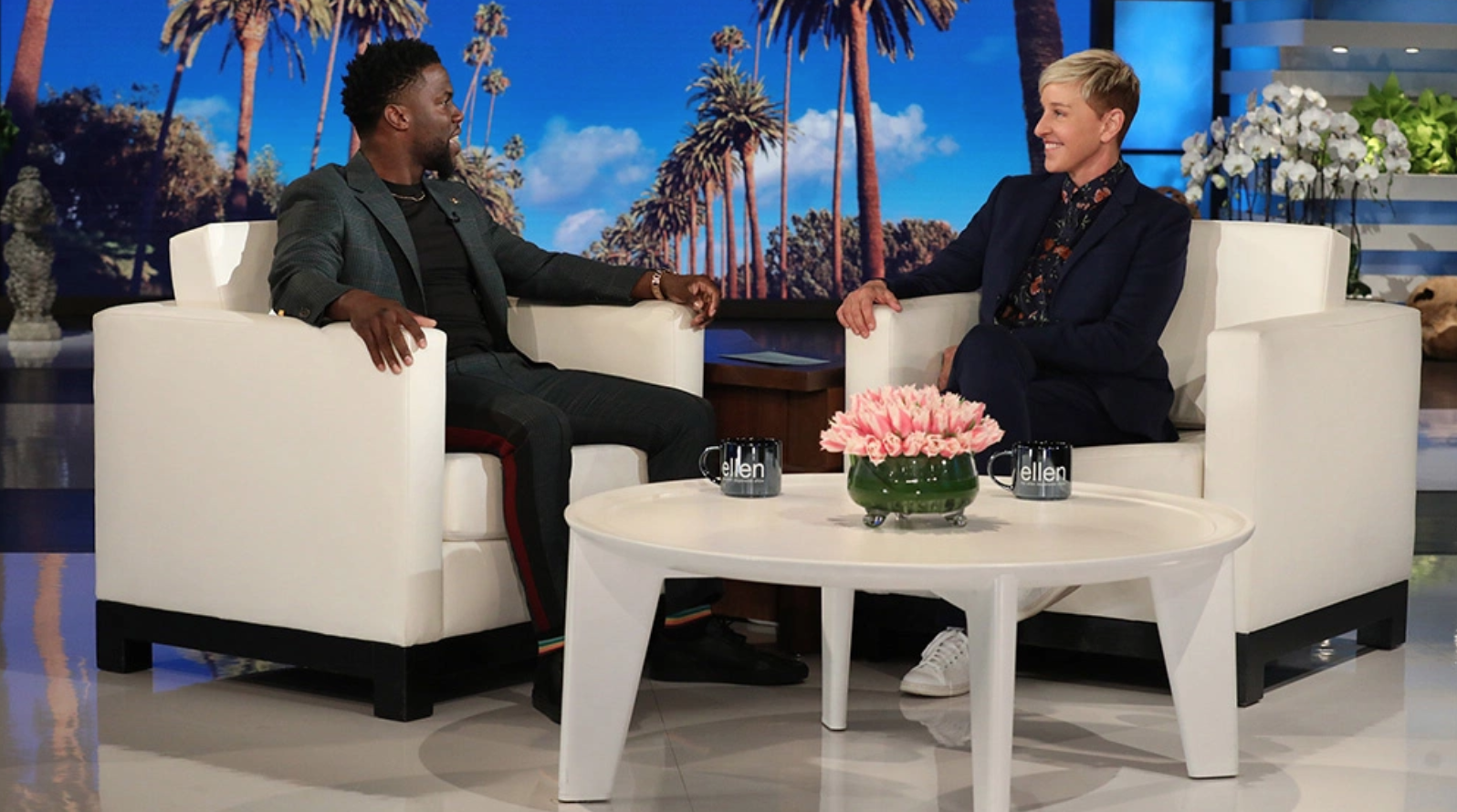 TV host Ellen DeGeneres and comic Kevin Hart love each other, as they made perfectly clear in the special hour-long "Ellen" show that aired Friday, Jan. 4.
"I love you," DeGeneres said after they each proffered a lengthy rant on Hart's withdrawal as host of the Academy Awards show this February 24.
"I love you more," Hart replied.
The love fest appeared designed with two primary objectives: 1) to publicize Hart's latest movie; and 2) for the world's best known and popular lesbian on TV to absolve Hart of any and all past homophobia.
"I believe in forgiveness. I believe in second chances. And I believe in @KevinHart4real," DeGeneres tweeted Thursday night as video clips of the interview were released.
But what the interview did, at least in some corners of the LGBT community, was cast a bucket-load of shade on DeGeneres' like-ability without rehabilitating Hart's admittedly flawed personality.
Hosting the Oscars was a life-long dream, Hart told DeGeneres, who noted that she suggested he pursue the hosting gig at a dinner with him after her second Oscar hosting turn in 2014 (the first in 2007 was also a lifelong dream of hers ). He was elated when the Academy Awards offered him the job—only to become quickly deflated after posts in social media dredged up anti-gay comments Hart made on Twitter and during his stand-up comedy routine. One from 10 years ago, in particular, was deemed extraordinarily harsh, when he joked about beating his son to prevent him from becoming gay.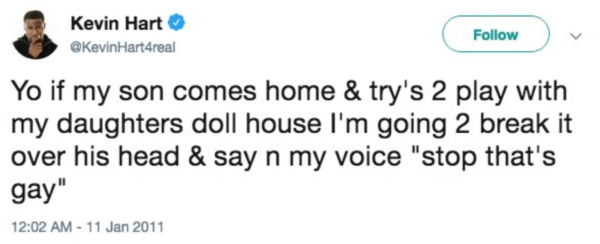 Hart's apparent affection for the anti-gay "F***king F*g" slur also came to the fore: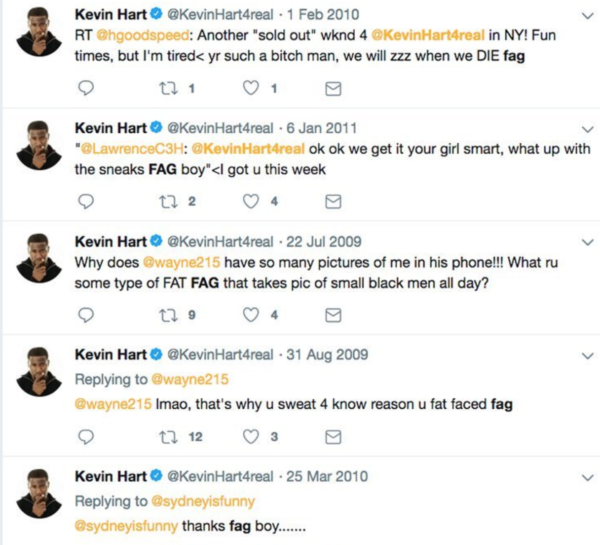 Twitter and Instagram exploded on Dec. 6 after Hart adamantly refused to apologize for the tweets—which were deleted after the Oscar announcement—saying he had repeatedly apologized when they were first brought to light years ago.
Out "Billy on the Street" comic Billy Eichner's responses to the ongoing saga Dec. 6 reverberated throughout the Twitterverse.

"Many of us have jokes/tweets we regret. I'm ok with tasteless jokes, depending on context. What bothers me about these is you can tell its not just a joke-there's real truth, anger & fear behind these. I hope Kevin's thinking has evolved since 2011," he tweeted.
Eventually, Hart stepped down and issued an apology: "I sincerely apologize to the LGBTQ community for my insensitive words from my past."
To which Eichner responded, as if the matter was now drawn to a close and the choice of new host became the focal point, including black lesbian comedienne Wanda Sykes.

But then came the DeGeneres interview in which the TV host pushed the comic to reconsider the job after expounding on Hart's talent and announcing that she called the Academy and asked them to have him back.
"I have no idea if he wants to come back and host but what are your thoughts," DeGeneres said she told the Academy. "And they were like, 'Oh my god! We want him to host! We feel like maybe he misunderstood or it was handled wrong or maybe we said the wrong thing. But we want him to host. Whatever we could do, we'd be thrilled and he should host (applause) So the Academy is saying what can we do to make this happen?"
DeGeneres did not identify the Academy person with whom she spoke, nor did an Academy spokesperson immediately respond to Variety's request for comment. But Hart seemed buoyed by the adulation.
"Leaving here I promise you I'm evaluating this conversation," Hart said. "This is a conversation I needed to have, I'm glad I had it here. I'm glad it's as authentic and real as I could've hoped it would be."
But how authentic was it, really? Let's look at six minutes of the hour-long effort to get Hart's job back.
Hart spent several insight-free minutes explaining how he would not be the victim of social media, deciding at first to ignore the critical tweets to not "fuel the fire." And to anyone who has been the subject of relentless criticism or bullied on social media, his complaint rings true. "I know I don't have a homophobic bone in my body," Hart said, adding he doesn't look at life through the same lens as that guy who was "just looking for stupid laughs. I don't do that any more."
Once again Hart apologized "if those words hurt," adding that a person "can't move forward without mistakes….So I don't know the perfect person society is looking for – it's not me.… I have made several mistakes and I embrace them all because I am a better man today because of them."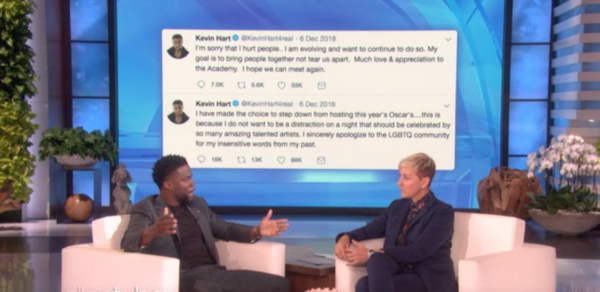 Finally, Hart said he walked away from hosting the Oscars because "I'd rather just say I'm sorry again and walk away because I'd much rather be done with the conversation. I don't want to have this conversation anymore because I'm not that guy."
The thing is—Hart has said almost these exact words about his admission of cheating on his pregnant wife—which he turned into a stand up joke —and considering domestic violence—on top of making fun of hitting women in his stand up act.
"Lying ruined my marriage," the Washington Post reported Hart as saying in 2017.   "That's a lie, I cheated," Hart said in his 2013 stand-up special "Kevin Hart: Let Me Explain." "Yes, people, I cheated. Am I ashamed of it? No, I'm not," he joked. "Do I wish I could take it back? No, no I don't. Let me tell you why. You can't evolve as a man if you never make a mistake. The only way that you can be perfect is to not f‑‑‑ up. I did it, I f‑‑‑ed up. Don't cheat!"
Hart's pronouncement seems to have a pattern: first complain on social media about rumors about him – in this case about being with a woman-not-his-wife in a sexually suggestive video. He then posted a meme on Instagram of him laughing at his phone captioned, 'At the end of the day, you just gotta laugh at the BS.'"
Then go public, appearing to accept responsibility while still claiming to be the victim. Here Hart claimed he was being extorted—a claim disputed by the woman with him in the hotel room, represented by attorney Lisa Bloom. "I'm in a place in my life where I feel like I have a target on my back. And because of that, I should make smart decisions – and recently, I didn't," Hart then said, confessing to the affair and apologizing for something more than had been initially revealed.
BET noted in June 2017 that Hart is "known to be Hollywood's most loyal family man, even when it comes to his divorce from ex-wife Torrei Hart" but admits that "he went through some pretty dark times with Torrie, including fights that turned violent."
In an interview promoting the Jumanji: Welcome to the Jungle with Power 105.1 FM show The Breakfast Club. Kevin admitted: "Me and my ex wife. When it got violent where we're fighting — Am I really fighting? Am I holding my hands up as if she's a man right now? Oh my God. This is…I'm out. I've really got my hands up to not defend, but counter. Like, I'm waiting for you to throw a punch. 'Cause I'm about to counter the s**t out of you. Like, I'm really that upset to where I have to get in a stance. When you get in a stance, that's when I checked myself."
Hart told the radio show that "he's had "thick skin" about the negative media coverage surrounding the scandal," but he told the radio show he was "upset" by some of the suggestions that his current wife allegedly breaking up his previous marriage.
So Hart is familiar with the machinations of internet trolls and social media rumor mongering. But somehow the current social media backlash over his history of homophobia is worse than those who went after his family—at least that's what he appears to describe to Ellen DeGeneres.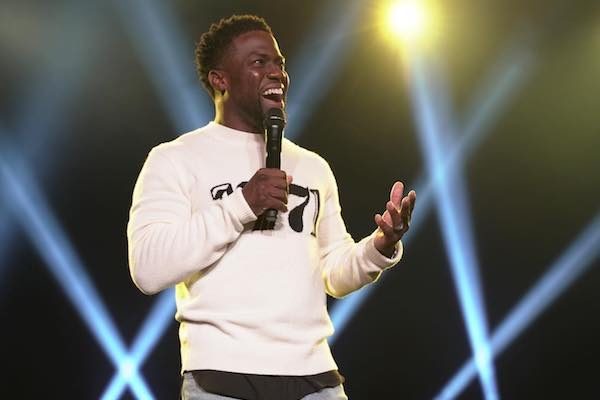 There are always two sides to a story, Hart said, taking responsibility then asserting a conspiracy against him, telling DeGeneres:
"On my side, openly, openly, I say I'm wrong for my past words. I say it. I said it. I understand that. I know that. My kids know that when their dad messes up, I'm in front of it because I want to be an example so they know what to do.

In this case, it's tough for me because it was an attack. This wasn't an accident. This wasn't a coincidence. It wasn't a coincidence that the day after I received the job, that tweets just somehow manifested from 2008. Now, I don't know who follows me and who doesn't – I'm on social media everyday. I've got over 40,000 tweets. To go through 40,000 tweets to get back to 2008 – that's an attack.

That's a malicious attack on my character. That's an attack to end me. That's not just an attack to stop the Oscars. That's what I want people to understand. That's an attack to end me. Now I'm not going to get too emotional, but when you witness this, and you stand in front of it and you heard that these things exist – I've never experienced it – I've heard about it – this is my first time in the fire. I've seen it.

Oh my god, this was to destroy me. This was to end all partnerships, all brand relationships, all investment opportunities, studio relationships, my productions company and the people who work underneath me – this was to damage the lives of people who've been invested in me. It's bigger than just the Oscars. It's about the individuals that are out there now that are finding success and damaging your "celebrity."

Now if you go back – and I don't have a word or a bond – if I don't have anything to stand on, I'm now going right back into the place where the people who came after me want me to go. Somebody has to take a stand against the "trolls" – you have to."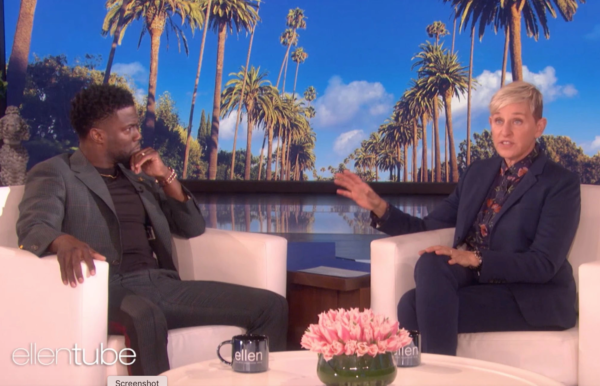 But instead of asking questions about – as Billy Eichner pointed out – the "real truth, anger & fear" behind his anti-gay jokes and comments, DeGenerous chimed in about internet trolls and not letting "them" win. DeGenerous said:
"[T]hey're going to win if you don't host the Oscars. (Audience applause.) Then they win. So for you to stand up and say, 'No, whoever you are, the trolls – and who knows who this person is or people – who cares? And you can't let them destroy you and they can't destroy you because you have too much talent. No one can do that.

And for them to stop you from your dream, from what you want to do and what you have a right to do – what you should be doing – that's why they haven't found another host. I think they were secretly hoping that you would come back and I'm praying that this happens."
Then she appeared to remember, oh, yeah, she introduced the original film "Trevor" about gay teen suicide that led to the Trevor Project. And hate crimes and stuff:
"I think, as I said to you earlier, it's perfect that all this happened because there has to be a conversation about homophobia, and whatever brought up and whatever they did and whoever's trying to hurt you, it brought up you reminding people that you're a bigger person. That you've already apologized. You're apologizing again. (Applause) So, I mean, so as a gay person, as someone who actually

(Hart interrupts, pretending to be shocked: "What?")

Yeah. (Laughs) – I'm so sorry to break this to you – I know. I didn't tell you before….I didn't want you to know. I thought maybe you wouldn't like me. (Laughter)  Um. I mean really, I am as sensitive to all of that and I talked to you about this and you've already expressed that's it's only – it's not being educated on the subject. Not realizing how dangerous those words are. Not realizing how many kids are killed for being gay (Hart nods) or beaten up every day. You have grown. You have apologized. You're apologizing again right now. You've done it. Don't let those people win. Host the Oscars."
Hart said he stepped away to not become the focus of the Oscars when so many people had worked so hard to get there. But DeGeneres would have none of that:
The night should be about you….What we're going to get to see on stage with you hosting the Oscars is sophistication, class, hilarity, and you growing as a person because most people would say, 'you know I'm walking away, I'm not coming back because I'm going to go back and forth.' But for you to be the bigger man, for you to say 'I understand' and to not pay attention—there are so many haters out there. Whatever's going on on the Internet, don't pay attention to them. That's a small group of people being very, very loud. We are a huge group of people who love you and want to see you host the Oscars." (big cheers)
Why didn't DeGeneres ask: it's 2019—why do you still need to grow and be educated about homophobia? Have you ever heard of the It Get's Better Project? Even President Obama did a video.
A backlash ensued immediately on websites and social media.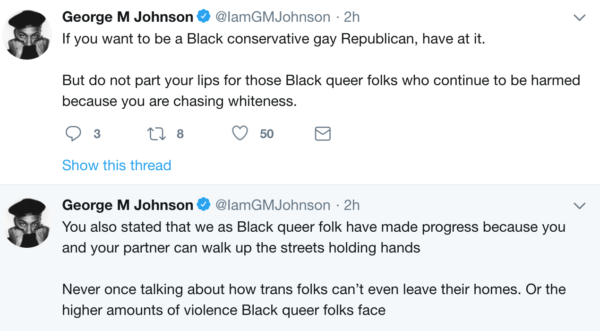 That DeGeneres is sometimes tone deaf is not new. During the fight against Prop 8, the California initiative that took away the right to marriage equality for same sex couples in that state in 2008, DeGeneres contributed $1 million to an animal-related initiative but nothing to the battle to fight Prop 8. That while tabloids reported on the sale of those images of her wedding to Portia de Rossi that August.
The expose in IN Los Angeles magazine prompted a backlash, including three groups that formed on Facebook encouraging her to donate and several celebrity contributions.
"It's not as if DeGeneres has not been out there stating her opposition to Proposition 8. She has on her blog, and in an appearance on 'The Tonight Show with Jay Leno.' She has talked about her marriage to Portia de Rossi on her daytime show, which perhaps did more to positively present the idea of same-sex nuptials to 'traditional' households than a thirty-second spot could have done," Variety's Ted Johnson wrote at the time.  "What is perplexing is why, given the hubbub, she doesn't just write a check. It may be a testament to why stars employ political and philanthropic consultants — to avoid these types of pitfalls in the public sphere."
In this case, it looks like DeGeneres and Hart just had dinner together and decided that her forgiving him publicly on behalf of the LGBT community would get him reinstated. Maybe. But the two millionaires might have considered who the real "victims" are here, in this age of rising hate crimes inspired by the anti-LGBT world of Donald Trump. Now that really is bigger than the Oscars!

"From when this news first broke, GLAAD said Kevin Hart should not step down from the Oscars, he should step up and send an unequivocal message of acceptance to LGBTQ youth that matches the force and impact of his initial anti-LGBTQ remarks," said GLAAD President and CEO Sarah Kate Ellis, who is scheduled to appear on CNN Tonight with Don Lemon Friday night to discuss the situation in more detail.
A nerve has been struck. Has Kevin Hart changed and if he has—where's he been when so many could be helped, not hurt, by his voice?
Anti-LGBTQ Colorado baker loses Trans birthday cake court case
Phillips violated Colorado's ant-discrimination law citing the fact that at issue was a 'product' not freedom of speech or expression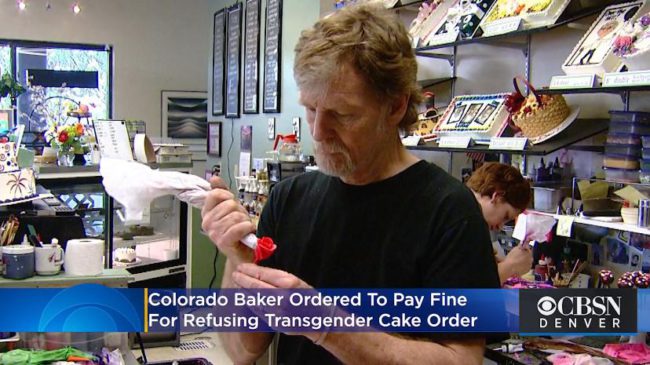 DENVER – A Colorado State District Court Judge ruled against the baker who had previously refused to bake a cake for a same-sex wedding and won at the U.S. Supreme Court a partial narrow victory in that case in 2018.
CBSN Denver reported that Denver District Judge A. Bruce Jones order that Jack Phillips violated Colorado's anti discrimination law Tuesday citing the fact that at issue was a 'product' not freedom of speech or expression.
In court documents, Jones said that Phillips refusal to make the plantiff, Autumn Scardina a cake made with blue icing on the outside and pink on the inside to celebrate her gender transition on her birthday because of her transgender status but without a written message, was in violation of the law. Phillips was ordered to pay a $500 fine.
Jones noted in his ruling that Phillips testified during a trial in March that 'he did not think someone could change their gender' and he would not celebrate "somebody who thinks that they can."
"The anti-discrimination laws are intended to ensure that members of our society who have historically been treated unfairly, who have been deprived of even the every-day right to access businesses to buy products, are no longer treated as 'others,'" the judge wrote.
The Scottsdale, Arizona based Alliance Defending Freedom, an anti-LGBTQ legal group that has been place on the Southern Poverty Law Center's Hate Watch List for spreading propaganda and lies about LGBTQ people, told CBSN that the group would appeal Jones' ruling.
"Radical activists and government officials are targeting artists like Jack because they won't promote messages on marriage and sexuality that violate their core convictions," ADF's general counsel, Kristen Waggoner, said in a media statement.
The maximum fine for each violation of Colorado's Anti-Discrimination Act is $500. But it was not clear from the ruling if the fine was for the two attempts that Scardina made to order the cake or just one.
BREAKING: A court has ruled Jack Phillips should be punished for not designing a cake celebrating a gender transition, an act that would violate his conscience.

Jack has been enduring this harassment for a decade and it must STOP.@AllianceDefends will appeal this decision.

— Kristen Waggoner (@KWaggonerADF) June 16, 2021
Supreme Court rules for religious agency rejecting LGBTQ families
A key portion of the Roberts decision that could limit its reach is language specific to Philadelphia's contract with the city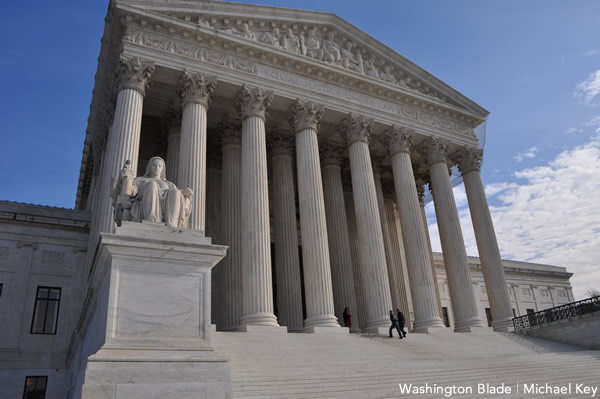 WASHINGTON – In a ruling released Thursday, the U.S. Supreme Court ruled decided in favor of a religious-affiliated foster care agency seeking to refuse child placement into LGBTQ homes, determining the City of Philadelphia's enforcement of a contract with non-discrimination provisions violates freedom of religion under the First Amendment.
In a surprise twist, the ruling was unanimous with nine justices on the court agreeing to the result in favor of Catholic Social Services, with Chief Justice John Roberts writing the opinion. As noted by SCOTUSblog, the court seemed much more divided in oral arguments, although inclined to rule for the foster care agency.
"The refusal of Philadelphia to contract with CSS for the provision of foster care services unless the agency agrees to certify same-sex couples as foster parents cannot survive strict scrutiny and violates the Free Exercise Clause of the First Amendment," Roberts writes.
Although Catholic Social Services had also contended a freedom of speech right under the First Amendment to reject same-sex couples, Roberts adds the court didn't reach a conclusion on that part of the argument.
Marianne Duddy-Burke, executive director of the Catholic LGBTQ group DignityUSA, condemned the decision in a statement immediately after it was handed down.
"Today, the well-being of our country's most vulnerable children has been sacrificed to preserve tax-payer funded discrimination for a powerful group of religious institutions," Duddy-Burke said. "The Supreme Court just decreased the number of homes available to our youth in foster care, making what was already a crisis worse. Same-sex couples are seven times more likely than straight couples to adopt or be foster parents and are more likely to have trans-racial families. This ruling means tens of thousands of children may never have a family to love and support them."
The Supreme Court reversed and remanded decision of the U.S. Third Circuit of Court of Appeals, which had ruled in favor of City of Philadelphia enforcing its contract with Catholic Social Services. Both the appeals courts and the lower trial court had come to the opposite conclusion of the U.S. Supreme Court.
A key portion of the Roberts decision that could limit its reach is language specific to Philadelphia's contract with the city allowing for discretion on enforcement, which he says means the measure isn't generally applicable measure.
"Section 3.21 of the contract requires an agency to provide services defined in the contract to prospective foster parents without regard to their sexual orientation," Roberts writes. "But section 3.21 also permits exceptions to this requirement at the 'sole discretion' of the Commissioner. This inclusion of a mechanism for entirely discretionary exceptions renders the non-discrimination provision not generally applicable."
David Flugman, a lawyer at the New York-based Selendy & Gay PLLC whose practice includes LGBTQ rights, said in a statement the technical nature of the Fulton is "sure to invite even more litigation."
"Today the Supreme Court held, on narrow, technical grounds, that the City of Philadelphia's attempt to ensure that Catholic Charities abide by the same non-discrimination provisions applicable to all other city contractors could not withstand Catholic Charities' religious right to refuse to screen loving same-sex couples to act as foster parents," Flugman writes. "The Court did not take up Catholic Charities' invitation to scuttle the 30 year-old test for free exercise claims that was announced in Smith v. Employment Division, which held that a neutral law of general applicability could survive even if it burdens religious practice."
Notably, although the City of Philadelphia in addition to the contract it struck with Catholic Social Services has in a place LGBTQ non-discrimination ordinance, the Supreme Court determines that measure doesn't apply in the context of foster care services because it's limited to the services "made available to the public."
"Certification is not 'made available to the public' in the usual sense of the words," Roberts writes. "Certification as a foster parent is not readily accessible to the public; the process involves a customized and selective assessment that bears little resemblance to staying in a hotel, eating at a restaurant, or riding a bus."
Fatima Goss Graves, CEO of the National Women's Law Center, said in a statement the decision from the Supreme Court "is a harmful loss to the children in the foster care system in Philadelphia as well as the countless LGBTQ parents."
"Weakening the government's ability to protect their civil rights is hardly in their best interest, and we're committed to ensuring this loophole is not stretched to further justify hatred or prejudice," Graves added. "We must protect the right of every person to live without fear of discrimination because of who they are or who they love, and we must hold that value particularly close when it comes to the best interest of LGBTQ youth and the families who love them."
U.S. Senate to consider apology for past anti-LGBTQ discrimination
Report shows 70-year history of gov't persecution, purges of 'sex deviates'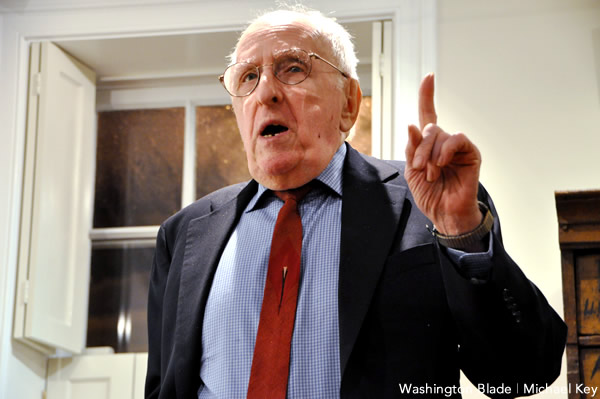 WASHINGTON – U.S. Sens. Tammy Baldwin (D-Wisc.) and Tim Kaine (D-Va.) are preparing to introduce a first-ever resolution calling on the Senate to acknowledge and apologize for the federal government's discrimination against LGBTQ federal workers and members of the military over a period of at least 70 years.
The two senators have agreed to introduce the proposed resolution at the request of the Mattachine Society of Washington, D.C., an LGBTQ group that specializes in archival research into the federal government's decades-long policy of banning LGBTQ people from working in federal jobs and serving in the U.S. military and purging them when found to be in those positions.
The Mattachine Society, in partnership with the international law firm McDermott Will & Emery, prepared a 28-page white paper reporting in extensive detail the U.S. government's history of what it calls discrimination and persecution of LGBTQ federal workers and LGBTQ military service members.
The white paper is entitled, "America's Promise of Reconciliation and Redemption: The Need for an Official Acknowledgement and Apology for the Historic Government Assault on LGBT Federal Employees and Military Personnel."
In a statement, the Mattachine Society says the paper is the product of a two-year research project involving a team of five attorneys with the McDermott Will & Emery firm and Mattachine Society.
"Over many decades, the United States government, led by teams within the Federal Bureau of Investigation (FBI), the Office of Personnel Management (OPM), and nearly every agency and branch of government, began the process of investigating, harassing, interrogating, court-martialing, terminating, hospitalizing, and, in some cases, criminally prosecuting LGBT Americans for no other reason than their sexual orientation or gender expression," the paper says.
"This wholesale purging left tens of thousands in financial ruin, without jobs, with personal lives destroyed, and, in many cases, completely estranged from their own families," the paper states.
"A straightforward acknowledgement of the mistreatment of these military and civilian employees and an official apology is overdue," the paper continues. "Both the Congress and the Executive Branch were complicit in this pervasive mistreatment of LGBT citizens."
The paper points out that over the past 30 years Congress has officially acknowledged and apologized on six different occasions for U.S. mistreatment of other marginalized groups.
Among the subject areas of those apologies were the enslavement of African Americans, the failure to enforce anti-lynching laws to protect African Americans, the internment of Japanese Americans during World War II, the mistreatment of Native Hawaiians, the mistreatment of Native Americans, and government polices of exclusion of Chinese immigrants.
The paper says the time has come for the federal government to issue its own "acknowledgement and apology" to the LGBT community by following the precedent established by Congress with respect to apologies to the other marginalized groups.
Jeff Trammell, a Mattachine Society board member who led the project to prepare the white paper, said Baldwin and Kaine were in the process of lining up other senators to sign on as co-sponsors of the resolution.
Baldwin is the Senate's only out lesbian member. Kaine is a longtime supporter of LGBTQ rights.
Trammell said Mattachine of Washington considers the Senate resolution the first step in an ongoing effort to obtain a similar resolution in the U.S. House of Representatives and a possible similar statement of acknowledgement and apology from the executive branch, including the Biden administration.
He said he and the resolution's supporters were hopeful that most senators, including Republicans, would view it as non-controversial and as a nonpartisan measure because it seeks only the acknowledgement of historical facts. Trammell noted that unlike other resolutions of apology pertaining to other minorities approved by Congress in the past, the LGBT apology resolution does not call for any financial reparations.
The eight-page proposed resolution addresses that question by stating, "Nothing in this resolution…authorizes or supports any claim against the United States or serves as a settlement of any claim against the United States."
Trammell noted that under the Obama administration, John Berry, the director of the U.S. Office of Personnel Management, issued an official government apology for the firing of D.C. gay rights pioneer Frank Kameny from his government job in the late 1950s. But Trammell said the apology to Kameny, which was considered important and groundbreaking, did not extend to the thousands of other LGBTQ employees fired or harassed in the years before and after Kameny's firing.
The white paper also points out that at least seven U.S. allied nations have issued apologies for past mistreatment of their own LGBTQ citizens. Among them are Spain, Canada, United Kingdom, Australia, Germany, Brazil, and The Netherlands.
"We believe the time has come to understand and acknowledge the historical animus that LGBT federal employees and military personnel faced for generations from their own government to ensure it can never happen again," Trammell said.
The white paper can be accessed here.