January 7, 2019 at 9:50 am PST | by Karen Ocamb
It's Newsom time! And Lara makes LGBT history (Watch inauguration live)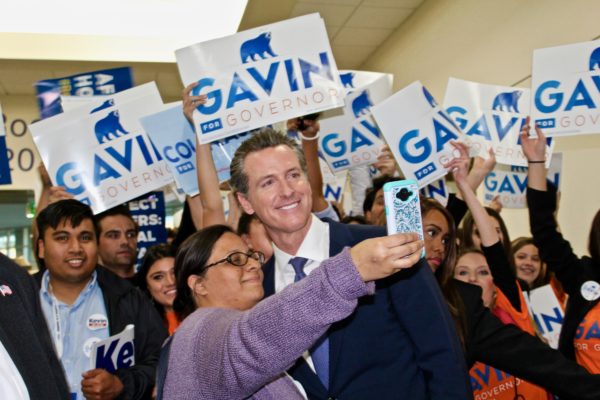 California was in the House and all over TV last week as Democrats reclaimed their time and the US House of Representatives. Rep. Nancy Pelosi was elected Speaker—making history as the first woman to win the Speakership for a second time, beating California Republican Kevin McCarthy—and Los Angeles-area Democratic Reps. Adam Schiff and Maxine Waters hit the airwaves talking about their agendas chairing the House Intelligence and Finance committees, respectively. All pledged to investigate corruption and get back to governing the country.
Now it's California's turn in the spotlight. Lt. Gov. Gavin Newsom will be sworn in as California's 40th governor at noon Monday. The program is expected to start around 11:15AM with the inauguration scheduled for noon. ABC7 in Sacramento is live- streaming the inauguration.
"It will be the honor of a lifetime to take the oath of office as California Governor," Newsom said in a press release. "But it seems appropriate to use this moment to unite as a state – stronger and more resilient than ever – to do whatever we can to ensure all of our fellow Californians, especially those impacted by tragic wildfire, have the opportunity to build a brighter future and pursue their dreams."
In a possible sign of things to come, Newsom actually matched his words with actions. On inaugural eve, Newsom hosted "California Rises: A Concert to Help the Victims of California Wildfire" that raised more than $5 million for the non-profit California Fire Foundation that provides long-term emotional and financial assistance to families of fallen firefighters, firefighters, and the devastated the communities.
In his inaugural address, Newsom is expected to present his vision for a "California for all," and underscore California's role as the guardian of progressive values, standing as an example to the rest of America and "an alternative to the corruption and incompetence in the White House," according to prepared remarks obtained by Los Angeles Times. "Our government will be progressive, principled, and always on the side of the people."
"What we do today is even more consequential, because of what's happening in our country," Newsom is expected to say. "People's lives, freedom, security, the water we drink, the air we breathe — they all hang in the balance. The country is watching us. The world is waiting on us. The future depends on us. And we will seize this moment."
Newsom will pledge to be "bold" while also preparing "for uncertain times ahead" by building fiscal reserves and paying down debt. Some of his proposals, however, such as six months of family leave and almost $2 billion for early childhood development for low-income families, are proposals without accompanying plans to pay for them. Newsom promised reporters Sunday that he will provide details in his budget proposal, which he will present days later.
The LGBT community first became aware of Newsom in 2004 when he ordered the issuance of marriage licenses to same sex couples on Valentine's Day in response to President George W. Bush's call in his State of the Union for a constitutional amendment banning marriage equality.
"I care deeply about the community and I care deeply about the ongoing struggles," Newsom said during his interview last May with the Los Angeles Blade.
"I care deeply about people that are still discriminated against—about what's happening in the trans community. I care deeply about the homophobia that's still prevalent in our society and I want to right that wrong and show the sense of obligation and responsibility, not just in my life, but to do that much more broadly as a member of the larger community."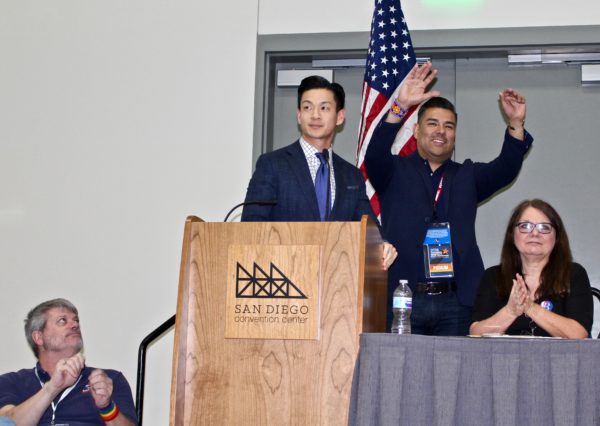 California Sen. Ricardo Lara being celebrated at the LGBT Caucus at the California Democratic Convention in Feb. 2018 (Photo by Karen Ocamb) 
The LGBT community will see history made today as out State Senator Ricardo Lara will be sworn in as California Insurance Commissioner—the first openly LGBT person to be elected to statewide office in California.
Lara worked his way up from serving as a legislative aide to serving in the California State Legislature, to which he was first elected in 2010. Lara will be sworn in as Insurance Commissioner at 3:00PM at The Bank, 629 J Street in Sacramento. It is unclear at this moment if the ceremony will be streamed on Facebook Live.
"Ricardo has been a champion for California's LGBTQ and immigrant communities throughout his career, working to tear down barriers, ensure equality for all and now break through California's rainbow glass ceiling," said Equality California Executive Director Rick Zbur after Lara won against a rich GOP-lite candidate. "In an already historic year for LGBTQ candidates across California and the nation, Ricardo has proven that an openly gay son of a factory worker and seamstress who immigrated from Mexico can grow up to represent 40 million people in the world's fifth largest economy. We look forward to working with Ricardo in this new role and wish him continued success as he fights to improve the lives of all Californians."
As commissioner, Lara has oversight of some fraud-related issues, including investigating the "troubled teen industry." In 2015 and 2016, Lara worked with the LA LGBT Center and Survivors of Institutional Abuse to pass SB 524, "Protecting Youth from Institutional Abuse Act"— a bill with no religious exemptions that Brown signed in Oct. 2016.
"To the victims that have been victims of this type of abuse in these so-called 'troubled teen' camps or through 'conversion therapy,' we are going to be very vigilant as the Insurance Commissioner to make sure that we not only investigate but we seek out these individuals who are causing our community harm and hold them to justice," Lara said in his cover story with the Los Angeles Blade last year. "We'll work with our Attorney General to make sure that we bring justice to so many victims and we weed out these shams that we know only serve to harm our community."
But Lara is already facing criticism. CALmatters reports that Lara hired Michael Martinez as one of two people to lead his transition team. Until recently, Martin worked as a Sacramento lobbyist for pharmaceutical giant Gilead Sciences. According to CalMatters, Gilead disclosed to investors that the state Insurance Department has issued a subpoena related to the company's marketing.
CALmatters reports:
"The company said it is cooperating with the inquiries. It did not respond to CALmatters' requests for comment. Nor did the Department of Insurance comment on the investigation, and outgoing Insurance Commissioner Jones could not be reached.

Gilead's drugs include Truvada, otherwise known as PreP, short for preexposure prophylaxis. Truvada protects users from contracting HIV, the virus that leads to acquired immune deficiency syndrome. As part of its marketing, Gilead reimburses consumers for their co-payments, regardless of their income levels.

In a statement to CALmatters, Lara's office said: "Commissioner-elect Lara looks forward to Mr. Martinez rejoining the Department of Insurance, where he served under Commissioner Jones with great integrity before serving in Governor Brown's administration. His new role will be announced in coming days."

The statement did not say whether Martinez would be walled off from any investigation of Gilead."
Meanwhile history is happening and for those who are unable to make it to Sacramento to witness the swearing in ceremony, Lara will repeat the moment in Los Angeles on Sat. Jan. 26th at Garfield High School.