Another Black man found dead in Ed Buck's WeHo apartment
Raises questions and begs for clarity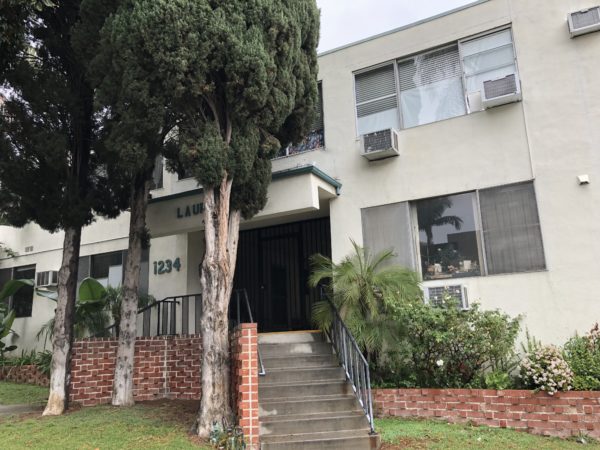 When the news first hit early Monday morning, it sounded tragically familiar and frightening: a source alerted a Los Angeles Blade freelancer that Los Angeles County Sheriff's Homicide investigators, along with Medical Examiner personnel from the County Coroner's office, were on the scene at 1234 N. Laurel Ave. in West Hollywood investigating the death of a young black male.
That was Ed Buck's apartment, site of the apparent overdose death on July 27, 2017 of Gemmel Moore, a 26-year old Black male escort who had been a frequent visitor to Buck's apartment and, through his discovered journal, posthumously claimed Buck hooked him on crystal meth as part of a sexual predilection.
"It is suspicious that this has happened twice now," L.A. County Sheriff's Lt. Derrick Alfred told KTLA Monday afternoon, Jan. 7.  But, KTLA added, "Buck is currently not considered a suspect and not in custody, officials said."
"Currently" perhaps being the word that might catch the eye of those who still angrily believe that Moore's case was treated differently than if the dead person in Buck's apartment had been white and Buck had been African American.
Moore's mother and community activists believed Buck had injected Gemmel with the drugs that killed him, making his death a homicide. But the gruesome Coroner's report ruled the death an accidental overdose and the case was eventually dismissed by the LA County District Attorney for lack of evidence "beyond a reasonable doubt."
Though the initial investigators questioned Buck's neighbors and confirmed his penchant for young Black men, the Coroner ruled Moore's death accidental and there was nothing to directly tie Buck to Moore's overdose. That prompted calls of racism.
"If that incident had occurred in my home, the police would have kicked down my door, guns drawn and had me in handcuffs. There's no doubt about it. That's how it goes," Jeffrey King, executive director of In The Meantime Men told the Los Angeles Blade after Moore's death.
"That's part of the bigger issue here. That guy [Buck] was treated like a respectable citizen. But a drug-related accident occurred in a man's house. He should have been taken down to the station and questioned, at minimum. This is a matter of race on a minimum level. The value of this kid's life is not the same as a prominent person's child—he would have been handled different. The police would have been relentless; the DA would have been relentless; the whole system would have been relentless," King said.
That's why the chaos that resulted from the second death in Ed Buck's apartment is so shocking: from very early Monday morning to very late Monday night, despite urgent calls and pleas for accurate information, several levels of the LA Sheriff's Department stonewalled and stymied press inquiries as well as community members—thus allowing misinformation to dominate the fevered discussions. Surely someone in the Sheriff's Department remembered the outcry over Moore's death. Surely someone realized the indignity silence conferred on the second Black man to die in Ed Buck's apartment in 18 months. Surely someone would react publicly as if this was a hate crime in West Hollywood. But, no.
One easy to convey piece of information that was withheld from the public: the victim was a black man in his mid-50s. In the information vacuum, the community passed along the inaccurate news provided by that first tipster and some of Buck's neighbors that this death was essentially another Gemmel Moore.
One unidentified neighbor interviewed by KTLA said she was out walking her dog around 12:15am when she saw a young black man go into Buck's apartment. She then saw an older Black man, a "huge gentleman," go into Buck's apartment but she didn't see either of them come out. She called the man's death a "tragedy."
Most reports from neighbors indicated that Sheriff's deputies were on the scene around 3:15am. But Alfred told the Los Angeles Blade that a sheriff's deputy and paramedics arrived at Buck's apartment shortly before 1:00am after a 911 call of a person not breathing. The caller was the other person in the apartment—Ed Buck—who performed CPR on the man and called 911 when he was unsuccessful. The Fire Department pronounced the man dead at the scene.
Alfred said they do not yet have a positive identification from the Coroner's office. However, the man is believed to be "a male Black adult, who is approximately 55 years old, if it's the person we think it is, the person is definitely in his mid-50s."
Was there any evidence to indicate this death was in any way drug-related? In the Gemmel Moore case the coroner's report noted "24 syringes with brown residue, five glass pipes with white residue and burn marks, a plastic straw with possible white residue, clear plastic bags with white powdery residue and a clear plastic bag with a 'piece of crystal-like substance,'" according to the LA Times. 
"We're not going to comment on the conditions we found at the time until it's fully investigated," Alfred said. However, "there were no obvious indicators of what may have caused the death. So at this time we don't know. We won't know until we hear from the Coroner's office after they conduct a post-mortem exam, which would include any toxicology testing that would give us an indication of whether it was drug-related."
So what happened in the roughly hour and a half between the first and second responses? What happened to the third person in the room, the young Black man the neighbor saw enter Buck's apartment?
"I personally have no knowledge of that," Alfred said. "I know the investigators canvassed the apartment complex—they'll probably go back to try to talk to the neighbors to try to get those statements. We'll review the information and probably reach out to that person who provided that but to our knowledge there was only the two people in the apartment at the time."
Alfred said he would not comment on any statements that were made by Buck to investigators.
Buck's attorney, Seymour Amster, showed up outside Buck's apartment to talk to reporters. He told KTLA that the man at Buck's home "had already been partying … and already taken some substances" when he arrived. Amster asserted that Buck had been in the shower for some of the time between the man's arrival and death and that Buck had not taken any substances with him.
"The individual was exhibiting bizarre behavior," Amster said of the dead man.
"From what I know, it was an old friend who died of an accidental overdose, and unfortunately, we believe that the substance was ingested at some place other than the apartment," Amster told the Los Angeles Times. "The person came over intoxicated."
When Alfred returned the Los Angeles Blade's calls in the late afternoon, he said he was not aware that the community was responding with anger and heartbreak throughout the day, thinking a second young man had died like Gemmel Moore.
But it was a day gripped by anger, stirred by silence, disrespect and lack of or misinformation.
After the Los Angeles Blade's freelancer reached out to Det. Rodriguez in the morning, the Blade's news editor drove to Buck's apartment, left a message, then drove to the West Hollywood Sheriff's station seeking answers. The Blade asked West Hollywood Watch Commander Sgt. S. Hewitt to please confirm or clarify the timeline since that station no doubt responded to the 911 call. Though explicitly informed that West Hollywood residents were concerned about two similar deaths at this apartment, Hewitt would only say that Homicide was handling the incident, catching herself mid-eye roll when the Blade persisted with questions and the answer was always the same.
In The Meantime Men's Jeffrey King was among those angered by being stonewalled and disrespect at several levels of the Sheriff's Department.
"I got several calls, text messages, and messages through Facebook asking what does "In the Meantime intend to do?" King told the Los Angeles Blade late Monday. " I thought it was important to first find out the facts before I do something. I wanted to know what I was talking about."
King says he was met with "disrespect, impatience, and lack of willingness to address the concerns I addressed that were community concerns." When he finally spoke with two people at Homicide, he and the lead detective had a "fairly decent conversation going," but he still couldn't confirm or give out information.
"One more time here is a black person—forget his age—being found dead in this man's apartment. And his death is not being addressed properly. Our community is not being respected. No one is saying anything to the family. There is no dignity to the lives of these individuals and it's because they're Black."
The Homicide official who first responded to several calls from the Los Angeles Blade said there was no homicide investigation and that Homicide detectives routinely roll out for death investigations. He said LASD press relations would issue a statement and forwarded several Blade calls to Alfred, which went to voicemail. The Sheriff's press person, while trying to be nice and polite, at first had no knowledge of the incident. She finally said a press release was being cleared by "the administration" and would be sent out when completed.  But the Sheriff's News Room site was impossible to search for press releases.
Meanwhile, the Los Angeles Blade contacted the City and members of the West Hollywood City Council for comment—hoping the Sheriff's Department was at least telling them the facts of what happened.
The City of West Hollywood has requested "a full investigation" by the Sheriff's Department, a press release stated.
WeHo Mayor John Duran said he would not comment and is leaving the matter in the hands of the sheriffs and District Attorney
Councilmember Lauren Meister's response illustrates the misinformation that was circulating throughout the day. "This is tragic," Meister told Los Angeles Blade. "My heartfelt sympathies go out to the family and friends of this young man." However, she says she has "discussed with our City Manager and Public Safety Director this morning — the Los Angeles Sheriff's Department and the District Attorney must provide a thorough investigation into the circumstances of this incident and any similarities to prior incidents at the same location."
Councilmember John D'Amico said he was not going to comment, but added some information. "I asked the city manager to contact Sheriff Villanueva's office first thing this morning and I'm going to let the DA and LASD do their jobs," he wrote. "Mr. Buck made donations in 2011 and 2014, $1,000 total, those dollars were spent on those campaigns and the campaign accounts were closed years ago.  Keith and I have made donations many times that amount every year to social service agencies that help with sobriety, HIV AIDS, mental health and homelessness. I thought that a better use of the money than returning it to Mr. Buck."
KTLA got Alfred on camera in the afternoon, by chance, it turns out. When the Blade and other news outlets were staking out the apartment to no avail, KTLA stayed on and suddenly noted activity in the afternoon. Alfred later told the Los Angeles Blade that a call had come in saying someone was throwing something out the window that could be evidence in the second death so a patrol deputy and fire fighter dashed to the scene and recovered the object. He would not say what was found.
By late afternoon, news outlets were reporting the story—presumably because they still think Buck is a "wealthy prominent Democratic donor," though he has been political kryptonite since Gemmel Moore's death. The LA LGBT Center issued a statement around 4:30pm calling on the Sheriff to keep the public fully informed—which had not happened by then, and presuming that like Moore, the second death was also linked to drug abuse:
"The Los Angeles LGBT Center calls upon Los Angeles County Sheriff Alex Villanueva and his department to fully investigate this tragedy and aggressively seek justice wherever the investigation might lead.

"Although the investigation is in its early stages, we urge Sheriff Villanueva to keep the public fully informed as LGBT people have a considerable and urgent interest in a case that is so clearly linked to the health and safety of our community. The reports we have heard provide more questions than answers. The fact is two black men have died at Mr. Buck's home in less than two years.

"While much is still to be learned, it appears this tragedy is linked to substance use. LGBT people and other marginalized groups are at elevated risk for impacts that result from the current epidemic uses of opioids, methamphetamine, and other dangerous drugs. The Center provides free or low-cost, comprehensive, and judgment-free addiction recovery services and has a service to provide free fentanyl testing strips to those who request them. For help or more information, contact the Center's Addiction Recovery Services at [email protected] or 323-993-7448."
At the end of the 11-minute interview, Alfred asked for the public's help and indicated that he is willing to reopen the Gemmel Moore case and file criminal charges with the DA, if new evidence emerges.
"We always appreciate any help we can get from the community. They may have more knowledge about this or any similar instances that occurred—or any type of activity that occurs in the area or that particular apartment. We're always interested in finding out what's going on," he said, asking anyone with information to come forward.
"Our first concern for the Homicide Bureau, specifically, is to be to fully investigate the circumstances surrounding the death of this individual. Also we're going to look into the prior incident where Gemmel Moore had died at the scene to see if there's any similarities," Alfred said.
"We're just going to look at everything we have and we're going to see where the information and evidence takes us. And if it takes us to criminal filing or if we uncover new information—although Gemmel's case was determined to be an accidental overdose—if we learn something new and that has to be looked at a second time, then of course, we'll take that new information and we will investigate fully."
From there, they'll work with the District Attorney's office "to determine what, if any criminal activity may have occurred and if so, present it for potential filing. But we won't know until we're able to do a thorough exam and all the facts come in."
Anyone with information can call the Homicide Bureau directly at 323-890-5500 and ask for Det. Q. Rodriguez or Sgt. P. Cardella. To make an anonymous tip, go through Crime Stoppers.
Finally, if the community considers Ed Buck and the alleged use of illicit drugs in his apartment to be a public menace or nuisance, Alfred suggested that the community work with the West Hollywood Sheriff's station to find a solution akin to the "broken windows" policy of community policing.
"As it pertains to any type of public nuisance – we'll work with West Hollywood Sheriff's station—who could probably get the community involved—concerning these ongoing public nuisance situations," Alfred said. He defined public nuisance as "anything that would cause quality of life for people who live in a particular area to be lessened by these ongoing criminal acts," major or minor. "Either way, they affect those around them. Life quality is something that can be looked at in a community policing type of thing where the station can look at the assets available and pour resources into the community to try to effect change."
West Hollywood's new mayor & mayor pro tempore take office
In their speeches after they took their oaths, both women laid out their visions looking towards the future of the City

WEST HOLLYWOOD – In a ceremony conducted virtually due to the ongoing coronavirus pandemic in the greater Southland, just prior to the nitty gritty of the city's business being conducted, the city council installed its new mayor and mayor pro tempore this past Monday.
Swearing in WeHo's new Mayor Lauren Meister, was former West Hollywood City Councilmember John Heilman, and administering the oath of office to newly designated Mayor pro tempore Sepi Shyne, was Melahat Rafiei the principal and founder of Progressive Solutions Consulting, a premier political consulting and fundraising firm based in Long Beach, California and also the Secretary of the California Democratic Party.
Meister, was first elected to the City Council on March 3, 2015 and re-elected for her second term on March 5, 2019.
Shyne, elected to her first term on the City Council November 2020, also managed to set a mark in history as the first openly lesbian Iranian woman to serve and with her election giving the city Council a female-led majority.
In their speeches after they took their oaths, both women laid out their visions looking towards the future of the City.
Mayor Meister in her remarks noted;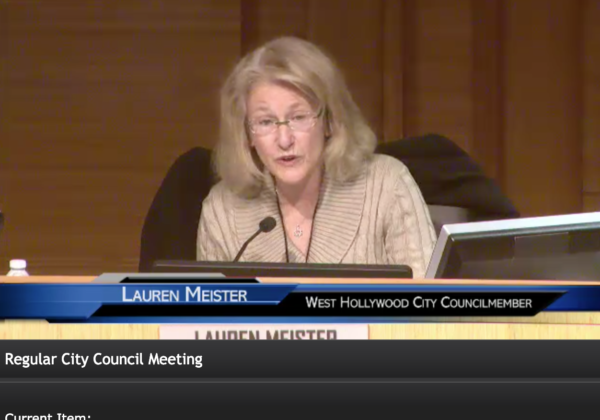 Today is kind of bittersweet. It is the second anniversary of Spike's passing but it is also the beginning of the Jewish holiday, Sukkot, the season of rejoicing. According to Chabad, "it's a festival — laden with unique mitzvahs, quality time with our community and family, all with an extra-large serving of joy." I'm hopeful that my swearing in on this festive day is a good omen!
I want to thank everyone for their well wishes and support. I want to thank my family for their love, encouragement, and unlimited patience. Thank you to my colleagues for your vote of confidence as I take on the role of Mayor for the second time.
I also want to thank my former Council colleague, John Heilman, for swearing me in as your mayor tonight. It means a lot to me.
When I was installed as Mayor back in April 2016, I spoke about renewing the community spirit that helped form this great city nearly 37 years ago, which John and others were a big part of.
As a community, we gathered as one after 9/11, we mourned the tragedy of the Pulse Nightclub mass murder, we celebrated marriage equality, and we marched, stood up to, and survived a challenging national political climate.
I have lived in this city over 30 years, and over the years, I have witnessed many stages in our city's maturity – I have seen issues divide our city. I have seen the east side pitted against the west side, businesses pitted against residents, tenants pitted against landlords.
But I have to say, that after being elected to Council, the drama that seemed to plague every Council meeting with a controversial topic… the theatre – and a lot of it was theatre – seemed to dissipate.
Now, however, we're seeing a divisiveness that I haven't seen in a while, and it's disturbing. It's disturbing because we are still one small city and one community – a community comprised of people from all walks of life, a community with young people and older people; a community with businesses and workers. All must be valued; none should be discounted. A rainbow flag is not just six colors or 10 colors – if it truly represents our community, then it is an infinite number of colors. Putting people into categories, labeling them, disparaging them, does not serve this community.
I'd like to say, today, that my goal as Mayor is to solve our three biggest issues: homelessness, housing affordability, and making our city safer.
As Mayor, I'd like to strengthen our neighborhoods, encourage economic diversity, and further initiatives to protect our renters and our small businesses. I'd like to make West Hollywood a premier green city by increasing our urban forest and embracing biodiversity. I'd like to find a companion care center close to home for our lost, found, and abandoned animals.
And, importantly, I'd like for West Hollywood to be the most prepared and resilient city in the country – for whatever emergency or disaster strikes – whether it be earthquake, drought, pandemic, or recession.
But none of this can happen if we don't work together and focus on the city's recovery from this pandemic. None of this can happen, if we don't focus on keeping people healthy and getting people vaccinated. And none of this can happen if we, as a council, don't make recovery our number one priority.
So, in the coming weeks, I will be bringing forward a proposal requesting that the city manager arrange several team-building workshops for council, designed to help foster communications among council members, to clarify council's role, and to identify priorities and common goals. The objective of the workshops will be to transform our new council and our new city manager into an effective, problem-solving team.
Now, I come full circle to why I asked my former colleague, John Heilman, to swear me in today as Mayor. As many of you know, John and I did not agree on every issue, and in fact, before I was on Council, I was probably one of Council's most vocal critics. But, once we were colleagues, we learned to work together, respect each other, and most importantly, acknowledge that we both cared about the best interests of the city, even when we didn't agree.
So, I appreciate that John was a part of my swearing in today because, to me, it symbolizes hope… that there's hope that people with different perspectives can work together effectively for the city they love. And, as your mayor, I'm confident this is something that we – Council, residents, businesses, and other community members – can achieve in the months to come
Then mayor pro tempore Shyne spoke;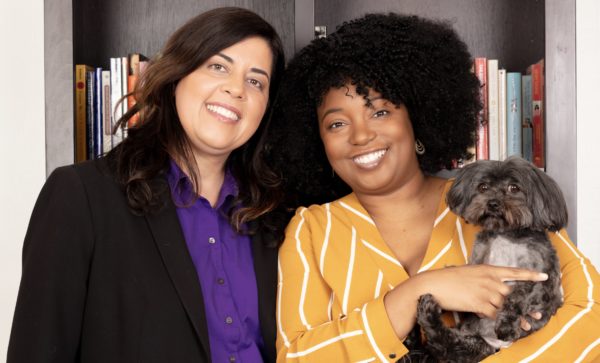 Thank you to my colleagues for electing me to serve as Mayor Pro Tem. Thank you to all of our residents, community members, colleagues and staff and my wife, family and friends who have been so supportive over the past 9 months that I have served in office. Thank you to my dear friend Melahat Rafiei for swearing me in and for your support. Thank you to outgoing Mayor Horvath for your leadership and taking up the reigns when we asked you to serve a much longer term during the pandemic as Mayor and thank you to our new Mayor Meister for your leadership. I am honored to serve in this new leadership position with you.
Serving on this Council these past 9 months has been the honor of my life and serving as your Mayor Pro Tem is a responsibility I take very seriously. West Hollywood has always been on the forefront of making history and we did it once again this evening.
When my parents and I fled Iran when I was 5 to escape the oppressive Islamic regime and the war between Iran and Iraq, I never imagined that one day I would be sworn in as the first Iranian, first woman of color and first Lesbian to serve as Mayor Pro Tem of West Hollywood.
When kids in kindergarten bullied me throwing things and using anti-middle eastern slurs, I never ever imagined that one day, I would be sworn in as Mayor Pro tem of West Hollywood.
When fellow high school students verbally gay bashed and stalked me for being a lesbian, I never imagined that one day, I would be sworn in as Mayor Pro Tem of West Hollywood.
In college, when my girlfriend and I were thrown out of a coffee shop by a police officer and the coffee shop manager for holding hands, I made up my mind to go to law school, learn the law and stop that from ever happening to others and that is what I did. But, even then, I never imagined that one day, I would be sworn in as Mayor Pro Tem of West Hollywood.
The reason I never imagined serving in elected office is because growing up, I truly did not see anyone that looked like me, grew up like me and loved like me in elected office. But since November 2020 and especially now, I know that another little Middle Eastern, Brown, immigrant girl who may be queer can now imagine herself in elected office because now she does see herself. And that is one of the most powerful reasons why representation truly matters.
I wanted to serve on the City Council to represent the people of our amazing city and to bring your voices and more equity to City Hall. The people wanted progressive change.
In the past 9 months, I have delivered on that mandate. I have had countless conversations and virtual and in person meetings with residents, workers and stakeholders to discuss how we can make West Hollywood better. I have had the honor to serve on our Laurel House, Homelessness, Event and Pride Subcommittees with my colleagues as well as now representing West Hollywood as the Chair on the Westside Cities Council of Governments.
I have initiated, co-sponsored and passed 34 council items which I am so proud to say have nearly all had unanimous council support. Some of the ones I want to highlight tonight are:
The creation of the Social Justice Task Force that is now successfully appointed and working on policy recommendation for us to help address systemic racism;
The creation of business roundtables, grants for the most vulnerable small businesses, and the creation of the Business Recovery Task Force;
Incentives for LGBTQ people, BIPOC, women and local residents to start small businesses in our city;
An ordinance strengthening our Tenant Harassment Ordinance and providing further protections for our renters;
The Multi Stall Gender Neutral Bathroom Ordinance which will ensure our Transgender and Non-Binary family, same sex parents of opposite sex children and people with disabilities that have an opposite sex caretaker have equal and safe access to bathrooms;
The development of a Citywide Behavioral Health Crisis Response Unit that will reduce law enforcement response to homelessness and in other areas the unit serves in order to provide solutions from experts that work;
Several items that direct staff to study or update our zoning code related to affordable housing and capacity, bring our codes up to date with newer type housing developments being proposed so there are standards in place rather than loopholes;
An Initiative to highlight Pet-Friendly businesses and develop "Pet Week" in West Hollywood, which includes a special day dedicated to our beloved Felines; and
Making sure that Recovery includes Everyone by expanding Protections and Wage Equity for Hotel Workers, including panic buttons, the Right of Recall and Retention, overtime consent, Public Housekeeping training and excessive workload compensation.
For the next year and four months, I look forward to working with Mayor Meister to ensure efficiency and continued good leadership. I look forward to continue being accessible to constituents. I am excited about the Business Recovery Task Force, which will soon be formed to ensure we have a 5 year blueprint for business success, recovery and diversification. I look forward to continuing to pass items that help our residents, small businesses and workers. Items that create more affordable housing, bring more equity to all, bring more transparency and ethics to our government, create a more healthy environment to combat our climate crisis, have more community-based solutions to strengthen our community safety, help get our unhoused neighbors the housing and services they need as well as focusing on our City's recovery.
West Hollywood is truly one of the best cities to live, work and play in and I am so grateful to be your new Mayor Pro Tem.
LGBTQ+ ally City Councilman Kevin de León announces run for mayor
De León currently represents Council District 14 that takes in the predominantly Latino neighborhoods of Boyle Heights and El Sereno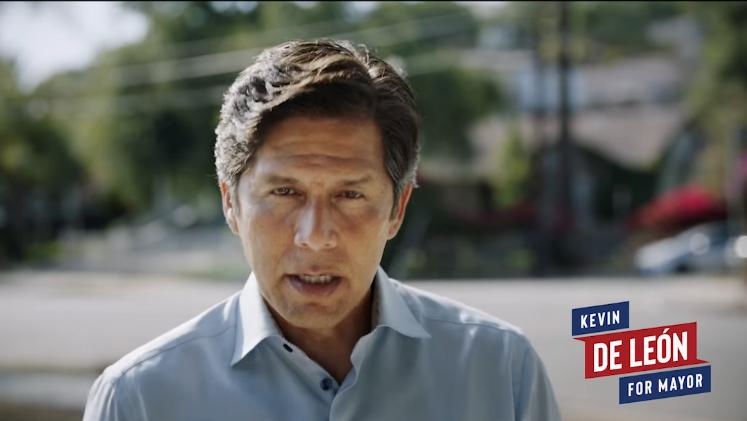 LOS ANGELES – Standing in front of a group of enthusiastic supporters Tuesday at the El Pueblo de Los Angeles Historical Monument, Los Angeles City Councilman Kevin de León announced that he was joining the mayor's race for next year's city elections.
Councilman de León, a Democrat, is the third city elected official to announce his intention to seek the mayor's chair after current Mayor Eric Garcetti, who was elected for a four-year term in 2013 and again in 2017- who's limited to serving no more than two terms, was picked by President Joe Biden to serve as the U.S. ambassador to India on July 9, 2021.
Born in Los Angeles of Guatemalan and Mexican descent, raised by a loving, hard-working single mother, de León, 51, got an education and spent 12 years in Sacramento, rising to become the President Pro Tem of the California Senate, authoring and passing legislation and making history. It was his bill that then Governor jerry Brown signed into law making California a "sanctuary state"—a law that was upheld by a federal appeals court.
In an August 2018 interview with former Los Angeles Blade Editor Karen Ocamb, he reflected on his relationship with the LGBTQ+ community.
"I've always been very close to the LGBTQIA (lesbian, gay, bisexual, transgender, queer, intersex, asexual) community even before I even knew all the initials that keep growing," de León says with a laugh during an extensive phone interview with the Los Angeles Blade. "It's always been my core set of values that every human being deserves a real opportunity to succeed, regardless of who they love and regardless of the hue of their skin and regardless of their legal status. That is embedded in my DNA."
De León learned to care about LGBT people as a child from his mother and aunt around the kitchen table.
"My mother got a third grade education and my aunt even less," he says. "I was very young and they were talking about a gay friend, a colleague of theirs. I didn't understand. Obviously, they didn't understand themselves. But they spoke with such affection, such tenderness. And here were two immigrant women with limited formal education and the way they spoke so lovingly, tenderly, beautifully about their gay friend. I could deduce the person they were talking about was gay—they kind of spoke in code around me when I was just sitting there listening to them at the kitchen table. And it transcended ethnicity and legal status and poverty—that we're all human beings and we deserve dignity and respect. That had an 'Ah Ha' impact."
De León's LGBT education continued as he picked his mother up from her work as a housekeeper at convalescent homes. "She had quite a few gay colleagues with her and I just remember they were just so beautifully nice with my mother and my mother with them and that had a huge impression on me of the universal values of treating everybody with dignity and with respect. So when there is a discriminatory blow against anyone in the LGBTQIA community, I feel that blow equally."
De León, 54, is by far the most prominent Latino running. Fluent in Spanish, he represents a district that takes in the predominantly Latino neighborhoods of Boyle Heights and El Sereno, as well as much of downtown, where a development boom has fueled huge growth over the past decade, KTLA reported.
Two other candidates — Councilman Joe Buscaino and City Atty. Mike Feuer — have been campaigning for several months. The race also features two business leaders: Jessica Lall, who heads the downtown-based Central City Assn., and real estate broker Mel Wilson, who has been involved with several San Fernando Valley business groups.
Hermosa Beach Pride Lifeguard Tower is here to stay
"The rainbow tower is beautiful and has become a symbol of this community's love and support for LGBTQ rights," said Supervisor Hahn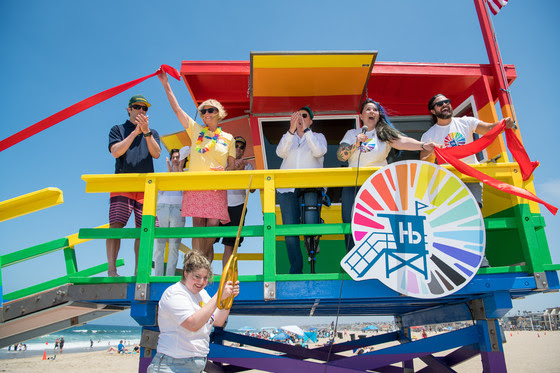 Hermosa Beach — Los Angeles County Supervisor Janice Hahn is announcing that the Pride Tower in Hermosa Beach is here to stay.  The 13th street Los Angeles County Lifeguard Tower, which was painted rainbow in June, was originally meant to be repainted its original blue color at the end of summer.  The rainbow paintjob will now be permanent. 
"The rainbow tower is beautiful and has become a symbol of this community's love and support for LGBTQ rights," said Supervisor Hahn, whose support paved the way for the project. "None of us wanted to see it painted over and I am proud to announce that the Pride Tower is here to stay."
The idea to paint the tower originally came from lzzy Bacallao, a local non-binary teen. Izzy, who uses the pronouns they and them, was responding to the burning of rainbow-painted Pride lifeguard tower in Long Beach in March. The rainbow-painted tower was unveiled at the Hermosa Beach Pride event June 26, 2021.
The new Pride Tower's rainbow paintjob will be maintained by the Los Angeles County Department of Beaches and Harbors which maintains all LA County Lifeguard Towers.   The Department of Beaches and Harbors also maintains another permanent Pride tower in Venice.