March 5, 2018 at 3:57 pm PST | by Karen Ocamb
Gemmel Moore investigation update
Los Angeles County Sheriff's Homicide detectives are looking for one or two men they believe may have information related to the methamphetamine overdose death of Gemmel Moore last year.
Detectives Ralph Hernandez and John Carlin are still gathering information and have interviewed multiple people, Lt. Joe Mendoza told the Los Angeles Blade in a March 1 phone interview about the ongoing investigation. "We're trying to track down one or two people in the West Hollywood area" the detectives think might potentially have information pertinent to the case. So far their efforts have been unsuccessful.
Moore, 26, died July 27, 2017 in the West Hollywood apartment of Democratic politico Ed Buck. West Hollywood Sheriff's deputies apparently found no direct evidence of foul play after interviewing Buck, 63, at the scene, checking his apartment and talking with numerous neighbors who told deputies that Moore frequently visited Buck's apartment.
Deputies filed a death report and the LA County Coroner issued a report saying Moore accidentally overdosed after injecting methamphetamine.
But Moore's mother, LaTisha Nixon, and members of the community questioned whether the crystal meth OD was truly an accident, prompting Sheriff Jim McDonnell to order detectives to take a second look.
"Initially, like any of these cases, patrol went out and took an initial report that would then be looked at by both the coroner and follow up investigators," McDonnell told the Los Angeles Blade last September.
"When we became aware of the concern by the family, we had Homicide [Bureau] take a look at it as well. And that investigation is still ongoing. We have some of our best investigators involved and following up on this. What the outcome will be, I don't know at this point."
Concerns raised by the family and news reports "were enough to ask our Homicide detectives to take a look at this case and report on it," McDonnell said. "We felt it was our obligation to look into those issues."
Buck's attorney Seymour Amster told the LA Times that his client had "nothing to do with this young man's tragic death." Amster added that Moore's overdose was "a self-imposed accidental death." Buck has not yet publicly commented.
Mendoza confirmed to the Los Angeles Blade that the three-person investigation team has interviewed individuals granted partial immunity by the district attorney's office "so they can speak freely." Though the Los Angeles County Sheriff's Department cannot grant immunity, they are willing to facilitate communication with the DA's office to seek a letter granting partial immunity on a case-by-case basis.
"If somebody out there has information, please come forward," Mendoza said. "If they have any fears or concerns, they can discuss that with Detectives Hernandez or Carlin and we can try to do the same thing for them. We can't make those promises (of immunity)—that has to be worked out with the DA's office. But we can facilitate that." Please call 323-890-5500.
Meanwhile, Jeffrey King, founder of In The Meantime Men, has been holding open community meetings to encourage discussion of the use of crystal meth among young gay black men. And like so many others in the African-American community, King questions the nature of the sheriff's investigation in the first place.
"If that incident had occurred in my home, the police would have kicked down my door, guns drawn and had me in handcuffs. There's no doubt about it. That's how it goes," King told the Los Angeles Blade.
"That's part of the bigger issue here. That guy was treated like a respectable citizen. But a drug-related accident occurred in a man's house. He should have been taken down to the station and questioned, at minimum. This is a matter of race on a minimum level. The value of this kid's life not the same as a prominent person's child—he would have been handled different. The police would have been relentless; the DA would have been relentless; the whole system would have been relentless."
King is trying to address addiction in the black gay male community through "Crystal Meth = Death" billboards and discussion groups. Brothers Reaching Brothers meets on Tuesdays from 7-9pm.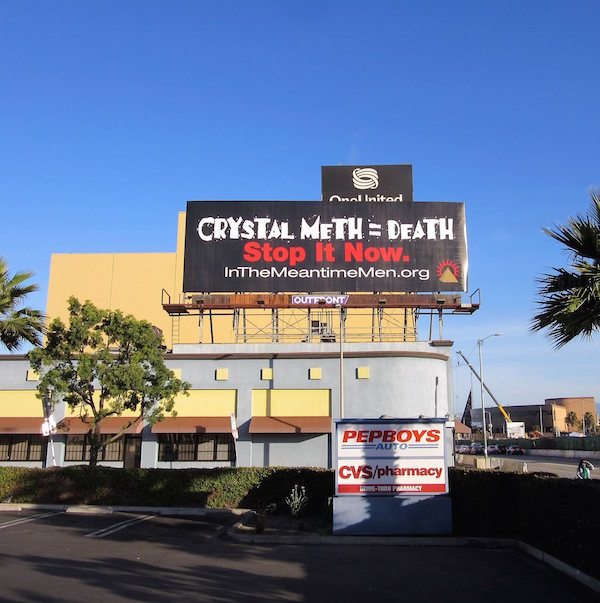 The discussions look at how treatment for crystal meth addiction has changed and therefore people must develop new skills to develop a new life. The dialogue also looks at the backgrounds of young people who get addicted, the power of addiction—the cravings and the cycles—supply and demand and how to help young people make different choices and decisions. "We focus on what steps we can take."
In The Meantime Men's Group meets at 2146 W. Adams Blvd. in Los Angeles. All are welcome to attend and bring a friend.