Gemmel Moore investigation update
In The Meantime holds crystal meth discussions on Tuesdays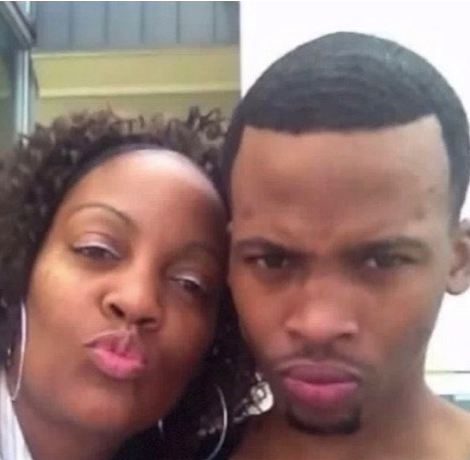 Los Angeles County Sheriff's Homicide detectives are looking for one or two men they believe may have information related to the methamphetamine overdose death of Gemmel Moore last year.
Detectives Ralph Hernandez and John Carlin are still gathering information and have interviewed multiple people, Lt. Joe Mendoza told the Los Angeles Blade in a March 1 phone interview about the ongoing investigation. "We're trying to track down one or two people in the West Hollywood area" the detectives think might potentially have information pertinent to the case. So far their efforts have been unsuccessful.
Moore, 26, died July 27, 2017 in the West Hollywood apartment of Democratic politico Ed Buck. West Hollywood Sheriff's deputies apparently found no direct evidence of foul play after interviewing Buck, 63, at the scene, checking his apartment and talking with numerous neighbors who told deputies that Moore frequently visited Buck's apartment.
Deputies filed a death report and the LA County Coroner issued a report saying Moore accidentally overdosed after injecting methamphetamine.
But Moore's mother, LaTisha Nixon, and members of the community questioned whether the crystal meth OD was truly an accident, prompting Sheriff Jim McDonnell to order detectives to take a second look.
"Initially, like any of these cases, patrol went out and took an initial report that would then be looked at by both the coroner and follow up investigators," McDonnell told the Los Angeles Blade last September.
"When we became aware of the concern by the family, we had Homicide [Bureau] take a look at it as well. And that investigation is still ongoing. We have some of our best investigators involved and following up on this. What the outcome will be, I don't know at this point."
Concerns raised by the family and news reports "were enough to ask our Homicide detectives to take a look at this case and report on it," McDonnell said. "We felt it was our obligation to look into those issues."
Buck's attorney Seymour Amster told the LA Times that his client had "nothing to do with this young man's tragic death." Amster added that Moore's overdose was "a self-imposed accidental death." Buck has not yet publicly commented.
Mendoza confirmed to the Los Angeles Blade that the three-person investigation team has interviewed individuals granted partial immunity by the district attorney's office "so they can speak freely." Though the Los Angeles County Sheriff's Department cannot grant immunity, they are willing to facilitate communication with the DA's office to seek a letter granting partial immunity on a case-by-case basis.
"If somebody out there has information, please come forward," Mendoza said. "If they have any fears or concerns, they can discuss that with Detectives Hernandez or Carlin and we can try to do the same thing for them. We can't make those promises (of immunity)—that has to be worked out with the DA's office. But we can facilitate that." Please call 323-890-5500.
Meanwhile, Jeffrey King, founder of In The Meantime Men, has been holding open community meetings to encourage discussion of the use of crystal meth among young gay black men. And like so many others in the African-American community, King questions the nature of the sheriff's investigation in the first place.
"If that incident had occurred in my home, the police would have kicked down my door, guns drawn and had me in handcuffs. There's no doubt about it. That's how it goes," King told the Los Angeles Blade.
"That's part of the bigger issue here. That guy was treated like a respectable citizen. But a drug-related accident occurred in a man's house. He should have been taken down to the station and questioned, at minimum. This is a matter of race on a minimum level. The value of this kid's life not the same as a prominent person's child—he would have been handled different. The police would have been relentless; the DA would have been relentless; the whole system would have been relentless."
King is trying to address addiction in the black gay male community through "Crystal Meth = Death" billboards and discussion groups. Brothers Reaching Brothers meets on Tuesdays from 7-9pm.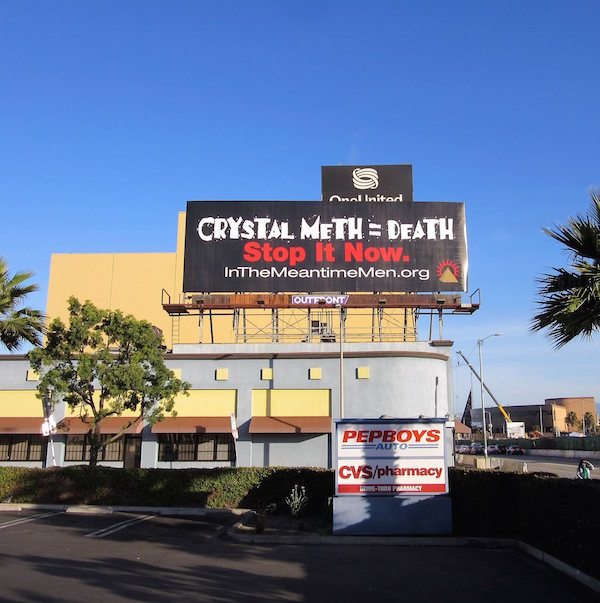 The discussions look at how treatment for crystal meth addiction has changed and therefore people must develop new skills to develop a new life. The dialogue also looks at the backgrounds of young people who get addicted, the power of addiction—the cravings and the cycles—supply and demand and how to help young people make different choices and decisions. "We focus on what steps we can take."
In The Meantime Men's Group meets at 2146 W. Adams Blvd. in Los Angeles. All are welcome to attend and bring a friend.
Connie Norman Transgender Empowerment Center for Los Angeles opens
First facility of its kind nationwide serving Trans and Non-Binary individuals and communities of, by and for Trans and nonbinary individuals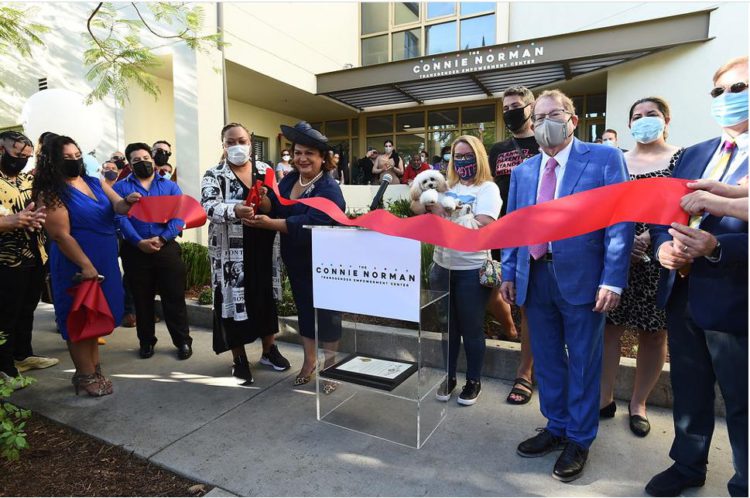 WEST HOLLYWOOD – In a location that once housed the Aids Healthcare Foundation's Linn House, a hospice for people dying from AIDS, the first facility of its kind nationwide serving Trans and Non-Binary individuals and communities of, by and for Trans and nonbinary individuals opened Friday, September 10.
Named for and dedicated in honor of Connie Norman, known as the 'AIDS Diva,' a fearless Transgender and AIDS activist who died of the disease in 1996.
The Connie Norman Transgender Empowerment Center, will serve as a home for several Trans-led organizations including FLUX, a national division of the Aids Healthcare Foundation and the Unique Woman's Coalition (UWC). The center will focus on building capacity, advocacy and overall health and wellness of the Transgender and Non-Binary communities.
The 20,000 square-foot building has been repurposed to function as a sort of 'WeWork' space for Trans-led organizations to have a place to do their work, grow and be affirmed.
"Named after a Diva like Connie Norman, supported by an institution like AHF and led by two respected Trans orgs like the UWC and FLUX—this is historic! An entire building where trans people are at the helm, making decisions and innovating," said Queen Victoria Ortega, Founder and International President of FLUX. "We are committed to making sure our community has a voice. Now, we have this incredible building as a home for those voices. I believe that great things are going to happen here, really great things!"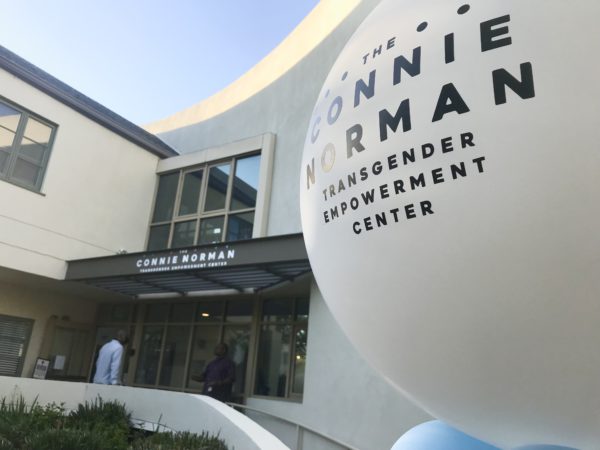 Norman was a force to be reckoned with according to Los Angeles based filmmaker Dante Alencastre's 2020 documentary film AIDS Diva: The Legend Of Connie Norman, which was released 25 years after Norman's death.
In a short bio published by FLUX the group noted, "Connie Norman (1949 – July 15, 1996) was an AIDS and gay and transgender rights activist with ACT UP/LA. Beginning in 1991, she was the host of the first daily commercial talk radio show about gay issues in Los Angeles, and also co-hosted a television show. After her death from AIDS, ACT UP scattered her ashes on the White House lawn.'
Veteran LGBTQ journalist and the former Editor of the Los Angeles Blade, Karen Ocamb membered the formidable Norman in a March 31, 2021 commentary piece published to mark Trans Visibility Day.
"It was the late '80s and I was still new to "gay" journalism so I followed standard reporter practice of mingling with the crowd, getting a sense of what was going on, then asking to speak with the organization's spokesperson. […]
For a bit I was stuck in my transition from old mainstream to LGBTQ/AIDS thinking. Luckily, Connie decided to educate me anyway. She invited me to her home — which she shared with her gay husband (who I recognized from 12 Step rooms) and LOTS of cats – and sat me in front of a video of her teaching a class of students about what it meant to be transsexual or transgender. […]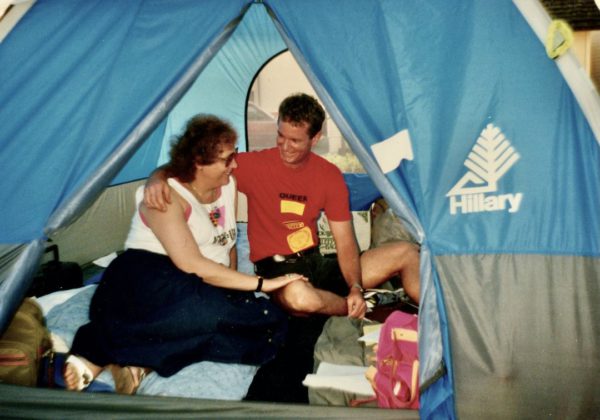 Connie was so generous with so many people- she made so many of us feel warm and loved and supported.
Curiously, after the video ended, Connie's friend Harry Hay and his partner John Burnside (who turned out to be relative neighbors in WeHo) showed up and educated me about gays being Nature's third sex. It was an amazing night. Connie was so generous with so many people. Most importantly for me – aside from being a reliable source of information so I could do my job properly — she smiled when she saw me. She made so many of us feel warm and loved and supported."
"When Connie Norman was living her final days at AHF's Chris Brownlie Hospice, she bequeathed her childhood teddy bear to me, asking that I please help look after her Trans sisters and brothers she was leaving behind. I can think of no better way to honor that request than with this Connie Norman Transgender Empowerment Center that we dedicate today," said Michael Weinstein, president of AHF and a good friend of Norman's.
Norman's teddy bear will also now take up residence at the new facility in a commemorative plexiglass display case. In addition, September 10th 2021 will also be known as Connie Norman Transgender Empowerment Day via proclamation by the City of West Hollywood.
The facility will also be home to a food bank opening onsite Monday, September 13th (12 noon- 2:00 pm). A 'Clothing Closet' to assist Trans and other individuals will also open onsite in the future and an AHF Healthcare Center serving the needs of Trans and nonbinary patients is set to open in 2022.
Photo Gallery of opening ceremonies provided by film producer John Johnston
West Hollywood's 2021 Rainbow Key & Etheridge Awards ceremony
The City of West Hollywood held a joint ceremony of the annual Rainbow Key Awards and Etheridge Award on Thursday, August 19, 202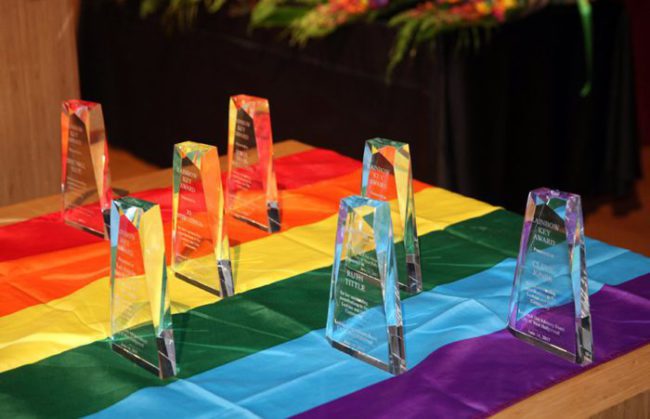 WEST HOLLYWOOD – The City of West Hollywood held a joint ceremony of the annual Rainbow Key Awards and Etheridge Award on Thursday, August 19, 2021, and recognized people and groups who have made outstanding contributions to the gay and lesbian community.
Masters of Ceremony Billy Francesca and Jackie Steele emceed the evening commencing with the 2021 Etheridge Award presented to legendary LGBTQ+ rights activist and outgoing CEO of the Los Angeles LGBT Center and the former CEO of the National Gay and Lesbian Task Force, Lorri L. Jean, for her relentless advocacy and tireless efforts on behalf of the LGBTQ+ community.
This year's Rainbow Key Awards were conferred to Dante Alencastre, local documentary filmmaker and LGBT community activist; Grace Baldridge, local musician and composer; Jeff Consoletti, principal of JJLA and producer of LA Pride; Sophie B. Hawkins, Grammy-nominated singer-songwriter, multi-instrumentalist, writer, actor, and painter; NiK Kacy, a gender-non-binary trans-masculine fashion designer and host of the annual Equality Fashion Week; Troy Masters, publisher, Los Angeles Blade, Los Angeles' LGBTQ+ newspaper; Paulo Murillo, editor in chief and publisher of WeHo Times; and Dr. Adrian Ravarour, founder of San Francisco-based Vanguard, who is also a priest and spiritual artist.
Rainbow Key Awards and Etheridge Award:
West Hollywood Mayor Horvath passes baton to Lauren Meister
This will be the second term Meister has served as the City of West Hollywood's mayor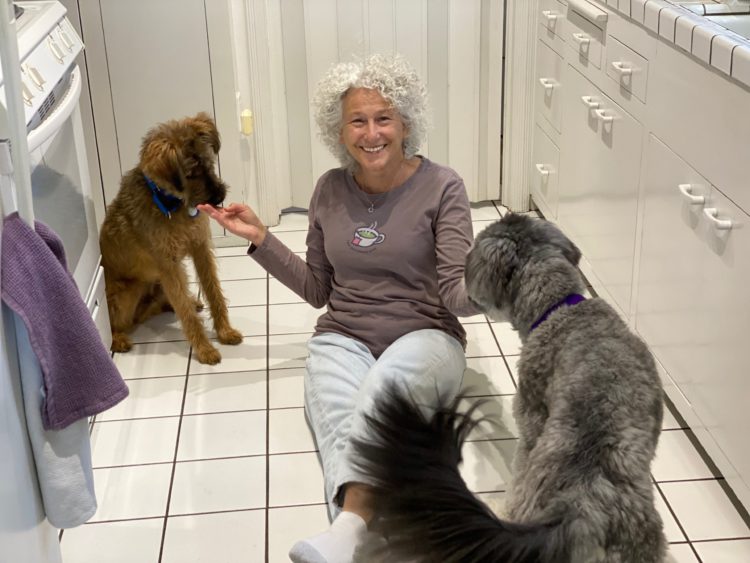 WEST HOLLYWOOD – The City changed its top leadership Monday evening as the council unanimously voted for Mayor Pro Tem Lauren Meister to become the new mayor and Councilmember Sepi Shyne to take over as Mayor Pro Tem. Both women are set to assume their roles on September 20, 2021.
Both women had been nominated by Mayor Lindsey Horvath, who has served since 2019, and is a declared candidate in the race for the seat for the 3rd Los Angeles County Supervisorial District of Los Angeles County, which includes West Hollywood. The current Supervisor Sheila Kuehl is retiring at the end of this term.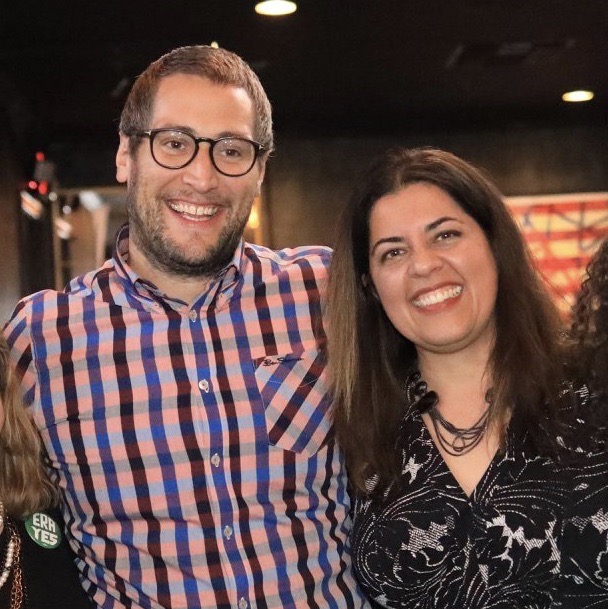 "It's the first time in history a woman has nominated two women" for the positions, Horvath remarked. "I'm very excited to be handing off this baton."
This will be the second term Meister has served as the City's mayor.
The terms of both mayor and Mayor Pro Tem will last until January 2023 — a year and four months — in an action taken by council in order to re-align their terms of office with the beginning of a calendar year.