Spacey stopped for speeding after court appearance
Spacey's lawyer argues Snapchat video may show consent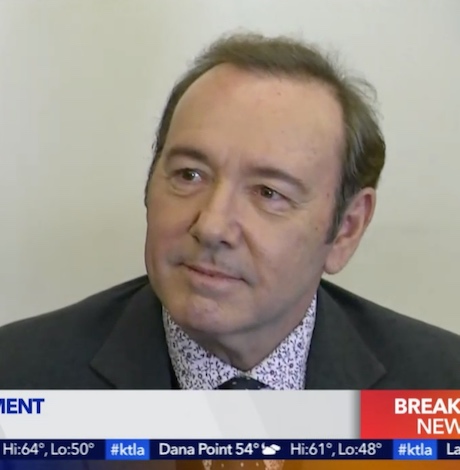 Kevin Spacey appeared in a Nantucket, Massachusetts courtroom Monday, Jan. 7 to enter a not guilty plea in the case of felony sexual assault that was lodged against him by the Cape and Island District Attorney's Office. Prosecutors alleged that the actor groped an 18-year-old busboy in the Club Car, a bar on Nantucket Island, in 2016.
Nantucket District Court Judge Thomas Barrett agreed to limit the conditions of Spacey, 59, remaining free without bail to a 'No-Contact' order in which the actor must stay away from his now 20- year old alleged victim and his family.
The judge also agreed to the Spacey defense team request that all data held by prosecutors, the alleged victim and his girlfriend be preserved for discovery in the case. Los Angeles-based attorney Alan Jackson argued that such data could be exculpatory evidence. Jackson was referring to the text messages and a Snapchat video of the alleged incident that Jackson argued could prove that the encounter between Spacey and the young man was consensual.
"This is data that we believe is not only potentially exculpatory but likely exculpatory for Mr. Spacey," Jackson told the judge.
The hearing came more than a year after former Boston TV anchor Heather Unruh accused Spacey, the former "House of Cards" star, of sexually assaulting her unidentified son in the Nantucket bar. Unruh has told reporters that her son didn't immediately go to police "largely because of embarrassment and fear."
But in court filings, Spacey's lawyers argue that the alleged victim misled Spacey when he claimed to be a 23-year-old college student. Additionally, Spacey's attorney note that the alleged victim "joked about the incident with friends for months."
The case was continued until 11 a.m. on March 4 for a hearing Spacey does not have to attend, though the judge said he must be available by telephone.  The entire Nantucket hearing took less than fifteen minutes.
But Spacey was not done with the spotlight. He was pulled over for speeding while leaving Reagan National Airport outside Washington, D.C., after the hearing. He was given a verbal warning, Christina Saull, a spokeswoman for the Metropolitan Washington Airports Authority, told reporters.
Apparently the officer who stopped the actor realized it was Spacey after looking at his driver's license. He also noticed that Spacey was being followed by vehicles full of cameras crews, a scene reminiscent of the traffic accident that befell Princess Diana when she was chased by paparazzi in 1997.   
"This incident was unique because he was being followed by people," Hernandez told the Washington Post, adding that the airport did not provide him a security escort. "The officer determined a verbal warning would suffice and Mr. Spacey continued on his way without any further incident." – Karen Ocamb contributed to this story
New York City Pride bans NYPD from participating till 2025
This decision follows years of pressure from LGBTQ activists, who said that Black and trans LGBTQ people felt threatened by the massive NYPD presence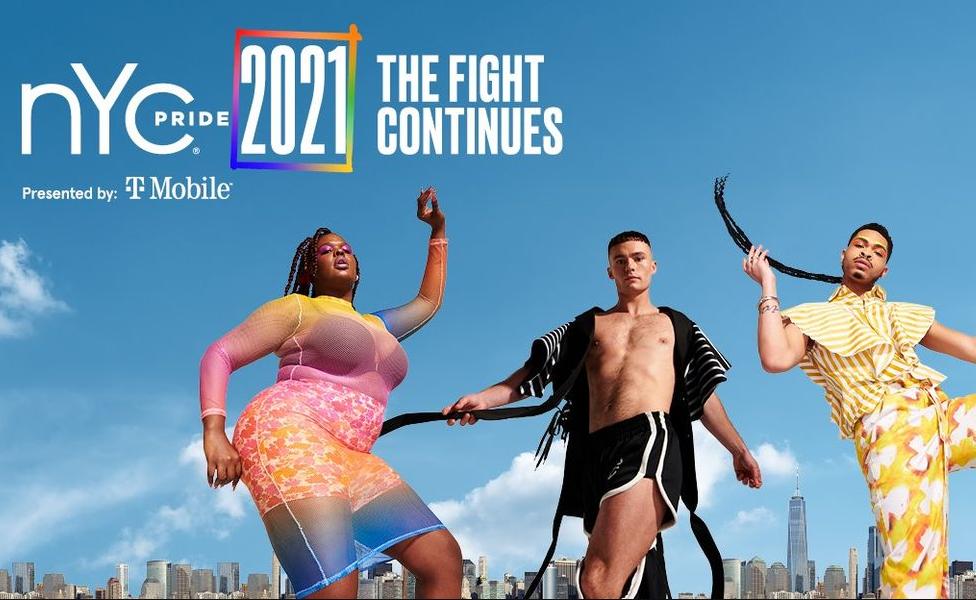 NEW YORK- New York City Pride announced that it has banned the New York City Police Department, (NYPD), corrections and law enforcement exhibitors at NYC Pride events until 2025. NYC Pride also said its decision includes not allowing uniformed cops to march in the Pride parade.
In a press release, the organization said that it was taking these steps to protect "the LGBTQIA+ and BIPOC communities at a time when violence against marginalized groups, specifically BIPOC and trans communities, has continued to escalate," the latter in reference to police brutality and use of deadly force against primarily the Black community.
"The sense of safety that law enforcement is meant to provide can instead be threatening, and at times dangerous, to those in our community who are most often targeted with excessive force and/or without reason," the statement continued.
The NYPD released a statement in response which read in part; "Our annual work to ensure a safe, enjoyable Pride season has been increasingly embraced by its participants. The idea of officers being excluded is disheartening and runs counter to our shared values of inclusion and tolerance. That said, we'll still be there to ensure traffic safety and good order during this huge, complex event."
New York Times metro reporter Michael Gold noted on Twitter that this decision follows years of pressure from LGBTQ activists, who said that Black and trans LGBTQ people felt threatened by the massive NYPD presence.
NYC Pride can not fully take the cops out of Pride, for a bunch of reasons I explain.

But this decision follows years of pressure from LGBT activists, who said that Black and trans LGBT people felt threatened by the massive NYPD presence.
https://t.co/5rLDyq4L3B

— Michael Gold (@migold) May 15, 2021
The statement from NYC Pride also noted,
"NYC Pride is unwilling to contribute in any way to creating an atmosphere of fear or harm for members of the community. The steps being taken by the organization challenge law enforcement to acknowledge their harm and to correct course moving forward, in hopes of making an impactful change.
Effective immediately, NYC Pride will ban corrections and law enforcement exhibitors at NYC Pride events until 2025. At that time their participation will be reviewed by the Community Relations and Diversity, Accessibility, and Inclusion committees, as well as the Executive Board.
In the meantime, NYC Pride will transition to providing increased community-based security and first responders, while simultaneously taking steps to reduce NYPD presence at events."
On its Facebook page, NYC Pride wrote:
"NYPD is not required to lead first response and security at NYC Pride events. All aspects of first response and security that can be reallocated to trained private security, community leaders, and volunteers will be reviewed. An increased budget for security and first response will allow NYC Pride to independently build a first response emergency plan using private security and provide safety volunteers with de-escalation training for first response when necessary.
NYPD will provide first response and security only when absolutely necessary as mandated by city officials. In these instances, NYC Pride will review foreseeable NYPD involvement and, in partnership with surrounding venue precincts, take steps to keep police officers at least one city block away from event perimeter areas where possible."
Resolution to designate Pulse nightclub as a national memorial passes House- again
"Pulse is hallowed ground and what happened on June 12, 2016 must never be forgotten" ~ Brandon J. Wolf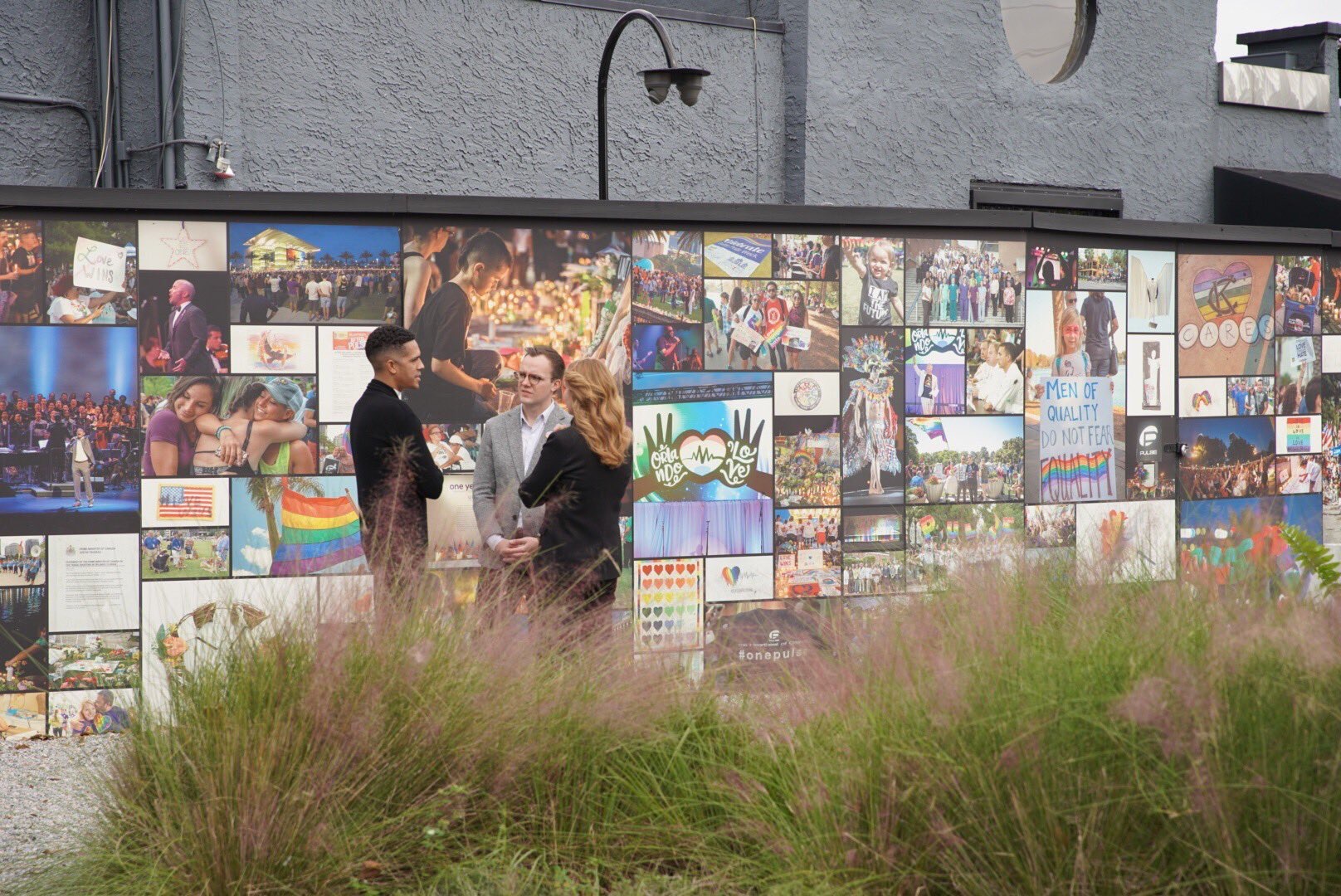 WASHINGTON – Earlier this week, as the fifth anniversary of the horrific mass shooting at the Pulse Nightclub approaches next month, the U.S. House passed House Resolution 49, (H.R. 49) which would designate the Pulse site in Orlando, Florida as a national memorial.
The building that housed the nightclub was the scene of the worst hate filled attacks against the LGBTQ community when at approximately 2:00 AM, on June 12, 2016, 29-year-old Omar Mir Seddique Mateen entered the club and murdered 49 people and wounded 53 more in a mass shooting with a semi-automatic assault rifle inside Pulse.
He was later shot and killed by responding Orlando police officers after a three-hour standoff.
The event shook the nation and united the LGBTQ community in Orlando and beyond in passionate calls for unity and a desire to see what activists termed 'love over hate.'
In the aftermath of the attack on Pulse there were renewed calls for better enforcement of gun laws and demands that Congress reauthorize the ban on assault weapons. It also led to the creation of the onePULSE Foundation, a nonprofit organization established by Pulse owner Barbara Poma and others, who are currently in pursuit of developing a museum and memorial at the site.
As passed, H.R. 49 would give the site national designation as a federal memorial, but without requiring federal funds be appropriated. A majority of the national memorials are currently owned and administered by the U.S. Department of the Interior's U.S. National Park Service. Those that are excluded and privately held such as Pulse are allowed to raise grants and monies through public or private means.
The nonprofit onePULSE Foundation is planning to build the National Pulse Memorial & Museum in Orlando, the Orlando Sentinel reported. The first stage of the memorial, a Survivors Walk, will span over half a mile from the former site of the club on South Orange Avenue to Orlando Regional Medical Center, where the wounded were carried the night of the shooting. At last report, construction on the Survivors Walk is expected to begin this year.
A temporary memorial stands on the grounds of the former nightclub and draws international visitors paying their respects to the survivors and fallen, the Sentinel wrote.
Democratic Representative Val Demings, whose Congressional District includes Pulse, told the Blade in an email Friday;
"From Stonewall to today's fights over equality for transgender Americas, our LGBTQ+ community has constantly had to fight for their right to exist. The Pulse shooting was an attack not just on a place of love and friendship, but an attack on that feeling of security and belonging. With the passage of this bill, we take an important step to honor and remember the victims of Pulse, to reaffirm our support and love for their families, and to restore a sense of balance to our community. I hope that the Senate will take up our legislation soon, and that we can move forward united to build a safer and fairer country for all."
For Brandon Wolf, the Development Officer and Media Relations Manager for LGBTQ advocacy group Equality Florida, H.R. 49 is deeply personal. Wolf was inside the club at the time of the shooting and lost his two best friends Juan Ramon Guerrero & Christopher Andrew (Drew) Leinonen who were among the 49 murdered during the rampage. Wolf had managed to escape but the event has forever left him scarred.
Since that terrible night Wolf has been a force for advocacy in gun control and LGBTQ equality rights and is a nationally recognized leader in those endeavors to include by President Joe Biden.
Wolf first met with Biden four days after the attack when former President Barack Obama and then Vice-President Joe Biden traveled to Orlando to meet with the survivors, friends and families of those killed.
"Pulse is hallowed ground and what happened on June 12, 2016 must never be forgotten. I'm proud of Representatives Demings, Murphy, and Soto for again getting a resolution passed in the House to designate Pulse as a national memorial site," Wolf told the Blade.
"Now it's time for Senators Scott and Rubio to put aside partisan bluster, roll up their sleeves, and get it over the finish line in the Senate. Our commitment has always been to honor the 49 victims not simply with words and sympathies, but with action. Creating and recognizing a space for their legacies is an important step in that work," he added.
H.R. 49 is co-sponsored by Democratic Representatives Val Demings, Darren Soto, and Stephanie Murphy. The measure is the 117th Congress's version of H.R. 3094 a similar measure approved in the Spring of 2020 by the House during the 116th Congress. That bill died in the U.S. Senate as neither of Florida's Senators, Rick Scott, who was Florida's Republican Governor at the time Pulse occurred, nor Marco Rubio adopted nor introduced a Senate companion version.
Our #PulseNationalMemorial just passed the House. We are a step closer to nationally remembering the 49 angels lost and 53 injured during this heinous act of terrorism. Thanks to my Central Florida colleagues @RepValDemings and @RepStephMurphy for your amazing work! pic.twitter.com/RWc74oyPyk

— Rep. Darren Soto (@RepDarrenSoto) May 12, 2021
This year however, a spokesperson for Sen. Scott said that he intends to introduce a companion Senate bill and push for its passage.
Sara E. Grossman, the Communications Director for The Dru Project, a nonprofit that was launched to honor Pulse victim Drew Leinonen told the Blade;
"I am very happy at the prospect of Pulse being deemed a national memorial and being recognized by the federal government. The work that our organization, The Dru Project, has done over the last five years has been in aid of ensuring nobody forgets our friend Drew Leinonen. To have something official to return to year after year is going to be a beautiful honor to those we lost the night of June 12, 2016."
The Dru Project provides scholarships, grants, and guides to GSAs and LGBTQ+ scholars so they may continue their activism in college and beyond.
Christian college association calls LGBTQ students lawsuit 'frivolous'
"These students are not sinful, their identities and relationships are not evil," attorney representing LGBTQ students says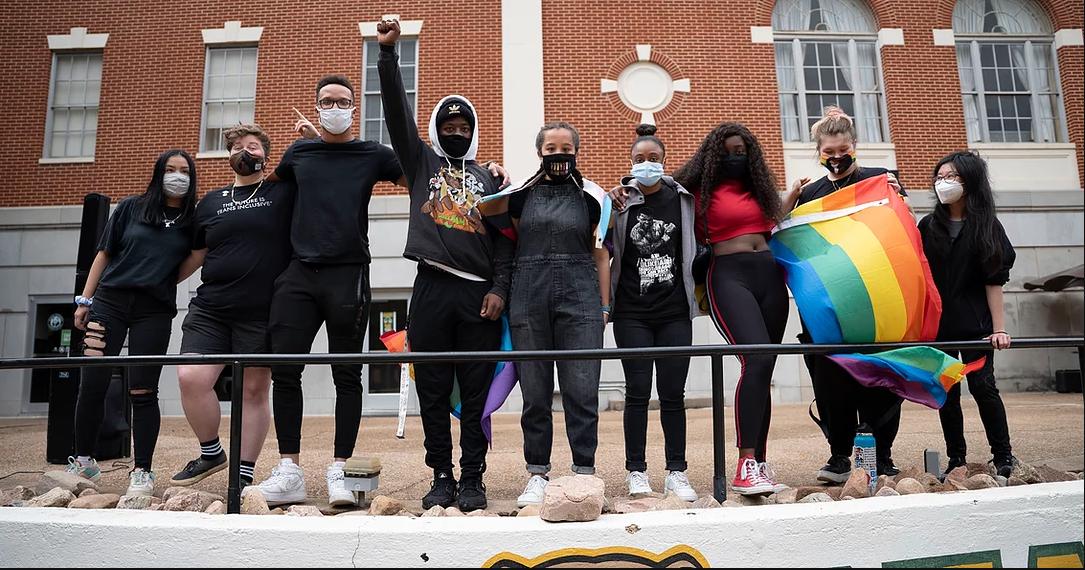 PORTLAND, OR. – A Federal lawsuit filed at the end of this past March seeks to nullify the religious exemption to Title IX that allows widespread discrimination against LGBTQ students at faith-based colleges and universities across the nation.
On Thursday, an Evangelical association of religious schools, colleges and universities petitioned the court to be named as co-defendant, calling the suit 'frivolous'.
The Religious Exemption Accountability Project (REAP), a Portland, Oregon- based non-profit filed a class action lawsuit in U.S. District Court for the District of Oregon, against the U.S. Department of Education on behalf of 33 plaintiffs from 25 evangelical & LDS colleges in 18 states.
The plaintiffs include a mix of current students (some of whom are using a pseudonym for their safety), recently expelled students, and recent alumni who suffered conversion therapy and other discipline from their colleges for being LGBTQ.
"When taxpayer-funded religious institutions require sexual and gender minority students to hide their identity out of fear, or to behave contrary to their fundamental sexual or gender identity, the unsurprising consequences are intense pain, loneliness and self-harm," the lawsuit states.
"The 25 evangelical and LDS colleges our plaintiffs attend or recently attended, receive billions in taxpayer funding from the U.S. Department of Education but claim to be exempt from Title IX's protections for LGBTQ students," said Paul Southwick, Attorney and Director of the Religious Exemption Accountability Project.
"Our lawsuit asks a federal court to declare that the religious exemption to Title IX, as applied to a class of LGBTQ+ students attending the more than 200 religiously affiliated colleges in the United States that openly discriminate against them, using taxpayer dollars, is unconstitutional. It is a violation of the First Amendment's prohibition on the establishment of religion and a violation of the Fifth and Fourteenth Amendments' guarantee of Equal Protection under the law for LGBTQ+ Americans," Southwick added.
Should the exemption in Title IX be eliminated, religious schools with policies deemed discriminatory would not be eligible for federal funds.
The Council for Christian Colleges and Universities (CCCU) filed a motion this week with the federal court asking to be named co-defendants in the case. The Washington D.C.- based Evangelical association, which represents more than 180 Christian faith schools in the U.S. and Canada and more than 30 from 19 other countries, additionally filed a motion to dismiss the lawsuit.
In a statement given to Christianity Today magazine, CCCU president Shirley Hoogstra said the lawsuit is frivolous and the Christian colleges and universities are clearly eligible for religious exemptions;
"CCCU institutions subscribe to sincerely held biblical beliefs, which include specific religious convictions around human sexuality and gender, and are transparent about their policies and behavior guidelines, which students voluntarily agree to when they choose to attend the institution."
The Reverend Alba Onofrio, co-executive director of Soulforce, the non-profit organization that sponsors REAP noted in a statement, "As a Christian minister, I believe we should all be outraged that the Word of God is being used for such widespread evil and systemic violence."
"The toxic theologies of white Christian Supremacy have real consequences on the lives and education of LGBTQI people across the country. This isn't about hurt feelings over being denied wedding cakes or bouquets. This case clearly shows how some Christian institutions have stolen the God of love and life and replaced good theologies with violent ones that cause harm to the minds, bodies, and spirits of this nation's young people," she added.
In briefs filed with the court, lawyers for CCCU write " [CCCU] denies that any of its Christian College or University members abuse or provide unsafe conditions to thousands of LGBTQ+ students, or injure them mind, body, or soul, but rather seek to minister, support, and care for them physically, emotionally, socially, and spiritually. Plaintiffs cite no evidence to support their allegations of abuse and harm."
"Regarding the merits of the CCCU motion, other religious colleges and institutions raised many of the same First Amendment issues in the 1980s when they defended their racist policies on the basis of sincerely held religious beliefs. The U.S. Supreme Court rejected those arguments in 1983 in the case of Bob Jones University v. United States, and courts should reject them again now. The government is not required to subsidize discrimination, whether the discrimination is on the basis of race or on the basis of sexual orientation or gender identity," Southwick told the Blade in an email Friday.
"CCCU's motion also misuses the Bible as a cruel sword, citing verses prohibiting adultery. But what does adultery have to do with the health and safety of LGBTQ+ students? These students are not sinful, their identities and relationships are not evil. They should not be compared to adulterers and the discrimination against them should not be justified by Bible versus taken out of context to condemn them as perverse and deserving of death. True religious freedom does not harm its neighbors or its children. And a country that truly cares about equal treatment for all people should not allow religious institutions to use taxpayer money to mistreat and commit violence against the young LGBTQ+ people in their care," he added.
During the former Trump Administration, then U.S. Secretary of Education Betsy DeVos oversaw implementation of strengthening the religious exemption to Title IX.
"Our actions will protect the constitutional rights of students, teachers, and faith-based institutions," Secretary of Education Betsy DeVos said at the time in a press release. "The Department's efforts will level the playing field between religious and non-religious organizations competing for federal grants, as well as protect First Amendment freedoms on campus and the religious liberty of faith-based institutions."