Krysten Sinema sworn in as senator by Mike Pence with law book instead of bible
The openly bisexual politician is 'religiously unaffiliated'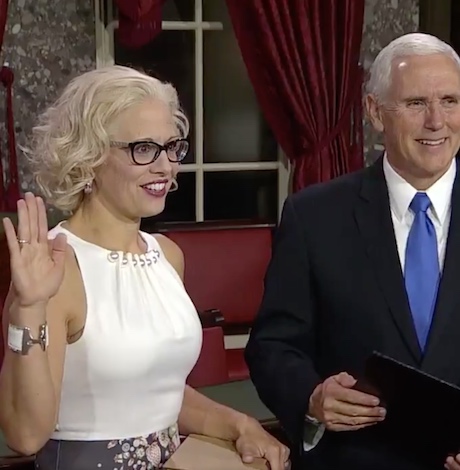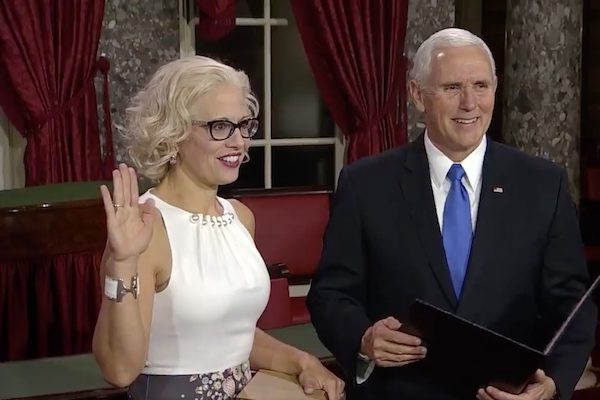 Kyrsten Sinema (D-Ariz.) was sworn into the United States Senate by Vice President Mike Pence on Thursday but her ceremony had an unconventional twist.
Sinema, who is the first openly bisexual person elected to the U.S. Senate, didn't place her left hand on a bible as per tradition. Instead, she used a book obtained from the Library of Congress which includes both the U.S. and Arizona constitutions.
The Pew Research Center for Religion & Public Life states that Sinema is the only member of Congress that identifies as "religiously unaffiliated."
.@SenatorSinema sworn in by @VP. https://t.co/uIBiIhqqXF pic.twitter.com/TYWVHujtHm

— The Hill (@thehill) January 3, 2019
Columbia University researcher helps evacuate LGBTQ people from Afghanistan
Taylor Hirschberg working with Belgian lawmaker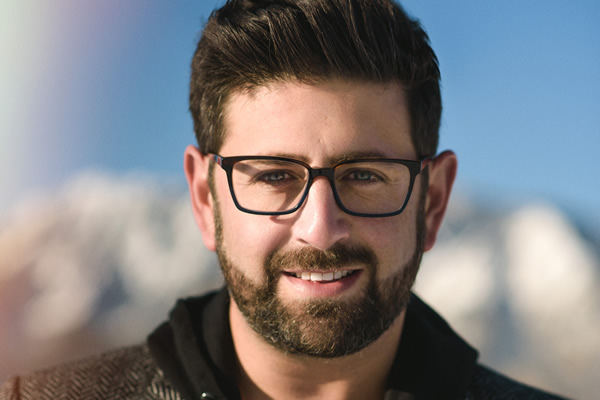 NEW YORK — Some of the 50 human rights activists that a Columbia University researcher has helped evacuate from Afghanistan since the Taliban regained control of the country are LGBTQ.
A press release the Los Angeles Blade received notes Taylor Hirschberg — a researcher at the Columbia Mailman School of Public Health who is also a Hearst Foundation scholar — has worked with Belgian Sen. Orry Vandewauwer to help 50 Afghan "activists leave the country."
"The refugees included those who identify as LGBTQI+ or gender non-conforming and their families," notes the press release.
The Blade has seen the list of names of the more than 100 people that Hirschberg and Vandewauwer are trying to evacuate from Afghanistan. These include the country's first female police officer, the independent U.N. expert on Afghanistan and a number of LGBTQ activists.
"There are many more human rights advocates we are still trying to get out of the country," said Hirschberg.
Hirschberg has previously worked in Afghanistan.
He and Vandewauwer were also once affiliated with Skateistan, an NGO that works with children in the Middle East and Africa. The documentary "Learning to Skateboard in a Warzone" features it.
The Taliban entered Kabul, the Afghan capital on Aug. 15 and toppled then-President Ashraf Ghani's government.
A Taliban judge over the summer said the group would once again execute gay men if it were to return to power in Afghanistan.
The U.S. evacuated more than 100,000 people from the country before American troops completed their withdrawal from the country on Aug. 30. It remains unclear whether the U.S. was able to successfully evacuate LGBTQ Afghans from Kabul International Airport, but Immigration Equality earlier this month said it spoke "directly" with 50 LGBTQ Afghans before the U.S. withdrawal ended.
Secretary of State Antony Blinken on Sept. 13 during a House Foreign Affairs Committee hearing expressed concern over the fate of LGBTQ Afghans who remain in the country.
The Human Rights Campaign; Immigration Equality; the Council for Global Equality; Rainbow Railroad; the International Refugee Assistance Project and the Organization for Refuge, Asylum and Migration have called upon the Biden administration to develop a 10-point plan to protect LGBTQ Afghans that includes prioritizing "the evacuation and resettlement of vulnerable refugee populations, including LGBTQI people." Canada is thus far the only country that has specifically said it would offer refuge to LGBTQ Afghans.
Hirschberg on Monday told the Blade that he and Vandewauwer have charted an airplane to evacuate Afghans, but they have not secured a "third country" to which they can bring them.
"Currently, we are working towards a multi-country collaboration for resettlement," he said. "Our work has now expanded to include election officials and women activists, including those from the LGBTQI+ community."
Hirschberg also urged the U.S. and humanitarian organizations to do more to help evacuate LGBTQ people, human rights activists and others from Afghanistan
"I understand that this is complicated and that I do not have all the working pieces but why does the United States ignore those who helped in building their agenda in Afghanistan. The same goes for multilateral organizations," he told the Blade. "Why are neither funding charters and creating agreement with partnering states? If they are why have the not contacted the countries that we are creating collaborations with?"
It's official- Rep. Karen Bass enters race to become the next mayor of LA
If elected she would be the first Black woman & second Black mayor after legendary Tom Bradley who served as 38th Mayor from 1973 to 1993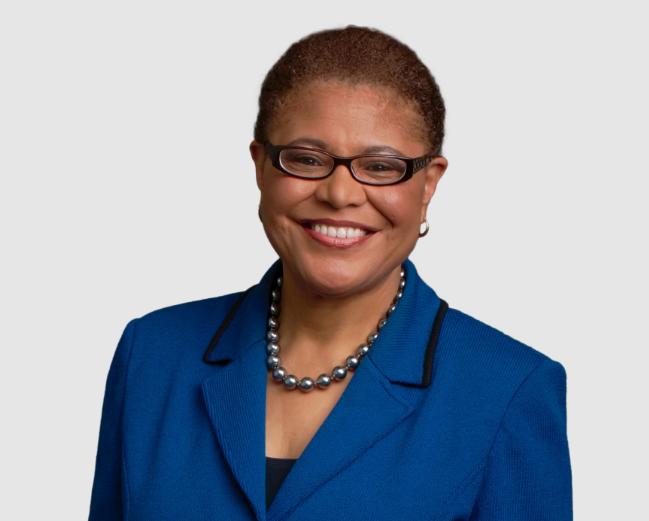 LOS ANGELES – Congresswoman Karen Bass officially announced her entrance Monday as a candidate to replace her fellow Democrat outgoing Los Angeles Mayor Eric Garcetti.
"Our city is facing a public health, safety and economic crisis in homelessness that has evolved into a humanitarian emergency," she said in a statement announcing her candidacy. "Los Angeles is my home. With my whole heart, I'm ready. Let's do this — together."
If Bass were to win election she would be the first Black woman mayor and the second Black mayor after Thomas Bradley, the legendary politician and former police officer who served as the 38th Mayor of Los Angeles from 1973 to 1993.
With my whole heart, I'm ready. Let's do this — together.

I'm running for mayor.https://t.co/CLkJfFddHT

— Karen Bass (@KarenBassLA) September 27, 2021
KABC 7 noted that she would be the first sitting House member to be elected mayor of Los Angeles since 1953, when Rep. Norris Poulson was elected. Then-Reps. James Roosevelt, Alphonzo Bell and Xavier Becerra lost campaigns for mayor in 1965, 1969 and 2001.
The 67-year-old member of Congress currently represents the 37th Congressional District, which encompasses Los Angeles neighborhoods west and southwest of downtown including Crenshaw, Baldwin Hills, Miracle Mile, Pico-Robertson, Century City, Cheviot Hills, West Los Angeles, Mar Vista and parts of Westwood, as well as Culver City and Inglewood. Bass was a member of the California Assembly from 2004-10, serving as that body's speaker from 2008 to 2010.
Bass is entering an already crowded field of candidates including Los Angeles City Attorney Mike Feuer and two members of the City Council – Kevin de León and Joe Buscaino – who have already announced their campaigns for mayor.
When speculation as to her running surfaced last week, Bass spokesman Zach Seidl told the Los Angeles Times that her running was due to the fact that "Los Angeles is facing a humanitarian crisis in homelessness and a public health crisis in the disproportionate impact this pandemic has had on Angelenos," Seidl said in a statement. "She does not want to see these two issues tear the city apart. Los Angeles has to come together. That's why the Congresswoman is considering a run for mayor," he added.
That seems to be the focal point and whoever is elected will face the city's massive homelessness crisis.
Bass acknowledged this in her candidacy announcement statement this morning, writing "I've spent my entire life bringing groups of people together in coalitions to solve complex problems and produce concrete change — especially in times of crisis."
Indiana GSA sues school district that banned Pride flags over another ban
"The treatment aimed at PHGSA by administrators is unwarranted- these students must be treated in the same manner all others are treated"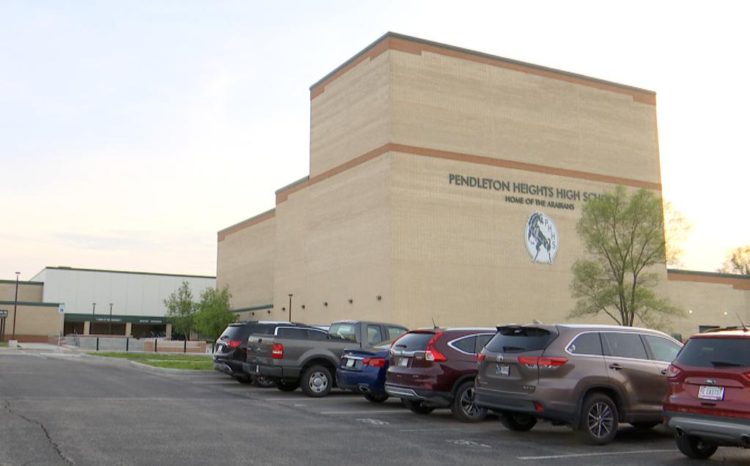 INDIANAPOLIS – A student led Gay-Straight Alliance at Pendleton Heights High School in Pendleton, Indiana filed suit against their school and the South Madison Community Schools District for banning public announcements and adverts in-school for their club.
Last Spring officials in the Schools District, in this suburban community 30 miles northeast of Indianapolis, ordered faculty members at Pendleton Heights High School to remove Rainbow Pride flags from classrooms. The Schools District labeled the flags "political paraphernalia" and instructed the Spanish, French and art teachers to get the flags out of their classrooms saying the flags violate their school district's "political paraphernalia" policy.
In the suit filed last Wednesday by the American Civil Liberties Union of Indiana on behalf of the Pendleton Heights High GSA, in U.S. District Court for the Southern District of Indiana, the ACLU noted that the principal at Pendleton Heights has stated that the PHGSA cannot publicize its existence on school bulletin boards or on the school's radio station, while other curricular and non-curricular clubs at the school are able to do so. 
"This group aims to create an environment that provides support to students, during a time that otherwise might be increasingly difficult for LGBTQ students," said Kit Malone, advocacy strategist at ACLU of Indiana. "The differential treatment aimed at Pendleton Heights Gay-Straight Alliance by administrators is unwarranted and these students must be treated in the same manner that all other student groups are treated."
Pendleton Heights Principal Connie Rickert has the authority to decide what student groups are allowed to meet at the school and which ones are deemed to be "official." Last Spring she deflected on the apparent anti-LGBTQ+ messaging the order to remove the flags sent telling one media outlet; ""Teachers are legally obligated to maintain viewpoint neutrality during their official duties to ensure all students can focus on learning and we can maintain educational activities and school operations," she said. "Our counselors are trained to respond to any student who desires support."
While she has allowed the GSA club to meet, her banning announcements and notifications for the GSA runs contrary to her statements last Spring that that her school prides itself on creating a welcoming environment for all.
"Students at Pendleton Heights High School may participate in non-curricular clubs recognized by the school," said Ken Falk, ACLU of Indiana legal director. "By creating additional hurdles for Pendleton Heights Gay-Straight Alliance such as censoring the group's promotions and prohibiting fundraising, the school is infringing on these students' rights."
The South Madison Community Schools District has declined comment.