Meet the candidates for West Hollywood City Council
11 hopefuls — including incumbents — seek 3 seats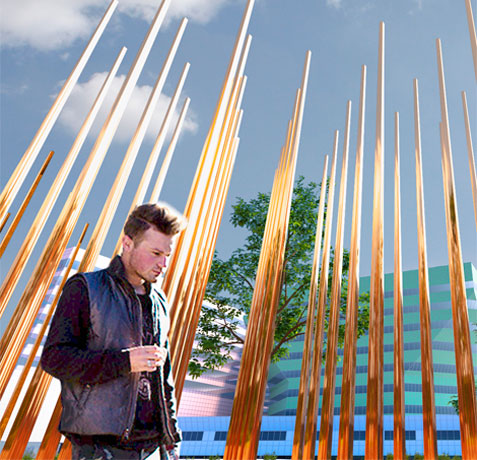 From affordable housing to public safety to transportation, progressive platforms are par for the course among the crowded field in the West Hollywood City Council race — but with the March 5 General Municipal Election looming, eight challengers and three incumbent candidates are looking to distinguish themselves. They'll have that opportunity, when the West Hollywood Chamber of Commerce hosts a Candidate Forum on Jan. 29. Below, the Blade takes a look at their similarities, and stark contrasts.
JACK CLINE (jackieomg.com) | No campaign contributions or pay-to-play politics are the promises of RN, NP Cline, who notes, "I fight for healthcare as a human right, and support single-payer healthcare." (He's served as a union negotiator for the California Nurses Association, which has endorsed his candidacy.) In addition to health and safety, his other platform points are: Quality of life in West Hollywood, affordable housing, the elimination of wasteful spending, voting for nurses' values, and advocacy for renters, low-income residents, and seniors. Fun Fact: Dressed for success, and certainly campy fun, Cline can also be found, on occasion, werking the drag persona of Jackie OMG (Oh My Goodness!!!).
JOHN D'AMICO (ourweho.com) | Incumbent D'Amico says his nearly three decades of living as both a renter and owner "on the eastside of West Hollywood and on the westside, above the Sunset Strip and below Santa Monica Boulevard" has given him a "unique perspective of the challenges and opportunities of living in our city." During his time with the affordable housing developer, Los Angeles Housing Partnership, the trained architect "was responsible for overseeing the renovation and construction of well over 300 affordable housing units." Sustainability and protection of existing housing stock are top priorities, along with achieving an appropriate balance between development and livability, while maintaining a "consistently high level of social services for residents in need." The one-time co-Director of Policy and Planning at AIDS Project Los Angeles (during the height of the AIDS epidemic in Los Angeles) also notes the need to create a safe environment in which "our community supports people in their individuality — in being themselves." Fun Fact: D'Amico registered as domestic partner to Keith Rand in 1992, married him in 2008, and currently resides with Rand, along with their two dogs, Mr. Big and Dodger.
TOM DEMILLE (facebook.com/ElectTomDemille) | An accomplished actor who has lived with AIDS for 20 years, Demille is a frequent presence at Council meetings, where he's been "the conscious of the community." As a candidate, his eyes are on their finances. "All the money belongs to the residents," Demille notes, "and they aren't even listening to them anymore. I think we should go back to basics." On matters of public safety, Demille says, "We need to light up the City and put CCTV up." He also wants to triple the social services budget "in order to fend off the inevitable, which is, most of our community is going to become 65 and older in the next five years." Part of that money, he says, should "go to a food bank, for people who are food-insecure." Transportation "should be used more efficiently," by establishing bus service as on-demand. Fun Fact: Demille played a Klingon on "Star Trek: Deep Space Nine," and multiple roles in the 1996 TV movie, "Mrs. Santa Claus."
BRENDAN HOOD (brendanhood.com) | Nine-year resident Hood's passion for progressive causes manifests throughout his platform. In housing matters, Hood wants to lower the affordable housing requirement to from 20 percent to 10-15 ("making larger developments more economically feasible"), and institute a vacancy tax. In matters of transportation, he'd like to bring the Crenshaw line to Hollywood within the next decade ("saving residents thousands of dollars on transportation costs and boosting sales for local businesses"). Investing in colored bike lanes, he asserts, would "increase visibility and safety for cyclists and drivers and encourage greater use of bikes as an alternative to driving." Hood also ties high housing costs and poor public transportation to homelessness — naming financial stress as one of its root causes, and noting the need to "follow the lead of Los Angeles and work with non-profits like Lava Mae to offer mobile showers and other basic necessities for the homeless within West Hollywood." Fun Fact: Hood is a longtime member of West Hollywood Dodgeball and Varsity Gay League.
LINDSEY HORVATH (lindseyhorvath.com) | Incumbent Horvath was elected in 2015, having previously served as a councilmember from 2009 to 2011, and as Mayor from April 2015 to April 2016. Her website notes her "long history of civic and social justice advocacy" in the form of, among other things, making West Hollywood an "age-friendly community." Brought forward while a Transportation Commissioner (2011-2015) were efforts to reduce traffic and parking problems, and make West Hollywood friendlier to bikes and pedestrians. She was appointed to the West Hollywood Women's Advisory Board in 2007, and, in that capacity, "collaborated with community leaders and organizations in successfully advocating for the full funding of the backlog of untested rape kit evidence in the City and County of Los Angeles." As an LGBTQ rights champion, Horvath served as a Board member of the Victory Fund, and a founding Board member of the NOH8 Campaign. Fun Fact: The entertainment-advertising executive has created award-winning campaigns for movies and television.
JAMES DUKE MASON (jamesdukemason.com) | The Los Angeles native and self-professed "young, persistent voice of the new generation" promises to provide the "vigorous leadership that we need to seize the opportunities in front of us." After becoming the first openly gay president of his international high school's student council, The Advocate Magazine gave him a spot on 2010's Forty Under 40 list. At the age of 22, a 2015 run for West Hollywood City Council was unsuccessful, but Mason "achieved a surprisingly strong result in a crowded field of candidates," his website notes. He served on the Board of Directors of the West Hollywood Community Housing Corporation, and spent the last three years as a city official on the West Hollywood Lesbian & Gay Advisory Board, where he was Co-Chair from 2017 to 2018. While there, Mason "gained critical experience in the workings of municipal government" and spoke up on "critical challenges that must be addressed by our city, including housing affordability, homelessness, the tough climate for small businesses, and aging in place." Fun Fact: The veteran freelance writer and public relations consultant is the son of pop icon and LGBT ally Belinda Carlisle.
LAUREN MEISTER (Meister4weho.com) | Elected in 2015, the incumbent notes her West Hollywood roots and commitment to public advocacy were planted as a neighborhood watch captain, who took the Los Angeles County Sheriff's Department's CERT (Community Emergency Response Team) training, attended the West Hollywood Sheriff's Community Academy, and "went on to lead the largest neighborhood association in the city, representing residents on issues such as public safety, traffic circulation, parking and development." Meister seeks to further her efforts to save affordable housing stock and local neighborhood-serving businesses, advance public safety and social issues, protect parks/green spaces, and advance fair parking advocacy. While a member of the Council, she worked on initiatives to strengthen the Rent Stabilization Ordinance, provide social services for homeless people, create a Small Business Task Force, develop socially conscious banking policies, and establish West Hollywood as a safe haven for LGBT asylum seekers. Meister is the sole proprietor of her locally-based marketing research firm. Fun Fact: Her parents, sister, and rescue dog, Spike, all call West Hollywood home.
SHAWN DAVIS MOONEY (facebook.com/shawndavis.mooney) | Mooney has been a soldier in the U.S. Army, business owner, and entertainer for the last 20 years. He developed his desire to "look out for all seniors and the disadvantaged" while working as General Manager of two retirement communities. Mooney would work to "care for our seniors, especially our LGBT seniors, who may not have anyone to care for them. Together we can ensure that not only do the seniors of West Hollywood have affordable housing, food, and healthcare, but every resident calling West Hollywood home has access to these basic human dignities." Having moved to West Hollywood in 1993, he "knew it would be a lifelong love affair," and says his current presence in the neighborhood makes him "think about how can we preserve these qualities for future generations while embracing growth and change." As a councilmember, he assures, "I will be a steward of West Hollywood and preserve its eclectic history." Fun Fact: The name of Shawn Mooney's husband is Shawn Mooney. No confusion with the cat's name: It's Jade.
ERIC JON SCHMIDT (wehoeric.com) | "It's time to rotate the crops on City Council," Schmidt says, "and get some new, fresh, diverse, energetic leadership to represent us." Having decried the City Council's "reckless spending and petty infighting," he says they are "tired, indifferent, ineffective, bought and paid for by developers, and they don't listen to the concerns of the residents." Citing the rising crime rate, a lack of sufficient public cameras, and the danger posed to pedestrians by scooters, bikes, and skateboards on the sidewalks, he's calling for the Director of Public Safety to be replaced. Schmidt also wants a Sheriff's Substation on the East Side, emergency phones across the City, and a "Deputy foot patrol on the major streets, to better interact with residents and visitors." Relief from traffic congestion and over-development, and strong advocacy for renters, are front-and-center concerns, as is his motto/mantra: "Accountability, integrity, and transparency." Fun Fact: Schmidt's Chihuahua, Peanut, and Shorkie, Joey, are service and companion dogs in training to visit hospital and hospice patients.
SEPI SHYNE (sepishyne.com) | Iranian American immigrant, attorney, Reiki Master, small business owner, and LGBTQ Civil Rights advocate Shyne has lived in West Hollywood for over a decade, with her wife and "furkids." An appointed member of the City's Lesbian and Gay Advisory Board who received a B.S. in Accounting and MIS from San Jose State University, and a Juris Doctorate from Golden Gate University School of Law in San Francisco, her work as Co-President of the LGBT Bar Association of Los Angeles saw Shyne "lead a fundraiser where we raised $10,000 for 'No on Prop 8' — and I advocated against hate crimes and Prop 8 on CNN." Seeking equality and engagement of under-served communities including lesbians, the transgender community, the bisexual community, and communities of color, Shyne seeks to be "a voice for renters," via preserving and strengthening their rights. Fun Fact: A daily walk with her dog, Chloe, gives Shyne pause (paws?) to contemplate the need for "more stop signs and enforcement to protect pedestrians," as well as "more lighting to deter crime."
MARQUITA THOMAS (marquitaforwesthollywood.com) | Noting a "commitment to serving her community through service," the 23-year West Hollywood resident cites a stint on the Lesbian Visibility Board for the City, her contribution to planning and programming the West Hollywood Dyke March, and serving as Co-chair of the Lesbian & Gay Advisory Board. She also served on the board of Christopher Street West. Thomas seeks to draw on her experience as Executive Director of the LA Gay and Lesbian Chamber of Commerce to "bring creative and innovative solutions" to homelessness, which she call "a humanitarian crisis that requires more practical solutions and less rhetoric." On the matter of affordable housing, Thomas urges us to "plan ahead for transit-oriented development along the proposed Metro light rail line" — and, regarding mental health and substance abuse, she notes, "Options continue to be a woefully overlooked necessity in a City that has so much nightlife." Fun Fact: The founder of Out & About Events for Women, for which she creates programming for Los Angeles' "under-served lesbian community" prepared for her career in advocacy and community organizing at the same college as Barack Obama.
The West Hollywood Chamber of Commerce hosts the Candidate Forum, Tues., Jan. 29, 6:30 PM – 9:00 PM, at the City's Council Chambers. More info at weho.org/Home/Components/Calendar/Event/19631/15. Watch it live, at weho.org/wehotv.
LACFD Lifeguard Div. announces death of Ocean Lifeguard Derek Traeger
Trager, 28, whose guard/patrol area was the beaches of Santa Monica North, had worked for the department for the past six years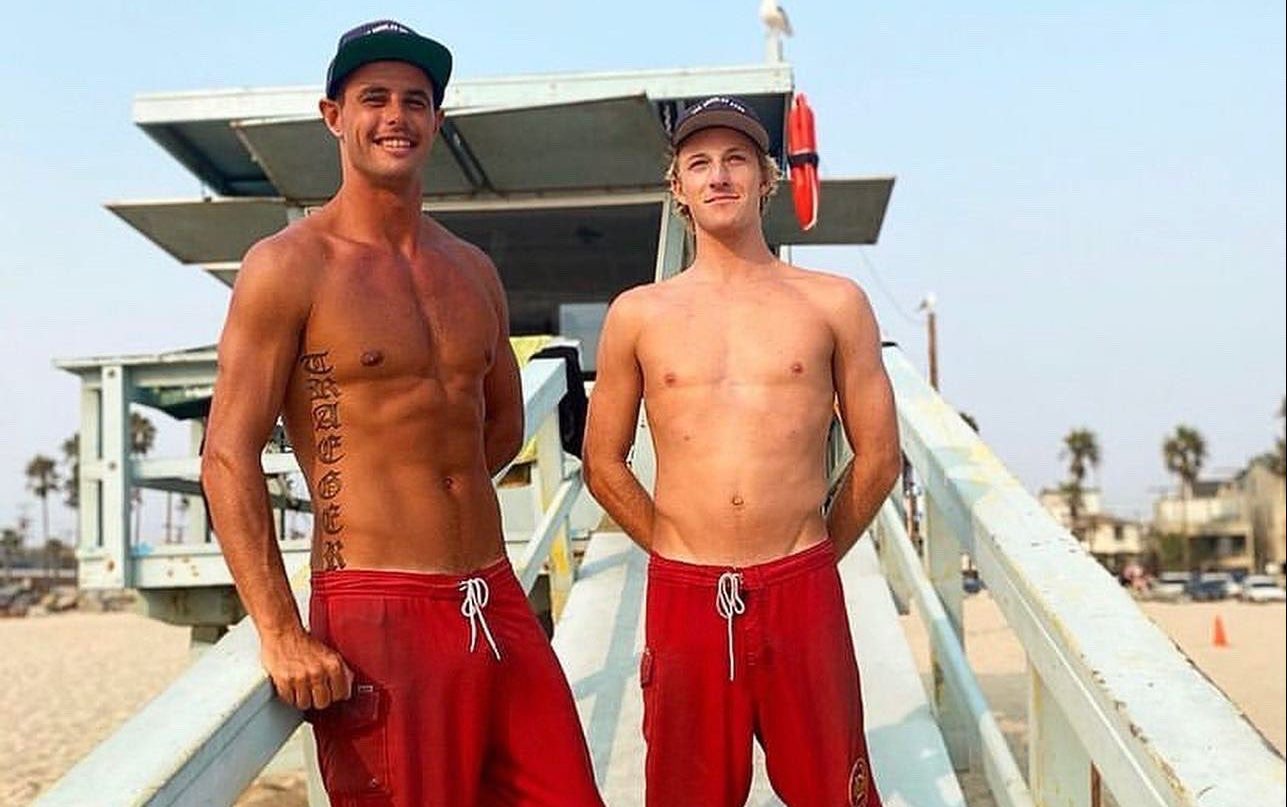 LOS ANGELES – On Monday, the Los Angeles County Fire Department, Lifeguard Division announced that the department lost an active-duty Ocean Lifeguard Derek Traeger on Sunday, August 14.
Trager, 28, whose guard/patrol area was the beaches of Santa Monica North, where the Pacific Coast Highway leads to Malibu, had died on in a freeway accident, the L.A. County coroner's office said in a statement. The cause of death was listed as blunt trauma. Details about the crash were unavailable according to the Medical Examiner-Coroner's office.
Trager had worked for the department for the past six years. It's not an easy job NBC News had noted. The county requires viable candidates to perform a 1,000-meter ocean swim and then undergo 100 hours of training — and some lifeguard organizations have had a hard time staffing up for summer.
The division is responsible for 72 miles of coastline, from the Orange County line to its border with Ventura County, and a typical year can demand 10,000 or more ocean rescues.
Traeger was born and raised in San Pedro where he learned to swim and surf. He was a LA County Junior life guard for 9 years, a Cadet for 2 years. He swam for San Pedro High School and was captain of the San Pedro High surf team. He has been a swim instructor since 2011. He was a student at California State University Long Beach, an online bio read.
Julia Almanzan, Principal Deputy Los Angeles County Counsel and the parent of a child assisted by Traeger posted a noted of gratitude on Facebook with a photo of the Ocean Lifeguard and her kid: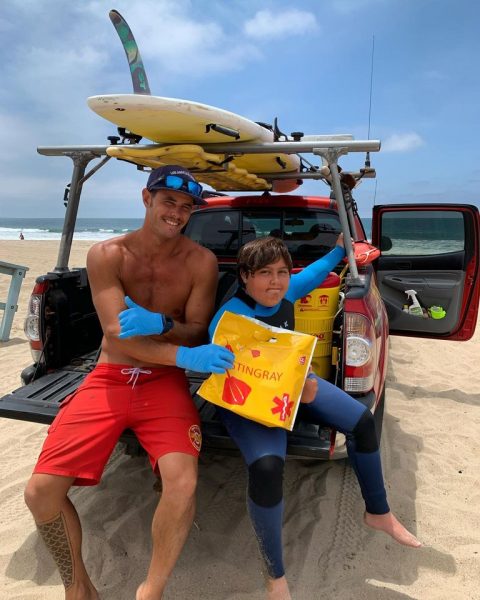 "This 28yo @lacolifeguards Derek Traeger passed away on Sunday. I only know him from his assistance in treating and caring for @lucasalexanderah in my absence during @summerofsurf at Santa Monica beach in July. Derek was really good with kids, especially mine…and really good with moms who are far away from their kids during medical emergencies. I'm so sad such a good human has left this earth too soon. May he Rest In Peace. A huge thanks to @monica.mihaly.5 @christophermihaly for also caring for Lucas pending my arrival, and capturing this helper in action. There couldn't be a better set of caring people circling Lucas at such an unfortunate time."
In a Twitter thread, the department noted;
"OL Traeger understood better than most what it means to wear the red trunks. His passion for life, art, the ocean, and his lifeguard family was evident in every moment he lived," the tweet read. "We extend our deepest condolences to the family, friends, & colleagues of OL Traeger."
(1/3) It is with great heartache the Los Angeles County Fire Department, Lifeguard Division shares the active duty death of Ocean Lifeguard Derek Traeger on Sunday, August 14, 2022. Ocean Lifeguard Traeger faithfully served the County of Los Angeles for 6 years and was last pic.twitter.com/Khbajke4Wz

— LACoLifeguards (@LACoLifeguards) August 15, 2022
(3/3) activated and services are available for family and team members.

We extend our deepest condolences to the family, friends, & colleagues of OL Traeger. More information will be shared when available.

— LACoLifeguards (@LACoLifeguards) August 15, 2022
Inaugural LA County Youth Climate Commission seeks youth leaders
"It's a fantastic opportunity for young people who are both passionate about climate change and interested in public service"
LOS ANGELES (Press Release) – Aiming to empower the region's next generation of environmental leaders, the County of Los Angeles today issued a call for young adults to serve on its inaugural Youth Climate Commission.
On the heels of major climate legislation at the federal level, the County is seeking 25 youth leaders who have a commitment to civic action that will create greater resilience in their communities.
The Board of Supervisors, responding to grass-roots activism from Los Angeles youth climate leaders, adopted an ordinance to create the Commission to inform, recommend, and advise on County goals, plans, actions, and policies related to climate change mitigation and resilience.
The panel – the first County Commission to focus exclusively on climate change – aims to amplify the perspectives and priorities of local youth, since they will be the most dramatically impacted by the ongoing climate impact during their lifetime.
"I am heartened that after years of insufficient action on climate, Congress is advancing a major climate bill that will change the game for lowering our emissions nationally," said Supervisor Hilda Solis who represents the First District and authored the ordinance. "With new federal resources, the stakes are even greater for us to ensure that the very people whose future is most impacted are at the table to effect real change."
"Despite another season of record-breaking heat and extreme weather, I remain hopeful in the next generation's unwillingness to stand idle in the face of the climate crisis. The Youth Climate Commission provides an important structural pathway for new and diverse leadership to advance equitable and bold climate solutions for the Los Angeles region" said Supervisor Holly Mitchell who represents the Second District.
"Young people all across Los Angeles County are an untapped source of energy and ideas that can, and should, influence the County's actions on climate change," said Supervisor Sheila Kuehl who represents the Third District and was the co-author of the ordinance. "I encourage young people who have a commitment to reversing climate change, protecting biodiversity, and reimagining our relationship to our planet's natural resources to consider participating on this exciting body that will help to shape LA County climate policy for years to come."
"We are already seeing the effects of climate change, but many of my colleagues and I will be long gone when the worst impacts of the climate crisis take hold. Young people are leading a movement on this issue and they are proving better at it than the generations before who have failed them. They deserve a seat at the table in shaping our County's climate policy and I encourage the young climate leaders across my district to apply to be a part of this commission", said Supervisor Janice Hahn who represents the Fourth District.
"Our County is very big, so it's important that we attract a diverse group of individuals so that we hear perspectives inclusive of different parts of our County, such as our high desert, foothill, and mountain communities," said Supervisor Kathryn Barger, who represents the Fifth District. "Many of these communities face a higher likelihood of being impacted by natural disasters due to climate change, such as wildfires and flooding. I highly recommend anyone who is interested to come forward and apply to join this new County Commission. It's a fantastic opportunity for young people who are both passionate about climate change and interested in public service."
The findings of the County's recent Climate Vulnerability Assessment, demonstrated that an estimated 56% of residents – nearly 5.7 million people — face high risk to such climate hazards as extreme heat, wildfire, inland flooding, extreme precipitation, coastal flooding, and drought.
Low-income and communities of color face a disproportionate amount of climate vulnerability as well as limited capacity to withstand and weather future threats, the study found.
The commission's recommendations will further the ongoing implementation of Our County Sustainability Plan, the most ambitious regional sustainability blueprint in the nation. Among its 159 action items is creating a fossil fuel-free L.A. County by 2050.
"We are committed to reflecting the diversity of our County in our new Youth Climate Commission. We invite young adults from marginalized communities, communities burdened by pollution, and beyond to co-create with us a future with healthy, sustainable communities by applying to serve as commissioners," said Executive Officer Celia Zavala.
Application materials are available on the website and must be submitted by Sept. 15, 2022. Interested applicants must be age 18 by Oct. 1, 2022.
2nd Recall effort against LA County District Attorney George Gascón fails 
The 520,050 valid petition signatures fell short of the 566,857 required to place the recall question on the ballot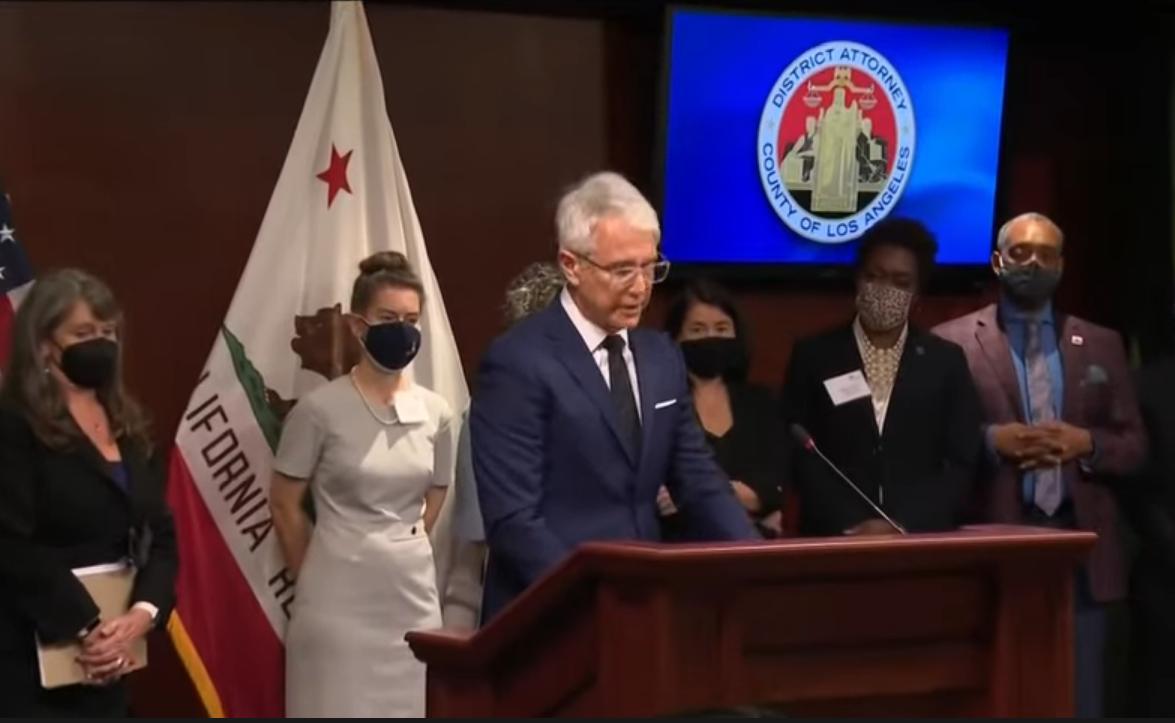 LOS ANGELES – The second effort to recall Los Angeles County District Attorney George Gascón was rejected Monday after the LA County Registrar-Recorder/County Clerk's office announced recall organizers had fallen short of the requisite validated signatures needed to qualify for the November elections ballot.
A spokesperson for Dean C. Logan, the Registrar-Recorder/County Clerk, said that recall organizers had submitted a total of 715,833 petition signatures, of which 195,783 of the signatures were invalid and another 45,000 were duplicate signatures. The remaining 520,050 valid petition signatures fell short of the 566,857 required to place the recall question on the ballot.
KTLA reported that organizers halted their first recall attempt last fall after they were unable to gather the necessary signatures by the end of October.
Gascón, 67, was elected in 2020 on a pledge to reform the county's criminal justice system. Since he took office, juveniles are no longer being charged as adults, sentencing enhancements that he says lead to mass incarceration have been eliminated and cash bail for nonviolent felony offenses has ended. Misdemeanors associated with substance abuse and mental illness are also being diverted out of the criminal justice system, both KTLA and the Los Angeles Times have reported.
Gascón's policies have provoked criticism from Los Angeles County Sheriff Alex Villanueva, as well as officers from the Los Angeles Police Department and others from the 88 jurisdictions within the County.
Recall organizers contend that his policies favor criminal defendants and have contributed to a significant rise in crime rates reported across the County.