PHOTOS: Historic number of gay, bisexual lawmakers sworn into Congress
Four old members, four new ones begin term in 116th Congress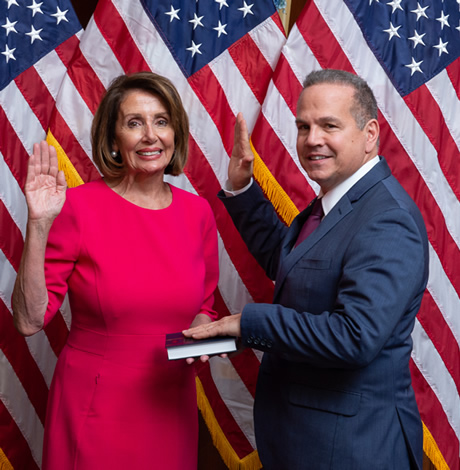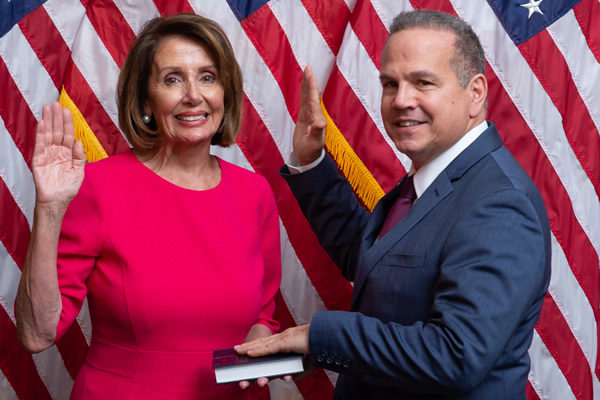 A historic number of openly gay and bisexual lawmakers on Thursday were sworn in the U.S. House and U.S. Senate at the start of the 116th Congress.
Ten LGB lawmakers will serve in the House and Senate during the 116th Congress. Eight will serve in the House and two will serve in the Senate. That's a net gain of two from the 115th Congress.
House Speaker Nancy Pelosi (D-Calif.) swore in seven LGB members to the U.S. House in her role as presiding officer of the chamber.
The seven members consisted of three lawmakers who have previously served in Congress — Reps. David Cicilline (D-R.I.), Mark Takano (D-Calif.) and Sean Patrick Maloney (D-N.Y.) — and four freshmen lawmakers — Reps. Katie Hill (D-Calif.), Angie Craig (D-Minn.), Chris Pappas (D-N.H.) and Sharice Davids (D-Kansas).
Another openly gay member of the House — Rep. Mark Pocan (D-Wis.) — was present at the official swearing-in ceremony in the House Chamber, but didn't attend the subsequent photo opportunity.
In the U.S. Senate on the same day, Vice President Mike Pence in his role as president of the Senate swore in two LGB U.S. senators — Sens. Tammy Baldwin (D-Wis.) and Kyrsten Sinema (D-Ariz.).
Here are photos of Pelosi swearing in LGB members of the House: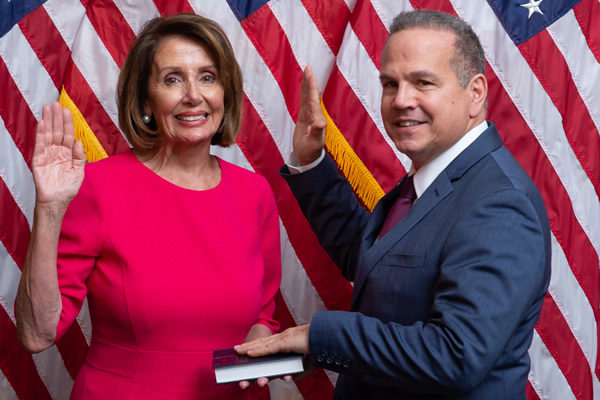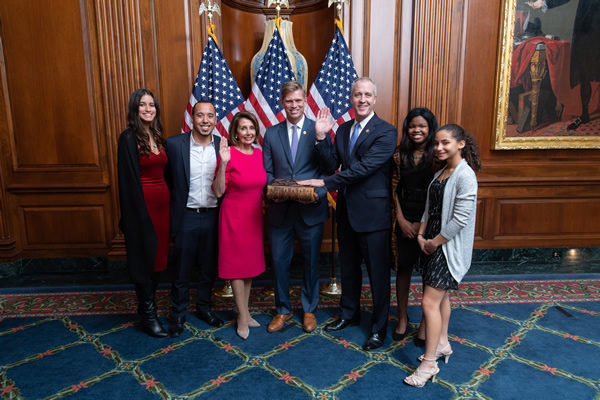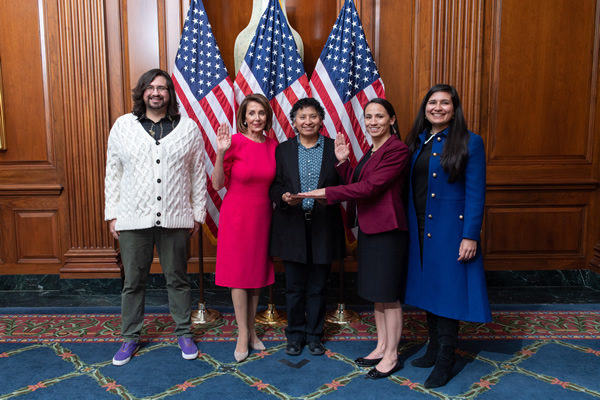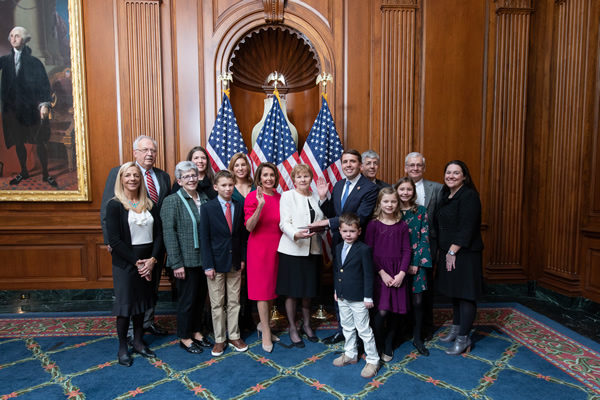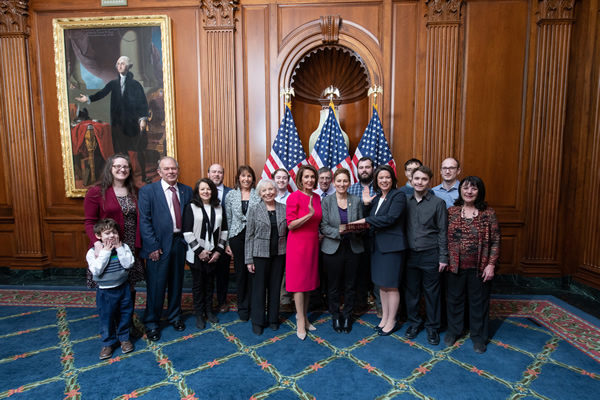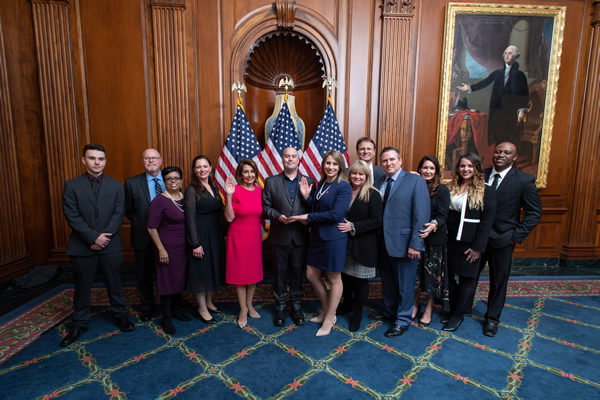 Here's Pence swearing in Baldwin with her uncle, Guy Baldwin, Sr., holding the Bible: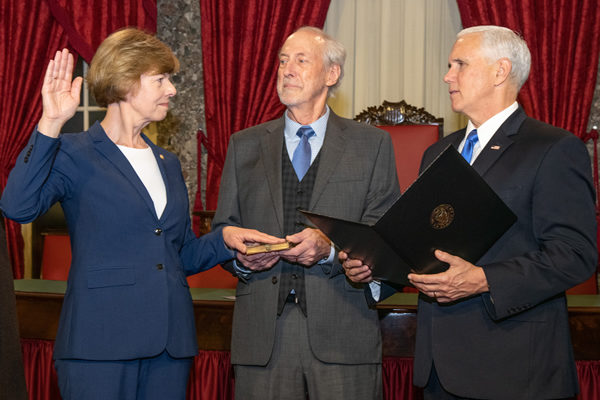 Here's Pence with Sinema, who was sworn in with a law book as opposed to a Bible: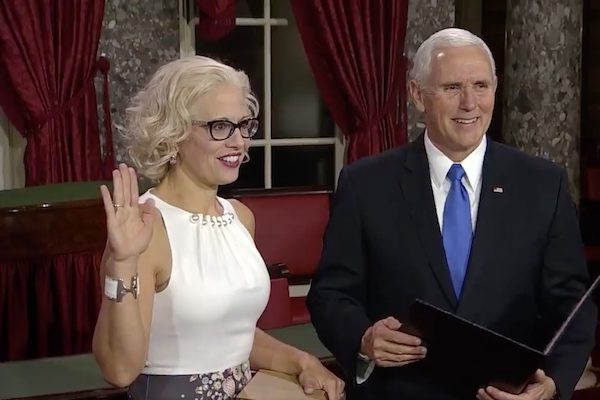 Justice Breyer announces his retirement from high court sets up new battle
President Joe Biden told reporters that he would have "more to say later" about Justice Breyer's retirement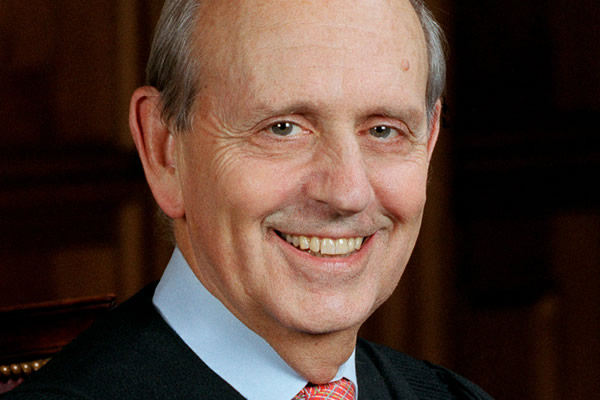 WASHINGTON – U.S. Supreme Court Associate Justice Stephen Breyer, who had joined landmark decisions from the Court in support of LGBTQ rights, announced on Wednesday he'd retire, opening up a new battle over the judiciary and the potential for President Biden to add his first nominee to the high court.
First reported by NBC News, the retirement of Breyer, appointed by former Bill Clinton and confirmed in 1994, fulfills a wish among progressives for him to step down for him to step down to ensure a replacement would be named with Biden in the White House and Democrats in control of the U.S. Senate.
President Joe Biden told reporters that he would have "more to say later" about Justice Breyer's retirement, but said that he was waiting for the justice's own statement.
"There has been no announcement from Justice Breyer — let him make whatever statement he wants to make, and I'm happy to talk about it later," the president remarked.
Calif. Insurance Commissioner urges FDA end gay/bi blood donation ban
"This outdated, discriminatory guidance based in prejudice not in public health & is contributing to the national blood donation crisis"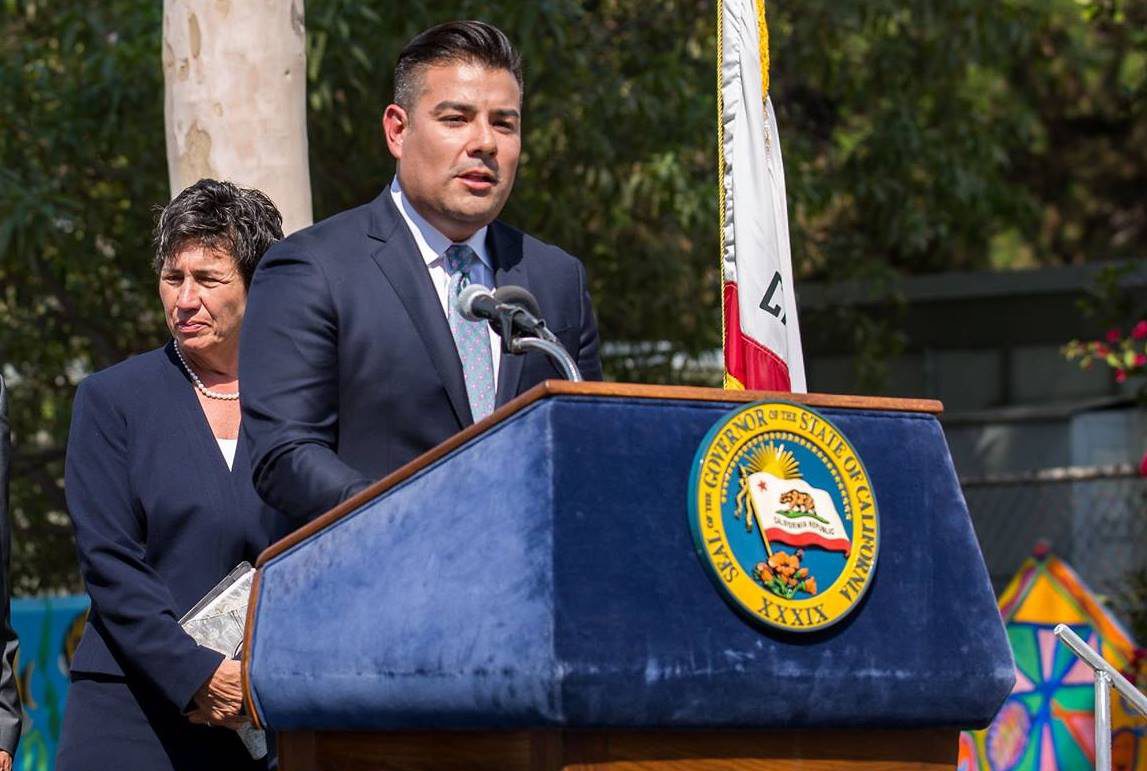 SACRAMENTO – California Insurance Commissioner Ricardo Lara is urging the U.S. Food and Drug Administration (FDA) to overturn a discriminatory blood donation ban policy carried over from the Trump administration.
On Monday, Lara sent a letter urging an end to the FDA's policy banning blood donations from gay and bisexual men. Currently the FDA requires that men who have sex with men must abstain from sex for three months before donating blood.
"This is outdated, discriminatory guidance based in prejudice – not in public health – and it is contributing to our current national blood donation crisis," said Insurance Commissioner Ricardo Lara in his letter to FDA's Acting Commissioner Dr. Janet Woodcock and U.S. Department of Health and Human Services Secretary Xavier Becerra. "I respectfully urge you to permanently lift the entire deferral period in order for a male donor who has had sex with another man from donating blood."
Research by the Williams Institute at the UCLA School of Law indicate that, if the outdated policy is lifted, up to 615,300 additional pints of blood per year—enough blood to help save the lives of more than one million people—can potentially be contributed by gay and bi men.
The FDA's original lifetime ban against gay and bi men was enacted in 1983 when little was known about the mechanisms of HIV transmission and the AIDS epidemic was concentrated primarily in the gay male community.
In 2015 the lifetime ban was partially lifted after the FDA announced that men who have sex with men would be able to donate blood following a year of abstinence. In April 2020 the one-year deferral period was reduced to three months to diminish the nation's urgent need for blood during the COVID-19 pandemic.
The United Kingdom announced in May 2021 that donors will no longer be asked if they are a man who has had sex with another man. Potential blood donors—regardless of their gender—will be asked, instead, of their most recent sexual activities. This year France and Greece announced their plans to abolish their longtime restrictions on blood donations from gay and bi men.
Pennsylvania borough revokes protections for its LGBTQ+ citizens
The Republican-majority Chambersburg Borough Council made good on its promise repealing the ordinance in the 7-3 vote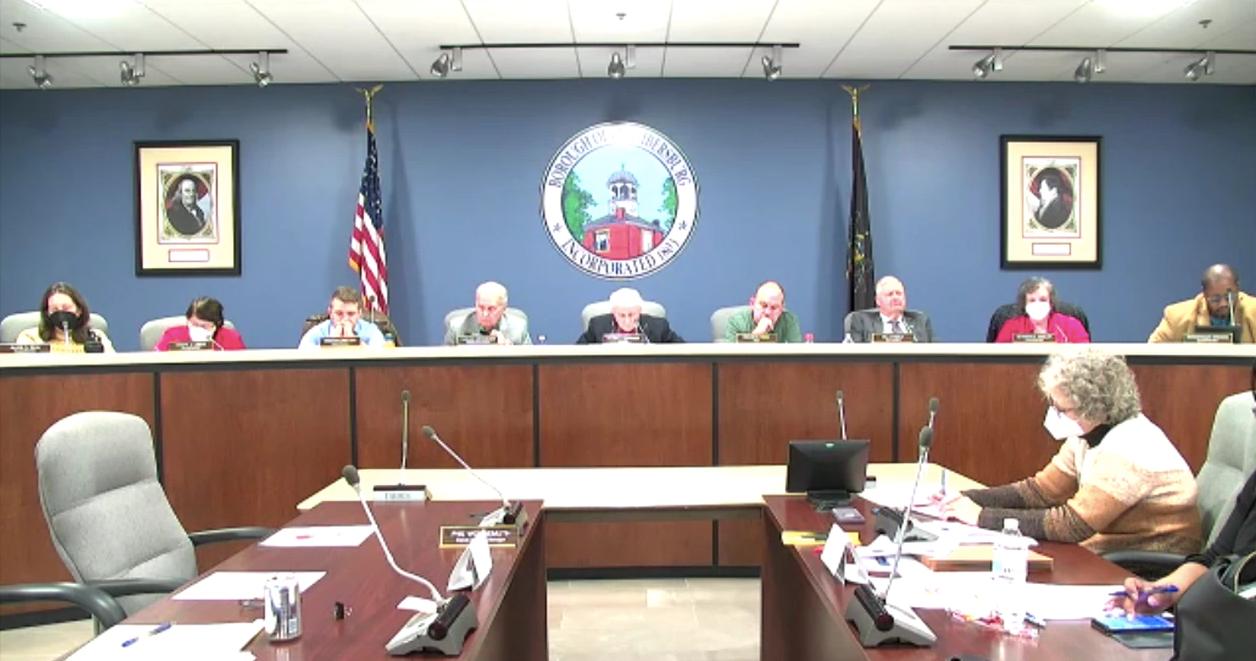 CHAMBERSBURG – The council of this central Pennsylvania borough (town) met on Monday, and voted to repeal an ordinance passed this last October that safeguards residents against discrimination based on their sexual orientation, ethnicity or gender identity.
The Republican-majority Chambersburg Borough Council made good on its promise repealing the ordinance in the 7-3 vote, citing a litany of reasons.
Opposition to the ordinance was led by newly installed borough council president Allen Coffman, a Republican.
Coffman told Penn Live prior to the vote this past week that the ordinance serves no purpose and is redundant. He points out that Pennsylvania's Human Relations Commission handles discrimination complaints from residents across the state.
"There are no penalties, no fines," he said. "There's nothing that the ordinance can make someone do. The most they can hope for is that the committee request the two parties to sit down with a counselor or mediator and talk about it. Quite frankly there is nothing that compels them to. There's no teeth in this."
"We are a very diverse community," said council vice president Bill Everly, a lifelong resident. "For that reason I don't understand why we need to have special protections for people. I think by creating special protections for people we open the door for other protections for other people. I think we need to come together and not divide us. I think this would divide us."
"I don't know of any reasons for repealing it other than a political move," said Alice Elia, a Democrat and the former Chambersburg borough council president. "This issue should not be politicized. It's an issue of justice and having equal protection for everybody in our community. It shouldn't be a political or a Democratic or Republican issue. This should be something we are all concerned about."
For more than three hours, council heard the impassioned pleas from scores of borough residents, overwhelmingly speaking out in support for the ordinance. Only a few borough residents spoke in favor of repeal, Penn Live reported.
Some visibly overcome with emotion, resident after resident implored council members to keep intact the ordinance citing a litany of personal challenges faced as members of the LGBTQ community, while others spoke about the stain on the reputation of the borough if repealed.
"It feels like we are going backwards," said Kierstin Stockum, a borough resident. "This is just protecting somebody. Why would we not want that as a community? A repeal says we not welcoming to anybody whether LGBTQ or not. It's saying we discriminate here. Why would we want to send that message?"
Dawn Abraham, a high school teacher and cosponsor of the gay-straight alliance, noted that the LGBTQ population at Chambersburg High School had grown exponentially in recent years.
"Kids are reporting being bullied, being pushed down the stairs, barked at and called multiple expletives," she said. "By pulling support for this you are showing our community that you don't support the school children in the community."
The Commonwealth of Pennsylvania is one of the 27 states in the nation that have no explicit statewide laws protecting people from discrimination on the basis of sexual orientation or gender identity in employment, housing and public accommodations.
Republican-led Chambersburg becomes first Pa. town to revoke LGBTQ inclusive law. https://t.co/Aky6mDRFnw

— Ivey DeJesus (@iveydejesus) January 25, 2022