California LGBT Legislative Caucus elects new leaders
Low says Caucus will build on historic gains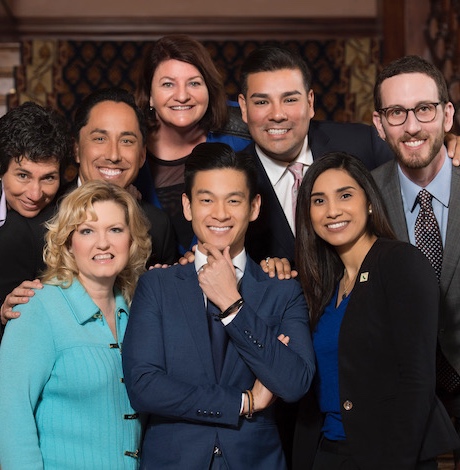 And then there were seven. On Monday, the California Legislative LGBT lost a prominent member with the historic swearing-in of State Sen. Ricardo Lara as Insurance Commissioner, the first openly gay person elected statewide to a constitutional office in California. But the loss was a motivator: two days later, the Caucus unanimously elected San Francisco's prolific Sen. Scott Wiener to serve as the new Chair and Assemblymember Todd Gloria from San Diego to serve as Vice Chair. Their mission is to build on their accomplishments, as well as help mentor the next LGBT legislative generation.
"I am honored and humbled to serve as Chair of the LGBT Caucus and I am grateful to my colleagues for placing this trust in me and in Caucus Vice Chair Todd Gloria. For nearly 30 years, I have dedicated myself to the LGBT community, and this work is deeply personal for me. I want to thank Assemblymember Evan Low for his extraordinary leadership of the LGBT Caucus for the past two years. Under Evan's leadership, the Caucus has made huge strides," said Wiener said in a press release.
"We've made significant progress in California as an LGBT community, with strong civil rights protections and more and more openly LGBT elected officials," Wiener continued. "Yet, despite those advances, our community continues to face major challenges around discrimination, violence, lack of healthcare access, housing instability, and economic insecurity. Transgender Californians continue to experience extreme violence, poverty, unemployment, and incarceration; LGBT people disproportionately experience homelessness; LGBT young people are committing suicide at alarming rates; too many people continue to become infected with and die from HIV; LGBT seniors have far too little support; and our federal government is literally trying to erase us. Yet, I am optimistic about the future, given our pro-LGBT Governor and Legislature. I look forward to working with all of my colleagues – both LGBT and allies – to ensure California remains a beacon of hope for our entire community, here and around the world."
"We are lucky to have these outstanding champions fighting for us in Sacramento," said Equality California Executive Director Rick Zbur, who also thanked Low for his service.
"Under the leadership of Assemblymember Evan Low, the Legislative LGBT Caucus has continued to break ground, making progress inside the Capitol and for all Californians," said Assembly Speaker Anthony Rendon. "I congratulate Senator Scott Wiener and Assemblymember Todd Gloria for taking on the challenge of continuing those gains as Caucus Chair and Vice-Chair, respectively."
The past two years under the ubiquitous outgoing Chair Evan Low have been extraordinary for the 17-year old, all-LGBT Caucus, especially considering the religious-right anti-gay knuckle-draggers in the Republican-dominated Legislature that lesbian and gay legislators had to fight against after Sheila Kuehl's historic election in 1994. Jonah Markowitz's 2016 documentary film Political Animals shows what Kuehl, Carole Migden, Jackie Goldberg and Christine Kehoe had to endure before Gray Davis was elected governor in 1998 and the tide against LGBT dignity and equality started to fundamentally change.
Now the California Legislature has a super-Democratic majority and a super-progressive governor, Gavin Newsom.
"We have the most openly LGBT legislators than any other legislature in the nation," Low told the Los Angeles Blade in an extensive interview. "We want to build on that. It's something that we care very deeply about. And these are not just legislators who come from the coastal communities but from the Central Valley and Stockton and we have the youngest Latina LGBT legislator in Sabrina Cervantes."
Low says the LGBT Caucus is "very excited" but "we have much work to be done. That's why we're going to focus on a very robust legislative package in the LGBT Caucus and also recognizing that we have such a key champion in Gavin Newsom who made history by putting the stake in for us on marriage equality (in 2004). So the stars are aligned and we're so excited for 2019."
Low notes that the LGBT Caucus will look at a number of areas, "making sure our LGBT seniors retire and age with dignity in areas of housing and access to healthcare services," for instance.
Low says there is special focus on the transgender community to make sure trans people are recognized. They will build off of "SB 396, for example, by Sen. Lara on the Transgender Work Opportunity Act. And SB 310, the Name and Dignity Act, by Sen. Atkins. And the Gender Recognition Act recognizing gender non-binary individuals," Low says.
"There are lots of the things we want to partner on working with Trans Can Work insuring we have an inclusive workplace and laws and we will continue to do many of these different things."
Low is mindful of California's position as a beacon of light during these difficult times. "We're excited by the progress we've had, in particular, given where the Trump administration is, we feel that in the absence of leadership – and in fact, in response to the attacks from the Trump administration—the state of California needs to be the blue print for other states to pass similar legislation." 
Low notes that, contrary to the anti-LGBT disparaging comments made in the past, "now some Republicans are voting in support of our legislation. We had bipartisan support of a travel ban to states that discriminate; on the Chechnya Resolution calling on Chechnya to recognize the importance of the LGBT community; bipartisan support on "conversion therapy" as a fraudulent practice. And this is what I think is so transformative—why it's so important to get openly LGBT people to be in these key positions to change the hearts and minds of everyday Californians. We want to demonstrate that this is not partisan and that love transcends partisanship."
In addition to introducing new laws, the LGBT Caucus also intends to exercise an oversight function to ensure the laws are enforced.   
"While we can talk about the legislative successes and what's being signed—for example when the governor signed my bill ensuring LGBT training in law enforcement and in the academies and POST training—we can't just wipe our hands clean and say everything's done. Fine and dandy," Low says. "We need to do the necessary follow-ups with the police departments, police chiefs, training academy to making sure what that looks like and that it's adequate."
Additionally, the LGBT Caucus hopes to re-introduce bills vetoed by Gov. Brow, such as legislation for LGBT training in schools by Tony Thurmond who is now the Superintendent of Public Instruction.
And, Low says, speeding up his already fast delivery, "what we're so excited about is that this is not just a project for the LGBT Legislative Caucus but we're also having straight allies asking to champion and play a key role in some of these areas."   
Last year Low pulled a key "conversion therapy" bill announcing that in his tour around the state to garner support, he discovered some evangelical Christians who—while they still believed homosexuality is sinful—disavowed the harmful junk science practice. Low says he's been meeting regularly to engage these Christians.
"Kevin Mennoia is the former president of the National Evangelical Association and he agreed with this notion of not only saying that 'conversion therapy' is anti-Christian but is also harmful. He penned an op-ed In the Orange County Register to state that," Low says. "That's very transformative. It is my hope that we can work with them and convene to say that they can be part of this process to join us in lock step to denounce 'conversion therapy' and to celebrate our basic humanity."
Low says he is not fixed on a date to re-introduce that bill. "We're still in that legislative process," he says. "But given my deep engagement on this issue, you can image that I'll be very passionate about trying to get some type of partnership that will come up into legislative format. Hoping within the next couple of months."
Low is very firm on one point: "We will not shy away and we take these obligations very seriously that's why we want to convey that we are convened back and ready to go."
Interestingly, shortly after the LGBT Caucus issued their press release about the change in leadership, Assemblymember Todd Gloria's office announced that the new LGBT Caucus Vice Chair is also now running to be Mayor of the City of San Diego.
"It's clear that San Diego needs strong, experienced, and progressive leadership in the Mayor's Office – leadership that has the courage to take our city beyond business as usual and solve the long-standing problems that have faced our city. That's why I'm running for Mayor," Gloria said in the press release. "San Diego may be America's Finest City, but we should strive to be more than just fine. We should dare to be great."
Heat Advisory issued as temps expected to be in triple digits
LA County will see hot & breezy conditions Monday. High temperatures will reach 90 degrees. Temperatures at night will fall to 64 degrees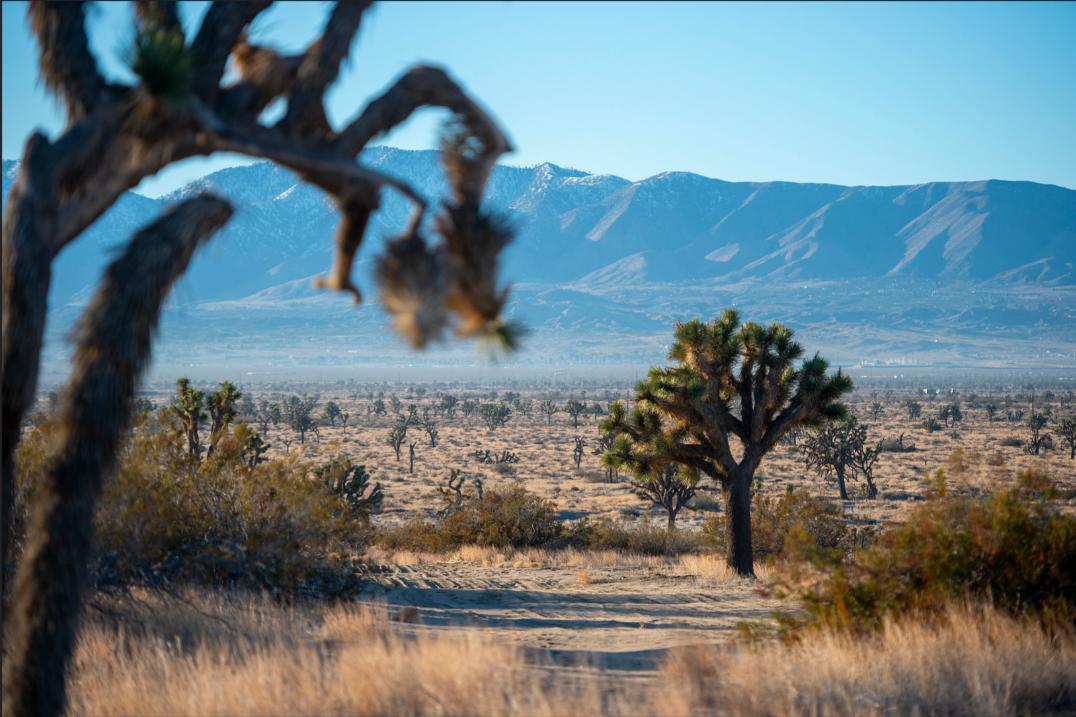 LOS ANGELES – The National Weather Service issued a heat advisory warning for most of Southern California on Monday. Temperatures while remaining lower in the 80s and 70s in the coastal areas are expected to exceed triple-digits for most of the inland areas in the region.
Los Angeles and Orange counties will see hot and breezy conditions Monday. High temperatures will reach 90 degrees. Temperatures at night will fall to 64 degrees.
The valleys and Inland Empire will be very hot and windy Monday as temperatures soar to 105 degrees. Evening temperatures will drop to 72 degrees.
Beaches will see temperatures rising to 78 degrees amid breezy conditions on Monday. Overnight lows will dip to 64 degrees.
Look for a 20% chance of thunderstorms in the mountain communities on Monday, with temperatures reaching a high of 89 degrees. Temperatures will fall to 55 degrees at night.
Desert conditions will be sunny and windy on Monday, with temperatures expected to rise to 104 degrees. Nighttime temperatures will drop to 69 degrees.
Detailed Forecast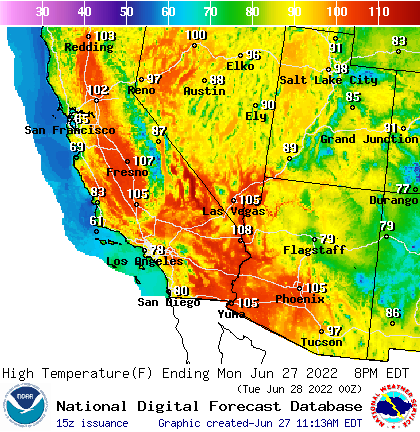 Today
Sunny and hot, with a high near 106. East northeast wind 10 to 15 mph becoming north northwest in the afternoon. Winds could gust as high as 20 mph.
Tonight
Clear, with a low around 69. Northwest wind 5 to 15 mph becoming east northeast after midnight. Winds could gust as high as 20 mph.
Tuesday
Sunny and hot, with a high near 104. Southeast wind around 10 mph becoming northwest in the afternoon. Winds could gust as high as 15 mph.
Tuesday Night
Clear, with a low around 68. West northwest wind 5 to 15 mph becoming east southeast after midnight. Winds could gust as high as 20 mph.
Wednesday
Sunny and hot, with a high near 98. East southeast wind 5 to 10 mph becoming west 10 to 15 mph in the afternoon. Winds could gust as high as 20 mph.
Wednesday Night
Clear, with a low around 62. Breezy.
Thursday
Sunny, with a high near 94.
Thursday Night
Clear, with a low around 58.
Friday
Sunny, with a high near 92.
Friday Night
Clear, with a low around 57.
Saturday
Sunny, with a high near 90.
Saturday Night
Clear, with a low around 56.
Sunday
Sunny, with a high near 89.
Right-wing news anchor delivers obscenity-laden homophobic rant
"Guess what I came home to be greeted with? This fucking bullshit. [points to Rainbow Pride flag] What the hell is that?"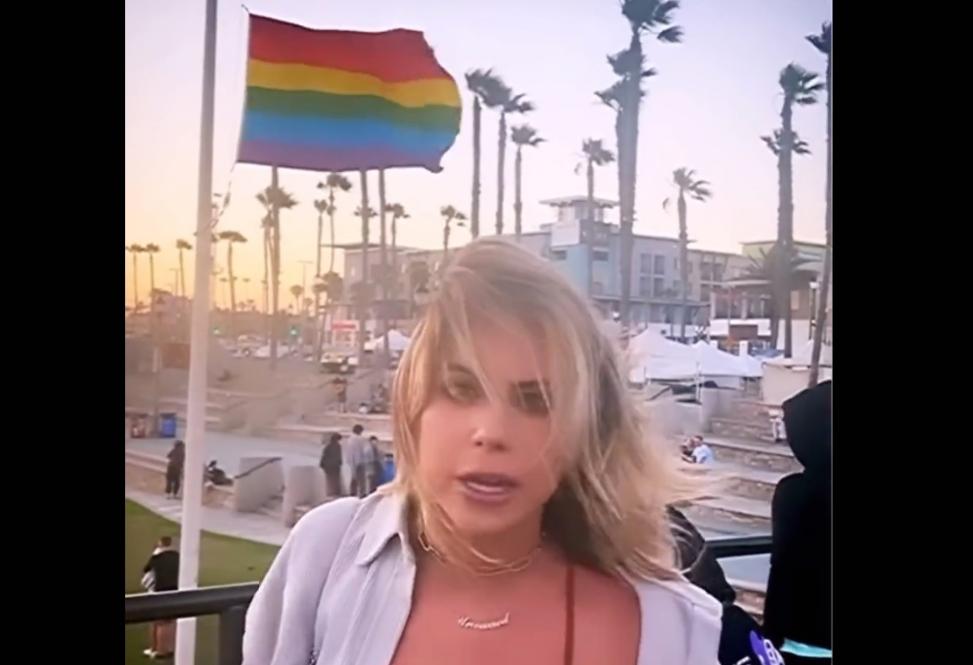 HUNTINGTON BEACH, Ca. – Alison Steinberg, an anchor and contributor for right-wing extremist media outlet One America News, launched into an obscenity-laden rant captured in a now viral video over an LGBTQ+ Pride flag flying in the beachfront business district of Huntington Beach commemorating Pride Month.
Steinberg had originally posted her video to her Instagram account but it was later removed.
In the rant Steinberg is heard saying: "And guess what I came home to be greeted with? This fucking bullshit. [points to Rainbow Pride flag] What the hell is that? Huntington Beach is the town of good old-fashioned hard-working American people, much less human. People who worked all through the COVID lockdown. Yes, that's right. Huntington Beach never shut down through any of the COVID nonsense fuckery. And now we're peddling this garbage?"
"What the hell is this? The only flag that should be up there is that American flag. This is a disgrace to our city and it should be taken down immediately. Whoever the hell is running this town needs to be fired. Make America great again. Make Huntington Beach great."
Ron Filipkowski, a defense lawyer and former Assistant United States Attorney had captured the video and uploaded it to his Twitter account where many of his 402.9K followers retweeted it:
OAN Contributor Alison Steinberg is raging after returning home to Huntington Beach to find the city flying a Pride flag. (Language) pic.twitter.com/fk5rTg88hF

— Ron Filipkowski 🇺🇦 (@RonFilipkowski) June 26, 2022
Triple A: Gas Prices Drop on Increased Production, Economic Worries
The average price for self-serve regular gasoline in California is $6.38, which is six cents lower than last week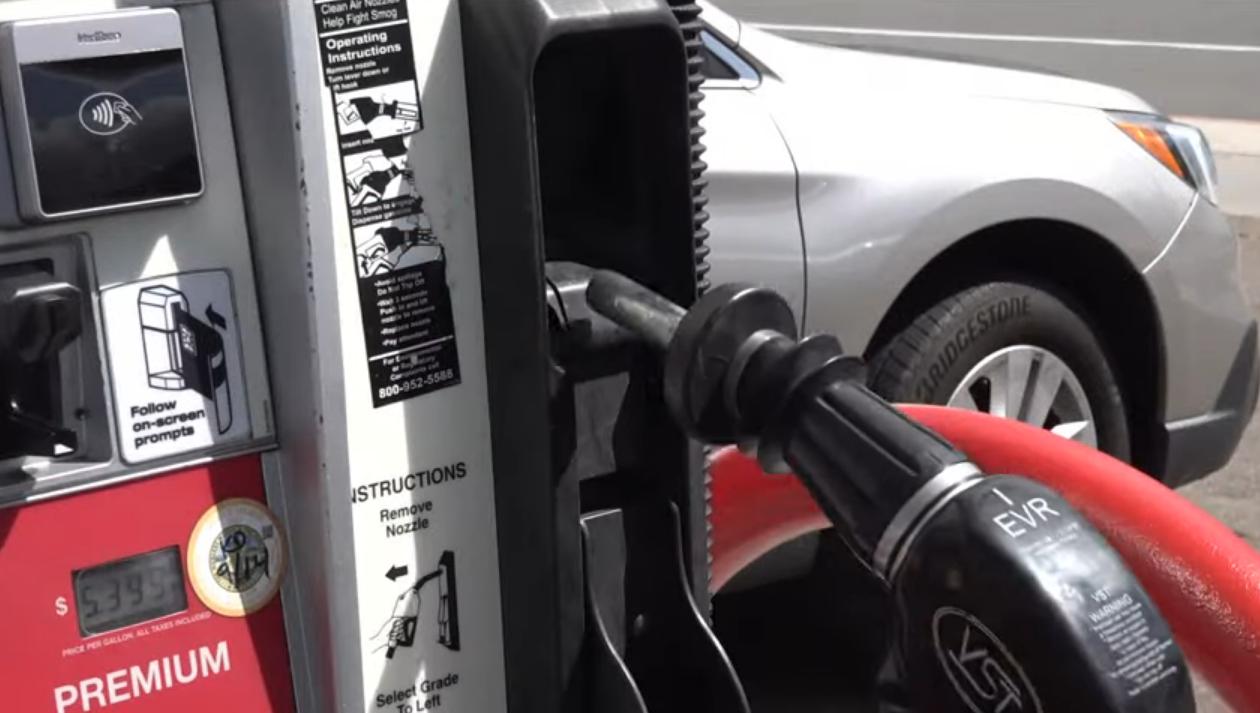 LOS ANGELES – Gas prices dropped as local refineries reported their second-highest California-blend gasoline production levels of 2022 and economic concerns pushed down oil prices, according to the Auto Club's Weekend Gas Watch. The average price for self-serve regular gasoline in California is $6.38, which is six cents lower than last week.
The average national price is $4.94, which is seven cents lower than a week ago.
The average price of self-serve regular gasoline in the Los Angeles-Long Beach area is $6.40 per gallon, which is six cents lower than last week, 30 cents higher than last month, and $2.14 higher than last year. In San Diego, the average price is $6.32, which is five cents lower than last week, 30 cents higher than last month, and $2.09 higher than last year.
On the Central Coast, the average price is $6.32, which is three cents lower than last week, 29 cents higher than last month and is $2.10 higher than last year. In Riverside, the average per-gallon price is $6.29, which is four cents lower than last week, 30 cents higher than last month and $2.11 higher than a year ago. In Bakersfield, the $6.36 average price is the same as last Thursday, 36 cents higher than last month and $2.22 higher than a year ago today.
"The state's refineries produced more California-blend gasoline last week than in any other week since January of this year, according to the California Energy Commission," said Auto Club spokesman Doug Shupe. "At the same time, Oil Price Information Service says concerns about the U.S. economy are pushing down oil and wholesale gasoline prices."
The Auto Club reminds drivers they can save money on gasoline by shopping around virtually using a tool like the AAA Mobile app, which shows users the cheapest gas prices near them. AAA members can also take advantage of discounted gas prices at participating Shell gas stations by joining the Shell Fuel Rewards® program.
The Weekend Gas Watch monitors the average price of gasoline. As of 9 a.m. on June 23, averages are: