January 16, 2019 at 3:14 pm PST | by Sean Shealy
Teachers' Strike Disrupts LA Schools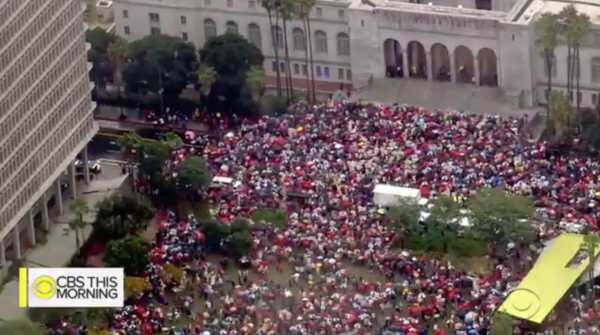 Tens of thousands of teachers in the greater Los Angeles area walked off the job early Monday morning, Jan. 14, leaving the nation's second largest school system in chaos. The strike negatively impacts the work, academic, and daily routines of nearly half a million students and their families, including LGBTQ students, teachers, and their families.
Gov. Gavin Newsom and Los Angeles Mayor Eric Garcetti have unsuccessfully urged teachers to return to the negotiating table, but buoyed by support for their first strike in 30 years, the teachers said no. They note that despite the extremely costly government shutdown, the school district and the state has billions of dollars held in reserve.
"In broad terms, this is about much more than pay," Garcetti told the LA Times. "This is about the soul of our schools and the way L.A. does or does not build a culture to collectively invest in our future."
A spokesperson for the Los Angeles Unified School District (LAUSD) told the Los Angeles Blade that schools will remain open and meals will be provided, but it's unclear how many students would attend classes.
A recent Human Rights Campaign survey reports that California's LGBT students often suffer from higher levels of stress and lack of feelings of inclusivity. Staff in the LAUSD who work with LGBT students fear that a prolonged strike could have a far-reaching, unforeseen negative impact for those students.
LAUSD has had programs in place to mentor and assist its LGBT students since the mid-1980's, starting with Project 10, which has since evolved into the district's Human Relations, Diversity, and Equality (HRDE) program run by LAUSD Student Health and Human Services staff.
Dr. Judy Chiasson, one of three principal administrative staffers for the HRDE, outlined to the Los Angeles Blade the successes and programs implemented by her office. She also has oversight for the district's LGBT pupils, as well as its educators and other staff members who work directly with students.
"The main goal for us is to ensure that we are always looking for opportunities—multi level—always envisioning the needs of our LGBTQ students," Chiasson said. "We are keenly aware that relationships between students, parents and our staff are setting a tone for conversations that are supportive."
A key critique in the HRC study was that in California schools "many parents and educators refrain from talking about or advocating for LGBTQ inclusion because it feels taboo or because they're afraid of saying the wrong thing." Another critical point was that "only 32% of LGBTQ youth feel safe in the classrooms."
Chiasson disputed those findings, saying the LAUSD is fully committed to the provisions of AB 537, the California Student Safety and Violence Prevention Act of 2000 and was an early pioneer taking steps to prevent bullying and abuse in its schools since the early 1990's.
"Another area that LAUSD has been a leader in was that our schools do not or have not enforced or set policies towards gender dress and appearance," she said. "The LAUSD has also fully embraced the provisions of AB 9, Seth's Law, that enhances the Safe Place to Learn Act with additional tools for bullying prevention] and we work daily to ensure compliance and also maintain awareness of situations that may be a problem or issues that need addressing."
The HRC study indicated that only 32% of respondents said that they could definitely be themselves at school followed by only 5% being out to their teachers and 13% being non-binary
Chiasson said that within any school system, especially diversified ones like the LAUSD, there will be students who may feel disenfranchised. But her staff and the greater LA area schools personnel work hard to communicate with parents, students, and school staff to promote a more stable and inclusive environment for the schools.
The Los Angeles Blade reached out to Dr. Vincent Pompei, the San Diego-based Director of the HRC Foundation's Youth Well-Being Project and one of the author's of the report.
Citing the report, Pompei was asked if only 20% of LGBTQ youth in California hear positive messages about being an LGBT person in schools, how much greater is that problem in the LAUSD versus districts in rural or agricultural areas, such as Fresno or the Central Valley in general?
"Our data highlights that districts across the state, from the largest cities to the most rural communities, must take action and advocate for inclusivity and equality in schools — including by training staff, ensuring curricula are LGBTQ-inclusive and supporting LGBTQ student clubs, to create safe, affirming and welcoming schools" Pompei replied.
Chiasson noted that other districts have emulated LAUSD as they implemented their own programs. She felt that LAUSD personnel would work hard to lessen the strike's impact on the LGBTQ students.
But the experience of Justine Gonzalez, a former candidate for LAUSD's Board, appears to align more with the HRC report.
"As a graduate of LAUSD and a transgender parent to an LAUSD student, I've witnessed first hand the District's inability to create safe and inclusive environments for our LGBTQ families. I genuinely believe that inability comes from a lack of resources and investment in the District's teachers and staff," Gonzalez wrote in an op-ed for the Los Angeles Blade. A 2017 internal audit of LAUSD's anti-bullying initiatives and efforts," Gonzalez wrote, "found that most schools did not record any bullying incidents as required by District policy, maintain or use Bullying Complaint Logs, or provide high quality training on bullying prevention to teachers and staff on an annual basis. It also found that the number of staff that oversee the District's anti-bullying initiatives and efforts were notably low."
The last LAUSD walkout in 1989 lasted nine days.
Approximately 32,000 members of United Teachers Los Angeles (UTLA) including school nurses, counselors and librarians are asking for better pay, smaller classes, fewer standardized tests, greater charter school regulation and oversight plus adding more counselors, librarians and nurses.
"Here we are on a rainy day in the richest country in the world, in the richest state in the country, in a state as blue as it can be, and in a city rife with millionaires, where teachers have to go on strike to get the basics for our students," UTLA President Alex Caputo-Pearl told a crowd gathered in the pouring rain Jan. 14 at John Marshall High School in the Los Feliz district.
"Here we are in a fight for the soul of public education," Caputo-Pearl added while calling for the district to reinvest from its $1.86 billion in reserves and the millions in new money promised by the state.
American Federation of Teachers (AFT) President Randi Weingarten joined Caputo-Pearl and UTLA membership at the rally and in a press release January 13, the openly lesbian head of the ATF noted: "L.A.'s teachers need two and three jobs to afford rent, and they're teaching in classrooms with 40 or 50 students, in schools without counselors, librarians or nurses."
LAUSD Superintendent Beutner has said a neutral fact finder found that if the district met all of the teachers' demands, LAUSD would be bankrupt in two to three years, according to KTLA.
"We remain committed to resolve the contract negotiations as soon as possible," Superintendent Austin Beutner said at a Monday news conference, which he has since repeated. "We urge them to resume bargaining with us anytime, anywhere, 24-7. We'd like to resolve this."
UTLA sources told the Los Angeles Blade that much of the failure to negotiate a new contract and meet at least half way on other union demands is Beutner's unwillingness to hear out the union's concerns.
"He has his own agenda which is not in touch with the daily classroom realities that teachers' face. Not mentioning the host of social and other outside family issues that can affect students. Basics such as even having enough to eat—even the diversity within the minority groups within the school system," the source said.
Weingarten also castigated Beutner and the LAUSD's claims.
"The district is crying poverty, but this is about choices: Do we deny public schools the resources they need, then push a privatization and charter agenda to solve it? Or do we strive to make every public school a place where teachers want to teach, students want to learn and parents want to send their kids?," she said. "Austin Beutner isn't fooling anyone. We've seen this slash-and-burn agenda play out before, and as the people in the classroom every day, we know: Scarcity is not a strategy that actually helps kids learn. L.A.'s teachers are willing to strike until they get the resources they need to do their jobs effectively."
Beutner, a former Los Angeles deputy mayor and an investment banker, has only been on the job less than one year and has no prior experience in education.
Union organizers claim that the superintendent is trying to privatize the district, encouraging school closures and flipping public schools into charter schools union officials argue. (Charters are privately operated public schools that compete with the public school system for students and the funds they bring in.)
"Beutner claims his plan to reorganize the district would improve services to students and families," a UTLA source said. "How can it when needed funding is pulled from already struggling schools in the LAUSD and dumped into charter schools which frankly have a dubious track record?"
"Our students need all of us to prioritize and invest more in education, from the City of Los Angeles, to the County Board of Supervisors, to our newly elected California State Legislature and Governor," Gonzalez wrote. "The truth is that we all have skin in the game." – Karen Ocamb contributed to this report.