Carol Channing remembered by Harlan Boll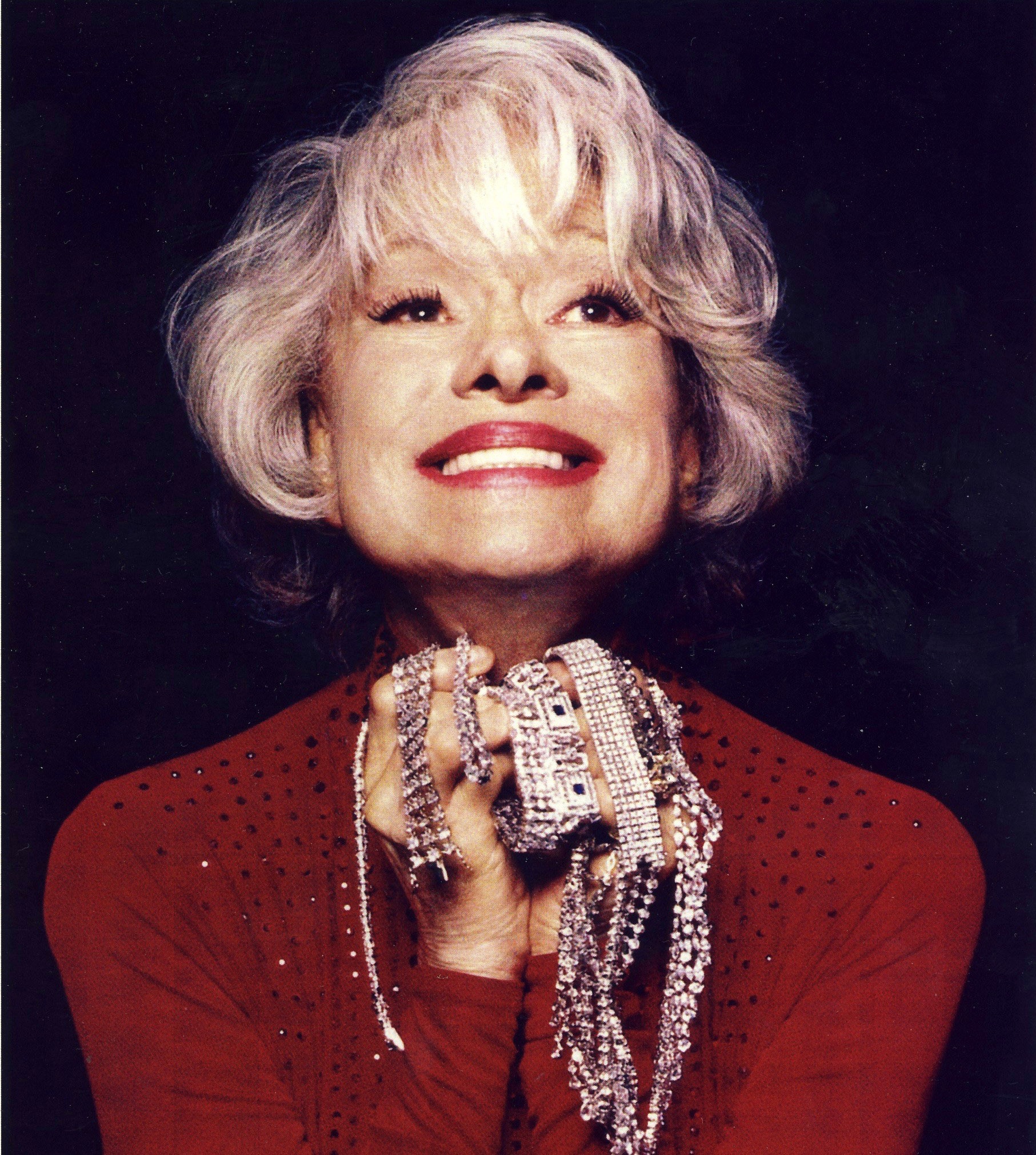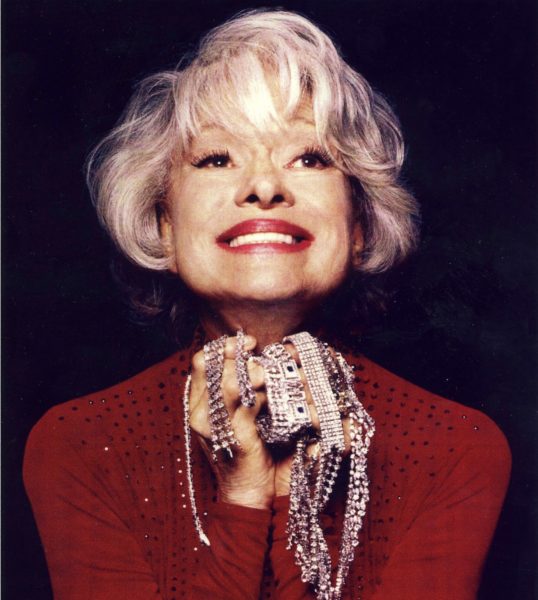 (Editor's note: Gay Hollywood publicist B. Harlan Boll was close with his friend and client Carol Channing for forever, it seemed. When the Broadway icon died on Jan. 15, Harlan posted his own announcement on Facebook then distributed a lengthy obituary listing all her credits. Because there was so much news that day, most of us reported her death, then had to quickly moved on. But that's not fair to a beloved ally who stood with the LGBT community long before it was socially acceptable. Therefore we are doing something unusual for us: we are posting Harlan's press release as is, supplemented with photos he provided. Harlan gets the last word on his friend Carol Channing. – Karen Ocamb)
Carol Channing with Diamonds. Photo taken by Michael Davis, courtesy of the Carol Channing Archives
CAROL CHANNING – You had us at "HELLO, DOLLY!".
It is with extreme heartache, that I have to announce the passing of an original Industry Pioneer, Legend and Icon – Miss Carol Channing.  I admired her before I met her, and have loved her since the day she stepped … or fell rather … into my life.  It is so very hard to see the final curtain lower on a woman who has been a daily part of my life for more than a third of it.  We supported each other, cried with each other, argued with each other, but always ended up laughing with each other.  Saying good-bye is one of the hardest things I have ever had to do, but I know that when I feel those uncontrollable urges to laugh at everything and/or nothing at all, it will be because she is with me, tickling my funny bone.
Carol was born Jan 31, 1921 in Seattle, Washington, the daughter of a prominent newspaper editor, who was very active in the Christian Science movement. At just two weeks of age, her father's work took the family to San Francisco, where Carol was raised, schooled and eventually found work as a model.  Through determination, hard work, and her family's support (not to mention a mandatory IQ test for which she scored one of the highest recorded results), Carol was able to attend Bennington College in Vermont that had one of the few existing arts programs in the country, majoring in drama and dance.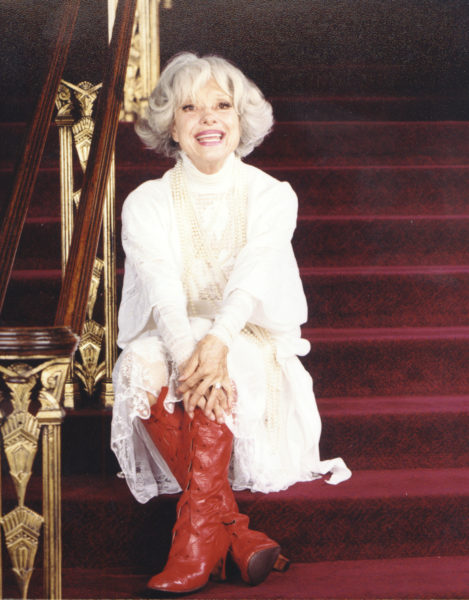 Carol Channing in White on the stairs in the lobby of the Pantages Theater, LA, courtesy of the Carol Channning Archives
A recipient of the 1995 Lifetime Achievement Tony Award, Ms. Channing has been a star of international acclaim since a Time magazine cover story hailed her performance as Lorelei Lee in "Gentleman Prefer Blondes" writing; "Perhaps once in a decade a nova explodes above the Great White Way with enough brilliance to re-illumine the whole gaudy legend of show business."
Since her 1948 Broadway debut in Blitzstein's "No For An Answer," her Broadway appearances have included "So Proudly We Hail," "Let's Face It," "Lend An Ear," "Gentlemen Prefer Blondes," "Show Girl," "Pygmalion," "The Millionairess," "The Vamp," "Four On A Garden," and "Wonderful Town."  In addition to receiving a special Tony Award in 1968, she won the Tony Award in 1964 for her legendary portrayal of Dolly Levi in Jerry Herman's "Hello, Dolly!"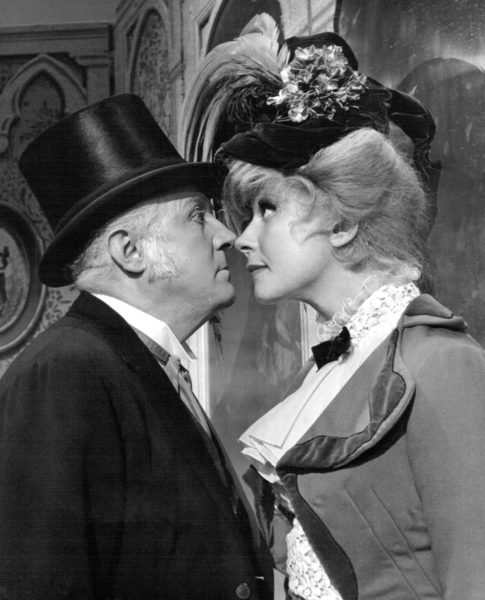 Milo Boulton and Carol Channing in one of several national tours, 1966 (Photo via Wikipedia)
Jacqueline Kennedy and her two children made their first public appearance after JFK's death by seeing her perform in "Hello, Dolly!" and later visited her backstage.  She has since played the role in over 5000 performances, without missing a single performance.  She then toured with her own revue, "Carol Channing and Her Ten Stout Hearted Men" and critically acclaimed tours of "Jerry's Girls" and "Legends," in which she co-starred with Mary Martin.
Ms. Channing's happiest film project was in the role of Muzzy in "Thoroughly Modern Millie," which earned her an Oscar nomination and a Golden Globe Award.  Other films include "Paid In Full," "The First Traveling Saleslady" (giving new comer Clint Eastwood his first on screen kiss), "Skidoo," "Sgt. Pepper's Lonely Hearts Club Band," "Archie and Mehitabel" and "Thumbelina."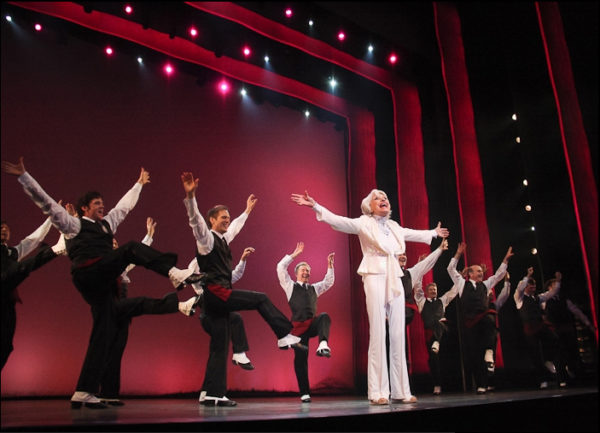 Carol Channing on stage at the New Amsterdam theatre for the Gypsy Awards, courtesy of the Carol Channning Archives
Ms. Channing TV specials, include "Broadway at the Hollywood Bowl," "Carol Channing's Los Angeles," "Carol Channing and Pearl Bailey on Broadway," "George Burns – His Wit and Wisdom" and to millions of children worldwide is best known as the White Queen in "Alice Through the Looking Glass." Other television credits include popular game shows as "What's My Line," "I've Got a Secret," "Password," and "Hollywood Squares," variety shows such as "The Dean Martin Show," "The Red Skelton Show," "The Milton Berle Show," "Rowan & Martin's Laugh-In," "The Carol Burnett Show," "The Muppet Show," as well as many Tony and Grammy broadcasts.  A partial list of Carol's Episodic work consist of Playhouse 90's "Three Men on a Horse," "The Love Boat," "Magnum, P.I.," "The Nanny," "Touched by an Angel," "The Drew Carey Show" and "Family Guy."
As one of the most easily recognized and highly imitated voices in the world, Carol's unique sound has been established as characters and narrative in both TV series and documentaries like "JFK: The Day the Nation Cried," "The Adam's Family" (voice of Granny), "Thumbelina," "Free To Be You and Me," "Space Ghost," "Chip 'n Dale Rescue Rangers" and "The Brave Little Toaster Goes To Mars."  Miss Channing also cut twenty children's albums of classic stories including "Winnie The Pooh" and "Madeline."
Ms. Channing has recorded ten gold Albums and including the original cast album of "Hello, Dolly!" released in 1964.  Miss Channing has appeared in most every grand ballroom and concert hall in the country.  Among her other acknowledgments is a Best Nightclub Act of the Year Award, Harvard University's Hasty Pudding Woman of the Year Award, the Oscar Hammerstein Award for lifetime achievement and the Julie Harris Lifetime Achievement Award from the Actors' Fund of America, but is most proud in the role of mother of Chan Lowe, who is a nationally syndicated editorial cartoonist, who has the distinction of being a Pulitzer Prize finalist.
In 1998, Carol moved to Palm Springs/Rancho Mirage to be close to her dear cousin Richard "Dicky" Long and loved the community so much, that she called it home for the remainder of her life.
In 2003, the octogenarian released her best selling memoirs, "Just Lucky I Guess" and started touring world wide with her one woman show entitled "The First Eighty Years are the Hardest," after the very successful preview given to New York audiences that prompted the New York Times to say "Back Where She Belongs: Carol Channing Reminisces . . . The audience jumped to its feet more than once. We were watching a master performer" and Associated Press declared "The audience clearly was there to worship, and Channing did not disappoint."  In 2004, Broadway's "first lady of musical comedy," received an honorary doctoral degree becoming Doctor Carol Channing from the California State University, Stanislaus Commencement (only the third Honorary Doctoral Degree given in CSU Stanislaus 45-year history).
In 2009, items representing Miss Channing's career were inducted into the Smithsonian Institute in D.C., along with eight other legendary ladies of stage and screen.  Her original diamonds dress from the Broadway production of "Lorelei," worn while singing "Diamonds Are A Girls Best Friend" and her "Hello Dolly!" gown (from the 95′ tour), as well as her TONY Award for her portrayal of Dolly Gallagher Levy, are currently part of the permanent collection at the Smithsonian Institutions American History Museum. In addition, her 1995 Lifetime Achievement Tony Award can be seen on exhibit at The Hollywood Museum and her star on The Hollywood Walk of Fame is located in front of the Pantages Theater on Hollywood Blvd.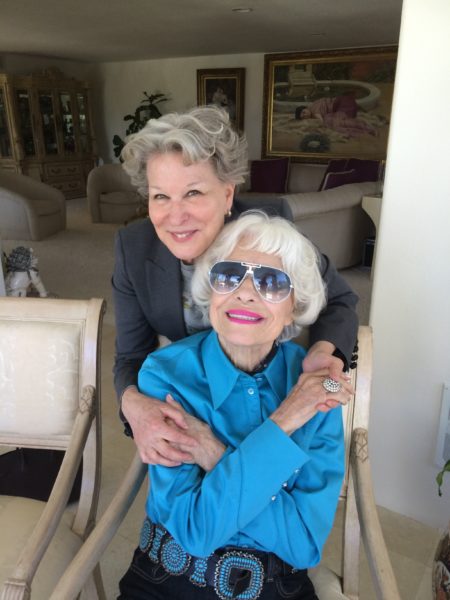 Carol Channing with Bette Midler taken by Harlan Boll, during recent visit at home in Rancho Mirage, courtesy of the Carol Channning Archives
In 2010, Carol returned to the Great White Way, performing at the New Amsterdam theatre on 42nd Street, with many returning "Dolly boys" from previous "Hello Dolly!" tours and received the "Gypsy Award" from Broadway Cares/Equity Fights AIDS." In January 2012, mutli-TONY winning director and producer, Dori Berinstein, released the critically acclaimed and award winning documentary entitled "Carol Channing: Larger Than Life," highlighting Carol's 70 plus year career.  Her last public appearance was on her 95th birthday at the McCallum Theater to a record breaking crowd of fans from all around the world, that sold out in only a couple hours and featured an all star extravaganza to honor her.  In late 2018, artist Khoi Nguyen, used his PHD in mathematics to create a prolific painting of the actress, comedienne and activist, that allowed more than 43,000 friends and fans (as well as herself) to participate by affixing their fingerprint onto the work, each linked to a personal video interview about Miss Channing and her efforts to raise awareness with regard to the need for arts in education.
See archived clips from "The First Eighty Years Are The Hardest."
Carol Channing died at 12:31am on Tuesday, January 15th, 2019, at home in Rancho Mirage, CA of natural causes
Carol is survived by her son, Channing Lowe and close family member, Sylvia Long.  Services have not yet been determined.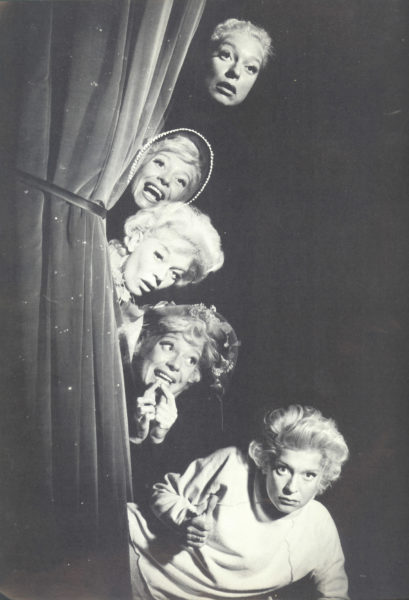 In lieu of flowers, a tribute gift/donation to the Carol Channing Theater at Lowell High School (1101 Eucalyptus Dr., San Francisco, California 94132 | (415) 759-3066) or the McCallum Theatre (73000 Fred Waring Dr, Palm Desert, CA 92260) in Carol's honor would be very much appreciated.
Bernal shines as real-life gay wrestler in 'Cassandro'
A polished, engaging film about a real-life figure that carries message of hope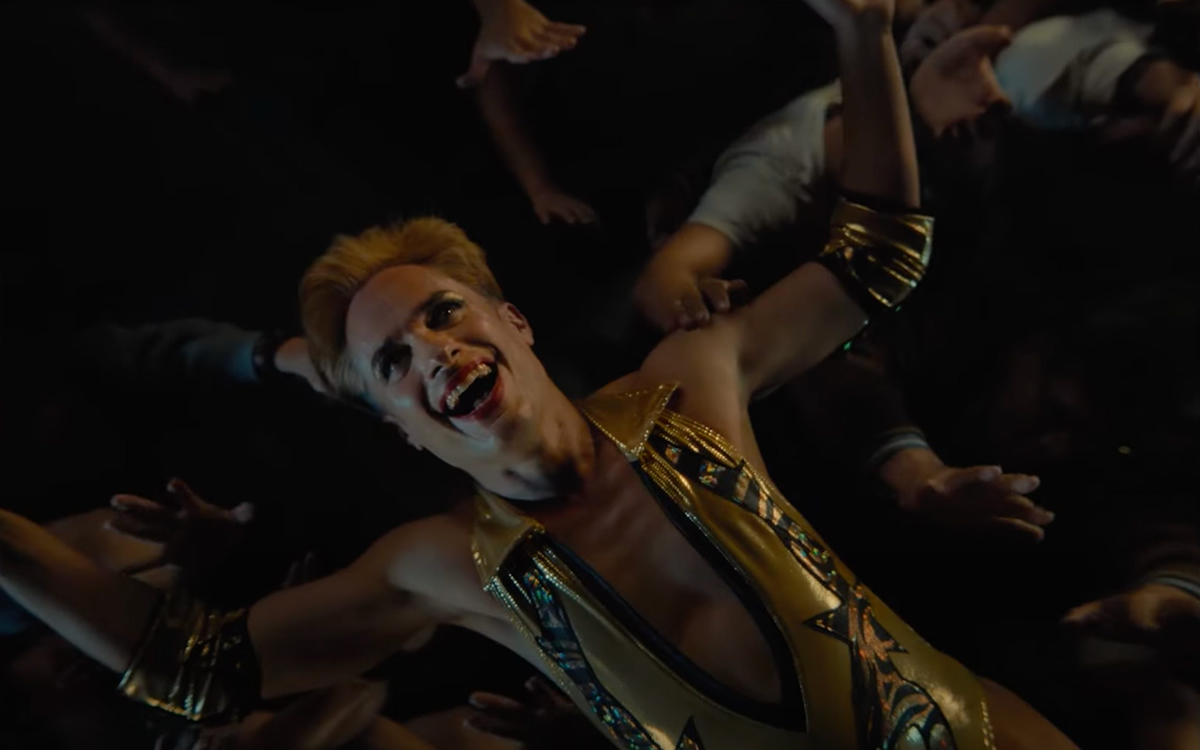 For most Americans, any knowledge of the Mexican wrestling style known as lucha libre is probably limited to what they gleaned from the 2006 Jack Black comedy "Nacho Libre," which (it should go without saying) is not a movie that anyone should consider "factual."
Now another movie about the subject has arrived, and this time it's not an anything-for-a-laugh fantasy but a biopic about a real luchador who rose to international fame in the 1980s and remains one of the most celebrated and popular figures in Mexican professional wrestling to this day.
The luchador in question is Saúl Armendáriz – better known to his fans as "Cassandro" – and the eponymously titled movie about his ascendency begins streaming on Amazon Prime Video Sept. 22 after a limited theatrical release on Sept. 15.
Directed by Roger Ross Williams (who may not be a household name but has the distinction of being the first Black director to receive an Oscar, thanks to the 2009 win of his "Music by Prudence" for Best Documentary Short), "Cassandro" stars Gael García Bernal – a longtime ally who became a queer fan-favorite thanks to his work in films like "Y tu mamá también" and "Bad Education" – as the openly gay Armendáriz and tells the story of his rise to fame in direct defiance of the culturally reinforced homophobia that permeated the professional environment of his field. Set in the 1980s, it follows the future superstar from the early days of his career, tracing his steps as he forges a path to success as an exótico – a wrestler who assumes a flamboyant persona based in queer (and largely homophobic) stereotypes – while simultaneously rising above the stigma of his sexuality and his impoverished upbringing to become a pioneering force in LGBTQ+ acceptance within the deeply traditional Latino culture to which he belonged.
Like most biopics, it also focuses on the personal: much of the film's first half is dominated by the relationship between Armendáriz and his mother, Yocasta (Perla De La Rosa), a professional "good-time girl" whose acceptance of his queer identity is absolute yet tempered by her fear for his well-being. There is also a long-running thread about his desire for approval from his father – a married man with a "legitimate" family in which he is decidedly not included – and the pattern in his personal life of repeating that dynamic in romantic relationships with unavailable lovers like closeted big-name luchador "El Comandante" (Raúl Castillo) and an apparently fluid but firmly "on the DL" associate named Felipe (Benito Antonio Martínez Ocasio, aka Puerto Rican rapper Bad Bunny for those unfamiliar with his "real" name) who clearly meets more than just his need for a reliable supplier of cocaine – it is the '80s, after all – while maintaining a strict-if-not-quite-convincing "no homo" stance.
Ultimately, though, as presented by first-time narrative feature director Williams (who co-wrote the screenplay with David Teague after previously covering Armendáriz' story in the 2016 documentary short "The Man Without a Mask"), "Cassandro" is driven by a narrative about overcoming and reclaiming the pejorative cultural tropes around queer sexuality and turning them on their ear as a means toward fully inhabiting queer identity. Blessed with a relatively supportive mother – a plainly-implied career sex worker who is depicted as much as a kindred spirit as she is a maternal figure – and comfortable enough in his own skin to flaunt his "deviance" in the public eye, the film's version of Armendáriz moves through a clearly defined arc toward self-acceptance on his own terms.
Much of this is mirrored, of course, in the tale of his accelerated rise to stardom, in which he wins the hearts of lucha libre fans enough to subvert the accepted formula that the exótico is always the loser, and reinforced by the ways in which he responds to the various long-term relationships in his life – some nurturing, some toxic – as his career trajectory helps him to recognize his own worth. In this way, "Cassandro" becomes a true-life tale of queer affirmation, the saga of a person who overcomes hardline traditional expectations and deep-rooted social prejudice to use his own queer identity as an avenue to personal empowerment.
That, of course, is exactly what it sets out to be: it's an unabashedly pro-queer narrative that brings the highest level of professional artistry into the mix, using it to convey that subtle blend of aloof observation and emotional engagement that can sometimes win viewers' hearts and minds.
In recognition of that artistry, the foremost acknowledgement must go to Bernal, who turns in a career-highlight performance as both Armendáriz and his over-the-top titular alter-ego, which requires an impressive display of physicality in addition to keen emotional intelligence. The actor is more than capable on both fronts, and while it would frankly be nice to see one of our queer heroes portrayed in a mainstream film by an actual queer actor, it's hard to complain when the actor is someone like Bernal, who finds within his own lived experience the authenticity to make it all ring true. Kudos are also deserved for both De La Rosa, who establishes an emotional core to the story that endures even after she leaves it, and openly-queer actor Roberta Colindrez as the trainer (and friend) that helps "Cassandro" conquer the world of professional lucha libre wrestling by literally flipping the script.
Still, though there is clearly a heartfelt desire to inspire behind the movie's portrayal of its hero's unlikely rise to glory, "Cassandro" doesn't quite deliver the kind of unequivocal "feel-good" validation for which it aims. There's something rote about the story as it's told to us; Armendáriz' success seems a foregone conclusion, and his personal struggles – though impeccably acted and depicted with sincerity – feel somehow manufactured for the sake of a desired emotional response. There's a sense of "Hollywood" about the film's approach, a deliberate framing of the material which makes this real-life success story seem much too easy, its subject's struggles too much like tropes to deliver the kind of authentic satisfaction the movie clearly aims for. Built on familiar formula, it all feels a little too predictable – especially for a saga centered in such a messy, wild-and-wooly environment as professional lucha libre. Yes, it inspires, but much of that is accomplished by playing to sentiment, by what seems a deliberate effort toward building and reaffirming a legend rather than revealing the real human experience behind it, and many details of Armendariz' real story are left out – a suicide attempt, a struggle with substance abuse, even the origin of his iconic stage name as a tribute to a brothel-keeper of whom he was fond – that might have made for a less-sanitized and much more interesting story.
Such quibbles, however, are probably a moot point for most viewers; while "Cassandro" might feel a little too hollow to satisfy completely, it's a polished, entertaining, and engaging film about a real-life figure that should – and does – carry a message of hope and transcendence for queer audiences.
Why would we ever complain about that?