LA teachers strike is over but issues remain
More counselors needed for LGBT issues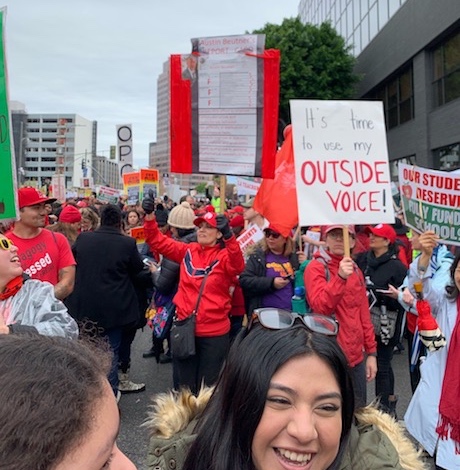 The Los Angeles Unified School District and the teachers union (UTLA) reached an agreement Tuesday, Jan. 22, to end the six-day long strike that affected almost 500,000 students in LA County. The agreement will reduce class sizes gradually over several years, provide more support staff, a full-time nurse in every school and give teachers a 6% pay increase.
The agreement was the result of an all-night bargaining session between the school district and union, which represents over 30,000 teachers in the district.
"Today is a day full of good news," said Mayor Eric Garcetti during a news conference announcing the deal, which was approved by a super-majority of the union.  The agreement saw both teachers and students returning to the classroom, bringing to an end the first teachers' strike in LA in 30 years.
"Public education is now the topic in every household in our community," said Supt. Austin Beutner at the news conference. "Let's capitalize on that. Let's fix it."
"You just taught the best lesson of your lives!" proclaimed a jubilant Alex Caputo-Pearl, head of the UTLA, at a victory rally.
Gov. Gavin Newsom also welcomed the deal.  "I am glad that LAUSD and UTLA have come to an agreement, and I want to thank the thousands of dedicated teachers, parents and students who were powerfully demonstrating their passion for our public schools over the last 9 days," he said in a statement.
The strike and the agreement focused attention on the slew of issues facing public education, including the fiscal liabilities of unsustainable pensions and privately-operated charter schools impact public education. The agreement calls on the Board of Education to vote on a resolution calling for a cap on charter schools. 
For Leng, one problem left unaddressed by the deal is the lack of social workers and psychologists available to students, particularly those dealing with LGBT issues. Reactions to the deal were positive from local teachers, although some had hoped for more.  "A lot of teachers including myself didn't feel like it went far enough," said openly gay Sim Leng, a social studies teacher at Thomas Jefferson High School in South LA.  "But we also understand there are budgetary constraints."
"We have a lot of students with mental health issues, with depression and anxiety, including LGBT students," he told the Los Angeles Blade.  At his own school, Leng said a psychologist is only available part-time to students. "It's not uncommon for a psychologist to be at a different school every day."
The California LGBT community has long cared about its relationship with public schools.  In 1978, the LGBT community mobilized to defeat Proposition 6, a ballot measure that would have mandated the firing of any gay or lesbian teacher in California public schools—or any teacher or school official who supported gay rights.  Proposition 6, known as the Briggs Initiative, was defeated by more than one million votes—helped by then-Gov. Ronald Reagan's opposition— marking the first time in state history California voters had rejected an anti-gay measure.
Project 10, a dropout prevention program, was founded in 1984 by out Dr. Virginia Uribe in her Science classroom at Fairfax High School. "Every young person has a right to a sense of self-respect and dignity," Uribe told the LA Times. "We're supposed to be teaching them to live in an increasingly diverse society. This shouldn't be a place where prejudice is fostered. It's where discrimination should be fought."
The program became a model for schools and teachers nationwide to staunch anti-LGBT bullying, harassment and abuse, often viewed as an acceptable "rite of passage" to adulthood. Project 10 also drew the ire of anti-LGBT Religious Right activists such as Rev. Lou Sheldon, head of the Traditional Values Coalition in Anaheim, who declared that gays were trying to "recruit" children.
Some of those attitudes remain. Leng is hopeful the agreement will form the basis for further positive changes for students in the district.  "We need to have an environment where our kids' needs are being met academically and emotionally."
But the strike also fostered a spirit of helpfulness. At West Hollywood Elementary School, parent Carly Walker was the first to mobilize support for the striking teachers, creating a Facebook page for parents and enlisting local businesses in West Hollywood such as Bristol Farms and Veggie Grill to provide meals for the strikers.
"It was incredibly powerful for the teachers to see how the parents stood behind them," she said.  When her children asked her why the teachers were striking, Walker was direct.  "I told them they are striking for you."
WeHo Elementary parent Annabeth Gish and her sons—one a graduate of the school and one a current student—also joined teachers on the strike to show support. "It was a necessary example of how civic action can actually affect change," Gish said.  "I'm very proud both sides moved."
The agreement "is a good platform that will continue to affect change" Gish said, adding that her family's participation in the strike was a "good way to get our children involved early."
"Garcetti deserves credit for stepping forward to mediate the settlement, thereby avoiding a longer strike," reads an LA Times editorial.  "L.A.'s public schools are responsible for educating nearly 500,000 children, many of them low-income or non-English speakers or students of color. The success of the city in the years ahead relies upon the existence of safe, adequately funded, high-quality public schools capable of educating a new generation of Angelenos. The strike may be over, but the real work lies ahead."
LACFD Lifeguard Div. announces death of Ocean Lifeguard Derek Traeger
Trager, 28, whose guard/patrol area was the beaches of Santa Monica North, had worked for the department for the past six years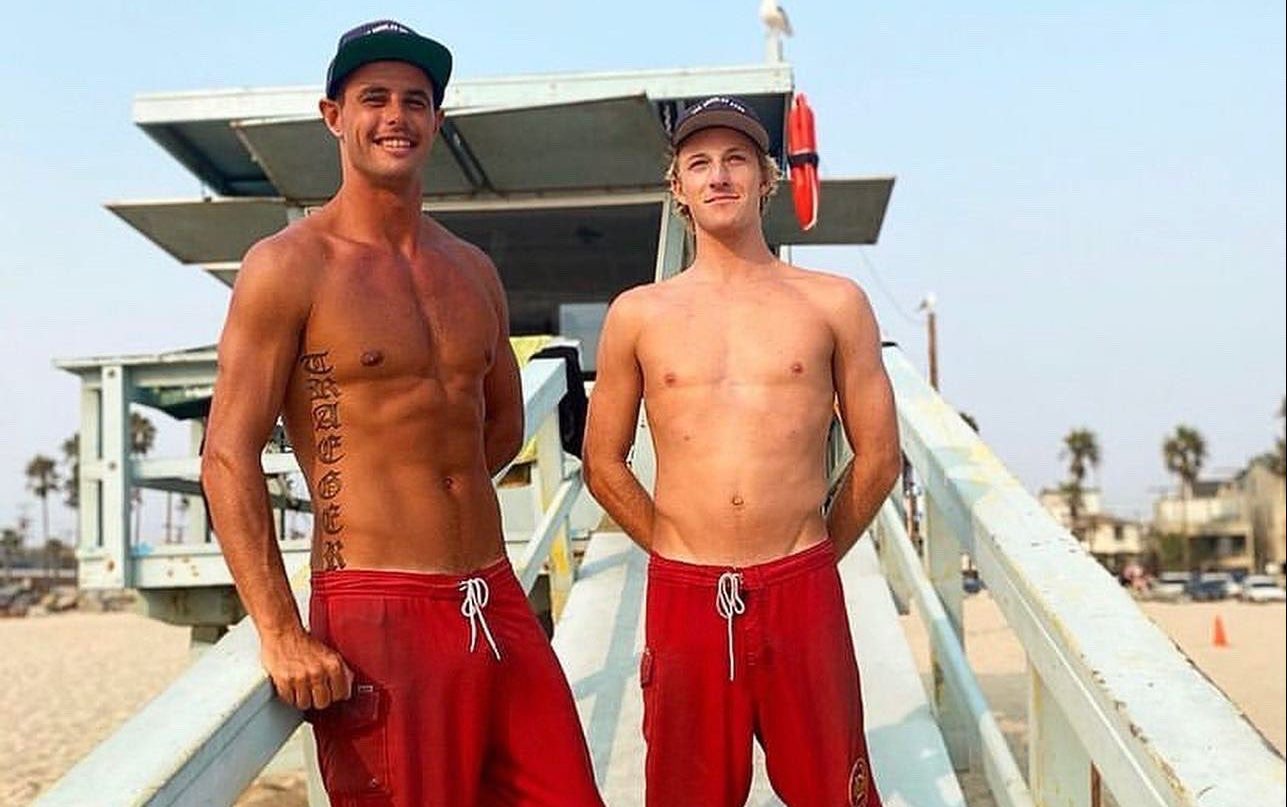 LOS ANGELES – On Monday, the Los Angeles County Fire Department, Lifeguard Division announced that the department lost an active-duty Ocean Lifeguard Derek Traeger on Sunday, August 14.
Trager, 28, whose guard/patrol area was the beaches of Santa Monica North, where the Pacific Coast Highway leads to Malibu, had died on in a freeway accident, the L.A. County coroner's office said in a statement. The cause of death was listed as blunt trauma. Details about the crash were unavailable according to the Medical Examiner-Coroner's office.
Trager had worked for the department for the past six years. It's not an easy job NBC News had noted. The county requires viable candidates to perform a 1,000-meter ocean swim and then undergo 100 hours of training — and some lifeguard organizations have had a hard time staffing up for summer.
The division is responsible for 72 miles of coastline, from the Orange County line to its border with Ventura County, and a typical year can demand 10,000 or more ocean rescues.
Traeger was born and raised in San Pedro where he learned to swim and surf. He was a LA County Junior life guard for 9 years, a Cadet for 2 years. He swam for San Pedro High School and was captain of the San Pedro High surf team. He has been a swim instructor since 2011. He was a student at California State University Long Beach, an online bio read.
Julia Almanzan, Principal Deputy Los Angeles County Counsel and the parent of a child assisted by Traeger posted a noted of gratitude on Facebook with a photo of the Ocean Lifeguard and her kid: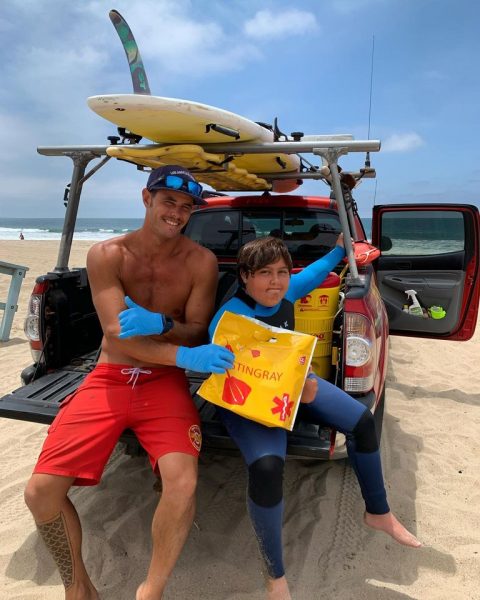 "This 28yo @lacolifeguards Derek Traeger passed away on Sunday. I only know him from his assistance in treating and caring for @lucasalexanderah in my absence during @summerofsurf at Santa Monica beach in July. Derek was really good with kids, especially mine…and really good with moms who are far away from their kids during medical emergencies. I'm so sad such a good human has left this earth too soon. May he Rest In Peace. A huge thanks to @monica.mihaly.5 @christophermihaly for also caring for Lucas pending my arrival, and capturing this helper in action. There couldn't be a better set of caring people circling Lucas at such an unfortunate time."
In a Twitter thread, the department noted;
"OL Traeger understood better than most what it means to wear the red trunks. His passion for life, art, the ocean, and his lifeguard family was evident in every moment he lived," the tweet read. "We extend our deepest condolences to the family, friends, & colleagues of OL Traeger."
(1/3) It is with great heartache the Los Angeles County Fire Department, Lifeguard Division shares the active duty death of Ocean Lifeguard Derek Traeger on Sunday, August 14, 2022. Ocean Lifeguard Traeger faithfully served the County of Los Angeles for 6 years and was last pic.twitter.com/Khbajke4Wz

— LACoLifeguards (@LACoLifeguards) August 15, 2022
(3/3) activated and services are available for family and team members.

We extend our deepest condolences to the family, friends, & colleagues of OL Traeger. More information will be shared when available.

— LACoLifeguards (@LACoLifeguards) August 15, 2022
Inaugural LA County Youth Climate Commission seeks youth leaders
"It's a fantastic opportunity for young people who are both passionate about climate change and interested in public service"
LOS ANGELES (Press Release) – Aiming to empower the region's next generation of environmental leaders, the County of Los Angeles today issued a call for young adults to serve on its inaugural Youth Climate Commission.
On the heels of major climate legislation at the federal level, the County is seeking 25 youth leaders who have a commitment to civic action that will create greater resilience in their communities.
The Board of Supervisors, responding to grass-roots activism from Los Angeles youth climate leaders, adopted an ordinance to create the Commission to inform, recommend, and advise on County goals, plans, actions, and policies related to climate change mitigation and resilience.
The panel – the first County Commission to focus exclusively on climate change – aims to amplify the perspectives and priorities of local youth, since they will be the most dramatically impacted by the ongoing climate impact during their lifetime.
"I am heartened that after years of insufficient action on climate, Congress is advancing a major climate bill that will change the game for lowering our emissions nationally," said Supervisor Hilda Solis who represents the First District and authored the ordinance. "With new federal resources, the stakes are even greater for us to ensure that the very people whose future is most impacted are at the table to effect real change."
"Despite another season of record-breaking heat and extreme weather, I remain hopeful in the next generation's unwillingness to stand idle in the face of the climate crisis. The Youth Climate Commission provides an important structural pathway for new and diverse leadership to advance equitable and bold climate solutions for the Los Angeles region" said Supervisor Holly Mitchell who represents the Second District.
"Young people all across Los Angeles County are an untapped source of energy and ideas that can, and should, influence the County's actions on climate change," said Supervisor Sheila Kuehl who represents the Third District and was the co-author of the ordinance. "I encourage young people who have a commitment to reversing climate change, protecting biodiversity, and reimagining our relationship to our planet's natural resources to consider participating on this exciting body that will help to shape LA County climate policy for years to come."
"We are already seeing the effects of climate change, but many of my colleagues and I will be long gone when the worst impacts of the climate crisis take hold. Young people are leading a movement on this issue and they are proving better at it than the generations before who have failed them. They deserve a seat at the table in shaping our County's climate policy and I encourage the young climate leaders across my district to apply to be a part of this commission", said Supervisor Janice Hahn who represents the Fourth District.
"Our County is very big, so it's important that we attract a diverse group of individuals so that we hear perspectives inclusive of different parts of our County, such as our high desert, foothill, and mountain communities," said Supervisor Kathryn Barger, who represents the Fifth District. "Many of these communities face a higher likelihood of being impacted by natural disasters due to climate change, such as wildfires and flooding. I highly recommend anyone who is interested to come forward and apply to join this new County Commission. It's a fantastic opportunity for young people who are both passionate about climate change and interested in public service."
The findings of the County's recent Climate Vulnerability Assessment, demonstrated that an estimated 56% of residents – nearly 5.7 million people — face high risk to such climate hazards as extreme heat, wildfire, inland flooding, extreme precipitation, coastal flooding, and drought.
Low-income and communities of color face a disproportionate amount of climate vulnerability as well as limited capacity to withstand and weather future threats, the study found.
The commission's recommendations will further the ongoing implementation of Our County Sustainability Plan, the most ambitious regional sustainability blueprint in the nation. Among its 159 action items is creating a fossil fuel-free L.A. County by 2050.
"We are committed to reflecting the diversity of our County in our new Youth Climate Commission. We invite young adults from marginalized communities, communities burdened by pollution, and beyond to co-create with us a future with healthy, sustainable communities by applying to serve as commissioners," said Executive Officer Celia Zavala.
Application materials are available on the website and must be submitted by Sept. 15, 2022. Interested applicants must be age 18 by Oct. 1, 2022.
2nd Recall effort against LA County District Attorney George Gascón fails 
The 520,050 valid petition signatures fell short of the 566,857 required to place the recall question on the ballot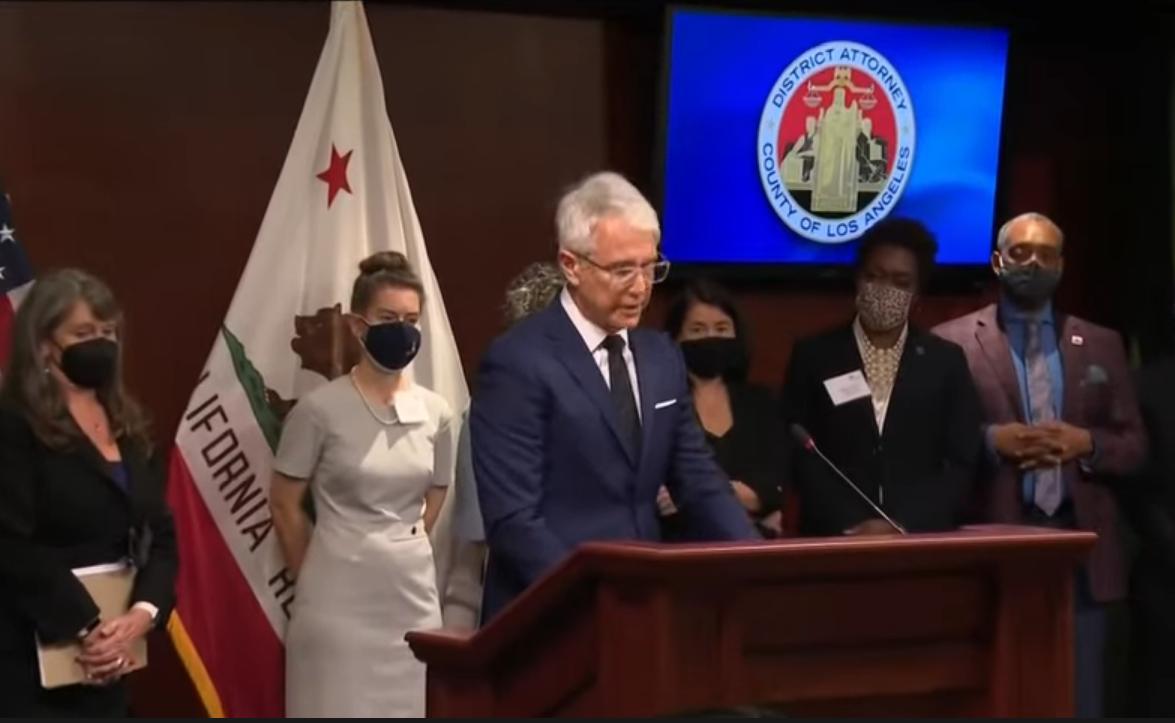 LOS ANGELES – The second effort to recall Los Angeles County District Attorney George Gascón was rejected Monday after the LA County Registrar-Recorder/County Clerk's office announced recall organizers had fallen short of the requisite validated signatures needed to qualify for the November elections ballot.
A spokesperson for Dean C. Logan, the Registrar-Recorder/County Clerk, said that recall organizers had submitted a total of 715,833 petition signatures, of which 195,783 of the signatures were invalid and another 45,000 were duplicate signatures. The remaining 520,050 valid petition signatures fell short of the 566,857 required to place the recall question on the ballot.
KTLA reported that organizers halted their first recall attempt last fall after they were unable to gather the necessary signatures by the end of October.
Gascón, 67, was elected in 2020 on a pledge to reform the county's criminal justice system. Since he took office, juveniles are no longer being charged as adults, sentencing enhancements that he says lead to mass incarceration have been eliminated and cash bail for nonviolent felony offenses has ended. Misdemeanors associated with substance abuse and mental illness are also being diverted out of the criminal justice system, both KTLA and the Los Angeles Times have reported.
Gascón's policies have provoked criticism from Los Angeles County Sheriff Alex Villanueva, as well as officers from the Los Angeles Police Department and others from the 88 jurisdictions within the County.
Recall organizers contend that his policies favor criminal defendants and have contributed to a significant rise in crime rates reported across the County.