Va. LGBT lawmakers call for Northam's resignation
Va. governor resists demands to step down following racist scandal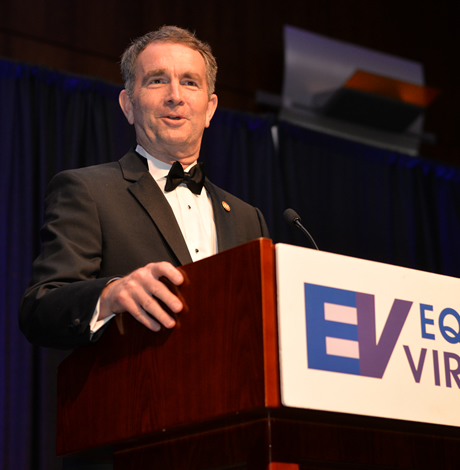 All five LGBT members of the Virginia General Assembly have joined their Democratic colleagues in calling for Virginia Gov. Ralph Northam (D) to resign following the disclosure on Feb. 1 of a racist photo on his personal page in the 1984 yearbook of the medical school he attended.
The statewide LGBT rights group Equality Virginia and the Human Rights Campaign, the nation's largest LGBT advocacy organization, have also joined numerous other political and civil rights groups, including the NAACP and the Congressional Black Caucus, in calling on Northam to resign.
On Monday night, members of the Gertrude Stein Democratic Club, D.C.'s largest local LGBT political group, voted unanimously to approve a resolution calling for Northam to resign "based on his demonstrated inability to lead Virginia in a manner consistent with the values of the Democratic Party."
The LGBT lawmakers that joined colleagues calling for Northam to resign include Virginia State Sen. Adam Ebbin (D-Alexandria); and state House of Delegates members Mark Levine (D-Alexandria); Mark Sickles (D-Fairfax County); Danica Roem (D-Prince William County), who became the nation's first seated transgender member of a state legislature last year; and Dawn Adams (D-Richmond), who last year became the state's first openly lesbian member of the legislature.
In yet another development that rocked the state's capital in Richmond, the same conservative online publication that disclosed Northam's yearbook photo reported on Sunday that a woman has accused Virginia Lt. Gov. Justin Fairfax (D) of sexually assaulting her in 2004 in a hotel room in Boston during the Democratic National Convention.
Fairfax immediately denied the allegation, saying he and the woman had consensual sexual relations prior to his current marriage. He said the motive for bringing up the allegation after more than 14 years was an attempt to tarnish his reputation at a time when he might become governor.
If Northam resigns, Fairfax would be next in line to become governor, making him the state's second black governor.
The allegation against Fairfax raised speculation about whether Fairfax might also be forced to resign in the #MeToo era in which women have come forward to report they were victims of sexual assault years after the alleged assaults took place.
In the event that Northam and Fairfax should resign, Virginia Attorney General Mark Herring (D) would be next in line for the governor's position. LGBT activists in Virginia say that similar to Northam, both Fairfax and Herring have strong records of support for LGBT rights.
On the day his yearbook page was first disclosed last Friday by the ultra-conservative publication Big League Politics, Northam issued a statement apologizing for being in the photo. The photo showed a man in blackface and another person wearing a Ku Klux Klan robe and masked hat that covered the person's face. Northam didn't say which photo he was in.
But the following day he stated at a nationally televised press conference that he and others who know him determined he was not in the inflammatory photo and someone who helped produce the yearbook for Eastern Virginia Medical School in Norfolk 35 years ago mistakenly placed it on his page.
 In yet another development that baffled observers and prompted more calls for him to resign, Northam stated at the press conference that although he was not among the two people in the yearbook photo he did cover part of his face with black shoe polish in 1984 when he appeared in a dance contest in San Antonio, Texas, impersonating singer Michael Jackson.
He said he was told years later by one of his black staff members that wearing blackface of any kind is considered offensive and a racist display.
He said he apologized for his action, saying he has changed in the 35 years since that time and his long career as a military and civilian doctor and public official, including his tenure as a state legislator and governor, demonstrate his strong support for civil rights for all, including blacks and the LGBT community.
The LGBT lawmakers and nearly all of their colleagues who have urged Northam to resign have yet to disclose their position on the sexual assault allegation against Fairfax.
When asked by the Washington Blade about the Fairfax situation, members of the Stein Club on Monday said they did not believe there was sufficient evidence associated with the allegation to take any action against Fairfax. The club members calling for Northam's resignation said they would be pleased if Fairfax becomes governor.
Virginia LGBT rights advocate Nick Benton, editor and publisher of the Falls Church News-Press, is a longtime observer of Virginia politics. He told the Blade on Monday that Democratic Party leaders throughout the state view the revelations about the racist photo on Northam's yearbook page as potentially damaging to their effort to help their party win control of the Virginia Legislature in the state's November elections. Benton said Democratic leaders believe anything that could create a roadblock from that happening must be stopped at all costs and their means of stopping that is to pressure Northam to resign.
Yet Benton said he has found that many "rank and file" Democrats in Northern Virginia and other parts of the state are not as committed to Northam's resignation as are the party leaders.
"I see more support for Northam than the media is showing," he said. "I do not think Ralph Northam is a closet racist now," Benton said, adding, "There is a lot of pain involved for those who are calling for his resignation because they know he is a good guy."
Roem, the trans State Delegate, is among those who say Northam's yearbook photo and his contradictory statements about whether he was in the photo, have made it impossible for him to regain his credibility as a leader of the state.
"I stand in solidarity with the @VaBlackCaucus in calling for the resignation of the governor of Virginia," Roem said in a statement. "Who I know him to be today is not reflective of his racist past but the wound ripped open today by that racism has irreparably harmed our commonwealth and hurt our people," she said.
In a three-page statement, gay Delegate Levine said while he too doesn't believe Northam is a racist now he said his actions in the past and his statements during the past week have eroded his credibility.
"Having said he was in the photo on Friday, I was stunned when Governor Northam denied being in the photo on Saturday," Levine said. "He admitted to having donned black face to play Michael Jackson in a dance contest but insisted that he had never worn blackface at any other time and had never worn a KKK robe either," said Levine.
"But why then did he claim he did so only the day before?" Levine added. "What Northam said Saturday may well be true. But at this point, how can he possibly lead Virginia?"
Northam told the news conference on Saturday, Feb. 2, that he had never seen the controversial photo until it appeared in the press the day before because he had never purchased his medical school yearbook.
He said he initially issued the apology and acknowledgement that he was one of the two people in the photo in a rush to apologize and affirm that his values are not reflected by what he called a racist and "disgusting" photo that somehow landed on his yearbook page.
On Saturday, Feb. 2, Northam told the news conference after reflecting on the matter he determined he had no memory of ever having posed for the photo and absolutely believes he isn't in the photo.
He said he had no immediate plans to resign but said he would reconsider that position if he determines he could no longer be effective as the state's leader.
Indiana GSA sues school district that banned Pride flags over another ban
"The treatment aimed at PHGSA by administrators is unwarranted- these students must be treated in the same manner all others are treated"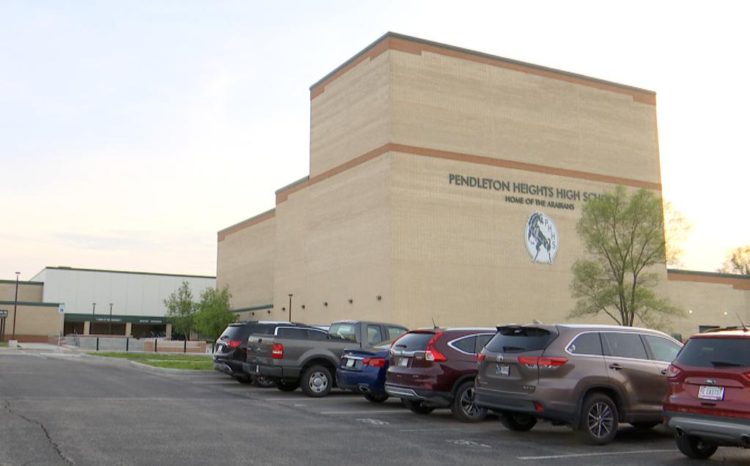 INDIANAPOLIS – A student led Gay-Straight Alliance at Pendleton Heights High School in Pendleton, Indiana filed suit against their school and the South Madison Community Schools District for banning public announcements and adverts in-school for their club.
Last Spring officials in the Schools District, in this suburban community 30 miles northeast of Indianapolis, ordered faculty members at Pendleton Heights High School to remove Rainbow Pride flags from classrooms. The Schools District labeled the flags "political paraphernalia" and instructed the Spanish, French and art teachers to get the flags out of their classrooms saying the flags violate their school district's "political paraphernalia" policy.
In the suit filed last Wednesday by the American Civil Liberties Union of Indiana on behalf of the Pendleton Heights High GSA, in U.S. District Court for the Southern District of Indiana, the ACLU noted that the principal at Pendleton Heights has stated that the PHGSA cannot publicize its existence on school bulletin boards or on the school's radio station, while other curricular and non-curricular clubs at the school are able to do so. 
"This group aims to create an environment that provides support to students, during a time that otherwise might be increasingly difficult for LGBTQ students," said Kit Malone, advocacy strategist at ACLU of Indiana. "The differential treatment aimed at Pendleton Heights Gay-Straight Alliance by administrators is unwarranted and these students must be treated in the same manner that all other student groups are treated."
Pendleton Heights Principal Connie Rickert has the authority to decide what student groups are allowed to meet at the school and which ones are deemed to be "official." Last Spring she deflected on the apparent anti-LGBTQ+ messaging the order to remove the flags sent telling one media outlet; ""Teachers are legally obligated to maintain viewpoint neutrality during their official duties to ensure all students can focus on learning and we can maintain educational activities and school operations," she said. "Our counselors are trained to respond to any student who desires support."
While she has allowed the GSA club to meet, her banning announcements and notifications for the GSA runs contrary to her statements last Spring that that her school prides itself on creating a welcoming environment for all.
"Students at Pendleton Heights High School may participate in non-curricular clubs recognized by the school," said Ken Falk, ACLU of Indiana legal director. "By creating additional hurdles for Pendleton Heights Gay-Straight Alliance such as censoring the group's promotions and prohibiting fundraising, the school is infringing on these students' rights."
The South Madison Community Schools District has declined comment.
Alarming numbers of Texas Trans kids in crisis over litany of anti-Trans bills
"Under the guise of protecting children- Texas legislators are directly harming thousands of transgender & nonbinary youth"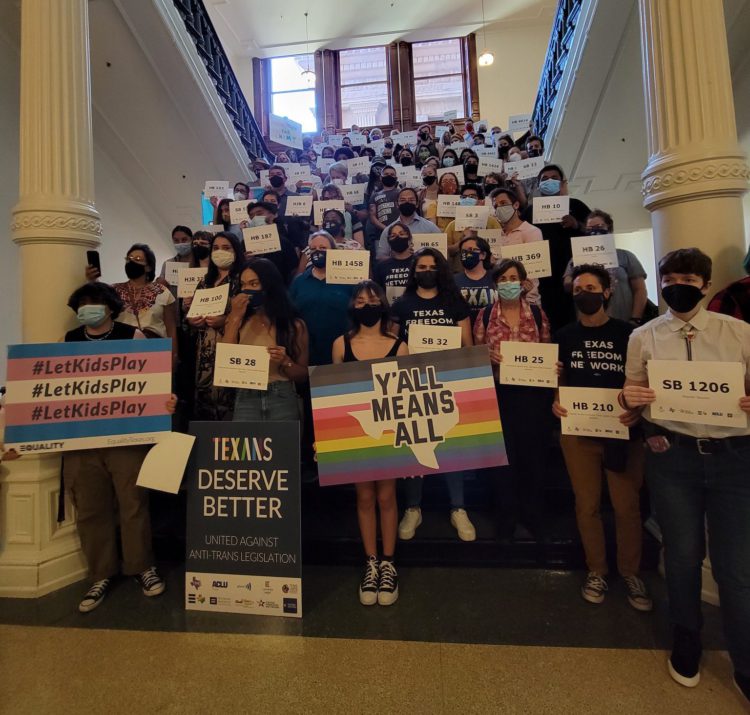 NEW YORK – The Trevor Project received nearly 4,000 crisis contacts from transgender and nonbinary youth in Texas in 2021, with many directly stating that they are feeling stressed and considering suicide due to anti-trans laws being debated in their state.
This new data comes during a year when Texas lawmakers have proposed nearly 70 anti-LGBTQ bills, including more than 40 bills that specifically target transgender and nonbinary youth — far more than any other state.
The Texas State Senate passed its anti-trans sports ban SB3 this week, and the companion bill HB10 is now moving forward in the Texas House.
Republican Texas Governor Abbott has prioritized SB 3 and called for a third consecutive special session of the legislature to consider this bill, which would ban transgender student-athletes from playing on sports teams consistent with their gender identity.
"The Trevor Project's crisis counselors have been hearing from transgender and nonbinary youth in Texas who are scared and worried about anti-trans laws being debated in their state — and some have even expressed suicidal thoughts. This is a crisis. We urge Texas lawmakers to consider the weight of their words and actions — and to reject HB10/SB3," said Amit Paley, CEO and Executive Director of The Trevor Project.
Between January 1 and August 30, 2021, The Trevor Project received more than 10,800 crisis contacts (calls, texts, and chats) from LGBTQ young people in Texas looking for support. More than 3,900 of those crisis contacts (36%) came from transgender or nonbinary youth.
Crisis contacts from LGBTQ young people in Texas seeking support have grown over 150% when compared to the same time period in 2020.
While this volume of crisis contacts can not be attributed to any one factor (or bill), a qualitative analysis of the crisis contacts found that:
Transgender and nonbinary youth in Texas have directly stated that they are feeling stressed, using self-harm, and considering suicide due to anti-LGBTQ laws being debated in their state.
Some transgender and nonbinary youth have expressed fear over losing access to sports that provide important acceptance in their lives.
"As a transgender young person in Texas, this new data from the Trevor Project is not surprising, but it's nonetheless harrowing and alarming to see this representation of the detrimental impact Texas Lege is having on our community — especially our kids. Lawmakers and proponents of bills like SB3 and HB10 should be alarmed by these statistics, too," Landon Richie a Trans youth activist and GenderCool Youth Leader from Houston told the Los Angeles Blade.
"Under the guise of protecting children and promoting fairness, Texas legislators are directly harming thousands of transgender and nonbinary youth, denying them the dignity, respect, and childhoods that they deserve. It's never an exaggeration to say that the passage — and merely debate — of these bills will cost lives," Richie added.
National mental health organizations like The Trevor Project and state LGBTQ equality groups including Equality Texas and Transgender Education Network of Texas (TENT) are raising concerns about the impact of such legislation on the mental health and wellbeing of transgender and nonbinary youth.
The Trevor Project's 2021 National Survey on LGBTQ Youth Mental Health found that more than half (52%) of transgender and nonbinary youth seriously considered suicide in the past year and 1 in 5 attempted suicide. Further, Trevor released a new research brief earlier this month on LGBTQ youth participation in sports, which found that a majority of LGBTQ young people (nearly 66%) do not actively participate in sports — with many citing fear of bullying and discrimination as a key factor for not participating.
If you or someone you know needs help or support, The Trevor Project's trained crisis counselors are available 24/7 at 1-866-488-7386, via chat at TheTrevorProject.org/Help, or by texting START to 678678.
2nd largest school district in Utah bans Pride & BLM flags as 'too political'
"We have to have a politically neutral classroom, and we're going to educate the students in the best possible way that we can"
FARMINGTON, Ut. – Administrators this week in the Davis School District, which is Utah's 2nd largest school district with 72,987 students, banned LGBTQ Pride and Black Lives Matter flags, saying they are 'politically charged.'
According to the Salt Lake City Tribune, Davis Schools spokesperson Chris Williams told the paper; "No flags fly in our schools except for the flag of the United States of America." Williams later walked that statement back adding a clarification that some of the Districts schools have flags from sports team or international countries which are considered "unrelated to politics."
"What we're doing is we're following state law," said Williams. "State law says that we have to have a classroom that's politically neutral."
Amanda Darrow, Director of Youth, Family, and Education at the Utah Pride Center in Salt Lake City, told multiple media outlets the school district is "politicizing the rainbow flag" which doesn't belong on a political list.
"That flag for us is so much more," said Darrow. "It is just telling us we're included in the schools, we are being seen in the schools, and we belong in these schools."
KUTV CBS2 News in Salt Lake City checked with the Utah State Board of Education. In an email, spokesman Mark Peterson said, "There is nothing in code that specifically defines a rainbow flag as a political statement so it would be up to district or charter school policies to make that determination."
The local Utah chapter of the American Civil Liberties Union also weighed in saying in a statement;
"Whether or not a school district has the legal ability to ban inclusive and supportive symbols from classrooms, it is bad policy for them to do so," the advocacy organization said in a statement. "Utah schools have an obligation to ensure that all students, regardless of their sexual orientation or gender identify, feel welcome inside a classroom. We urge school administrators and teachers to adopt policies that make all students feel safe and included."
Williams insisted the policy is not meant to exclude anyone and that all students are loved and welcomed – they just want to keep politics out of school he told the Tribune and KUTV.
"We have to have a politically neutral classroom, and we're going to educate the students in the best possible way that we can," said Williams.
A Utah based veteran freelance journalist, writer, editor, and food photographer weighed in on Twitter highlighting the negative impact of the Davis Schools decision on its LGBTQ youth.
Davis County school district has banned BLM & pride flags and other symbols saying they are politically charged.

This is why the number 1 killer of Utah kids is suicide, especially among LGBTQ youth. Nearly 52% say they have frequent suicidal ideation.https://t.co/twSZwWvWVl

— Kaz Weida (@kazweida) September 21, 2021
Davis County School District bans LGTBQ and BLM flags as 'too political'