Trump's call to end HIV epidemic falls on skeptical ears
President touts 'important strides' in fighting disease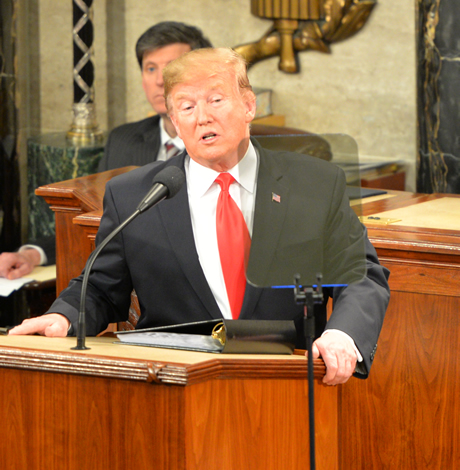 President Trump took the opportunity of his second State of the Union address to call for an end to HIV transmission in the next 10 years — but that call was received with skepticism from advocates unhappy with his administration's approach to the epidemic thus far.
Speaking Tuesday before a joint session of Congress, Trump talked about the United States having made "important strides" in combatting HIV/AIDS, but that the time has come to finish the job.
"In recent years we have made remarkable progress in the fight against HIV and AIDS," Trump said. "Scientific breakthroughs have brought a once-distant dream within reach. My budget will ask Democrats and Republicans to make the needed commitment to eliminate the HIV epidemic in the United States within 10 years. We have made incredible strides. Incredible. Together, we will defeat AIDS in America and beyond."
The part of Trump's remarks about "important strides" in combatting HIV/AIDS and defeating the disease not just in the United States but "beyond" were ad-libs from his prepared remarks.
Trump's line about defeating HIV/AIDS was among those applauded by members of Congress on both sides of the aisle, including possible 2020 hopefuls Sens. Kamala Harris (D-Calif.), Bernie Sanders (I-Vt.), Kirsten Gillibrand (D-N.Y.), Cory Booker (D-N.J.), Elizabeth Warren (D-Mass.) and Sherrod Brown (D-Ohio).
The inclusion of the call to end HIV in the State of the Union address was expected. On Monday, Politico reported health officials within the Trump administration were expecting that call to be a component of the speech. The Department of Health & Human Services is also expected to unveil a more detailed plan later this week.
Carl Schmid, deputy executive director of the AIDS Institute, said in a statement Trump is taking a "bold step" in the fight to end HIV/AIDS.
A co-chair of the Presidential Advisory Council on HIV/AIDS, Schmid said the remarks were part of a bold initiative to end the HIV epidemic by 2030.
"His proposal to increase access to antiretroviral medications for people living with HIV and for prevention in those communities with the highest rates of HIV and where additional resources are most needed will translate into fewer HIV infections," Schmid said. "Under the president's proposal, the number of new infections can eventually be reduced to zero."
Trump's call to end HIV transmission is consistent with the administration adopting Obama-era goals to combat the epidemic in a progress report issued last year on the 2010 National AIDS Strategy. The administration is set to produce an updated version of that strategy by 2020.
The announcement also follows Secretary of Health & Human Services Alex Azar's pledge in December to fight HIV/AIDS in a speech that recognized its disproportionate impact on African-Americans, Latinos and gay men.
Among those commending Trump for including a call to end HIV and calling for additional detail was Michael Weinstein, president of the AIDS Healthcare Foundation.
"Many experts have stated over and over that we have the tools to end the epidemic. What we lack is the political will," Weinstein said. "AHF looks forward to the details of the president's plan and hopes it will address primary prevention of new HIV infections – including aggressive promotion of condoms and safer sex education, universal access to treatment for everyone living with HIV, strengthening the Ryan White HIV Program and protecting the 340B Drug Discount Program."
But the general consensus among HIV/AIDS advocates was Trump — who defeated a Democratic nominee in 2016 who talked of an "AIDS-free generation" — wasn't making enough commitments to pull off his stated goal.
Rep. Mark Takano (D-Calif.), who's gay and one of the co-chairs of the LGBTQ Equality Caucus, told he Washington Blade on Capitol Hill after the State of the Union address he does "applaud" the pledge to end HIV, but said the commitment may fall by the wayside like so many others.
"The president made bold promises in the campaign about reducing the costs of prescription drugs and when it came really time to follow through on it, he didn't do it," Takano said. "The same thing about infrastructure. Democrats, all of us, are willing to work with him on a true infrastructure bill, but he's got to follow up on it, so the words I can agree with, whether they are bold true words remain to be seen.
House Speaker Nancy Pelosi (D-Calif.) was also cautious about Trump's commitment to end HIV in a statement after the speech.
"The president's call for ending HIV transmission in America is interesting, but if he is serious about ending the HIV/AIDS crisis, he must end his assault on health care and the dignity of the LGBTQ community," Pelosi said.
Stacey Long Simmons, director of advocacy and action at the National LGBTQ Task Force, also questioned whether Trump was serious about ending HIV transmission despite his words in the State of the Union address.
"HIV advocates all agree that ending transmission is an important goal," Simmons said. "Based on Trump's repeatedly broken promises, we have cause to question his commitment until we see the necessary funding flowing to strategies that will actually end transmission."
Trump has disappointed advocates fighting HIV/AIDS before. For starters, Trump — in an action first reported by the Washington Blade — fired all members of the Presidential Advisory Council on HIV/AIDS in late 2017 via a letter without explanation. Those terminations occurred after six members of the council resigned on their own in protest over the administration's inaction on the epidemic.
Only in December 2018 did the Trump administration finally announce new members of the council, but those members were two co-chairs, Schmid and John Wiesman. No other replacements have been named.
Trump has also made repealing the Affordable Care Act a main goal of his administration, although efforts seemed to have fizzled out after failed attempts in his first year in the White House. Nonetheless, Trump succeeded in repealing the individual mandate in Obamacare under the 2017 tax reform law and allowed states to implement work requirements under the Medicaid expansions.
According to the Henry Kaiser Family Foundation, Medicaid is the largest source of insurance coverage for people with HIV. An estimated 40 percent of people with HIV receive care under the program.
Also of concern are the "religious freedom" actions instituted within the Department of Health & Human Services under Roger Severino, a former Heritage Foundation scholar and now director of the HHS Office for Civil Rights.
Those actions include the creation of a Conscience & Religious Freedom Division. Critics say the division enables the denial of medical services in the name of religious freedom to LGBT people, including gender reassignment surgery for transgender people, as well as people with HIV.
David Stacy, director of government affairs for the Human Rights Campaign, said the Trump administration's efforts disproportionately affect people with HIV and inhibit efforts to confront the epidemic.
"If this administration wants to combat the spread of HIV, they need to immediately end their efforts to cut Medicaid funding, undermine the Affordable Care Act and license discrimination against the most at-risk communities when they seek healthcare," Stacy said. "This administration simply cannot achieve this goal while, at the same time, charging forward with attacks on health care for the communities most impacted by HIV. The American public deserves a real commitment from their government to end the HIV epidemic."
A budget proposal with increased funds for HIV/AIDS would be a change for Trump. His first two budget requests to Congress have also requested funding cuts for both domestic HIV programs, chiefly the Ryan White Care Act, and programs designed to fight the global epidemic, such as PEPFAR. Although the cuts to domestic programs were diminished in the second budget, the cuts to global programs were still considered draconian.
Despite Trump's request to cut those programs, the Republican-controlled Congress continued appropriating funds for those programs at the same level.
Simmons warned those who heard Trump's pledge in the State of the Union address not to give him a pass on his administration's neglect on HIV/AIDS.
"If Trump was serious about HIV, he wouldn't have proposed HIV funding cuts in his first two budgets," Simmons said. "If Trump was serious about helping those with HIV and reducing the transmission of HIV, he wouldn't have abruptly dismissed the presidential council on HIV and left the council vacant for nearly a year. If Trump was serious about reducing the transmission of HIV, he wouldn't have selected a vice president that gutted funding for health clinics, leading to an HIV outbreak in rural Indiana."
The Department of Health & Human Services is also pursuing a controversial rule change to Medicare Part D, which affords seniors prescription drug coverage. The administration says the policy is intended to lower drug costs, but many advocates fighting HIV/AIDS said it would have the opposite effect.
Asia Russell, executive director of the New York-based Health GAP, said the Trump administration thus far has been a "nightmare" for people with HIV in the United States and around the world.
"Tonight's announcement will not wake us up from this nightmare unless it immediately reverses these harmful political decisions," Russell said. "To end the HIV epidemics at home and globally, a real leader must call for: At least $1 billion in additional funding for global AIDS for fiscal year 2020, a permanent repeal of the Global Gag Rule, Medicare for All to ensure access to quality health care in the United States, evidence-based policies such as harm reduction for people who use drugs, and truly progressive proposals to slash the cost of medicines in the U.S. and globally."
Gay man who live-streamed anti-government protests in Cuba detained
Yoan de la Cruz taken into custody on July 23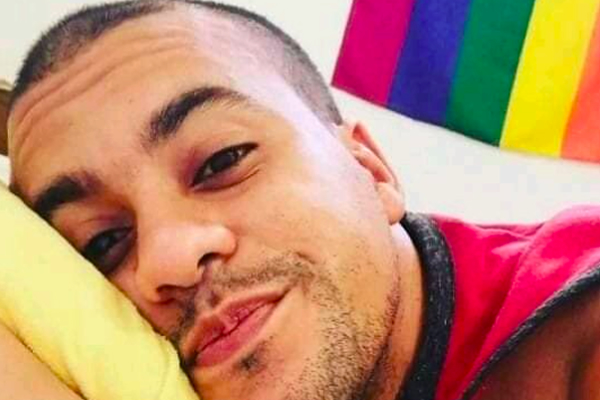 SAN ANTONIO DE LOS BAÑOS, Cuba — A gay man who live-streamed the first anti-government protest that took place in Cuba on July 11 has been detained.
Luis Ángel Adán Roble, a gay man who was once a member of Cuba's National Assembly, in a July 28 tweet wrote Yoan de la Cruz used Facebook Live to livestream a protest in San Antonio de los Baños, a municipality in Artemisa province that is just outside of Havana.
The San Antonio de los Baños protest was the first of dozens of anti-government demonstrations against mounting food shortages, the government's response to the pandemic, a worsening economic crisis and human rights that took place across Cuba on July 11. Many of those who participated in the protests chanted "libertad" or "freedom."
Cubalex, a U.S.-based Cuban human rights organization, confirms authorities detained De La Cruz on July 23. The Blade has not been able to confirm De La Cruz's current whereabouts.
"Yoan is the man who live-streamed the July 11 protests from San Antonio, nothing else," tweeted Adán. "They took him from his house a few days ago and he is being accused of 'incitement of the masses.' Free Yoan, he did not commit any crime!"
Yoan es un chico que transmitió en vivo las protestas del día #11J de San Antonio, solo eso. Hace unos días se lo llevaron de su casa y esta siendo acusado de "incitación de las masas". Liberen a Yoan, no cometió delito alguno!!!#LGBT #Cuba pic.twitter.com/sWyH5iAM8f

— Luis Angel Adán Roble (@angelDr_adan) July 29, 2021
The Los Angeles Blade has confirmed De La Cruz is gay.
Vida Bohemia, a drag queen who is De La Cruz's friend, also demanded de la Cruz's release.
"If he didn't throw a stone, (if) he didn't break glass, (if) he didn't hit anyone, (if) nobody yelled down below, please let him go," Bohemia told 14ymedio, a website founded by Yoani Sánchez, a journalist who is a vocal critic of the Cuban government. "He has a mother, a grandmother, a family and thousands of friends suffering."
Maykel González Vivero, editor of Tremenda Nota, the Blade's media partner in Cuba, is among the hundreds of people who were arrested during the July 11 protests. The New York Times reports that De La Cruz is among the estimated 700 people who remain in custody.
Thousands Cuban Americans gathered in front of the White House on July 26 to demand the Biden administration do more to support the protesters on the island. They later marched to the Cuban Embassy.
The White House under the Global Magnitsky Act has sanctioned Cuba's National Revolutionary Police (PNR), the Interior Ministry Special Brigade, Defense Minister Álvaro López Miera, PNR Director Oscar Callejas Valcarce and PNR Deputy Director Eddie Sierra Arias for their role in the government's crackdown on the July 11 protests. Yotuel Romero, a Cuban singer who co-wrote "Patria y vida!", a song that has become an anthem for anti-government protesters, is among those who met with President Biden at the White House on July 30.
FBI joins investigation into murder of LGBTQ Atlantan
Atlanta Police continue to search for the suspect in the deadly stabbing of a woman asking that anyone with information to please come forward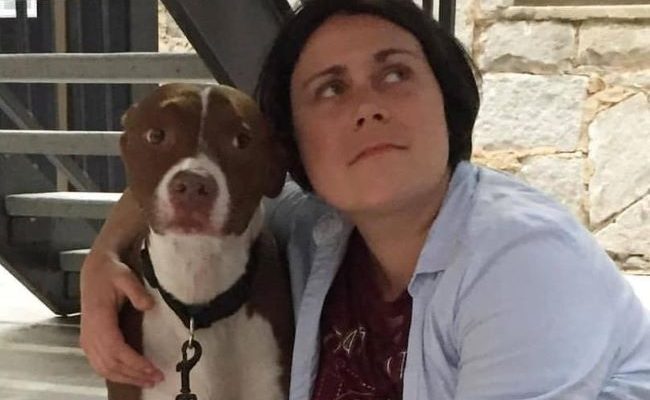 ATLANTA – The Atlanta Police Department's murder investigation into this past Wednesday's stabbing death of 40-year-old Katie Janness and her dog in Piedmont Park, located about 1 mile northeast of downtown between the Midtown and Virginia Highland neighborhoods, has been joined by the Federal Bureau of Investigation, (FBI).
WXIA 11 Alive news reported that the FBI is assisting the Atlanta Police Department, (APD) however a spokesperson for the APD told WXIA the department wouldn't provide any specifics about the FBI's involvement with the investigation, nor did the Atlanta Field Office of the FBI comment.
The Georgia Voice, the local LGBTQ newspaper, reported that Janness, a member of Atlanta's LGBTQ community and a bartender at the LGBTQ-owned Campagnolo, was found stabbed to death in the park on Wednesday (July 28) after walking her dog Bowie, who was also killed.
Janness was found by her partner of six years, Emma Clark, after Clark tracked her with her phone's GPS.
"Today, I lost the love of my life and baby boy," Clark said in a post shared to a GoFundMe page. "It was tragic. She was the most intelligent, kind, humble, and beautiful person I have ever known. I wanted to spend every second with her. [Bowie] was the sweetest, most loyal companion. My heart is so very broken, my world will never be the same."
A vigil was held for Janness on Thursday evening at Piedmont Park.
Atlanta Police continue to search for the suspect in a deadly stabbing of a woman in Piedmont Park
The Atlanta Journal-Constitution reported that Janness' murder is believed to be the first homicide inside the park in 12 years and according to family members of Janness' longtime girlfriend, a security camera at an intersection near the park's entrance captured the last known picture of Katherine Janness and her dog before the two were killed.
But other cameras in the area weren't working, including one facing the entrance. As of Friday the AJC also reported, as of Friday afternoon, Atlanta police had released few details about the murder investigation that has left city residents and parkgoers on edge.
Atlanta Police are asking that anyone with information to please come forward, and tipsters can remain anonymous by contacting Crime Stoppers Atlanta at 404-577-8477, texting information to 274637 or visiting the Crime Stoppers website.
APD detectives are also asking those who live in this area to review footage from their security cameras and contact the police if they find anything that may be pertinent to this investigation. The timeframe for review should be between 10:30 p.m. on Tuesday to 1:30 a.m. on Wednesday.
The CDC's eviction moratorium ending at midnight Saturday stoking fears
CDC's eviction ban expires at midnight tonight, millions of primarily lower income Americans are facing losing their homes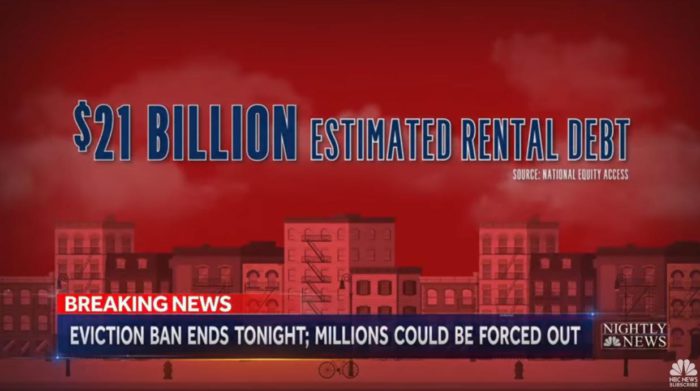 LOS ANGELES – As the U.S. Centers for Disease Control and Prevention, (CDC) eviction ban expires at midnight tonight, millions of primarily lower income Americans are facing losing their homes. Hopes of a federal extension approved by Congress failed this week and now lawmakers are on a six-week recess.
On Thursday, President Joe Biden announced that he would let the current CDC eviction moratorium expire instead of challenging the June U.S. Supreme Court ruling that extended the deadline to tonight. The high court ruled to extend moratoriums to the end of July but made it clear it would block any further extensions unless there was specific congressional authorization.
A White House official said that President Biden would have liked to extend the federal eviction moratorium because of the spread of the delta variant of the coronavirus which is highly contagious. However, the official conceded there were also concerns that challenging the high court may lead to a ruling that potentially could restrict the Biden administration's ability to take unilateral actions in future public health crises.
On Friday, Missouri Democratic Representative Cori Bush angrily denounced House colleagues for adjourning for the August recess without passing an extension of the CDC eviction moratorium.
"The House is at recess. People are on vacations. How are we on vacation when we have millions of people who could start to be evicted tonight?" Bush told CNN's Jessica Dean. "There are people already receiving and have received pay or vacate notices that will have them out on tomorrow. People are already in a position where they need help, our most vulnerable, our most marginalized, those who are in need," she said, adding, "How can we go vacation? No, we need to come back here."
The CDC's eviction ban was intended to prevent further spread of the coronavirus by people put out on the streets and into shelters. Congress had approved nearly $47 billion in federal housing aid to the states during the pandemic, but that funding has been slow to make it into the hands of renters and landlords owed payments. According to persons knowledgeable of the assistance system structure, one of the reasons for the delays are over complicated administrative requirements for renters seeking help.
The President had pleaded with local governments to "take all possible steps" to immediately disburse the funds. "There can be no excuse for any state or locality not accelerating funds to landlords and tenants that have been hurt during this pandemic," he said in a statement released late Friday.
While the Senate was in a rare Saturday work session on the president's infrastructure package during a floor speech Democratic Massachusetts Senator Elizabeth Warren stated, "We are only hours away from a fully preventable housing crisis. We have the tools, and we have the funding. What we need is the time."
The President's apparent action angered many lawmakers in his own party on Capitol Hill some who expressed anger furious that he expected Congress to provide a last-minute solution to protect renters that they were unable to deliver.
Representative Maxine Waters, (D-Calif.), Chair of the House Financial Services Committee, said Saturday on CNN: "We thought that the White House was in charge." Waters quickly produced a draft of a bill that would require the CDC to continue the ban through Dec. 31. At a hastily arranged hearing Friday morning to consider the bill she urged her colleagues to act, Stars and Stripes reported.
House Speaker Nancy Pelosi implored colleagues to pass Waters' bill extending the deadline, calling it a "moral imperative," to protect renters and also the landlords who are owed compensation. Landlords are opposed to extending the CDC's eviction moratorium and are also urging local and state governments to speed up disbursement of the funding designed to hep renters from losing their homes and landlords to meet their obligations.
When House Democrats failed to garner support for Waters' legislative efforts, they then tried to simply approve an extension by consent, without a formal vote, but House Republicans objected.
According to the Department of Housing and Urban Development, as of March of this year, 6.4 million American households were behind on their rent and as of July 5, the Census Bureau's Household Pulse Survey showed that in the next two months approximately 3.6 million Americans will face immediate eviction proceedings.
The Associated Press reported Saturday that some places are likely to see spikes in evictions starting Monday, while other jurisdictions will see an increase in court filings that will lead to evictions over several months.
The Biden administration is trying to keep renters in place through other means. It released more than $1.5 billion in rental assistance in June, which helped nearly 300,000 households.
The departments of Housing and Urban Development, Agriculture and Veterans Affairs extended their foreclosure-related eviction moratoriums through the end of September on households living in federally insured, single-family homes late Friday, after the president had asked them to do so.
In Los Angeles, the threat of a spate of evictions will greatly exacerbate the greater LA region's homelessness crisis. This past week in a 13-2 vote Wednesday, the Los Angeles City Council voted to stop people from camping in public spaces including the areas around parks, schools, homeless shelters, bridges and overpasses, and other similar structures.
A spokesperson for Los Angeles Mayor Eric Garcetti said that he will sign the ordinance. Once signed, the measure will go into effect 30 days later. Opponents of this ordinance are decrying it as another effort to criminalise the homeless population.
Homeless and civil rights activist Eddie Cruz told KTLA, "this ordinance is targeting a specific group of people in the unhoused community. We believe that this is an irresponsible attack from the City Council and an irresponsible way to deal with the homelessness crisis that is occurring in Los Angeles," Cruz said.
In a new poll released last week conducted by Inside California Politics and Emerson College of more than 1,000 registered voters, half rated Governor Gavin Newsom's response to the homelessness crisis in California as 'poor.'
Newsom's low marks comes after he signed the largest funding and reform package for housing and homelessness in California history as part of the $100 billion California Comeback Plan. The package includes $10.3 billion for affordable housing and $12 billion over two years towards tackling the homelessness crisis including $5.8 billion to add 42,000 new housing units through the states' Project Homekey .
Another $3 billion of this investment is dedicated to housing for people with the most acute behavioral and physical health needs.
However, say activists, there is no sense of urgency in assisting people navigate through what most people see as an overly complicated application process matched with tens of thousands who will be immediately impacted and without a time cushion to work through the assistance process once the moratorium is lifted.
Eviction Moratorium Ending
RELATED: House Democrats' appeal to extend eviction moratorium ends in vain