Group of 30 LGBTI migrants enter Mexico from Guatemala
Group crossed river separating two countries on Friday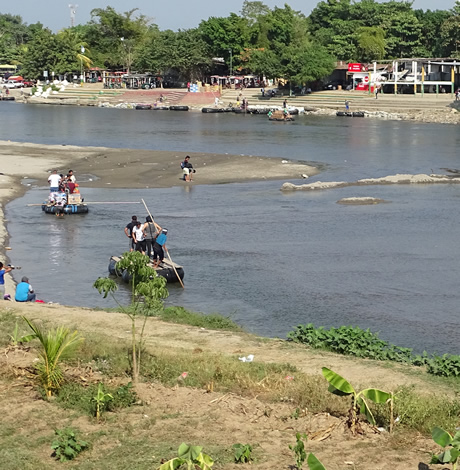 CIUDAD HIDALGO, Mexico — A group of 30 LGBTI migrants entered Mexico from Guatemala on Friday.
Estuardo Moscoso of Asociación Lambda, a Guatemala City-based advocacy group that provides assistance to LGBTI migrants, told the Washington Blade the migrants who are from Guatemala, Honduras and El Salvador crossed the Suchiate River, which marks the border between Guatemala and Mexico, and arrived in Ciudad Hidalgo in Mexico's Chiapas state. Moscoso said the migrants are currently traveling to Tapachula, a city that is roughly 30 miles northwest of Ciudad Hidalgo.
Rampant violence and poverty have prompted tens of thousands of Central Americans to join migrant caravans over the last year.
The latest migrant caravan left San Pedro Sula, Honduras, on Jan. 14.
Many of the LGBTI migrants who have joined these groups are fleeing violence in their countries of origin based on their sexual orientation and/or gender identity. Gangs, human traffickers and other criminals also target them as they travel through the region.
Asociación Lambda and groups in Tapachula — Una Mano Amiga and Brigada Callejera de Apoyo a la Mujer "Elisa Martínez", two local LGBTI advocacy and HIV/AIDS service organizations, and the Fray Matías de Córdova Human Rights Center — offer food, clothing, shelter, personal hygiene products and other basic assistance to migrants who are traveling through the region.
Asociación Lambda and Una Mano Amiga last April provided assistance to Roxsana Hernández, a transgender Honduran woman with HIV who died in U.S. Immigration and Customs Enforcement custody in New Mexico on May 25, before she traveled to the Mexico-U.S. border and asked for asylum at the San Ysidro Port of Entry south of San Diego. Advocates in Mexico and Guatemala with whom the Blade has spoken in recent days say President Trump's anti-immigrant rhetoric and policies that include his continued demand for a border wall has not deterred migrants who hope to seek refuge in the U.S.
"We are not delinquents," Moscoso told the Blade on Friday during an interview at Asociación Lambda's Guatemala City offices. "We are saving our lives."
LA Mayoral race tight- Luna maintains lead over Sheriff Villanueva
In the race to replace Eric Garcetti as Mayor, Rep. Karen Bass is leading billionaire businessman Rick Caruso – 34% to 31% among all voters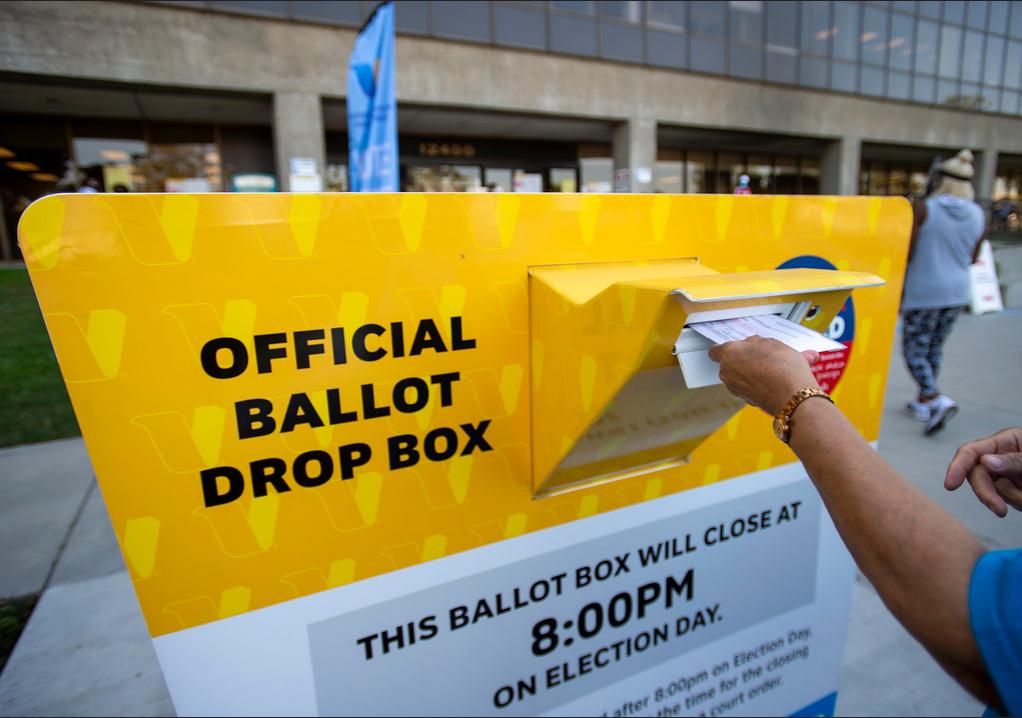 LOS ANGELES – New polling released Monday showed that in the race to replace Eric Garcetti as Mayor of Los Angeles, Rep. Karen Bass is leading billionaire businessman Rick Caruso – 34% to 31% among all voters.
In the new UC Berkeley Institute of Governmental Studies survey, Caruso is now just 3 points behind — which is within the poll's margin of error. In August, Caruso trailed by 12 points although the poll found that among likely voters, Bass still leads by 15 points – 46% to 31%.
In the race for Los Angeles County sheriff, the Los Angeles Times reported Monday that retired Long Beach Police Chief Robert Luna has a formidable, 10-point lead among likely voters over the incumbent, Alex Villanueva, a new UC Berkeley Institute of Governmental Studies/Los Angeles Times poll showed.
With little more than a month until the Nov. 8 runoff election, 36% of likely voters polled said they are planning to cast ballots for Luna, while 26% said they favor Villanueva.
Health care orgs ask Feds investigate trans healthcare threats
The groups also call on Twitter, TikTok and Meta-Facebook and Instagram, to do more to prevent coordinated campaigns of disinformation
CHICAGO – In a letter sent Monday to U.S. Attorney General Merrick Garland, the American Medical Association joined with the American Academy of Pediatrics (AAP), and Children's Hospital Association asking the Department of Justice investigate [the] increasing "threats of violence against physicians, hospitals and families of children for providing and seeking evidence-based gender-affirming care."
The AAP and AMA collectively represent more than 270,000 physicians and medical students and CHA represents more than 220 children's hospitals across the country. The groups wrote to Garland urging "swift action to investigate and prosecute all organizations, individuals, and entities responsible."
The AMA letter highlighted one instance where a mother was prevented from seeing her newborn premature infant because the NICU was locked down due to a bomb threat. These attacks on children's hospitals have effects on so many people who aren't even involved in gender affirming care.
Attacks on American hospitals providing trans healthcare, especially those with clinics treating trans youth have been targeted by anti-Trans extremists led by the Daily Wire's Matt Walsh and Brooklyn, New York-based Chaya Raichik, a former real estate agent whose 'Libs of Tik-Tok' have spread misinformation and lies about gender-affirming surgery which has fostered attacks on those healthcare facilities by far-right extremist elements.
"Whether it's newborns receiving intensive care, children getting cancer treatments or families accessing compassionate care for their transgender adolescents, all patients seeking treatment deserve to get the care they need without fear for their personal safety," wrote AAP President Moira Szilagyi, MD, PhD, FAAP. "We cannot stand by as threats of violence against our members and their patients proliferate with little consequence. We call on the Department of Justice to investigate these attacks and social media platforms to reduce the spread of the misinformation enabling them."
In addition to the letter to the Department of Justice, the groups call on Twitter, TikTok and Meta, which owns Facebook and Instagram, to do more to prevent coordinated campaigns of disinformation. The organizations ask the platforms to take bolder action when false information is shared about specific institutions and physicians. They also urge social media companies to enforce safety and hateful conduct policies to stop the endangerment of patients, families, physicians and health care staff.
Raichik who has been suspended from Facebook and also Twitter for inflammatory lies and propaganda about Trans youth healthcare, pledged to redouble her attacks on hospitals providing trans people with health care, she wrote in a rant on her Substack in which she called gender-affirming care "mutilating the body."
Libs of TikTok has reportedly been suspended multiple times on multiple platforms, including Instagram, Facebook, and Twitter. Raichik's last Twitter suspension came for accusing LGBTQ people of "grooming" children, which Twitter confirmed violates its policies against hateful conduct.
Today as her latest suspension was lifted by Twitter, Raichik attacked the Barbara Bush Children's Hospital in Maine as documented on Twitter by Harvard Law professor Alejandra Caraballo.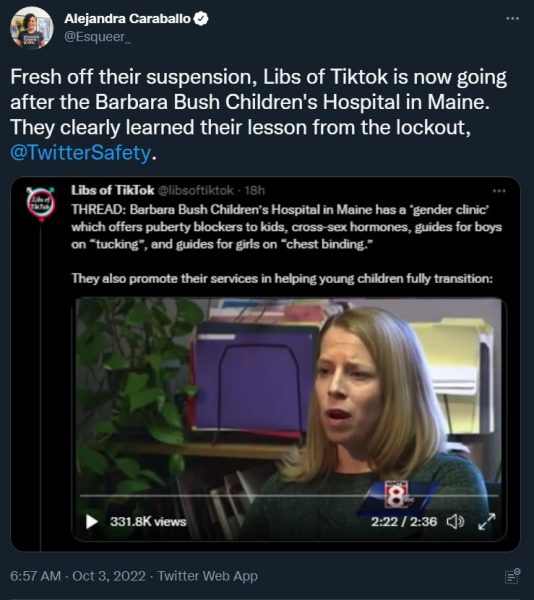 Just this past week, inspired by the Daily Wire's Walsh, Tennessee lawmakers and Governor Bill Lee who provided Walsh with a statement, sent a letter Vanderbilt University Medical Center's Pediatric Transgender Clinic demanding gender-affirming surgeries cease.
"We are committed to providing safe, supportive and inclusive health care environments for each and every child and family, and the clinicians and staff who are dedicated to caring for children," said CHA President Amy Wimpey Knight. "Threats and acts of violence are not a solution, nor a substitute, for civil dialogue about issues of a child or teen's health and wellbeing. At CHA, we are committed to working across sectors to prevent misleading and inflammatory comments that result in threats to those caring for patients."
The groups wrote in their letter to Attorney General Garland, "Our organizations are dedicated to the health and well-being of all children and adolescents. We are committed to the full spectrum of patient care—from prevention to critical care. We stand with the physicians, nurses, mental health specialists, and other health care professionals who provide evidence-based health care, including gender-affirming care, to children and adolescents."
Two months ago anti-LGBTQ+ far right extremists targeted Boston Children's Hospital, threatening its employees and medical staff after falsehoods and disinformation was spread online about the healthcare facility's treatment of transgender youth by Libs of Tik-Tok, Walsh, and conservative journalist and anti-LGBTQ+ activist Christopher Rufo.
The United States Department of Justice launched an investigation into the Boston Children's threats according to an announcement by the United States Attorney for the District of Massachusetts, Rachael Rollins.
Last month D.C.'s Children's National Hospital became the target of threatening phone calls, email messages and social media postings after Libs of Tiktok posted an incorrect report claiming the hospital routinely performs hysterectomies on transgender patients under the age of 18.
Two Transgender women elected to Brazil's Congress
Erika Hilton and Duda Salabert threatened during campaigns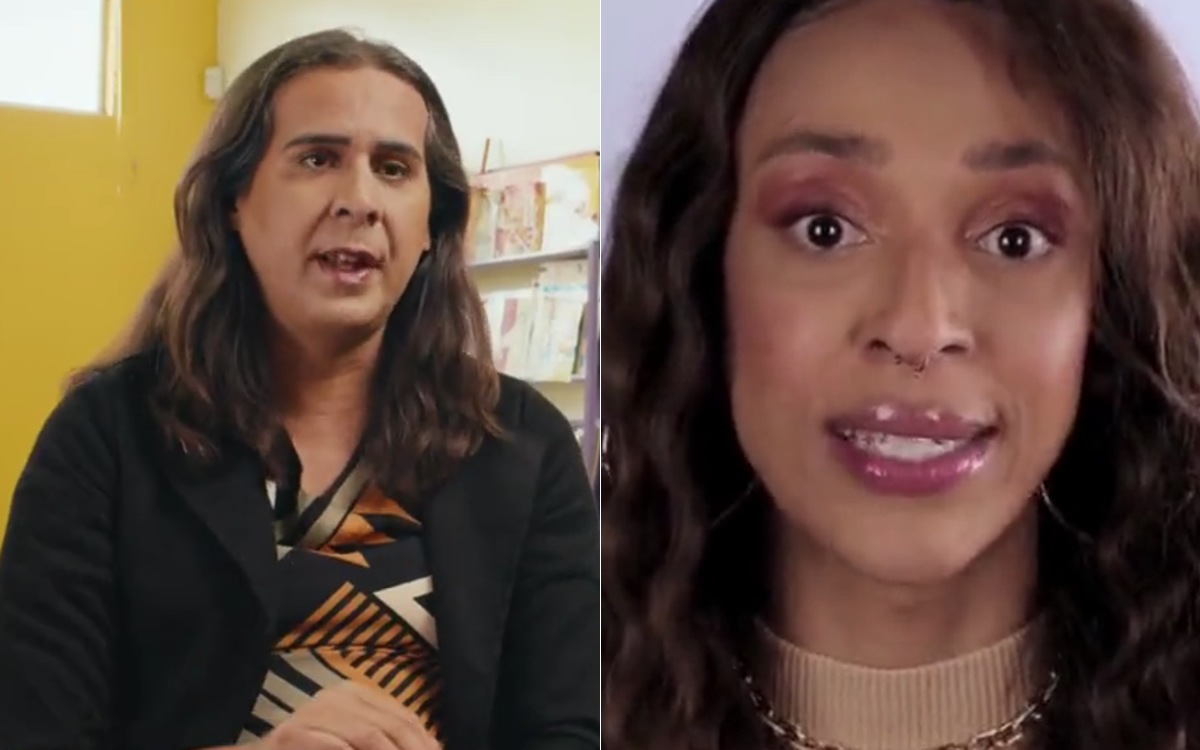 Editor's note: International News Editor Michael K. Lavers will be on assignment in Brazil through Oct. 11.
BRASÍLIA, Brazil — Two Transgender women on Sunday won seats in the Brazilian Congress.
Voters in São Paulo elected Municipal Councilwoman Erika Hilton, a Black travesti and former sex worker who is a member of the leftist Socialism and Liberty Party. Voters in Minas Gerais state elected Belo Horizonte Municipal Councilwoman Duda Salabert, who is a member of the leftist Democratic Labor Party.
Salabert in a video she posted to her Twitter account noted she received the highest number of votes for any congressional candidate in Minas Gerais' history. Salabert also highlighted she received death threats during her campaign.
"I am the first Trans person elected to the National Congress," she said. "We won the election, despite the attacks from leftists, attacks from Christian fundamentalists and death threats from the extreme right."
Sou a 1ª Trans eleita do Congresso Nacional! A Deputada Federal mais votada da história de M.G ! Mesmo com ataques de setores da esquerda, ataques dos ciristas e das ameaças de morte da extrema direita, ganhamos a eleição! pic.twitter.com/AQXfEhK9nW

— Duda Salabert 1212 (@DudaSalabert) October 3, 2022
Hilton also received threats during the campaign.
"Erika and Duda showed true courage in their campaigns for Congress," said LGBTQ Victory Institute Global Programs Director Alhelí Partida in a press release.
Hilton and Salabert are two of the more than 300 openly LGBTQ+ candidates who ran in Sunday's elections.
Fábio Félix, an openly gay member of the Socialism and Liberty Party, who is a member of the Federal District's Legislative Chamber, won re-election with the highest number of votes of any of the candidates running for seats in the body that governs Brasília, the country's capital. Eduardo Leite, the openly gay governor of Rio Grande do Sul who is a member of the Social Democratic Party, will face off against Onyx Lorenzoni, a member of President Jair Bolsonaro's right-wing Liberal Party who is his former chief-of-staff, in an Oct. 30 runoff.
"While we hope their success is a sign of better days, Brazil remains an incredibly tough place to engage as an out leader – where homophobia, transphobia, death threats and worse are common," said Partida. "In 2018, we lost one of our own, Rio de Janeiro Councilwoman Marielle Franco, assassinated by anti-LGBTQ and anti-women attackers. While her loss continues to be devastating, she has become an icon and the fuel needed to inspire more courageous LGBTQ Brazilians to raise their voices."
Bolsonaro will face off against former President Luiz Inácio Lula da Silva on Oct. 30.
The Blade will update this story.