February 6, 2019 at 8:56 am PDT | by Michael K. Lavers
El Salvador official talks presidential election, LGBTI rights, migrants
SAN SALVADOR, El Salvador — A Salvadoran government official on the eve of the country's presidential election acknowledged there is "uncertainty" over how the results will impact efforts to advance LGBTI rights.
Cruz Torres, director of sexual diversity for El Salvador's Ministry of Social Inclusion, told the Washington Blade on Saturday during an interview at an LGBTI-friendly church in the country's capital of San Salvador that frontrunner Nayib Bukele, founder of the anti-corruption New Ideas movement who joined the right-wing GANA party in order to run for president, met with LGBTI activists when he was mayor of San Salvador from 2015-2018. Torres said Bukele made promises "that were not met or at a minimum were not what the community expected."
"This is playing against him," Torres told the Blade, even though many Salvadoran LGBTI activists publicly support Bukele. "There is a feeling of uncertainty around his election as a result."
Torres, who is openly gay, advises the Salvadoran government's executive branch on LGBTI-specific issues.
Then-President Mauricio Funes in 2010 issued a decree that banned discrimination based on sexual orientation and gender identity in government ministries. The mandate also created Torres' position within the Ministry of Social Inclusion.
The Supreme Electoral Tribunal, which oversees the election, is not expected to immediately release the results of Sunday's presidential election. A runoff will take place on March 10 if no candidate receives more than 50 percent of the vote.
Torres told the Blade he is confident former Foreign Minister Hugo Martínez, the candidate for the left-wing FMLN party, will allow his mandate to continue if he succeeds current President Salvador Sánchez Cerén, who is a member of the same party.
Torres added Carlos Calleja of the right-wing ARENA party has not "expressed any promise to the LGBT community. Torres also noted Josué Alvarado's VAMOS party has adopted a strong position against LGBTI rights.
"VAMOS has declared a holy war against the LGBT community, for the defense of the family, for the defense of Christian values," said Torres.
"Salvadoran conservatism specializes in being the victim," he added. "The discourse it has built around us is religious people, heterosexuals, cisgender people are victims of you who are coming to take our children to rape them, who are coming to take away our rights, who are coming to take away our institutions."
'Entrenched conservatism' a barrier to LGBTI rights
The election is taking place against the backdrop of rampant violence and a lack of economic opportunities that has prompted thousands of Salvadorans to leave the country, including those who have joined migrant caravans that have traveled to the Mexico-U.S. border. Torres said widespread discrimination based on sexual orientation and gender identity is another factor that has prompted LGBTI Salvadorans to migrate to Costa Rica and other countries.
"The discrimination situation in El Salvador is very (bad) and it has been very serious for the LGBT community," he said.
Salvadoran lawmakers in 2015 added an amendment to the country's legal code that enhances penalties for hate crimes based on sexual orientation and gender identity, but activists with whom the Blade has previously spoken insist authorities remain reluctant to use the provision.
El Salvador does not allow trans people to legally change their name on identification cards. Reports indicate trans Salvadorans have, as a result, been unable to vote because the name listed on their ID does not correspond with their gender identity.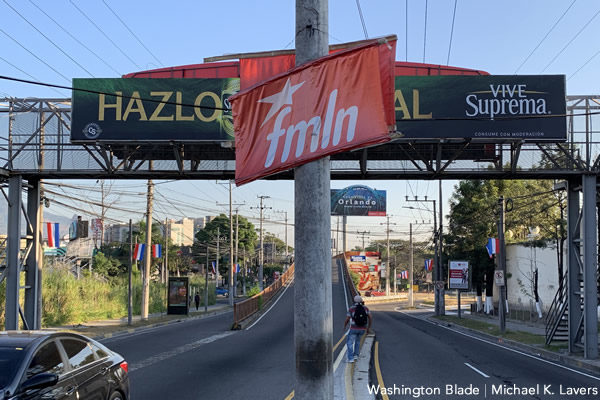 A group of international election observers from several Christian denominations were speaking to LGBTI Salvadoran voters on Saturday at the same church where Torres spoke with the Blade. The Supreme Electoral Tribunal hired 14 LGBTI people — including several trans women — to help oversee the election.
Torres throughout the interview stressed El Salvador has made progress on LGBTI-specific issues over the last decade, but he acknowledged his mandate is limited to ministries that fall under the president's jurisdiction. Torres said "entrenched conservatism" among public sector employees and "inaction" on the part of the Salvadoran government are among the challenges to expanding rights to LGBTI Salvadorans.
"There are no concrete actions," he said.
Salvadorans 'justified' to demand government end violence
Torres spoke with the Blade less than 13 months after reports emerged that President Trump called El Salvador a "shithole" country.
The White House in January 2018 announced it plans to end the Temporary Protected Status program for up to 200,000 Salvadorans who have received temporary residency permits that allow them to stay in the U.S. Trump has also threatened to cut U.S. aid to El Salvador and to neighboring Honduras and Guatemala if their governments did not do more to stop the flow of migrants who are leaving their countries because of violence and a lack of economic opportunities.
Torres told the Blade he remains confident the U.S. will continue to fund economic development and crime reduction initiatives in El Salvador despite Trump's threat.
"Diplomatic relations between El Salvador and the U.S. will continue," said Torres. "Relations between the U.S. and El Salvador will continue exactly as they are."
Torres acknowledged, however, the Salvadoran government needs to do more to address the issues that are prompting migrants to leave the country.
"It definitely is something that the population (in El Salvador) is demanding," said Torres. "It is justified to demand it."
Ernesto Valle contributed to this story.