Venezuelans with HIV/AIDS dying due to lack of antiretroviral drugs
Many Venezuelans still support Maduro, despite the deepening crisis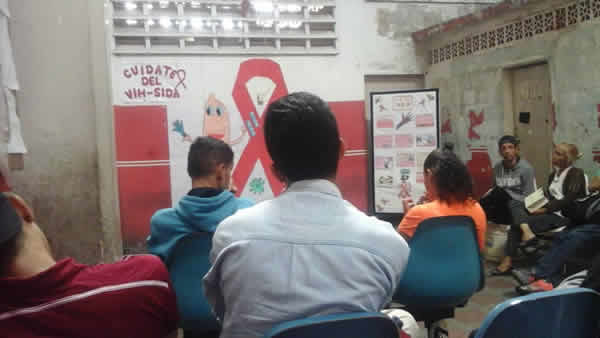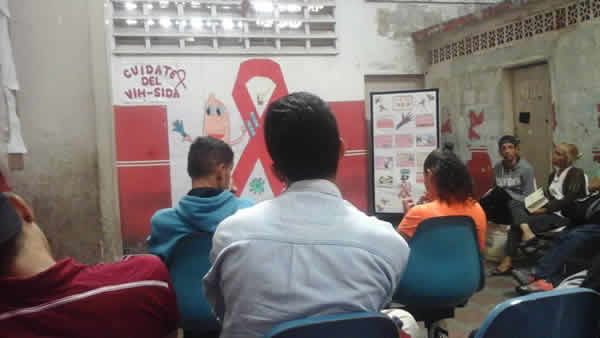 People with HIV/AIDS in Venezuela are dying because of an acute lack of available antiretroviral drugs in the country, according to service providers and activists with whom the Washington Blade has spoken in recent days.
César Sequera, founder of Alianza Lambda de Venezuela, a Venezuelan LGBTI advocacy group, told the Blade on Feb. 8 during a telephone interview from the country's Vargas state that he has been able to obtain antiretroviral drugs from non-governmental organizations or from donations he received from outside the country. Sequera, who is also a priest at an Anglican church outside of the Venezuelan capital of Caracas, acknowledged "there are other people who aren't receiving them."
"The situation is critical and alarming," he told the Blade.
Hendrial Briceño, a 26-year-old public university professor who lives in Caracas, tested positive five years ago.
He told the Blade during a WhatsApp interview on Feb. 8 that he did not take antiretroviral drugs for a year "because there weren't any." Briceño said he currently has a month's supply.
"We have a very serious situation," said Eduardo Franco, secretary of Red Venezolana de Gente Positiva, a Caracas-based HIV/AIDS advocacy group, during a telephone interview on Monday.
Sequera, Briceño and Franco all told the Blade that Venezuela's worsening economic and political crises have further exacerbated the country's HIV/AIDS crisis.
A report from the International Council for AIDS Service Organizations (ICASO), Aid for AIDS International, Global Development and three Venezuelan organizations — Asociación Civil Impacto Social, Alianza Venezolana para la Salud and Sociedad Venezolana de Salud Pública — cites statistics from the Pan-American and World Health Organizations, the Venezuelan Ministry of Health and other agencies that note 25,000 more people died from HIV between 2010-2018. The statistics also indicate the number of people with HIV increased from 97,000 to more than 120,000 during the same period.
PAHO, WHO and UNAIDS representatives traveled to Caracas last June in order to observe the Venezuelan government's efforts to combat HIV, tuberculosis and malaria. The organizations subsequently announced a plan to combat the diseases that includes input from Venezuelan health care providers, NGOs and government representatives.
"The plan was subsequently presented to the national authorities who gave approval of the document, as well as to State coordinators, the Venezuelan Society of Infectious Diseases, Pulmonology, Pediatrics and Gynecology/Obstetrics," reads the plan of which the Blade obtained a copy.
The Global Fund board of directors on Sept. 24, 2018, approved $5 million "to help alleviate the gaps in the provision of HIV treatment in Venezuela."
The PAHO Strategic Fund received $4.9 million to purchase antiretroviral drugs. Venezuelan NGOs received the remaining $100,000 from UNAIDS in order to oversee the distribution of the medications to people with HIV/AIDS.
The first shipment of the antiretroviral drug Tenofovir, Lamivudine and Dolutegravir (TLD), which contained 100,000 bottles, arrived in Venezuela on Dec. 23, 2018. A second shipment of TLD with 200,000 bottles arrived in the country on Jan. 16.
Red Venezolana de Gente Positiva and more than two dozen other Venezuelan HIV/AIDS service and advocacy organizations in a Feb. 4 letter to Health Minister Carlos Alvarado said none of the bottles from the two shipments had been distributed from a warehouse that is located on a military base in Miranda state. The letter also notes "millions and millions of pills of antiretroviral drugs are stored and withheld without justification" at the warehouse.
"Venezuelan civil society organizations working on HIV are writing to you to demand your urgent intervention in the release and delivery of antiretroviral medicines that will save the lives of more than 70,000 people living with HIV and AIDS in Venezuela," reads the letter.
U.S. Sen. Marco Rubio (R-Fla.) on Feb. 6 wrote in a tweet that "apparently (President Nicolás) Maduro is blocking $5 million Global Fund shipments of HIV and AIDS medicine from Venezuela."
"This is a death sentence to those who depend on anti-virals (sic) for survival," said the Florida Republican.
A Rubio spokesperson on Monday told the Blade she did not "have any additional information" about the antiretroviral drug shipment.
The Venezuelan government has said a lack of working trucks has prevented it from distributing the drugs throughout the country.
ICASO Executive Director Mary Ann Torres, who is originally from Venezuela, on Tuesday told the Blade during a telephone interview from Toronto the Venezuelan Ministry of Health indeed only a handful of trucks that are working. She said officials distributed some of the drugs in Valencia, a city in Carabobo state, after the open letter to Alvarado and Rubio's tweet.
'The government doesn't care'
Venezuela, which has the world's largest known oil reserves, was once Latin America's most prosperous country. Venezuela's worsening economic and political crisis has prompted millions of Venezuelans to migrate to neighboring Colombia and other countries in recent years.
Juan Guaidó, president of the Venezuelan National Assembly, last month declared himself president after the country's disputed presidential election that took place in May 2018. The U.S. is among the countries that have officially recognized Guaidó as Venezuela's interim leader.
Briceño said he has seen well-dressed people in Caracas "picking through the garbage" for food.
One source who asked the Blade not to identify them by name because of safety concerns said three condoms and a bottle of lubricant costs a month's salary for someone who is making minimum wage. Madonna Badillo, a transgender woman of indigenous descent who lives in the Colombian city of Maicao, which is a few miles from the country's border with Venezuela on the Guajira Peninsula, told the Blade last March during an interview at her home that Venezuelan women sell their hair to wigmakers for less than $10 "out of necessity."
"One of the things I have seen is the government doesn't care," Torres told the Blade. "It's a mixture of bad policies. It's a mixture of ideology over evidence."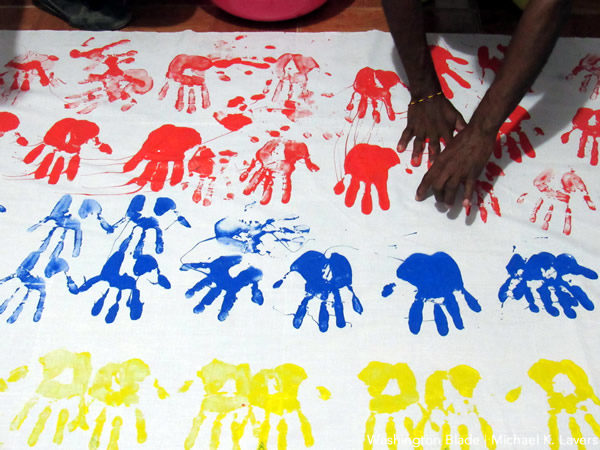 Torres said other issues that have contributed to the crisis include corruption and the mismanagement of Venezuela's nationalized oil and mining industries.
"It's not about sanctions," she told the Blade. "It's about the mismanagement of a country and a government that is over-powerful and over-present everywhere. They have left the infrastructure to be destroyed completely. You see pictures of the hospitals and you understand why health is the way it is. Everything is falling apart."
Sequera noted some Venezuelans still support Maduro, despite the deepening crisis. He also told the Blade there will be "a civil war" in the country if the U.S. stages a military intervention to oust Maduro.
"The entire population will come out on the street," said Sequera.
Humanitarian aid is 'urgently needed' in Venezuela
Rubio is among those who have sharply criticized Maduro for preventing humanitarian aid from the U.S. from entering Venezuela. Media reports note Guaidó on Tuesday told supporters at a Caracas rally the aid would be brought into the country on Feb. 23.
Torres told the Blade that humanitarian aid is "urgently needed" in Venezuela. She also said the country needs to be completely rebuilt.
"The problem is the reconstruction won't start with Maduro in power just because he doesn't accept there is a problem," said Torres.
President's Emergency Plan for AIDS Relief marks year 20
Achievements PEPFAR have been remarkable, well-documented by outside evaluators, and hugely applauded throughout the advocacy community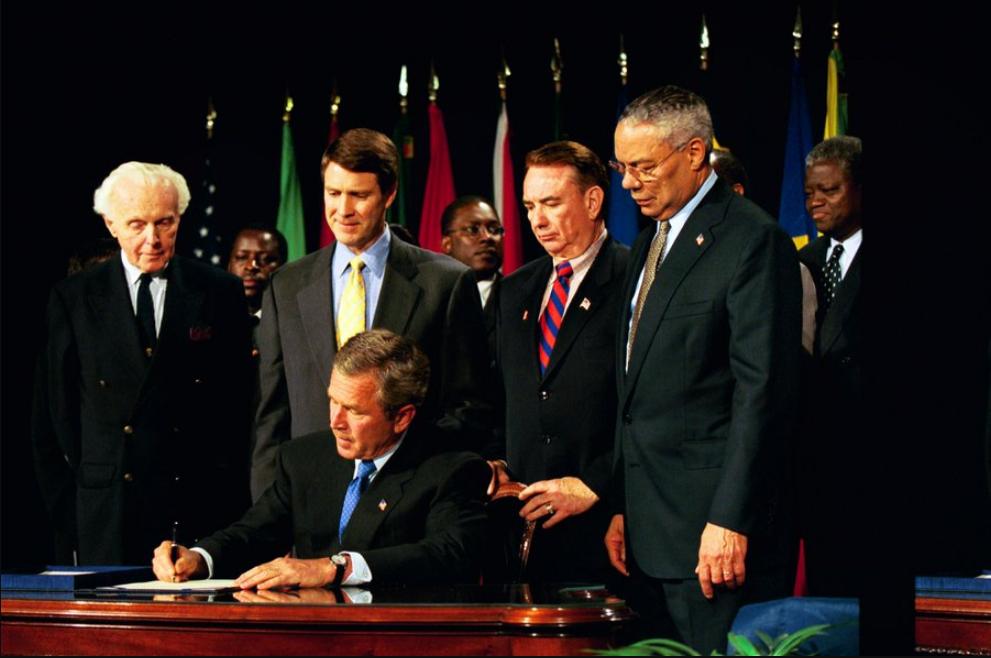 WASHINGTON – The President's Emergency Plan for AIDS Relief (PEPFAR) marks its twenty year anniversary today, marking the largest commitment by any nation to address a single disease in the world.
The initiative which was personally led and launched by former President George W. Bush in 2003, its funding has totaled more than $110 billion to date, including funding for the Global Fund to Fight AIDS, Tuberculosis and Malaria (Global Fund), to which the U.S. government is the largest donor.
PEPFAR is credited with saving millions of lives and helping to change the trajectory of the global HIV epidemic. The White House today released a statement by President Joe Biden marking the 20th Anniversary:
Twenty years ago today, President George W. Bush declared that preventing and treating HIV/AIDS was a foreign policy priority of the United States. At a time when nearly 30 million people were HIV positive, but very few were receiving life-saving medicines, the President's Emergency Plan for AIDS Relief (PEPFAR) transformed the global AIDS response and laid a marker for America's commitment to countries that were impacted the hardest by the AIDS epidemic. Helping lead the bipartisan effort in Congress to authorize PEPFAR is among my proudest achievements from my time in the Senate. To this day, PEPFAR remains a powerful example of America's unmatched ability to drive progress and make life better for people around the world.

Since 2003, PEPFAR has saved more than 25 million lives and dramatically improved health outcomes in more than 55 partner countries. AIDS-related deaths have declined by 68 percent since their peak in 2004, and new HIV infections are down 42 percent. PEPFAR investments have ensured that 5.5 million babies have been born HIV-free. And two decades of investment in partner nations' health systems played a critical role in countries' ability to respond to other health crises such as COVID-19, Mpox, and Ebola.

Today, PEPFAR continues to support 20.1 million people around the world with HIV/AIDS treatment, and my Administration is committed to continuing to lead the global HIV/AIDS response. We will build on our decades of progress to reach the Sustainable Development Goal of ending AIDS by 2030, work to eliminate the stigma and inequities that keep people from accessing care, and keep the voices of people living with HIV/AIDS at the center of our response. I look forward to working with Congress on PEPFAR's reauthorization this year.
PEPFAR is overseen by the U.S. Global AIDS Coordinator, who is appointed by the President, confirmed by the Senate, and reports directly to the Secretary of State, as established through PEPFAR's authorizing legislation.
PEPFAR's original authorization established new structures and authorities, consolidating all U.S. bilateral and multilateral activities and funding for global HIV/AIDS. Several U.S. agencies, host country governments, and other organizations are involved in implementation.
Dr. John Nkengasong, the current coordinator was sworn in on June 13, 2022, and holds the rank of Ambassador leading the Office of the Global AIDS Coordinator (OGAC) at the U.S. Department of State.
Twenty years ago this month, President George W. Bush announced #PEPFAR during his State of the Union address. Since then, the U.S. government has invested $100B+ in the global HIV/AIDS response through PEPFAR, saving 25M lives & bringing us closer to #EndAIDS2030. #PEPFAR20 pic.twitter.com/SMAOHWPZ03

— PEPFAR (@PEPFAR) January 11, 2023
Nobel Prize winning scientist Harold Varmus, who served as Director of the National Institutes of Health (NIH) from 1993 to 1999 and currently the Lewis Thomas University Professor of Medicine at Weill Cornell Medicine in New York City, wrote in an article honoring World Aids Day 2013:
[…] "the PEPFAR story must begin with George W. Bush and his wife, Laura, and their interests in AIDS, Africa, and what Bush termed "compassionate conservatism." According to his 2010 memoir, Decision Points, the two of them developed a serious interest in improving the fate of the people of Africa after reading Alex Haley's Roots and visiting The Gambia in 1990.3 In 1998, while pondering a run for the U.S. presidency, he discussed Africa with Condoleezza Rice, his future secretary of state; she said that, if elected, working more closely with countries on that continent should be a significant part of his foreign policy. She also told him that HIV/AIDS was a central problem in Africa but that the United States was spending only $500 million per year on global AIDS, with the money spread across six federal agencies, without a clear strategy for curbing the epidemic."
Key Facts (As provided by Kaiser Health & Family Foundation)
Although the U.S. has been involved in efforts to address the global AIDS crisis since the mid-1980s, the creation of the President's Emergency Plan for AIDS Relief (PEPFAR) in 2003 marked a significant increase in funding and attention to the epidemic.
PEPFAR is the largest commitment by any nation to address a single disease in the world; to date, its funding has totaled more than $110 billion, including funding for the Global Fund to Fight AIDS, Tuberculosis and Malaria (Global Fund), to which the U.S. government is the largest donor. PEPFAR is credited with saving millions of lives and helping to change the trajectory of the global HIV epidemic.
U.S. funding for PEPFAR grew from $2.2 billion in FY 2004 to $7.0 billion in FY 2022; FY 2022 funding includes $5.4 billion provided for bilateral HIV efforts and $1.6 billion for multilateral efforts ($50 million for UNAIDS and $1.56 billion for the Global Fund).
As the COVID-19 pandemic continues to have profound effects across the world, PEPFAR has acted to respond to COVID-19 in countries that receive support in order to minimize HIV service disruptions and leverage the program's capabilities to address COVID-19 more broadly.
Looking ahead, PEPFAR faces several issues and challenges, including how best to: address the short- and long-term impacts of COVID-19 on PEPFAR and the HIV response; accelerate progress toward epidemic control in the context of flat funding; support and strengthen community-led responses and the sustainability of HIV programs; define its role in global health security and broader health systems strengthening efforts; and continue to coordinate with other key players in the HIV ecosystem, including the Global Fund.
Key Activities and Results (As provided by Kaiser Health & Family Foundation)
PEPFAR activities focus on expanding access to HIV prevention, treatment, and care interventions. These include provision of antiretroviral treatment, pre-exposure prophylaxis, voluntary male circumcision, condoms, and other commodities related to HIV services. In addition, PEPFAR has launched specific initiatives in key strategic areas. For example, in 2015, PEPFAR launched DREAMS, a public-private partnership that aims to reduce HIV infections in adolescent girls and young women.
The latest results reported by PEPFAR indicate that it has:
supported testing services for 63.4 million people in FY 2021;
prevented 2.8 million babies from being born with HIV, who would have otherwise been infected;
provided care for more than 7.1 million orphans and vulnerable children (OVC);
supported training for nearly 300,000 new health care workers; and
supported antiretroviral treatment for 18.96 million people.
In the 15 countries implementing the DREAMS initiative, new diagnoses among adolescent girls and young women have declined with most DREAMS areas (96%) experiencing declines greater than 25% and nearly two-thirds with declines greater than 40%.
The achievements of the PEPFAR program have been remarkable, well-documented by outside evaluators, and hugely applauded throughout the advocacy community and the developing world. In general, milestones have been met, the program has been enlarged (for instance, to include some research on implementation of medical assistance), the roster of PEPFAR countries has grown and spending plans have not been exceeded.