'Black queer people are victimized every day'
Jussie Smollett attack highlights growing problem of hate crimes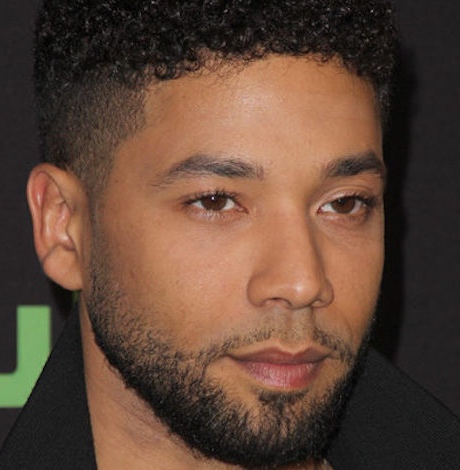 Stacey Long Simmons, director of advocacy at the National LGBTQ Task Force, vividly recalls the time, as a young college student, she was walking outside of campus and a group of white men slowed down and shouted, "N-word bitch go home."
Simmons hails from Queens, N.Y., where she admits racist incidents did occur but being verbally attacked like that was a "shock to my system." While the men harassed her for being a black woman she has no doubt that they could have easily swapped out the adjectives to harass her for being a black, bisexual woman.
"If I had been walking down the street holding my girlfriend's hand at the time I'm sure it would have been you 'black dyke B-word'" Simmons said. "I don't think we ever really know why we get attacked. The point is for us to recognize that in the eyes of many we're problematic no matter what point they enter into whether it's the race lens, the sexual orientation or gender identity lens."
It's a reality that the black LGBTQ community faces every day but it came to the forefront when it was reported that "Empire" star Jussie Smollett suffered an allegedly homophobic and racist attack. At around 2 a.m. on Jan. 29 in Chicago, Smollett was walking from a Subway restaurant when he alleges that two men dressed in black called him "Empire faggot n—er" to get his attention. The actor alleges that the attackers put his neck in a noose, poured "an unknown chemical substance" on him and ran away. Smollett also reported to police that the assailants yelled "MAGA country" during the attack. A few days prior to Smollet's alleged physical attack, an anonymous letter was sent to Cinespace Studios where "Empire" is filmed. The letter read, "You will die Black fag" and contained a white powder, later identified by a HAZMAT unit as aspirin. Chicago police are currently investigating the incident as a hate crime.
David Johns, executive director of the National Black Justice Coalition, told the Blade that the LGBTQ black community is "surprised but not shocked" by the attack.
"One of the prevailing sentiments I continue to hear from black queer people generally is how frustrating it is that people seem to be surprised at this occurrence," Johns says. "Black queer people are victimized every single day. I was just thinking about what we've experienced just this year reflecting upon Kevin Hart and the jokes about killing his gay son. I mourned the loss of the life of a young, black boy [Giovanni Melton] in Las Vegas because his father killed him suspecting that he was gay last year. Ed Buck, a white donor in Hollywood, is still walking around free as two gay black men have died at his household in the last year. Many of the media outlets that are covering Jussie's story now didn't even acknowledge that earlier this year there was a black trans woman [Keanna Mattel] that was murdered by a pastor in Detroit."
These aren't new stories for the black LGBTQ community but Smollett's story was met with skepticism from some on social media who questioned why Smollett was outside getting food at such a late hour. Smollett also initially refused to hand over his phone to police to corroborate his and his manager's story that they were on the phone with each other during the time of the attack. He has since handed over redacted phone records to police.
Simmons says she noticed people doubting his story as soon as it made the rounds on media outlets.
"It was just an immediate discounting. People saying 'Who would be outside in Chicago at that time of night in the cold?' It's like people are out in the cold all the time. If you're hungry you're going to get something to eat. It's almost as if people's minds wouldn't allow them to accept the fact that these types of violent attacks happen. I think there is a level of ignorance or refusal to accept the fact that these things happen on a day-to-day basis," Simmons said.
It's a reaction that Janaya "Future" Khan, Black Lives Matter Toronto co-founder and campaign director of media, democracy & economic justice for Color of Change, is all too familiar with. Khan, who is black, queer and gender non-conforming, says that the race aspect of Smollett's identity gave him reason to be questioned in the minds of some people.
"Black people historically are not believed when we say something has happened to us, especially when we say something has happened to us because we're black. When you have to go to the same policing institutions that have historically not believed you, that criminalizes people that look like you disproportionally, that brutalizes people that look like you based on race, it's a very impossible moment," Khan told the Blade.
Although the LGBTQ community has had its own complicated and sometimes violent history with police, being black is an added layer of discrimination.
"I think people in society have been conditioned to not believe people who look like Jussie, who look like me," Khan said. "It's pretty disgusting. People also historically have not believed anyone in the LGBT community when they say these things have happened to them. But there's a way that they're able to assimilate into society around whiteness that you just cannot as a black person. The discrediting of Jussie, the need for a particular kind of irrefutable proof, is something that black people and people of color are very familiar with."
Khan has their own personal story about being torn between two integral identities.
In July 2016, Black Lives Matter was invited to march in the Pride parade in Toronto. Khan and the rest of the group marched proudly in the parade using chants such as "Michael Brown say his name" and taking a moment of silence to sit in memory of the victims of the Pulse nightclub shooting. In what proved to be a controversial move, the group declared to the crowd that they wanted police floats to be removed from the Pride marches and parade. Some in the crowd began to boo and social media became a firestorm of death threats toward Khan.
"I can tell you as someone who lives as a black person and also identifies as non-binary and queer some of the worst kinds of malice I've experienced as a black person have come from the LGBTQ community and it feels like a betrayal," Khan says. "Now if you're a black person police continue to brutalize our community and historically that's also been true of the gay and lesbian community. Stonewall was a riot and it happened because police were brutalizing the LGBTQ population. Somewhere along the line because more seats at the table increased there's a huge tension point because police at Pride made people of color and black people within the LGBTQ community incredibly uncomfortable. A lot of the contradictions and a lot of the biases and racism really came to a head."
Black lesbian feminist Audre Lorde famously argued that, "There is no hierarchy of oppression."
"Within the lesbian community I am Black, and within the Black community I am a lesbian. Any attack against Black people is a lesbian and gay issue, because I and thousands of other Black women are part of the lesbian community. Any attack against lesbians and gays is a Black issue, because thousands of lesbians and gay men are Black," Lorde wrote in 1983.
Simmons agrees that trying to separate identities isn't helpful to make progress.
"It's almost as if the majority of the country refuses to acknowledge the racism that black people experience and black people who aren't as LGBTQ-affirming as we would like them to be want you to not discuss what you experience as a LGBTQ person because they feel like you're trying to privilege your LGBTQ identity over your black identity. That's asking people to carve themselves up in many ways that isn't fruitful or productive," Simmons says.
Protection for both black people and LGBTQ people has become an increasing concern over the last couple of years as hate crimes are on the rise.
There was a sharp spike in hate crimes that coincided with the 2018 midterm elections, according to new figures released last week. From October to December 2018, hate crimes in LA rose more than 31 percent, compared to the same period a year before, with African American, LGBTQ, Jewish and Latino communities the most frequent targets. California as a whole saw an 11 percent increase, with 56 percent of crimes being racially motivated and 22 percent directed toward the LGBTQ community, with the sharpest increase in hate crimes against minority trans women. California State University's Center for the Study of Hate and Extremism reports that hate crimes have also increased in big cities like New York, Washington, D.C., and Philadelphia.
As more hate crimes are reported, both Khan and Simmons say they wish black transgender women were given more media attention as their lives become increasingly at risk. Khan notes that as transgender women of color have become more visible on television with shows like "Pose" and activists such as Janet Mock and Laverne Cox, the reality of trans women of color who do not have access to fame or money is often bleak.
What's the reason for this increase in hate crimes? Khan said it's related to the Trump administration.
"I think bigots and racists are emboldened. They have found a home and community for themselves that no longer requires hiding on the internet. White supremacists are organizing," Khan said. "They've always existed in America they just are no longer in the underbelly of America anymore. We really need to be confronting that reality that these groups of people will exist far beyond the Trump administration's rule and they exist far beyond the policies that we can fight. There is something far deeper and darker and more insidious in this country."
Hope isn't lost. Khan encourages people to vocalize their beliefs and to "come out of the closet as intersectional feminists, abolitionists, freedom fighters and revolutionaries."
For Simmons, it's all about allies showing an interest in learning about the issues the black LGBTQ community faces.
People just have to be willing to take the time.
"If you can learn how to cook a new recipe you can learn how to understand society as it is now and figure out how to be an ally to the different issues that communities of color are grappling with right now," Simmons says.
(Karen Ocamb contributed to this report)
Florida's Duval County Public Schools censors LGBTQ visibility
Duval County Public Schools slammed for removing 'Safe Space' stickers by Equality Florida as schools across state return to classes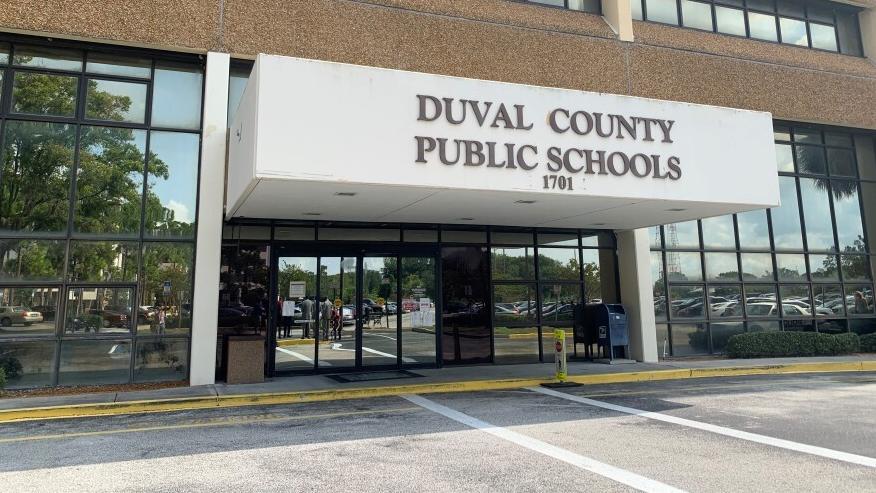 JACKSONVILLE – As Duval County Public School's K-12 students begin their first day of school Monday, they are returning to classrooms that have been stripped bare of visible support for LGBTQ students.
Last week, Duval County Public School's leadership held an emergency meeting with all of the school district's principals in which they were directed to remove all posters, wall decorations, and stickers that support and affirm LGBTQ students, the latest in a wave of what LGBTQ+ advocates say are censorship efforts in the wake of the Don't Say LGBTQ Law (HB 1557) taking effect across the state.
Equality Florida — a statewide civil rights organization focused on the LGBTQ community — published a statement criticizing Duval County Public Schools officials for putting out guidance to principals that advised the removal of the rainbow signage.
"The district's censorship of LGBTQ-inclusive classroom environments sends a dangerous message to young people," said Joe Saunders, Equality Florida Senior Political Director.
"In tearing down rainbow Safe Space stickers and tossing inclusive posters into the trash, Duval County Public Schools is telling students that there is something inherently wrong with LGBTQ people — and telegraphing to LGBTQ youth that they should remain hidden. Despite false assurances from Republican proponents of the Don't Say LGBTQ Law that its scope would be narrow and its impacts limited to grades K-3, we are witnessing sweeping effects of this intentionally-vague policy across the state, with broad censorship of LGBTQ people being applied to every grade level."
The Florida Times-Union newspaper reported Duval Schools officials say the removal is one facet of a district-wide rebrand of its existing "All In For Safe Schools" campaign that will better comply with the new Parental Rights in Education Act, which became law in July. Equality Florida calls the gesture "censorship."
The move from Duval County Public Schools comes as schools across the state grapple with implementing the Don't Say LGBTQ law. Already, the law has resulted in the banning of books and stigmatizing of families in counties across the state. Exactly what advocates say they warned about since the law's inception. This decision by Duval County Public Schools to censor LGBTQ inclusion across the district has angered the community.
It also comes as LGBTQ youth, the very students now seeing their identities scrubbed from Duval classrooms, continue facing higher risks of depression, anxiety, bullying, discrimination, and suicidality than their peers.
A recent study by the Trevor Project showed a staggering majority of LGBTQ youth sharing that recent policy battles like that over HB 1557 and the subsequent impacts have had a negative impact on their mental health.
"We are in the process of rebranding the 'All In for Safe Schools' program," district spokesman Tracy Pierce told the Times-Union. "The purpose of the rebranding is to send a clear message to all students that the support available through the program is open to them and not limited to any specific student population."
"School districts are charged with doing everything in their power to mitigate the harms of HB 1557 and ensure that every student is protected in school and every family is respected. Duval County Public Schools should reverse course and recommit to cultivating an environment that is inclusive of and celebrates all students," said Equality Florida's Saunders.
In another circumstance of Florida's newly minted 'Don't Say Gay' law's negative impact, last month a 12-min training video aimed at teaching middle and high school students how to prevent bullying and support their LGBTQ+ peers in Duval County Public Schools has been removed from student access.
Jacksonville Today journalist Claire Heddles reported at the time that besides the video, the district planned to dramatically reduce a LGBTQ+ support guide.
The video is now inaccessible and, in response to questions from Jacksonville Today, Duval Schools District spokesperson Tracy Pierce said, "The materials you referenced have been removed for legal review to ensure the content complies with recent state legislation."
CMS, HHS pledge 'prevent anti-Trans policies taking effect' in Florida
"Attempts to restrict, challenge, or falsely characterize this potentially lifesaving care as abuse is dangerous"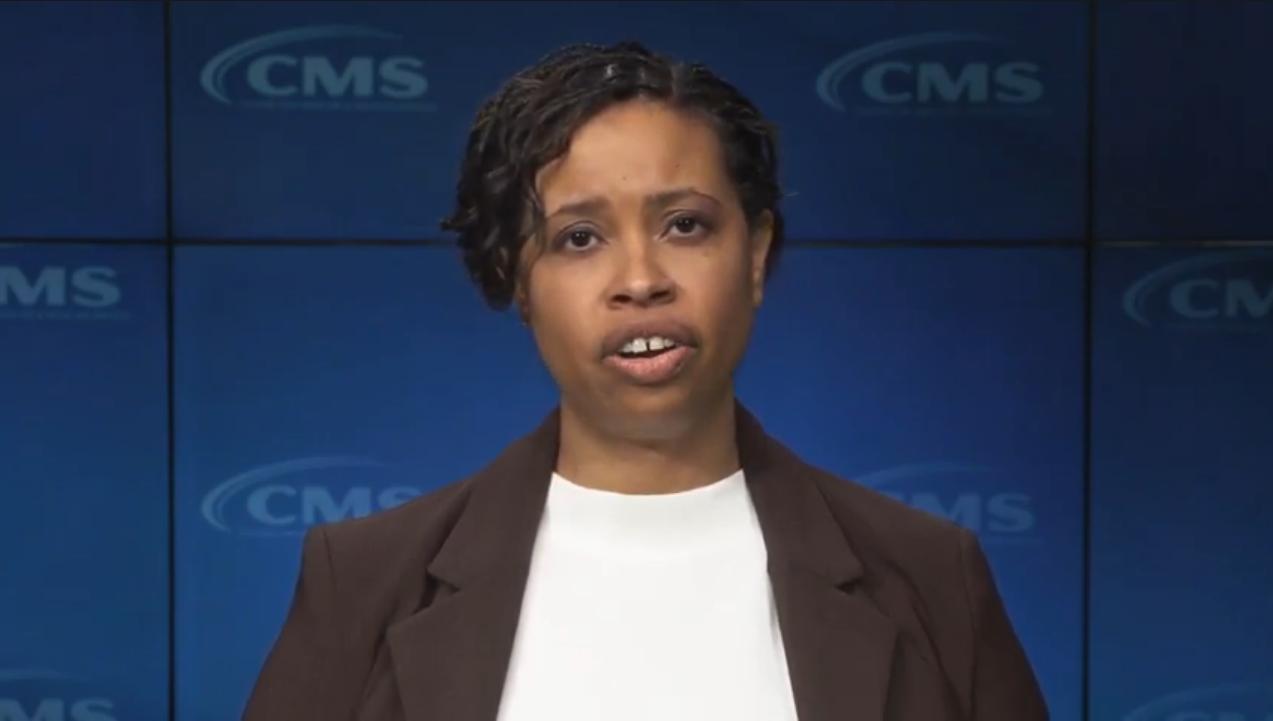 WASHINGTON – After Florida's Agency for Health Care Administration (AHCA) signaled its plans to stop Medicaid reimbursements for transgender related healthcare last week, U.S. federal health officials expressed concerns with the move in an exclusive statement to The Los Angeles Blade. 
The U.S. Centers for Medicare & Medicaid Services (CMS) and the U.S. Department of Health and Human Service's (HHS) Office of Civil Rights (OCR) pledged they would "continue to do everything within our authority to protect Medicaid beneficiaries' access to care and prevent discriminatory policies from taking effect."
Pursuant to AHCA's announcement of the new rules, coverage exemptions would be carved out of the state's Medicaid plans for health treatments like puberty blockers, hormone therapies, or surgical procedures for gender dysphoria.
Florida will join other conservative states that have moved in recent years to prohibit or restrict access to transgender healthcare, particularly for young people. In May, the Texas Supreme Court ruled the state could weaponize its Child Protective Services to investigate parents for child abuse for giving their transgender children medically approved health treatments.
In March, the HHS's OCR issued a Notice and Guidance on Gender Affirming Care, Civil Rights, and Patient Privacy, writing: "Attempts to restrict, challenge, or falsely characterize this potentially lifesaving care as abuse is dangerous. Such attempts block parents from making critical health care decisions for their children, create a chilling effect on health care providers who are necessary to provide care for these youth, and ultimately negatively impact the health and well-being of transgender and gender nonconforming youth.
In May, OCR announced Title IX's rules prohibiting discrimination on the basis of sex includes sexual orientation and gender identity, with HHS Secretary Xavier Becerra writing, ""Fear of discrimination can lead individuals to forgo care, which can have serious negative health consequences. It is the position of the Department of Health and Human Services that everyone – including LGBTQ people – should be able to access health care, free from discrimination or interference, period."
Shortly after the news in Florida broke on Thursday, the LGBTQ+ legal advocacy organization Lambda Legal told The Blade, "We are exploring all possible avenues for challenging this discriminatory rulemaking."
The American Academy of Pediatrics (AAP) and its Florida Chapter (FCAAP) also shared a statement with The Blade condemning the state's "interference with the physician-patient relationship and its prohibition of this vital care."
Michigan AG Nessel joins coalition opposing Florida's 'Don't Say Gay' law
"Non-inclusive educational environments have severe negative health impacts on LGBTQ+ students, resulting in increased mental health issues"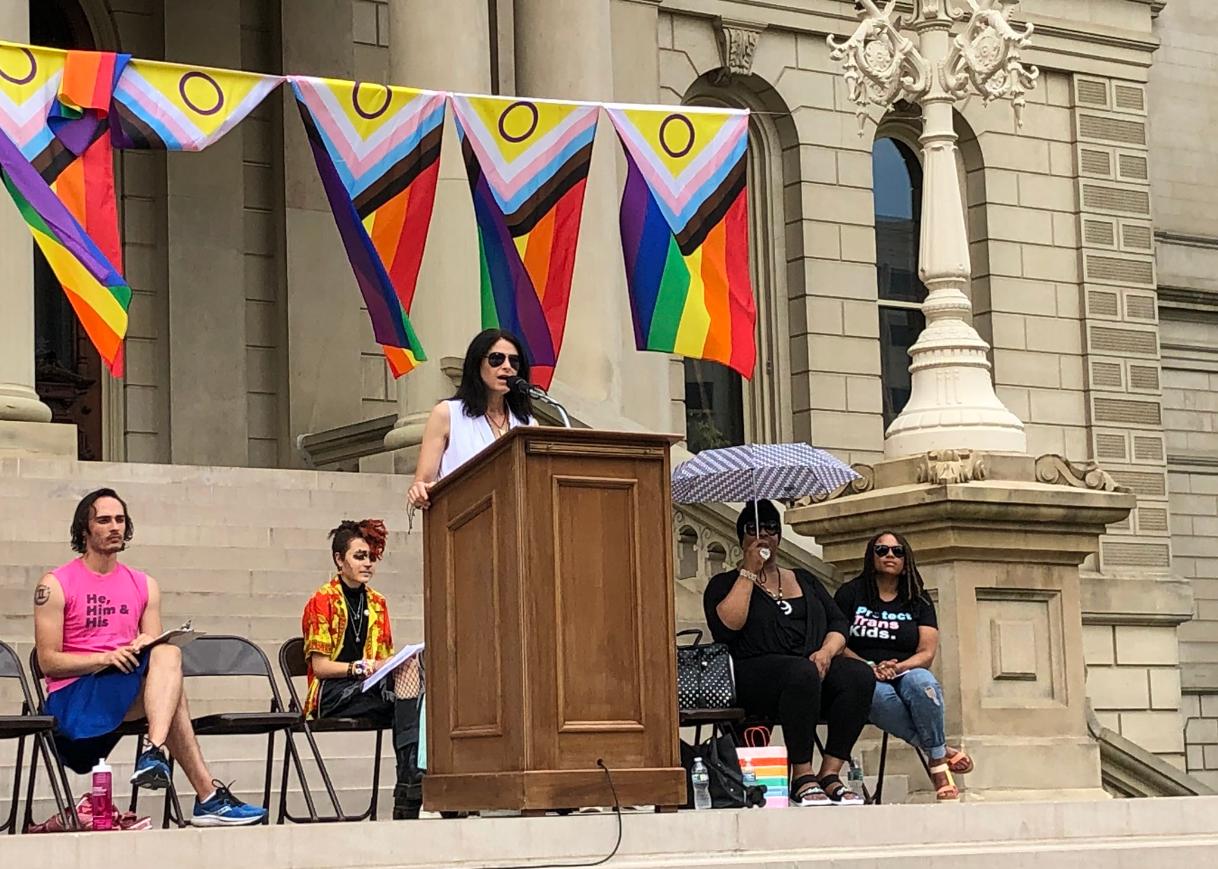 By Jon King | LANSING – Michigan Attorney General Dana Nessel has joined a coalition of 16 attorneys general from across the country in filing an amicus brief opposing Florida's "Parental Rights in Education Act," otherwise known as the "Don't Say Gay" law.
Nessel, a Democrat who is Michigan's first openly gay top statewide official, says that the law, which prevents classroom discussion of sexual orientation or gender identity, poses a serious threat to LGBTQ+ students who she says are particularly vulnerable to discrimination.
"This bill is an affront not just to educators, but also to LGBTQ+ students, especially those who may already be experiencing the stigmatizing effect of their identity at school," Nessel said. "This bill is not motivated by the desire to limit inappropriate content in classrooms. It is meant to have a chilling effect on how educators do their jobs and may also violate the First Amendment rights of students and teachers alike. I gladly join my colleagues on this brief and hope it discourages other states, including Michigan, from considering similar legislation."
The law is being challenged in federal district court by a group of students, parents, teachers and organizations seeking to prevent its enforcement by alleging that it violates, among other things, the Equal Protection Clause and the First Amendment.
The law entirely bans "classroom instruction" on sexual orientation or gender identity in kindergarten through Grade 3 while also requiring the state education agency write new classroom instructions for standards that must be followed by grades four through 12.
Opponents say that because the law does not define many of its key terms, like "classroom instruction," it is forcing Florida teachers to censor themselves out of fear of prosecution. That fear is further compounded by the fact that the law also allows a parent to bring a civil claim against a school district to enforce its prohibitions.
There are two main points in the brief.
"Florida's law is extreme," it states. "Although Florida claims the Act is intended to protect children and preserve parental choice, the attorneys general have curricula in place that allow for age-appropriate discussion of LGBTQ+ issues while respecting parental views on the topic."
"The law is causing significant harms to students, parents, teachers, and other states," claims the brief. "Non-inclusive educational environments have severe negative health impacts on LGBTQ+ students, resulting in increased rates of mental health disorders and suicide attempts. These harms extend to youth not just in Florida, but throughout the country."
Nessel is joining the amicus brief alongside Attorneys General from New Jersey, California, Colorado, Connecticut, Delaware, the District of Columbia, Hawaii, Illinois, Maine, Maryland, Massachusetts, Minnesota, Nevada, New York and Oregon.
*********************
The preceding article was previously published by the Michigan Advance and is republished with permission.
*********************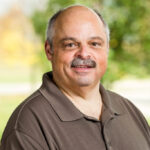 Jon King has been a journalist for more than 35 years. He is the Past President of the Michigan Associated Press Media Editors Association and has been recognized for excellence numerous times, most recently in 2021 with the Best Investigative Story by the Michigan Association of Broadcasters. He is also an adjunct faculty member at Cleary University. Jon and his family live in Howell, where he also serves on the Board of Directors for the Livingston Diversity Council.
*********************
The Michigan Advance is a hard-hitting, nonprofit news site covering politics and policy across the state. We feature in-depth stories, briefs and social media updates, as well as top-notch progressive commentary. The Advance is free of advertising and free to our readers. We wholeheartedly believe that journalists have the biggest impact by reporting close to home, explaining what's happening in our state and communities — and why. Michigan has hundreds fewer reporters than just a couple decades ago. The result is too many stories falling through the cracks.
The Advance is part of States Newsroom, a national 501(c)(3) nonprofit supported by grants and a coalition of donors and readers. The Advance retains editorial independence.