Did Beverly Hills Police Chief Sandra Spagnoli lie to LA LGBT Center CEO Lorri Jean?
Looks like Spagnoli lied about crime stats, too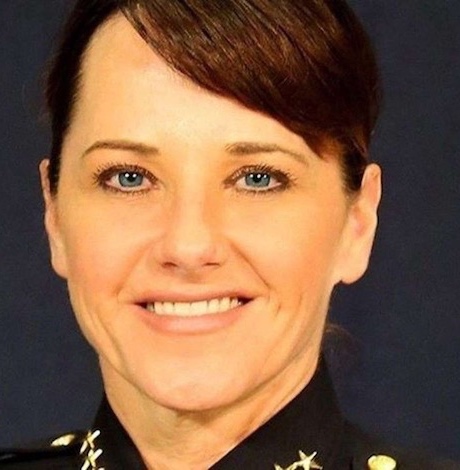 "Meet Beverly Hills's new police chief, Sandra Spagnoli," wrote Amy Ephron in her chic-ish Aug. 2016 Vogue profile of the "33-year veteran known for her high ethical standards." After an almost year-long search, Spagnoli had been hired five months earlier as Beverly Hills's first female top cop, a position she previously held in the cities of Benicia in Solano County and suburban San Leandro in Alameda County.
The fawning article focused on those high standards. "'I think of myself as a volunteer,' Spagnoli says, her almost aquamarine eyes fixed in a clear, constant gaze," Vogue gushed. "'Every day I hear my father's words. He grew up in Europe during the World War II era, and when I started down this path, he said, 'Treat people fairly and don't abuse that power.'"
"It's a refreshing sentiment to hear from a police chief in these socially fractious times," Vogue concluded.
Two years later, Beverly Hills Police Chief Sandra Spagnoli is the focus of more than 20 lawsuits brought by police employees alleging racism, anti-Semitism and homophobia. She is also the subject of the grassroots BHPD Crisis campaign—organized by  former Beverly Hills City Council candidate Vera Markowitz—to raise awareness about the lawsuits and the money being spent to protect the chief who has sworn to protect the city. Among other costs, the city settled a $2.3 million lawsuit last December filed by former Capt. Mark Rosen.
In fact, according to portions of legal declarations and depositions not under seal filed in court in the Rosen case provided to the Los Angeles Blade by his attorney Bradley Gage, in her first month as chief, Spagnoli "retaliated" against Rosen after he reported "unfair pay and discriminatory treatment of gay female employees to Human Resources (HR) and Chief Spagnoli."
Another note in Gage's presentation of "undisputed facts" filed Aug. 31, 2018 in Superior Court in that successful Rosen case was a declaration from Lt. Davis: "Lt. Davis refused to lower the evaluation of a lesbian employee over 40 years old when Spagnoli asked him to do so. In response, Spagnoli called him disloyal." Later Davis declares that he "believed Spagnoli's order was based on [employee Donna] Norris' sexual orientation."
In Gage's Exhibit 11, Davis declares: "On or about spring 2016, Captain Tony Lee, Chief Spagnoli, and Lt. Davis were having a conversation. During the conversation, it was brought up that Donna Norris and her partner have a child. Norris' domestic partner was referred to as her wife. Chief Spagnoli looked disgusted and said, 'you mean she's a lesbian?' When Lt. Davis confirmed that Norris was a lesbian, Chief Spagnoli said, 'ew, and gross.' Then Chief Spagnoili said something to the effect of well don't let her touch me. She also said, make sure she doesn't stand next to me when they take photos for dispatcher appreciation week. The photos for dispatcher appreciate week never occurred."
Gage says "there is actually more evidence that we cannot present because of protective orders or confidentiality laws.  We do look forward to trial on June 3 where all of the facts will be presented."
Before the Beverly Hills City Council meeting on Feb. 5, Spagnoli had a phone conversation with Los Angeles LGBT Center CEO Lorri Jean, who had commented for a previous story Los Angeles Blade story on the chief. Jean says Spagnoli's public affairs person was on the line throughout the conversation. 
"Basically [Spagnoli] was calling to tell me that the allegations are false. That she never said the things that she's been alleged to say about one of the lesbians on the force. She told me that her mentor at the Police Academy was, as she put it, a 'gay woman,' and that they remain close to this day," Jean told the Los Angeles Blade Feb. 13.
Spagnoli also told Jean that she had set up an advisory panel and she didn't have anybody LGBT on it and she could use Jean's help with that.
"Essentially she was defending herself against the allegations," Jean said. "I told her that I felt that it was critical that an independent investigation be conducted into the allegations that were made because if the facts were as she said they were, then she would be vindicated by a truly independent investigation. And that was going to be very important—that an independent entity would look at this and reach some conclusions."
However, Jean added, that alone was not enough. "So far, the public has heard nothing from her about what she believes—which is important for us to hear, in terms of knowing what the chief of police at the Beverly Hills Police Department believes. But even if she were uncomfortable talking about her personal beliefs—which I didn't really understand why she would be—it was important that she make a statement at the very least about what was acceptable and not in the operation of the Beverly Hills Police Department. She needed to make it crystal clear that discrimination of any kind—including against lesbian, gay, bisexual and transgender people—would not be tolerated."
Jean said she explained why this is important, "not only for the many LGBT residents in Beverly Hills or the many families who have LGBT members but for those of us who regularly have events in Beverly Hills or travel to Beverly Hills who don't live there. We needed to understand from her own words that we could expect the same level of protection and respect that everybody else gets in Beverly Hills."
Jean said she offered help but "she has not taken me up on that offer yet."
Jean also said that Spagnoli indicated that an independent investigation would be "forthcoming."
Spagnoli has not made any pro-equality statements. Instead, the city released a PR-produced video in which she speaks directly to camera saying "it's time to set the record straight."
"As the men and women of our Police Department put their lives on the line each and every day, it is very difficult to standby and listen to the egregious statements and misrepresentations that have been made," says Spagnoli. "When I was hired in 2016, the City Council wanted a culture change in the Police Department, most notably to address lack of accountability, low staffing and low morale….As a recent independent review of our police department confirms, we are on the right track. There is not a crisis in the Beverly Hills Police Department, the morale of the department is strong and our new crime prevention techniques are making a difference."
Beverly Hills spokesperson Keith Sterling told the Beverly Hills Press that the Spagnoli video reflected "the city's position on the campaign and the issues allegedly affecting the department."
There was no mention made by Beverly Hills city councilmembers during their Feb. 5 meeting of a new statement or a new investigation In fact, Councilmember Robert Wunderlich said: "We have investigated robustly."
"I'd like to assure our residents and I want to assure our officers that we would not and do not tolerate discrimination in the police department or in any other aspect of the city," Wunderlich said. "I also would also hope that our city would have enough trust in us to know that we here on City Council do not tolerate discrimination."
"Does anyone in our community actually believe the five of us would tolerate racism, anti-Semitism or homophobia? The answer is a resounding no," said Councilmember Les Friedman. "We are opposed to anti-Semitism, racism and homophobia, and we will and have continued to investigate any claims in that regard."
LA LGBT Center Public Policy Director Dave Garcia spoke at the meeting. "I reiterated the importance of a thorough and independent investigation that is as transparent as possible under the law," Garcia told the Los Angeles Blade. "I also reminded the city council that the hate crimes report for LA was recently published and showed hate crimes on the rise, again, in most major cities around the country including Los Angeles."
Garcia also noted that what the city council says about LGBT people matters, encouraging them "to be absolutely clear that they do not in any way condone homophobia," he said. "The real proof will be in whether a truly independent and comprehensive investigation takes place."
Wunderlich concurred with Garcia. "The rise in hate crime is unfortunately true and it's terrible," he said. "I also agree with gentleman when he said the rise in hate crime begins at the top. But no component of that exists on our city council. I really hope it wouldn't be necessary to say this but you do have my support for the LGBTQ community….Serious allegations have been made, undoubtedly. And we treat them very seriously. We have investigated them robustly."
Wunderlich noted that Spagnoli had organized a town hall the week before "publicizing that same hate crime and discussing the city's response to the rise in hate crime."
The Los Angeles Blade was not notified of any such town hall meeting. One question that might have been raised is whether the City of Beverly Hills actually keeps hate crime statistics, which are not officially listed in the police department's crime reports.
On that, Rosen and Norris attorney Bradley Gage believes the city council believes Spagnoli's report that crime is down in Beverly Hills when, in fact, it is up.
"During the recent City Council meeting, several citizens expressed support for Chief Spagnoli because of her claim that she has reduced crime," Gage told the Los Angeles Blade. "That claim was made in a Press Release dated January 17, 2019 in which Ms. Spagnoli claimed crime is down (last sentence p. 1)  However, Trial Exhibit 536 dated, January 15, 2019  (2 days earlier) refutes the chief's claims.  
"The Spagnoli memorandum attaches a Management Partner's Report from October 2018 that discusses crime in Beverly Hills.  Starting at p. 12 you will see that in every category of crime reported, crime is actually going up under Chief Spagnoli, not down. It appears citizens have been duped," Gage says.  
 "The Chief claims that morale is strong.  Yet, the City has been sued at least in part because of her actions by at least the following  people:   Lisa Weller (gay female);  David Brandon; John Doe; Keryann Hayes; Clark Fong; Greg Rout;  Alicia Johnson, Anne Lunsman, Dona Norris (lesbian), Mark Rosen, Mike Foxen and Shan Davis (three straight men who stood up for the rights of Weller and Norris and then were retaliated against in part because of seeking equality for all people regardless of sexual orientation)  Ren Moreno, and Tania Schwartz.  
"Many others have filed complaints with HR, or the Department of Fair Employment and Housing, but have not yet filed a lawsuit," he continues. "I have seen three such DFEH complaints, and I am aware of several other employees going to HR with complaints.   Don't you think with at least 14 people suing and around 20 total complaining there is a crisis?  How can morale be up with so many complaints?"
If the video is the extent of Spagnoli's prized ethics? And if no investigation is actually "forthcoming," will LGBT organizations such as the LA LGBT Center re-think using Beverly Hills as a venue for their gala events?  
Feb. 16 update: This piece was corrected to note that only portions of depositions not under seal and filed in court were provided by Gage and that all facts will be presented at trial on June 3.
WeHo Pride 2023 kicks off Friday, June 2
WeHo Pride Parade will Step-Off at 12 p.m. (Noon) on Sunday, June 4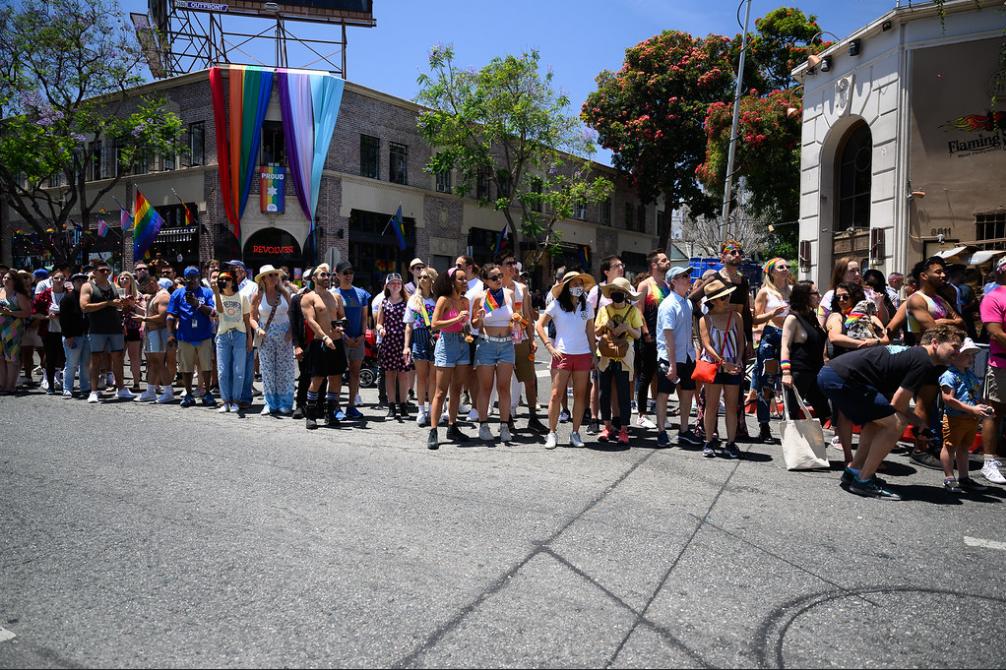 WEST HOLLYWOOD – This second year of the City of West Hollywood's own annual Pride celebration kicks off Pride month with music, arts, the parade, and a host of other activities. Starting off on Friday, June 2 to celebrate WeHo Pride Weekend, WeHo Pride presents Friday Night at OUTLOUD in a free show featuring Idina Menzel, Jessie Ware, Shangela, and Tinashe beginning at 6 p.m.
OUTLOUD at WeHo Pride presents the Ticketed Music Festival on Saturday, June 3 and Sunday, June 4. Produced by JJLA, the music series will feature headliners Grace Jones, Carly Rae Jepsen, Orville Peck, Passion Pit, and many more artists.
The Free WeHo Pride Street Fair and Women's Freedom Festival begins at 12 p.m. on Saturday, June 3 with the Annual Dyke March at 6 p.m.
Free WeHo Pride Arts Festival and Community Group Event Programming Continues through Thursday, June 30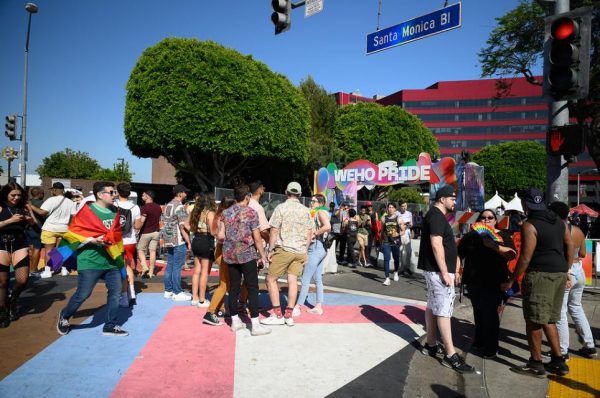 Information about WeHo Pride Weekend street and facility closures is available at www.wehopride.com/eventmap#closures.
Information about the City's Pride Ride free WeHo Pride Weekend shuttle service is available at https://go.wehopride.com/3qfnasc.
Additional information about #WeHoPride is posted at www.wehopride.com and @wehopride on Instagram and Facebook.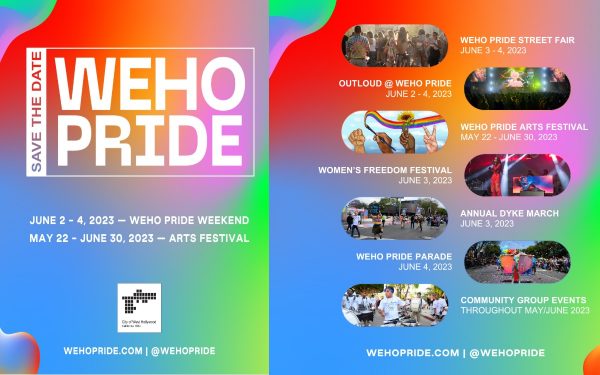 For nearly four decades, West Hollywood has been home to one of the largest Pride celebrations in the United States. Hundreds of thousands of LGBTQ+ people and allies from around the world traditionally make WeHo their annual destination during Pride season.
WeHo Pride Parade will Step-Off at 12 p.m. (Noon) on Sunday, June 4
The Icons for this year's WeHo Pride Weekend Pride Parade will be RuPaul's Drag Race, Laith Ashley, Niecy Nash-Betts & Jessica Betts, and Melissa McCarthy. WeHo Pride will honor these trailblazers and allies as this year's Icons for their work in bringing the LGBTQ community and social justice issues to the forefront, as well as expanding queer representation in mainstream pop culture.
The WeHo Pride Parade will step-off at 12 p.m. (noon) on Sunday, June 4, 2023 beginning at N. Crescent Heights Boulevard at Santa Monica Boulevard, and will travel westbound along Santa Monica Boulevard into the heart of City's Rainbow District to N. Robertson Boulevard.
Full of music, dancing, colorful floats, festive marching contingents, and creative flair, the WeHo Pride Parade is free and open to the public embracing LGBTQ representation, inclusion, and progress.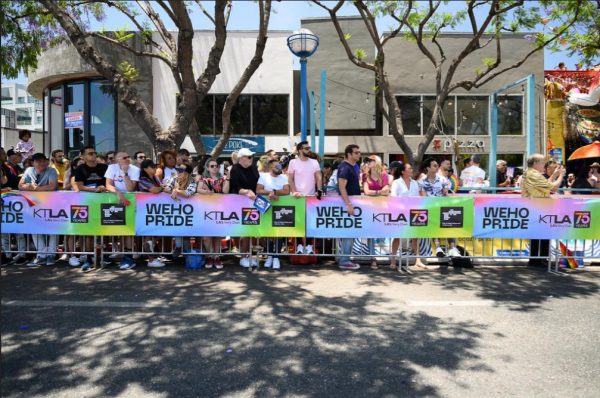 KTLA is the official broadcast partner of the 2023 WeHo Pride Parade. For those not able to attend in-person, tune-in for WeHo Pride Parade coverage on KTLA 5, KTLA + and KTLA.com featuring Cher Calvin, Pedro Rivera, the KTLA Family, and surprise special guests.
"The City of West Hollywood is pleased to kick off another WeHo Pride celebration filled with engaging activities and plenty of opportunities to celebrate the LGBTQ community," said City of West Hollywood Mayor Sepi Shyne. "Our WeHo Pride Parade Icons embody queer joy and fierce allyship by creating spaces where our community can be celebrated, whether that's on the red carpet or directly through their art and advocacy. We're thrilled to celebrate the impact our Icons have in creating a more evolved and accepting world."

RuPaul's Drag Race is being celebrated as this year's Drag Icon and will join the WeHo Pride Parade on a float accompanied by a number of fan favorites from the RuPaul's Drag Race franchise.
Long-time host and judge Michelle Visage will be receiving the Drag Icon award on behalf of the franchise. The illustrious Drag Race series has produced some of the most globally famous drag queens, and the City of West Hollywood is thrilled to include Drag Race participants in this year's parade including Angeria, Gigi Goode, Gottmik, June Jambalaya, Rock M. Sakura, Symone, and more.
Produced by MTV Entertainment Studios and World of Wonder (WOW), the franchise has reshaped international pop culture, earning 27 Emmys, and has created a global network. Fans can catch the current season of RuPaul's Drag Race All Stars 8 streaming exclusively on Paramount+.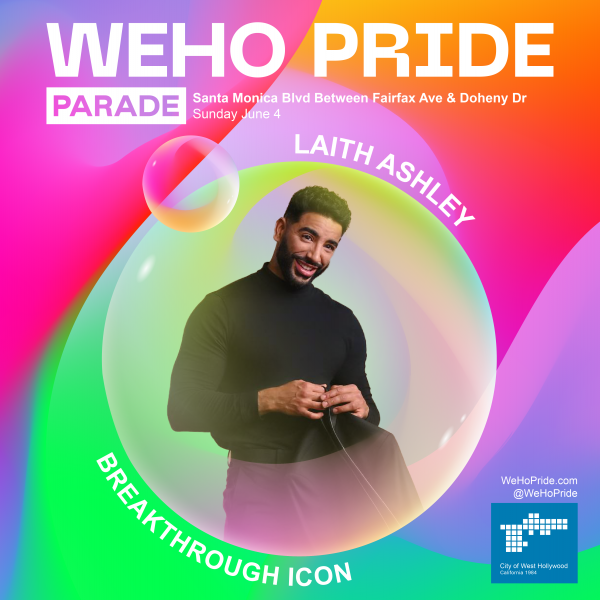 Receiving this year's Breakthrough Icon award is Laith Ashley, a model, actor, and activist who launched his career with a campaign for Barneys New York in February 2014. As of 2023, Ashley was the male lead in Taylor Swift's Lavender Haze music video, and in 2017, he was the first transgender man to be featured in an ad campaign for the Diesel brand.
Since then, he has volunteered with nonprofit organizations like FLUX and the transgender division of AIDS Healthcare Foundation (AHF). Before beginning his career in the entertainment industry, Ashley was a counselor for homeless youth in New York City and spearheaded trans sensitivity training in medical facilities and homeless shelters.
He now uses his platform to help inform others about the trans experience and other marginalized groups, as well as advocate for social justice in hopes of a more open, loving, and accepting world.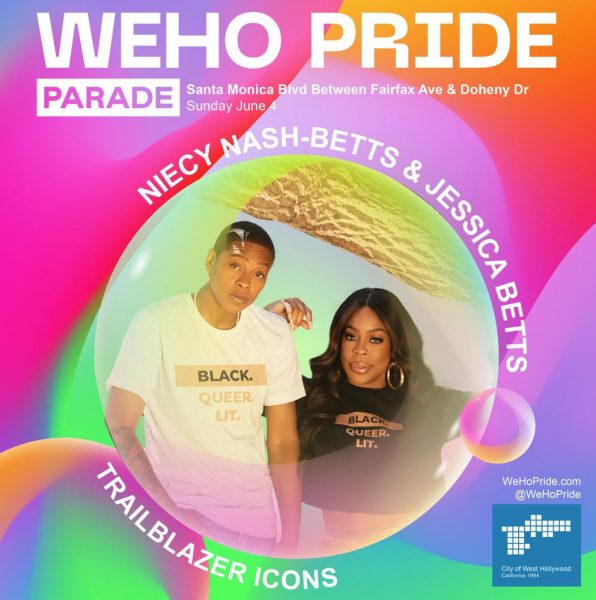 Actress Niecy Nash-Betts and singer-songwriter Jessica Betts will be honored with the title of Trailblazer Icons for blazing their own trail in Hollywood.
The married couple has made HERstory on their own terms by finding love and leaning in. In 2022, Niecy and Jessica became the first same-sex partners to appear on the cover of Essence magazine. The cover story received a nomination for a 2023 GLAAD Media Award in the category of "Outstanding Print Article."
Niecy has gained recognition as an Emmy Award®-winning producer and three-time Emmy-nominated actress best known for her roles on Comedy Central's RENO 911!, ABC's The Rookie: Feds and Netflix's Dahmer – Monster: The Jeffrey Dahmer Story. She is also the host of Don't Forget the Lyrics! on FOX.
Early in her career, Jessica was crowned the winner of Road to Stardom with Missy Elliott. She he has toured with numerous renowned artists and has been inducted into the BET Music Matters showcase.
In recent years Jessica has continued to release music and acted alongside her wife on Comedy Central's Reno 911!: It's a Wonderful Heist, TNT's Claws and ABC's The Rookie: Feds where she and Niecy played a same-sex couple.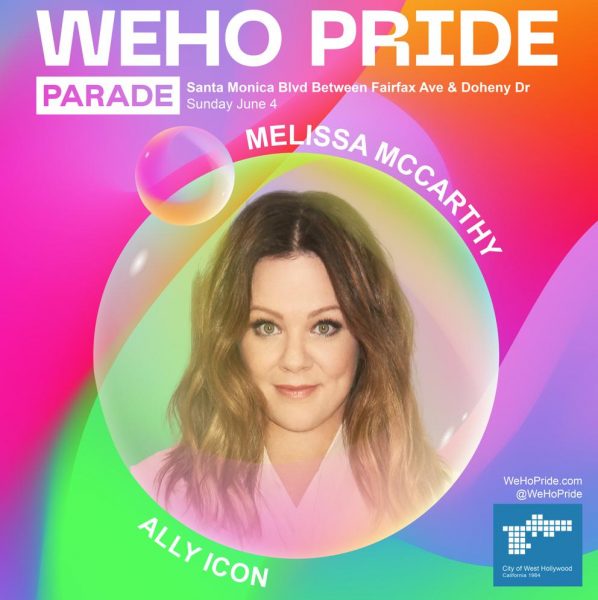 Melissa McCarthy has been named WeHo Pride's 2023 Ally Icon and is being recognized for her outspoken allyship and celebration of the LGBTQ+ community. Emmy winner and two-time Oscar nominee, McCarthy, known for her roles in Bridesmaids, Can You Ever Forgive Me, Tammy, Ghostbusters, Gilmore Girls, and much more, is a staunch advocate for the LGBTQ community and has recently been very outspoken against the anti-drag laws that are being introduced by state legislatures across the country.
West Hollywood and WeHo Pride
Pride Starts Here. For nearly four decades, the City of West Hollywood has been home to one of the largest Pride celebrations in the nation. Hundreds of thousands of LGBTQ people and allies from around the world traditionally make West Hollywood their regular destination during Pride season.
WeHo Pride Weekend (June 2 – 4) will include a free WeHo Pride Street Fair representing a diverse array of LGBTQ community groups as part of visibility, expression, and celebration; the Women's Freedom Festival; the annual Dyke March; Friday Night at OUTLOUD; OUTLOUD @ WeHo Pride music festival; and a wide range of community group programming throughout Pride month.
The 40-day WeHo Pride Arts Festival (May 22 – June 30) takes place at various locations throughout West Hollywood, along with selected online programming.
Additional information about #WeHoPride is posted at www.wehopride.com and @wehopride on Instagram and Facebook.
Since its incorporation in 1984, the City of West Hollywood has become one of the most influential cities in the nation for its outspoken advocacy on LGBTQ issues. No other city of its size has had a greater impact on the national public policy discourse on fairness and inclusiveness for LGBTQ people.
Home to the "Rainbow District" along Santa Monica Boulevard, which features a concentration of historic LGBTQ clubs, restaurants, and retail shops, the City consistently tops lists of "most LGBTQ friendly cities" in the nation.
More than 40 percent of residents in West Hollywood identify as LGBTQ and three of the five members of the West Hollywood City Council are openly gay. The City has advocated for nearly four decades for measures that support LGBTQ individuals and the City is in the vanguard on efforts to gain and protect equality for all people on a state, national, and international level. #WeHoPride @WeHoCity
For more information about WeHo Pride, please contact the City of West Hollywood's Event Services Division at [email protected].
For people who are Deaf or hard of hearing, please call TTY (323) 848-6496.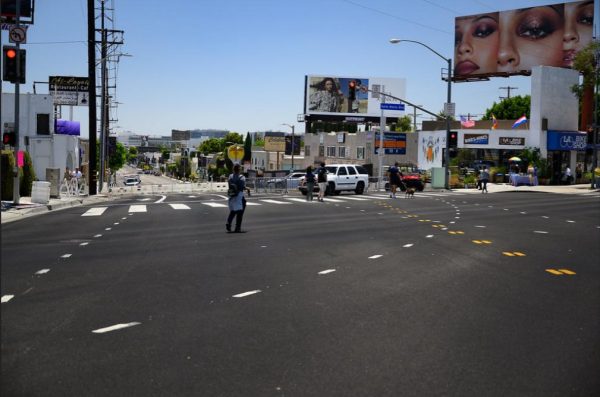 WeHo Pride Weekend Street and Facility Closures
Street and Facility Closure Information: https://www.wehopride.com/eventmap#closures
WeHo Pride reminds the local community and the greater LA region about WeHo Pride-related street and facility closures. Drivers and Metro riders can anticipate increased traffic and commute times; please plan to use alternate routes.
Street Closures:
N. San Vicente Boulevard closed from Melrose Avenue to Santa Monica Boulevard from Thursday, June 1, at 7 p.m. through Monday, June 5, at 10 a.m.
Santa Monica Blvd (Eastbound) closed from N. La Cienega Boulevard to N. Doheny Drive from Friday, June 2, at 12 p.m. (noon) through Monday, June 5, at 7 a.m.
N. Robertson Boulevard closed from Santa Monica Boulevard to Melrose Avenue from Friday, June 2, at 3 p.m. through Monday, June 5 at 7 a.m.
Santa Monica Boulevard (Westbound) closed from N. La Cienega Boulevard to N. Doheny Drive from Saturday, June 3, at 6 a.m. through Monday, June 5, at 7 a.m.
N. San Vicente Boulevard closed from Santa Monica Boulevard to Cynthia Street from Saturday, June 3, at 6 a.m. through Monday, June 5, at 10 a.m.
Santa Monica Boulevard closed from N. Fairfax Avenue to N. Doheny Drive (including side streets one block north and one block south of Santa Monica Boulevard) from Sunday, June 4 at 5 a.m. through Sunday, June 4, at 5 p.m. for the WeHo Pride Parade. Santa Monica Boulevard from N. La Cienega Boulevard to N. Doheny Drive will remain closed though Monday, June 5 at 7 a.m.
Facility Closures: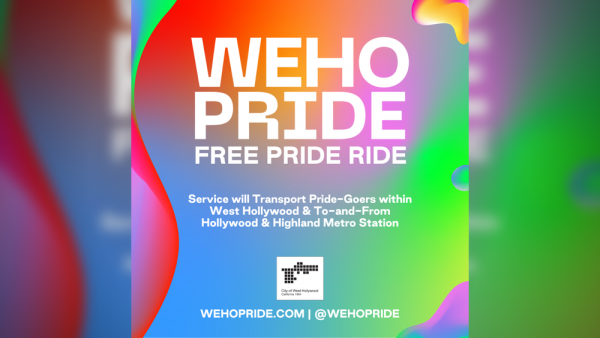 The City of West Hollywood will activate its annual Pride Ride free shuttle service during #WeHoPride Weekend.
More information is available at https://go.wehopride.com/3qfnasc.
Parking Information For WeHo Pride Weekend
Permit Parking Requirements are Suspended from 4 p.m. on Friday, June 2 through Monday, June 5 at 7 a.m.  >>> Parking Meters will be Enforced Throughout the Weekend <<<
 Permit parking requirements are lifted for WeHo Pride Weekend from Friday, June 2 at 4 p.m. through Monday, June 5 at 7 a.m., however parking meters will be enforced throughout the weekend. Drivers can anticipate increased traffic and commute times; please plan to use alternate routes based on street and facility closures.
Please note that Santa Monica Boulevard will be closed during the weekend in both directions of traffic and during closures for the WeHo Pride Parade on Sunday, June 4, 2023, there will be limited access to cross Santa Monica Boulevard for those seeking to drive around the City or access parking locations.
Attendees of WeHo Pride Weekend festivities are encouraged to observe the boundaries of the City of West Hollywood when parking; if parking occurs in the City of Los Angeles and/or the City of Beverly Hills, all parking restrictions for those cities must be observed.
Limited paid public parking near the WeHo Pride site in and around West Hollywood Park may be available on a first-come-first-served basis at the Pacific Design Center, located at 8687 Melrose Avenue; Kings Road Parking Structure, located at 8383 Santa Monica Boulevard; and Hancock Parking Structure, located at 901 Hancock Avenue.