Did Beverly Hills Police Chief Sandra Spagnoli lie to LA LGBT Center CEO Lorri Jean?
Looks like Spagnoli lied about crime stats, too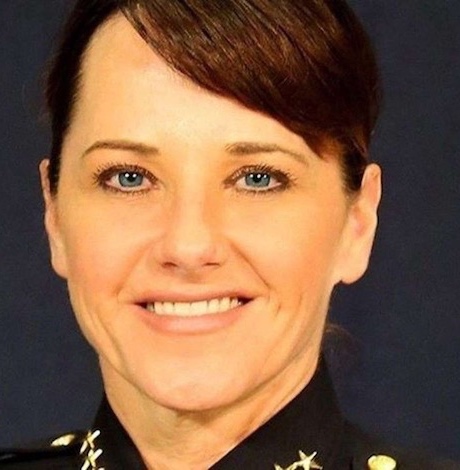 "Meet Beverly Hills's new police chief, Sandra Spagnoli," wrote Amy Ephron in her chic-ish Aug. 2016 Vogue profile of the "33-year veteran known for her high ethical standards." After an almost year-long search, Spagnoli had been hired five months earlier as Beverly Hills's first female top cop, a position she previously held in the cities of Benicia in Solano County and suburban San Leandro in Alameda County.
The fawning article focused on those high standards. "'I think of myself as a volunteer,' Spagnoli says, her almost aquamarine eyes fixed in a clear, constant gaze," Vogue gushed. "'Every day I hear my father's words. He grew up in Europe during the World War II era, and when I started down this path, he said, 'Treat people fairly and don't abuse that power.'"
"It's a refreshing sentiment to hear from a police chief in these socially fractious times," Vogue concluded.
Two years later, Beverly Hills Police Chief Sandra Spagnoli is the focus of more than 20 lawsuits brought by police employees alleging racism, anti-Semitism and homophobia. She is also the subject of the grassroots BHPD Crisis campaign—organized by  former Beverly Hills City Council candidate Vera Markowitz—to raise awareness about the lawsuits and the money being spent to protect the chief who has sworn to protect the city. Among other costs, the city settled a $2.3 million lawsuit last December filed by former Capt. Mark Rosen.
In fact, according to portions of legal declarations and depositions not under seal filed in court in the Rosen case provided to the Los Angeles Blade by his attorney Bradley Gage, in her first month as chief, Spagnoli "retaliated" against Rosen after he reported "unfair pay and discriminatory treatment of gay female employees to Human Resources (HR) and Chief Spagnoli."
Another note in Gage's presentation of "undisputed facts" filed Aug. 31, 2018 in Superior Court in that successful Rosen case was a declaration from Lt. Davis: "Lt. Davis refused to lower the evaluation of a lesbian employee over 40 years old when Spagnoli asked him to do so. In response, Spagnoli called him disloyal." Later Davis declares that he "believed Spagnoli's order was based on [employee Donna] Norris' sexual orientation."
In Gage's Exhibit 11, Davis declares: "On or about spring 2016, Captain Tony Lee, Chief Spagnoli, and Lt. Davis were having a conversation. During the conversation, it was brought up that Donna Norris and her partner have a child. Norris' domestic partner was referred to as her wife. Chief Spagnoli looked disgusted and said, 'you mean she's a lesbian?' When Lt. Davis confirmed that Norris was a lesbian, Chief Spagnoli said, 'ew, and gross.' Then Chief Spagnoili said something to the effect of well don't let her touch me. She also said, make sure she doesn't stand next to me when they take photos for dispatcher appreciation week. The photos for dispatcher appreciate week never occurred."
Gage says "there is actually more evidence that we cannot present because of protective orders or confidentiality laws.  We do look forward to trial on June 3 where all of the facts will be presented."
Before the Beverly Hills City Council meeting on Feb. 5, Spagnoli had a phone conversation with Los Angeles LGBT Center CEO Lorri Jean, who had commented for a previous story Los Angeles Blade story on the chief. Jean says Spagnoli's public affairs person was on the line throughout the conversation. 
"Basically [Spagnoli] was calling to tell me that the allegations are false. That she never said the things that she's been alleged to say about one of the lesbians on the force. She told me that her mentor at the Police Academy was, as she put it, a 'gay woman,' and that they remain close to this day," Jean told the Los Angeles Blade Feb. 13.
Spagnoli also told Jean that she had set up an advisory panel and she didn't have anybody LGBT on it and she could use Jean's help with that.
"Essentially she was defending herself against the allegations," Jean said. "I told her that I felt that it was critical that an independent investigation be conducted into the allegations that were made because if the facts were as she said they were, then she would be vindicated by a truly independent investigation. And that was going to be very important—that an independent entity would look at this and reach some conclusions."
However, Jean added, that alone was not enough. "So far, the public has heard nothing from her about what she believes—which is important for us to hear, in terms of knowing what the chief of police at the Beverly Hills Police Department believes. But even if she were uncomfortable talking about her personal beliefs—which I didn't really understand why she would be—it was important that she make a statement at the very least about what was acceptable and not in the operation of the Beverly Hills Police Department. She needed to make it crystal clear that discrimination of any kind—including against lesbian, gay, bisexual and transgender people—would not be tolerated."
Jean said she explained why this is important, "not only for the many LGBT residents in Beverly Hills or the many families who have LGBT members but for those of us who regularly have events in Beverly Hills or travel to Beverly Hills who don't live there. We needed to understand from her own words that we could expect the same level of protection and respect that everybody else gets in Beverly Hills."
Jean said she offered help but "she has not taken me up on that offer yet."
Jean also said that Spagnoli indicated that an independent investigation would be "forthcoming."
Spagnoli has not made any pro-equality statements. Instead, the city released a PR-produced video in which she speaks directly to camera saying "it's time to set the record straight."
"As the men and women of our Police Department put their lives on the line each and every day, it is very difficult to standby and listen to the egregious statements and misrepresentations that have been made," says Spagnoli. "When I was hired in 2016, the City Council wanted a culture change in the Police Department, most notably to address lack of accountability, low staffing and low morale….As a recent independent review of our police department confirms, we are on the right track. There is not a crisis in the Beverly Hills Police Department, the morale of the department is strong and our new crime prevention techniques are making a difference."
Beverly Hills spokesperson Keith Sterling told the Beverly Hills Press that the Spagnoli video reflected "the city's position on the campaign and the issues allegedly affecting the department."
There was no mention made by Beverly Hills city councilmembers during their Feb. 5 meeting of a new statement or a new investigation In fact, Councilmember Robert Wunderlich said: "We have investigated robustly."
"I'd like to assure our residents and I want to assure our officers that we would not and do not tolerate discrimination in the police department or in any other aspect of the city," Wunderlich said. "I also would also hope that our city would have enough trust in us to know that we here on City Council do not tolerate discrimination."
"Does anyone in our community actually believe the five of us would tolerate racism, anti-Semitism or homophobia? The answer is a resounding no," said Councilmember Les Friedman. "We are opposed to anti-Semitism, racism and homophobia, and we will and have continued to investigate any claims in that regard."
LA LGBT Center Public Policy Director Dave Garcia spoke at the meeting. "I reiterated the importance of a thorough and independent investigation that is as transparent as possible under the law," Garcia told the Los Angeles Blade. "I also reminded the city council that the hate crimes report for LA was recently published and showed hate crimes on the rise, again, in most major cities around the country including Los Angeles."
Garcia also noted that what the city council says about LGBT people matters, encouraging them "to be absolutely clear that they do not in any way condone homophobia," he said. "The real proof will be in whether a truly independent and comprehensive investigation takes place."
Wunderlich concurred with Garcia. "The rise in hate crime is unfortunately true and it's terrible," he said. "I also agree with gentleman when he said the rise in hate crime begins at the top. But no component of that exists on our city council. I really hope it wouldn't be necessary to say this but you do have my support for the LGBTQ community….Serious allegations have been made, undoubtedly. And we treat them very seriously. We have investigated them robustly."
Wunderlich noted that Spagnoli had organized a town hall the week before "publicizing that same hate crime and discussing the city's response to the rise in hate crime."
The Los Angeles Blade was not notified of any such town hall meeting. One question that might have been raised is whether the City of Beverly Hills actually keeps hate crime statistics, which are not officially listed in the police department's crime reports.
On that, Rosen and Norris attorney Bradley Gage believes the city council believes Spagnoli's report that crime is down in Beverly Hills when, in fact, it is up.
"During the recent City Council meeting, several citizens expressed support for Chief Spagnoli because of her claim that she has reduced crime," Gage told the Los Angeles Blade. "That claim was made in a Press Release dated January 17, 2019 in which Ms. Spagnoli claimed crime is down (last sentence p. 1)  However, Trial Exhibit 536 dated, January 15, 2019  (2 days earlier) refutes the chief's claims.  
"The Spagnoli memorandum attaches a Management Partner's Report from October 2018 that discusses crime in Beverly Hills.  Starting at p. 12 you will see that in every category of crime reported, crime is actually going up under Chief Spagnoli, not down. It appears citizens have been duped," Gage says.  
 "The Chief claims that morale is strong.  Yet, the City has been sued at least in part because of her actions by at least the following  people:   Lisa Weller (gay female);  David Brandon; John Doe; Keryann Hayes; Clark Fong; Greg Rout;  Alicia Johnson, Anne Lunsman, Dona Norris (lesbian), Mark Rosen, Mike Foxen and Shan Davis (three straight men who stood up for the rights of Weller and Norris and then were retaliated against in part because of seeking equality for all people regardless of sexual orientation)  Ren Moreno, and Tania Schwartz.  
"Many others have filed complaints with HR, or the Department of Fair Employment and Housing, but have not yet filed a lawsuit," he continues. "I have seen three such DFEH complaints, and I am aware of several other employees going to HR with complaints.   Don't you think with at least 14 people suing and around 20 total complaining there is a crisis?  How can morale be up with so many complaints?"
If the video is the extent of Spagnoli's prized ethics? And if no investigation is actually "forthcoming," will LGBT organizations such as the LA LGBT Center re-think using Beverly Hills as a venue for their gala events?  
Feb. 16 update: This piece was corrected to note that only portions of depositions not under seal and filed in court were provided by Gage and that all facts will be presented at trial on June 3.
Newsom expands drought emergency urges Californians to conserve water
California is experiencing its worst drought since the late 1800s. August 2021 was driest & hottest August on record since reporting began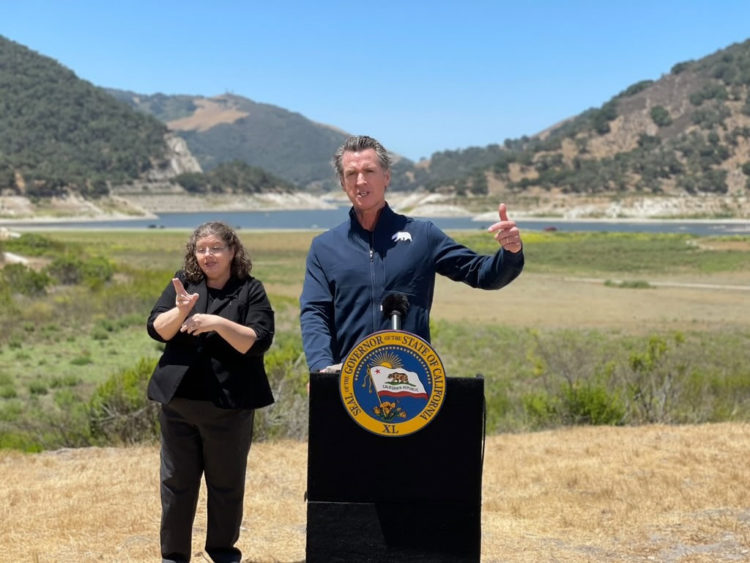 SACRAMENTO – Following the second driest year on record and with near record low storage in California's largest reservoirs, Governor Gavin Newsom today issued a proclamation extending the drought emergency statewide and further urging Californians to step up their water conservation efforts as the western U.S. faces a potential third dry year.
Bolstering conservation efforts, the proclamation enables the State Water Resources Control Board to ban wasteful water practices, including the use of potable water for washing sidewalks and driveways. The Governor issued an executive order in July calling on Californians to voluntarily reduce water use by 15 percent compared to 2020 to protect water reserves and complement local conservation mandates. The Governor's action today comes as the Board reports that in August, California reduced urban water use by 5 percent compared to 2020.
"As the western U.S. faces a potential third year of drought, it's critical that Californians across the state redouble our efforts to save water in every way possible," said Governor Newsom. "With historic investments and urgent action, the state is moving to protect our communities, businesses and ecosystems from the immediate impacts of the drought emergency while building long-term water resilience to help the state meet the challenge of climate change impacts making droughts more common and more severe."
The proclamation notes that the State Water Resources Control Board may adopt emergency regulations to prohibit wasting water, such as hosing down sidewalks or driveways, allowing drinking water to flood gutters or streets, or washing a car without a shut-off nozzle.
The proclamation adds the eight counties not previously included in the drought state of emergency: Imperial, Los Angeles, Orange, Riverside, San Bernardino, San Diego, San Francisco and Ventura. In addition, the proclamation requires local water suppliers to implement water shortage contingency plans that are responsive to local conditions and prepare for the possibility of a third dry year.
Expanding the Save Our Water initiative, a critical resource during the last drought, California has launched robust water conservation public education campaigns in partnership with stakeholders, including public water agencies. Statewide per capita residential water use declined 21 percent between 2013 and 2016 and as of 2020, the urban sector is using approximately 16 percent less on average statewide than in 2013. The Administration will continue to monitor the evolving drought conditions and evaluate all tools available to respond in real-time.
California is experiencing its worst drought since the late 1800s, as measured by both lack of precipitation and high temperatures. August 2021 was the driest and hottest August on record since reporting began and the water year that ended last month was the second driest on record. Today's proclamation authorizes the Governor's Office of Emergency Services to provide assistance and funding under the California Disaster Assistance Act to support the emergency response and delivery of drinking water and water for public health and safety.
The Governor's California Comeback Plan invests $5.2 billion over three years to support immediate drought response and long-term water resilience, including $815 million for emergency drought relief projects to secure and expand water supplies, drought contingency planning and multi-benefit land repurposing projects; support for drinking water and wastewater infrastructure, with a focus on small and disadvantaged communities; Sustainable Groundwater Management Act implementation to improve water supply security and quality; and projects to support wildlife and habitat restoration efforts, among other nature-based solutions.
A copy of today's proclamation can be found here.
More information on the state's response to the drought and informational resources available to the public are available at https://drought.ca.gov/.
LA City Councilman Ridley-Thomas will 'step back' from duties, not resign
He will fight the "outrageous allegations" and plans to resume participation on the legislative body "at the earliest appropriate time"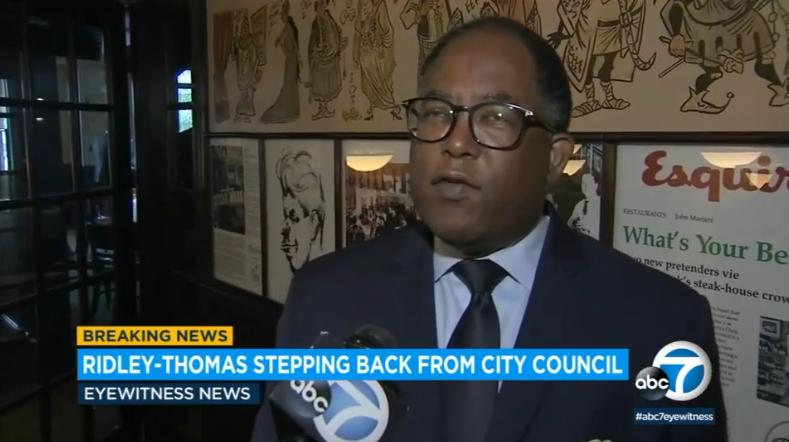 LOS ANGELES – Los Angeles City Councilman Mark Ridley-Thomas in a letter sent to fellow councilmembers Monday said that he would step back from his duties but he declined to resign from his seat.
In the letter he said that he will fight the "outrageous allegations" and plans to resume participation on the legislative body "at the earliest appropriate time," the Los Angeles Times reported.
"I fully appreciate the importance of the council being able to conduct its business with minimal distractions," Ridley-Thomas said in the letter, adding that he was stepping back with that in mind.
Ridley-Thomas, 66, was indicted earlier this month by a federal grand jury with 20 federal counts of conspiracy, bribery, mail and wire fraud alleging he took bribes from a former dean at the University of Southern California, (USC) when he was a member of the County Board of Supervisors.
The Los Angeles Times reported that in exchange for the payoffs, Ridley-Thomas allegedly supported awarding county contracts worth millions of dollars to USC.
In the indictment Ridley-Thomas is charged with conspiring with Marilyn Louise Flynn, 83, then dean of USC's School of Social Work, to steer county money to the university in return for admitting his son Sebastian into graduate school with a full-tuition scholarship and a paid professorship, the Times reported.
Both Ridley-Thomas and Flynn deny the charges.
Mark Ridley-Thomas will 'step back' from LA City Council meetings, won't resign- KABC 7 News Los Angeles:
Alisal Fire now 80% contained; evacuation orders lifted
The fire erupted in the Santa Ynez Mountains during high winds on Oct. 11. The cause remains under investigation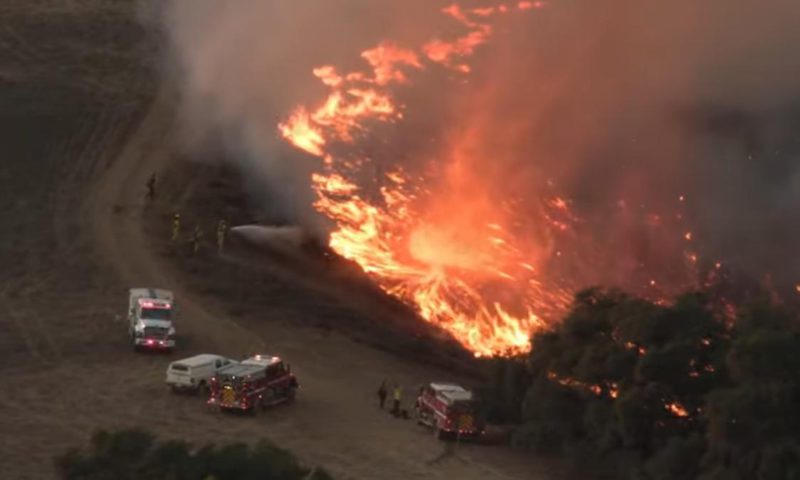 GOLETA – The Alisal Fire in Santa Barbara County is 80% contained as of Monday morning and its size was holding at about 27 square miles (70 square kilometers), a spokesperson for CAL-FIRE said. The fire erupted in the Santa Ynez Mountains during high winds on Oct. 11. The cause remains under investigation.
All evacuation orders and warnings were canceled Sunday afternoon and residents who fled the blaze have been allowed to return home.
#AlisalFire Update: Evacuation Order for the area west of Arroyo Hondo to the intersection of Hwy 101 & Hwy 1, the Arroyo Hondo Canyon and Refugio Canyon, and the area between El Capitan Beach State Park and West Camino Cielo has been cancelled. More info: https://t.co/YqDKvUfZIM

— SBCountyOEM (@SBCountyOEM) October 17, 2021
Late last week, the 101 freeway which had been closed so that firefighters could work to contain the blaze was reopened.
Hwy 101 is open! The CHP appreciates your understanding and patience with the roadway closure the past few days as emergency crews fight the Alisal Fire. The Alisal Fire remains active, we are asking the motoring public to remain vigilant of emergency crews working along the Hwy pic.twitter.com/Plug8LaShG

— CHP Santa Barbara (@CHP_SantaBarb) October 15, 2021