February 14, 2019 at 6:56 pm PST | by Karen Ocamb
Newsom makes LGBT history, naming trans JP Petrucione to top administration position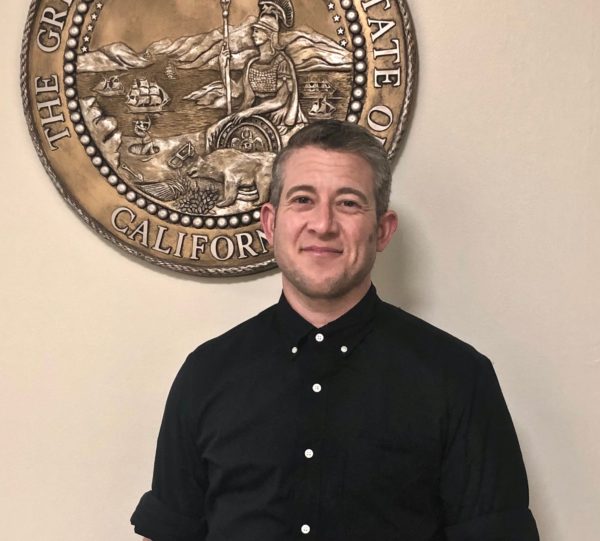 JP Petrucione gets chills just thinking about it—that indelible moment in 2004 when San Francisco Mayor Gavin Newsom defied whispers of caution and condemnation from high ranking members of the Democratic Party and granted marriage licenses to same sex couples on Valentine's Day. The nation would later get to know that broad beaming smile but in that moment the beam of joy fell on Del Martin and Phyllis Lyon as Newsom officiated their wedding vows on Feb. 12, 2004, two days before Valentine's Day.
Petrucione was in the room where it happened 15 years ago, serving as Newsom's deputy communication administrator.
"I was there when then-mayor Newsom made gay marriage possible, noting humorously that his left knee made it into the famous photograph of all Newsom's LGBT staffers and Mable Tang and Del and Phyllis as they were getting married.
"I actually have chills right now just thinking about it," Petrucione says over the phone from Sacramento just hours before Gov. Newsom appointed him Director of Digital Media in his administration. Petrucione, 45, who was born and raised in San Francisco, served as then-Mayor Newsom's Deputy Communications Director from 2004 to 2007, which is why he was in that room with LGBT staffers and others, including out former Clinton Administration official Roberta Achtenberg. One famous photo of that moment showed Achtenberg's ecstatic ugly happy-cry watching the elderly lesbian couple, together for 50 years, exchange vows.
"Roberta got me my first job in politics," Petrucione says. "I often think there are a lot of people who have had a hand in raising me up—and Roberta is one of them. Being in that room in that moment was so powerful and so affirming of what it means to be gay, what it means to be a human being. And it's a big part of why I've come back to work for Gavin Newsom. He's a guy who's not afraid to do the right thing even if it's unpopular or he might suffer some consequences or it. He's consistent in that."
With Newsom's announcement, Petrucione becomes the highest ranking openly transgender appointee in California history.
"It means a lot to me. I've been out personally. I am not in the closet by any means. And I've been out in my workplace for long as I've been gay," Petrucione says. "But coming out as trans is not always the easiest thing to do. So the opportunity to be announced in this way is really a chance to be a 'first' – and to be seen as a 'first.'
"It's important to me personally, professionally, and politically," he continues. "For a trans person whose rights and personhood are subject to debate and are regularly under attack, especially these days, it is incredibly meaningful to be able to come out and to work in a state and for a governor who is so supportive of LGBTQ issues and people."
Petrucione says he was a late bloomer, coming out as gay at age 27. "And that's despite growing up in San Francisco next to gay couples. But it took me a very long time to feel comfortable coming out and at the time – this was in 2000 – trans wasn't something I was even aware of," he says. "I know it existed, of course, and there were plenty of out trans people.
"But it was by no means as high profile as it is now. It took me another 10 years to feel comfortable enough to come out as trans. It is a second coming out," he says. "And it's honestly, even scarier than coming out as gay or lesbian. And with that coming out, I felt this incredible relief. Really, I see it as an integration of my self."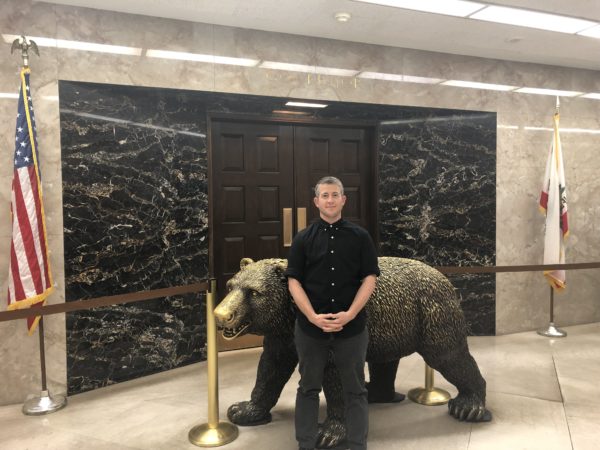 Petrucione's self-perception of his gender identity is different from trans people who feel at war with their biological bodies.
"Every trans person is different," he says. "I still very strongly identify with being female. I'm very proud of the fact that I went to an all girls' school. My family still refers to me—I'm going to out myself—they still refer to me as 'Jenny.' And that's part of me, that's part of who I am. I'm still my sister's sister. And I'm a trans masculine person. Ultimately, what that means to me is that I'm queer. I express all parts of me. And I'm comfortable with those parts."
In fact, Petrucione gets to experience the full spectrum of identity. "Coming out as trans represents to people, in my experience, a literal transition from one person to another. For example, my sister asked me when I transitioned—which I don't actually think of as transitioning; I think of it as integrating—she said to me when I started to take hormones, 'I worried I'm going to lose my sister.' The thing about trans people is—we are still the same person. We are simply choosing to have our external reflect our internal."
He says he's been "incredibly lucky and incredibly blessed" to have family and friends stand by him. "But there is fear," Petrucione says. "It's very similar to what gay people have experienced for generations – that by coming out, and being true to yourself, that you will be ostracized."
Petrucione is fully aware of the responsibilities he now holds as the "first" trans person to hold such a high position in state government.
"It's important to recognize that just being 'something' isn't enough and it is what you do with it," he says. "So speaking personally, I will be a resource. Coming out in in this way with such high visibility I think makes me high profile and I will certainly be available.
"I also am not afraid to put trans and LGBT issues first," Petrucione continues. "It informs everything I do personally and professionally just on the natural. And there's zero question whether this governor is going to continue to support and advance LGBTQ issues. And I think there is an opportunity to—in ways we haven't quite figured out—elevate trans issues. And whether that's through policy or through the communications department—that is part of why I'm deciding to be so public."
"Equality California congratulates JP on this exciting appointment. The governor and the people of California will be well-served by his talents and the perspective he brings to work each day as an openly transgender man," Equality California Executive Director Rick Zbur. "Throughout history, LGBTQ people — and transgender people in particular — have been denied a seat at the table simply because of who we are or whom we love. But in just one month, Governor Newsom has demonstrated the strength of his commitment to build an inclusive, people-powered administration that reflects the diversity of our great state."
Petrucione can be reached here:  jp.petrucione@gov.ca.gov
Photos of JD Petrucione by Jesse Melgar, Deputy Director of Public Affairs for Gov. Gavin Newsom