February 14, 2019 at 6:36 pm PDT | by Troy Masters
Community organizations issue statements repudiating comments by Mayor John Duran
West Hollywood Mayor John Duran, already under intense community scrutiny after being accused of misconduct by several Gay Men's Chorus members, now finds himself the center of a new controversy.
In an article published today by WeHoTimes.com entitled "A Defiant Mayor John Duran Speaks: 'Let Me Confess the Obvious…'"  the Mayor made disparaging comments about Jason Tong, then a member of the Gay Men's Chorus of Los Angeles.
Paulo Murillo of WeHoTimes.com asked the Mayor "What did the LA TIMES article miss? What is it that you would like West Hollywood residents to know?"
Duran at first replied with a timeline of events: "In October, 2019, Steve Holzer, the vice chair of the Chorus and he says, 'There's been a case filed against you. Jason Tong says that you slipped two fingers into his waistband of his underwear in the dressing room on Thursday night."
But he followed that up with "I was like, 'who the hell is Jason Tong?' I'd never heard of this guy. He said he'd only been in the chorus for four months. He's brand new. I told Steve, 'I would confess if it was true."
And then made a statement that has gone viral: "I'd never met this guy. I'd never spoken to him. I looked him up on Facebook and of course, he's a skinny Korean kid with pimples on his cheek and I was like, 'Steve, come on. Look at this guy. It's just not happening. It's not credible. I'd never even talked to him. I have no idea who this is.'"
Tong accused the mayor of placing his fingers in the waistband of his underwear while in the dressing room with other Chorus members, but after an investigation concluded there was no evidence to back up his claim he quit the Chorus and to date no witnesses have verified his claim. The investigation was done by a third party private investigator and reported to the Board of GMCLA who accepted the findings, as reported earlier in the Los Angeles Blade. Other men have also come forward to report inappropriate comments or behavior but have not pressed their case.
API Equality-LA, an Asian and Pacific Islander (API) LGBTQ community organization, issued the following statement, calling on Duran to resign immediately amid his racist remarks towards the API LGBTQ community and accusations of sexual harassment.
"API Equality-LA strongly condemns the victim-blaming and racist statements made by West Hollywood Mayor John Duran. As an organization that empowers API communities to fight for LGBTQ, racial, and social justice, API Equality-LA knows the harmful impact that racial stereotypes, body shaming, and gender policing has on queer and trans communities of color, and in particular how these issues affect gay and bisexual Asian men.
The statement continues: "Asian men have long been discriminated against in gay communities; for example, gay clubs in West Hollywood used to require three forms of photo identification from anyone they perceived as Asian. This anti-Asian racism continues today in the form of sexual discrimination, racial discrimination and lack of representation of queer and trans APIs within the broader LGBTQ community.
"As a coalition of API LGBTQ activists, young people, parents, and allies, we demand that John Duran resign from his post immediately. He has shown no remorse for his actions and continues to undermine efforts to hold him accountable for cases of sexual misconduct. West Hollywood, and the LGBTQ community at large, deserve better leaders and role models in the fight to liberate all our communities."
Ric Parrish, a co founder of Asian Pacific AIDS Intervention Team told Los Angeles Blade "I don't speak for APAIT but I have known John for decades. I can tell you John is not a racist.  I will look to the findings of the investigations and final reports."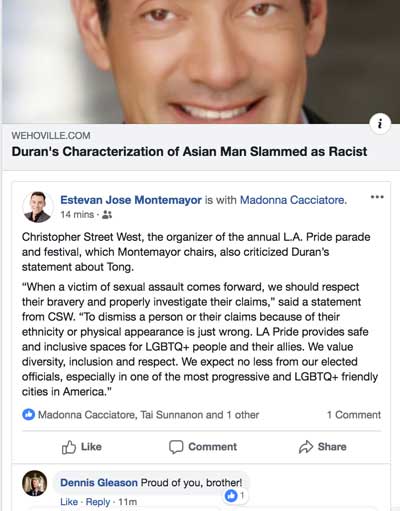 The Mayor's words drew ire from other corners of the community, including from Estevan Montemayor, President of Christopher Street West, the organizing committee of LA Pride. CSW issued this statement on Facebook:
"When a victim of sexual assault comes forward, we should respect their bravery and properly investigate their claims," said a statement from CSW. "To dismiss a person or their claims because of their ethnicity or physical appearance is just wrong. LA Pride provides safe and inclusive spaces for LGBTQ+ people and their allies. We value diversity, inclusion and respect. We expect no less from our elected officials, especially in one of the most progressive and LGBTQ+ friendly cities in America."
Stonewall Democratic Club Presiden was among the first community leader to issue a statement. "As always, Stonewall stands with the victims of sexual harassment and assault, and condemns such conduct regardless of the perpetrator. We also recognize the courage of people who are willing to publicly come out to expose it. We likewise applaud former Commissioner Robert Oliver who resigned his position on the City of West Hollywood's Public Safety Commission to oppose bad conduct from one of that City's elected officials.
"We do not deny, and in fact, we celebrate John Duran's significant contributions to the advancement of LGBTQ+ rights and on behalf of people living with HIV. We also recognize that Mr. Duran maintains his innocence. At the same time, he admits that he regularly engages in conduct, such as "us[ing] bawdy sexual humor" and "say[ing] inappropriate things.
He justifies it as being no different from what many other gay men do and argues that it is consistent with a "gay male subculture," that has insisted in "maintain[ing] sexuality" in the face of adversity.
"Mr. Duran's rationalization trivializes the struggle of which he himself was an important part and ignores the pain and suffering and the sense of betrayal of people who have been subjected to offensive behavior from people in positions of power whom they admired. More importantly, we as queer people, allies and as Democrats have a right to expect better from our leaders, and no one has a license to abuse their public trust or power.
"The Steering Committee of the Stonewall Democratic Club therefore joins Councilmember Lindsey Horvath's call, among many others, for the Mayor of West Hollywood to step down from that position and from the West Hollywood City Council.
The I Love Me Foundation, a non-profit organization aimed at providing education, empowerment and advocacy for LBGT survivors of sexual and domestic abuse, issued a statement via President and Chairman Robert Harrell.
"It's critical that we take responsibility for protecting ourselves and our community, especially for sexual abuse survivors including those of the trans community," Harrell stated. "This will include requiring our employers (government and otherwise) to build safe workplaces, to have zero tolerance for harassment. But more importantly, we need to speak up for ourselves and others. We need to engage in the discussion in places that we can have impact. We need to know what resources are out there for us."
He continued: "As an advocacy group, The I Love Me Foundation is committed to pushing for a safe working place for all people in regardless of nationality, gender, religious or social status, but especially for persons identified as LGBT and people of color who are the most marginalized and underrepresented in community-funded dollars and resources. We are prepared to assist the victims of Mayor John Duran with mental health and legal resources. If you or someone you know is subjected to sexual harassment and need information, you can find resources on our website at www.i-loveme.org or call Sexual Harassment Help Line: (323) 545-0333."
And by the end of the day the Gay Men's Chorus itself issued this statement:
"The Gay Men's Chorus of Los Angeles strongly condemns language used by Board Chair John Duran in an interview with Weho Times in describing a former chorus member. GMCLA prides itself on being an organization that welcomes and embraces all cultures and all communities. The comments made by Duran do not reflect the beliefs and opinions of GMCLA"."
Some members of the community have called a #MeToo March for February 19, during the hour of the next West Hollywood City Council meeting. "In light of recent allegations of sexual misconduct within Gay Men's Chorus LA (GMCLA) involving Executive Director Jonathan Weedman and West Hollywood Mayor John Duran, we are announcing a press conference and peaceful rally to address a broader culture of complicity within West Hollywood," organizers wrote, calling on protestors to bring "signs, banners, blow horns, etc. #STANDwithSURVIVORS! #MALEsurvivorsMATTER #ArrestEdBuck! #Justice4Gemmel #Justice4Timothy #DuranSTEPDOWN!