February 15, 2019 at 10:51 pm PST | by Staff reports
California Governor Endorses Kamala Harris For President
SACRAMENTO, Calif.- U.S. Senator Kamala Harris received the endorsement of California's Democratic Governor Gavin Newsom, while he appeared on About All In with Chris Hayes on MSNBC Friday evening.
"I'm very enthusiastic about Kamala Harris. I'll be endorsing her candidacy for president," Newsom told Hayes. "I know her well, I've known her for decades. Not only as District Attorney, where she did an extraordinary job with a very progressive record, but I watched her up close as a Lieutenant Governor when she served as Attorney General, and I have the privilege of working with her as U.S. Senator. I think the American people could not do better."
The state's 40th chief executive joins 5 members from California's House Democratic Congressional delegation in backing her candidacy. Representatives, Nanette Barragan, Katie Hill, Ted Lieu, and Barbara Lee have all preciously endorsed Harris. She also has received the endorsements of 21 members of the California State Senate Democratic Caucus, including Senate Pro Tem Toni Atkins.
The Governor becomes the latest high-profile politician to back Harris's bid this week. In a post appearance tweet Newsome noted: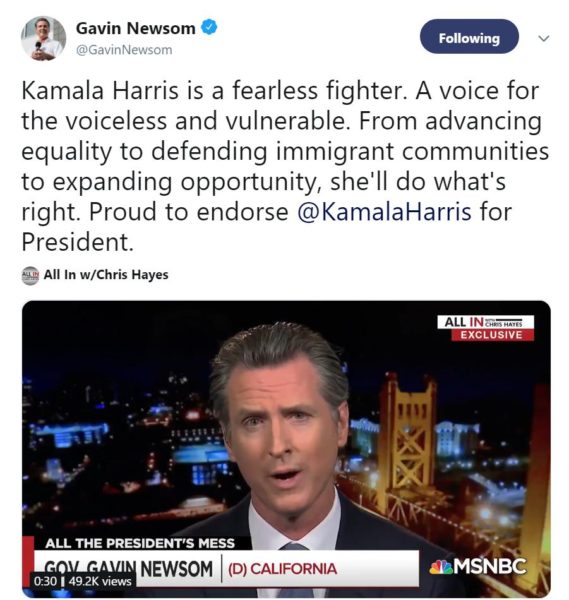 Rep. Barbara Lee, the former head of the Congressional Black Caucus endorsed the Senator Thursday.
In a statement Friday evening to The Los Angeles Blade, Rep. Lee said;
"Watching Kamala's career in the East Bay and San Francisco for 20 years, I've witnessed her deep passion for justice and opportunity, and I know she will be a president truly of the people, by the people, and for the people."
Labor and civil rights activist Dolores Huerta also endorsed Harris on Friday. Huerta, who co-founded the National Farmworkers Association in California, said Harris's vision is "exactly what we should hope for from the next President of the United States."
The Governor joins Lee and Huerta as California co-chairs for Harris' campaign.
Former Calf. Democratic Senator Barbara Boxer, whose senate seat Harris now holds, has also endorsed her candidacy.
Harris is running in what is now appearing to be the most crowded Democratic primary field in the history of modern presidential campaigns. Politicos & pundits note that early endorsements can prove key in assisting a candidate to outmaneuver their challengers while at the same time providing them with key surrogates during the races prior to the convention.
California's early primary will be held on March 3, 2020.