February 18, 2019 at 1:20 pm PST | by Staff reports
WeHo voter registration ends Tuesday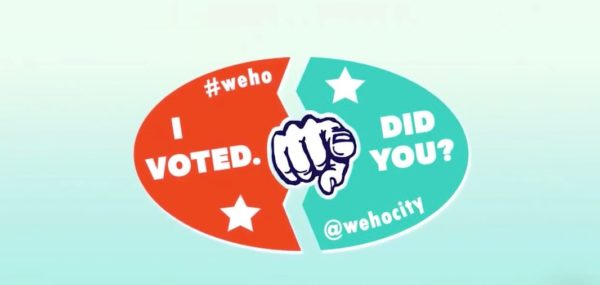 The deadline to register to vote for the General Municipal Election in the City of West Hollywood is Tuesday, Feb. 19. The election for three city council seats takes place on Tuesday, March 5, 2019.
The campaign process over the last two months has been filled with scandal and accusations as three incumbent city council members seeking reelection— Lindsey Horvath, Lauren Meister and John D'Amico—recently demanded that WeHo Mayor John Duran step down from his position over allegations of sexual harassment. Additionally, they and members of the #MeToo movement in Los Angeles believe that Duran's flirtatious behavior is inappropriate for a 24/7 mayor in or out of the workplace.
Ironically, the city waged a similar debate over sexual propriety in Feb. 2011 when D'Amico and Duran argued about the need to "save Boystown" amidst a contentious argument over the annual Tom of Finland exhibits.
Duran, currently hospitalized at Cedar-Sinai Medical Center with complications from blood clots, has refused to resign, proclaiming that he has done nothing wrong and that he has either been cleared by an investigation and that new charges have not been filed. WeHo City Attorney Mike Jenkins told the Los Angeles Blade that California law does not give a city council the ability to remove one of its members from the council, though they can vote to strip him of his leadership position.
The controversy was originally ignited by an allegation made against Duran by a man the Los Angeles Times identified as Jason Tong, a young member of the Gay Men's Chorus of Los Angeles. The allegations were later found to be unsubstantiated by an independent investigator hired by the Chorus to look into the claims by Tong and another chorus member.
WeHo Media Affairs and Marketing Manager Joshua Schare has publicly noted that Duran's participation in GMCLA is completely unrelated to his council duties and his official functions as mayor.
"There has been one formal claim made against me in 20 years with the Chorus. An independent investigator was hired. He interviewed both parties and the 5 alibi witnesses who were with me that evening," Duran said on Facebook. "And the witnesses all concurred that nothing unusual happened in the dressing room while they were with me. So, the claim was found to be unsubstantiated and the case was closed."
Other issues confronting the city's government including homelessness, affordable housing, development, traffic, mass transit and the burgeoning cannabis business had dominated the discussion at the January 29 West Hollywood City Council Candidate Forum. The forum— sponsored by the West Hollywood Chamber of Commerce and the League of Women Voters of Los Angeles—was moderated by KNBC journalist Robert Kovacik who asked questions drafted by the Chamber and voters.
Nine of the 11 candidates participated: incumbent councilmembers Horvath, Meister, and D'Amico and challengers Brendan Hood, Duke Mason, Shawn Davis Mooney, Marquita Thomas, Tom Demille and Sepi Shyne. Candidates Jack Cline and Eric Jon Schmidt did not participate.
The last two scheduled WeHo city elections staff-run Voter Registration and Election Information Pop-Ups will take place on:
Monday, February 25, 2019 from 11 a.m. to 1 p.m. at the Helen Albert Farmer's Market, located in the Vista Lot on the north end of Plummer Park, located at 7377 Santa Monica Boulevard; and
Monday, March 4, 2019 from 11 a.m. to 2 p.m. at West Hollywood City Hall, located at 8300 Santa Monica Boulevard.
Given the political climate of the current scandal, the city's choice of a public service announcement video to promote its voter registration drive has raised some eyebrows. One WeHo resident who declined to be identified noted in a phone call to the Los Angles Blade: "That video is really awkward given all the bitchy drama. I get that it was produced before all the crap hit the fan, still you'd think they (the city) would have pulled it down."