January 30, 2019 at 5:49 pm PST | by Craig Appelbaum
WeHo candidates neglect LGBT issues at forum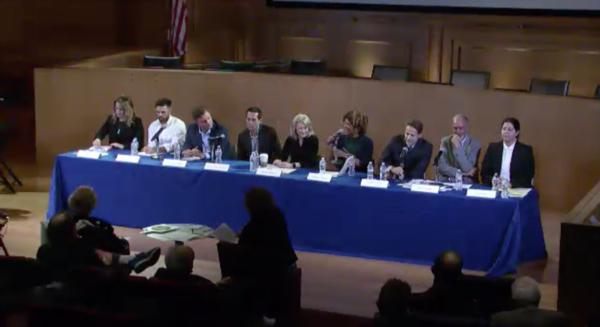 Homelessness, affordable housing, development, traffic, mass transit and the burgeoning cannabis business dominated the discussion at the Jan. 29 West Hollywood City Council Candidate Forum. The forum— sponsored by the West Hollywood Chamber of Commerce and the League of Women Voters of Los Angeles—was moderated by out KNBC reporter Robert Kovacik who asked questions drafted by the Chamber and voters.
Nine of the 11 candidates seeking three council seats in the March 5th election participated: current City Councilmembers Lindsey Horvath, Lauren Meister, and John D'Amico and challengers Brendan Hood, Duke Mason, Shawn Davis Mooney, Marquita Thomas, Tom Demille and Sepi Shyne. Candidates Jack Cline and Eric Jon Schmidt did not participate.
The candidates largely agreed on the issues, including the discomfort at being pressed to answer big questions in 45-second responses. Some themes were carried over, such as Mason's call for the city to reassess the zoning map, which would help figure out what new development should go where and what neighborhood housing should be preserved.
When asked about the city's nightlife, Mooney noted that "we're all kind of grown up and married" but he's "fine" with the bars on Santa Monica Boulevard and the Sunset Strip. Meister said more venues were needed on the Strip with the demise of the House of Blues. "Less hotels, more venues," she said. Thomas noted that extended hours are coming and that is a public safety issue, as well as an increase in noise for nearby residents.
But as the 150-minute forum stretched on, it became increasingly clear that while seniors, the homeless, Russians and diminishing middle class were all being addressed—no one was talking about the city's renowned LGBT population. What made the benign neglect even more striking is that all of the candidates are gay and lesbian, except straight incumbents Horvath and Meister.
And during his final two minutes, instead of talking about the need to "Save Boystown," the spirit that got him elected in 2011, D'Amico pointed to his husband, smiled and talked about how happy he is living in West Hollywood.
"West Hollywood remains a hub of lesbian, gay, bisexual and transgender (LGBT) culture and a tourist destination for gay and bisexual men around the globe. The City is also home to a large number of gay and bisexual men — roughly 40% of the city's population," reports the city's 2013 Community Survey.
"Thirty-nine percent of all respondents to the West Hollywood Community Study survey selfidentify as gay men; another two percent of
respondents identify as bisexual men. The percentage of gay and bisexual men living in West Hollywood has held constant over the past 15 years with similar figures reflected in surveys conducted in 1998, 2000, and 2006," the survey said.
However, there appears to be an exodus of LGBT residents as rents for both apartments and small businesses continue to rise. Only Mooney briefly touched upon the issue, promising to keep alive the legacy of ACT UP and LGBT history. But no one addressed the need to retain the LGBT community and its culture, with which the city has been so long proudly identified. Isn't LGBT history as valuable as an old Hollywood house?
Additionally, no one thoughtfully addressed the need for social services, including help for people with HIV/AIDS, even though the 2013 Community Survey reported that the "cumulative number of people living with HIV and the cumulative number of people living with AIDS continued to increase" in West Hollywood. And no mention was made of the city's drug and crystal meth problem or the alarming increase of STDs in WeHo.
A 2019 Community Survey is apparently underway. But the "Community At A Glance" graphic provided for prospective business owners makes no mention of the LGBT community at all. It does indicate, however, that about 80% of the city's 35,797 (a 2016 figure) residents are white.
That statistic and general impression of White WeHo has been more popularized since the death of young black escort Gemmel Moore in 2017 at the WeHo apartment of white political activist Ed Buck. Rallies by activists from the black community have alleged malfeasance on Buck's part, though the Sheriff's department concluded that Moore died of an accidental drug overdose. The death of a second gay African-American man, Timothy Dean, at Buck's apartment only intensified the belief that whites are treated with unaccountable deference in West Hollywood.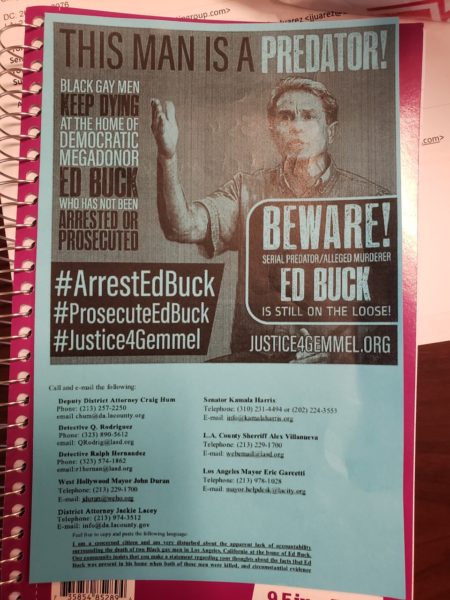 Though there is an ongoing investigation into Dean's death, the candidates were not prohibited from discussing WeHo's image problem.
It was a point made by Jerome Kitchen as the forum was ending.
Kitchen, who identified himself as a friend of one of the deceased men, loudly asked why none of the candidates had addressed the deaths. He was considered a disrupter and shouted down.
Several candidates mentioned the importance of West Hollywood "values," but no one really discussed what those values are and how they are maintained.