Marianne Williamson announces run for president
Joins list of four other female candidates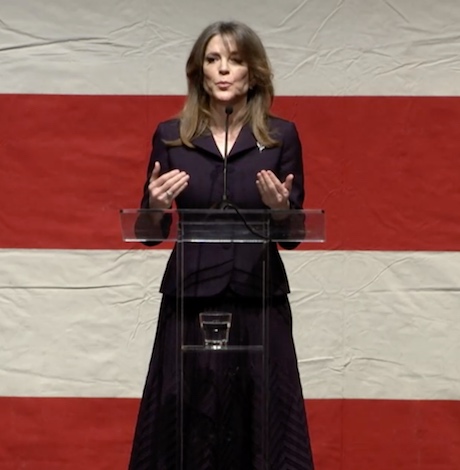 Self-help author and metaphysical guru Marianne Williamson announced her candidacy for the Democratic presidential nomination at a rally at The Saban Theatre in Los Angeles Jan. 28. The event, which was live-streamed, featured Williamson diagnosing the state of the union in much the same style as she delivered her popular A Course in Miracles lectures during the AIDS crisis—erudite, deep and spiritually confrontational with tongue-in-cheek jokes.
"What I have seen in my career is what happens when people fall down," Williamson said as a kind of inside joke. "People don't usually come to me because things are going well."
Williamson, who co-founded Project Angel Food in 1990 with grief expert David Kessler, focused on the "spiritual and moral rot" eroding the economy, thanks to huge corporate conglomerates.
Williamson said she was shocked but not surprised by the election of Donald Trump and the populist nationalism he inspired, which she attributes to economic despair.
"It was going to be an authoritarian populism or it was going to be a progressive populism, but it was going to come up from the bottom of things," she said.
Williamson called for an approach  "where the consciousness is such that we recognize that if you are not addressing issues of human despair and if you are not addressing the character defects of your whole nation; if you are not addressing ways in which we have to change, then no matter what changes on the outside – you can have low unemployment but what does that matter? We talk about the GDP being the wage and the measure of our happiness. Really? Meanwhile we have the opioid addictions. We have the chronic despair. We have depression. We have the high suicide rates. We need to look beneath the waterline," she said.
America has to have "a presidency aligned with the higher angels of our nature," she said. "One person has harnessed fear for political purposes. We need to harness love for political purposes….I need you to think of this as something bigger than just electing me. It's so much bigger than electing one person. It's about an uprising of the American spirit. It's about the uprising of the democratic spirit. That is what needs to happen now."
Williamson is the fifth woman in a longer list of people expressing an interest in becoming President of the United States in 2020: Massachusetts Democratic Sen. Elizabeth Warren announced an exploratory committee; Sens. Kamala Harris of California and Kirsten Gillibrand of New York and Hawaii Rep. Tulsi Gabbard of Hawaii have declared their candidacies. Minnesota Sen. Amy Klobuchar would be the sixth woman if she jumped in after much encouragement, including from out MSNBC host Rachel Maddow.
Williamson's announcement was largely overshadowed by instant top-tier candidate Kamala Harris appearing at a live CNN town hall that night.
Padilla, local leaders celebrate passage of Respect for Marriage Act
"There's no better place than San Francisco to celebrate passage of the Respect for Marriage Act & affirm lives of millions of LGBTQ people"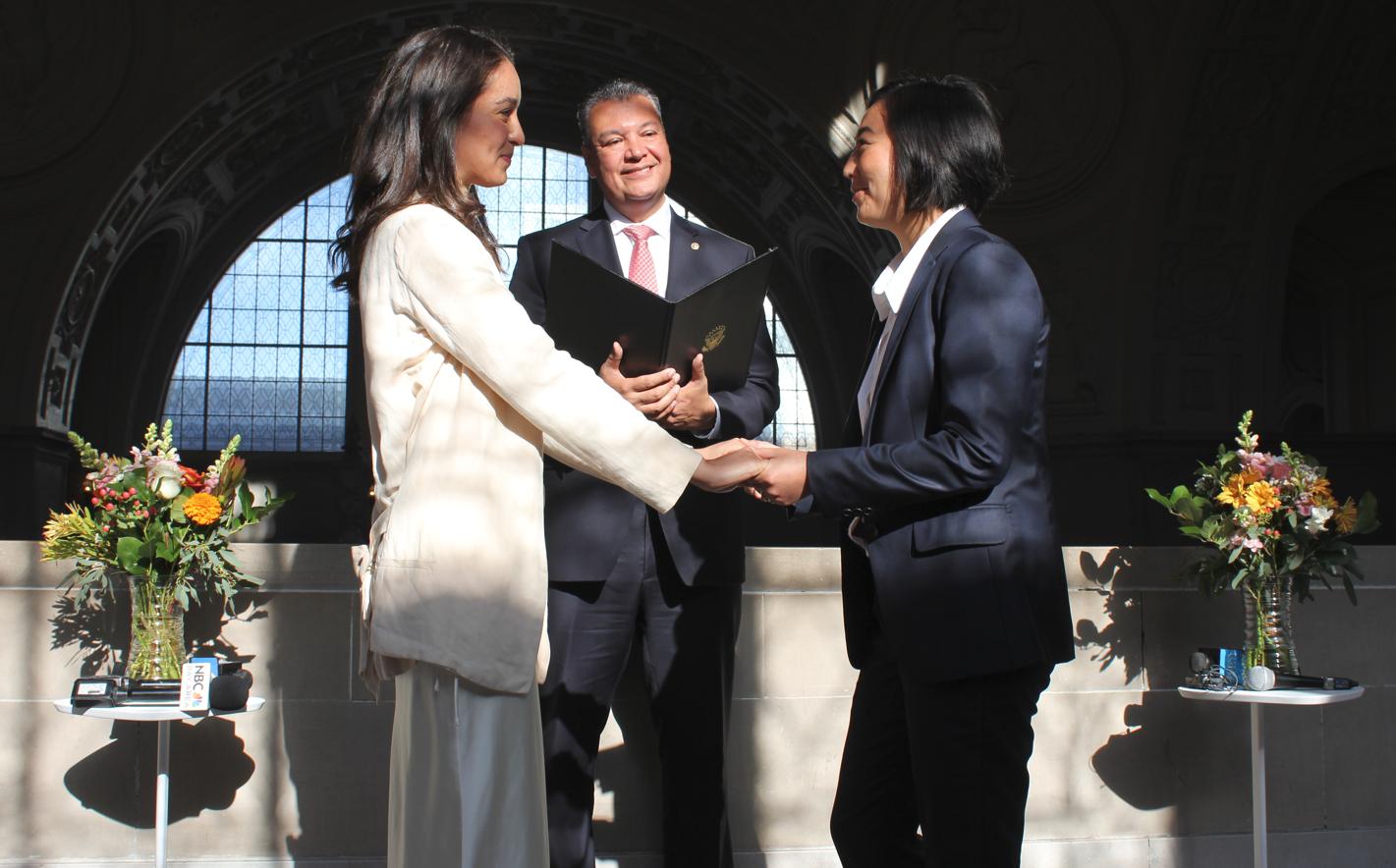 SAN FRANCISCO —  U.S. Senator Alex Padilla (D-Calif.) on Friday hosted a press conference with San Francisco Mayor London Breed, State Senator Scott Wiener, Equality California Executive Director Tony Hoang, and local leaders following the Senate passage of the Respect for Marriage Act.
Senator Padilla also officiated a vows renewal ceremony of Cyn Wang and Tessa Chavez, a local lesbian couple, at San Francisco City Hall to mark the historic occasion.
The Respect for Marriage Act requires the federal government to recognize a marriage between two individuals if the marriage was valid in the state where it was performed and guarantee that valid marriages between two individuals are given full faith and credit, regardless of the couple's sex, race, ethnicity, or national origin. The legislation passed the Senate by a vote of 61-36.
"There is no better place than San Francisco to celebrate the passage of the Respect for Marriage Act and unequivocally affirm the lives of millions of LGBTQ people and interracial couples across our country," said Senator Padilla. "We celebrate the progress that we have made today, but recognize the work still left undone to fully protect the rights of LGBTQ Americans. I'll continue working to build on our efforts until we ensure that every American is treated equally under the law, free from discrimination."
"I was proud to introduce the Respect for Marriage Act over the summer, and I'm even more pleased that the bill passed the Senate this week with strong bipartisan support," said Senator Dianne Feinstein. "The Respect for Marriage Act will guarantee legal protections for millions of marriages in the United States. Simply put, Americans should be free to marry the person they love, regardless of sexual orientation or race, without fear of discrimination or fear that their marriages will be invalidated. This was a historic vote and one that every proponent of equality can be proud of."
"The Respect for Marriage Act is an important step forward in the continued fight for LGBTQ and racial equality in America," said State Senator Scott Wiener. "Today, we celebrate this victory for our civil rights, and tomorrow we recommit to fight even harder against the right-wing Supreme Court's efforts to legalize discrimination in this country."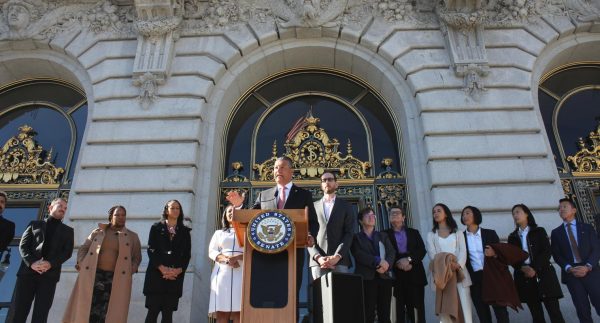 "San Francisco's history is inseparable from the history of the LGBTQ community and the movement for marriage equality locally, at the state level, and nationally," said Mayor Breed. "As we celebrate the passage of the Respect for Marriage Act, we honor those who have endured discrimination and hate, and the many who lost their lives in the quest for equality. We recommit ourselves to protect the fundamental rights of all people regardless of who they are or whom they love. Thank you to Congressional leaders, especially Senators Dianne Feinstein and Alex Padilla, and Speaker Pelosi for their leadership to pass this historical legislation."
"Equality California applauds this historic vote and the critical leadership of Senators Baldwin, Feinstein and Padilla, in getting this bill across the finish line," said Equality California Executive Director Tony Hoang. "While this is an important step in affirming the dignity of the LGBTQ+ community, it will not end all discrimination against LGBTQ+ people or erase the hateful rhetoric of anti-LGBTQ+ politicians and extremists. Equality California will continue to fight for full, lived equality for all LGBTQ+ people until the work is done."
"The Respect for Marriage Act removes an ugly, discriminatory stain on our federal law books – the 1996 so-called "Defense of Marriage Act" – and replaces DOMA with a rule requiring government at all levels to treat all married couples equally nationwide," said Jenny Pizer, Chief Legal Officer, Lambda Legal. "We hope we never need it.  But if the U.S. Supreme Court were, outrageously, to erase the constitutional protection for the freedom to marry, this law will substantially reduce the harms. Yet, even if the Respect for Marriage Act were to become necessary, it would not be sufficient. We still urgently need the Equality Act to become law, to protect LGBTQ people from the widespread discrimination that persists in the commercial marketplace and in public services with harsh, unacceptable consequences."
"It is a historic moment for the advancement and preservation of basic civil rights for all Americans, but by no means is our work done," said Kris Perry, Prop 8 Plaintiff & Nonprofit Director. "Our family and thousands of families like ours can breathe easier tonight knowing our fundamental rights are protected."
"After the Supreme Court overturned a woman's right to choice, we feared same-sex marriages were next," said Cyn Wang and Tessa Chavez. "The Respect for Marriage Act gives our family clarity and a sense of relief that our marriage, and those of all married couples regardless of sexual orientation or race, will be protected in this country."
The Respect for Marriage Act now goes to the House of Representatives for passage and then to the President's desk to be signed into law.
Senator Padilla is committed to pursuing equality for the LGBTQ community, including in employment, housing, and credit lending.
Earlier this year, Padilla introduced the LGBTQ Business Equal Credit Enforcement and Investment Act, legislation that would protect the 1.4 million LGBTQ-owned businesses in the nation from lending discrimination to ensure equal access to economic opportunities. Padilla also joined Senate Democrats in introducing a resolution recognizing June as LGBTQ Pride Month to highlight the work of the LGBTQ community in fighting to achieve full equality, including for marriage.