Final Curtain for the Gay Men's Chorus?
Unsubstantiated accusations rock the chorus as John Duran departs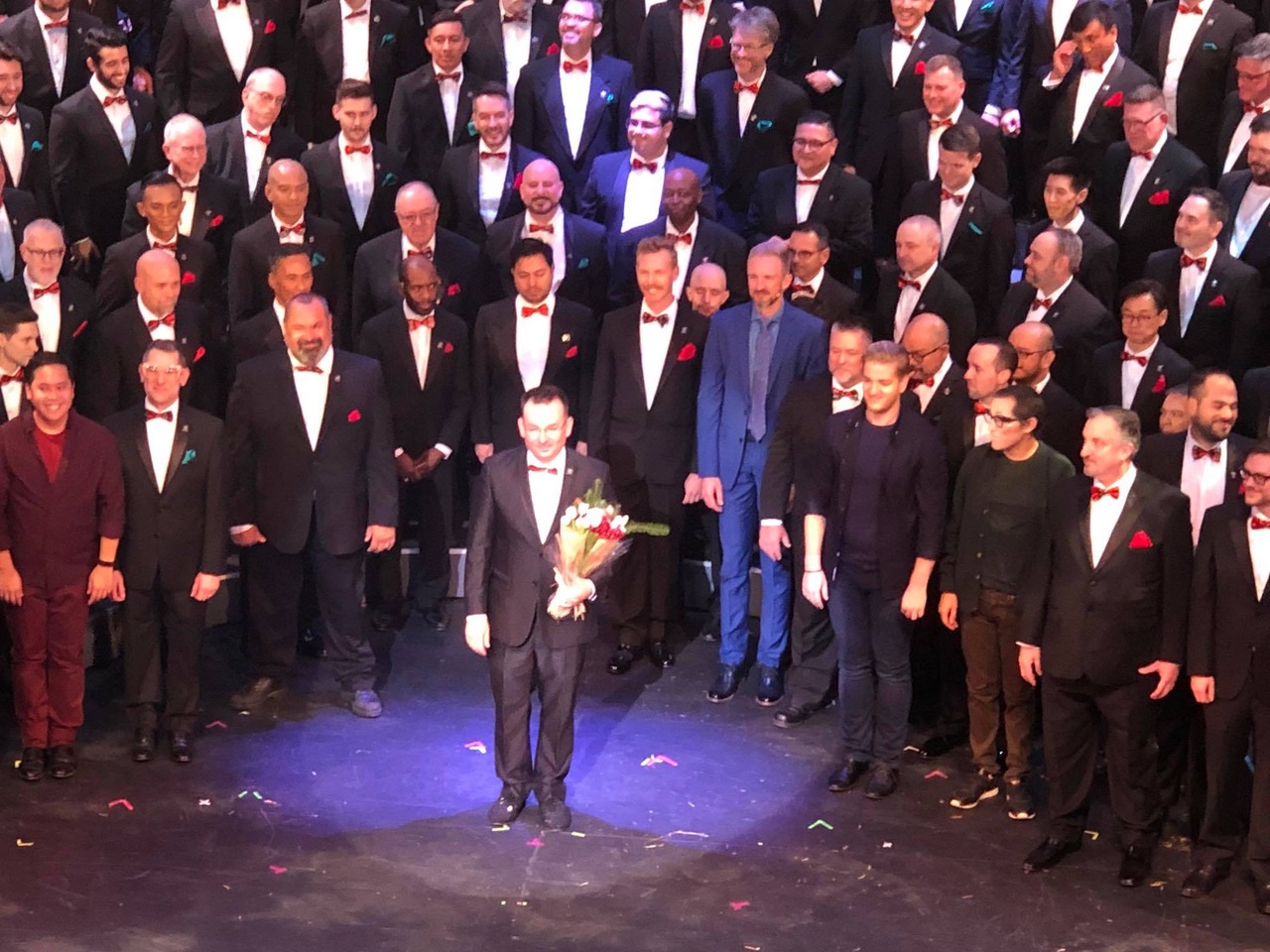 It was a long time ago when gay men with KS lesions covered up with makeup and frail, thin men propped up by their brothers sang their hearts out to weeping audiences watching their friends defiantly use music to resist the dying of the light, to proudly stand as a band of brothers fighting discrimination and AIDS, sometimes tossing in a sassy gesture of fun flamboyancy.
After all, the Gay Men's Chorus of Los Angeles started in 1979 as a social organization to give gay men an alternative to the bars. In fact, Jerry Carlson, co-founder of a gay chorus in Chicago, caused some consternation when he took over as conductor in 1980 and started transforming the singing group into a more professional chorus worthy of tackling Leonard Bernstein's "Chichester Psalms."
The chorus also realized their larger responsibility of representing gay men in a hostile world. In 1985, a year after AIDS first hit them hard, the chorus won a blind audition to sing at the American Choral Directors Association western division conference. However, when the association discovered that the winning group was gay, they tried to withdraw the invitation. Backed by the ACLU, the chorus filed suit and the association relented.
"It was a powerful experience," Jon Bailey, chair of the music department at Pomona College, and former head of the Institute of Sacred Music at Yale University, told gay Los Angeles Times reporter David Colker for a huge Dec. 1988 feature. "They sang very well, with great confidence. There were standing ovations."
In July 1986, Carlson developed AIDS. The 95-member group met to develop a contingency plan and invite Bailey to take over when the time came.
"Jerry was very close to all of us," Craig Woodbury told The Times. "When we talked about him, we were talking about how all of us had the potential for coming down with the disease." They pledged to affirm who they were as gay men and to support each other.
Carlson died at his West Hollywood home on Nov. 23, 1987. He was 31.
That Gay Men's Chorus doesn't exist anymore.
At a Jan. 28 meeting, the once famous brotherhood seemed more like "Boys in the Band" meets the Salem Witch Trials as members fumed over how to get rid of longtime GMCLA board chair John Duran and executive director Jonathan Weedman.
The basis for their fury was a report in WEHOville that appears to heavily emphasize innuendo and claims from anonymous sources, relying particularly on "[a] person involved with GMCLA and with intimate knowledge of the incident, who asked not to be identified for fear of being thrown out of the organization." This person suggests having direct knowledge of the report conducted by "private investigator Steve Rodig of RCS Investigations and Consulting, a former Anaheim police officer."
WEHOville reports that Rodig was hired to investigate an allegation "that Weedman, who is 59, had forced a then-20-year-old chorus member to perform oral sex on him in December 2017….However, it also has been said that Weedman performed oral sex on the young man."
In Duran's case, a young man, subsequently identified in the LA Times as Jason Tong, alleged that Duran inappropriately pushed his fingers into the waistband of Tong's underwear last October as they were dressing for a joint concert with the Gay Men's Chorus of Mexico City at the chorus' performance home at the Alex Theatre in Glendale to launch its 40th anniversary.
WEHOville reported that "Duran has denied the allegation, noting that the alleged incident took place in a room full of 150 people. A half dozen of those near Duran said they did not see the alleged incident take place. Duran said he asked to meet with the young man, who was a part-time GMCLA employee, but that he declined to meet Duran and resigned from GMCLA."
In both instances, the allegations were vehemently denied by Weedman and Duran and were investigated by credible outside investigators hired by GMCLA's own counsel who found no evidence to support either charge. However, since both are Human Resource issues, those reports remain under seal for privacy reasons, having only been seen by the counsel, and the executive committee of GMCLA's board of directors—all of whom read through the reports and agreed with the investigators' conclusions.
The board includes longtime activist, politico and attorney Diane Abbitt (MECLA, ANGLE, EQCA) and Betsy Butler, executive director of the California Women's Law Center, neither of whom would shirk their responsibilities or risk their reputations by ignoring or glossing over any allegation of wrongdoing, even for a friend.
Abbitt also chairs the HR Committee and told the LA Times for their story that GMCLA has policies and procedures in place to discreetly handle any claim of harassment or abuse. In her 10 years on the board, this is the first and only allegation against Duran.
"If there was a problem, if there were allegations of sexual harassment, they would have been brought to the board," Abbitt told the LA Times. "Nobody has even asked me privately to have a discussion about allegations of sexual harassment or misconduct."
So what happened and why now, after 40 years, have these dismissed allegations surfaced in the media and been given credibility, causing an existential crisis for the once beloved Gay Men's Chorus of Los Angeles?
The Los Angeles Blade has spoken with a number of people, some of whom would only speak off the record or on background. But three individuals independently told the same story about what was told to investigators for their reports that we think we can reliably report how the allegations came to be dismissed.
A number of people believe the crisis started with a behind-the-scenes power-clash between Weedman and Artistic Director Dr. Joseph Nadeau. (The Los Angeles Blade reached out to Nadeau but received no reply.)
GMCLA had not had an executive director for seven months and fundraising was slow with a lot of debt. Weedman, the well-known longtime Wells Fargo Foundation Senior Vice President and fine arts advocate, was hired in Feb. 2017 to "shepherd the organization's considerable 270-plus choral membership," and use his relationships with people with money to create new opportunities for donations.
Weedman made a number of changes that he deemed necessary but several people grumbled over his management style and his leadership capabilities.
Despite celebrity appearances and wider visibility, ticket sales had been declining and audience surveys said the chorus' quality and sound were declining. Weedman and some board members wanted to try different artistic approaches. Nadeau was reportedly furious, especially that he had to report to Weedman, as opposed to reporting to the board as he had requested. After six years with the chorus, he resigned, taking his final bow on Sunday, Dec. 16, 2018.
But before then, odd things started happening.
On June 21, there was a bomb threat at the Alex Theatre and everyone was evacuated. On the same day, flyers with photos of Weedman began to circulate accusing him of sexual misconduct. Fearing a crazy person was targeting him, he installed surveillance cameras on his house.  A month later, postcards start circulating, this time with photos of Weedman, Duran and board member Steve Holzer. No one can figure out who was doing it or why. Shortly thereafter, the story about Weedman and Duran appeared in WEHOville.
What sources say Weedman told the investigator was that the young man came from a troubled background, was looking for money and Weedman offered him a job to help inventory about 300 boxes in his garage. The job took several days, during which Weedman, his husband Raymundo and the young man went to dinner and the man spent the night in the guest bedroom. Later, when Raymundo is in Mexico, the man comes over again to work. They go to dinner, a movie and then by the time they get home, it's late so the man spends the night again.
But this time, late in the night, the young man comes into Weedman's bedroom, pulls down his pants and says he wants to cuddle. He gets into bed, Weedman freezes—he and his husband are monogamous—quickly gets out of bed, goes to the kitchen then curls up on the couch to sleep. The next morning is awkward. Five months later, Weedman started wondering if the young man might be behind the nasty rumors because the man wanted his help getting an audition at a school, which Weedman did not do. When the investigator asked, Weedman said he did not do what he was accused of doing.
The investigator's report was reviewed and discussed by the entire board and no action was taken.
"What this all comes down to is what I think has been a well-orchestrated, highly-choreographed, deliberate attempt to slander me, to slander John Duran, and to remove us from our posts in the chorus," Weedman told the Los Angeles Blade. "It has been pervasive, it has been persistent, it has been ongoing, and I can't even – I don't know when the next bomb is going to drop, because the people who are doing this are hell-bent."
In Duran's case, the criminal defense attorney and West Hollywood mayor also says he didn't do what's alleged, nor did he know Jason Tong. Duran told the investigator that the alleged incident happened 15 minutes before the curtain, five witnesses can attest to not knowing Tong or if Tong was even present and that they did not see Duran supposedly tuck his fingers' into Tong's waistband.
When the investigator pointed out that Duran had five witnesses, Tong apparently recanted and withdrew his complaint before resigning.
The LA Times subsequently reported that two more people had come forward—but neither of them had filed a complaint with the GMCLA board or HR or gone through any of the procedures outlined to the membership.
Much has been made of the one filed complaint against Duran (later withdrawn) juxtaposed against the backdrop of the City of West Hollywood's settlement of a lawsuit filed by his former deputy, Ian Owens, as if the settlement alone suggests guilt. However, as the LA Times reported after the verdict in Michelle Rex's trial in May 2017, jury found Rex's allegation of being fired because she supported Owen's claim to be unsubstantiated. Duran and Owen both took the stand in that trial.
"I was called to the stand and testified under oath in the Rex trial where the Owens claim was resurrected.  And Owens also testified at that trial," Duran told the Los Angeles Blade. "Owens testified that I NEVER touched him or sexually assaulted him.   His testimony was that I showed him pictures of men that I had been intimate with and that he found it objectionable.
"I testified that was true but that Owens also showed me pictures of men he was sleeping with. We were friends before he worked at city hall and what we did by sharing photos of men we had been with – was true," Duran said. "The difference was that I said he did not find it objectionable and that he never complained about it with HR.  Ever.
"Remember that Owens had NEVER filed a claim with the city about sexual harassment until he was walked out of city hall for unlawfully eavesdropping on his colleague.  Once that happened, he raised the issue of sexual harassment for the first time," Duran said.
The bigger issue, Duran said, is the culture clash happening right now. Older gay men who lived through the sexual liberation movement of the 1960s and 1970s are rooted in finally being free to no longer being ashamed of their desires as if they were perverse and evil and were emboldened to experience and express their sexuality in drag or leather or through safer sex during the AIDS crisis. They could flaunt their sexuality in the same way heterosexuals have flaunted their sexuality as the norm for years.
But today, with the MeToo movement re-shaping the culture, that open expression of sexuality has to be negotiated in many new ways.
"We haven't figured out how to talk to each other about it yet," Duran said. "We have to recalibrate and step up. But the younger generation never had to fight for their lives or fight for the right to sexual identity and culture. It is critical that we figure this out or we've going to have one generation constantly at the throats of another."
And meanwhile, with the loss of due process where an accusation is given more weight that the conclusion of an independent investigation, the Gay Men's Chorus is facing its final curtain.
Duran, who credits GMCLA for saving his life after he got sober in 1996 and joined the chorus in 1998, may be leaving before the end of his term this summer.
After years of being in the spotlight as a community leader or as an attorney representing an important client in a highly publicized case, Duran enjoyed being "one among many" as a member of the chorus. But the value of his fundraising, his board participation, and his membership has been besmirched by an accusation that was discredited and withdrawn but lives on in the rumor-mongering of those who wish him gone.
They may get their way—and with him goes several board members. And Weedman may also depart, taking with him several board members.
And then there is the expected decision by many foundations and corporate sponsors not to invest in an organization with any kind of controversy.
So that leaves GMCLA without a board chair, without a number of board members, without an executive director or Artistic Director and around $180,000 in debt with upcoming fundraisers, like the Voice Awards (the group's largest fundraiser) that will no doubt have to be cancelled.
And right now it appears that the 50 or so members leading this ouster, what Duran called a "coup d'etat," apparently have no plan other than to "burn it down and start all over. Well, it doesn't work that way."
Years ago, GMCLA stood up to AIDS and the hate-mongers but today, members apparently cannot stand up to or for their own.
– Troy Masters contributed to this story.
LAPD seeks public's help to find suspect in teen's fatal stabbing
Detectives believe the same suspect is involved in a separate assault with a deadly weapon cutting, on March 3, 2023, around 8:55 p.m.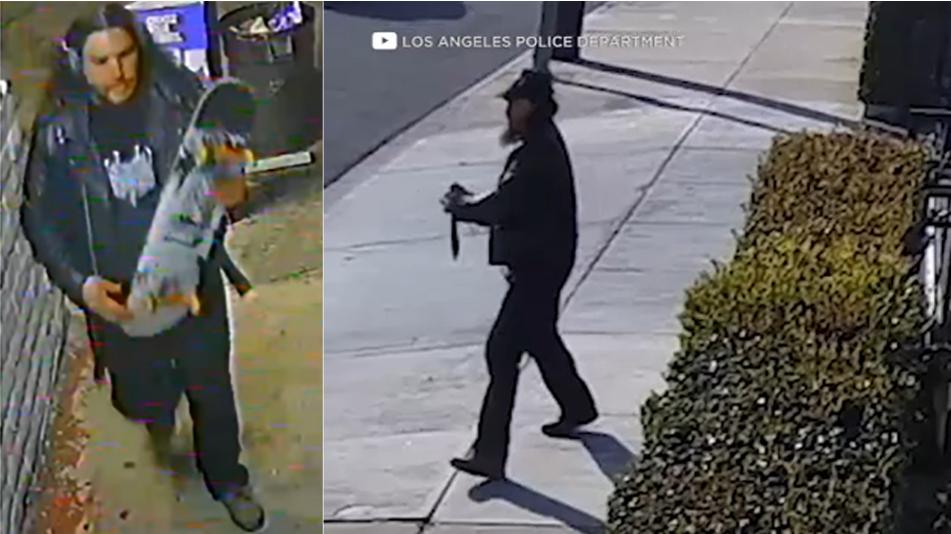 UPDATED WEDNESDAY 8 March: The LAPD announced that the man believed to be the suspect in the brazen fatal stabbing of Xavier Chavarin, a straight-A student who attended Woodrow Wilson High School, was taken into custody after barricading himself inside an Alhambra home.
LOS ANGELES – The Los Angeles Police Department's Central Bureau Homicide detectives are asking for the public's help in providing any information that would lead to the arrest of the suspect involved in the murder of a teenager.
Last Friday officers from the LAPD's Hollenbeck Station responded to a call of an assault with a deadly weapon at around 3:55 p.m. in the 4500 block of Valley Boulevard. When the officers arrived, they located a 17-year-old male victim suffering from stab wounds.
Los Angeles Fire Department paramedics responded to the scene and attempted to perform life saving measures, but unfortunately the victim succumbed to his injuries and was pronounced deceased at scene.
Xavier Chavarin, a straight-A student who attended Woodrow Wilson High School and was supposed to graduate this June, was waiting outside King Torta restaurant for his mother to pick him up.
Surveillance footage obtained by LAPD homicide investigators captured the suspect stabbing Chavarin. According to the LAPD, the unnamed suspect drove to the location exited his vehicle and approached the victim standing on the sidewalk. The suspect produced a large knife and stabbed the victim multiple times.
The suspect is described as a male Hispanic, long wavy black hair with a long beard, wearing a long black jacket with a black shirt underneath, black pants, black shoes, and a black baseball hat with white writing. The suspect's vehicle is described as a 1996-2001 Honda CR-V SUV, black in color.
In an interview with KABC 7, Los Angeles Unified School District Superintendent Alberto Carvalho said he was shocked by the attack and sent 10 additional counselors to Woodrow Wilson High School to comfort staff and students.
"I'm shocked, as the entire community should be shocked," Carvalho said. "When something goes wrong with a kid like that, the entire community should bow its head and think about what's happening in Los Angeles."
Chavarin's family has set up a GoFundMe to help pay for his funeral and memorial services.
Detectives believe the same suspect is involved in a separate assault with a deadly weapon cutting, on March 3, 2023, around 8:55 p.m. at the 5400 block of Valley Boulevard. The suspect approached the 33-year-old victim and stabbed him several times without saying anything. The suspect in this incident appears to wear the same clothing, however he was not wearing the baseball hat and he was riding a skateboard during his assault.
Detectives believe the same suspect is involved in a separate assault with a deadly weapon cutting, on March 3, 2023, around 8:55 p.m. at the 5400 block of Valley Boulevard. The suspect approached the 33-year-old victim and stabbed him several times without saying anything. The suspect in this incident appears to wear the same clothing, however he was not wearing the baseball hat and he was riding a skateboard during his assault.
Two Stabbings Leaves One Dead:
Anyone with additional information is urged to call Central Bureau Homicide Detective J. Calzadillas, or S. Ruiz at (213) 996-4116.
During non-business hours or on weekends, calls should be directed to 1-877-LAPD-24-7 (877-527-3247). Anyone wishing to remain anonymous should call the LA Regional Crime Stoppers at 1-800-222-TIPS (800-222-8477) or go directly to www.lacrimestoppers.org.
Tipsters may also visit www.lapdonline.org and click on "Anonymous Web Tips" under the "Get Involved-Crime Stoppers" menu to submit an online tip.
Lastly, tipsters may also download the "P3 Tips" mobile application and select the LA Regional Crime Stoppers as their local program.