Yes, Billy goes there on the Jussie Smollett case
And Bachelor Colton Underwood's #MeToo moment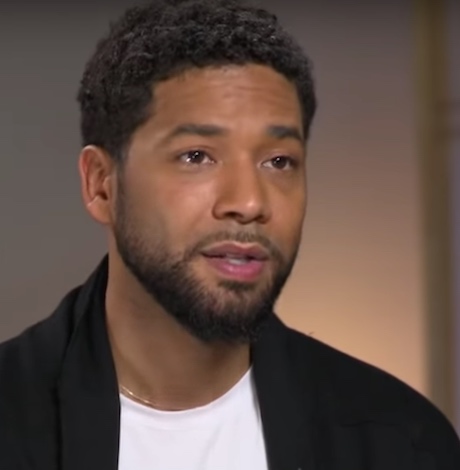 "In my situation with Bryan, it was not pleasant, not at all.  And that's about what I can say about it at this point." – Rami Malek on his working relationship with director Bryan Singer on "Bohemian Rhapsody".  
Pleasant or not, Singer's direction did result in Malek getting an Oscar nomination.
Jussie, Jussie, Jussie.  I tried. Really, I did. I wanted to believe that you had been attacked – not because I wanted anyone to harm you, but because I didn't want to think that anyone would stage such a thing.  I defended you when people I love and respect told me something about this story wasn't quite kosher. I looked the other way when asked to believe that you went to a Subway sandwich shop at 2 a.m.  I even fought every instinct I have to yell bullshit when you said you went there to buy a salad. But, damn, this is getting harder.
More and more evidence seems to be pointing to Jussie not only lying about the attack, but perhaps manufacturing it.  "We can confirm that the information received from the individuals questioned by police earlier in the 'Empire' case has in fact shifted the trajectory of the investigation," said the Chicago PD.  And who were those "individuals"?
"Nigerian" brothers Olabinjo and Abimbola Osundairo, are aspiring models and personal trainers.  In fact, one of them is Jussie's personal trainer, and one or both have appeared on "Empire"!
They claim that Jussie paid them $4,000 to stage the assault, which the trio rehearsed for days.  The police found some receipts in their apartment. The MAGA hat allegedly was purchased at Uptown Beauty Supply, while the rope allegedly put around Smollett's neck was purchased at Crafty Beaver Hardware Store – and if there's one thing you can be sure of, never cross a crafty beaver.  
According to the brothers, Jussie paid for those items.  
In case you don't believe they're credible, this little tidbit might change your mind – when the police told Jussie the two were in custody, he refused to press charges against them because he knew them and felt bad for them.  
Now, I dunno about feeling bad, but I'm feeling something since I came across some exceptionally hot shirtless pics of the brothers.  
I'm now wondering what else they may have done during those long rehearsals.
If the brothers' story ends up being true and Jussie orchestrated this whole debacle, he's done a huge disservice to everyone who has ever been attacked; everyone who is at risk of being attacked; everyone who feels marginalized, ostracized, and politicized.  And to come out after this "attack" and do a concert in West Hollywood to rally support from people who loved and stood by him…well, it's almost unforgivable.
But, people are innocent until proven guilty.  If all these twists and turns are wrong and Jussie was the victim…well, all I can say is, "Oops!"
You know who was really assaulted?  Our virginal "Bachelor", Colton Underwood.
Apparently his virtue was compromised at an event supporting his own charity.  During a fundraiser for The Legacy Foundation – which raises money for cystic fibrosis – people waited in line to take photos with the hunk.  
Allegedly, someone got a bit too handsy and the former football player felt…well, I'll let him tell you.  
"At one point during the event I was grabbed and touched inappropriately while people were throwing cameras in my face…I didn't sign up to be a piece of meat or a zoo animal."  I have two questions: 1) What is inappropriate after being on "The Bachelor"? and B) Isn't part of the job description of "The Bachelor" to be a piece of meat and a zoo animal?
Last weekend is a blur, because I was on a whirlwind 48-hour trip to NYC with Jenifer Lewis, who appeared as part of Lincoln Center's "American Songbook" series.  To call the event a triumph would be an understatement. One of the administrators congratulated Jenifer for bringing in the most diverse audience they've ever had.  Gays, straights, drag queens, and a rainbow of colors. I must single out the divalicious Flotilla Debarge, who helped out by running the meet-and-greet like clockwork.  And speaking of divas, the Divine Miss M was in attendance – you surely know that Jenifer was one of Bette's most beloved Harlettes. Midler cheered on her old friend, cried at some of the touching moments, and fist-pumped Lewis' activism.  It was all simply grand.
Since I was at Lincoln Center, I sauntered across the plaza and FINALLY saw the revival of "My Fair Lady".  I went primarily for the luminous Laura Benanti, who is fulfilling a lifelong dream by playing Eliza Doolittle.  To say the role fit like a glove isn't quite right – it was actually more like second skin. Obviously she can sing beautifully.  But, more than that – she acted the role to perfection. Her commitment is peerless and her ability is inestimable. Director Bartlett Sher's vision takes a serious look at gender roles and sexual dynamics.  It makes the show more timely than ever. Truly, it's impossible to fault anything in this luxurious production. The sets, the orchestra, the costumes, the cast – everything is simply perfection. In fact, if NBC is seriously looking for a family-friendly musical to do live, this is it – cast and all.  Having Harry Hadden-Paton opposite Benanti is a stroke of luck. Not only does he fit the traditional role of Higgins to a T, the duo's constantly evolving dynamics work on every level. And, what can one say about Rosemary Harris – it is simply an honor to be in her presence. Benanti has extended her run through July 7th, and it would be a crime to miss this piece of magic should you be in NYC.
If you have a question, drop me a line at [email protected] and I promise to get back to you before Bachelor Colton teams up with Terry Crews as spokesmen for the #MeToo movement.  
So, until next time, remember, one man's filth is another man's bible.
Bernal shines as real-life gay wrestler in 'Cassandro'
A polished, engaging film about a real-life figure that carries message of hope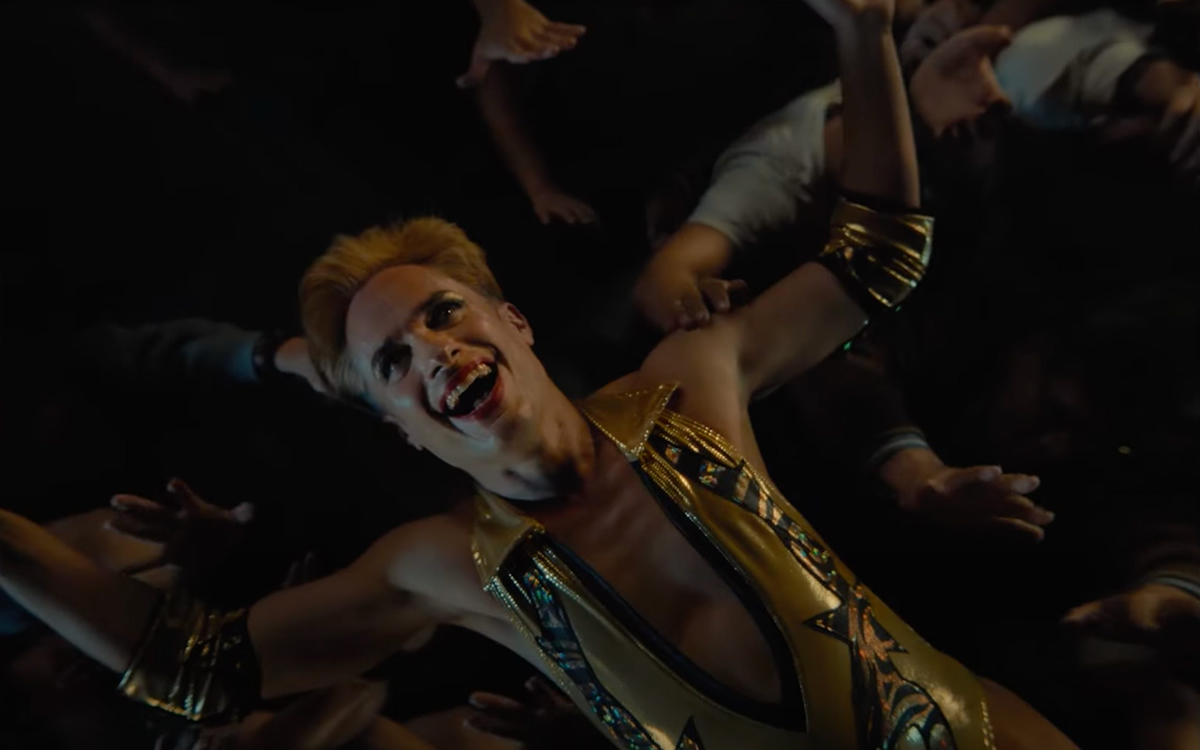 For most Americans, any knowledge of the Mexican wrestling style known as lucha libre is probably limited to what they gleaned from the 2006 Jack Black comedy "Nacho Libre," which (it should go without saying) is not a movie that anyone should consider "factual."
Now another movie about the subject has arrived, and this time it's not an anything-for-a-laugh fantasy but a biopic about a real luchador who rose to international fame in the 1980s and remains one of the most celebrated and popular figures in Mexican professional wrestling to this day.
The luchador in question is Saúl Armendáriz – better known to his fans as "Cassandro" – and the eponymously titled movie about his ascendency begins streaming on Amazon Prime Video Sept. 22 after a limited theatrical release on Sept. 15.
Directed by Roger Ross Williams (who may not be a household name but has the distinction of being the first Black director to receive an Oscar, thanks to the 2009 win of his "Music by Prudence" for Best Documentary Short), "Cassandro" stars Gael García Bernal – a longtime ally who became a queer fan-favorite thanks to his work in films like "Y tu mamá también" and "Bad Education" – as the openly gay Armendáriz and tells the story of his rise to fame in direct defiance of the culturally reinforced homophobia that permeated the professional environment of his field. Set in the 1980s, it follows the future superstar from the early days of his career, tracing his steps as he forges a path to success as an exótico – a wrestler who assumes a flamboyant persona based in queer (and largely homophobic) stereotypes – while simultaneously rising above the stigma of his sexuality and his impoverished upbringing to become a pioneering force in LGBTQ+ acceptance within the deeply traditional Latino culture to which he belonged.
Like most biopics, it also focuses on the personal: much of the film's first half is dominated by the relationship between Armendáriz and his mother, Yocasta (Perla De La Rosa), a professional "good-time girl" whose acceptance of his queer identity is absolute yet tempered by her fear for his well-being. There is also a long-running thread about his desire for approval from his father – a married man with a "legitimate" family in which he is decidedly not included – and the pattern in his personal life of repeating that dynamic in romantic relationships with unavailable lovers like closeted big-name luchador "El Comandante" (Raúl Castillo) and an apparently fluid but firmly "on the DL" associate named Felipe (Benito Antonio Martínez Ocasio, aka Puerto Rican rapper Bad Bunny for those unfamiliar with his "real" name) who clearly meets more than just his need for a reliable supplier of cocaine – it is the '80s, after all – while maintaining a strict-if-not-quite-convincing "no homo" stance.
Ultimately, though, as presented by first-time narrative feature director Williams (who co-wrote the screenplay with David Teague after previously covering Armendáriz' story in the 2016 documentary short "The Man Without a Mask"), "Cassandro" is driven by a narrative about overcoming and reclaiming the pejorative cultural tropes around queer sexuality and turning them on their ear as a means toward fully inhabiting queer identity. Blessed with a relatively supportive mother – a plainly-implied career sex worker who is depicted as much as a kindred spirit as she is a maternal figure – and comfortable enough in his own skin to flaunt his "deviance" in the public eye, the film's version of Armendáriz moves through a clearly defined arc toward self-acceptance on his own terms.
Much of this is mirrored, of course, in the tale of his accelerated rise to stardom, in which he wins the hearts of lucha libre fans enough to subvert the accepted formula that the exótico is always the loser, and reinforced by the ways in which he responds to the various long-term relationships in his life – some nurturing, some toxic – as his career trajectory helps him to recognize his own worth. In this way, "Cassandro" becomes a true-life tale of queer affirmation, the saga of a person who overcomes hardline traditional expectations and deep-rooted social prejudice to use his own queer identity as an avenue to personal empowerment.
That, of course, is exactly what it sets out to be: it's an unabashedly pro-queer narrative that brings the highest level of professional artistry into the mix, using it to convey that subtle blend of aloof observation and emotional engagement that can sometimes win viewers' hearts and minds.
In recognition of that artistry, the foremost acknowledgement must go to Bernal, who turns in a career-highlight performance as both Armendáriz and his over-the-top titular alter-ego, which requires an impressive display of physicality in addition to keen emotional intelligence. The actor is more than capable on both fronts, and while it would frankly be nice to see one of our queer heroes portrayed in a mainstream film by an actual queer actor, it's hard to complain when the actor is someone like Bernal, who finds within his own lived experience the authenticity to make it all ring true. Kudos are also deserved for both De La Rosa, who establishes an emotional core to the story that endures even after she leaves it, and openly-queer actor Roberta Colindrez as the trainer (and friend) that helps "Cassandro" conquer the world of professional lucha libre wrestling by literally flipping the script.
Still, though there is clearly a heartfelt desire to inspire behind the movie's portrayal of its hero's unlikely rise to glory, "Cassandro" doesn't quite deliver the kind of unequivocal "feel-good" validation for which it aims. There's something rote about the story as it's told to us; Armendáriz' success seems a foregone conclusion, and his personal struggles – though impeccably acted and depicted with sincerity – feel somehow manufactured for the sake of a desired emotional response. There's a sense of "Hollywood" about the film's approach, a deliberate framing of the material which makes this real-life success story seem much too easy, its subject's struggles too much like tropes to deliver the kind of authentic satisfaction the movie clearly aims for. Built on familiar formula, it all feels a little too predictable – especially for a saga centered in such a messy, wild-and-wooly environment as professional lucha libre. Yes, it inspires, but much of that is accomplished by playing to sentiment, by what seems a deliberate effort toward building and reaffirming a legend rather than revealing the real human experience behind it, and many details of Armendariz' real story are left out – a suicide attempt, a struggle with substance abuse, even the origin of his iconic stage name as a tribute to a brothel-keeper of whom he was fond – that might have made for a less-sanitized and much more interesting story.
Such quibbles, however, are probably a moot point for most viewers; while "Cassandro" might feel a little too hollow to satisfy completely, it's a polished, entertaining, and engaging film about a real-life figure that should – and does – carry a message of hope and transcendence for queer audiences.
Why would we ever complain about that?