Don't cruise down the 'Devil's Path'
or… Putting the gay in horror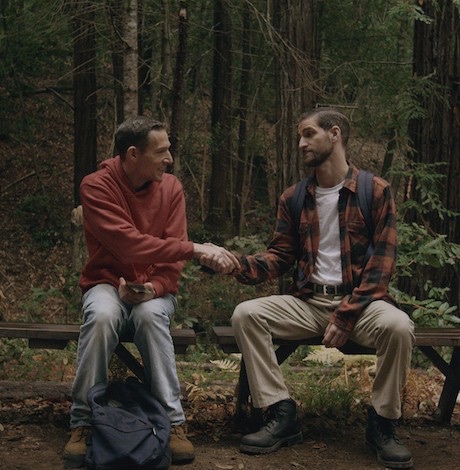 Going into the movie "Devil's Path," one's first thought might be that a film about cruising "IRL" seems a bit outdated in the age of Grindr.  For better or for worse, the days when going out to a park or a dark alley was the usual way to find an anonymous hook-up are essentially over.

Yet Matthew Montgomery's brooding thriller, which opens for a limited run in LA on March 1, takes place entirely on an isolated wilderness trail where gay men go to do exactly that; knowing that it is set in the early 90's – which you might not, unless you've already read a plot synopsis, since it's not immediately apparent from anything in the film's actual content – helps to explain why there are so many guys wandering around out there, but it doesn't really explain why it's the premise of a movie in 2019.

Of course, it's not really about the act of cruising itself, although it taps into the fears of anybody who has ever risked getting it on with a total stranger in a location where nobody can hear you scream; instead, it uses that situation as a premise to explore more existential matters – or, perhaps more accurately, how our individual beliefs affect our ability to connect as human beings.

The narrative takes place over the course of a single day and night at a hiking spot (the "Devil's Path" of the title), well-known as a gay cruising area, where several men have recently gone missing. Noah, a nervous and quirky misfit, is drawn to the handsome and confident Patrick, but they don't seem like a match, at first. When a pair of belligerent hikers begin to threaten them, however, the two are forced to flee into the woods together; with their very survival seemingly at stake, they must try and overcome the fundamental differences in their personalities and find a way to trust each other – something that grows increasingly difficult as their individual secrets and lies begin to be revealed.

Montgomery, who directed and co-wrote (with Stephen Twardokus, who also plays Noah), says the project was inspired by an actual hiking trail in the Catskills, considered one of the most difficult in the country.  He has said that he wanted the characters "to be trekking through rough terrain as a metaphor for their constant struggle with trying to connect."

It's an intriguing premise, if hardly an original one, and it serves to pique our interest in a story which is otherwise an exercise in horror movie formula – at least until it becomes heavy-handed, which happens pretty quickly.  Once the two men start talking about their opposing views on the existence of love, it becomes obvious that they are not so much characters as representatives for their ideological perspectives; couple that with the fact that neither of them are particularly likable – Noah is too sketchy to gain our unreserved sympathy, and Patrick has an arrogance that borders on nastiness – and we cease to care much about their fate before they've even been placed in danger.

Once that happens, watching the film becomes about figuring out what's really going on – a puzzle that Montgomery and Twardokus work hard at prolonging.  As we find out that neither character is entirely what they seem (not a surprise), we also begin to question the circumstances surrounding their peril – and where the real threat to their safety is coming from.  In this way, the movie starts to resemble one of those old-school mysteries where, fueled by implausible and previously undisclosed details of the backstory, one plot twist leads to another until the story ends up being something completely different from what it seemed to be at the beginning.  At best, when the writing is clever and doesn't take itself too seriously, such an approach is entertaining but gimmicky; at worst, it's a tiresome cheat.

That's especially disappointing in "Devil's Path," which ostensibly sets itself up to explore themes of self-inflicted queer isolation.  Its two protagonists (or are they antagonists?), each wrapped in a protective cloak of secrecy, offer a great opportunity to examine how a people can work together in a struggle against outside threats when they are individually plagued by the toxic baggage they carry from years of homophobia, shaming and abuse.  To put it another way, it could have been a look at how the LGBT community can avoid eating its own in the fight against those who would still see us repressed or worse.
Indeed, these ideas are evoked, whether by design or by accident; but they are quickly abandoned in favor of pursuing a bleak and convoluted psycho-drama which plays out all too predictably.

The thriller format also presents another opportunity – also unfortunately missed – to explore the conflict between self-preservation and sexual desire.  Almost from the first few frames, it's impossible not to make a connection between Montgomery's film and "Stranger by the Lake," Alain Guiraudie's taut and sexy 2013 French suspenser presenting an all-too-similar scenario in which a young man is unable to stop himself from hooking up with a handsome stranger who will more than likely kill him.  Guiraudie's movie, by relying on visual storytelling and keeping its dialogue sparse, is far more effective – both as a thriller and as a thematic contemplation – than Montgomery's, which devotes much of its screen time to wordy philosophical debates and overtly symbolic confrontations.

Of course, it's not fair to criticize a movie for not being another movie, nor for being what it is rather than what it could have been.  On its own merits, "Devil's Path" is reasonably well-crafted, and though it's too didactic to work as pure escapism, its engaging enough to hold your interest for its 90-minute runtime.  Twardokus is interesting to watch as Noah, and J.D. Scalzo overcomes Patrick's haughtiness enough to earn our sympathy by the end.

"Devil's Path" took home the Best First Narrative Feature award at San Diego's FilmOut LGBTQ film festival, as well as earning a Best Supporting Actor prize for Scalzo. It also made the rounds at other festivals, where it presumably did well enough to gain a distribution deal with Breaking Glass Pictures, who are releasing it into theatres before making it available on their VOD platform later in March.

Even if it isn't quite as gripping – or as thought-provoking – as it might have aspired to be, "Devil's Path" is worth your time and attention; at the very least, you'll be showing support for queer films and the queer artists who make them.  If you and yours enjoy creepy tales about being stalked in the woods, it might even be a fun date night.

Otherwise, you might want to hike down a different trail.
Turning pain into positive & using art as therapy – Carl Hopgood
He knew he wanted to embark on a path toward a "bold, exciting life" among other "creative people" while "doing amazing things and living"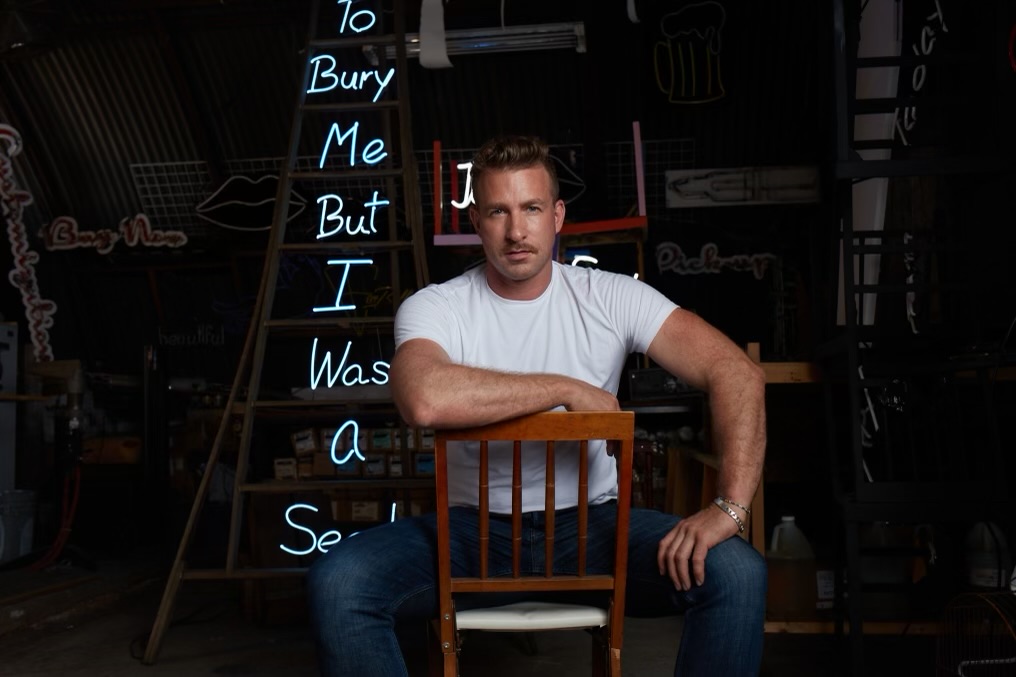 LOS ANGELES – Like many people born with an inclination toward creative expression, Carl Hopgood has known from a very young age that he wanted to be an artist.
Growing up on a small farm in rural Wales, the Cardiff-born Hopgood spent his childhood surrounded by animals and nature, letting his imagination run wild and creating worlds he envisioned with baskets, fruit boxes, flowers, stones, tabloid clippings, and other items that struck his fancy. Then, at 7, he was invited to spend an afternoon with his best friend, whose cousin was visiting; that cousin happened to be Richard Burton, and he happened to be accompanied by his even more famous wife, Elizabeth Taylor.
Hopgood was not just star-struck, he was inspired.
"My world was never the same after that day," he tells the Blade. "They told stories about Hollywood, London, glamorous parties, movies, photography… and Andy Warhol! Andy Warhol was my first artist crush. He was also born on a farm, so I felt an immediate connection."
After that experience, he knew he wanted to embark on a path toward a "bold, exciting life" among other "creative people" while "doing amazing things and living."

Four decades and one continental transplant later, it can safely be said that Hopgood has accomplished his goal.
A successfully established LA-based artist, he's created a unique body of work that includes pieces in Neon, Sculpture, Film / Video Installation, and canvas painting; his collectors include Morgan Freeman, Eugiono Lopez, The Vinik Family Foundation, The Groucho Club and Rupert Everett; and recent exhibitions of his work – like his neon art installations 'Looking For Love In All The Wrong Places', 'My Heart Is Open', and 'You Changed My Life' at the Maddox Gallery in West Hollywood, and 'Chair Therapy' at United Talent Agency's UTA Artspace LA – have garnered a flurry of enthusiasm and increasing national attention.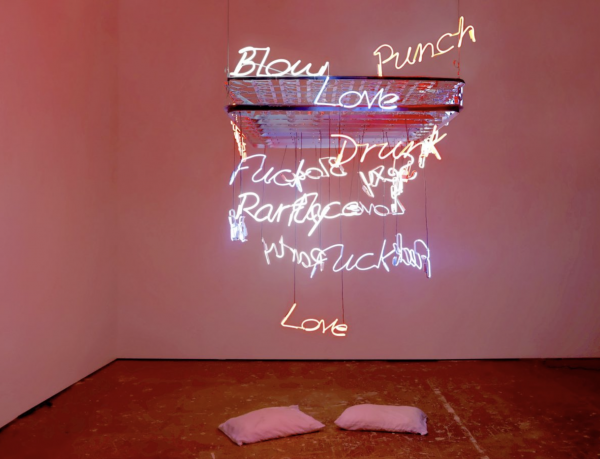 The latter installation created a particular stir with its inclusion of a controversial neon sculpture called "Just Say Gay", Hopgood's response to the draconian anti-LGBTQ legislation championed by Florida Governor Ron DeSantis; that work was acquired by prominent collector Beth Rudin DeWoody and will be on display from December 2023 at her Bunker Art Space in West Palm Beach, Florida.
When talking with the Blade, Hopgood is keen to focus the discussion on a new goal – the completion of a documentary about the creation of "Chair Therapy" – but he's certainly willing to start the conversation by talking about the sense of queer defiance behind "Just Say Gay" and many of his other works, because the two subjects go hand in hand.
"Being a gay man of Welsh and Greek heritage," he proudly proclaims, "the fight against bullying, repression, injustice and discrimination became central themes of my artistic expression."
As he explains, that fight is rooted in a traumatic childhood experience. "I was bullied by classmates," he remembers. "They would chase after me, push me to the ground and kick me in the groin. I managed to escape and found sanctuary under a stack of chairs in the school assembly hall. The school therapist helped me cope by using a technique called Empty Chair Therapy, where you would talk to an empty chair about your feelings.
"I decided turn this pain into something positive and use art as my therapy."

Much later, the young Hopgood would be inspired by the confrontational aesthetic of Damien Hirst – after reading a scathing criticism of one of his works in the paper – and follow in the controversial artist's footsteps to Goldsmiths College in London, eventually becoming part of a movement with fellow graduates like Steve McQueen, Jason Martin, Ceal Floyer, Angela De La Cruz and Alessandro Raho.
"It was an incredible moment to be a young artist in 1990s London."
Nevertheless, after 20 years in the London art scene, he decided it was time for a change.
"I had just watched a documentary featuring David Hockney," he explains. "The freedom and possibility of David's work was clearly inspired by Southern California with its beautiful palette and open, sunny skies. It was a stark contrast to the gloomy weather of the UK, and the anxiety and depression that accumulated over the years. I had heard about the growing LA art scene –LACMA, MOCA and The Broad were beginning to attract an international audience – and I decided that moving to Los Angeles would be good for both my mental health and creativity."
The choice was a fortuitous one for him – "It was the perfect time to go," he says, "and I was ready to work in new mediums and expand my repertoire." Then, like the rest of us, he had to put all his plans indefinitely up in the air.
"In early 2020, when the pandemic hit," he tells us, "I would see all the bars and restaurants shuttered in West Hollywood. It was like a ghost town. Looking through the store front windows, all I could see were chairs stacked on top of each other – and that image took me straight back to my unhappy childhood."
He decided to use it for inspiration and began work on the first sculpture in the "Chair Therapy" series ("My Heart is Open") – which as he describes, addresses "toxic masculinity, oppression and queer identity, themes I've always championed."
Those themes are doubtless also at least partly behind his desire to see the planned documentary – titled "Fragile World" – reach fruition. Filmed during the pandemic, it profiles Hopgood by charting his personal artistic journey, but centers on the development of "Chair Therapy", in which he combined found and vintage wooden chairs with neon lights shaped into positive words to provide hope, love and support for a community who were hardest hit by Covid and the shutdowns it necessitated.
"Seeing those stacked chairs and tables, in those empty establishments, I knew some would be forced to close for good. I felt so helpless, but I knew there was something I could do."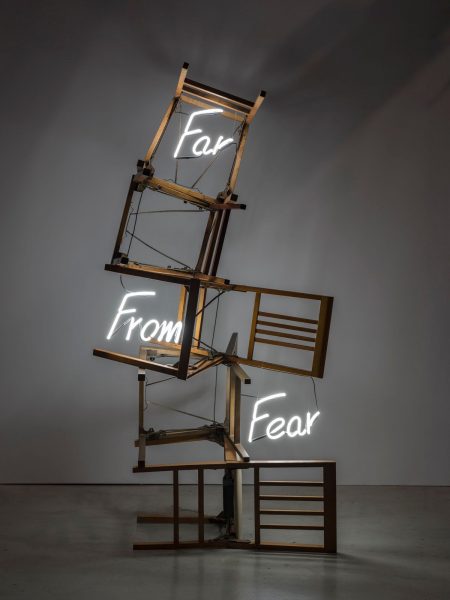 Now, with his own hard-hit community – alongside many others – facing aggressive legislative oppression from the extremist right, he's determined to see the film finished, so that the same empowering message of optimism embodied in his work can be spread to a larger audience as a reminder not to let the bullies break their spirit. To that end, the documentary's director and producer, LA-based British filmmaker Kate Rees Davies, has set up an Indiegogo campaign to raise the funding necessary to finish the project.
Another motivation, perhaps even more personal, might be found in Hopgood's revelation of a hidden influence in another work from the "Empty Chairs" series: "Twelve Steps", which explores the massive financial success of a California citrus industry made possible by the hard work of a segregated Mexican immigrant labor force. "I was also inspired in that piece by a line from Greek poet Dinos Christianopoulos," he says, "who was sidelined by the Greek literary community in the 1970s because he was gay. It's a small but powerful couplet which was included in the collection 'The Body and the Wormwood' that reads, 'What didn't you do to bury me, but you forgot that I was a seed.'"
For Hopgood, perhaps, the documentary also represents a seed, one that he himself has planted in hope of spreading its positive power into the world – and he's counting on the support of his patrons through Indiegogo for the water, light and nourishment it requires to grow.