Jussie Smollett, hate crimes, and the ignored white 'domestic terrorist'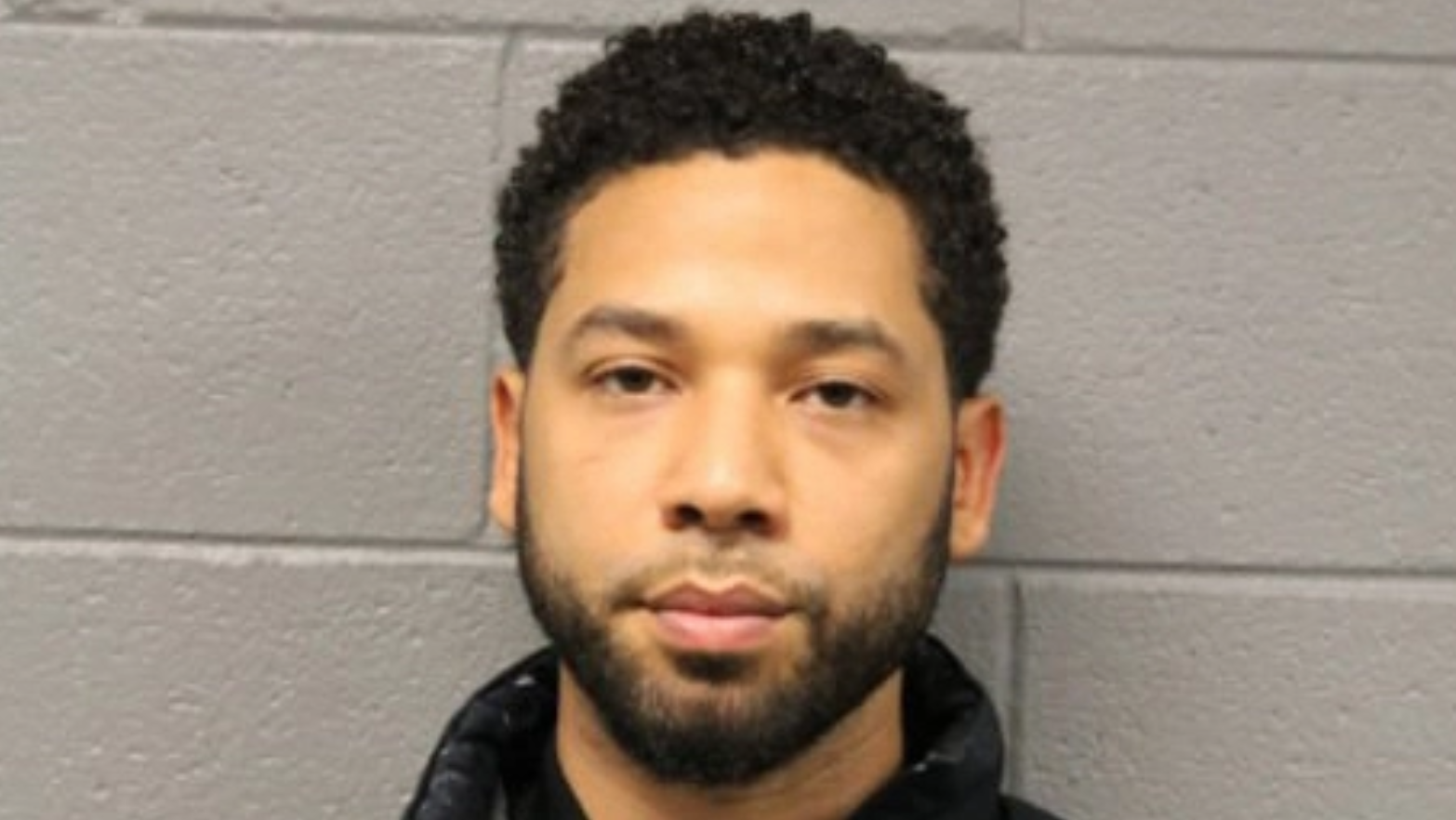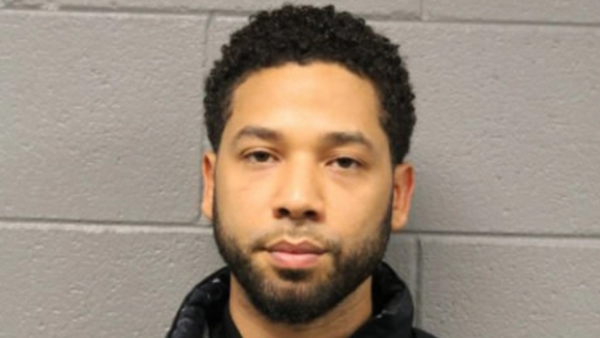 "Empire" actor Jussie Smollett was charged in Chicago Thursday on one felony count of disorderly conduct for filing a false police report. The judge set Smollett's bond at $100,000, which he posted almost immediately. The gay African American actor was then released from custody late afternoon, silently escorted by bodyguards through a gaggle of reporters as he left Cook County Jail.
"I am left hanging my head and asking, 'Why? Why would anyone, especially an African American man, use the symbolism of a noose to make false accusations?" Chicago Police Superintendent Eddie Johnson, also African American, fumed in the press conference earlier that morning, describing the rope Smollett alleged had been placed around his neck by attackers supposedly wearing MAGA hats and screaming racist and homophobic slurs.
"How could someone look at the hatred and suffering associated with that symbol and see an opportunity to manipulate that symbol to further his own public profile? How can an individual who has been embraced by the city of Chicago turn around and slap everyone in this city in the face by making these false claims?"
Johnson also said Smollett had faked a letter using racist and homophobic language a week prior to his alleged attack. When that didn't get him the attention he was apparently seeking – including from the FBI Chicago field office — Smollett then allegedly orchestrated the attack against him with the Osundairo brothers, who he knew. One brother was an extra on "Empire" and the other was Smollett's personal trainer. The actor allegedly paid the brothers $3,500 to stage the attack, apparently because Smollett was "dissatisfied with his salary," investigators claimed.
"Smollett took advantage of the pain and anger of racism to promote his career," Johnson said. "This publicity stunt was a scar that Chicago didn't earn, and certainly didn't deserve."
President Trump responded early to reports of Smollott 's emerging legal troubles, tweeting:

Trump tweeted nothing, however, about self-proclaimed white nationalist in Greenbelt, Maryland— U.S. Coast Guard Lieutenant Christoper Paul Hasson — who was arrested Friday, Feb. 15, on firearm and drug charges that prosecutors called "the proverbial tip of the iceberg," according to court documents. FBI agents arrested Hasson, 49, and found a stockpile of weapons and ammunition at his home in Silver Spring, Maryland. Hasson appeared before a US District Court Greenbelt Division judge for a detention hearing on Thursday.
"The defendant is a domestic terrorist, bent on committing acts dangerous to human life that are intended to affect governmental conduct," prosecutors wrote in court papers.  He is a white nationalist who "intends to murder innocent civilians on a scale rarely seen in this country."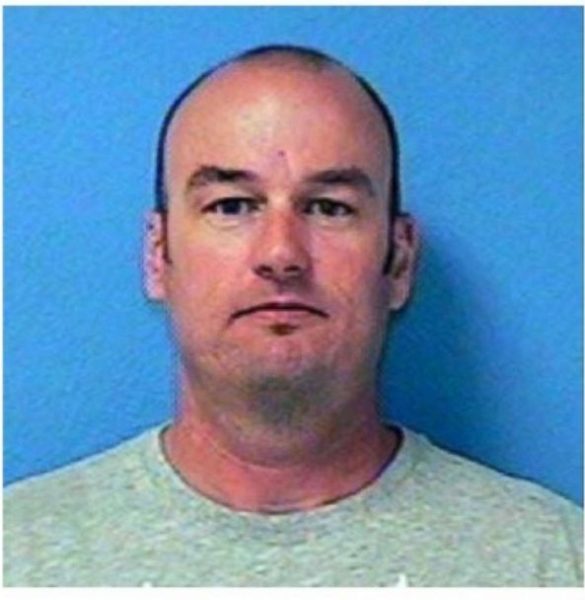 The U. S. attorney's office told Federal Magistrate Judge Charles Day that Hasson had drafted an email discussing biological attacks and had what appeared to be a hit list that included prominent California Democrats House Speaker Nancy Pelosi, Rep. Maxine Waters, and presidential candidate Sen. Kamala Harris. He also targeted media personalities such as gay CNN anchor Don Lemon.
Court filings indicate that Hasson has held white supremacist views for a while. In a September 2017 draft letter written to a neo-Nazi leader, Hasson "identified himself as a White Nationalist for over 30 years and advocated for 'focused violence' in order to establish a white homeland," prosecutors wrote in a court filing. In a June 2017 draft email, Hasson wrote that he was "dreaming of a way to kill almost every last person on the earth," and thought about how he could secure anthrax and toxins to create deadly biological attacks.
Hasson was ordered held without bail while federal prosecutors continue to gather evidence to support more serious charges involving what they characterized as a domestic terror plot.
Both the Smollett and Hasson incidents reflect an alarming trend that has occurred with greater frequency since 2016, especially in incidents involving the LGBTQ community, according to a number of hate crime experts.
As the effect of both cases continues to reverberate, the New York City Anti-Violence Project, in response to the Smollett case released this statement Thursday afternoon;
"The clients that walk into our offices every day are surviving a culture of violence against LGBTQ people, especially people of color and those of trans experience. It's unfortunate if anyone, especially someone with this large of a platform, would falsify any parts of a story of hate violence. Still, the reality is that far too many survivors aren't believed and don't get justice for the violence they experience.

That's why we are quick to affirm and believe survivors when they share their stories. For many LGBTQ people across this country, hate violence on the basis of their sexual orientation, gender identity, race, and a combination of all of those identities is a daily experience. Increasingly, these experiences with hate violence end up being fatal.

The reports collected through the National Coalition of Anti-Violence Programs show that the severity of violence reported by LGBTQ people has increased recently, and that those living under multiple forms of oppression face disproportionate rates of violence. These truths mustn't be overshadowed under these unique circumstances."
The LA LGBT Center also talked about hate crimes:
"The confusing and deeply unfortunate circumstances surrounding Jussie Smollett should not cloud the sobering facts about hate crimes in our nation. According to a report released by the Center for the Study of Hate and Extremism, hate crimes in our country's largest cities increased for the fifth consecutive year in 2018—with Los Angeles receiving its highest level of hate crime reports in a decade. Do not be distracted by Mr. Smollett's alleged staged attack. Hate crimes, particularly against people of color and the LGBT community, are real and on the rise. These facts should alarm all of us."
In fact, the Center on Hate and Extremism at California State University documented approximately two dozen confirmed or suspected instances of false reporting "hoaxes" of hate crimes from 2016 – 2018.
Speaking with the Los Angeles Blade Thursday afternoon, Heidi Beirich who leads the Southern Poverty Law Center's Intelligence Project, which publishes the award-winning Intelligence Report and the Hatewatch blog, said:
"While the FBI hate crimes statistics show a disturbing uptick in hate crimes being reported across the county and has reported an increased by 30 percent in the three-year period ending in 2017, we know that hate crime numbers are severely under-reported and an average of 250,000 people are victimized by hate crimes every year. The phenomenon of false reporting is rare and is a tiny number compared with the many thousands of hate crimes that the federal government says go unreported."
The Smollett case aside, some critics point to the attitudes expressed by Trump as a major contributing factor to the uptick in hate crimes with the president "giving the white supremacists and racists cover," one U.S. Justice Department official told the LA Blade under request of anonymity.
Smollett's attorneys, Todd Pugh and Victor Henderson, issued a statement to ET: "Like any other citizen, Mr. Smollett enjoys the presumption of innocence, particularly when there has been an investigation like this one where information, both true and false, has been repeatedly leaked. Given these circumstances, we intend to conduct a thorough investigation and to mount an aggressive defense."
The reaction to what appears to be a mound of evidence indicating that Smollett may have faked the hate crime to get attention varies, with many expressing profound disappointment while others are giving him the benefit of the doubt as he exercises his legal due process.
"This touches all the buttons," out GMA anchor Robin Roberts said on Thursday. "It's a setback for race relations, homophobia, MAGA supporters. I cannot think of another case where there is this anger on so many sides and you can understand why there would be."
Actor Wilson Cruz got into a heated exchange on Twitter. "Well, I know the character of the person which is why I find this very hard to believe," he tweeted. "I am, at the very least, going to give him his day in court. From what I remember from my high school civics class, it's THE AMERICAN THING TO DO."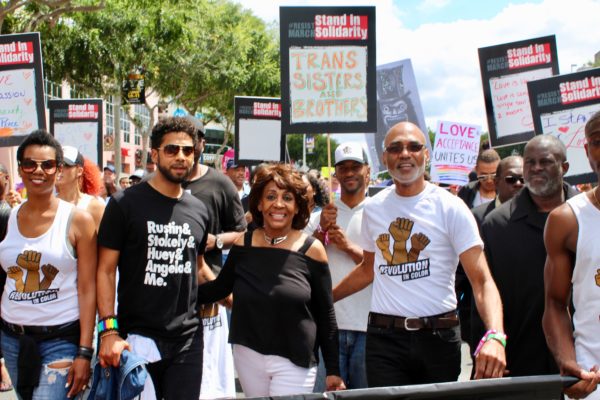 Longtime friends such as Phill Wilson are sticking by him. Wilson wrote on Facebook:
I have not previously spoken out publicly on the Jussie Smollett case because I couldn't bear to enter the social media feeding frenzy. I have no first-hand information about what happened to Jussie that night, but here is what I do know.

I met Jussie when he was 15 years old and I've developed a deep affection and respect for him. In the two decades that I've known him, he has always conducted himself with honesty, integrity, and basic decency. Long before Empire, before the fame, and before anyone in the public cared what he thought, said or did, Jussie volunteered his talent and time to helping people, raising awareness and money to fight HIV/AIDS in the US and South Africa. Once his career started to take off, Jussie expanded his activism and charity work to include dozens of non-profit causes. Jussie has been a tireless champion on behalf of LGBTQ people, Black people, immigrants, victims of gun violence, HBCUs and many others.

I also know the history of the Chicago Police Department, especially when it comes to Black folk. I know this not only from reading news stories and history books. I was born and raised in Chicago, and I watched a Chicago police officer lie under oath and accuse a member of my own family of a crime we were able to prove he did not commit.

I've worked with countless numbers of celebrities, elected officials and others over the years. I have never worked with anyone who was more willing than Jussie to lend his talent, time and money to help other people. Whatever the truth is, or whether we ever really find out the truth, our brother is in trouble. The current accusations are not consistent with the man I have known for over 20 years. I, for one, am not ready to abandon him.
And that is a concern—that victims of hate crimes may now fear coming forward. The LA LGBT Center offers help: "If you—or someone you know—have experienced an anti-LGBT hate crime, discrimination, harassment, or police misconduct, the Los Angeles LGBT Center can help protect and empower you. We provide comprehensive and affirming services, which includes assistance in filing a police report, to survivors of violence. For help or more information, contact the Center's Anti-Violence Project at [email protected] or 323-993-7673."
Staff reports contributed to this story
New York Governor Cuomo signs Gender Recognition Act into law
"New York continues to lead the way in ensuring LGBTQ people are treated equally in every part of the law and society"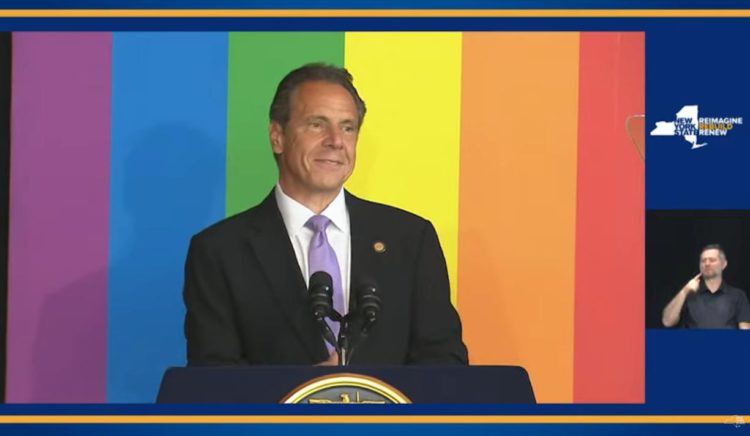 ALBANY, Ny. – New York Democratic Governor Andrew Cuomo signed into law the state's Gender Recognition Act Thursday. With a final push shepherded by openly gay New York State Assemblymember Daniel O'Donnell, (D), the New York State Assembly passed New York Senate Bill S4402 and its Assembly companion bill A5465, (GRA) two weeks ago in early June.
"Every New Yorker deserves to be free from discrimination and have state-issued identification and processes that respect them for who they are, recognize their gender identity and protect their safety," Governor Cuomo said. "New York continues to lead the way in ensuring LGBTQ people are treated equally in every part of the law and society, and this bill is another landmark that ensures New Yorkers can express ourselves for who we are."
On Wednesday, Lambda Legal and Governor Cuomo reached an agreement that puts on hold the lawsuit Lambda Legal filed on behalf of Sander Saba, a nonbinary transgender New Yorker seeking an "X" gender marker on their New York state driver's license. In exchange for putting Mx. Saba's lawsuit on hold, the State has committed to update its legacy computer system to be able to issue state ID cards and official driver's licenses with X gender markers by May 24, 2022.
"Lambda Legal applauds the signing of the Gender Recognition Act (GRA) into law, an important and long-awaited bill we strongly supported for years. […] This long-awaited law will remove the publication requirement for name changes, allow for a self-attestation system for DMV-issued IDs, including drivers' licenses, allow for gender-neutral X markers on state-issued IDs, and codify into law several recent legal wins by Lambda Legal and others such as allowing for self-attestation and X gender markers on NY State birth certificates, permitting corrections to the gender marker on minors' birth certificates, and permitting parents to correct the parent's name and gender on their child's birth certificate, among other important updates. We welcome Governor Cuomo signing this bill and hope the state continues to ensure all transgender, nonbinary, and gender non-conforming New Yorkers have access to correct documentation," Ethan Rice, Senior Attorney with the Fair Courts Project at Lambda Legal said.
"This change will bring New York up to date with the 19 other states and the District of Columbia that maintain policies respecting the lives of nonbinary people and giving them access to accurate identity documents and the ability to be fully themselves in their day-to-day lives," Rice added.
"We are thrilled to know that after years of advocacy, transgender and nonbinary people in New York now finally have many more of the critical protections we need. The Gender Recognition Act makes updating ID documents easier and less expensive by removing both the requirement for a doctor's note to change gender markers and the publishing requirement for court-ordered name changes" said Charlie Arrowood, the Transgender Legal Defense & Education Fund's  Name Change Project Counsel. "Having accurate ID documents that reflect who you are is critical for the health and safety of transgender and nonbinary New Yorkers."  
WATCH: Governor Cuomo Signs the Gender Recognition Act
Transgender immigrant activists march to White House
Marchers demanded end to ICE detention of trans, HIV-positive people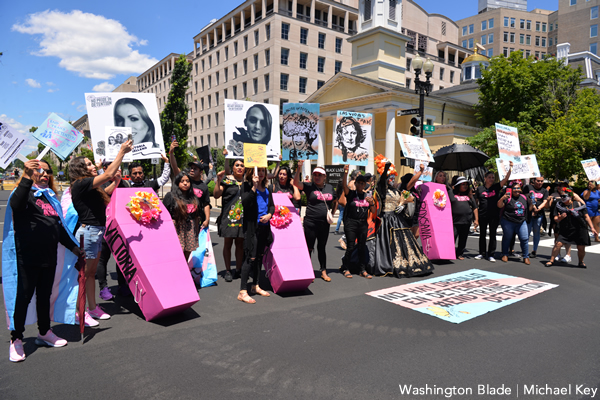 WASHINGTON — More than 100 people marched to the White House on Wednesday to demand the Biden administration end the detention of transgender people and people with HIV/AIDS in U.S. Immigration and Customs Enforcement facilities.
Casa Ruby CEO Ruby Corado and other marchers left National City Christian Church in Thomas Circle after organizers held a "funeral" for three trans women — Roxsana Hernández, Victoria Arellano and Johana "Joa" Medina Leon — who died while in ICE custody or immediately after the agency released them.
Hernández, a trans woman with HIV from Honduras, died in a hospital in Albuquerque, N.M., on May 25, 2018, while in ICE custody. Arellano, a trans woman with HIV from Mexico, passed away at a hospital in San Pedro, Calif., while in ICE custody.
ICE released Medina, a trans woman with HIV from El Salvador, from its custody on May 28, 2019, the same day it transferred her to a hospital in El Paso, Texas. Medina died three days later.
Hernández's family has filed a lawsuit against the federal government and the five private companies that were responsible for her care.
Isa Noyola, deputy director of Mijente, one of the immigrant advocacy groups that organized the march, emceed the "funeral." Noyola played a message that Hernández's nephew in Honduras recorded.
"The state does not recognize our humanity," said Noyola, who became emotional at several points during the service.
A press release that announced the events said 25 trans women who had previously been in ICE custody participated. They, along with other participants, blocked traffic at the intersection of 16th and H Streets, N.W., near Black Lives Matter Plaza for several minutes before they marched into Lafayette Square.
March participants also carried three pink coffins that represented Hernández, Arellano and Medina. They propped them up on a security fence along Pennsylvania Avenue before they staged a die-in.
The march took place a week after Mijente and seven other immigrant advocacy groups in a letter to Homeland Security Secretary Alejandro Mayorkas and acting ICE Director Tae Johnson demanded the release of all trans people and people with HIV who are in immigrant detention facilities.
The White House on Tuesday announced asylum seekers who saw their cases closed under the previous administration's "Remain in Mexico" policy will be allowed to enter the U.S. in order to pursue them. Vice President Kamala Harris, who traveled to Guatemala earlier this month, has also acknowledged anti-LGBTQ violence is one of the "root causes" of migration from Central America's Northern Triangle.
'Our only crime is to seek opportunities, to seek refuge'
Li An "Estrella" Sánchez, a trans woman from Mexico's Veracruz state who the U.S. has granted asylum, is among those who participated in the march.
She told the Los Angeles Blade during an interview in Lafayette Square after the march that she spent 13 months in ICE custody at three Georgia detention centers — the Atlanta City Detention Center, the Irwin County Detention Center and the Stewart Detention Center — before her release in 2013. Sánchez, who founded Community Estrella, an Atlanta-based organization that advocates for ICE detainees who identify as LGBTQ, said she and other trans ICE detainees face inadequate access to health and solitary confinement, among other things.
"I know first hand what they felt," said Sánchez, referring to the three trans women who died in ICE custody or immediately after their release. "I wouldn't wish it upon my worst enemy to be in a jail."
"Our only crime is to seek opportunities, to seek refuge, to seek protection, to seek security," she added.
Sánchez also had a message for President Biden.
"Listen, because the people are continuing the fight," said Sánchez. "You have promised to support the LGBT community and you are really forgetting the immigrant community."
Chaos erupts at Virginia school board meeting over trans students rights
Two people arrested, two others injured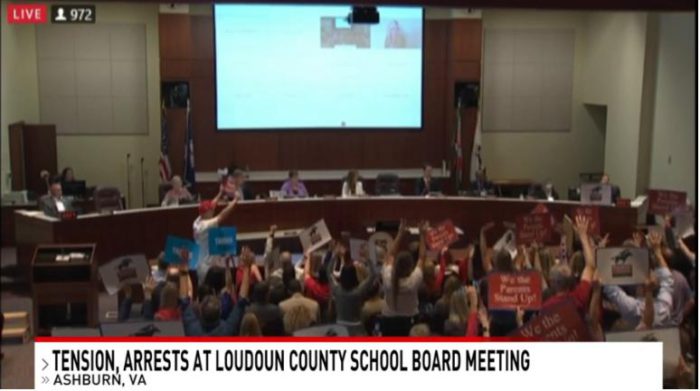 LEESBURG, Va. — The Loudoun County School Board abruptly ended its meeting Tuesday as chaos erupted after parents who were against the school district's implementation of Policy 8040 failed to observe rules regarding disruptions and decorum.
Loudoun Now reports Vice Chair Atoosa Reaser made the motion to curtail public comment about an hour after that portion of the meeting began. A brawl then broke out between members of the public, and Loudoun County Sheriff's Department deputies were called to clear the room.
Two people were arrested, and two people also suffered minor injuries. The names of those who were taken into custody and injured have not been made public.
The school board resumed its meeting at 6:30 p.m. after it ended the public comment session and deputies cleared the room. The school board entered into closed session to meet with legal counsel and discuss negotiations involving a bid award.
In light of the events that transpired at the school board meeting, a group of LGBTQ groups in neighboring Fairfax County in a statement called upon prominent community members to condemn the anti-transgender hate in Loudoun County.
"A coalition of organizations based in Northern Virginia is calling on local officials … to condemn the rise of anti-LGBTQIA+ hate, in particular animosity towards transgender and gender-expansive students, on display in Loudoun County," reads the statement
"In addition, the coalition is asking for the denouncement of support for this hate from other local groups, including the Fairfax County Republican Committee, the Family Foundation of Virginia and the Family Research Council," it adds. "Finally, the members of these organizations are requesting visible displays of support for LGBTQIA+ students, particularly trans and gender-expansive students, in both words and deeds."
More than 300 people attended the school board meeting, with many of them opposing Policy 8040 which would allow transgender students to use their preferred name and pronouns regardless of the name and gender in their permanent education record. The proposed policy would also not require them to provide any substantiating evidence.
Parents also expressed their support for Policy 8040 during the public comment session.
They spoke in favor of inclusivity and equality in the Loudoun County School District.
Parents who were against the policy cited the need to respect biology and privacy as their arguments. In addition, some speakers, including former state Sen. Dick Black expressed anger at the previous school year's events such as the suspension of physical education teacher Tanner Cross after he refused to refer to trans students using their preferred pronouns.
"The crowd repeatedly cheered public speakers who lashed out at school board members and denounced the plan that would provide bathroom and locker room access based on a student's gender identity," WTOP News reports.
Only 51 of the 249 speakers who had signed up for public comment ended up speaking before Reaser's motion was passed.