Jussie Smollett, hate crimes, and the ignored white 'domestic terrorist'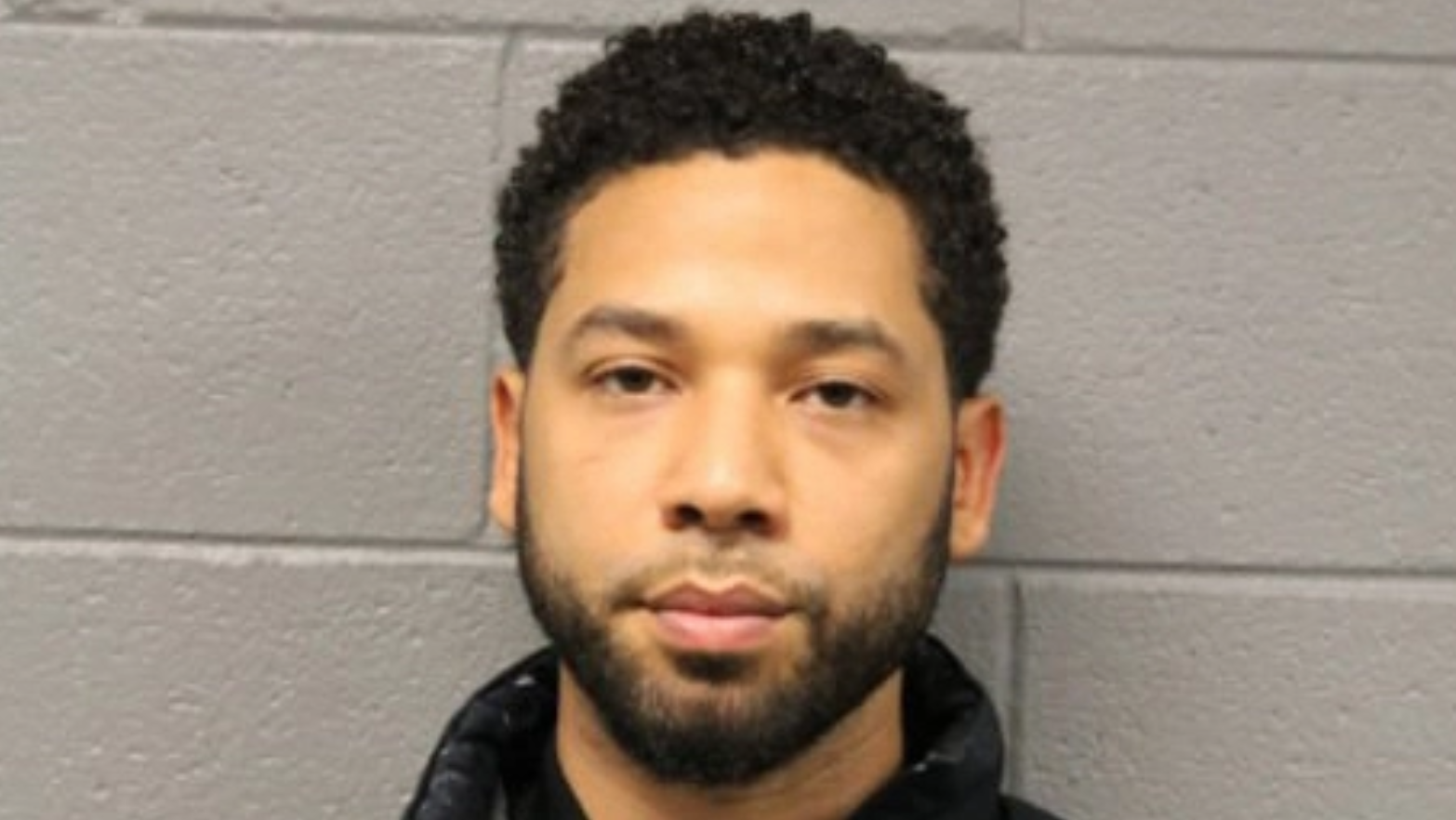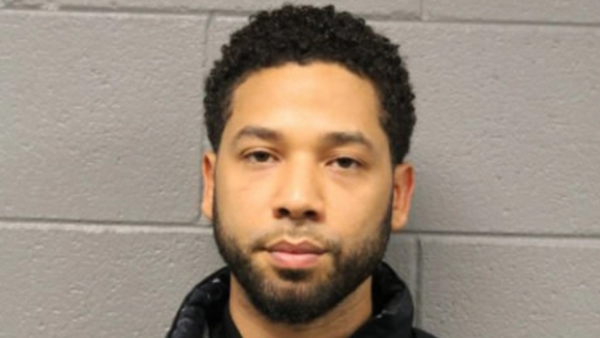 "Empire" actor Jussie Smollett was charged in Chicago Thursday on one felony count of disorderly conduct for filing a false police report. The judge set Smollett's bond at $100,000, which he posted almost immediately. The gay African American actor was then released from custody late afternoon, silently escorted by bodyguards through a gaggle of reporters as he left Cook County Jail.
"I am left hanging my head and asking, 'Why? Why would anyone, especially an African American man, use the symbolism of a noose to make false accusations?" Chicago Police Superintendent Eddie Johnson, also African American, fumed in the press conference earlier that morning, describing the rope Smollett alleged had been placed around his neck by attackers supposedly wearing MAGA hats and screaming racist and homophobic slurs.
"How could someone look at the hatred and suffering associated with that symbol and see an opportunity to manipulate that symbol to further his own public profile? How can an individual who has been embraced by the city of Chicago turn around and slap everyone in this city in the face by making these false claims?"
Johnson also said Smollett had faked a letter using racist and homophobic language a week prior to his alleged attack. When that didn't get him the attention he was apparently seeking – including from the FBI Chicago field office — Smollett then allegedly orchestrated the attack against him with the Osundairo brothers, who he knew. One brother was an extra on "Empire" and the other was Smollett's personal trainer. The actor allegedly paid the brothers $3,500 to stage the attack, apparently because Smollett was "dissatisfied with his salary," investigators claimed.
"Smollett took advantage of the pain and anger of racism to promote his career," Johnson said. "This publicity stunt was a scar that Chicago didn't earn, and certainly didn't deserve."
President Trump responded early to reports of Smollott 's emerging legal troubles, tweeting:

Trump tweeted nothing, however, about self-proclaimed white nationalist in Greenbelt, Maryland— U.S. Coast Guard Lieutenant Christoper Paul Hasson — who was arrested Friday, Feb. 15, on firearm and drug charges that prosecutors called "the proverbial tip of the iceberg," according to court documents. FBI agents arrested Hasson, 49, and found a stockpile of weapons and ammunition at his home in Silver Spring, Maryland. Hasson appeared before a US District Court Greenbelt Division judge for a detention hearing on Thursday.
"The defendant is a domestic terrorist, bent on committing acts dangerous to human life that are intended to affect governmental conduct," prosecutors wrote in court papers.  He is a white nationalist who "intends to murder innocent civilians on a scale rarely seen in this country."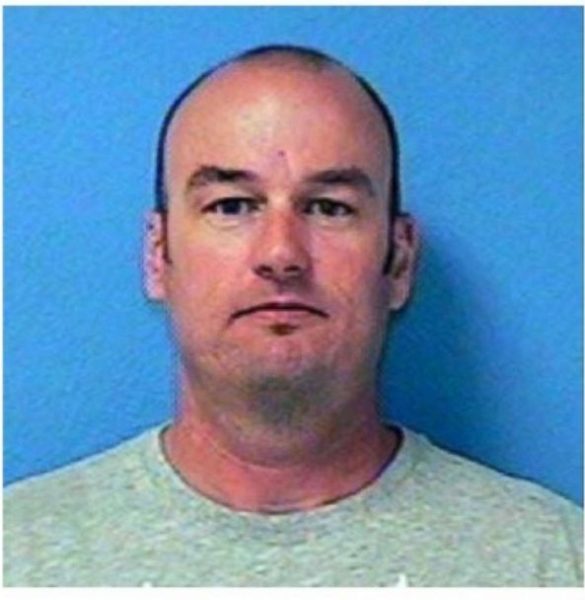 The U. S. attorney's office told Federal Magistrate Judge Charles Day that Hasson had drafted an email discussing biological attacks and had what appeared to be a hit list that included prominent California Democrats House Speaker Nancy Pelosi, Rep. Maxine Waters, and presidential candidate Sen. Kamala Harris. He also targeted media personalities such as gay CNN anchor Don Lemon.
Court filings indicate that Hasson has held white supremacist views for a while. In a September 2017 draft letter written to a neo-Nazi leader, Hasson "identified himself as a White Nationalist for over 30 years and advocated for 'focused violence' in order to establish a white homeland," prosecutors wrote in a court filing. In a June 2017 draft email, Hasson wrote that he was "dreaming of a way to kill almost every last person on the earth," and thought about how he could secure anthrax and toxins to create deadly biological attacks.
Hasson was ordered held without bail while federal prosecutors continue to gather evidence to support more serious charges involving what they characterized as a domestic terror plot.
Both the Smollett and Hasson incidents reflect an alarming trend that has occurred with greater frequency since 2016, especially in incidents involving the LGBTQ community, according to a number of hate crime experts.
As the effect of both cases continues to reverberate, the New York City Anti-Violence Project, in response to the Smollett case released this statement Thursday afternoon;
"The clients that walk into our offices every day are surviving a culture of violence against LGBTQ people, especially people of color and those of trans experience. It's unfortunate if anyone, especially someone with this large of a platform, would falsify any parts of a story of hate violence. Still, the reality is that far too many survivors aren't believed and don't get justice for the violence they experience.

That's why we are quick to affirm and believe survivors when they share their stories. For many LGBTQ people across this country, hate violence on the basis of their sexual orientation, gender identity, race, and a combination of all of those identities is a daily experience. Increasingly, these experiences with hate violence end up being fatal.

The reports collected through the National Coalition of Anti-Violence Programs show that the severity of violence reported by LGBTQ people has increased recently, and that those living under multiple forms of oppression face disproportionate rates of violence. These truths mustn't be overshadowed under these unique circumstances."
The LA LGBT Center also talked about hate crimes:
"The confusing and deeply unfortunate circumstances surrounding Jussie Smollett should not cloud the sobering facts about hate crimes in our nation. According to a report released by the Center for the Study of Hate and Extremism, hate crimes in our country's largest cities increased for the fifth consecutive year in 2018—with Los Angeles receiving its highest level of hate crime reports in a decade. Do not be distracted by Mr. Smollett's alleged staged attack. Hate crimes, particularly against people of color and the LGBT community, are real and on the rise. These facts should alarm all of us."
In fact, the Center on Hate and Extremism at California State University documented approximately two dozen confirmed or suspected instances of false reporting "hoaxes" of hate crimes from 2016 – 2018.
Speaking with the Los Angeles Blade Thursday afternoon, Heidi Beirich who leads the Southern Poverty Law Center's Intelligence Project, which publishes the award-winning Intelligence Report and the Hatewatch blog, said:
"While the FBI hate crimes statistics show a disturbing uptick in hate crimes being reported across the county and has reported an increased by 30 percent in the three-year period ending in 2017, we know that hate crime numbers are severely under-reported and an average of 250,000 people are victimized by hate crimes every year. The phenomenon of false reporting is rare and is a tiny number compared with the many thousands of hate crimes that the federal government says go unreported."
The Smollett case aside, some critics point to the attitudes expressed by Trump as a major contributing factor to the uptick in hate crimes with the president "giving the white supremacists and racists cover," one U.S. Justice Department official told the LA Blade under request of anonymity.
Smollett's attorneys, Todd Pugh and Victor Henderson, issued a statement to ET: "Like any other citizen, Mr. Smollett enjoys the presumption of innocence, particularly when there has been an investigation like this one where information, both true and false, has been repeatedly leaked. Given these circumstances, we intend to conduct a thorough investigation and to mount an aggressive defense."
The reaction to what appears to be a mound of evidence indicating that Smollett may have faked the hate crime to get attention varies, with many expressing profound disappointment while others are giving him the benefit of the doubt as he exercises his legal due process.
"This touches all the buttons," out GMA anchor Robin Roberts said on Thursday. "It's a setback for race relations, homophobia, MAGA supporters. I cannot think of another case where there is this anger on so many sides and you can understand why there would be."
Actor Wilson Cruz got into a heated exchange on Twitter. "Well, I know the character of the person which is why I find this very hard to believe," he tweeted. "I am, at the very least, going to give him his day in court. From what I remember from my high school civics class, it's THE AMERICAN THING TO DO."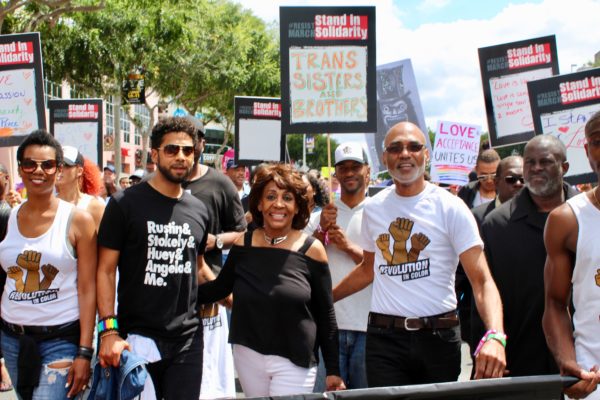 Longtime friends such as Phill Wilson are sticking by him. Wilson wrote on Facebook:
I have not previously spoken out publicly on the Jussie Smollett case because I couldn't bear to enter the social media feeding frenzy. I have no first-hand information about what happened to Jussie that night, but here is what I do know.

I met Jussie when he was 15 years old and I've developed a deep affection and respect for him. In the two decades that I've known him, he has always conducted himself with honesty, integrity, and basic decency. Long before Empire, before the fame, and before anyone in the public cared what he thought, said or did, Jussie volunteered his talent and time to helping people, raising awareness and money to fight HIV/AIDS in the US and South Africa. Once his career started to take off, Jussie expanded his activism and charity work to include dozens of non-profit causes. Jussie has been a tireless champion on behalf of LGBTQ people, Black people, immigrants, victims of gun violence, HBCUs and many others.

I also know the history of the Chicago Police Department, especially when it comes to Black folk. I know this not only from reading news stories and history books. I was born and raised in Chicago, and I watched a Chicago police officer lie under oath and accuse a member of my own family of a crime we were able to prove he did not commit.

I've worked with countless numbers of celebrities, elected officials and others over the years. I have never worked with anyone who was more willing than Jussie to lend his talent, time and money to help other people. Whatever the truth is, or whether we ever really find out the truth, our brother is in trouble. The current accusations are not consistent with the man I have known for over 20 years. I, for one, am not ready to abandon him.
And that is a concern—that victims of hate crimes may now fear coming forward. The LA LGBT Center offers help: "If you—or someone you know—have experienced an anti-LGBT hate crime, discrimination, harassment, or police misconduct, the Los Angeles LGBT Center can help protect and empower you. We provide comprehensive and affirming services, which includes assistance in filing a police report, to survivors of violence. For help or more information, contact the Center's Anti-Violence Project at [email protected] or 323-993-7673."
Staff reports contributed to this story
On 49th anniversary of Roe v. Wade- is it the last? Biden & others weigh in
The whole country is waiting for the Supreme Court to decide on one of the most serious challenges to abortion rights since the Roe v. Wade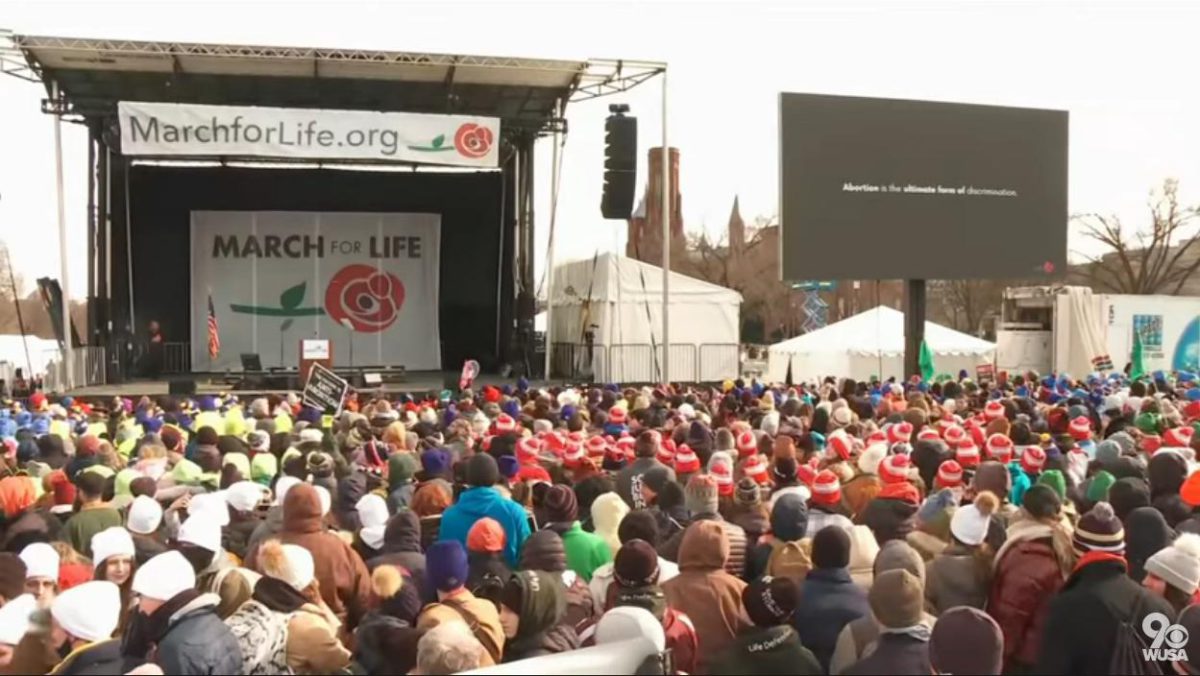 WASHINGTON – As thousands gathered on the National Mall in D.C. Friday for the annual anti-abortion 'March for Life March and Rally 2022,' there were signs among the speakers and the participants gathered of a renewed sense of optimism that with a pending Supreme Court case, this year maybe the last annual gathering as the court looks poised to overturn Roe v. Wade.
"We are hoping and praying that this year, 2022, will bring a historic change for life," Jeanne Mancini, president of the March for Life Education and Defense Fund, said at the event, The Associated Press reported.
A large portion of the crowd during the March for Life rally on Friday was made up of young people, with some holding signs saying they were the "pro-life generation."
The whole country is waiting for the Supreme Court to decide on one of the most serious challenges to abortion protections that the institution heard since the Roe v. Wade decision 49 years ago, which gave women the constitutional right to abortion.
The justices of the U.S. Supreme Court heard oral arguments this past December, in Dobbs v. Jackson Women's Health Organization, a case involving a Mississippi law that bans nearly all abortions after 15 weeks of pregnancy.
Mississippi's Gestational Age Act, passed in 2018 but has been blocked by two lower federal courts, allows abortion after 15 weeks "only in medical emergencies or for severe fetal abnormality" and has no exception for rape or incest. If doctors perform abortions outside the parameters of the law, they will have their medical licenses suspended or revoked and may be subject to additional penalties and fines.
The lack of access is felt most heavily by marginalized people, says Kari White, a sociologist at the University of Texas at Austin and researcher with the Mississippi Reproductive Health Access Project. She was the lead author of a study published last month in the journal Contraception that found that Mississippians were more likely to wait longer for an abortion if they were low-income or Black, NPR reported.
In an analysis published by SCOTUS blog, Amy Howe noted;
If the justices overturn Roe and Casey, the Guttmacher Institute estimates that 26 states (including Mississippi) will implement complete bans on abortion. Although the stakes in the case are thus obviously high, Mississippi takes pains to assure the justices that overruling Roe and Casey would not have ripple effects beyond abortion rights. It distinguishes abortion from other constitutionalized privacy interests, such as interracial marriage and same-sex marriage, saying that those interests – unlike abortion – do not involve the "purposeful termination of a potential life."
In a statement to the Los Angeles Blade after the oral arguments in Dobbs v. Jackson Women's Health Organization last December had concluded, Shannon Minter, the Legal Director for the National Center for Lesbian Rights (NCLR) warned;
"[Today's] arguments should be a wakeup call for LGBTQ people. We must face the reality of a Supreme Court packed by one of the most reactionary presidents of our time, and we must get serious about passing a federal law that protects basic rights and liberties for our community. If you care about LGBTQ equality, it is essential as never before to do everything within your power to elect fair-minded local, state, and federal officials and to engage in real dialogue with those who do not yet fully understand or support LGBTQ people. We do not have the luxury of disengagement or passivity. If you are not actively involved in supporting a federal civil rights law for LGBTQ people, you are part of the problem."
Minter further cautioned;
"While restrictions on abortion primarily harm women, they also compound the challenges that trans men and nonbinary people already face in accessing gynecological and reproductive health care. Being a trans man or a nonbinary individual who needs an abortion is often a nightmare even in jurisdictions that support reproductive freedom. In places like Texas, which are making abortions inaccessible to anyone, it is terrifying,"
"My heart goes out to the trans and nonbinary people who are living in fear, praying they never need this care, and that if they do, they can find a way out of the state. And for those who know they can't afford to travel or pay for out-of-state care, there is no hope," he added.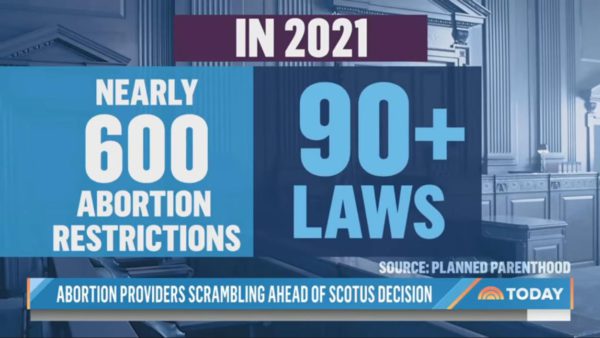 President Joe Biden and Vice President Kamala Harris released a joint statement Saturday commemorating the 49th anniversary of the landmark Supreme Court decision Roe v. Wade;
The constitutional right established in Roe v. Wade nearly 50 years ago today is under assault as never before. It is a right we believe should be codified into law, and we pledge to defend it with every tool we possess. We are deeply committed to protecting access to health care, including reproductive health care—and to ensuring that this country is not pushed backwards on women's equality.
In recent years, we have seen efforts to restrict access to reproductive health care increase at an alarming rate. In Texas, Mississippi, and many other states around the country, access to reproductive health care is under attack. These state restrictions constrain the freedom of all women. And they are particularly devastating for those who have fewer options and fewer resources, such as those in underserved communities, including communities of color and many in rural areas.
The Biden-Harris Administration strongly supports efforts to codify Roe, and we will continue to work with Congress on the Women's Health Protection Act. All people deserve access to reproductive health care regardless of their gender, income, race, zip code, health insurance status, immigration status, disability, or sexual orientation. And the continued defense of this constitutional right is essential to our health, safety, and progress as a nation.
We must ensure that our daughters and granddaughters have the same fundamental rights that their mothers and grandmothers fought for and won on this day, 49 years ago—including leaders like the late Sarah Weddington, whose successful arguments before the Supreme Court led to the landmark Roe v. Wade decision in 1973.
At this pivotal moment, we recommit to strengthening access to critical reproductive health care, defending the constitutional right established by Roe, and protecting the freedom of all people to build their own future.
A recent poll conducted by CNN found that a large majority of Americans — almost 70 percent — said that they oppose overturning Roe v. Wade. Thirty percent of respondents said that they supported the move.
New GOP majority city council to repeal LGBTQ+ law in Pennsylvania
"I don't know of any reasons for repealing it other than a political move […] This issue should not be politicized"
CHAMBERSBURG – The council of this central Pennsylvania borough (town) will meet on Monday, January 24 for a likely vote to repeal an ordinance passed this last October that safeguards residents against discrimination based on their sexual orientation, ethnicity or gender identity.
Opposition to the ordinance is led by newly installed borough council president Allen Coffman, a Republican. In an interview with media outlet Penn Live Saturday, Coffman said, "All of us that ran in this election to be on council we think we got a mandate from the people," he said. "People we talked to when we were campaigning did not like this ordinance at all. I don't know what the vote will be, but I have a pretty good idea."
The political makeup of the council changed with the November municipal election, which ushered in a 7-3 Republican majority.
The ordinance, which extends protections against discrimination to gay, transgender or genderqueer people in employment, housing and public accommodations, was passed in October by the then-Democratic majority council, Penn Live reported.
"I don't know of any reasons for repealing it other than a political move," said Alice Elia, a Democrat and the former Chambersburg borough council president. "This issue should not be politicized. It's an issue of justice and having equal protection for everybody in our community. It shouldn't be a political or a Democratic or Republican issue. This should be something we are all concerned about."
Coffman told Penn Live that the ordinance serves no purpose and is redundant. He points out that Pennsylvania's Human Relations Commission handles discrimination complaints from residents across the state.
"There are no penalties, no fines," he said. "There's nothing that the ordinance can make someone do. The most they can hope for is that the committee request the two parties to sit down with a counselor or mediator and talk about it. Quite frankly there is nothing that compels them to. There's no teeth in this."
Penn Live's Ivey DeJesus noted if Chambersburg succeeds in repealing the ordinance, it would mark the first time an LGBTQ inclusive law is revoked in Pennsylvania. To date, 70 municipalities have ratified such ordinances.
The Commonwealth of Pennsylvania is one of the 27 states in the nation that have no explicit statewide laws protecting people from discrimination on the basis of sexual orientation or gender identity in employment, housing and public accommodations.
Central Pa. borough poised to become first to repeal LGBTQ protections https://t.co/ZFpDOfRivw

— PennLive.com (@PennLive) January 22, 2022
Virginia Republican lawmaker introduces anti-Trans youth sports bill
Under the bill, male students are not permitted to participate on any school athletic team or squad designated for 'females'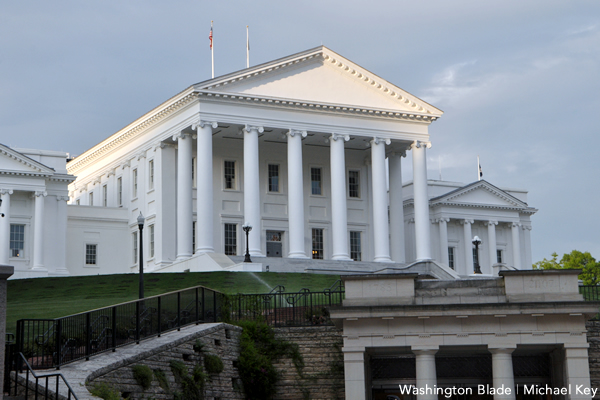 RICHMOND – A Virginia lawmaker has introduced a bill that would ban transgender students from joining school sports teams that are consistent with their gender identity.
Senate Bill 766, which state Sen. Jennifer Kiggans (R-Virginia Beach) introduced on Friday, would require "each elementary or secondary school or a private school that competes in sponsored athletic events against such public schools to designate athletic teams, whether a school athletic team or an intramural team sponsored by such school, based on biological sex as follows: (i) 'males,' 'men,' or 'boys'; (ii) 'females,' 'women,' or 'girls'; or (iii) 'coed' or 'mixed.'"
"Under the bill, male students are not permitted to participate on any school athletic team or squad designated for 'females,' 'women,' or 'girls'; however, this provision does not apply to physical education classes at schools," adds the bill. "The bill provides civil penalties for students and schools that suffer harm as a result of a violation of the bill. Such civil actions are required to be initiated within two years after the harm occurred."
Kiggans introduced her bill less than a week after Republican Gov. Glenn Youngkin took office.
Youngkin during his campaign said he does not support allowing trans children to play on sports teams that are consistent with their gender identity. Elizabeth Schultz, an anti-LGBTQ former member of the Fairfax County School Board, has been named the Virginia Department of Education's Assistant Superintendent of Public Instruction.
The General Assembly's 2022 legislative session began on Jan. 12 with Republicans in control of the state House of Delegates. Democrats still control the state Senate, and they have pledged to thwart any anti-LGBTQ bills.
"Let's be clear: This is part of an ongoing, nationwide effort to exclude trans people from enjoying the benefits of sports like their cisgender peers," tweeted the American Civil Liberties Union of Virginia on Friday after Kiggans introduced SB 766. "We won't tolerate this.
🚨ATTN: SB 766 to ban trans kids in Virginia from participating in sports has just dropped.

Let's be clear: This is part of an ongoing, nationwide effort to exclude trans people from enjoying the benefits of sports like their cisgender peers. We won't tolerate this. pic.twitter.com/oSDMvyewge

— ACLU of Virginia (@ACLUVA) January 21, 2022