February 26, 2019 at 10:02 pm PST | by Karen Ocamb
Kamala Harris calls Trump a racist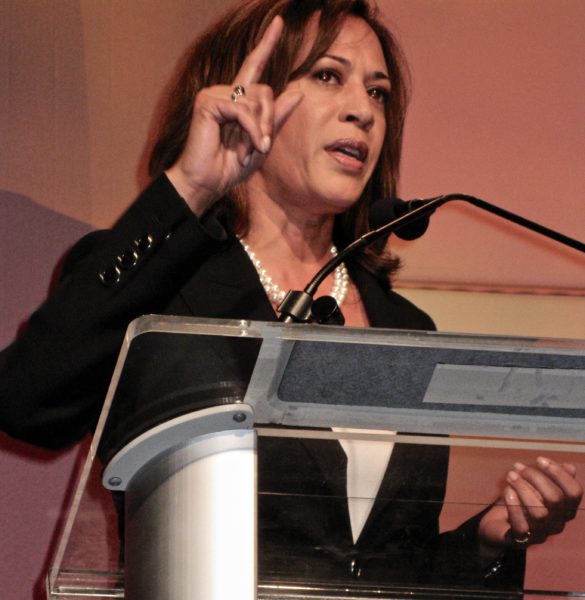 With Donald Trump's long history of racial remarks, it's a question his 2020 presidential challengers can expect to get during their campaigns: is President Trump a racist? On Feb. 26, Sen. Kamala Harris, the popular Californian running for the Democratic presidential nomination in 2020, said yes.
"When you talk about him calling African-American countries s-hole countries. When you talk about him referring to immigrants as rapists and murderers, I don't think you can reach any other conclusion," Harris told The Root.
The Root: "So you definitely would agree that he's a racist?"
Harris: "I do yes, yes."
Gov. Gavin Newsom agrees. Last year he took to Facebook to call Trump out for disparaging migrants from Africa, Central America and the Caribbean. "Why do we want all these people from shithole countries?" Trump said in the Oval Office, adding that he welcomed immigrants from countries like Norway.
"You're a joke and a racist, President Donald J. Trump. Resign," Newsom wrote.
Recently, Newsom endorsed Harris in her presidential race and joined Rep. Barbara Lee and civil rights icon Dolores Huerta as California Co-Chairs for Harris's campaign. Other California congressional representatives who back Harris include out bisexual Katie Hill, Ted Lieu, and Nanette Barragan.
Harris also picked up 21 members of the California State Senate Democratic Caucus, including Senate Pro Tem Toni Atkins and two other members of the California LGBT Legislative Caucus, Sens. Cathleen Galgiani and Scott Wiener on Feb. 7.
"While serving California, she has defended civil rights and stood up to the forces that would divide us or take us backwards," Atkins said in a statement. "As San Francisco District Attorney, Attorney General of California, and United States Senator, she has been a strong proponent of criminal justice reforms, protecting homeowners and immigrant communities, and strengthening the middle class. As President, I know she will continue to prioritize the needs of all the people."
"My campaign is about returning power to the people in this country, and these leaders represent California's diversity and reflect the broad commitment we share to move our state and our nation forward," Harris said. "This level of support from my home state of California makes me so proud, and I am honored to have them fighting beside me."
The California primary is now on March 3, 2020.
On Feb. 26, out Insurance Commissioner Ricardo Lara, Lt. Gov. Eleni Kounalakis, Sec. of State Alex Padilla, State Treasurer Fiona Ma, Superintendent of Public Instruction Tony Thurmond added their names to her endorsement list.
"Kamala Harris has been a champion, fighting for working families, immigrant rights, and health care for all. I have seen up close what she has done for Californians and strongly endorse her candidacy for President of the United States," Lara said in a statement. "Her proven track record and progressive vision is what we need from our next President."