Gay reporter files police report after being licked on live TV
Chris Glover says he is 'deeply disturbed' by the incident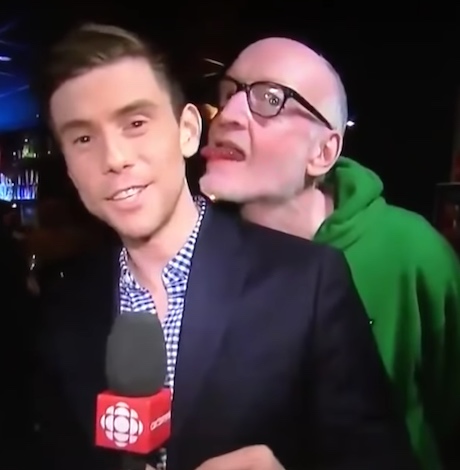 CBC reporter Chris Glover has filed a police report after comedian Boyd Banks licked him without his consent on a live broadcast.
Glover, who is gay, was reporting from the Comedy Bar in Toronto when Banks came up behind him. Banks begins to lick Glover's ear and nuzzle his shoulder. Glover laughs nervously and tries to keep reporting but eventually uncomfortably wraps up his segment.
"Things are getting a little awkward out here, so I'm going to pass it back to you, Dwight," Glover tells anchor Dwight Drummond.
Drummond responds: "Yeah, that's a little strange. It's really unnecessary. Just move away from that gentleman."
The clip went viral as people sympathized with Glover and condemned Banks' behavior.
Glover has since filed a police report.
"I, as a journalist, was just trying to do my job," Glover told Global News. "I feel deeply disturbed by what happened. I still feel like it was completely uncalled for. The whole thing just really made me feel really awkward and uncomfortable and embarrassed."'
Banks has issued an apology stating: "There is no excuse for my behavior last night. I'm guilty of everything. I am an idiot. I want to apologize to the standup community in Canada and of course the reporter, who was doing his job."
Gary Rideout, the owner of the Comedy Bar, has said Banks is now banned from the club for "displaying reprehensible behavior that I can't condone in any way."
Una 'besada' inesperada en La Habana: El activismo LGBTQ+ independiente sale en defensa del Código de las Familias
Proyecto de ley debe garantizar igualdad matrimonial en Cuba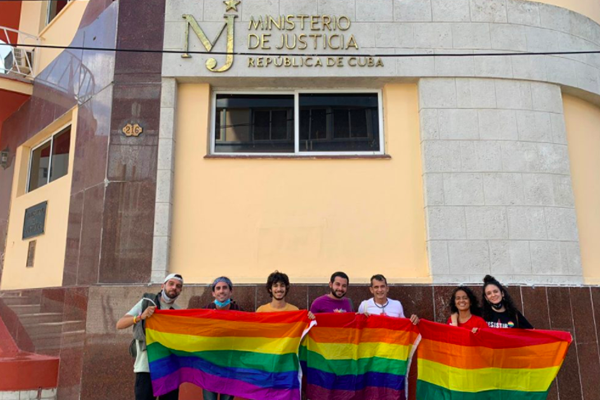 Tremenda Nota es el socio mediático del Washington Blade en Cuba. Esta nota salió en su sitio web el 15 de enero.
LA HABANA — Activistas independientes de la comunidad LGBTIQ+ salieron a las calles del Vedado, en el centro moderno de La Habana, para realizar en una besada pública en respaldo al Código de las Familias, el proyecto de ley que debe legalizar las uniones entre personas del mismo sexo en Cuba, además de otros derechos.
El recorrido de los activistas comenzó en 23 y Malecón y tuvo escalas en el Hotel Nacional, el cine Yara y el Ministerio de Justicia.
La abogada Lidia Romero Moreno, el influencer Jancel Moreno y el pastor Adiel González Maimó estuvieron entre los participantes.
Romero Moreno, activista de la plataforma 11M, comentó a Tremenda Nota que se sumaba a la iniciativa porque "es una acción para comenzar a mover los activismos, y decir que estamos aquí y queremos todos los derechos para todas las personas".
Por su parte, Adiel González Maimó explicó que "es importante todo lo que en materia de activismo se logre hacer con vistas al debate popular del Código de las Familias, para visibilizar las realidades y derechos de la comunidad LGBTIQ+".
El proyecto de ley del Código de las Familias fue publicado en la Gaceta Oficial este 12 de enero y se someterá a consulta popular en el período comprendido entre el 1 de febrero y el 30 de abril del año 2022.
De ser aprobada finalmente en un referendo, la nueva ley resolverá muchas de las demandas de la sociedad civil cubana, entre ellas el matrimonio igualitario, la posibilidad de adopción sin que importe el género de los progenitores y la prohibición del matrimonio infantil.
Las besadas públicas han sido una opción del activismo LGBTIQ+ para visibilizarse. Cuba no es la excepción.
En 2012 tuvo lugar la "Primera besada por la diversidad e igualdad" convocada por el Proyecto Arcoíris, una organización que se definía como "anticapitalista", en un sitio cercano a la Plaza de la Revolución, en La Habana.
Dos años después, se repitió esta iniciativa en La Habana Vieja. Ambas ocurrieron el 28 de junio, Día del Orgullo LGBTIQ+ en recuerdo de los disturbios del bar Stonewall, en Nueva York, incidente que ha sido considerado un hito del activismo estadounidense y mundial.
Otra besada LGBTIQ+ fue convocada el 29 de septiembre de 2015 por el Proyecto Arcoíris y la Red Observatorio Crítico.
En 2020, durante la epidemia de covid-19, el activismo realizó también un evento denominado #BesadaOnLineCuba2020 en la víspera el Día del Orgullo LGBTIQ+. La iniciativa abogaba por un Código de las Familias inclusivo y logró sumar colectivos y activistas de todo el país.
Tech companies failing to stop dangerous conversion therapy disinfo
According to the report, "rainbow-washing" particularly aims at the trans community for conversion to cisgender identities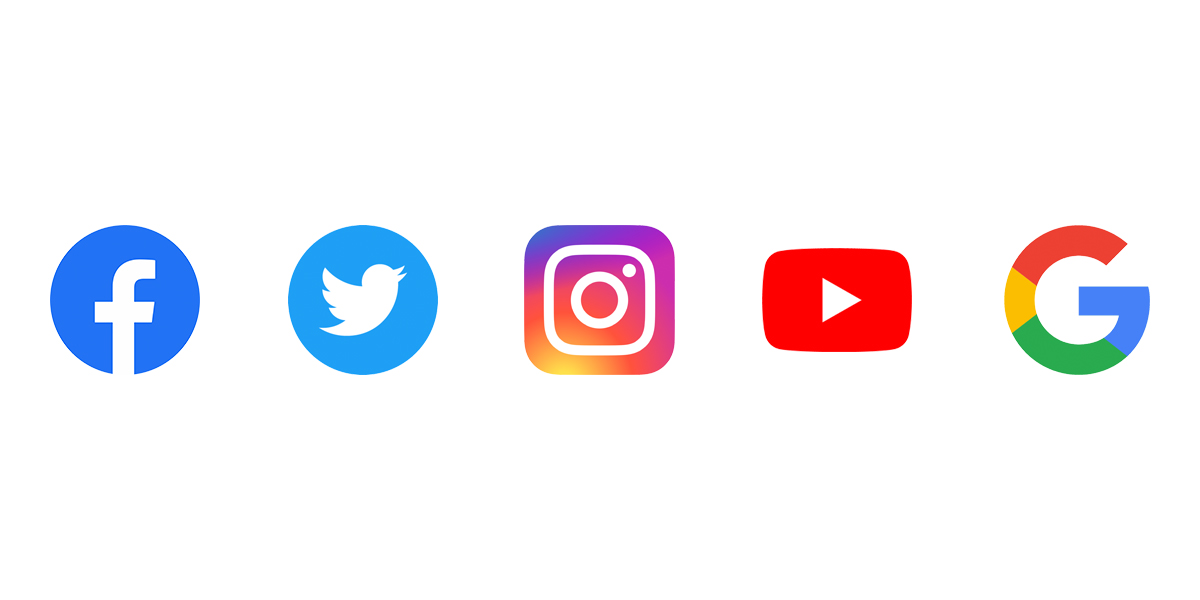 MONTGOMERY, Al. – Anti-LGBTQ groups "easily" spread dangerous disinformation online about the so-called conversion therapy as tech companies fail to de-platform such content, especially in non-English languages, according to two reports from the Global Project Against Hate and Extremism (GPAHE).
The reports detail that even though conversion therapy is a widely condemned practice, content related it is "distressingly easy" to find through simple searches on various platforms.
Though searches in English yielded problematic results, GPAHE found that non-English languages, especially Swahili in Kenya, led to much more anti-LGBTQ disinformation.
"Tech companies say they have taken steps to ban harmful content related to conversion therapy, but they have to do more, especially in non-English languages," said Wendy Via, president and co-founder of GPAHE and co-author of the report.
The group's research took place in English and Spanish in the U.S., English in Ireland and Australia, German in Germany, Spanish in Colombia, and English and Swahili in Kenya.
Conversion therapy has been condemned by dozens of medical and psychological organizations, including the American Medical Association (AMA), which also supports a nationwide ban on conversion therapy.
According to the Williams Institute, LGB people who have undergone conversion therapy are almost twice as likely to attempt suicide.
Conversion therapy is banned for minors and sometimes adults in seven countries: Brazil, Canada, Ecuador, Germany, Malta, France and Taiwan. Both France and Canada outlawed the debunked practice just last month.
The U.S. has no nationwide ban, but conversion therapy is outlawed in 20 states and more than 100 municipalities in the nation. Partial bans also exist in Mexico, Australia, and Spain.
"Until online searches lead people to only authoritative information about the dangers of conversion therapy, tech companies are complicit in spreading anti-LGBTQ+ hate and disinformation that causes mental and physical harm for individuals, and furthers societal harm," said Via.
Generally, Google, Twitter, Facebook, Instagram and, to some extent, YouTube have taken steps to curtail conversion therapy information, according to GPAHE's first report "Conversion Therapy Online: The Ecosystem." When the group searched the term "conversion therapy" on these platforms, they mostly found trustworthy information, except in Swahili.
However, in comparing social media platforms, the group found that YouTube's search mechanism returns disinformation and propaganda more frequently than Facebook or Twitter. GPAHE also said the platform is "rife" with pro-conversion therapy material.
Alphabet Inc., the company that owns YouTube, did not immediately return a request for comment.
The company has come under fire in the past for policies surrounding conversion therapy. In 2019, the Human Rights Campaign (HRC) revoked its enforcement of Google over an app tied to conversion therapy. At the time, other major companies – like Apple and Amazon – removed the app.
Google eventually removed the app. "After consulting with outside advocacy groups, reviewing our policies, and making sure we had a thorough understanding of the app and its relation to conversion therapy, we've decided to remove it from the Play Store, consistent with other app stores," the company said in a statement to Axios.
Though initial search mechanisms generally didn't lead researchers to conversion therapy providers, Facebook and Twitter's algorithms did lead users down a dangerous conversion therapy "rabbit hole" once they found a provider, the report found.
The Blade could not reach Meta (Facebook) and Twitter for comment.
Last year, a Reuters report detailed how even though Facebook banned conversion therapy, the debunked practice continued to thrive in Arabic.
"Facebook led me to conversion therapy, and I'm not alone," said Omar, an Egyptian man who turned to Facebook when he began feeling sexually attracted to other men. He requested Reuters use only his first name because he has not yet come out to his family.
Though GPAHE's report did not study Arabic languages, it did find that languages other than English yielded more harmful search results.
In all languages and countries, GPAHE found that search results from Microsoft's Bing and Amazon's Silk and Alexa were "significantly less authoritative."
"These companies are rarely, if ever, challenged on their search algorithms despite serving hundreds of millions of people worldwide," the release said.
GPAHE suggested that Bing and Silk create search algorithms that surface authoritative information. In addition, Amazon should remove conversion therapy providers from the Smile program, the group said.
Both Microsoft and Amazon did not immediately return requests for comment.
Amazon has had a checkered past with anti-LGBTQ content, especially on its web store. However, the company did stop selling books prompting conversion therapy in 2019.
"It's time for the major internet and social media companies to wake up to their role in promoting harmful practices and disinformation," the report read. "Conversion therapy is dangerous. If someone is searching for this material on any internet platform, they should only find authoritative results that document the therapy's harms."
The group also found a "highly problematic" difference between results in English and Swahili in Kenya. Search results in English led to a mix of trustworthy and false information, while results in Swahil lead to material that disparages and mocks LGBTQ+ people and calls conversion therapy repuatable.
"Even the Wikipedia page in Swahili in Kenya is filled with hateful disinformation," a GPAHE press release read.
German search results yielded mostly accurate information about conversion therapy. The group said this was likely due to Germany's conversion therapy ban and strict hate speech laws.
"Unlike what GPAHE found in most other countries and languages, Google searches in German for various conversion therapy terms came up almost entirely with authoritative results," the report read.
However, the group did find one exception in searching "reintegrative therapie." The search term populated reintegrativethereapy.com, a conversion therapy provider, in all of the first four results. But mostly trustworthy information follows.
Using terms such as "reintegrative therapy" or "unwanted same-sex attraction" is a common way for conversion therapy providers and proponests to evade safeguards and prompt their content. According to the GPAHE report, such search terms led almost exclusively to unauthoritative and harmful disinformation.
GPAHE suggested that tech companies incorporate the terms "same-sex attraction" and "reintegrative therapy" into the algorithms to increase reliable and safe results.
Another method conversion therapy supporters use is hiding behind a so-called religious imperative or claiming that they are protecting kids, the report said.
"As conversion therapy providers constantly rebrand their malicious efforts and introduce new terms, tech companies need to keep up to protect their users," said Via.
GPAHE has sent its report to tech companies and will follow up with each over the coming months.
GPAHE added that it "hopes that the report will help tech platforms flag or ban harmful material and serve as an additional authoritative resource for those who search for these organizations or conversion therapy information in general."
Many of the world's most surfaced conversion therapy providers were detailed in the group's second report, "Conversion Therapy Online: The Players." GPAHE specifically laid out 25 organizations and their "sophisticated and extensive" online presence.
The report found that these providers are interconnected and are essentially composed of three major networks: the Alliance for Therapeutic Choice and Scientific Integrity, Core Issues Trust and Exodus Global Alliance.
These groups have moved into the space, rebranding in a process known as "rainbow-washing," where they claim to be "friends of the LGBTQ+ community" and feature "younger, hipper, more diverse faces," according to GPAHE. The groups say they are "victimized by modern society," co-opting ​​the "language of the LGBTQ+ rights movement to assert liberation for what they call the X-LGBT community."
According to the report, "rainbow-washing" particularly aims at the trans community for conversion to cisgender identities.
"In recent years, proposed bans on conversion therapy have motivated providers to organize and up their legislative and litigation games," the report read. "Their activities are bolstered and promoted by powerful social conservative organizations and relatively new X-LGBT groups, such as the Changed Movement, in various countries."
Of the 25 groups named by GPAHE, 13 were based in the U.S., the most of any country. The states they were located in included Utah, Florida, Virginia, Colorado, Kentucky, California, Missouri, Connecticut, Tennessee and Michigan.
Other top conversion therapy organizations were located in Northern Ireland, Brasil, Mexico, Germany, England, the United Kingdom, Switzerland and Norway. Others did not have a specific location listed.
In addition to websites, many of the groups were also on Facebook. Some of the anti-LGBTQ organizations were also on Instagram, YouTube and Twitter.
"Getting rid of this harmful material online is an important step toward creating a society where LGBTQ+ people are accepted and loved and nobody feels like they want or need to change who they are," said Heidi Beirich, report co-author and co-founder of GPAHE. "No more hate. That's the overall goal."
Polish House passes bill echoing Russian "gay propaganda" law
"There's no doubt, that LGBT+ ideology grew out of… the same root as Germany's Hitlerian National Socialism […]"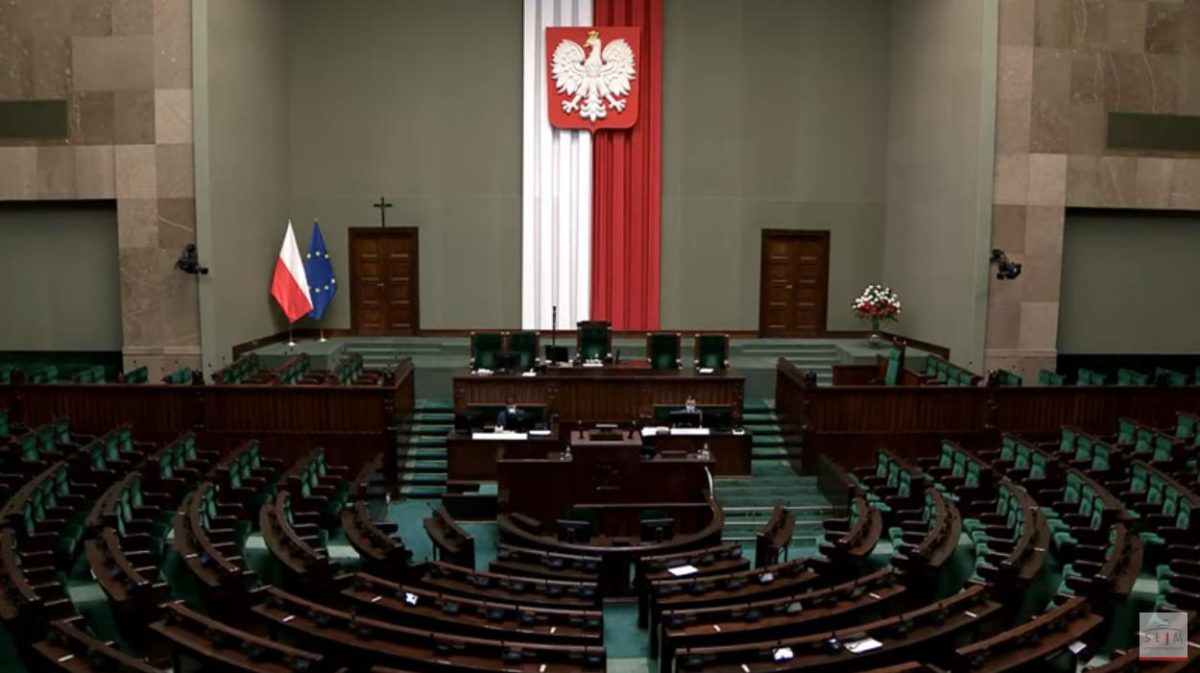 WARSZAWA – A measure that would give school administrators and superintendents the power to remove books, lessons, and ban student participation in events or clubs that are LGBTQ+ affirming passed the lower house of Poland's parliament, known as the Sejm, this past Thursday, January 13, in a 227-214 vote.
The measure, dubbed "Lex Czarnek," or "Czarnek's Law," after minister of education Przemysław Czarnek,  who has been vehemently opposed to the LGBTQ+ rights and the country's equality movement, now moves on to the upper house, the Senate where it faces opposition and likely will be rejected Polish broadcast media outlet RMF 24 reported.
According to RMF24, "The Sejm adopted the amendment to the Educational Law, prepared by the Ministry of Education and Science. The project is commonly known as "lex Czarnek". The role of school superintendents will be strengthened, and the rules governing the functioning of non-governmental organizations in schools and educational institutions will be changed."
Opposition to LGBTQ+ rights has an ally in the Education Minister whose role would determine the outcome of implementation of the measure:
"Pursuant to the amendment, the headmaster of the school or facility will be required – no later than two months before the commencement of classes conducted by associations or organizations – to obtain detailed information about the action plan in the school, the outline of classes and materials used in the offered classes, as well as obtain a positive the opinion of the education superintendent for the activities of such an organization at school or in an institution. The curator has 30 days to issue an opinion."
The law also contains a stipulation that "if the head of the school or educational institution fails to comply with the recommendations issued by the school superintendent, he will be able to summon him to explain why he did not do so . If the principal still does not follow the recommendations, the probation officer may apply to the governing body of the school or facility with a request to dismiss the principal during the school year, without notice."
A member of the Sejm, Agnieszka Dziemianowicz-Bąk, a progressive leftist politician who in addition to protesting against abortion laws, has also been active in protests for LGBTQ+ rights, tweeted her outrage; "The voice of the curator Nowak, as if it were not stupid and dangerous to health and life, is more important for PiS deputies than the voice of students, parents and teachers."
#LexCzarnek przepchnięty przez Sejm 😡

Głos kurator Nowak, jakby nie był durny i groźny dla zdrowia i życia, jest dla posłów PiS ważniejszy niż głos uczniów, rodziców, nauczycieli. pic.twitter.com/mWkxoQk1oi

— A. Dziemianowicz-Bąk (@AgaBak) January 13, 2022
The MP and Education Minister Czarnek, target of Dziemianowicz-Bąk's anger, has staked out several public vitriolic anti-LGBTQ+ positions that has included an attack on the LGBTQ+ community in West Hollywood.
Speaking with a reporter on Serwis Info Poranek with the national state-run TVP Info (TVP3 Polska) last June, the newly appointed Education Minister said- (translated from Polish):
"Let's end the discussion about these LGBT abominations, homosexuality, bisexuality, parades of equality. Let us defend the family, because failure to defend the family leads to what you see.
As he spoke these words, he was holding a phone in his hand, on the display of which he showed a picture of several people. – These are the Los Angeles guys in downtown last June. I was on a delegation there, I was passing through, there was a so-called gay pride parade there – he added. – We are at an earlier stage, there are no such things with us yet, but such chaps shamelessly (shamelessly – ed.) Walk the streets of the western city of Los Angeles – he added.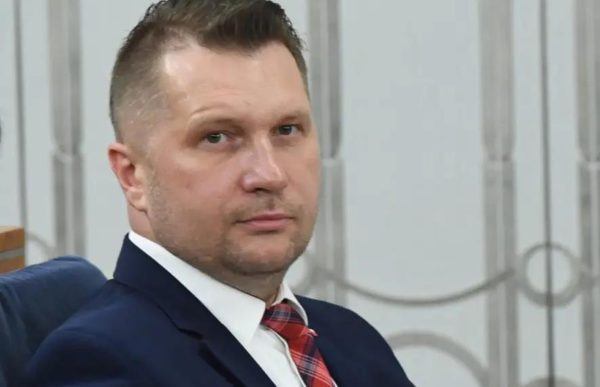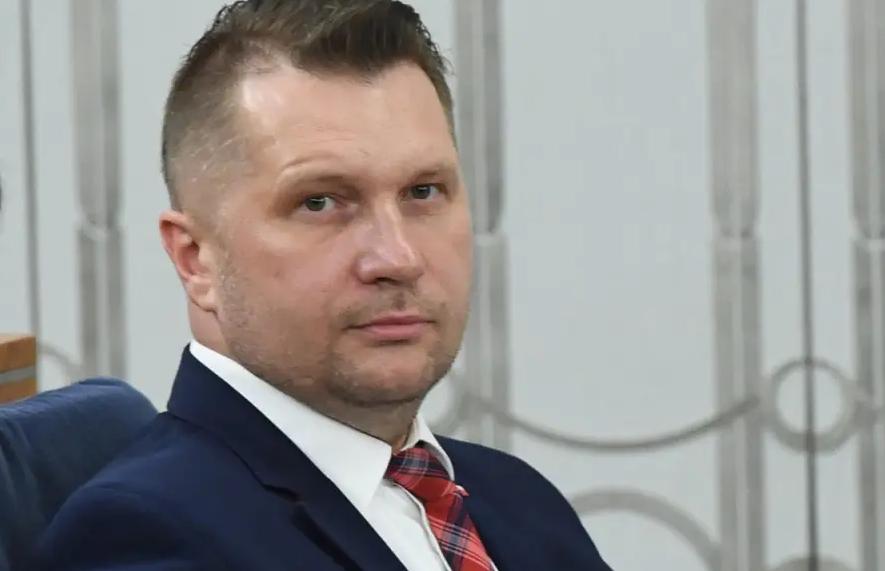 Serwis Info Poranek also noted that according to MP Czarnek, "Europe is also heading for this, Poland is heading for this- […] These people are not equal to normal people, let's end this discussion."
During the ongoing battles over the so-called LGBTQ+ 'Free Zones' with the European Commission Czarnek weighed in comparing the LGBTQ+ community to the Nazi's.
"There's no doubt, that LGBT+ ideology grew out of… the same root as Germany's Hitlerian National Socialism, which was responsible for all the evil of World War II," Czarnek said PinkNewsUK reported.
Renew Europe, the liberal, pro-European political group of the European Parliament tweeted its outrage over the actions by the Sejm:
#WolnaSzkoła: The new polish law will restrict free education & in particular make it de facto impossible to teach about sexuality in a LGBTIQ-inclusive way.

This effort to eliminate freedoms & liberal values from public life is tragic. pic.twitter.com/lib7MSNYOv

— Renew Europe (@RenewEurope) January 13, 2022
#WolnaSzkoła: "Children need education, not indoctrination. The education reform in Poland threatens to force the illiberal views of the Polish government on the young generation", says @moritzkoerner. pic.twitter.com/Y4Hxsfx0qK

— Renew Europe (@RenewEurope) January 13, 2022
Observers think that the law will be rejected by the senate although under the Polish constitution there is still a possibility it could be signed off on by the anti-LGBTQ+ Polish President Andzej Duda.
"Although it seems that Lex Czarnek is on track to becoming law, Rémy Bonny, executive director of pan-EU LGBT+ rights organisation Forbidden Colours, insists that all is not lost.
With pressure from politicians both in the EU and around the world, Poland could be forced to backtrack.
He told PinkNewsUK: "In September, after threats by the European Commission to take away funding, four out five provinces that declared themselves 'LGBT+ free zones' withdrew their anti-LGBT+ resolutions… International pressure on Poland works."