COVID protests in Canadian capital get violent & homo/transphobic
Many residents say they've felt let down by all levels of government and police since the protest convoy arrived Jan. 28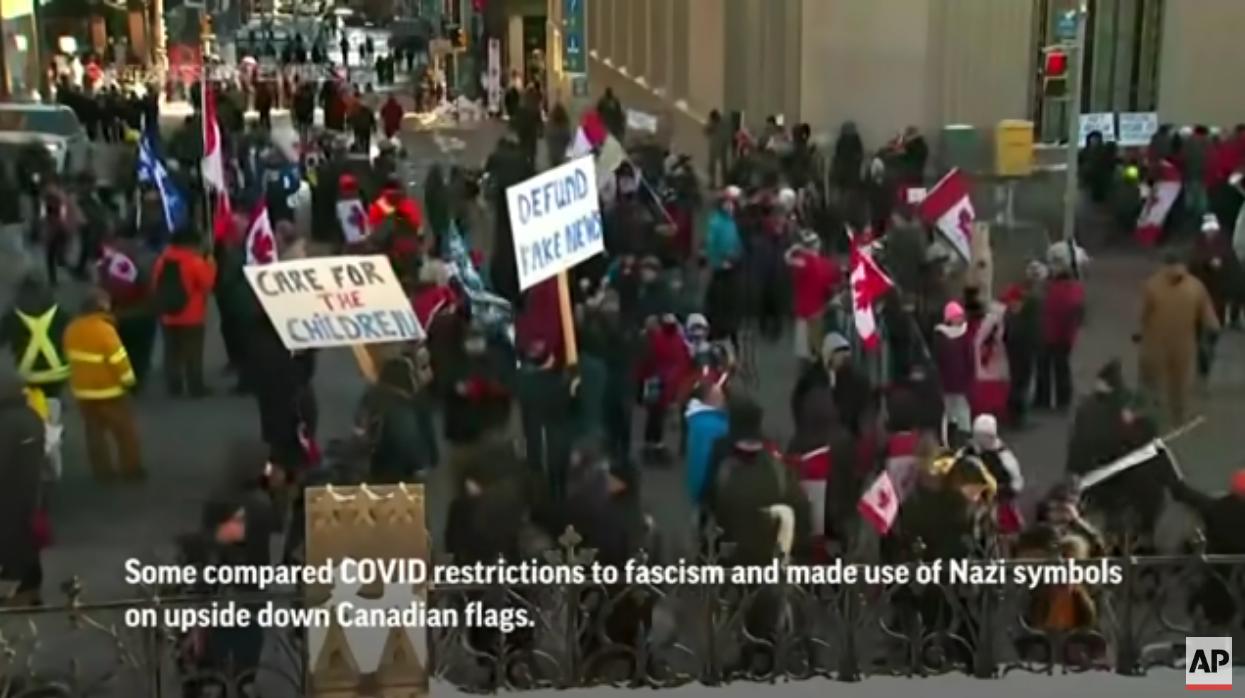 OTTAWA – As the nationwide protests against Prime Minister Justin Trudeau's government's mandates on vaccinations, masks, and other preventative measures against the coronavirus pandemic enters a second week, ground zero for the so-called "Freedom" demonstrations in the capital's downtown area has become so combative that residents are now in fear.
In multiple interviews with Canadian media outlets including the CBC, Ottawans say they are under siege.
For 10 days, downtown residents have been subjected to relentless honking, random fireworks and choking diesel fumes from trucks parked near their homes. They've expressed outrage over the open display of hate symbols, and some say they've been subjected to racial, homophobic and transphobic slurs. Others claim they've been attacked for wearing masks, the CBC reported Tuesday.
Many residents say they've felt let down by all levels of government and police since the protest convoy arrived Jan. 28.
In addition to the unceasing cataphonics of the truckers blaring horns as they continue to block most of the thoroughfares in downtown, the noise soon to be abated by a temporary injunction issued by Justice Hugh McLean during a court hearing in Ottawa Monday which is effective immediately and is meant to silence the horns at all hours for the next 10 days, wanton acts and threats of violence continue to plague the city's residents.
Blatant acts of racism also have residents on edge. "Being a woman of colour, I felt very fearful," said Arushana, who left her home in the ByWard Market to stay with a colleague in the Glebe last weekend. (CBC is not using her last name because she is concerned for her safety.}
After putting up with sleepless nights and fireworks being aimed at her building, one of the final straws was seeing a Confederate flag on her way home from work.
"I broke down," she said. "As a first generation immigrant child, seeing such hatred, especially when my parents came to this country to provide me and my sister with a better opportunity and a better life … I didn't feel safe."
CBC reported that its journalists also heard dozens of similar stories from people via email.
[Yet another wrote] she was confronted on her way to the grocery store. "I was shoved, screamed at, called [sexist and homophobic slurs], and had three large men try to pen me in and physically block my way, because I was wearing a mask."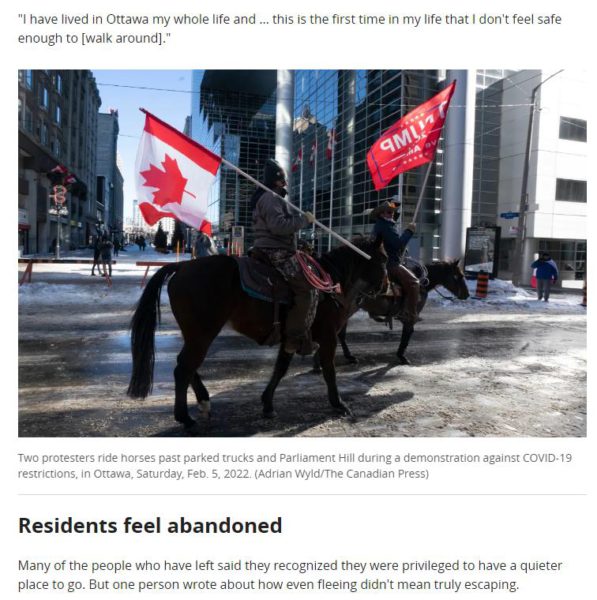 The Blade spoke with a gay resident who asked to not be identified who said that he had left a Tim Hortons located on Albert Street not far from Parliament Hill when he encountered a group of trucker-protestors who immediately verbally assaulted him.
"They shoved me up against the side of the building and then snatched my toque off my head and then they saw the design on it- the gay Maple leaf flag, it got ugly. One of them got in my face and said that wearing it was a desecration. Then he shoved me hard, called me a faggot and threatened to beat me. I managed to get away but I'm now at my cousins. I don't feel safe to go back to my flat," he told the Blade.
The protests have also gotten the backing of American anti-mask/vaccination activists including prominent anti-LGBTQ+ evangelicals. On his Facebook page, Franklin Graham urged Canadians to back the truckers and others: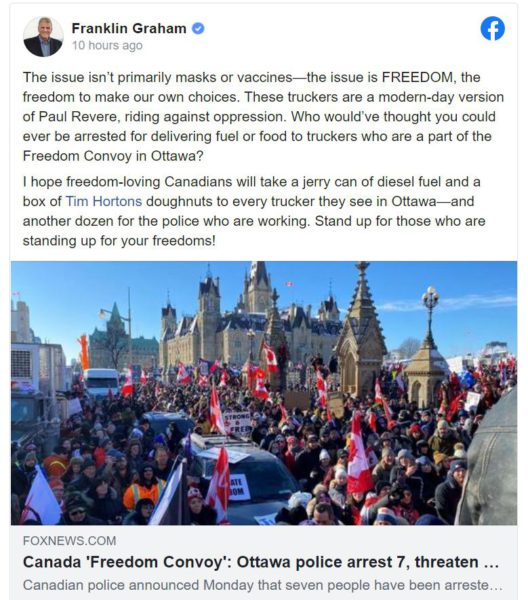 Pride flags vandalized at a Mom & Mom bodega in Nova Scotia
"We really care about what we're doing and someone is missing out on that experience and I feel badly for them"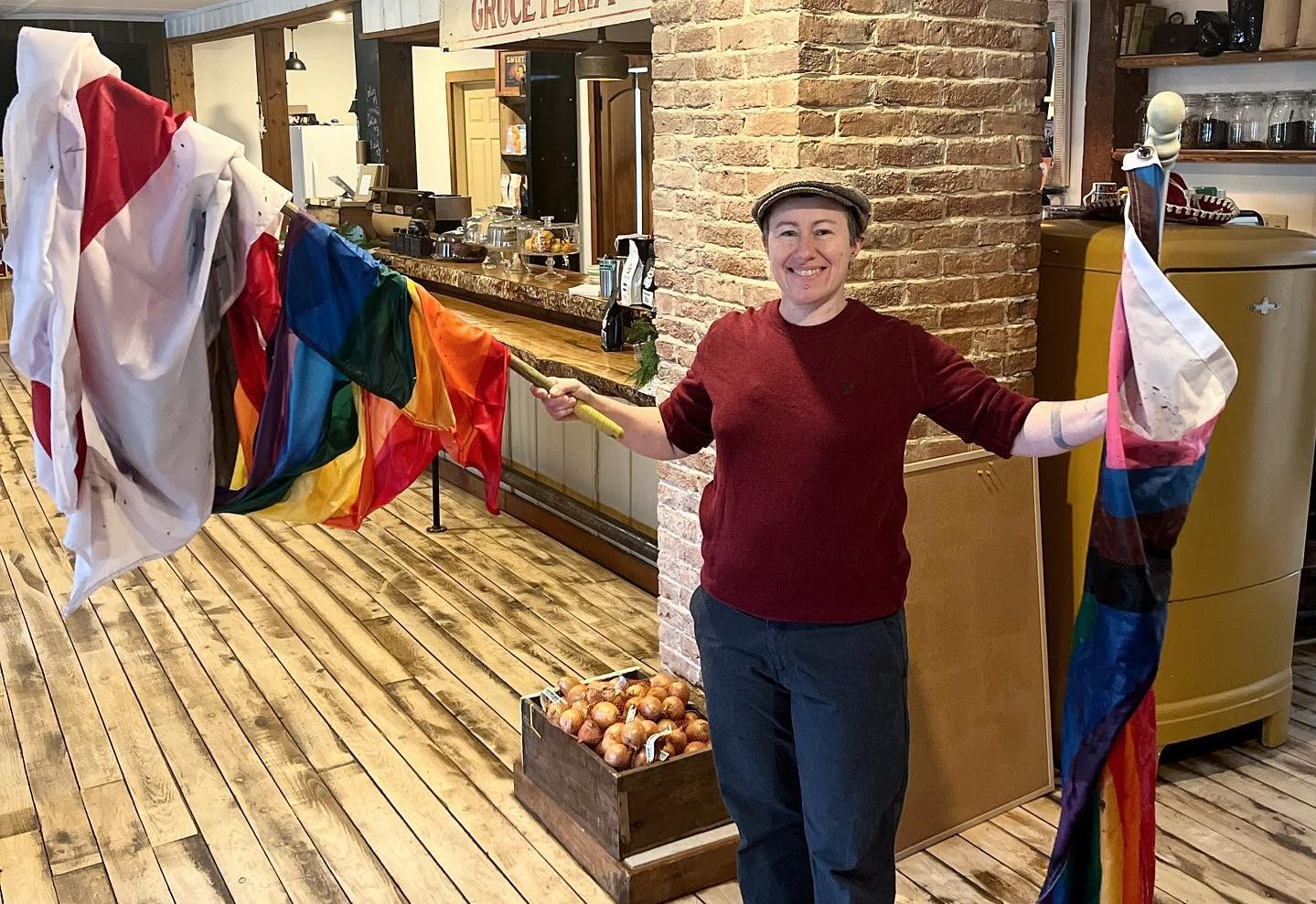 LAWRENCETOWN, NS, Canada – Sue Littleton and Candice Zaina moved 1,866.0 km (1159.4 miles) from Hamilton, Ontario to Nova Scotia and opened up what most would see as a seriously quaint bodega in this coastal town just east of Halifax.
The married lesbian couple had honeymooned last Spring in the area around Lawrencetown and Littleton's father had grown up there. In an interview this week with a local newspaper, the Halifax Examiner, Littleton explained:
"I had always dreamt of opening a shop in this exact location," Littleton said. "It was a green grocer and butcher shop when I was a kid. I just have very fond memories of it."
The couple opened their bodega earlier this month and was met immediately with an enthusiastic response from the local community the Halifax Examiner reported.
"Our goal is to be a bit of a general store with a bit of everything and a focus on local produce and locally handcrafted wares of all sorts," Littleton said. "We also have an espresso counter and ultimately we'll be adding cookbooks and kitchenware because that's one of my passions."
"It's been incredibly successful. There's definitely way more of an appetite for what we're doing than we even imagined, which is really exciting."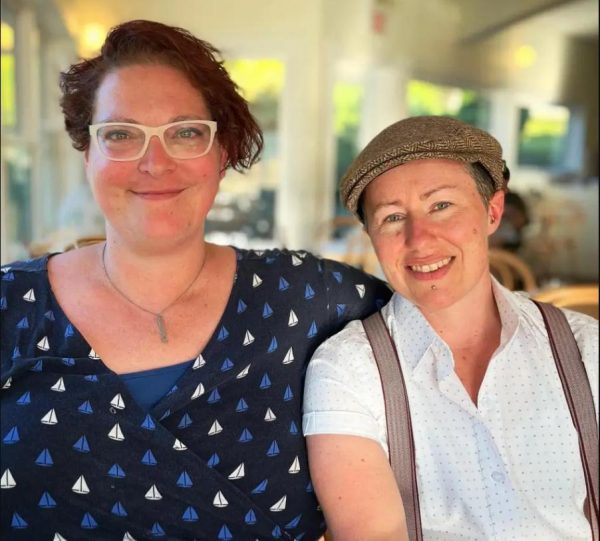 However, apparently not everyone in the town was thrilled. Prior to the shop's actual open not long after the couple had purchased the building, they had hung LGBTQ+ Pride flags from an upper floor. But, after the bodega's opening in early December those flags were targeted by persons unknown and taken down three times with the fourth incident taking an ugly turn.
"We figured the first time it was just some kids or someone being mischievous," Littleton told the Examiner. "We thought someone was goofing off and pulled the flag off and the flagpole down with it with no intent of doing any damage. But when it kept happening, it became clear it was a message being sent to us."
In a Facebook post the two women wrote about the December 23 incident:
It sure was windy last night. So windy that some human feces mysteriously landed on the flags that we found on the ground again this morning.
The flag that our friend Jim put up in solidarity at his shop down the road was also down. Strangely, the wind didn't seem to do much other damage in the village. We have cameras now. We called the RCMP despite us both having had pretty awful experiences with cops in the past. We will not be intimidated or silenced.
The outpouring of support and love we have experienced is something very beautiful and reinforces for us why it is so important for us to continue to fly the flag.
We had a parent bring their newly out teen into the shop yesterday. They drove nearly an hour to come support us. The parent thanked us for helping them to show their kid that queer joy is possible. THAT is why we do this.
We are full of love. We will continue to spread that love no matter what. That's what we do.
Again, we invite whoever is doing this to come in for a coffee and a treat. We would be happy to sit at our gathering table with you to talk in a civilized way about why flying this flag is important to us.
Love wins. Love will always win.
In a Friday phone conversation with the Los Angeles Blade, Littleton confirmed the incidents and then stressed that the best antiseptic to hate-filled ignorant acts such as what had occurred was to combat that hate with tolerance, understanding, and show that love indeed will always win.
Littleton told the Examiner that while she and Zaina both felt discouraged, they're also feeling positive with the outpouring of the community and beyond. Commenting on the acts of vandalism she told the paper:
"We really care about what we're doing and someone is missing out on that experience and I feel badly for them, that they care more about our sexuality or gender expression than about what we're trying to do about being community, and making life fun, comfortable, and delicious."
In the meanwhile Littleton tells the Blade, Bee's Knees General Store and Bakery will be serving up fresh baked cheese biscuits, cookies, and lots of love.