Eight jailed across Canada in anti-LGBTQ rallies against sex ed
Prime Minister Justin Trudeau condemns bigotry as counterprotests outnumber anti-LGBTQ+ demonstrators in most cities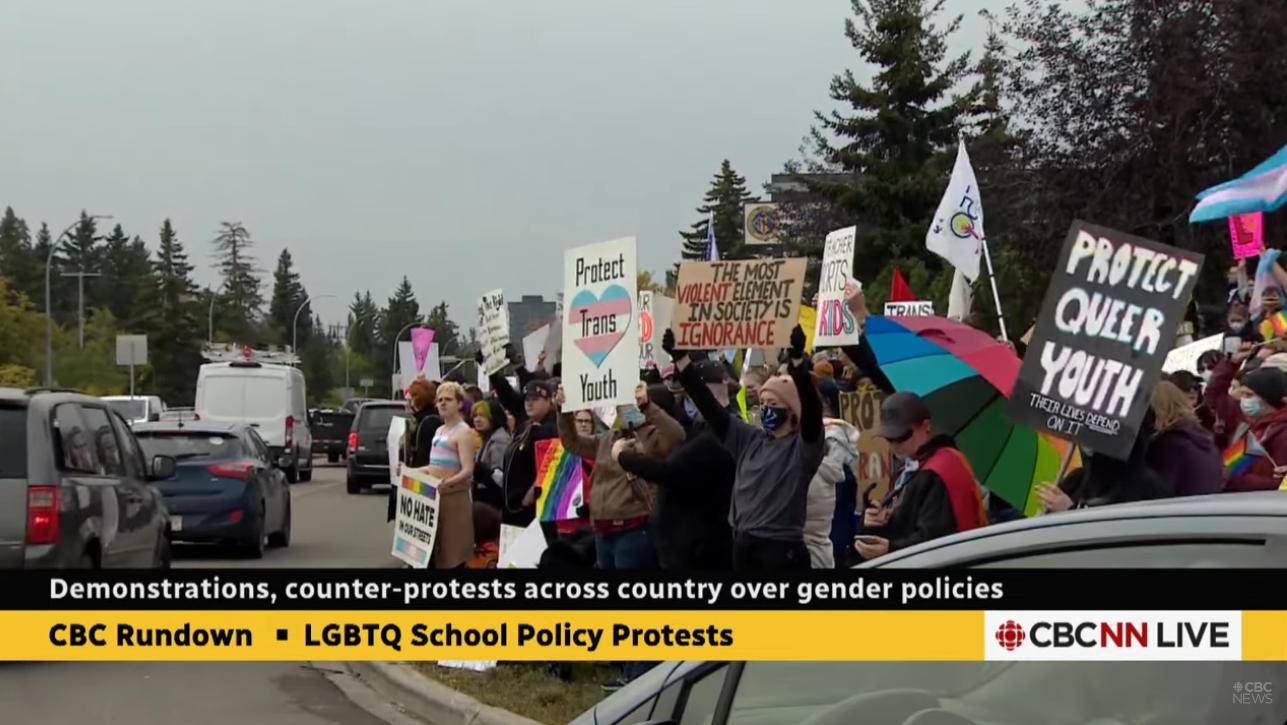 By Rob Salerno | OTTAWA, Canada -A highly coordinated series of anti-LGBT protests rocked more than 80 cities across Canada Wednesday, in a significant escalation of tactics by Canada's anti-LGBTQ extremists.
The coordinated protests dubbed "1 Million March 4 Children" are demanding an end to discussions on sexual orientation and gender identity in Canadian classrooms. They come as several Canadian provinces have enacted policies that require students to have parental permission to change their preferred name or pronoun used in schools, and shortly after the federal Conservative Party adopted a series of anti-trans policies at its national convention.
According to its website, 1 Million March 4 Children is calling for "the elimination of the Sexual Orientation and Gender Identity (SOGI) curriculum, pronouns, gender ideology and mixed bathrooms in schools." The website also lists among its supporters numerous groups that were opposed to masking policies during the COVID-19 pandemic, anti-vaccine groups, groups that promote conspiracy theories, and groups that support the truck convoys that laid siege to Ottawa and several US border crossings last year.
Protests happened from coast to coast, in big cities, suburbs, and small towns, but in most cases, they were met with coordinated counter-protests in support of LGBT rights who greatly outnumbered the protesters.
CBC reported that counter-protesters numbered roughly double the anti-LGBT protesters in St. John's, Newfoundland.
Inclusive sex education has long been part of school curriculums in most provinces in Canada and has generally enjoyed support from all major political parties.
While the protests where mostly peaceful, at least four anti-LGBT protesters were arrested after getting into altercations with counter-protestors in British Columbia, and police advised that the protest in front of the provincial legislature had become "unsafe."
Police in Nanaimo, BC tackled and arrested one man who attempted to flee after allegedly getting into a physical altercation at City Hall. Two protestors were also arrested in Victoria, BC as they demonstrated in front of the provincial legislature, and another protester was arrested in Vancouver, BC. Police in both cities did not provide additional information.
Ottawa police also arrested two protesters for allegedly inciting hatred and another for causing a disturbance in at the protest in front of Parliament.
And Toronto police arrested 47-year-old protester Julia Stevenson for allegedly bringing a weapon to the demonstration outside the provincial legislature. Police did not give further details about what kind of weapon she is alleged to have been carrying.
Prime Minister Justin Trudeau, who was at the UN General Assembly in New York, condemned the anti-LGBT protests in a tweet on X, formerly Twitter.
"Let me make one thing very clear: Transphobia, homophobia, and biphobia have no place in this country. We strongly condemn this hate and its manifestations, and we stand united in support of 2SLGBTQI+ Canadians across the country – you are valid and you are valued," he wrote.
Let me make one thing very clear: Transphobia, homophobia, and biphobia have no place in this country. We strongly condemn this hate and its manifestations, and we stand united in support of 2SLGBTQI+ Canadians across the country – you are valid and you are valued.

— Justin Trudeau (@JustinTrudeau) September 20, 2023
Que ce soit clair : la transphobie, l'homophobie et la biphobie n'ont pas leur place dans notre pays. Nous condamnons fermement cette haine et ses manifestations, et nous sommes solidaires des Canadiens et Canadiennes 2ELGBTQI+ à travers le pays – vous êtes valables et appréciés.

— Justin Trudeau (@JustinTrudeau) September 20, 2023
Conservative Party leader Pierre Poilievre did not put out any statement on the protests, nor did deputy leader Melissa Lantsman, who is openly lesbian and has previously spoken out on LGBT issues on behalf of the party.
The leader of the left-leaning New Democratic Party Jagmeet Singh joined the counter-protestors who demonstrated in Ottawa and marched toward Parliament Hill.
"We know that there's a lot of folks that don't feel safe because of the rise in hate and division that's targeting vulnerable people," Singh told CTV. "But then you see a lot of people coming together, and it shows the strength of solidarity, of us supporting each other, of having each other's back."
Alberta Teachers' Association President Jason Schilling says the protesters are part of a North America-wide movement fomenting hatred against queer people using misinformation and lies.
"Using 'parental consent' as camouflage, this rally was part of a coordinated strike across North America to promote misinformation, intolerance and hate toward the 2SLGBTQIA+ community, as well as toward teachers who work to protect the safety and well-being of all students," Schilling said in a statement.
In many cities, the anti-LGBT protests were officially condemned by mayors and school boards.
Toronto Mayor Olivia Chow, who has publicly supported LGBT rights since the 1980s, issued a strong statement condemning the protests.
"We stand against all forms of discrimination, hatred and bigotry, and for the safety and well-being of all young people. Some wish to target our schools and libraries to spread hate. We know these must be spaces that welcome everyone, especially students," Chow wrote.
The city of Whitehorse, Yukon issued a statement condemning bigotry in advance of the protests.
"While the City supports people's right to organize and protest, we stand by our 2SLGBTQIA+ community members and their right to live their true selves safely and free of harassment and hate. The promotion of anti-2SLGBTQIA+ ideas has no place in our community and messages that target fellow community members will not be tolerated," the statement says.
However, the Premier of New Brunswick Blaine Higgs, who was the first to introduce a "parental consent" policy for trans students, joined the protesters in front of the provincial legislature in Fredericton.
"I think our parents should become knowledgeable about what their kids are being taught and what is important for them to learn in schools and what's important for parents to make decisions on with kids that are under 16 years old," Higgs told reporters.
BC Conservative Party leader went further in a statement on the protests. While he says he doesn't "officially" support the protests, if his party wins next year's election, he promised to cancel the province's sex ed curriculum and implied he would ban trans girls from sports.
Related:
Protests sparked across Canada over gender policies in schools:
********************************************************************************
Rob Salerno is a writer and journalist based in Los Angeles, California, and Toronto, Canada.
Canada's conservatives take hard turn against trans people
Federal Conservatives adopt policies that would ban trans kids from medical treatment, block trans women from women's spaces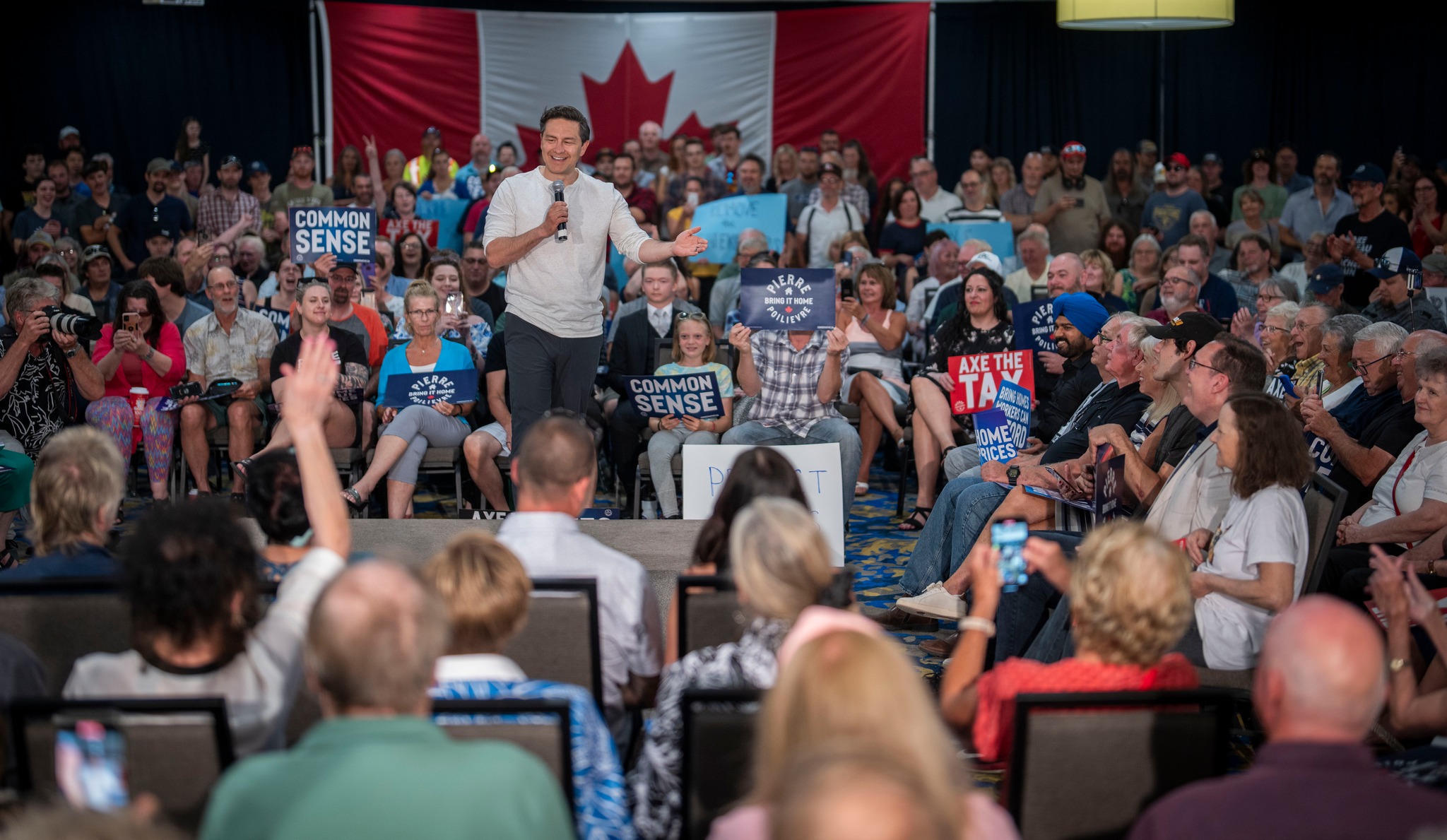 By Rob Salerno | QUEBEC CITY, Canada – Canada's federal and provincial conservative parties are suddenly joining American-style culture wars centered on trans issues, announcing new policies to crack down on access to medical care and women-only spaces, and restricting trans children from using chosen names and pronouns in schools.
At the federal Conservative Party's policy convention in Quebec City this weekend, 69 percent of delegates voted to bar trans children from receiving gender-affirming care, while 87 percent of delegates voted to define "woman" as a "female person" and to demand that transwomen be barred from women-only spaces.
The policy vote – which was initiated by the party's grassroots – will only become a part of the Conservative Party's official platform if current leader Pierre Poilievre decides to include it. The party has been riding high in the polls for several months as Canadians deal with a growing cost-of-living crisis, but a federal election isn't scheduled for two more years.
While the federal Conservatives had recently tried to focus on economic issues rather than culture-war issues, the convention vote is emblematic of how social conservatives have come to dominate the party's agenda.
The vote also comes as a wave of anti-trans and anti-drag protests has appeared across Canada.
The latest salvo in the culture war battles against trans Canadians was ignited this spring, when the deeply unpopular Conservative premier of New Brunswick announced a new policy that would bar students from changing the name or pronoun they use at school without written consent from their parents. Two cabinet ministers resigned in protest over the new rule, which was immediately criticized by LGBT activists and teachers unions, who pointed out that it would be impractical to enforce and would violate trans students' human rights. Nevertheless, the policy came into effect in September, although it has faced a court challenge by the Canadian Civil Liberties Union.
Shortly after, the conservative-affiliated government of Saskatchewan introduced a similar rule that has also been subject to a court challenge. Saskatchewan Premier Scott Moe has announced he intends to bolster the regulation with a "parental rights" law this fall as it prepares for an election next year. An anti-LGBTQ Christian organization called Action4Canada has claimed credit for lobbying the government to introduce the school reforms.
That was followed by the Conservative government of Ontario led by Premier Doug Ford announcing that it was developing a similar policy. Ford's government has been mired in a series of scandals recently, including most prominently a land reclassification that saw a handful of party donors receive billions of dollars in land value uplift while degrading environmentally sensitive land around Toronto.
Ford and his ministers have repeatedly described the new policy as protecting parents' rights in speeches and campaign-style events, although a provincial election isn't scheduled for another two years.
"Parents rights. They need to be… informed when they [students] make a decision. It's not up to teachers and school boards to indoctrinate our kids. I can't even figure out what school boards do anymore," Ford said at an event in Kitchener, Ontario last week.
Many activists have pointed out that Ford appears to be attempting to use the new policy to shift attention from the corruption scandal that has already led to the resignation of one cabinet minister.
"Shame on Premier Ford. Schools are not indoctrinating students. This "parental rights" rhetoric is just a good slogan hiding an anti-trans and social conservative agenda. And – right now – it's a desperate distraction from his scandal-plagued track record," tweeted Fae Johnstone, a trans activist and President of the advocacy group Queer Momentum.
Five of Canada's other seven provinces are currently governed by conservative-leaning parties, though none of the others have announced plans to copy the student name and pronoun policy yet.
Although Canada's Conservative Party and its provincial cousins have a long history of pursuing policies that have harmed LGBT communities, the sudden wave of anti-trans policies has come of something of a surprise, after what appeared to be several years of détente on culture wars.
In 2021, the federal Conservative Party allowed Parliament to pass a bill banning conversion therapy by unanimous consent and in 2017, dozens of Conservative MPs joined the government in passing a bill that banned anti-trans discrimination and hate speech. Saskatchewan's conservative government banned discrimination against trans people in 2014, and Conservative parties also gave unanimous consent to provincial conversion therapy bans in Ontario, Nova Scotia, Prince Edward Island, and Yukon in the last decade.
In the last federal election in 2021, the Conservative Party fielded its first ever openly trans candidate, Hannah Hodson, who ran in the district of Victoria, British Columbia, placing third with 13 percent of the vote. Though Hodson served for years as a staffer for conservative politicians, she announced this year that she was leaving the party due its turn to anti-trans policies.
"To all the [Conservative Party of Canada] people who have told me they love me, support me, and would fight for me, and who are now telling me to calm down and just go along with this. Or worse, telling me to stay quiet. I see you and I will not forget," Hodson wrote on X, formerly Twitter, in response to the convention vote on anti-trans policies.
While the federal government doesn't generally control health services, Health Canada could regulate the use of medications and treatments for trans children. The federal government also doesn't generally have the ability to regulate access to women's spaces in schools or businesses, but does control prisons, airports, and federal government offices.
Nevertheless, trans activists say that if the proposed policies are enacted by a future federal Conservative government, they would greatly harm trans people.
"I would like everyone to recall, quite simply, that trans people are generally poor, more likely to be homeless, and experience a whole lot of hate for being ourselves. This is the community that the Conservative Party of Canada is picking on. Because they can," says Johnstone.
The new provincial policies around trans kids mirror legislation proposed or passed in several US states that requires schools to out students to their parents if they appear to be LGBT.
It's somewhat whiplash-inducing to see Conservative legislators who just a few years ago supported banning conversion therapy now call for parental consent over gender identity. Under the federal and provincial laws that Conservatives previously supported, it would be illegal for parents to try to change their child's gender identity or expression by forcing them to undergo conversion therapy. But under the education policies enacted by Conservative provincial governments, parents would essentially hold a veto over their children's gender expression.
Children and youth advocates, LGBTQ activists, as well as teachers unions have pointed out that the new rules violate the rights of trans students to a safe learning environment. The rules also put educators in an impossible position of policing the gender identities of their students.
"While we believe that the ideal situation would include parents and guardians in the conversations and decision making, we support current school board policy in Ontario that centers the students in the decision making and honours their right to self-identify, even when parental consent is not given, to support an equitable and inclusive learning environment," wrote the Ontario Principals' Council in a statement on the proposed rule.
"Students who do not have parental, family and community support that respects and validates them face higher risks of self-harm, emotional distress, isolation, deteriorating mental health and increased bullying. Gender-affirming practices such as honouring preferred names and pronouns help to reduce those risks and contribute to greater inclusion, belonging and success at school," the statement says.
Related:
Watch Pierre Poilievre's full speech at the Conservative policy convention in Quebec City:
********************************************************************************
Rob Salerno is a writer and journalist based in Los Angeles, California, and Toronto, Canada.