Hate groups escalating tactics against LGBTQ+ people in Canada
While there has been little actual violence, multiple venues have received threats of violence- protestors regularly spout homophobic vitriol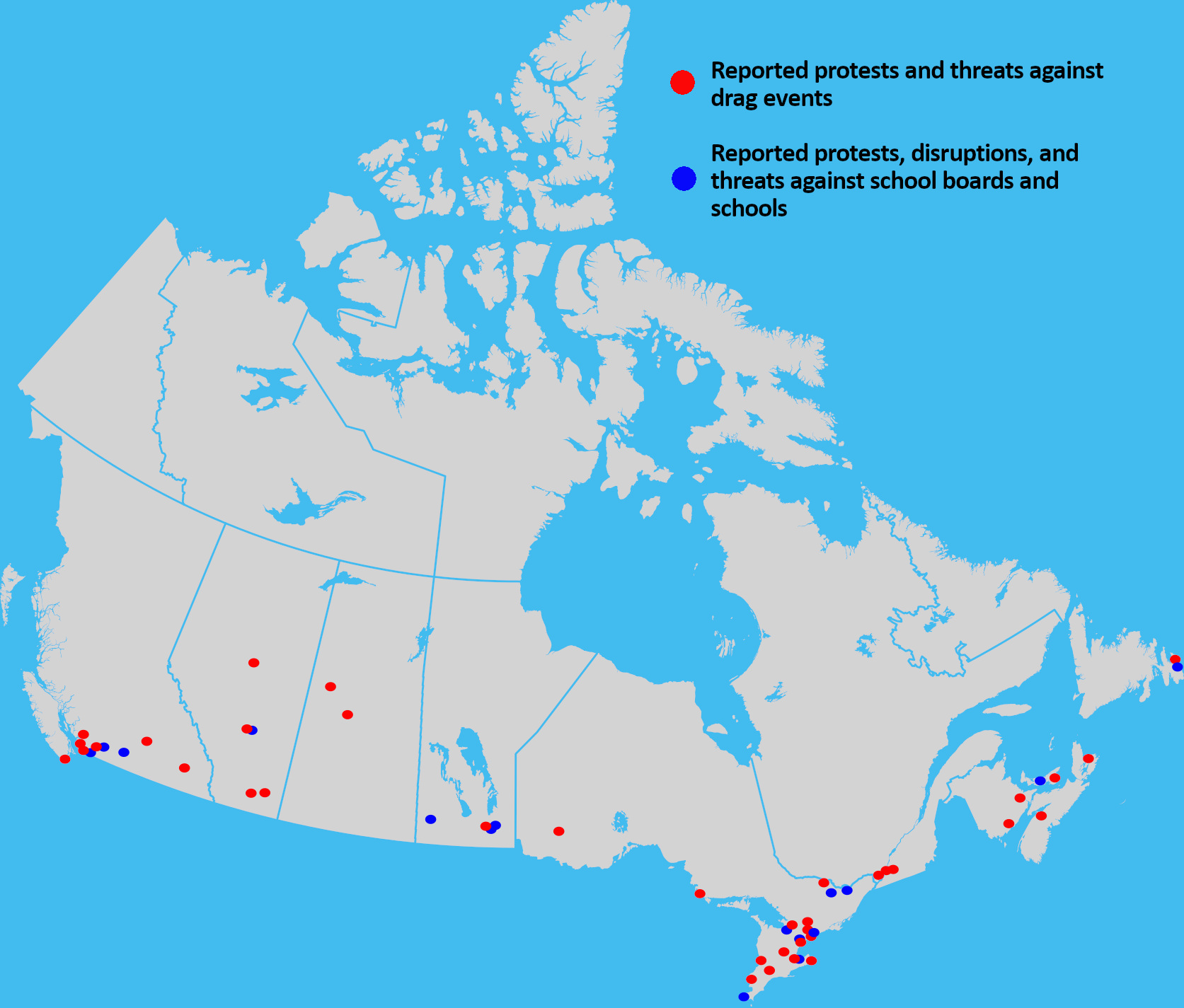 By Rob Salerno | TORONTO – Disrupting school board meetings. Terrorizing librarians. Sending threatening messages from an activist's father's palliative care ward. Canada's anti-LGBTQ+ hate groups are taking alarming steps to harass and intimidate LGBTQ+ people and their allies- and they're starting to get their way.
While Canada has long had a reputation for relative safety and tolerance for queer people, a vocal and virulently anti-LGBTQ+ minority has long persisted and protested against incremental gains made by the community. 
This hardcore anti-LGBTQ+ element has recently taken on a Christian nationalist and fascist tone inspired by movements in the United States and galvanized by domestic anti-vaccine protests that culminated in the truck convoy that blockaded Ottawa and several border crossings for three weeks in February 2022. 
But where past anti-LGBTQ+ activists mostly seemed content to fight their battles at the ballot box, militant homophobes are now taking their fights into the streets, intentionally implying the threat of violence.
The most recent round of moral panic seemed to begin with protests against Drag Queen Story Hour events held at local libraries, community centers and restaurants, much as they have in the United States. Drag events have faced protests from coast to coast, in rural towns, suburbs, and big cities.
Since last summer, there have been reports of public protests and threats against drag readings in Nelson, Coquitlam, Kelowna, Richmond, Victoria, Vancouver, and North Vancouver, in British Columbia; Taber, Lethbridge, Calgary, and Edmonton, in Alberta; Saskatoon and North Battleford in Saskatchewan; Winnipeg, Manitoba; Woodstock, Peterborough, Parkhill, Pembroke, Orillia, Whitby, Scugog, Sault St. Marie, Dryden, Sarnia, Hamilton, Guelph, London, and Toronto, in Ontario; Montreal, Sainte-Catherine, and Dorval in Quebec; Moncton and St. John, New Brunswick; Georgetown, Prince Edward Island; Kentville and Sydney in Nova Scotia; and St. John's, Newfoundland.
Homophobes are also making a push to target school boards across the country, using familiar accusations that school libraries and curricula inappropriately include topics related to sexuality and gender.
They've also targeted school board meetings and schools in Mission, Chilliwack, and Surrey, BC; Winnipeg and Brandon in Manitoba; and Ottawa, Orillia, Renfrew, York, Durham, Hamilton and Windsor, Ontario; Charlottetown, PEI; and St. John's Newfoundland.
"Within the last three months it has taken off to the point where there are so many happening that we're not able to be on top of it the way we would like to be," says Hazel Woodrow, an education facilitator at the Canadian Anti-Hate Network. "Nobody's really safe anywhere. In big cities, it's seen as blowback against metropolitanism. In a small town, it's like they staking their claim against big cities."
"The frequency of it is pointing to an escalating pattern of behavior," she says. "The rhetoric of, that person is a child molester, is a threat to children, that language is more inflammatory because it calls to action. It doesn't just rationalize violence but demands it. It almost seems like these protests are speaking to the rest of us."
While there has been little actual violence, multiple venues have received threats of violence, and protestors regularly spout homophobic vitriol and slanderous "groomer" accusations baselessly implying that queer people are involved in pedophilia. One man has been arrested multiple times for harassing children and parents at a drag event in Calgary.
A man who organized several protests against drag events across Southwestern Ontario, Bubba Pollock, was arrested last week after he posted a photo on a counter-protestor's Facebook page of himself standing next to her dying father's bed in the palliative care ward of a Windsor hospital. He's been charged with criminal harassment.
The protests and threats have forced venues and performers to take unprecedented steps to ensure safety. Some are bringing in police for security – a rarity in Canadian libraries and school boards. Community members are also staging counter-protests and blockades to drown out the relatively small groups of anti-LGBTQ+ protesters. 
Calgary has also passed new by-laws to ban protests within 100 meters of the entrance to a library or a recreation center, and to more strongly penalize hate-based street harassment in response to an alarming string of more than a dozen anti-drag protests in that city.
Social conservatives have rarely had success in Canada in the last several decades. Even while Canada's Conservative parties have openly courted their votes, they're rarely delivered the anti-LGBTQ+ policies that homophobes have demanded once in power. Canada's electoral system tends to discourage extreme or fringe groups and reward parties that appeal to moderate voters.
But the new generation of social conservatives – although still representing a tiny minority of Canadians – are savvier about organizing and using intimidation tactics and social media to achieve their goals.
The Canadian Anti-Hate Network has reported on how known neo-Nazi, white supremacist, and far-right groups have been openly involved in the protests, while CBC News has reported that anti-vaccine and trucker convoy groups have pivoted to protesting against LGBTQ+ issues.
These groups are adept at using video and social media to build followings and solicit donations that have funded a sophisticated messaging machine. For example, the Christian nationalist group Action4Canada generates action calls to protest drag events and school board meetings across the county, complete with prepared slogans, placards, and form letters for its members to use, and addresses, phone numbers, and emails to use for intimidating messages.
They're backed up by sympathetic far-right news outlets backed by deep pockets like Rebel Media, True North, Canada Proud, and Life Site News, as well as from the mainstream right-wing PostMedia news empire, which often presents skeptical gay and lesbian columnists to question trans rights. Backlash against homophobic protestors also often gets breathlessly covered by American outlets like Fox News, which amplifies donations to these groups.
"On the one hand, we would say that highlighting that whenever these people decide to show up and be disruptive and harmful to a community, they are outnumbered, is a good thing, because it can give confidence to the people who are countering them," Woodrow says. "So many of these far-right protests are meant to be disruptive of the event, but at the same time they're propaganda events. That's why you'll see so many people live streaming and getting sound bites."
The number of protestors is relatively small, and because the same organizers often turn up at multiple events in different cities, the local opposition is likely even smaller. They're routinely vastly outnumbered by counter-protestors at events.
And yet the sheer number of anti-LGBTQ+ protests and their regular coverage in the media gives the false impression that their campaigns have some grassroots legitimacy that is growing and spreading.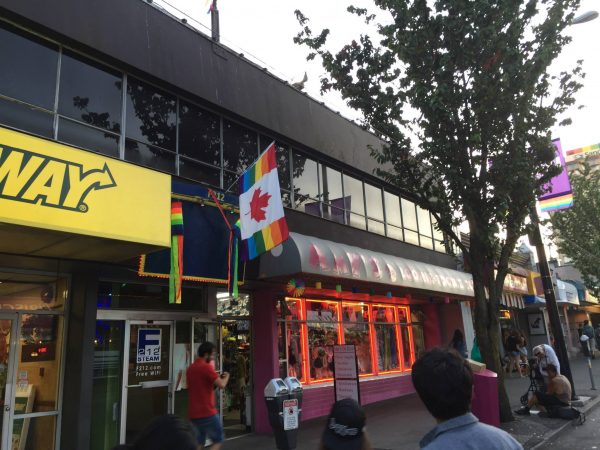 Several Catholic school districts – in some parts of Canada, Catholic schools are publicly funded – have banned the flying of Pride flags. One town in Ontario also banned flying Pride flags on municipal property.
Several drag story time events have been cancelled or postponed because of threats of violence, and at least one event in Montreal was cancelled at the order of a borough mayor who questioned its appropriateness.
Last month, a woman who compared transgender children to feces was elected to the Alberta legislature. Although Jennifer Johnson was removed from the United Conservative Party caucus, the UCP leader has left the door open for Johnson to be welcomed back at some point.
And just last week, New Brunswick Premier Blaine Higgs announced he was rescinding policies that protect trans students in the province's schools, framing it as an issue of parents' rights. Going forward, trans students will need their parents' permissions to use a name or pronouns other than their given name in schools.
Higgs is now facing a party revolt due in part to the policy change and may be ousted as premier.
That moving against LGBTQ+ people still carries political costs is of some comfort to queer Canadians.
LGBTQ+ activist Morgan Manzer is not surprised that Higgs' move has backfired."Several weeks ago I warned [Nova Scotian] politicians against attacking 2SLGBTQIA+ folks because it would end badly for them. @premierbhiggs may prove to be case and point. He miscalculated the strength and power of the 2SLGBTQIA+ movement," Manzer tweeted.
********************************************************************************
Rob Salerno is a writer, journalist and actor based in Los Angeles, California, and Toronto, Canada.
Eight jailed across Canada in anti-LGBTQ rallies against sex ed
Prime Minister Justin Trudeau condemns bigotry as counterprotests outnumber anti-LGBTQ+ demonstrators in most cities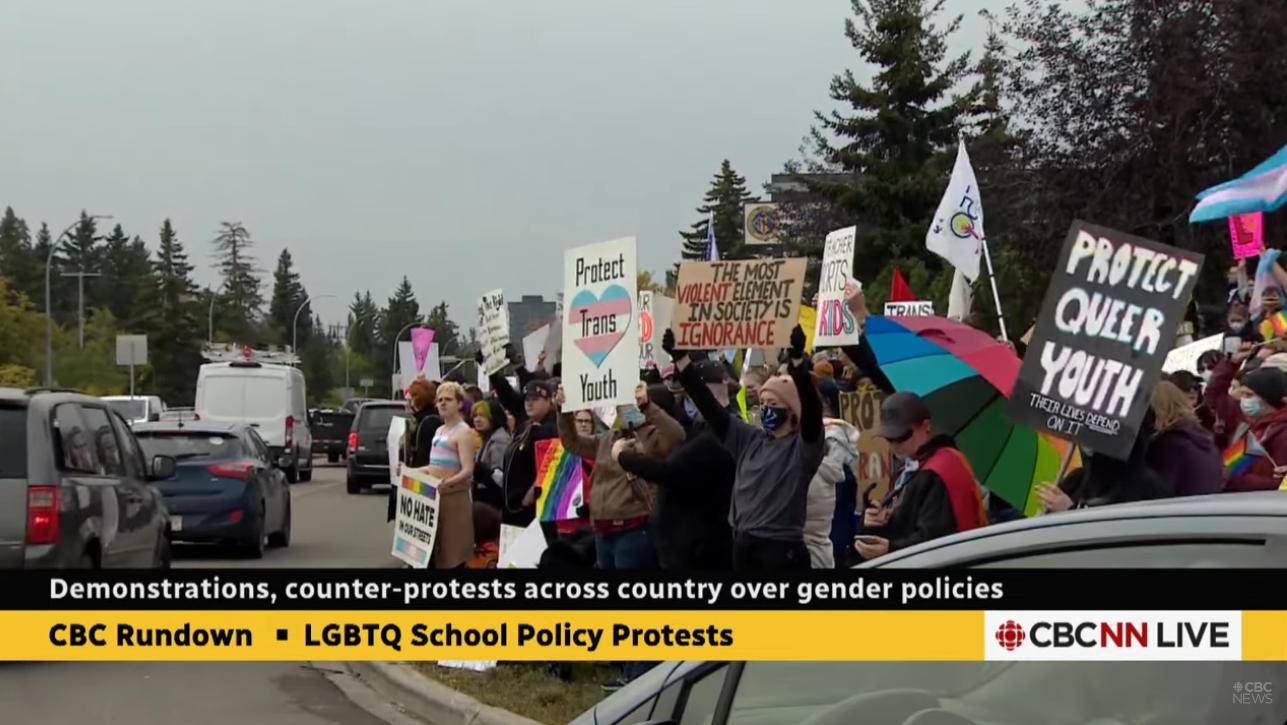 By Rob Salerno | OTTAWA, Canada -A highly coordinated series of anti-LGBT protests rocked more than 80 cities across Canada Wednesday, in a significant escalation of tactics by Canada's anti-LGBTQ extremists.
The coordinated protests dubbed "1 Million March 4 Children" are demanding an end to discussions on sexual orientation and gender identity in Canadian classrooms. They come as several Canadian provinces have enacted policies that require students to have parental permission to change their preferred name or pronoun used in schools, and shortly after the federal Conservative Party adopted a series of anti-trans policies at its national convention.
According to its website, 1 Million March 4 Children is calling for "the elimination of the Sexual Orientation and Gender Identity (SOGI) curriculum, pronouns, gender ideology and mixed bathrooms in schools." The website also lists among its supporters numerous groups that were opposed to masking policies during the COVID-19 pandemic, anti-vaccine groups, groups that promote conspiracy theories, and groups that support the truck convoys that laid siege to Ottawa and several US border crossings last year.
Protests happened from coast to coast, in big cities, suburbs, and small towns, but in most cases, they were met with coordinated counter-protests in support of LGBT rights who greatly outnumbered the protesters.
CBC reported that counter-protesters numbered roughly double the anti-LGBT protesters in St. John's, Newfoundland.
Inclusive sex education has long been part of school curriculums in most provinces in Canada and has generally enjoyed support from all major political parties.
While the protests where mostly peaceful, at least four anti-LGBT protesters were arrested after getting into altercations with counter-protestors in British Columbia, and police advised that the protest in front of the provincial legislature had become "unsafe."
Police in Nanaimo, BC tackled and arrested one man who attempted to flee after allegedly getting into a physical altercation at City Hall. Two protestors were also arrested in Victoria, BC as they demonstrated in front of the provincial legislature, and another protester was arrested in Vancouver, BC. Police in both cities did not provide additional information.
Ottawa police also arrested two protesters for allegedly inciting hatred and another for causing a disturbance in at the protest in front of Parliament.
And Toronto police arrested 47-year-old protester Julia Stevenson for allegedly bringing a weapon to the demonstration outside the provincial legislature. Police did not give further details about what kind of weapon she is alleged to have been carrying.
Prime Minister Justin Trudeau, who was at the UN General Assembly in New York, condemned the anti-LGBT protests in a tweet on X, formerly Twitter.
"Let me make one thing very clear: Transphobia, homophobia, and biphobia have no place in this country. We strongly condemn this hate and its manifestations, and we stand united in support of 2SLGBTQI+ Canadians across the country – you are valid and you are valued," he wrote.
Let me make one thing very clear: Transphobia, homophobia, and biphobia have no place in this country. We strongly condemn this hate and its manifestations, and we stand united in support of 2SLGBTQI+ Canadians across the country – you are valid and you are valued.

— Justin Trudeau (@JustinTrudeau) September 20, 2023
Que ce soit clair : la transphobie, l'homophobie et la biphobie n'ont pas leur place dans notre pays. Nous condamnons fermement cette haine et ses manifestations, et nous sommes solidaires des Canadiens et Canadiennes 2ELGBTQI+ à travers le pays – vous êtes valables et appréciés.

— Justin Trudeau (@JustinTrudeau) September 20, 2023
Conservative Party leader Pierre Poilievre did not put out any statement on the protests, nor did deputy leader Melissa Lantsman, who is openly lesbian and has previously spoken out on LGBT issues on behalf of the party.
The leader of the left-leaning New Democratic Party Jagmeet Singh joined the counter-protestors who demonstrated in Ottawa and marched toward Parliament Hill.
"We know that there's a lot of folks that don't feel safe because of the rise in hate and division that's targeting vulnerable people," Singh told CTV. "But then you see a lot of people coming together, and it shows the strength of solidarity, of us supporting each other, of having each other's back."
Alberta Teachers' Association President Jason Schilling says the protesters are part of a North America-wide movement fomenting hatred against queer people using misinformation and lies.
"Using 'parental consent' as camouflage, this rally was part of a coordinated strike across North America to promote misinformation, intolerance and hate toward the 2SLGBTQIA+ community, as well as toward teachers who work to protect the safety and well-being of all students," Schilling said in a statement.
In many cities, the anti-LGBT protests were officially condemned by mayors and school boards.
Toronto Mayor Olivia Chow, who has publicly supported LGBT rights since the 1980s, issued a strong statement condemning the protests.
"We stand against all forms of discrimination, hatred and bigotry, and for the safety and well-being of all young people. Some wish to target our schools and libraries to spread hate. We know these must be spaces that welcome everyone, especially students," Chow wrote.
The city of Whitehorse, Yukon issued a statement condemning bigotry in advance of the protests.
"While the City supports people's right to organize and protest, we stand by our 2SLGBTQIA+ community members and their right to live their true selves safely and free of harassment and hate. The promotion of anti-2SLGBTQIA+ ideas has no place in our community and messages that target fellow community members will not be tolerated," the statement says.
However, the Premier of New Brunswick Blaine Higgs, who was the first to introduce a "parental consent" policy for trans students, joined the protesters in front of the provincial legislature in Fredericton.
"I think our parents should become knowledgeable about what their kids are being taught and what is important for them to learn in schools and what's important for parents to make decisions on with kids that are under 16 years old," Higgs told reporters.
BC Conservative Party leader went further in a statement on the protests. While he says he doesn't "officially" support the protests, if his party wins next year's election, he promised to cancel the province's sex ed curriculum and implied he would ban trans girls from sports.
Related:
Protests sparked across Canada over gender policies in schools:
********************************************************************************
Rob Salerno is a writer and journalist based in Los Angeles, California, and Toronto, Canada.